You've already decided for every detail of your special day, but you are looking for something more to make your wedding a fun day…??
Do you want a pure Italian touch of originality? What about a special entry and exit?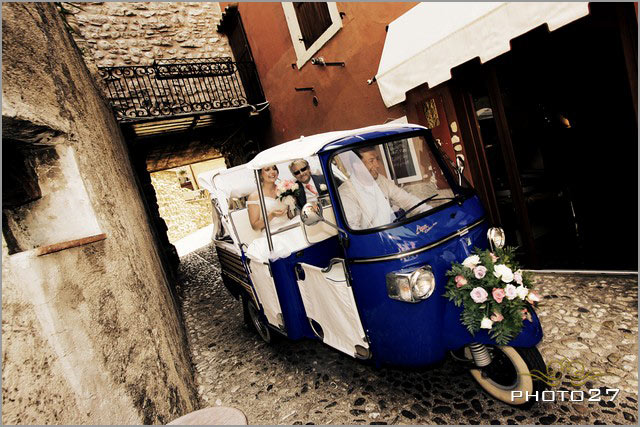 You can choose a lovely APE-calessino to move through the narrow cobblestone streets of small villages on Lake Garda!
Calessino was born in Italy in 1948 as a three-wheeled transformation of the famous Vespa. Word "calessino" comes from its look. As a matter of fact it is very similar to a horse carriage, a sort of sofa on wheels finished in wood and covered with a semi-circular bellows awning.
The model was an breaking success: its small size made it the ideal vehicle to move in the ancient villages and seaside localities all over Italy, often characterized by narrow and steep alleys.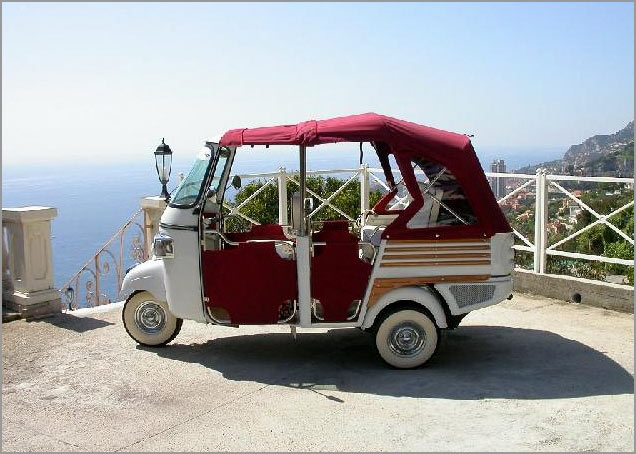 In the following years it became a great character of the Dolce Vita years, carrying the Hollywood stars around the islands and the most beautiful places on Mediterranean coast.
From Italy it reached Asian countries becoming a real bestseller. Perhaps because of its similarity to the exotic rickshaw, it spread across the south-east Asia as a means of public transportation and it is now known as tuk-tuk, a name deriving from onomatopoeic characteristic noise generated by its motor.
With its sixties design, it relive today the unforgettable charm of La Dolce Vita and it offers you a great opportunity to give a vintage and characteristic touch to your special day, like in Hayley and Chis' wedding in Malcesine.
I love when also cars fit right in with the theme of the wedding!
Italian design offers many other solutions…of course Fiat 500 is a real Italian style icon.
So tiny and fun, it can be a great bridal car to take you from the church to your wedding reception… maybe dragging tin cans as tradition!
What's your style? A sports car for a romantic getaway for just the two of you around the lake, a vintage car to reach one of the many castles on Lake Garda, or even a fun Buggy to surprise your guests?
….oh, and if you have no car, maybe you can hitch a ride on a Vespa, as suggested by these funny wedding photos!
For your enjoyable wedding on Lake Garda we put on your disposal all these funny getaway cars and many other solutions in their original version, with or without driver.
For further information and availability please do not hesitate to contact us.
Angela and Katiuscia both work on Veneto region and Lake Garda. They will take you to discover traditions, savors and colors of Veneto region, not only on Lake Garda!

They can help and support you for a dream wedding on other wonderful locations such as Venice, Verona and Veneto gorgeous countryside where you could taste some of best wines of Italy.

For any information about wedding on Lake Garda please contact Angela and Katiuscia.
For your wedding on Garda Lake SLOW DRIVE – Vintage & Motion offer you the opportunity of making your Big Day very unique.
Vintage car rental without driver, to make the happy couples experience really authentic.
All cars are available for weddings and celebrations alike; from the red Alfa Romeo spiders to English spiders, the famous Beetle for a fun look or why not the Fiat 500 to really put a smile on guests faces.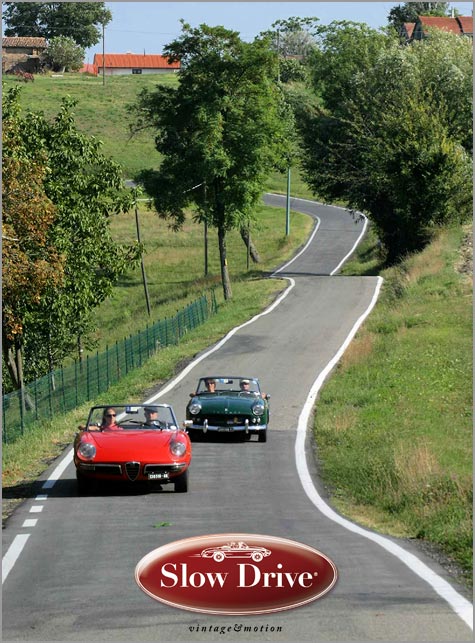 For futher information and rates contact SLOW DRIVE - Vintage & Motion
---