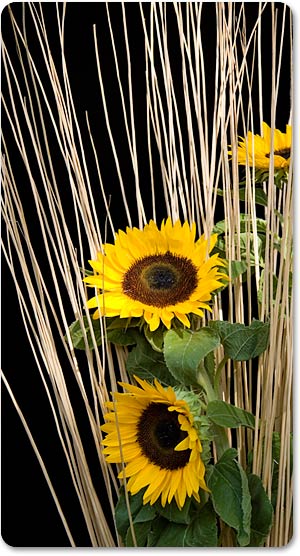 Thinking about getting married on the Italian Lakes area? You love flowers? You want a bright wedding theme? You like the sun? "Chiste o paese do sole," says a popular old Neapolitan song, Italy is the land of the sun! So why don't you use sunflowers for your main wedding theme? Since the flower itself reaches up to the sun, it symbolizes warmth, happiness, adoration and longevity, a sunflower wedding theme is perfect! What more can you wish for your marriage? If you want to have a bright-yellow sunflower wedding, be aware that the best time to get real sunflowers is July to October.
Probably the most sunny cheerful flowers you can find for your wedding. Sunflowers are big, bold, cheerful and brash and have summer written all over them. Bright, vivid colour and long, strong stems make the Sunflower a fantastic focal flower for summer and autumn events, wedding bouquets, table centrepieces and floral arrangements.
If you want to see my floral works with Sunflowers, please take the time to browse my portfolio at La Piccola Selva's Wedding Flowers Gallery. The florist La Piccola Selva has been creating innovative and exclusive designs for over 20 years, supplying flowers to the leading hotels and wedding venues on Lake Orta and Lake Maggiore.
A sunflower wedding theme is the perfect choice for a couple looking to have a wedding day filled with the wonders of nature and colours that amaze and delight. There is nothing more colourful than the large and regal sunflower plant. With shades of yellow, orange, red, black and green – it is a multitude of hues that never disappoint.
Sunflowers, first grown in Central and South America, were originally loved for their practical aspects such as providing seeds and oils. When they came to America, they became a wonder of natural beauty and we have loved them ever since. Of course, there is many famous artists who painted the sunflower, with the most famous being Sunflowers, a still life by Van Gogh.
A sunflower wedding theme is particularly appropriate in the splendour of autumn, when the colour palate may call for golds and reds. There are so many unique and interesting ways that you can pull off a sunflower wedding theme. You could start with adorable tin sunflowers in yellow to decorate the alter and processional aisle, complemented by white, crimson red or burnt orange pew bows. You may also want to try yellow sunflower mini hand tied bouquets, tied to flower vases, watering cans or metal pails as your table centrepieces, for a casual and country feel.
Perfect for creating impact, Sunflowers can be expensive but, because they are so large, you don't need many! So add some sunshine to your Italian wedding with lovely Sunflowers!