Lake Como is famous all over the world for its beauty, elegance and refinement.
In the last few years Lake Como became one of the favorite wedding destination venue especially for couples dreaming a wedding abroad.
Lake Como is the third largest Italian lake and we can say for sure that this is also one the most popular.
Its shape is very uncommon: it is a large inverted Y, this is why for planning a wedding here it is primary taking in consideration the distances involved to move from one venue to another.
On our
real weddings blog
you can find the best stories and pictures of our
lake Como weddings
.
In this section we are pleased to explore this enchanting part of Italy with you.
We will guide you in a sort of
wedding virtual tour!
Why getting married on Lake Como?
Lake Como step by step… let's see together what are the highlights for a wedding on Lake Como:

Unique spectacular Villas and historical Hotels


Villa del Balbianello, Villa Carlotta and Villa D'Este (chosen by Forbes Traveler as best hotel of the world!) are only some of the incredible properties on Lake Como where memorable weddings can be planned from March till October-November.

Sophisticated atmosphere


Lake Como is the most elegant and refined Italian Lake.
Lake Como was chosen since the ancient times from noble families of the northern part of Italy who used and still use to spend their free time in their own splendid properties.
And now many famous actors and VIP own a Villa on this Italian Lake.

Delicious food


Lake Como is famous for its delicious food.
There are several Michelin-starred restaurants and reputed chefs as Luciano Parolari actually working at Villa D'Este and Ettore Bocchia who is Villa Serbelloni's chef in Bellagio.

Set of international movies and videos


Lake Como is also a popular movie set!
Many movies directors chose it as main character of their masterpieces.
Just to remember some top movies and some movie stars…:


Ocean's Twelve with George Clooney and Brad Pitt was shot in Cernobbio and at Villa Oleandra in Laglio Town (the famous George Clooney's property on Lake Como).


The romantic scene of Anakin Skywalker and Padmé 's wedding in Star Wars – Episode II was shot at Villa del Balbianello.
Villa del Balbianello was also the movie set of 007 – Casino Royale.
Famous Italian movies director Luchino Visconti chose Lake Como many times.
He shoot here some scenes of his movies like 'Rocco e i suoi fratelli' and many others.


Music video 'Cool' by Gwen Stefani was also shot on Lake Como and specifically in Cernobbio, all over Lenno lakeshores, with one scene shot on the beautiful private dock of Villa del Balbianello.

Proximity to all International Airports


All wedding guests will highly appreciate the easy and short trip to Lake Como.
Malpensa and Linate are about 40 minutes drive from Cernobbio.
Bergamo Orio al Serio airport is only 10 minutes more!

Perfect departure point for lovely day-trip


A wedding abroad is often an opportunity for all guests to visit a Country for the first time.
Lake Como is magnificent from this point of view!
Not only its surroundings are fabulous but for the luckiest guests who can spend several days here, it will be easy to sightseeing cities like Milan, Bergamo, Venice.
Switzerland is also a stunning destination and it is only 20 minutes from the town of Cernobbio!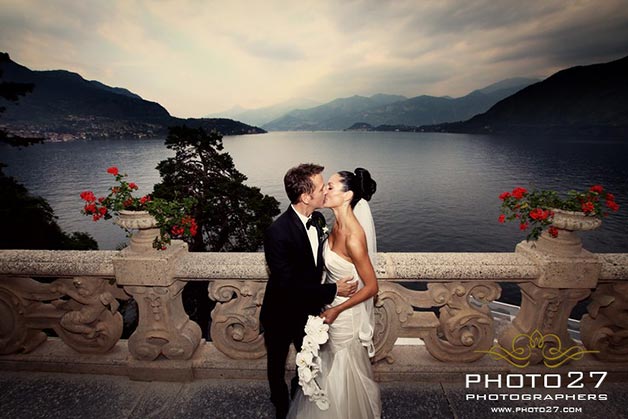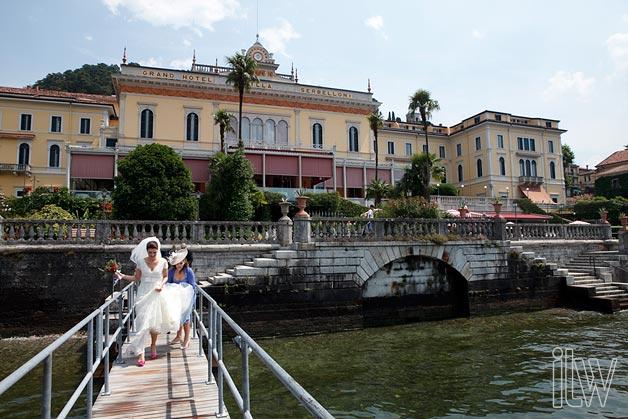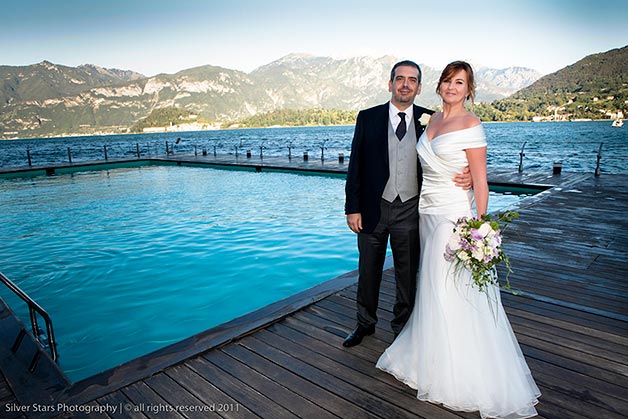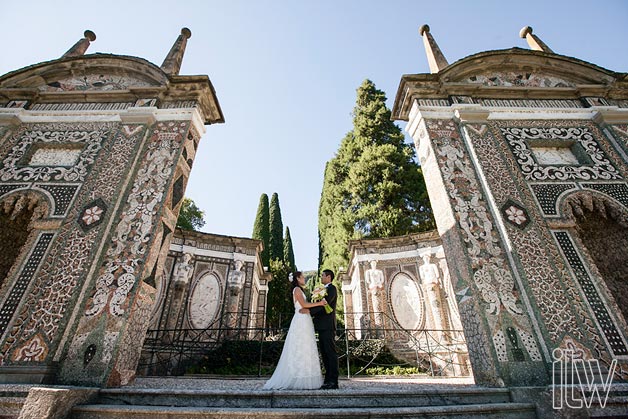 Catholic wedding on Lake Como
On Lake Como there are three Churches available to host non- resident couples catholic ceremonies.
Two of them are located in Varenna district and in both of them it is possible to perform legally binding ceremonies.
SAN GIORGIO CHURCH IN VARENNA
The central Church of Varenna is called San Giorgio Church and it is located in the main square of this lovely village.
The Priest, Don Aldo, is very kind and he can celebrate in English and Spanish.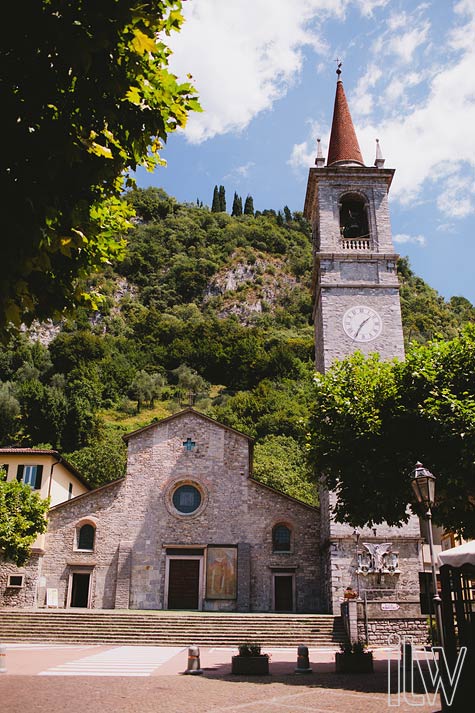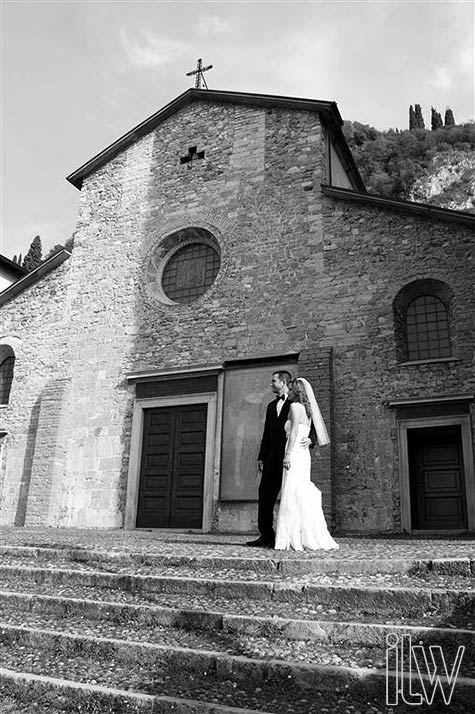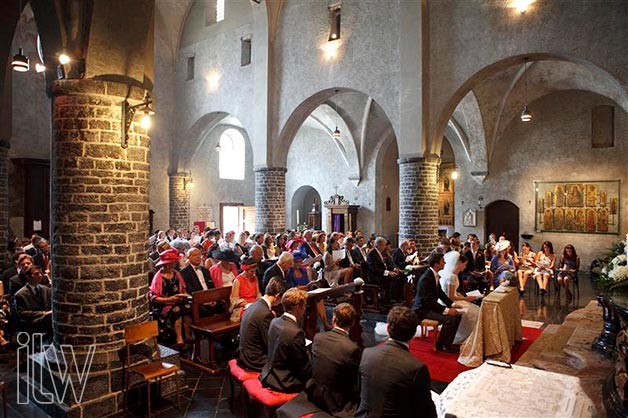 SAN MARTINO CHURCH IN PERLEDO
The second Church of Varenna is San Martino in Perledo which is located up on Varenna hills.
The view is magnificent up there and also Father Sinoj can celebrate the weddings is English!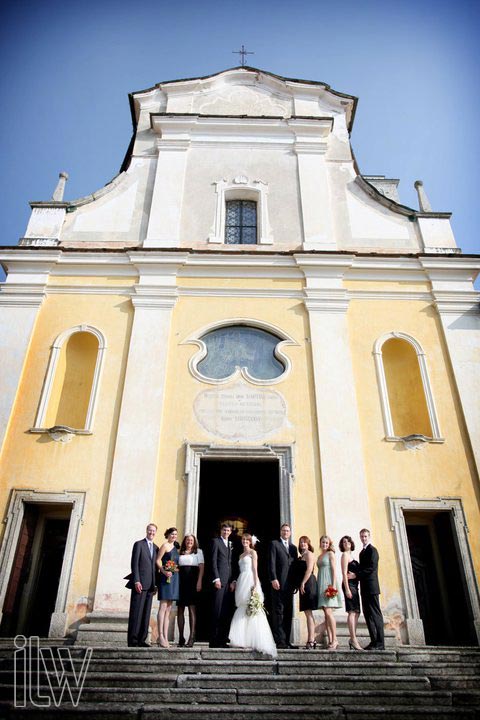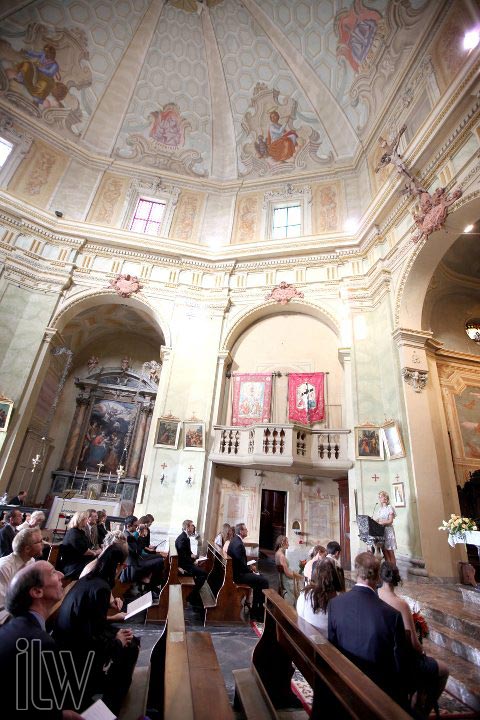 SAN ABBONDIO CHURCH IN TREMEZZO
The third Church available to host non-resident couples weddings is located near Tremezzo.
This is Sant'Abbondio Church and the lovely Priest Don Luigi is happy to welcome foreign couples for their blessings.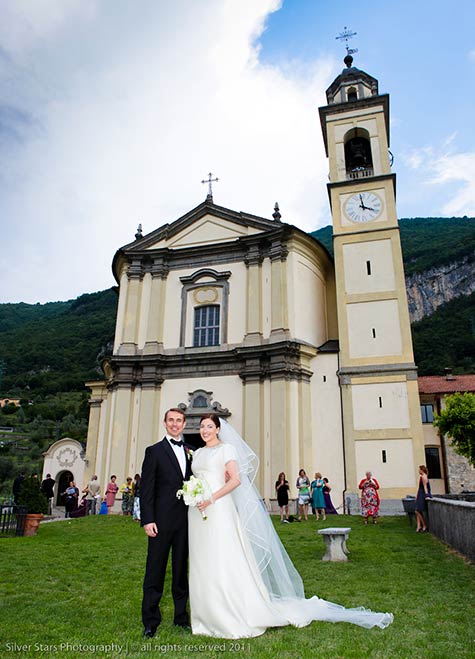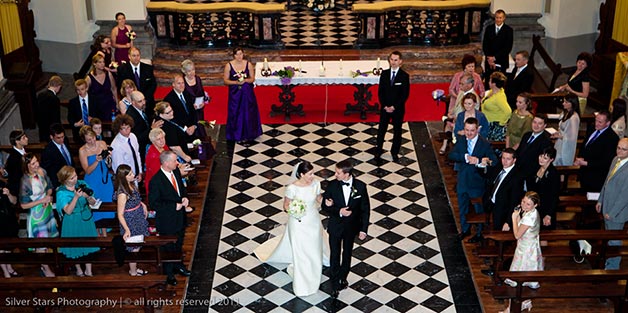 Useful info about catholic weddings on Lake Como
As wedding planner
I know very well how important is the ceremony to every couple and this is why I recently wrote a specific blog post on this topic where you can find useful info on
catholic weddings on Lake Como
.
Legally binding ceremony on Lake Como
For the Italian law, all non-resident couples can get married in Italy following the correct paperwork procedure with the assistance of their Italian wedding planner.

GREAT NEWS FOR 2013
A great novelty of Villa del Balbianello for 2013 is the restoration of an old lake view building where cocktails or sit down meals can be served in case of bad weather allowing a great saving on the marquee set up!
This solution will permit to a major number of couples to make their dream come true at Villa del Balbianello.
Civil legally binding ceremonies are allowed at any Town Hall of Lake Como.
The general rule is that legally binding ceremonies have to be performed inside the Town halls walls; this is why most of the Towns and villages cannot celebrate
outdoor weddings
.
But luckily on Lake Como there are few stunning exceptions.
We are able to offer
legally binding ceremonies outdoor in Villas or splendid gardens
.
This happens just because some specific venues obtained a special license to perform
legally binding ceremonies outdoor, overlooking the breathtaking lake
.
These venues are – at the moment – the following:
Villa Balbianello, Villa Cipressi, Villa Carlotta, Ossuccio Porticos and Comacina Island.
Villa del Balbianello is a majestic though intimate Villa reachable by boat and located on Lenno's promontory.
Your civil registrar or your symbolic ceremony can be performed in its grounds and followed – for the luckiest couples – by an unforgettable reception dinner and party in the gardens, under the Loggia or under the marquee.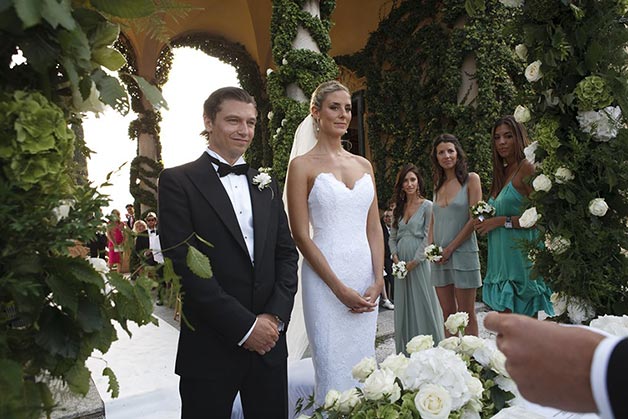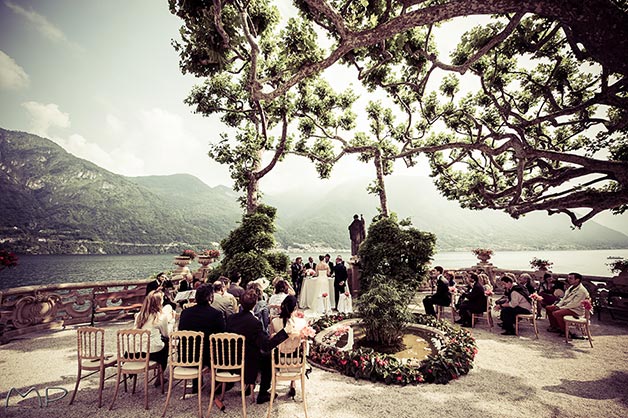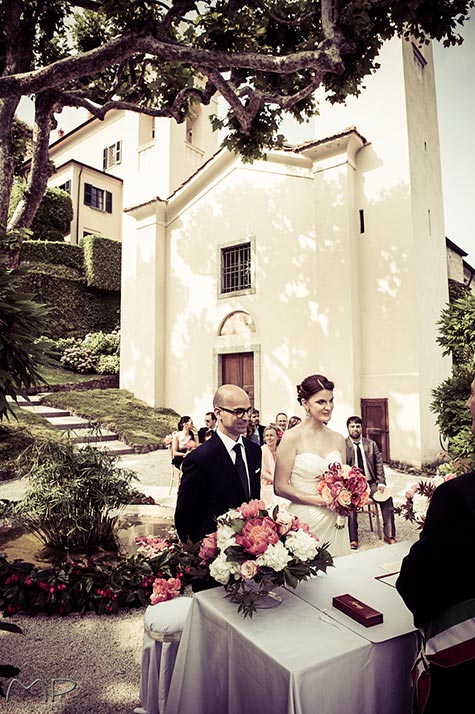 Villa Cipressi is a small hotel with 32 rooms located in the lovely village of Varenna.
The strength of this venue is the civil registrar ceremony that is allowed in the gardens and followed by delicious lunch or dinner prepared by the lovely internal staff.
The spectacular views, the reasonable prices and the opportunity to keep the whole group together at the same venue – also in terms of accommodations – make this place really unique on Lake Como.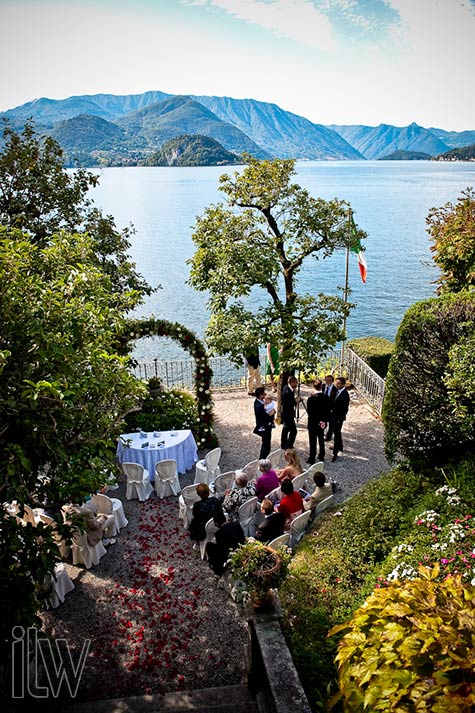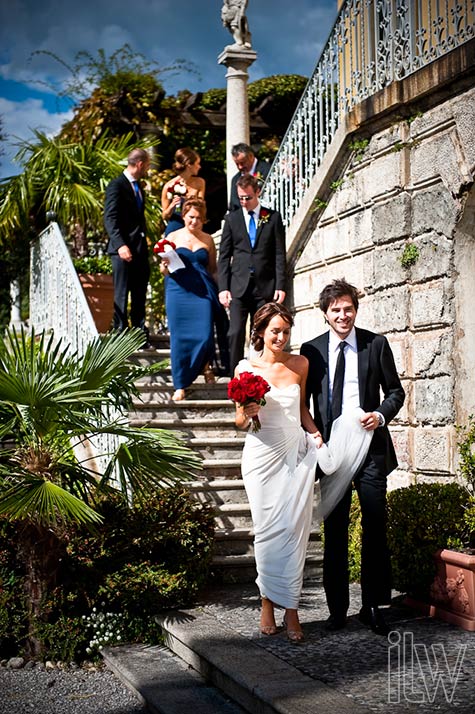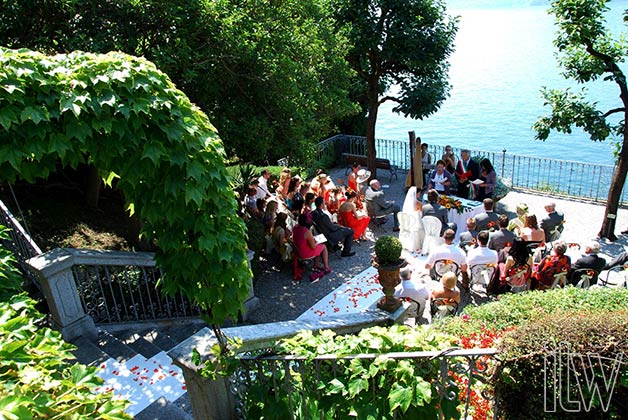 Villa Carlotta is an ancient Villa and museum located in the village of Tremezzo.
Its spectacular gardens and terraces are famous all over the world.
The Villa is open to public visitors everyday though a stunning private terrace is rentable at exclusive use of those couples that want to celebrate here their wedding ceremony.
The ceremony can be followed by a rich standing cocktail.
Lunch or dinner are not allowed and after the cocktail the wedding guests and couple can move to a different venue to continue the party.
At walking distance there is luxury Grand Hotel Tremezzo and also a public dock where boats can pick up guests and lead them to the next wedding venue.
This is an occasion for a lovely boat trip!
A really special feeling is guarantee!
Many different scenic reception venues can be easily reached by boat after the ceremony.
Your guests will appreciate if you will offer them a glass of good Italian Prosecco that your Lake Como wedding planner will be pleased to provide!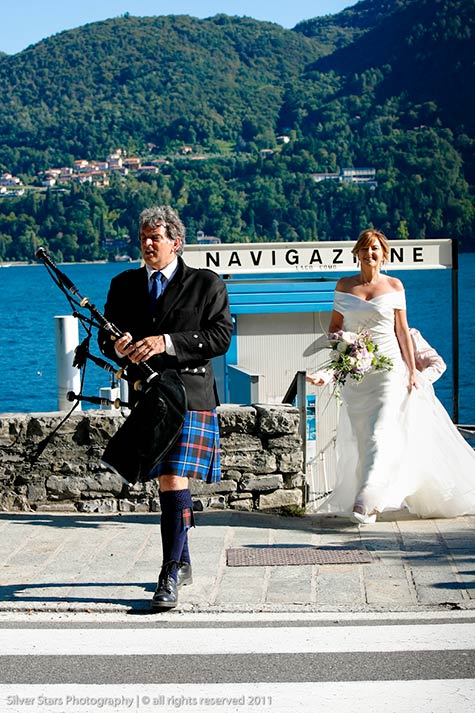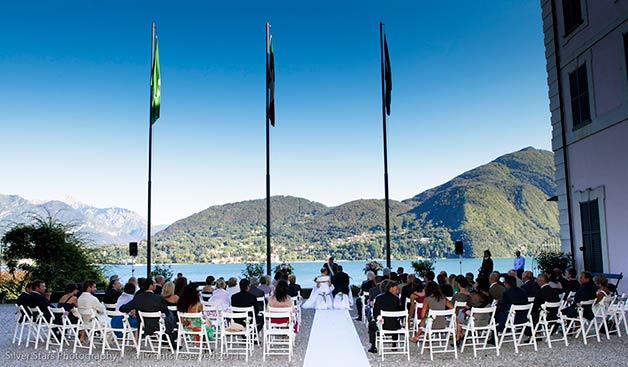 The Town Hall of Ossuccio is located in a typical and medieval village of Lake Como, not far from Lenno village and offers to intimate wedding groups – max 30 guests – the opportunity of an official ceremony by the lake, immersed in the old charming atmosphere of the Porticos walls.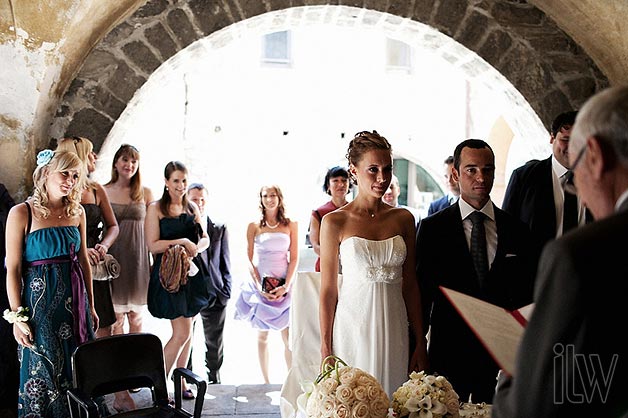 Comacina Island. This is a top novelty for 2013!
Next year few lucky couples will have the chance to get married on Comacina Island that can be entirely privatized for one day.
This is the only island existing on Lake Como.
It will open its doors to few exclusive weddings followed by reception and party ending with sparkling fireworks!
The only downside is the budget required.
This solution is really for few and doesn't have to be confused with the rustic Taverna Restaurant of the island which is something totally different.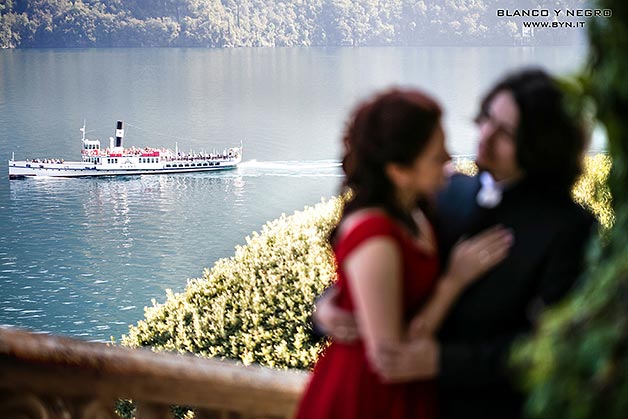 Symbolic blessings on Lake Como
Symbolic blessings are for sure the easiest choice for a foreign couple.
This is popular among the couples that prefer having the legally binding ceremony in their own country and just repeat the ceremony on Lake Como with special and personal mutual vows exchange.
This is to avoid any inconvenience related to international paperwork.
A symbolic blessing can be performed at any Private Villa or Hotel on Lake Como.
This gives the advantage of spending the whole wedding day at the same venue saving also costs of transports of guests from a venue to another.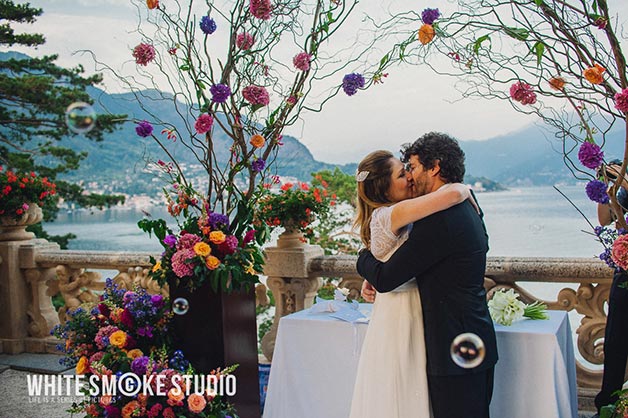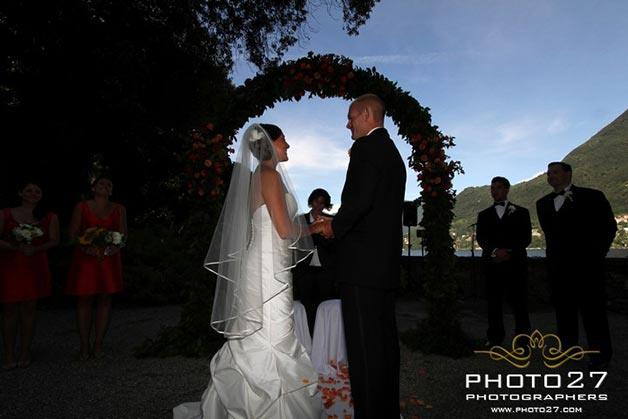 Reception on Lake Como… where do I start?
As previously mentioned lake Como is the third largest Italian Lake and offers a great variety of enchanting wedding reception venues.
As your lake Como wedding planner I will be delighted to guide you through the most beautiful wedding venues according to your requirements.
Lake Como style goes from the private Villa for an outdoor cocktail, dinner and dancing to the luxury Hotel as Villa D'Este or Villa Serbelloni to simple restaurants lake view.
Distance from one venue to another can be relevant and my suggestion as wedding planner is to focus your choice first on the primary location.
It can be either the ceremony one or the reception one.
After this first choice you will decide on the second one according to the distance from the first choice and also from the guests accommodations venues.
Your guests will appreciate the most immediate vicinity.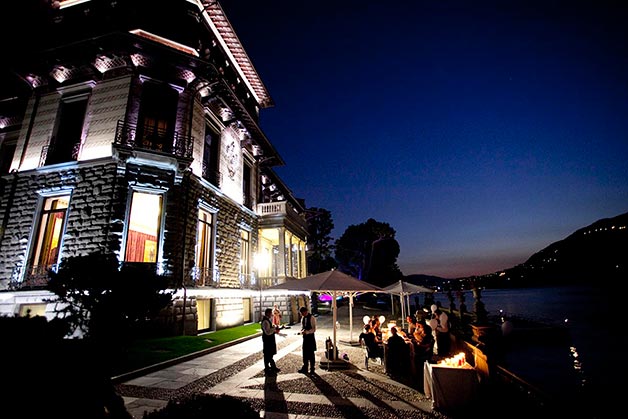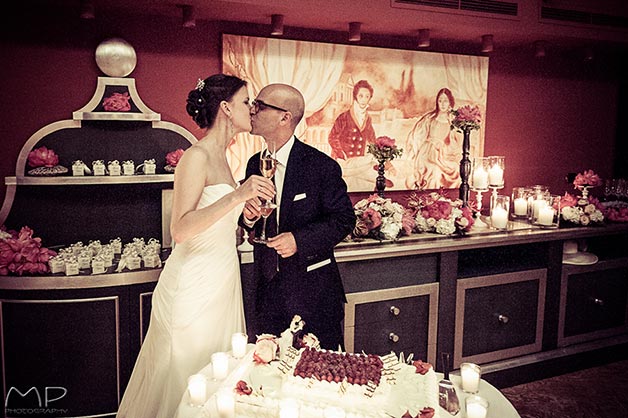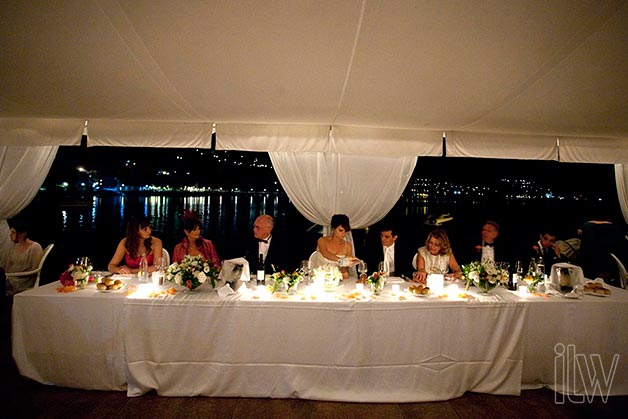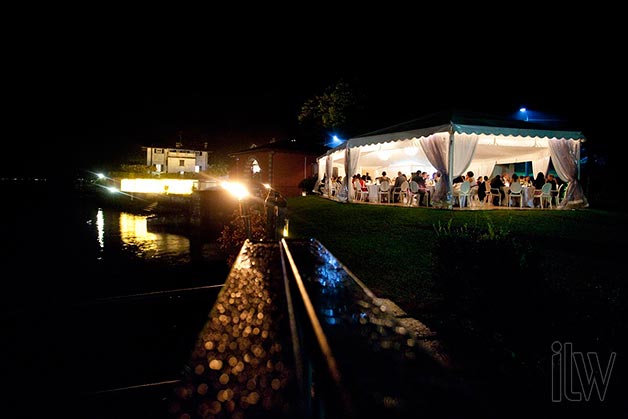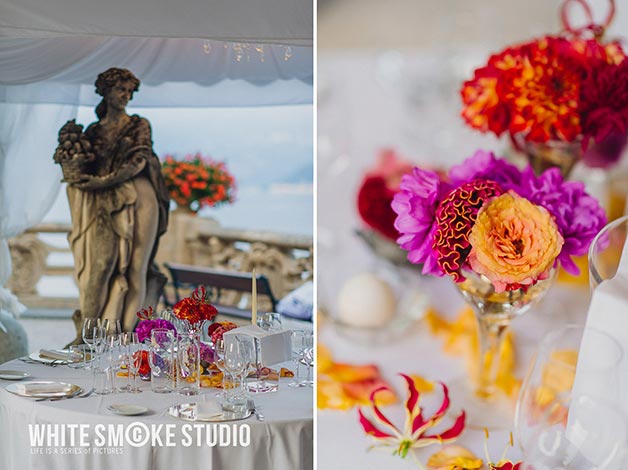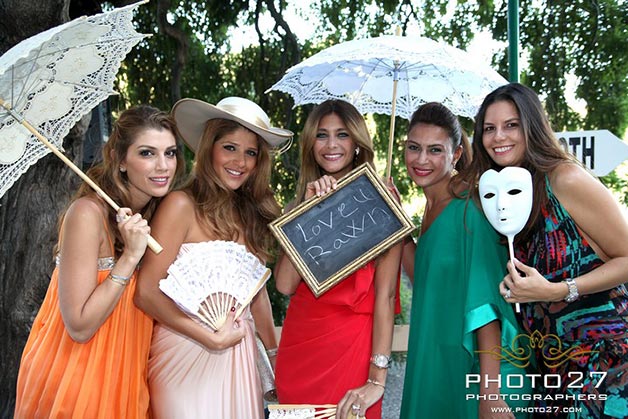 Here below I'm pleased to give you some ideas of what kind of Villas can be hired and where.
Beautiful private Villas with accommodations on site can be hired in the Villages of Como, Moltrasio, Laglio, Cadenabbia, Menaggio and Bellagio.
Generally the accommodation capacity goes from 6 to 14 guests with few exceptions of larger and much more expensive Villas.
On Lake Como there are also many beautiful Villas available for wedding receptions but without accommodations on site.
Some of these are in Como town while others are in Lenno, like Villa del Balbianello and in Cernobbio as well as in the country-side of Lake Como.
We will be pleased to help you planning the best private reception dinner and party with delicious Italian or international food, best wines, good music and even fireworks!
Beside Villas and large elegant hotels, Lake Como can offer a vast choice of luxury small charming Relais where you can feel like being at home but enjoying at the same time all the comforts of a hotel.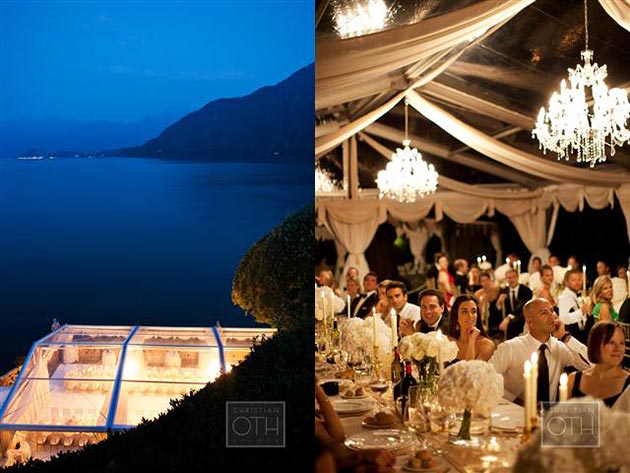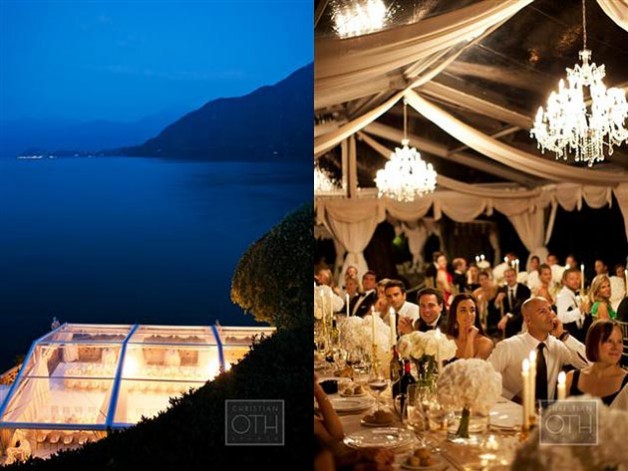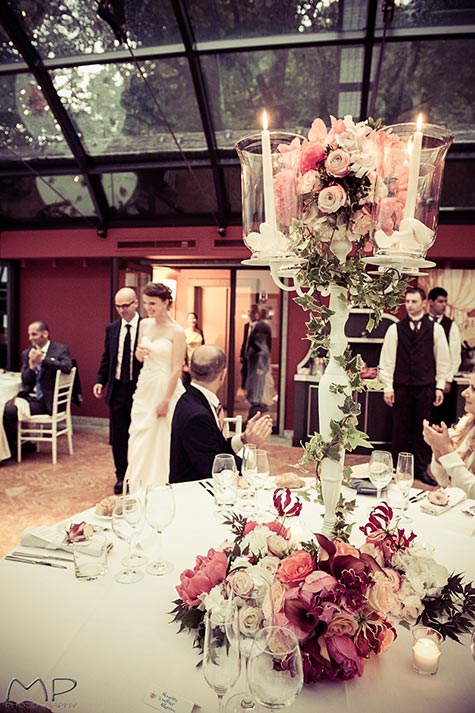 Moreover Lake Como offers also the opportunity of uncommon wedding venues like the beach clubs.
The most elegant and famous is located in Lenno, not far from Villa del Balbianello and the most recent one is located in the outstanding Town of Bellagio.
Both beach clubs are also available for great parties before or after the wedding day, as you can see in the pictures!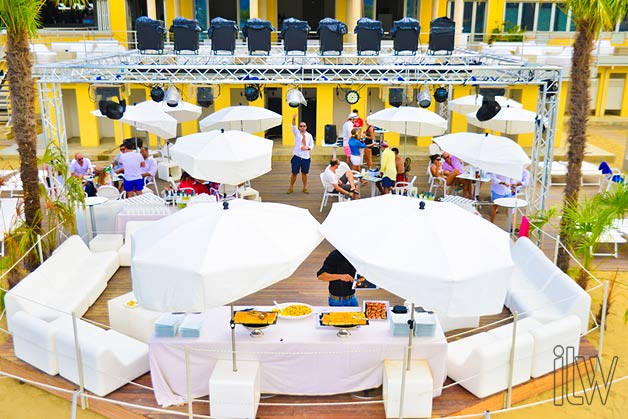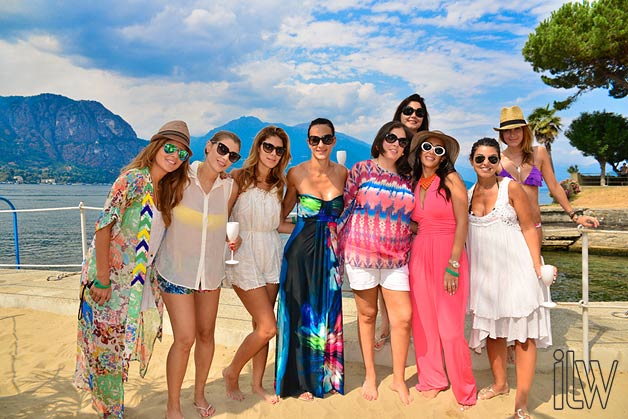 Your wedding planners on Lake Como
We have been working on Lake Como for many years and we are really experienced of the area and all its wedding and touristic venues.
We would be pleased to help you finding the perfect wedding spot on Lake Como and share with you and your guests our skills to plan your dream wedding.
Alessandra Fabi
is the Italian Lakes Wedding's coordinator for
lake Como
area.
If your idea of wedding is refined, sophisticated and with a special attention to details, she's your perfect wedding planner!
She makes each client feel unique and she treats each wedding as if it were her own.
For any information about wedding on Lake Como CONTACT US