Are you dreaming about a fairytale wedding in a fabulous Italian wedding destination?
Here it is why you should choose Lake Como!
etting married is one of the milestones of our lives. A special day during which we celebrate love with all our friends and family. When I think about it, the first thing that comes to my mind is creating memories that will last forever. And everyone knows that a magic framework is key for a wedding full of beautiful moments!
If we agree on this we will also agree on the fact that Lake Como is one of the most extraordinary places for a destination wedding. Surrounded by the Alps, it is famous all over the world for its beauty, elegance, refinement, and breath-taking views. That is why, in 2014, The Huffington Post called it the most beautiful lake in the world.
Lake Como is the third-largest Italian lake and, with a maximum depth of approximately 410 meters (448 yards), is also one of the deepest lakes in Europe. Thanks to the proximity of the mountains, its vegetation, and all the charming villages and towns on its perimeter, Lake Como provides one of the most picturesque sceneries on Earth.
If you are visiting Lake Como for your first time, be ready: you will discover one of the most unreal beauties of this world!

- Alessandra Fabi, Lake Como wedding planner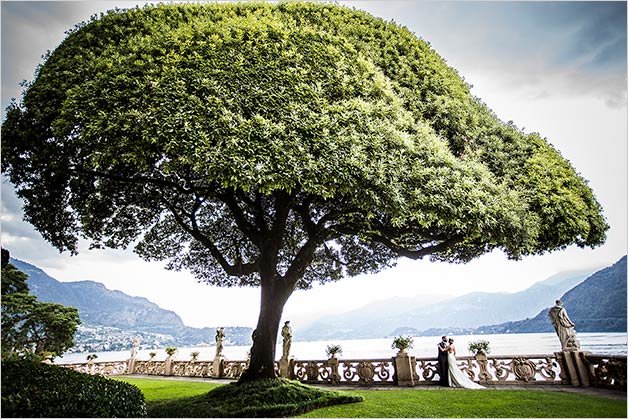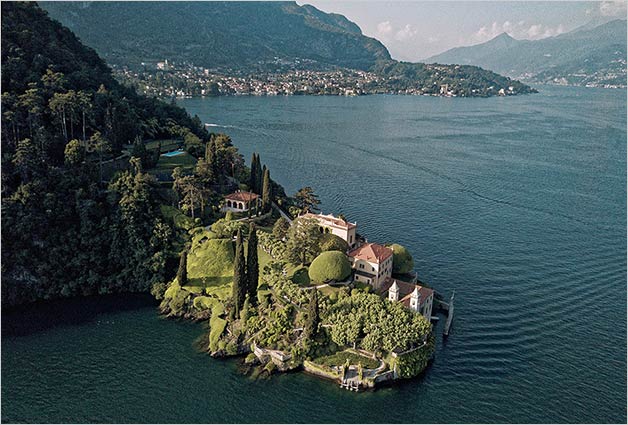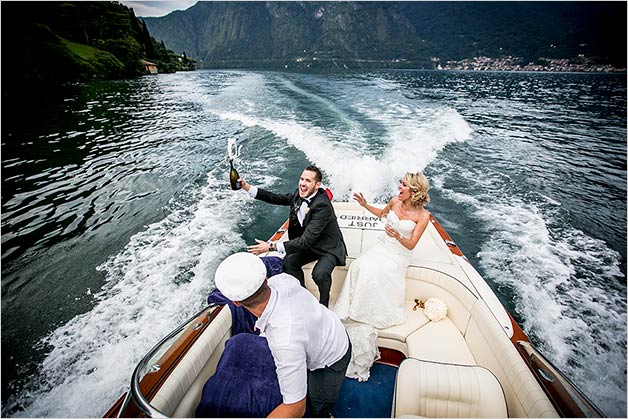 Why getting married on Lake Como?
Why getting married on Lake Como? Even if this should be a rhetorical question (who doesn't want to get married on Lake Como?!), let me illustrate why you should totally say your "I Do's" in this amazing location.
Reason #1 – It's one of the most beautiful areas in the world
Everyone will talk about your wedding!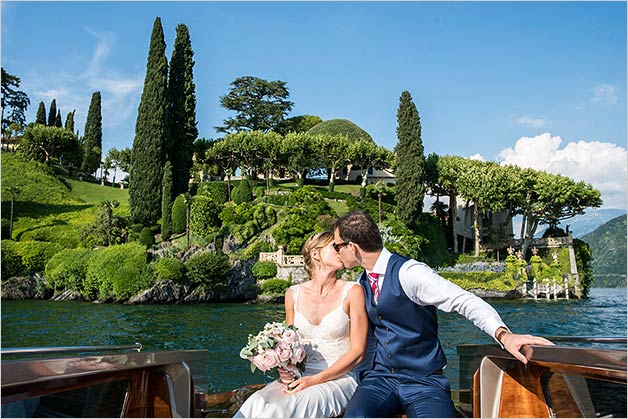 Reason #2 – Sophisticated and exclusive atmosphere
Lake Como has been a luxury destination since Roman times. Aristocrats and prosperous Italian families always chose it as their retreat place, building their prestigious villas on the Lake's shores. Villa del Balbianello, Villa Carlotta, Villa Erba and Villa D'Este (chosen by Forbes Traveler as the best hotel in the world!) are only some of the incredible properties on Lake Como. It is not surprising that many famous actors and VIP own a Villa on this Italian Lake. Probably you know a certain George Clooney!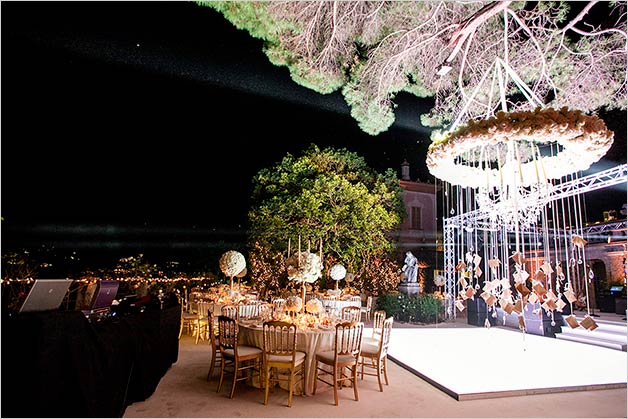 Breath-taking wedding location – Reason #3
Thanks to reason #2, the only problem here will be to decide between wonderful and astonishing venues. And if you are intending to, I recommend you to plan your memorable wedding during high-season: from March till October-November. This is when the weather conditions are more favorable (no rain, thanks!).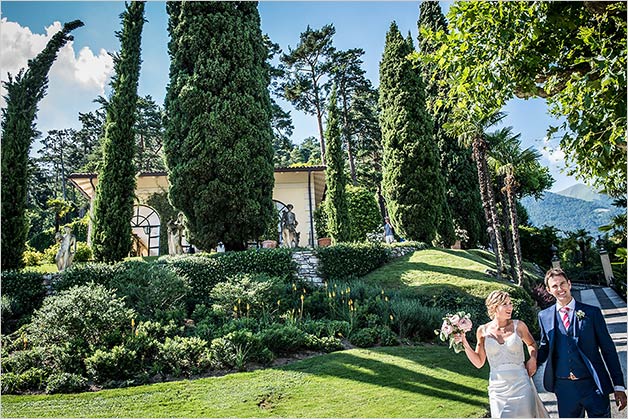 Reason #4 – Delicious food!
Besides history, art and nature, Lake Como is also famous for its delicious food. The traditional proposal finds its roots in the peasant past culture: being influenced both from the inhabitants of the shores and the neighboring mountains. So if you want a local experience, I highly recommend you to taste these dishes:
– Perch lake fish km 0 -> you can eat it dried, fried or in a risotto.
– Braised meat -> Braised is a traditional cooking technique: the meat is browned with oil or butter, vegetables, and wine.
– Polenta -> the queen of Lake Como's food. It is cooked in all ways, but the most traditional version is 'polenta uncia'.
– Wine -> the mild climate on the lake and the typical mountainous terrain entering in Valtellina provide really unique wines!
– Honey -> 100% made in Como
– Olive oil -> Even if it would be hard to say it, thanks to the wonderful climate, farmers produce really delicious olives.
There are a lot of restaurants where you can try all these specialties. But before picking one, I would love to remind you of the several Michelin-starred ones. Just so you know it, reputed chefs as Luciano Parolari and Ettore Bocchia are working on Lake Como. The first at Villa D'Este in Cernobbio, and the second one at Villa Serbelloni in Bellagio.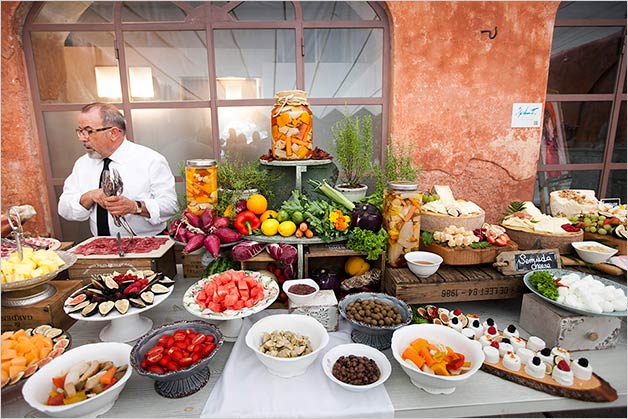 Reason #5 – You will feel like you are in a movie
I already told you how stunning Lake Como is. But I still did not mention the fact that it is also a popular movie set. Many directors chose it as the magic framework for their masterpieces. And we want your wedding to be a masterpiece too, right?!
Read which movies have been directed here, you have probably already seen your future wedding location in one of them:
– Murder Mystery – the most-watched Netflix original movie – with Jennifer Aniston and Adam Sendler was shot in the fabulous Villa Erba.
– Ocean's Twelve with George Clooney and Brad Pitt was shot at Villa Erba in Cernobbio and at Villa Oleandra in Laglio Town (the famous George Clooney's property on Lake Como) – yeah, sorry this is one not available for weddings, just for Amal 🙂
– The romantic scene of Anakin Skywalker and Padmé 's wedding in Star Wars – Episode II was shot at Villa del Balbianello. Just like part of 007 – Casino Royale.
– Famous Italian director, Luchino Visconti had a profound bond with Lake Como (once his family-owned Villa Erba). He shot some scenes of his movies like 'Rocco e i suoi Fratelli'.
– Gwen Stefani also chose Villa Erba for the music video of 'Cool'.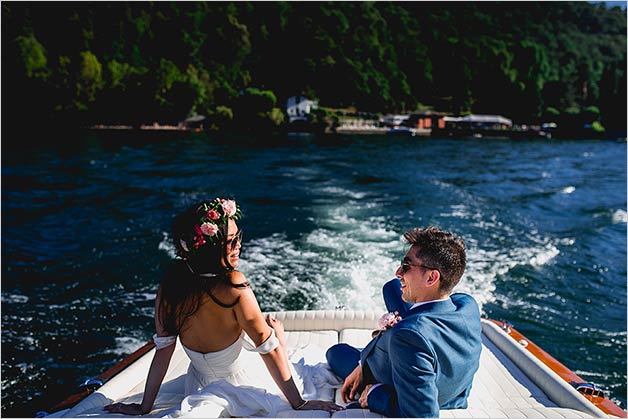 Your guests will love Lake Como – Reason #6
A destination wedding is a dream come true for most of the couples. But not always the guests agree on that. Often destination weddings require a certain kind of commitment from the guests: like exhausting trips. Luckily for you, getting married on Lake Como will solve all of these problems. Its proximity to all International Airports guarantees an easy and fast trip to your destination. Especially if you are choosing Cernobbio as your wedding location (only 40 minutes from Malpensa and Linate and 50 from Bergamo Orio al Serio).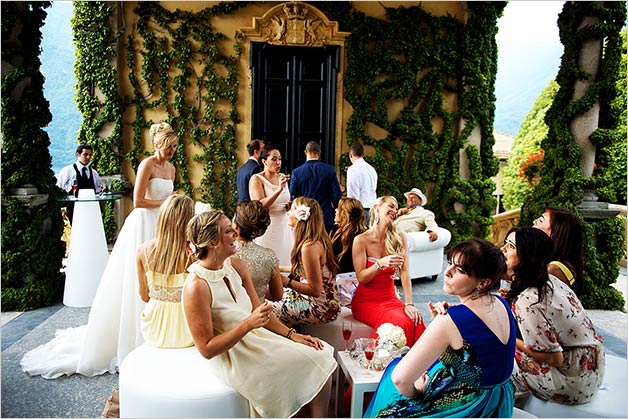 Moreover, Lake Como's specific location offers the possibility for lovely day-trips. A destination wedding is often an opportunity for all guests to visit a Country for the first time. And Lake Como is magnificent from this point of view! Not only its surroundings are fabulous but for the luckiest guests who will spend several days here, it will be easy to sightseeing cities like Milan, Bergamo, Verona and Venice. Switzerland is also a stunning destination and it is only 20 minutes from the town of Cernobbio!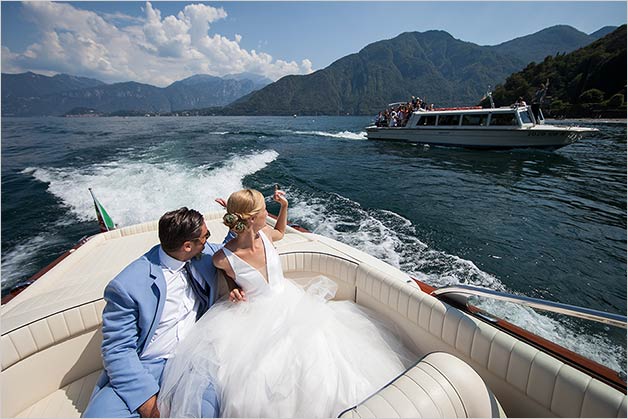 Catholic wedding on Lake Como
Considered one of the seven sacraments, the wedding ceremony is a serious affair in the Catholic Church full of deep spirituality and rich symbolism. If you are planning to getting married on Lake Como, you should know that there are only three Churches available to host non-resident couples catholic ceremonies. Two of them are located in Varenna district. Instead, the third one is located in Mezzegra. In all of them it is possible to perform legally binding ceremonies.
THE CHURCH OF SAN GIORGIO IN VARENNA
The central Church of Varenna, easily identifiable by the majesty of the bell tower, is called San Giorgio Church and it is located in the main square of the lovely village. The church has medieval origins, it was probably built between 1250 and 1300 and consecrated in 1313. Inside marbles, frescoes, and a baroque confessional provide the perfect atmosphere for a Catholic wedding. The Priest, Don Aldo, is very kind and he can celebrate in English and Spanish.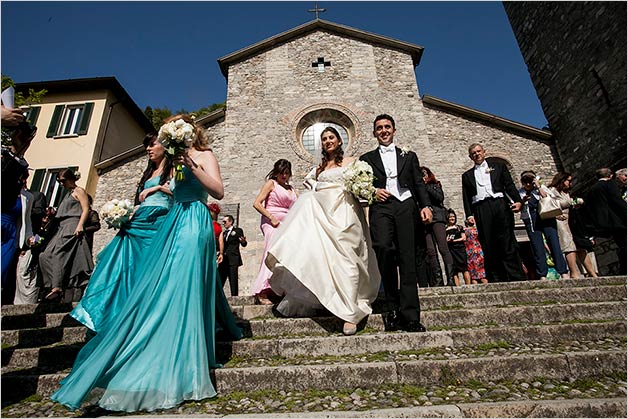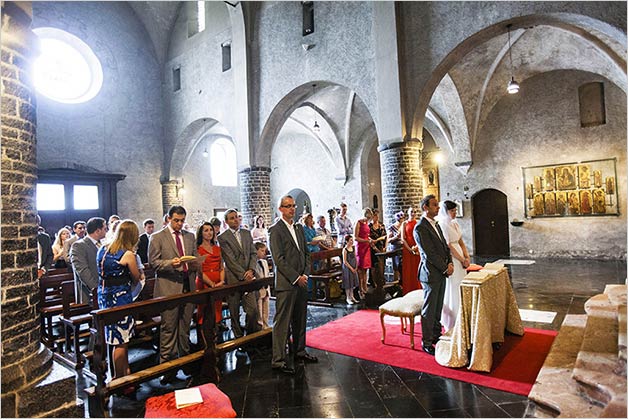 THE CHURCH OF SAN MARTINO IN PERLEDO
The second Church in the Varenna district is San Martino Church. Located in Perledo, upon the hills, it is the centerpiece of this charming village. The Church is a unique oval interior with a Romanesque bell tower that was built in the 11th century. While the Baroque facade was added in the 1600s. Expert insight: the piazza in front of the church has very nice panoramas. That means stunning wedding pictures! Last but not least, also Father Sinoj can celebrate weddings in English!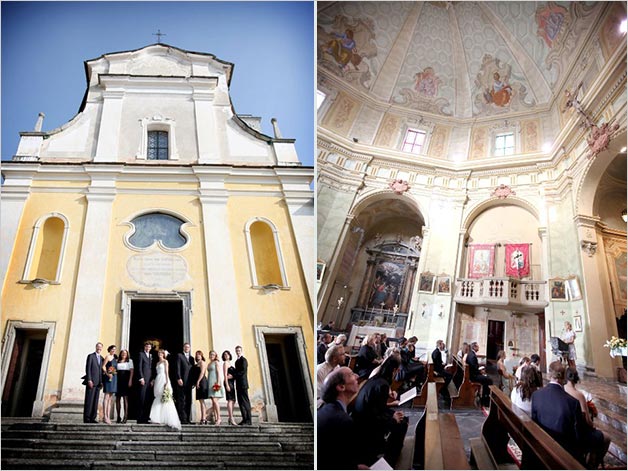 THE PARISH CHURCH OF SANT'ABBONDIO IN MEZZAGRA
The third Church available to host non-resident couples' weddings is located in Mezzegra, near Tremezzina. The parish church of St. Abbondio rises isolated on the western side of the village, with its majestic front facing the lake. It was probably founded in the 12th century in Romanesque style, then rebuilt in 1702 by local emigrants and consecrated in 1724. The inside of the church shows a splendid structure with a single nave and spectacular frescoes. The lovely Priest Don Luigi is happy to welcome foreign couples for their blessings.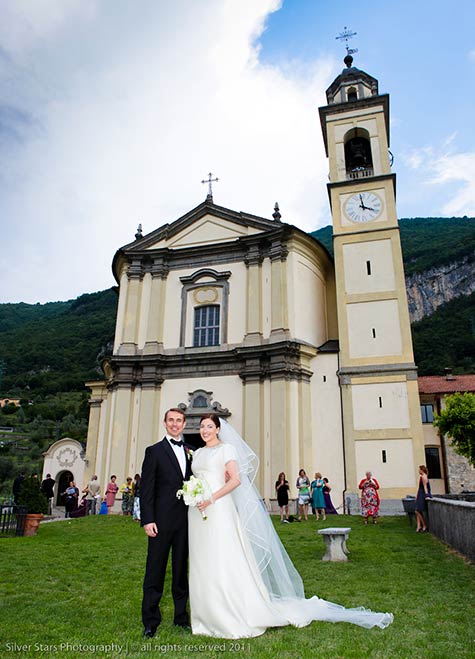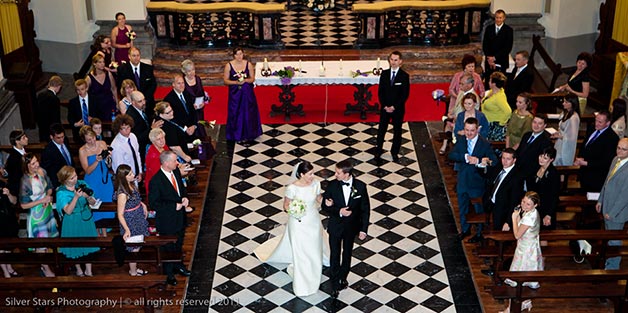 Useful info about catholic weddings on Lake Como
As a wedding planner, I know very well how important is the ceremony to every couple. That's why I wrote a specific blog post on this topic. Read it to find useful info on
catholic weddings on Lake Como
.
Legally binding ceremony on Lake Como
For the Italian law, all non-resident couples can get married in Italy following the correct paperwork procedure with the assistance of their Italian wedding planner.
Civil legally binding ceremonies are allowed at any Town Hall of Lake Como.
The general rule, in Italy, is that legally binding ceremonies have to be performed inside the Town halls walls; this is why most of the Towns and villages cannot celebrate outdoor weddings. But luckily on Lake Como, there are few stunning exceptions!
We can offer legally binding ceremonies outdoor in Villas or splendid gardens, overlooking the breath-taking lake. This is possible thanks to the special license some specific venues obtained to perform the functions.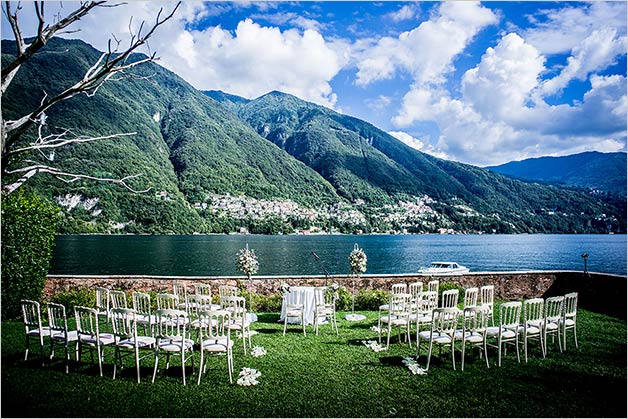 Right now, the venues available for civil legally binding ceremonies are the following:
VILLA DEL BALBIANELLO
Villa del Balbianello is one of the most famous wedding venues on Lake Como. It is also one of the most wanted Italian wedding destinations; a majestic though intimate Villa reachable by boat and located on Lenno's promontory. Too beautiful to be real, the property is managed by FAI – Fondo Ambiente Italiano – a fund that preserves the most important Italian monumental Villas and gardens. Thanks to our agreement with the fund, we have the permission to organize here unforgettable private events. Your civil or symbolic ceremony can be performed in its grounds and followed – for the luckiest couples – by an unforgettable reception dinner and party in the gardens, under the Loggia or under the marquee.
EXPERT INSIGHT - in case of bad weather
In case of bad weather, it is possible to utilize an old lake view building where cocktails or sit down meals can be served; allowing a great saving on the marquee set up!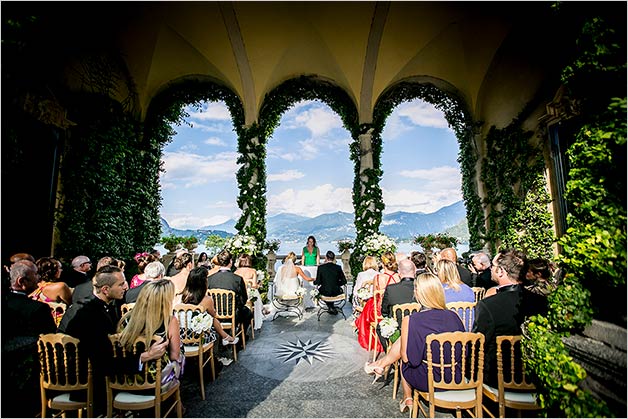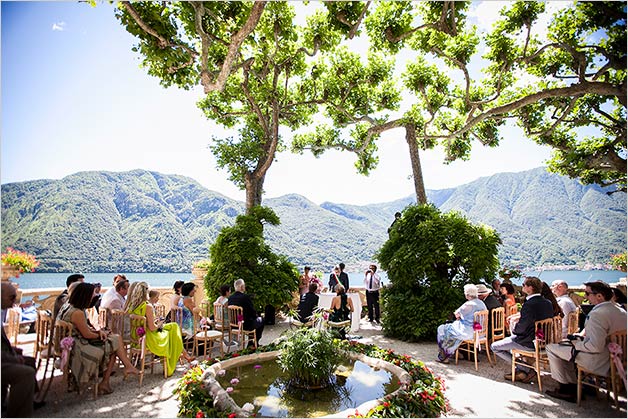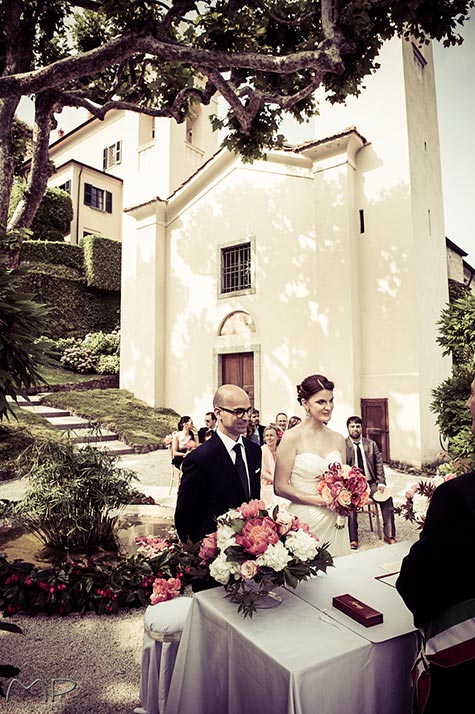 VILLA CIPRESSI
If you are dreaming about a fairytale wedding, you will fall in love with Villa Cipressi whose name comes from the wonderful and ancient cypress trees in its gardens. The complex is steeped in history with buildings built between 1400 and 1700 and secular terrace gardens that reach Lake Como shores. Nowadays Villa Cipressi is a small hotel with 32 rooms located in the lovely village of Varenna. The strength of this venue is the civil registrar ceremony that is allowed in the gardens and usually followed by a delicious lunch or dinner prepared by the lovely internal staff. The spectacular views, the reasonable prices and the opportunity to keep the whole group together at the same venue – also in terms of accommodations – make this place really unique on Lake Como.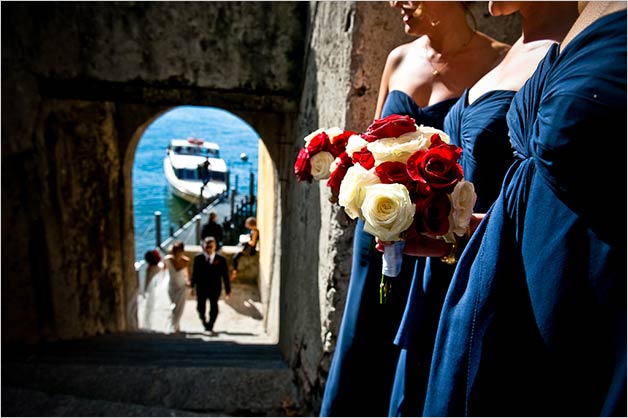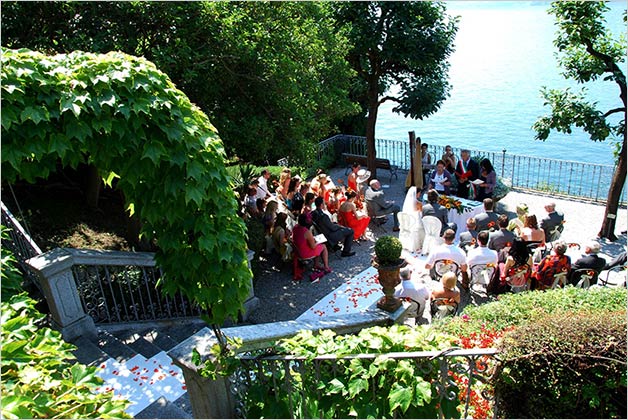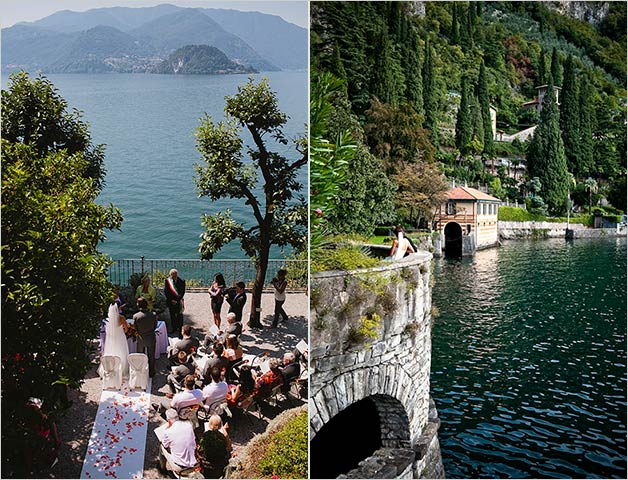 VILLA CARLOTTA
Villa Carlotta is a place of rare beauty immersed in 70,000 square meters of lush gardens with a stunning view facing the amazing Lake Como.
Its history goes back to 1843 when Princess Marianne of Nassau, wife of Albert of Prussia, donated the Villa to her daughter Carlotta on the occasion of her wedding with Georg II of Saxen-Meiningen. They decided to name the magnificent mansion after her and from then on it was renowned as Villa Carlotta.
The Villa, now also a museum, is open to public visitors every day though a stunning private terrace is rentable at exclusive use of those couples who want to host their ceremony here.
The service can then be followed by a rich standing cocktail. Lunch and dinner, instead, are not allowed and after the cocktail, the wedding guests and the couple can move to a different venue to continue the party. For example, at walking distance, there is the luxury Grand Hotel Tremezzo and also a public dock where boats can pick up guests and lead them to another wedding venue. A perfect occasion for a lovely boat trip. Your guests will especially appreciate it if you will offer them a glass of good Italian Prosecco that I – as your Lake Como wedding planner – will be pleased to provide!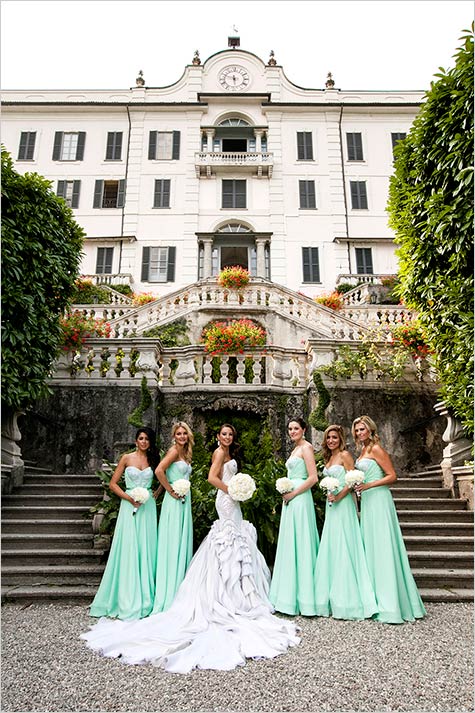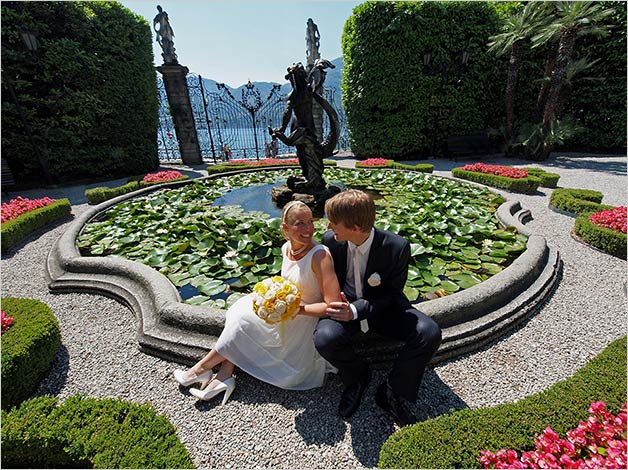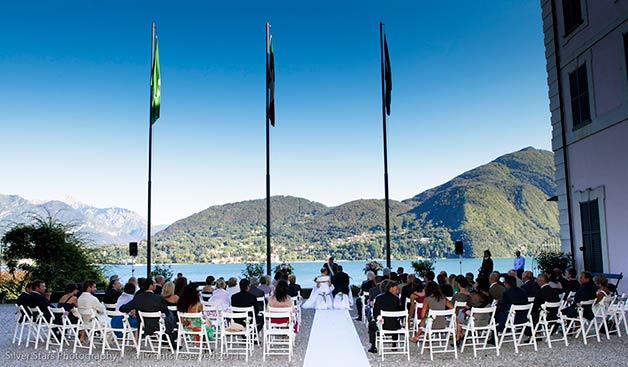 THE TOWN HALL OF OSSUCCIO
Ossuccio is a typical and medieval village on the shores of Lake Como, not far from Lenno village. It is most known for its UNESCO Heritage Site, the Sacro Monte. It was named a heritage site for its spiritual significance and the way it integrated Renaissance and alpine architecture into the natural surroundings of lakes, hills, and forests. There are artistic treasures displayed throughout, and it has been a place of pilgrimage since the 1600s.
The town Hall of Ossuccio, located on a prime lakefront spot, directly facing the Lake's only island, 'Comacina', is a typical and authentic Italian venue perfect for an intimate wedding (max 30 guests). The couple will have the opportunity of an official ceremony by the lake, immersed in the old charming atmosphere of the Porticos walls.
After the service, the proximal boat dock will allow boat access and the possibility for a post-ceremony cruise.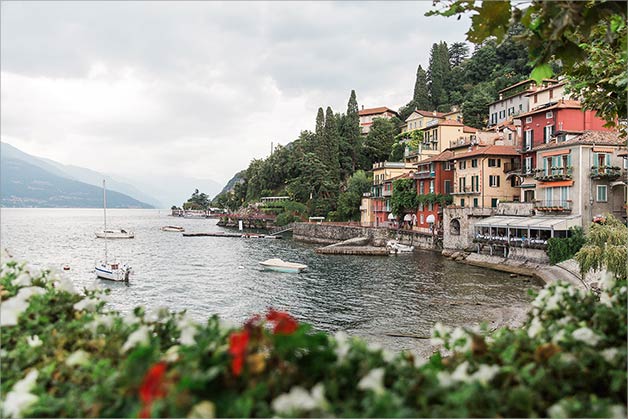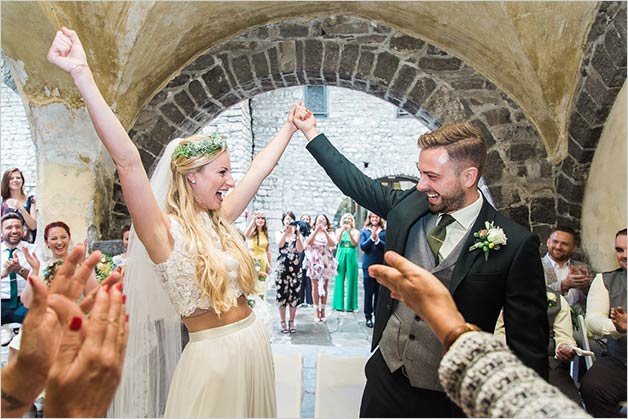 COMACINA ISLAND
Known for its glorious past, the Island played an important role in the history of Como, from the Roman period to the early Middle Ages. Comacina was a fortress, with houses and churches all surrounded by high walls. It was also among the most important religious centers of the diocese of Como.
From 1919, the Island became the responsibility of the Brera Academy, appointed to protect the archaeological and scenic beauty. Needless to say how beautiful is this place, rich in history, culture, art, and nature. Since 2014, every year a few lucky couples have the chance to get married on Comacina Island that can be entirely privatized for one day.
So, if you are planning to get married here, hurry up: the island will open its doors only to a few exclusive weddings followed by a stylish reception, a romantic party and sparkling fireworks! The only downside is the budget required. Clearly, this is a very exclusive solution and cannot be confused with some rustic place.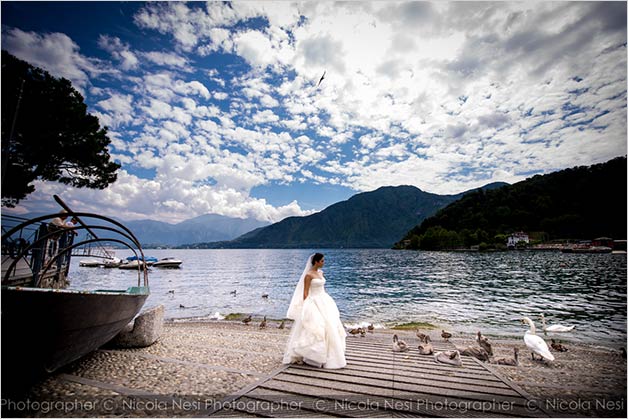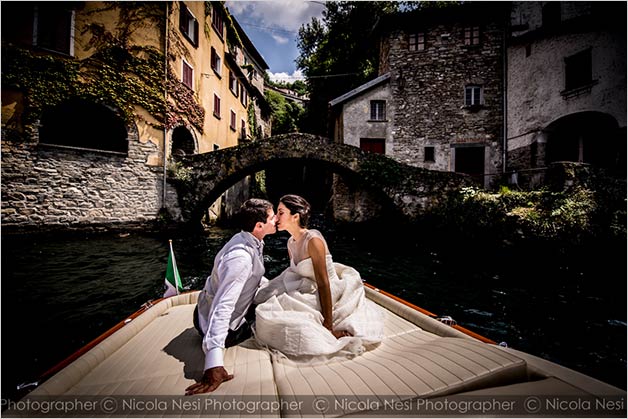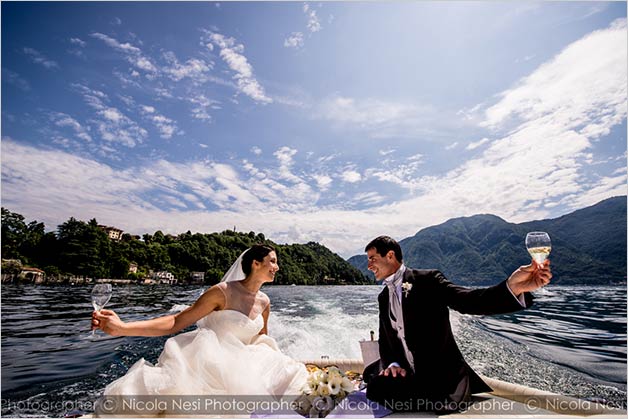 Choosing the perfect location is a hard job. Especially here, where every location is a good location. But do not worry, I will be pleased to get you through this hard but wonderful journey.


- Alessandra Fabi, Lake Como wedding planner
Symbolic blessings on Lake Como
A symbolic wedding ceremony is a meaningful non-religious ceremony performed by a wedding celebrant. The reason why I love symbolic blessings is that they allow expressing the couples' personality, their tastes, and their values.
Because it has no legal value, a symbolic wedding ceremony offers a lot of flexibility and surely it is the easiest choice for a foreign couple. It is popular among my clients, in fact, having the legally binding ceremony in their own country and just repeat the ceremony on Lake Como with special and personal mutual vows exchange. This permits you to avoid any inconvenience related to international paperwork and to just worry about your love celebration.
Last but not least, a symbolic blessing can be performed at ANY Private Villa or Hotel on Lake Como. This gives the advantage of spending the whole wedding day at the same venue saving also the costs of transport of guests from a venue to another.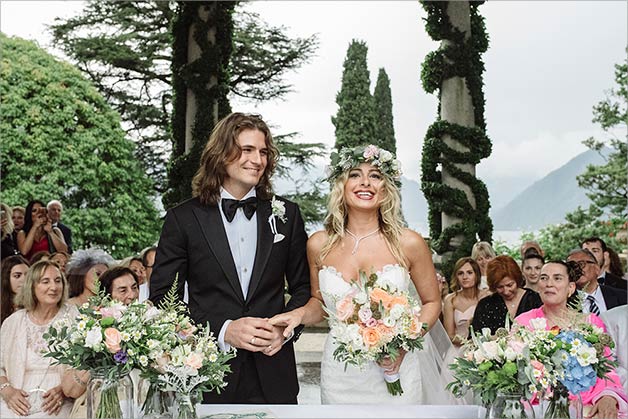 VILLA ERBA
One of my favorite locations for this kind of ceremony is certainly Villa Erba, a 19th-century villa used for high-level exhibitions and luxury events. The imposing building recalls the Italian neo- renaissance standards, with external decorations and wide staircases that accompany the guest to the shores of Lake Como. This magnificent property is an excellent venue for unique weddings and events overlooking the lake. The botanical park and the magical interiors offer an enchanting atmosphere to celebrate your Big Day.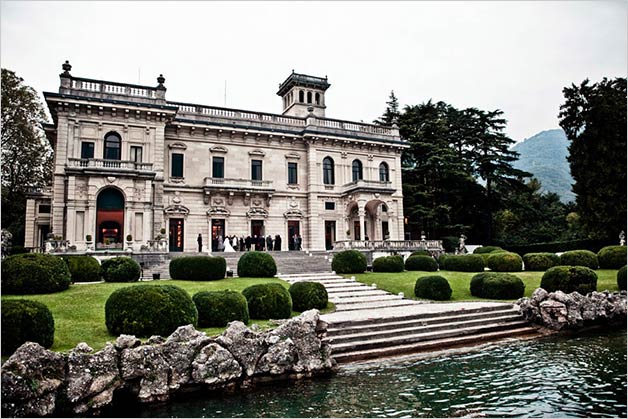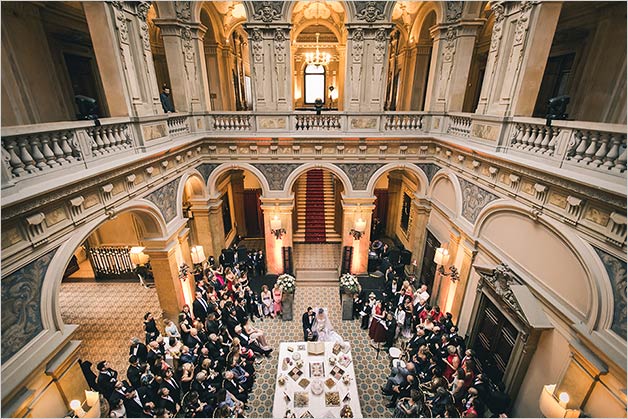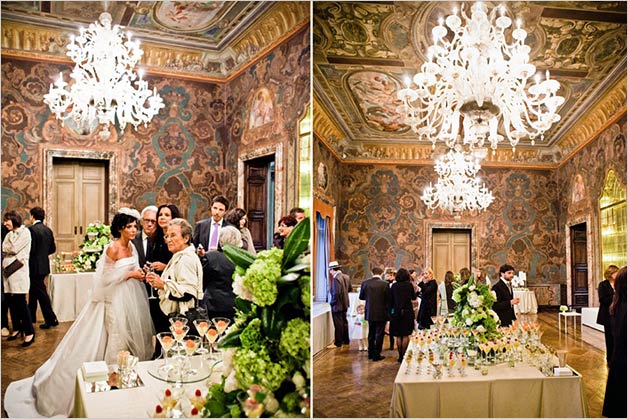 Reception on Lake Como… where do I start?
As previously mentioned lake Como is the third-largest Italian Lake and thanks to its vastity it offers a great variety of enchanting wedding reception venues. Everyone can find their dream location here!
Lake Como style goes from the private Villa to the luxury Hotel, like Villa D'Este or Villa Serbelloni, to the classic lakefront restaurants. As your lake Como wedding planner, I will be delighted to guide you through the most stunning wedding venues according to your requirements.
But before planning any appointment, I would like to give you some suggestions about your choice. Please, remember Lake Como size: distance from one venue to another can be relevant and traffic can be terrific during some days. So, my advice as an expert wedding planner is to choose close locations.
Start by focusing your choice on the primary location. It can be either the ceremony one or the reception one. Then, if you desire to celebrate your wedding in more than one place, you will have to decide on the second one according to the distance from the first choice and also from the guests' accommodations venues. Your guests will appreciate the most immediate vicinity.
Keeping this advice on your mind, let me give you some ideas of what kind of Villas can be hired and where.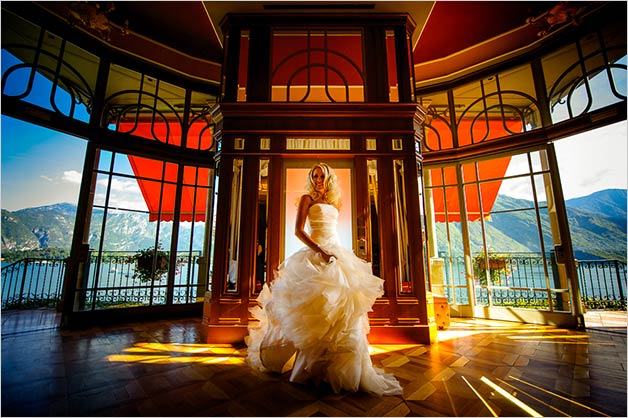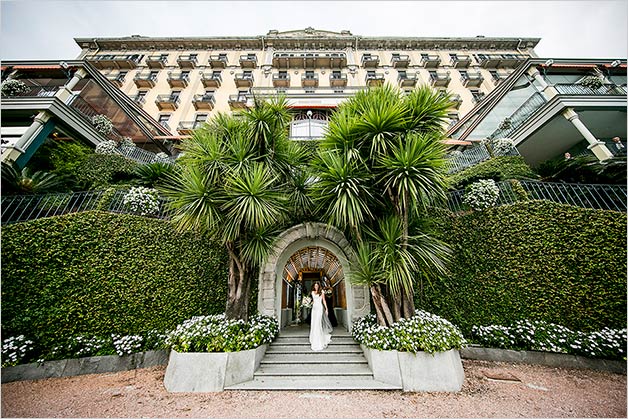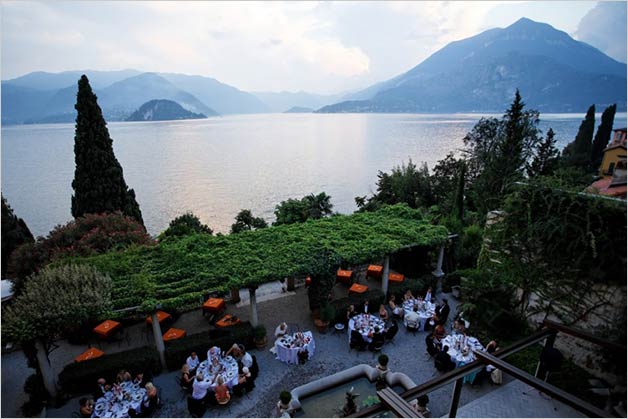 BEAUTIFUL PRIVATE VILLAS ON LAKE COMO
Beautiful private Villas with accommodations on-site can be hired in the Villages of Como, Moltrasio, Laglio, Cadenabbia, Menaggio, and Bellagio. Generally, the accommodation capacity goes from 6 to 14 guests with few exceptions of larger and much more expensive Villas.
Many other gorgeous Villas are available for wedding receptions but with no accommodations on site. Some of these are in Como town while others are in Lenno, like Villa del Balbianello and in Cernobbio as well as in the country-side of Lake Como. I will be pleased to help you with planning the best private reception dinner and party with delicious Italian or international food, best wines, good music, and even fireworks!
But if you are thinking about something a little bit more modest there are also other options beside Villas and large luxury hotels. Lake Como offers a vast choice of elegant small charming Relais where you can feel at home and enjoy all the comforts of a hotel.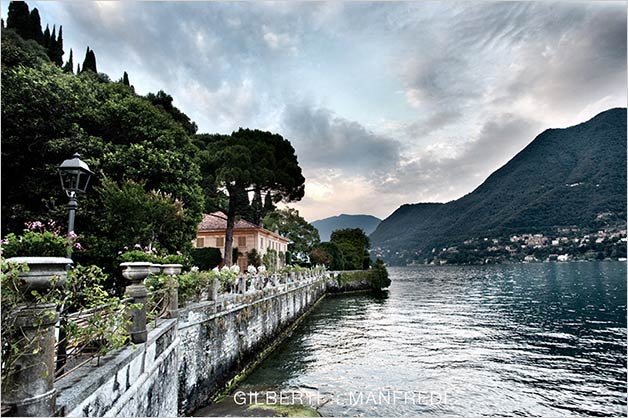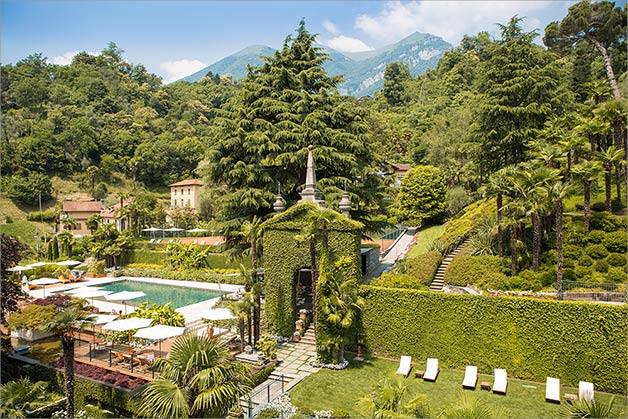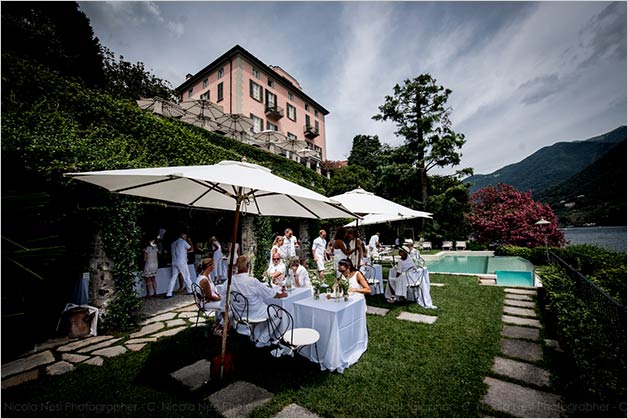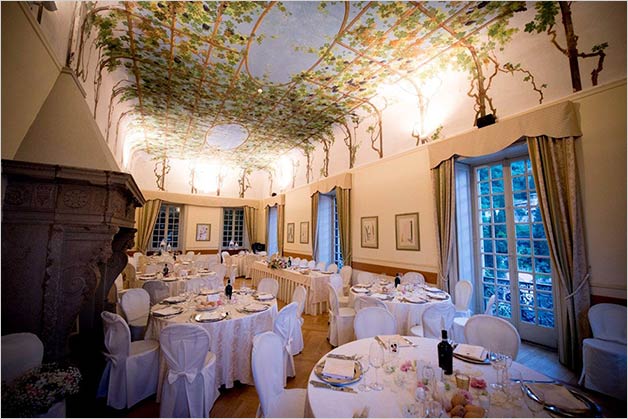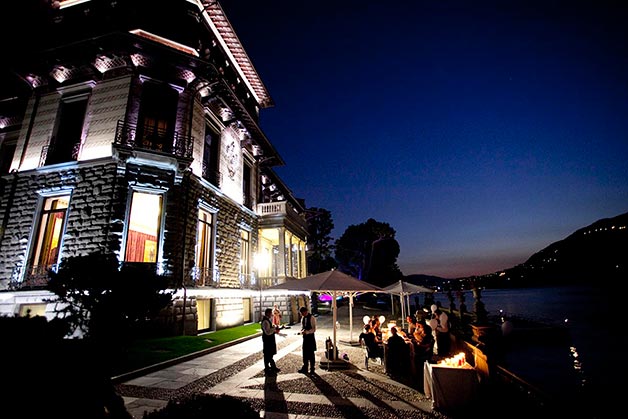 beach clubs
. Here are my favorites:
LIDO OF LENNO
In my opinion, this is the most elegant one. The fascinating beach club and its tasteful restaurant, which offers a menu featuring only first quality ingredients, create a fairytale scenery perfect for an uncommon wedding. It is also possible to request a taxi boat service on Lake
Como, which offers the opportunity of private trips on the lake to visit fabulous locations such as Villa del Balbianello or the village of Lenno.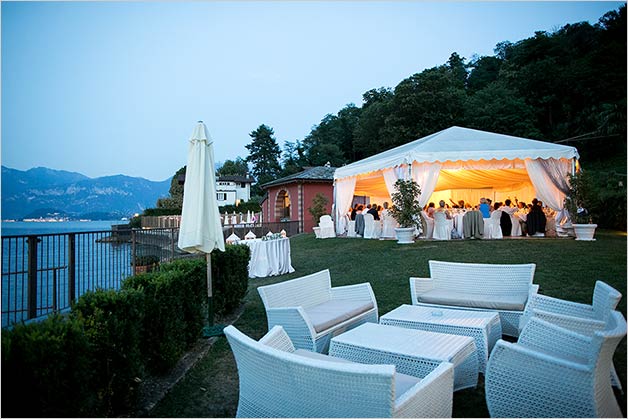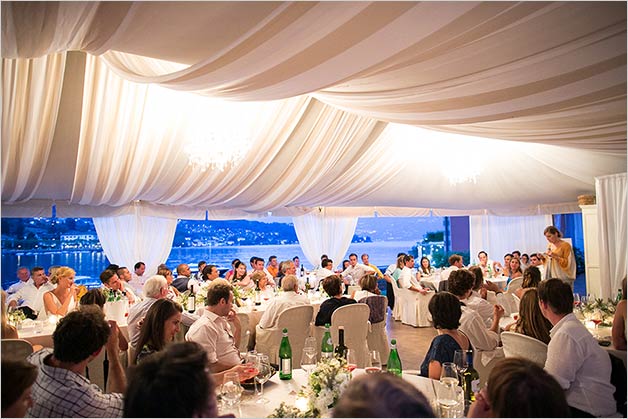 LIDO OF BELLAGIO
This beautiful beach club has a history of more than a hundred years and has been the location of comedy movies such as "A Month at the Lake" by John Irving. Just an hour's drive away from Milan and a ten-minute walk from the city center of Bellagio, it can also be reached by car, as well as by private boat or water taxi. The beach club boasts 8 large gazebos and 350sqm of fine sand beach, which, along with a spectacular view, will ensure your amazing wedding reception.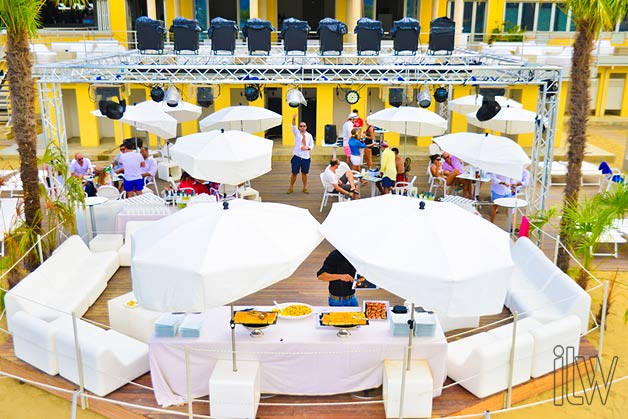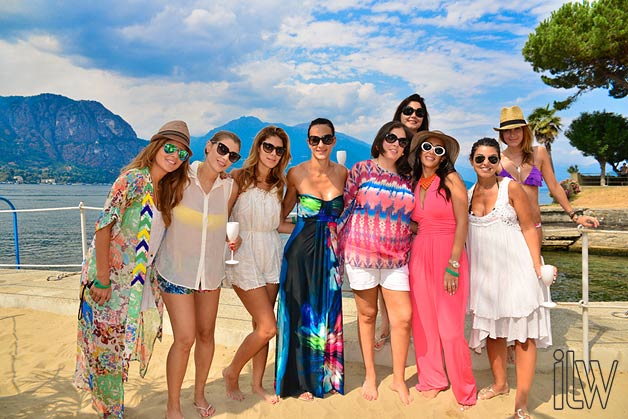 Both beach clubs are also available for great parties before or after the wedding day, as you can see in the pictures!
Getting married on Lake Como: accommodations for the newlyweds on their wedding night
Lake Como provides many luxury hotels, perfect for welcoming the couples on their wedding night. If the budget permits it, choosing a dreamy suite always add a little bit of magic. I will be happy to show you the top 5 hotels in Lake Como:
GRAND HOTEL TREMEZZO
The same family has been running this magnificent palace hotel for the past 40 years. Notable for its Canova sculptures and its superb botanic gardens, it has much else going for it, including charming, cleverly updated interiors, exceptional rooftop suites and the highest of standards. The real advantage in our case is its proximity to Villa Carlotta.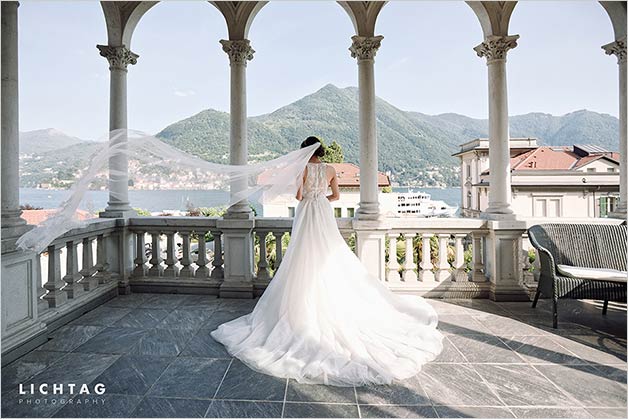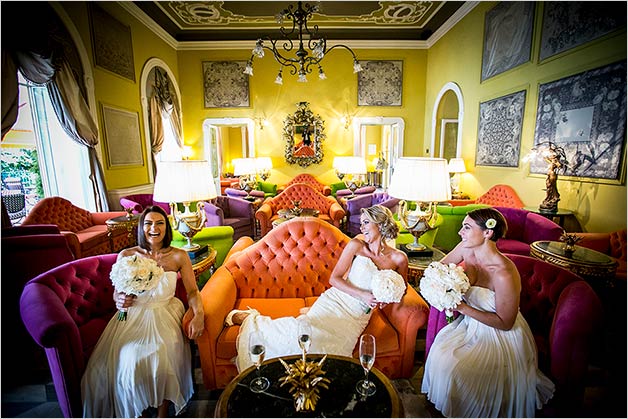 VILLA D'ESTE
Opened in 1873, Villa d'Este is one of Italy's grand dame hotels. And I should add that Forbes Traveler nominated it as the best hotel in the world. For hundreds of years, this palace has attracted celebrities, royalty, and everyone who has been someone. And still today it is notable for its elegance and its old school service.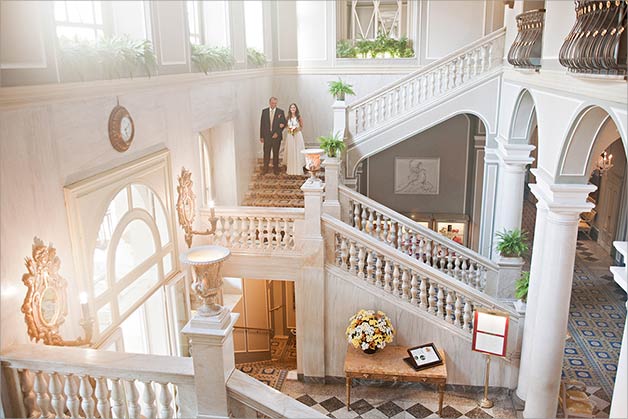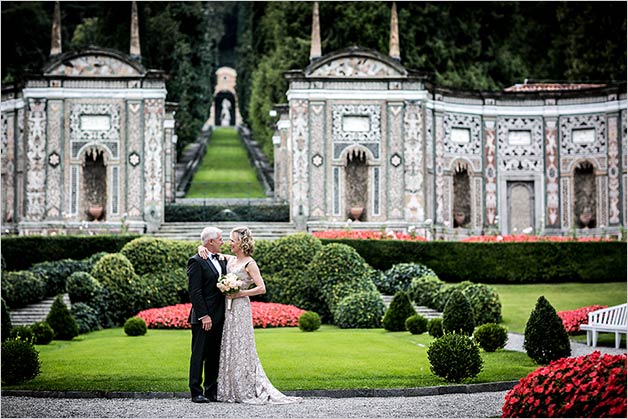 GRAND HOTEL VILLA SERBELLONI
A magnificent summer residence that was turned into a hotel in 1873. And now it is a 5-star- luxury one. Once owned by the Butcher family, the property boasts impressive staircases and fresco ceilings. The grand hall, the Salone Reale, features splendid chandeliers in Murano glass. It's a good choice for couples who are looking for the loveliest spot in Bellagio.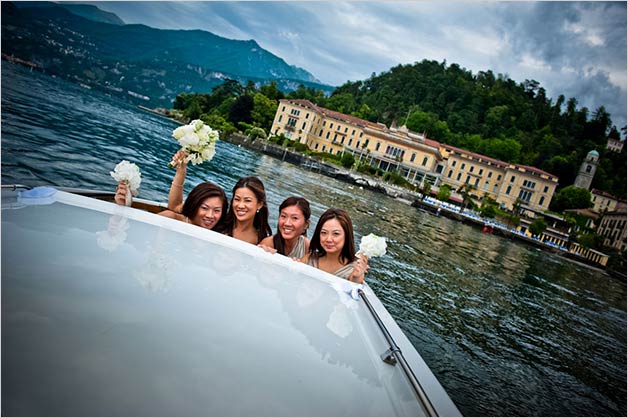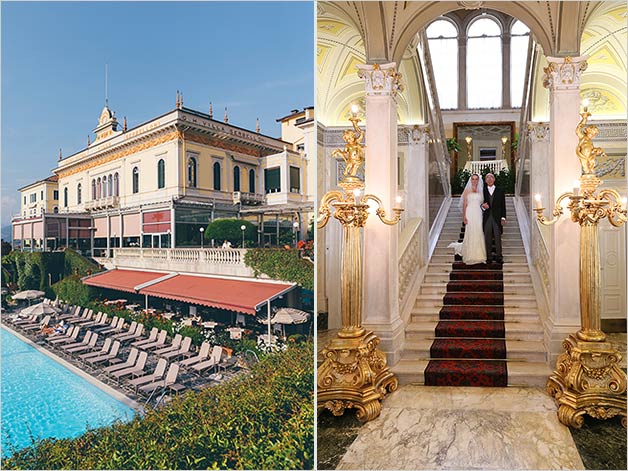 Celebrieties wedding on lake Como
Lake Como is one of the most prestigious jewels of Italy and, for this reason, it has been chosen by many celebrity couples as their destination wedding. Let's find out all the main protagonists of the fanciest weddings on Lake Como.
John Legend and Chrissy Teigen
Singer John Legend and supermodel Chrissy Teigen chose to tie the knot in our beautiful Lake Como. The couple chose the amazing Villa Pizzo as their location for the wedding reception, which went on all through late at night.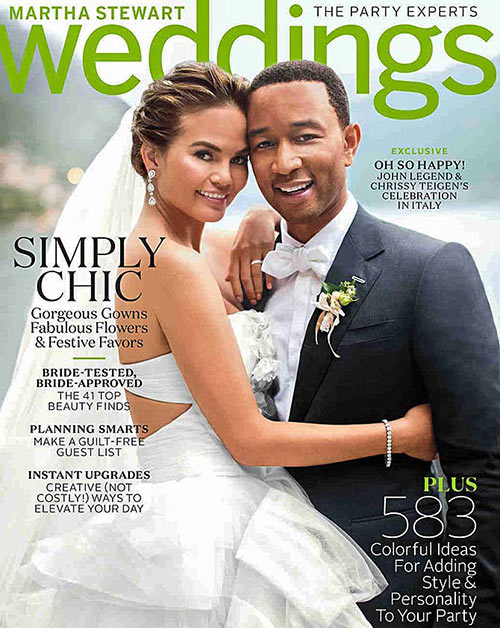 Daniel Ek and Sofia Levander
It was a very romantic wedding even for Daniel EK, the founder of Spotify, and his lucky bride Sofia Levander, who was so beautiful in her white dress. They decided to celebrate in two different locations: Villa Pliniana for the wedding ceremony, and the 5 stars luxury Hotel "Il Sereno" for their party. The wedding singer was Bruno Mars and guests included Facebook CEO Mark Zuckerberg and his wife, Priscilla Chan.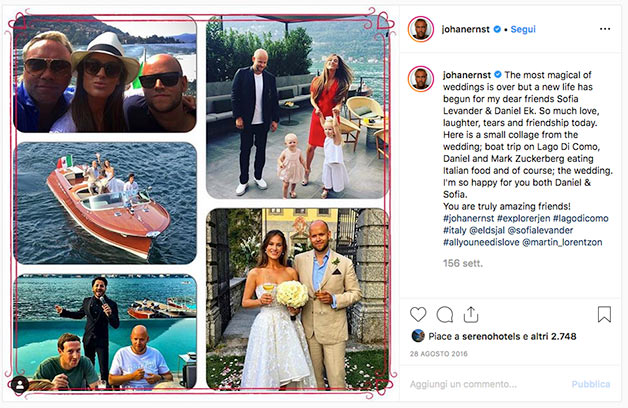 Martine McCutcheon and Jack McManus
It was a wedding full of music the one between the two British singer-songwriters Martine and Jack, who got married at Villa Balbianello, a magnificent building with a 360° view on Lake Como.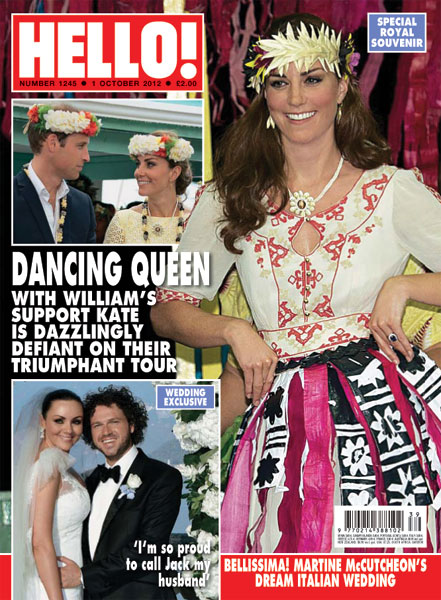 Emily Blunt and John Kransinski
Emily Blunt and John Kransinski, a significant protagonist of American cinema scenery, picked as their wedding location Villa d'Este, a 5 stars luxury hotel with a historical garden surrounded by the waters of the Lake Como.
Meryl Streep, George Clooney and Matt Damon are among the stars at Emily Blunt's wedding in Lake Como… what a guest list!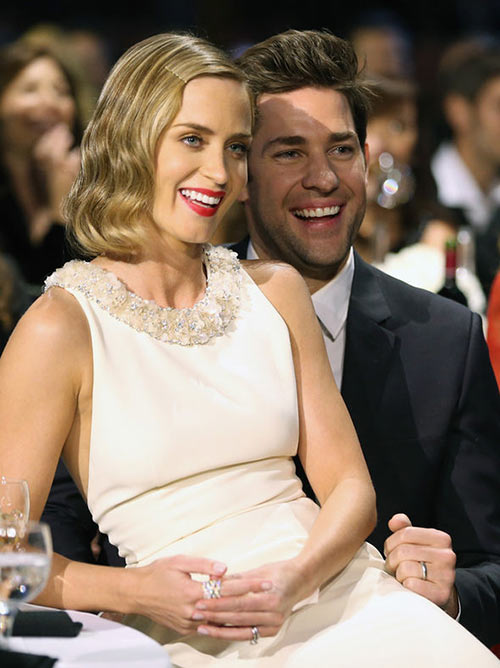 Laura Smith and James Farmer
The British A-lister married one of the top Personal Trainers in London in the breathtaking Villa Del Balbianello. They tied the knot in front of their family and friends including British stars like Lily James and Matt Smith (The Bride's brother)..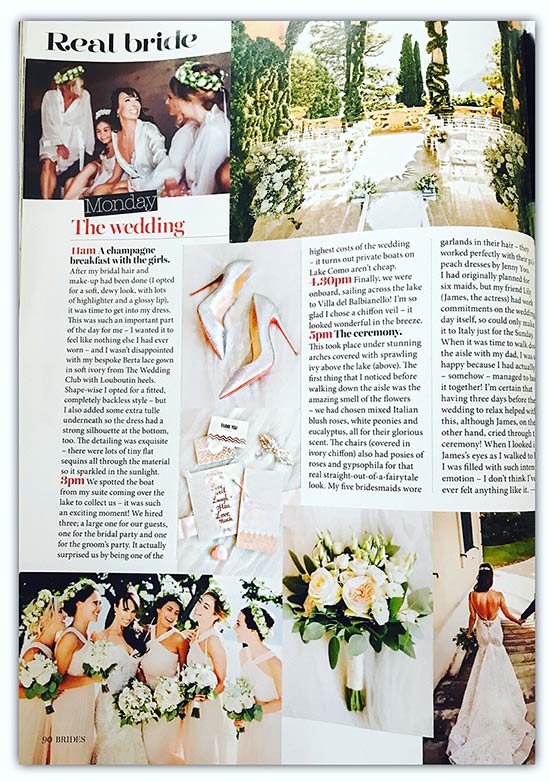 Your wedding planner on Lake Como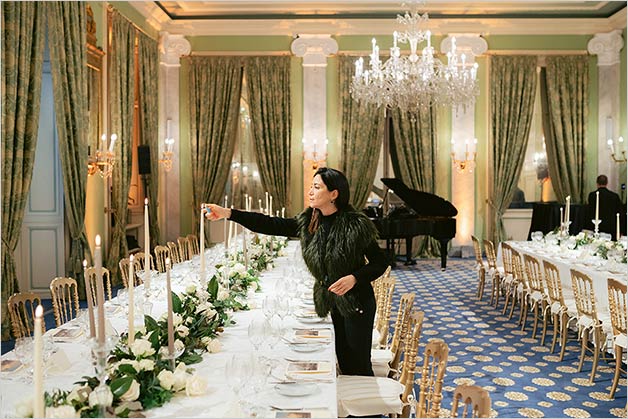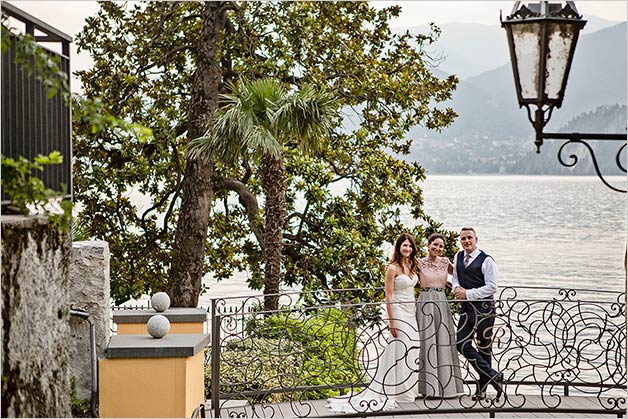 I have been working on Lake Como for many years and I have plenty of experience in the area and all its wedding and touristic venues. I would be pleased to help you find the perfect wedding spot on Lake Como and share with you and your guests my skills to plan your dream wedding.


- Alessandra Fabi, Lake Como wedding planner