ear Couples,
many of you write us asking further information about
Villa del Balbianello rental
. For this reason we would love to give you more information on our blog that we hope could be useful.
As mentioned
Villa del Balbianello
is a very exclusive and unique venue, for this reason rental fee is related to the luxury and exclusivity of the location itself.
Villa del Balbianello – Official Rental Fees
Italian Lakes Wedding Team now is happy to provide you the official rates of Balbianello Villa.
We tried to be the most exhaustive we could but please feel free to CONTACT US if you find something not clear or if you may need additional details.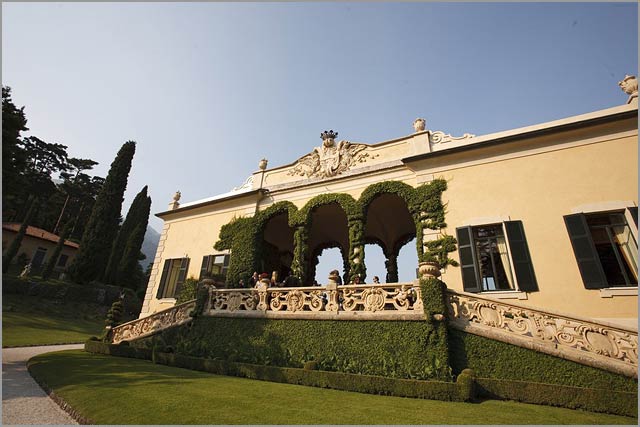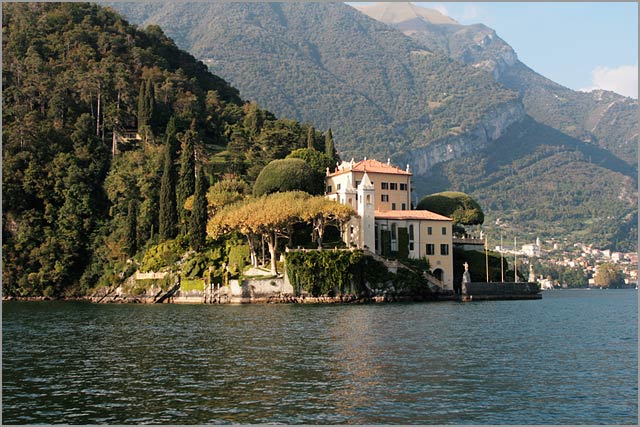 Balbianello is one of the most beautiful and unspoiled Villas of the area reachable by boat thus giving your guests the opportunity of living a "different" experience.
FAI (Fondo Ambiente Italiano – Italian Environment Fund) preserves the most important Italian monumental Villas and gardens and it manages Villa del Balbianello too. It has agreed us the permission to use the Villa for our events.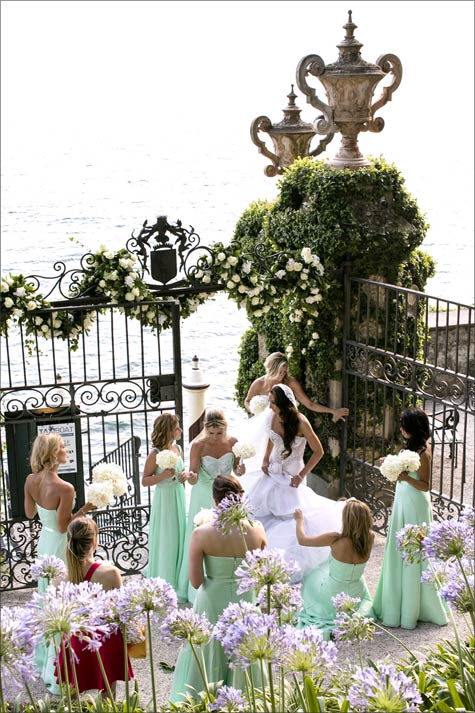 We hope you will appreciate the uniqueness of this amazing setting and stunning view as much as we do!
The breath-taking ceremony can be celebrated outdoor overlooking the lake.
At Villa del Balbianello can be performed civil legally blessing ceremonies from Monday to Saturday.
Villa del Balbianello offers the opportunity of using the venue for different kind of events (prices change according to your choice):
Only the ceremony (max 2 hours staying).
Ceremony + aperitif / cocktail (max 3 hours staying).
Ceremony + complete reception (max 6 hours staying) with option of extending the time till 2am at an extra fee charge or upon request and with extra charge some exceptions and extensions can be agreed.
Depending on the guests number, ceremony can be celebrated on one the Terraces or under the Loggia.
For groups smaller than 50 guests, the ceremony can be celebrated also while the Villa is still open to tourists (this option is cheaper than having the Villa in exclusive). This means in the afternoon, earlier than 6pm.
For groups over 50 guests, ceremonies are only allowed when the Villa is closed to public visitors (this has a higher cost) and therefore with the Villa in exclusive.

The Villa is available at exclusive use:
On Monday and Wednesday at any time starting from early afternoon (these are Balbianello closing days).
The other days (including Saturday and Sunday) after 6pm.
The Villa is open on Saturday but rental fee is the same as the one for closing days.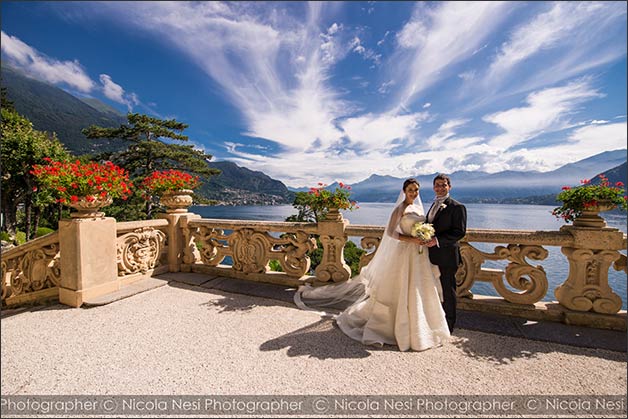 The rental fees of Villa del Balbianello also depend on the guests' number attending the wedding / event.
Moreover, we remind you wedding breakfast or dinner can be planned only when the Villa is closed to public visitors.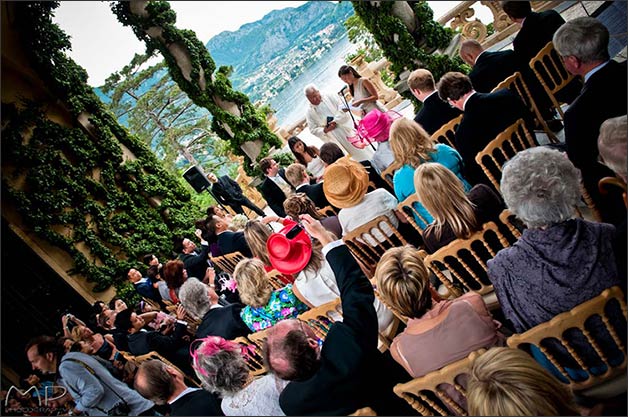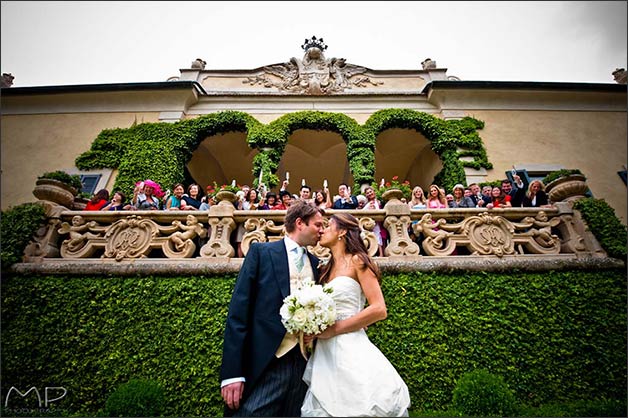 For civil legally binding ceremonies please consider the following extra costs:
Town Hall fees
Interpreter fee.
Chairs.
For symbolic ceremonies / blessings please consider the following extra costs:
The Villa is available until maximum Midnight – this is only if you have here both ceremony + reception – but can be available until 2am paying an extra fee.
Upon request a longer stay can be agreed under payment of an extra charge.
All the necessary wedding services required (flowers, music, catering, etc.) can only be provided by the exclusive suppliers of the Villa.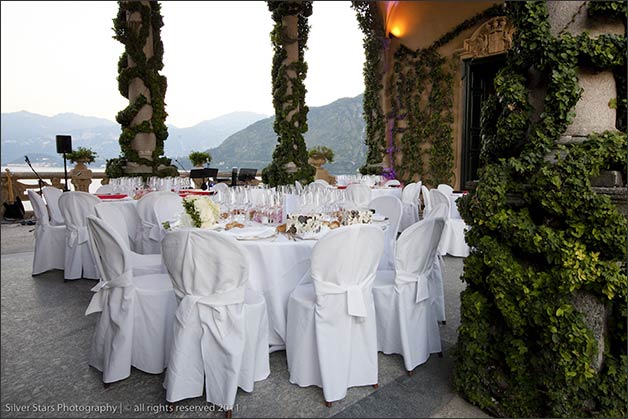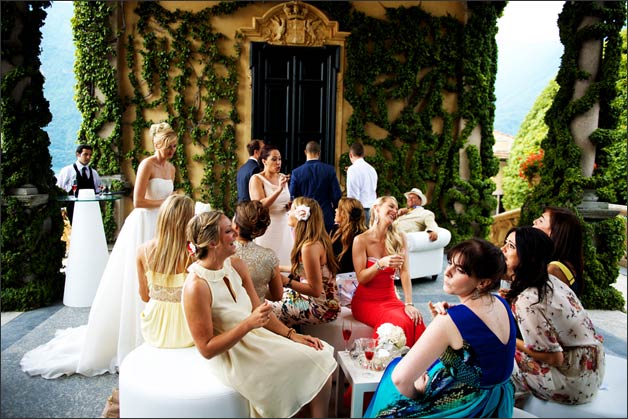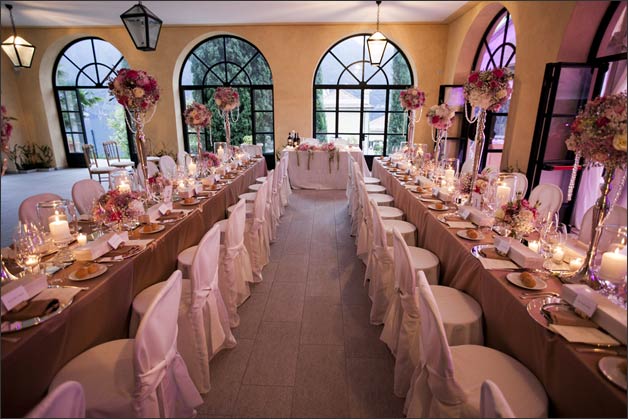 IMPORTANT INFORMATION
Villa del Balbianello has two small indoor rooms (Library and Cartographer room) available only when the Villa is closed to public visitors.
These rooms are one opposite to the other, at the two sides of the Loggia.
The two rooms are both available only on Monday and Wednesday.
The Villa offers also a brand new covered area, available for your wedding ceremony (inside, in case of bad weather) or for your wedding reception (it can be organized inside in case of bad weather or in the beautiful terrace in case of sunny weather).
Your wedding aperitif can be organized only in this new area when the Villa is open to public visitors.
Balbianello doesn't offer any type of accommodation, except a room available only for newlyweds (during the afternoon or/and the night of the wedding –extra cost).
Balbianello is open only from mid March to mid November.
Balbianello is only reachable by boat, therefore there are extra costs for the transfers to and from the Villa to be taken in consideration.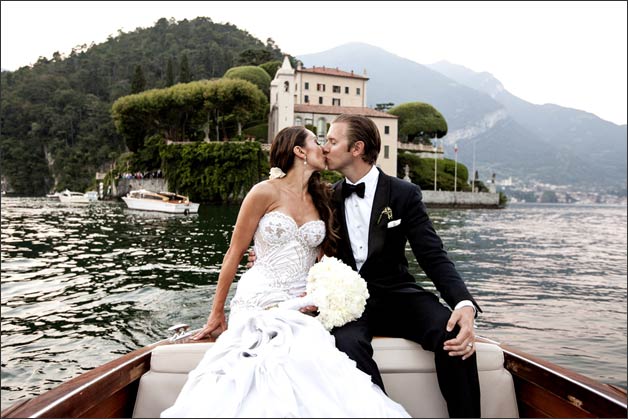 We would like to suggest another opportunity too.
We can also advise to use this wonderful spot of Lake Como as an amazing set for your wedding pictures. In this case we could arrange for you the ceremony and reception somewhere else on the lake and then let you reach Villa del Balbianello afterward with a boat tour for your wedding pictures. This will involve a smaller budget but will let you enjoy the beauty of Villa del Balbianello anyway.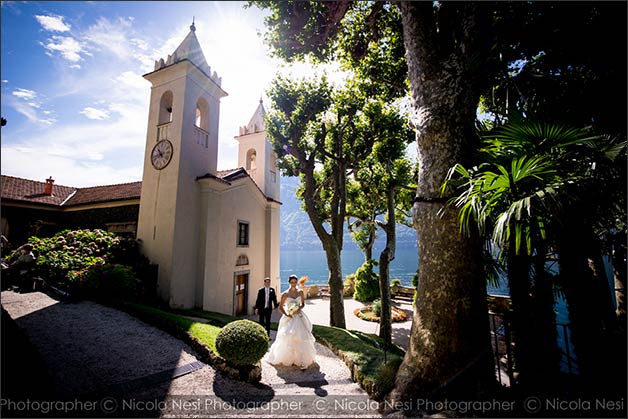 Please fell free to contact us for a detailed price listing.