he Day 2 of Giulia and Archit's wedding – The Indian Wedding on Lake Maggiore – was not all planned but began on
Lake Orta
.
 Giulia's family has a family home just on the shores of the Lake.
 It was the perfect venue to plan the
Haldi
. 
What is it?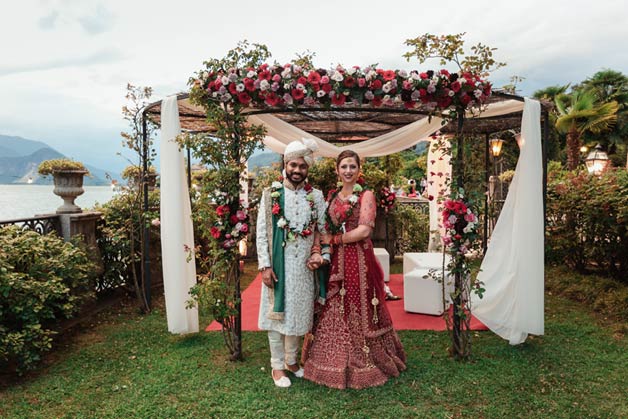 The Haldi Ceremony on Lake Maggiore
In Indian weddings, the bride and groom apply Haldi on their body on the morning of the wedding. Haldi is a yellow turmeric paste, and it is a symbol of good luck for them. The tradition wants that powder to ward off evil spirits and provide powerful healing properties for the couple.
The bride and groom wanted to enrich the rite with amazing Indian live music. A celebrant conducted it, and all family and friends were there to enjoy and share the moment.

At the end of the rite, Giulia and Archit jumped into the Lake to clear the yellow powder.
 The couple offered a fantastic Indian food buffet for all.
 So now the Italian Indian Wedding between Lake Orta and Lake Maggiore can start.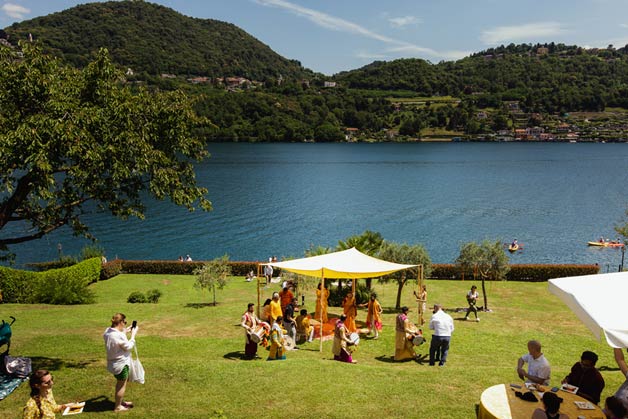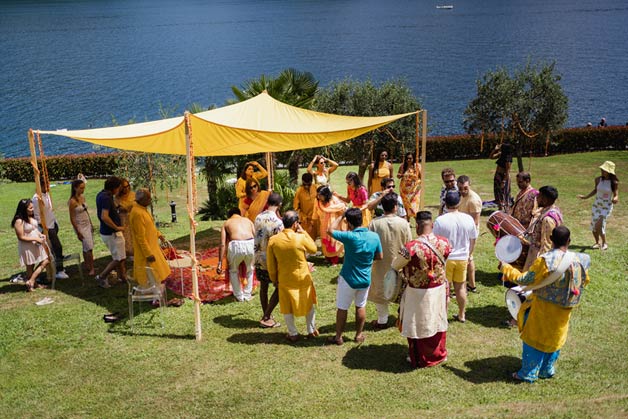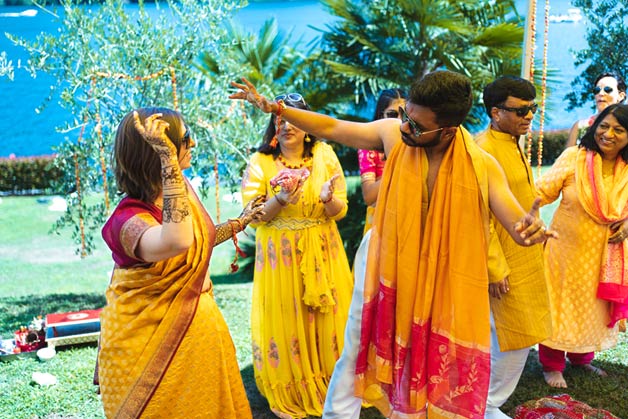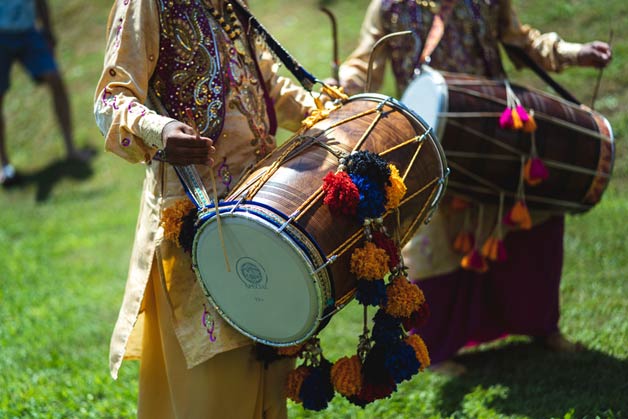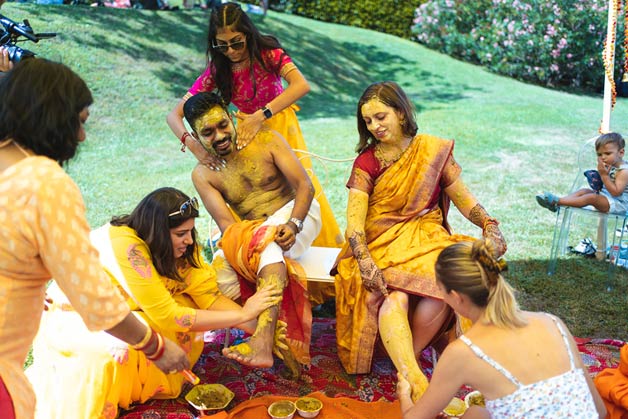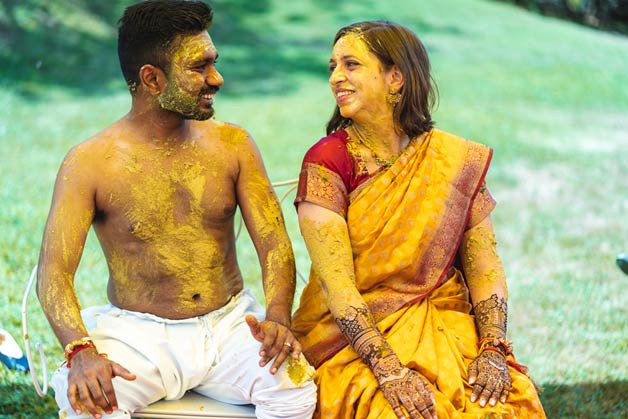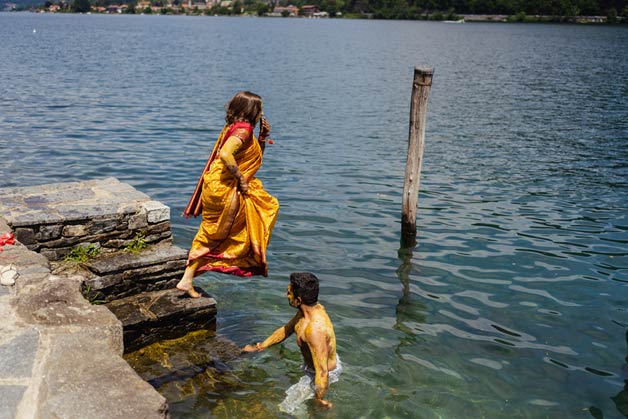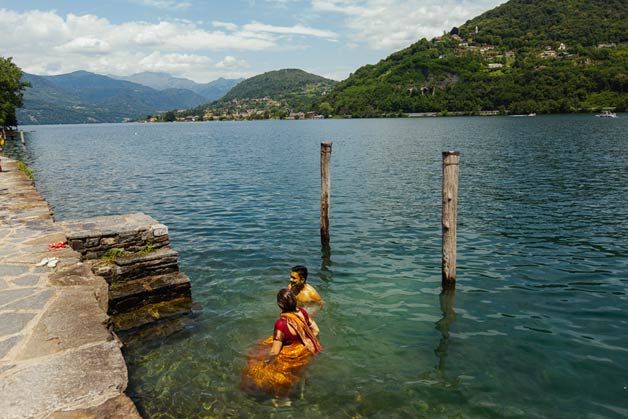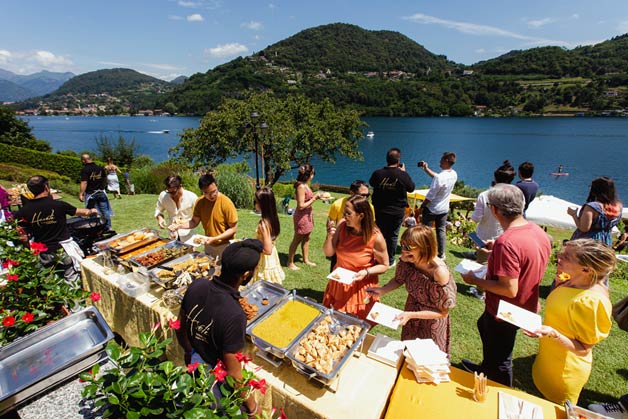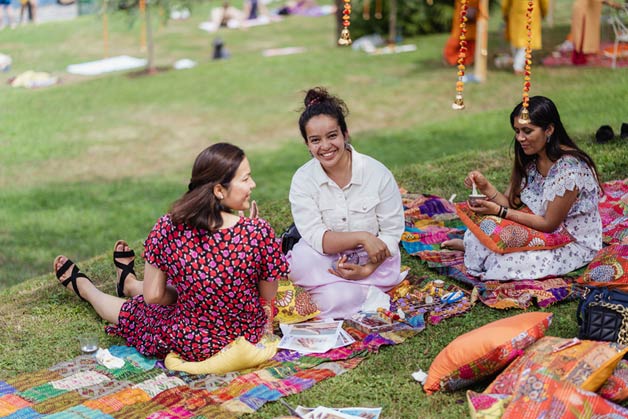 Getting ready for the Indian Wedding on Lake Maggiore: the Mehendi and Pagdi Wale
It was the time for Giulia to get ready.
 The first step to get ready for her Indian wedding was henna. A fantastic Henna artist painted her hands, arms, feet and legs. She was already impressive. 
Henna (or mehndi) has been on the hands and feet of Indian brides for more than 5,000 years. Tradition says that the darker the bride's henna appears, the stronger her marriage will be. Unlike tattoos, henna is temporary, lasting three to seven days. 
Then she moved with her family to Lake Maggiore at Villa Rusconi Clerici.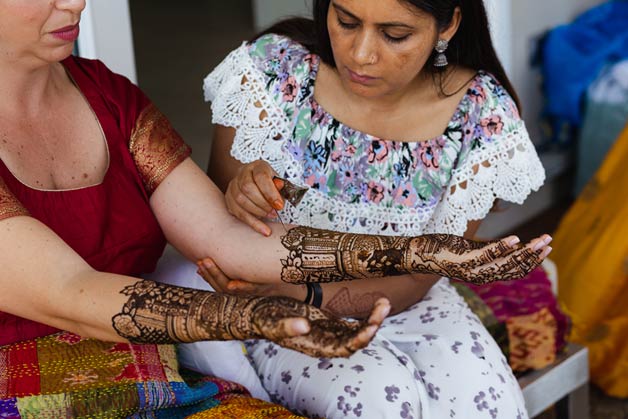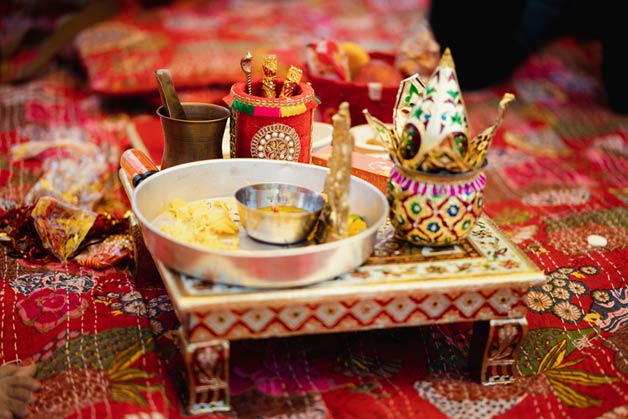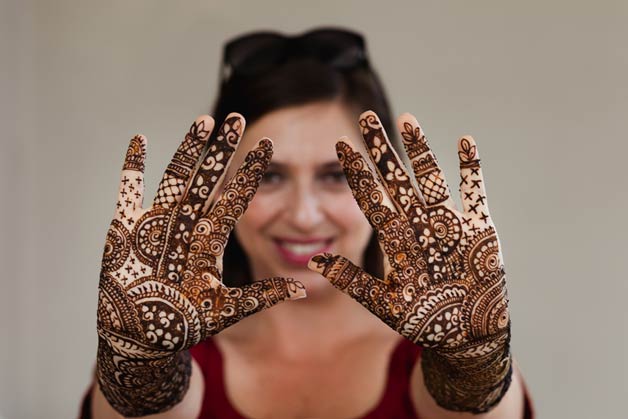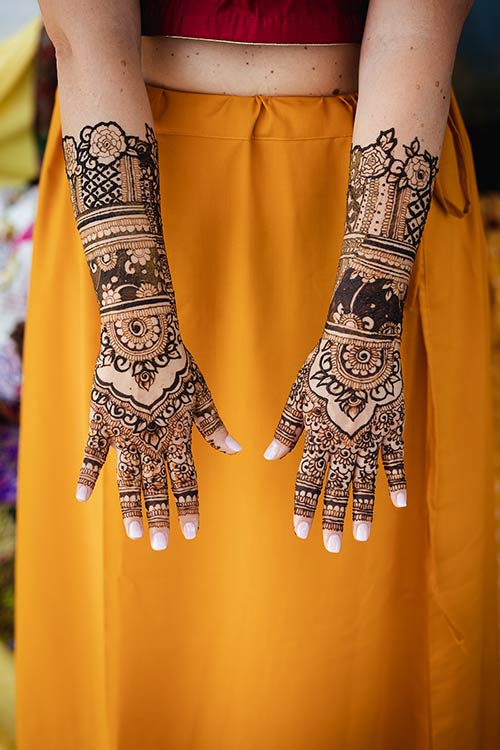 Meanwhile, Archit started to get ready too! Indian grooms wear very detailed outfits. There was a turban time. The turban's name is Pagdi Wale, it marked the time for the groom and his groomsmen to wear their turban.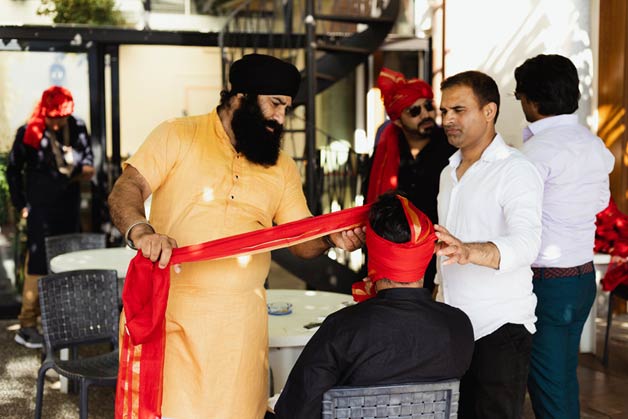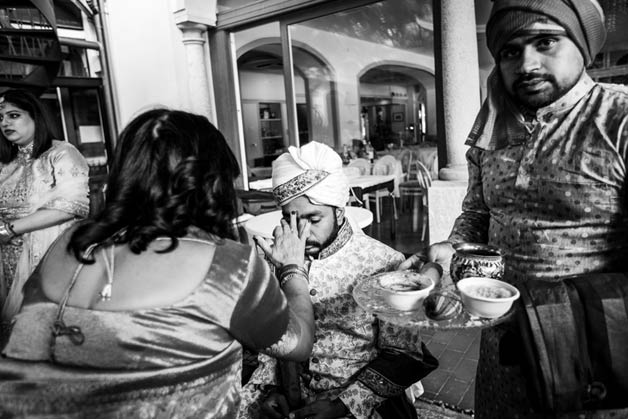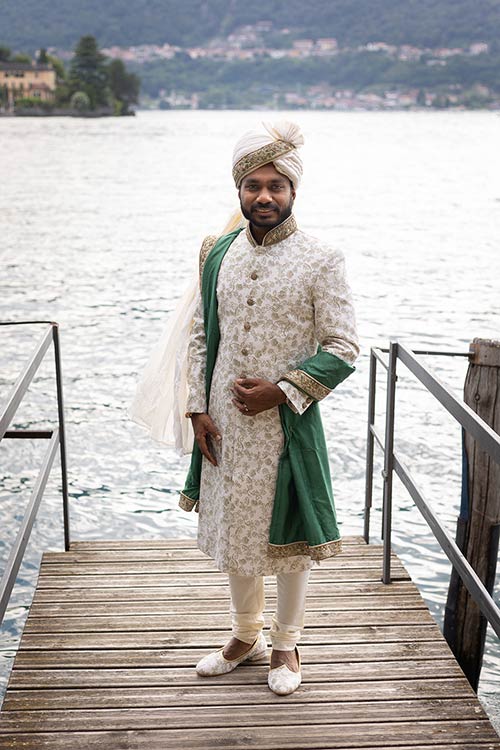 After moving to Villa Rusconi Clerici, Giulia started her makeup session, and once ready, she started wearing the magnificent red Indian dress and golden jewelry.
 Indian wedding dress is called sari. It is brightly colored and adorned with gold embroidery, symbolizing commitment, spirituality, and fertility. Giulia also a dash of red kumkuma powder to her forehead for good luck.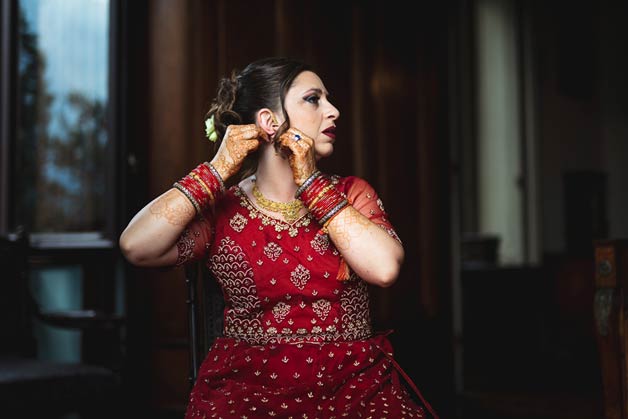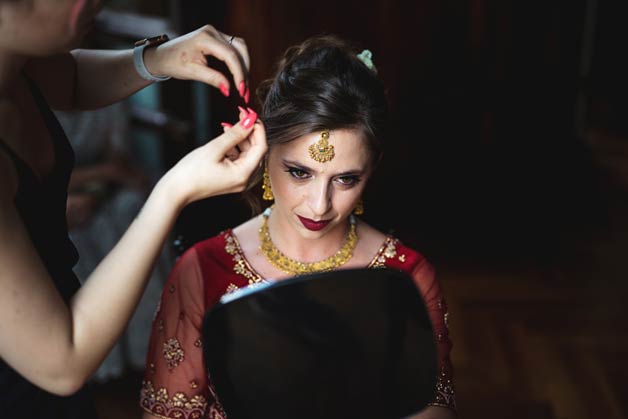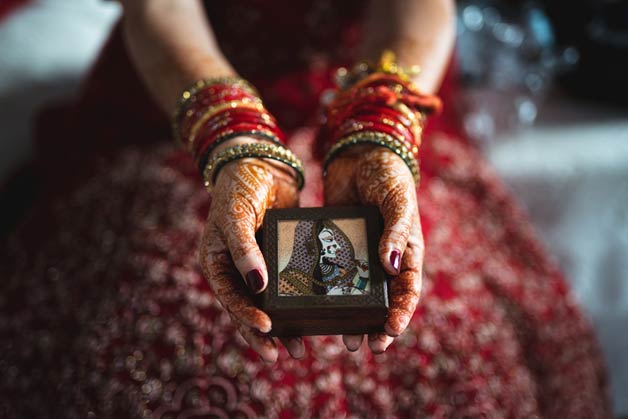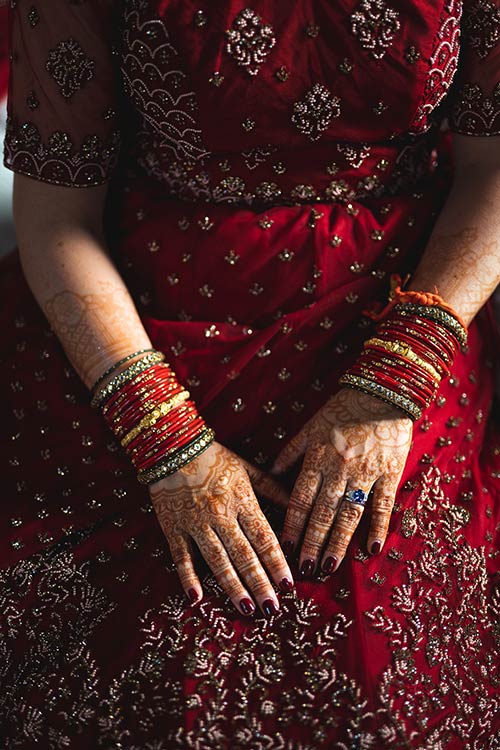 Independent Pictures Team enjoyed the time with the bride taking amazing photos of this particular moment. Giulia was simply stunning!
 The real essence of Italian Indian Wedding between Lake Orta and Lake Maggiore.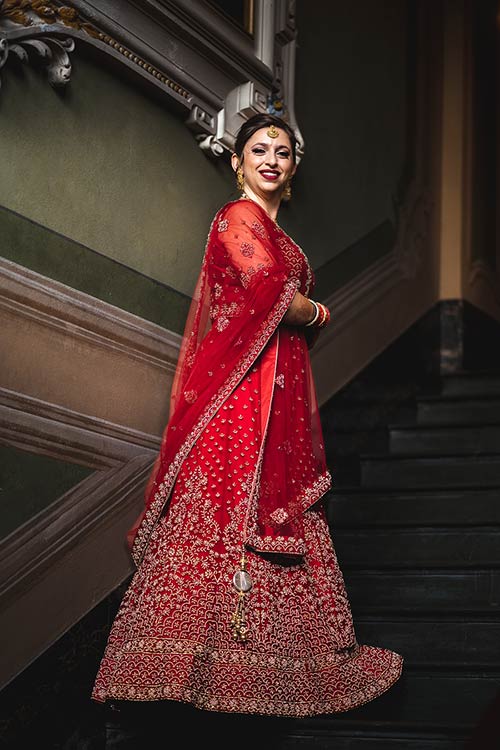 The Indian Baraat on Lake Maggiore
In Indian tradition, one of the important wedding moments is the groom's arrival rather than the bride's, as in Western traditions.
 It is why Archit's arrival was incredible!
His groomsmen, some Dhol players, and Archit reached Villa Rusconi Clerici by boat. It was more than an arrival. It was an actual festival!
 All guests were already standing in the villa garden waiting for him.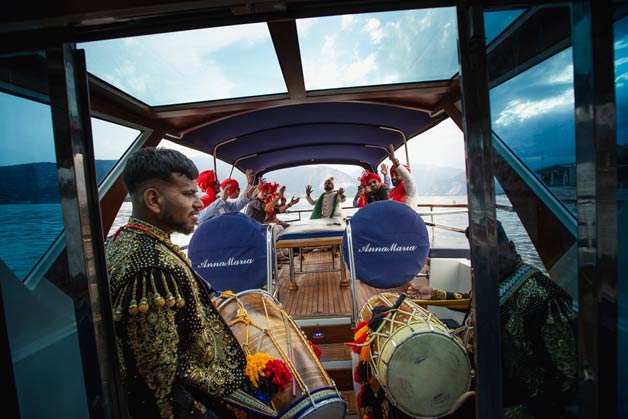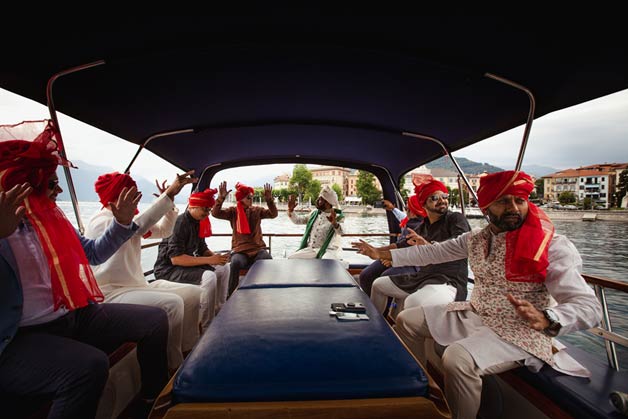 But it is not over yet! 
Archit jumped on a red Alfa Romeo Duetto and proceeded with dances and music to reach Gulia, who was waiting for him on the Villa's balcony. 

Once there, Archit got out of the car, went to Giulia's family in the Villa, and asked for her several times until she got out of the Villa.
 Just on the terrace, Giulia and Archit exchanged traditional flower garlands while music played and fireworks framed the moment.
It was mystic! 
Two cultures and families become one for a perfect Italian Indian Wedding between Lake Orta and Lake Maggiore.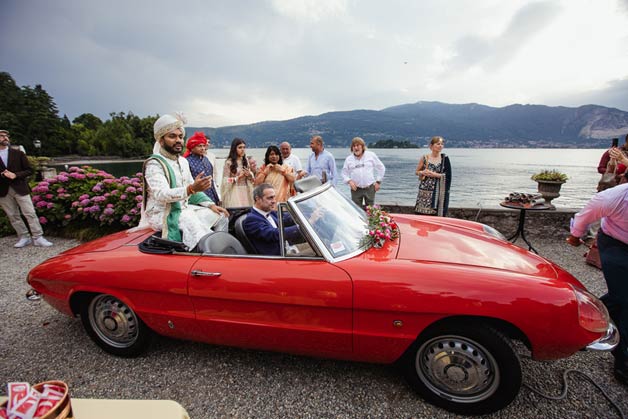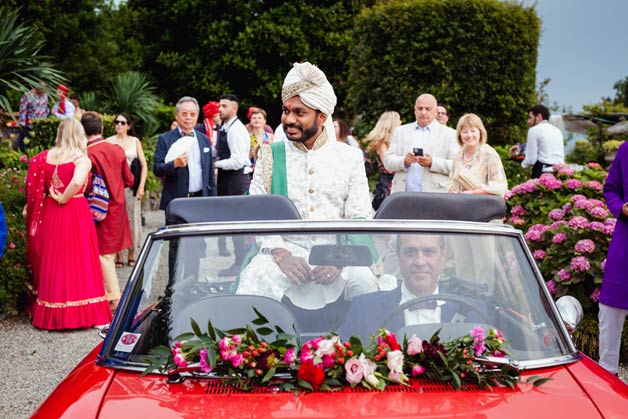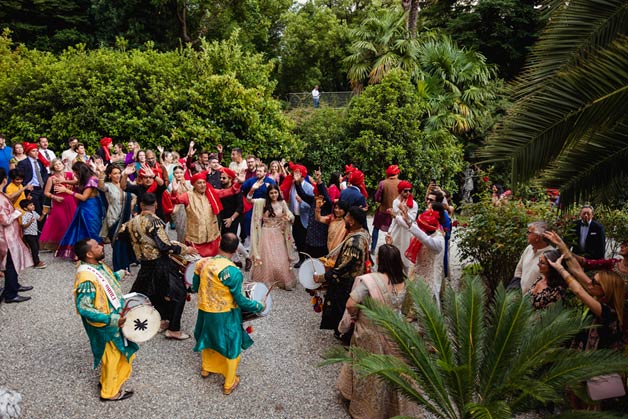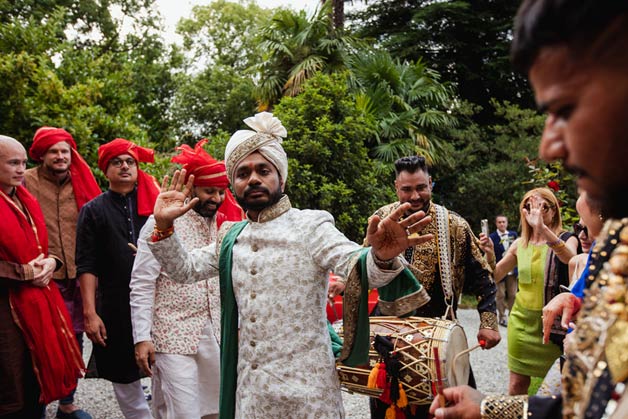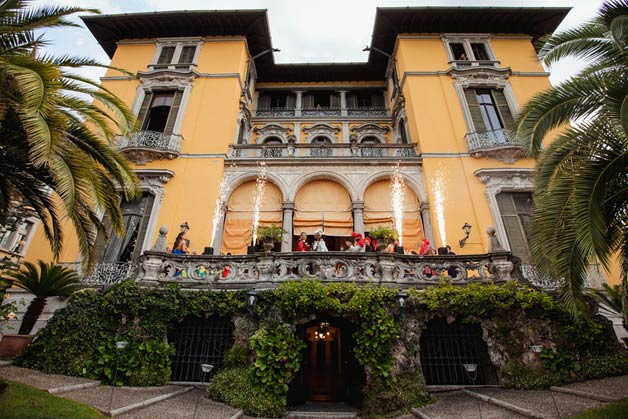 Indian Wedding reception at Villa Rusconi Clerici
A fabulous Indian Caterer from Florence prepared a fantastic Indian dinner for Giulia, Archit, and their guests.

Indian food and beverage were incredible. But we can't forget about the decor.
 Golden chairs and decors with red, orange, and fuchsia flowers completed the frame — the perfect colorful set for an Italian Indian Wedding between Lake Orta and Lake Maggiore.
Before the sunset and right after, Giulia and Archit had more amazing wedding photos in Villa Rusconi Clerici's garden.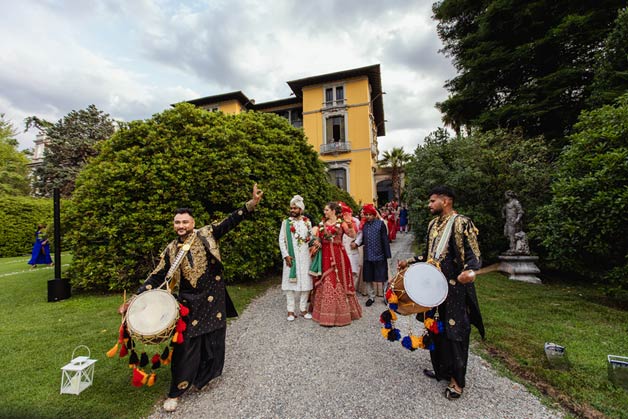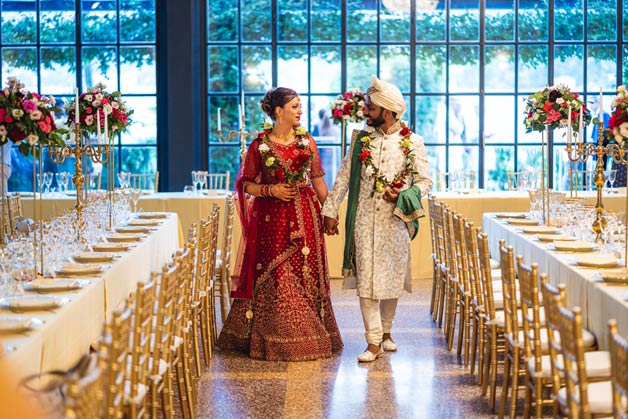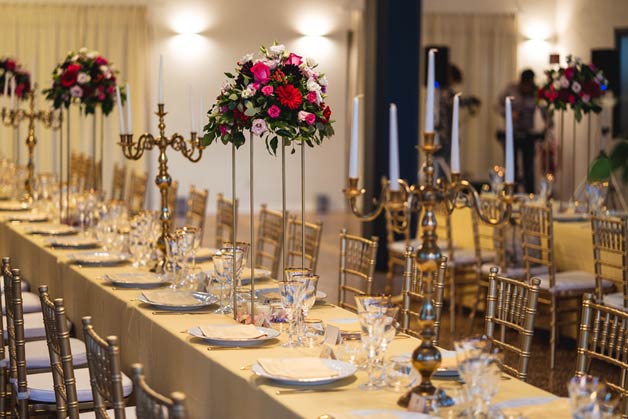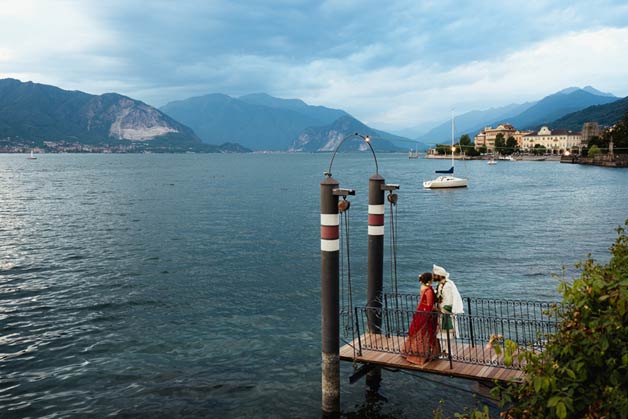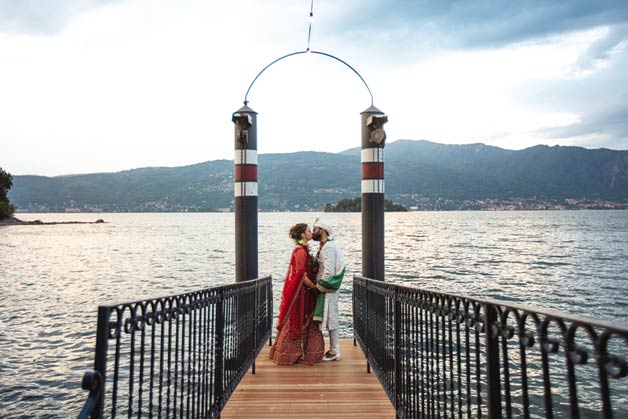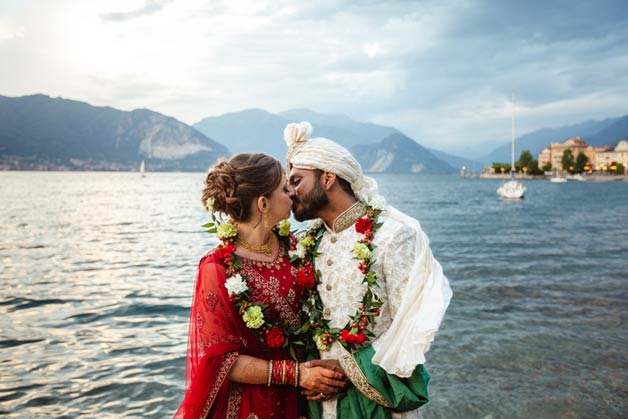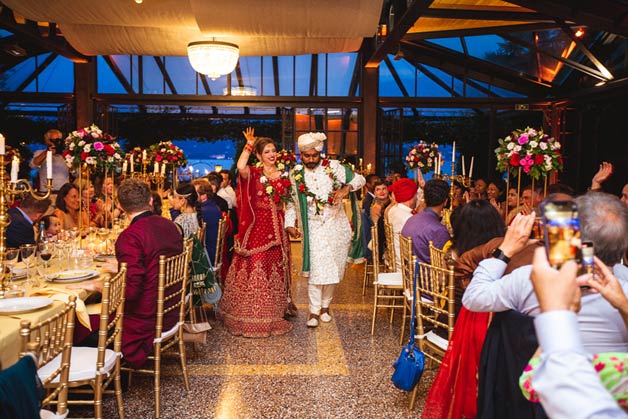 The Indian Ceremony under the Mandap by Lake Maggiore shores
When the sun fell, and most guests finished eating, Giulia and Archit could light the holy fire and have their Indian Ceremony by Lake Maggiore shores.
It was a night ceremony, and it was very mystic.
The floral designer and decorator created a fantastic Mandap where Giulia, Archit, their families, and the Hindu Priest celebrant could sit and enjoy this moment. 
A Mandap is a sacred structure under which Hindu ceremonies are held. Each pillar represents the couple's parents, whose love, blessings, and support made the wedding happen.
The Hindu ceremony is full of symbols and rituals. The most important is the holy fire.
Giulia and Archit pledge their vows around the Agni, a holy fire that witnesses the ceremony. The bride and groom take seven steps around the flames while repeating the sacred Hindu marriage vows.
Family is involved, too, and the ceremony is gorgeous.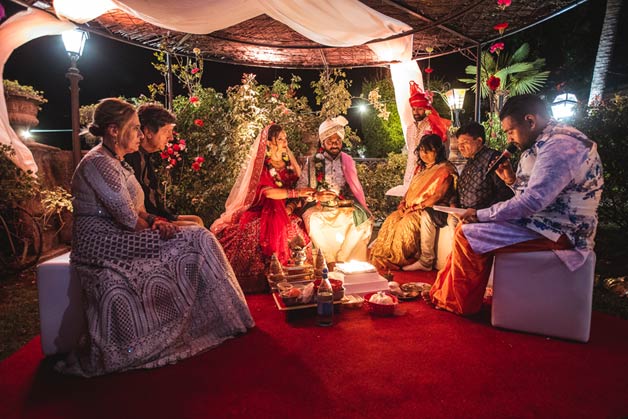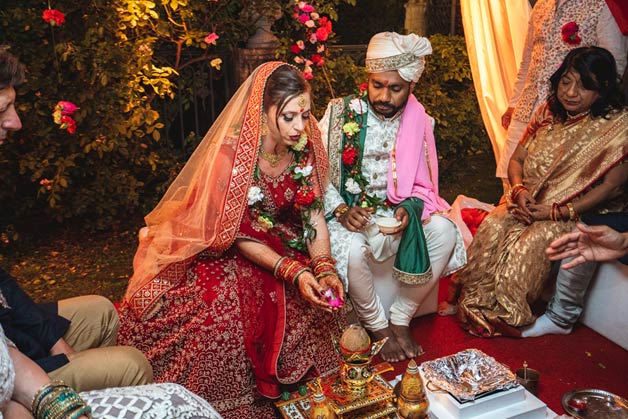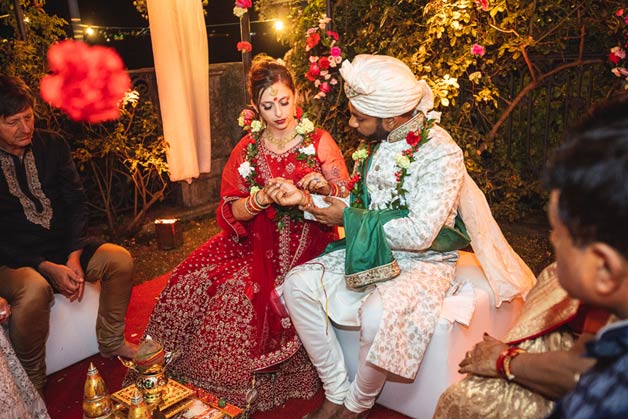 Our two days Italian Indian Wedding between Lake Orta and Lake Maggiore story ends here, but we keep a remarkable memory of this fantastic wedding—a special thanks to Independent Pictures for these amazing shots. We also want to thank Sameer Bhatt, our incredible Indian wedding consultant, who helped us with all Indian details professionals. He was the perfect language and cultural intermediator.
Teamwork is our wedding planning model; in this case, it was an excellent idea. We all loved every moment of this two days event!