hen we think about
Lake Maggiore
one of the first things that comes to our minds are amazing
Borromean Islands
. They are lands of beauty right in the middle of Borromean Gulf in front of Stresa.
Nobody can think about being on Lake Maggiore without reaching
Borromean Islands
. Some couples just want to incorporate them in the celebration of their wedding there.
As the matter of fact you can plan a Religious ceremony in the churches on
Isola Bella
and
Isola Pescatori
or you can arrange a legal civil ceremony inside the
intimate town hall on Isola Pescatori
. This little town hall has is housed in an ancient fishermen home just on the shores. Very evocative for sure. But if you are planning an
outdoor wedding ceremony on Borromean Islands
the solution Clare and Michael opted for is surely the most dreamy.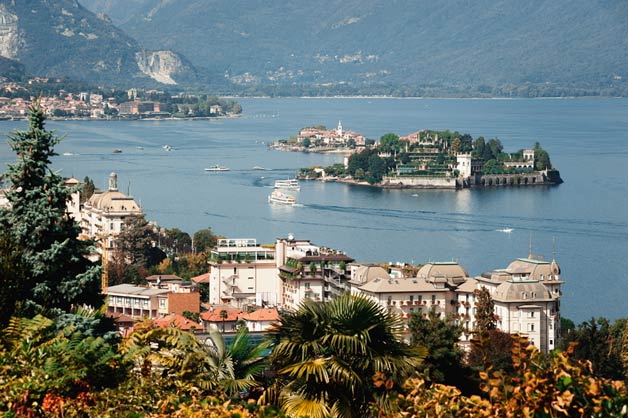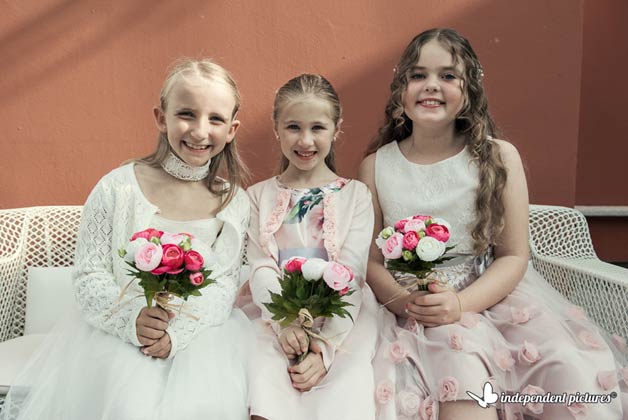 A wonderful Wedding Venue on Pescatori Island
Clare and Michael
chose a lovely Hotel and Restaurant on Pescatori Island for their destination wedding staying on Lake Maggiore. Most of their guests had their accommodation on the Island itself.
The hotel can host accommodation, reception and most of all an outdoor reception on BorromeanIslands.
This romantic wedding venue is located just on the edge of Pescatori Island and overlooks Isola Bella. It faces the grand facade
Borromeo Palace
.
It is just here that we can
Restaurant terrace
. The position let brides and grooms and their wedding guests enjoy a stunning night view for their dinner!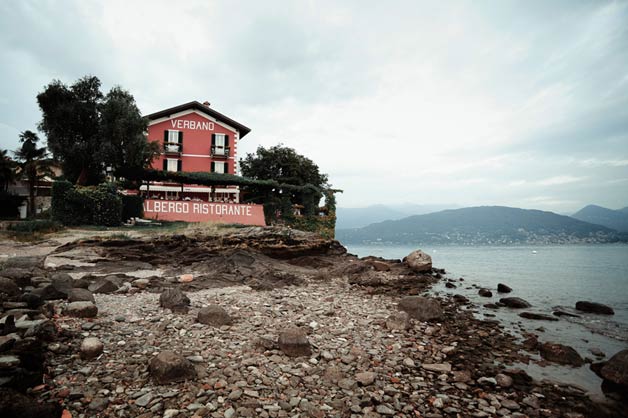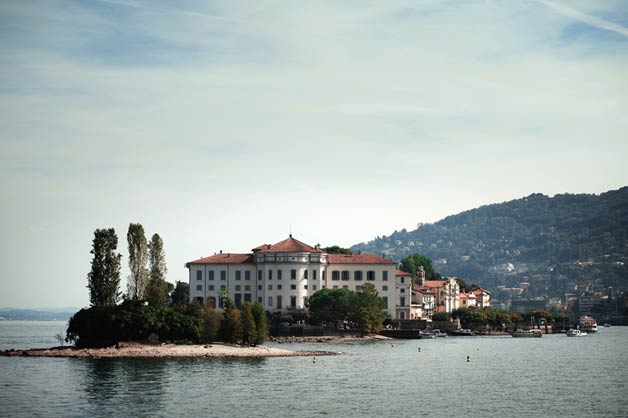 A romantic outdoor wedding ceremony overlooking Lake Maggiore
Once Clare and Michael were both ready they reached the other beautiful terrace of their wedding venue on Pescatori Island. The terrace is located on the first floor and overlooks Lake Maggiore towards Pallanza and Switzerland. The backdrop is like a canvas picturing Alps and a fantastic green land. I'm sure this is a perfect setting for an outdoor wedding ceremony on Borromean Islands.
Claire and Micheal wanted an intimate wedding with some family members and friends. Clare chose a unique wedding dress in laces with matching elegant black belt and shoes.
She chose white and pastel colours for her bridal bouquet and your bridesmaids bouquets.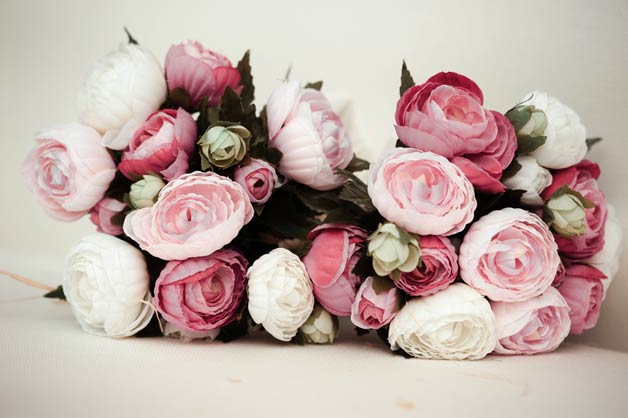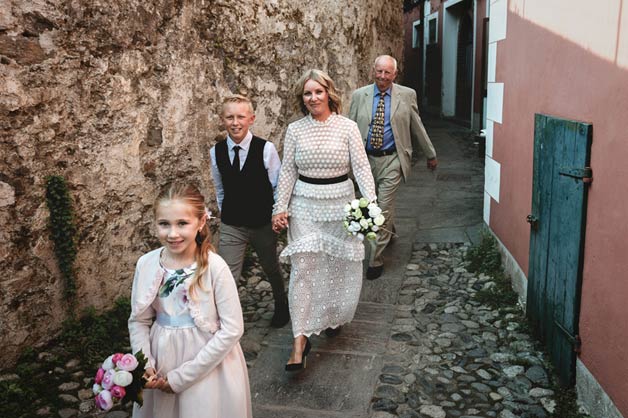 Outdoor wedding ceremony on Borromean Islands you can plan in this small and romantic hotel is a symbolic one and it was performed by our wonderful wedding celebrant.
But to make it legal and sign the official papers right after their outdoor blessing Clare and Michael walked to the local town hall on Pescatori Island with their witnesses and have a legal civil ceremony there. In the meanwhile their guests had the chance to start their aperitif with prosecco and canapés.
While going to the town hall and getting back bride and groom took the chance to get very candid photos of their joyful day on Lake Maggiore.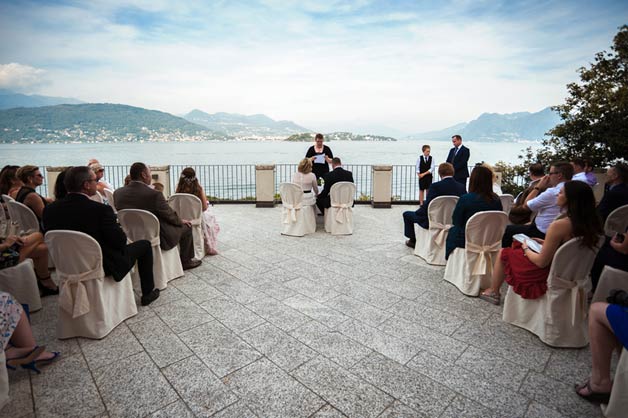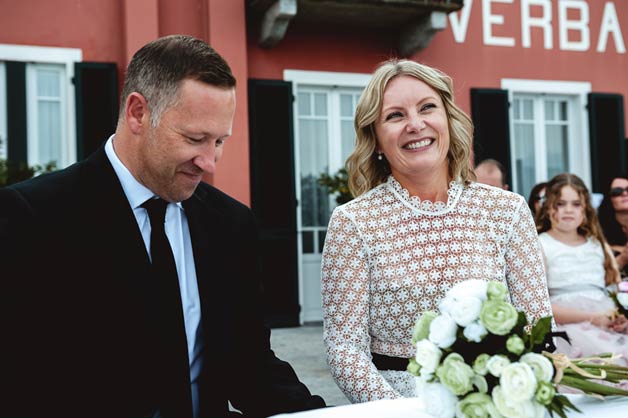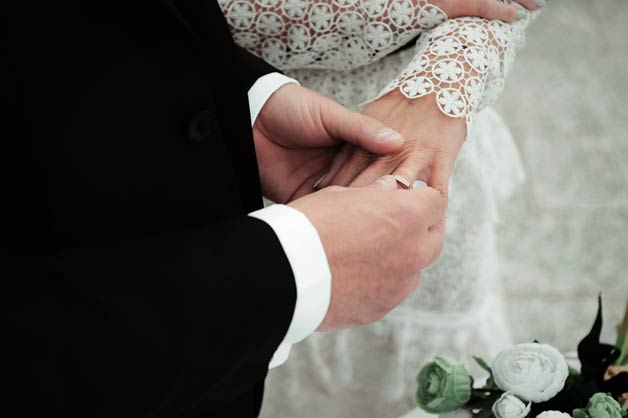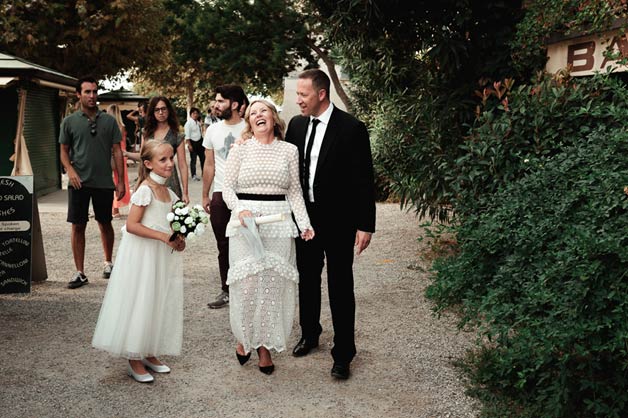 Romantic al fresco dinner on Pescatori Island
After their romantic outdoor wedding ceremony on Borromean Islands and a lovely and mingling aperitif bride and groom and their guests reached the lower terrace of the hotel. The set up was very simple yet romantic. Lots of candles and lanterns lighted up the tables. Clare and Michael did not want to overdo their decorations because they thought that the view you can get over Isola Bella and Borromeo Palace is one of the most stunning one they ever seen.
The dinner was served outdoor on a pleasant summer night. After the gourmand dinner and delicious Piemonte wines the party could begin up to later at night.
Nothing better to close a fun and relaxed wedding on Lake Maggiore.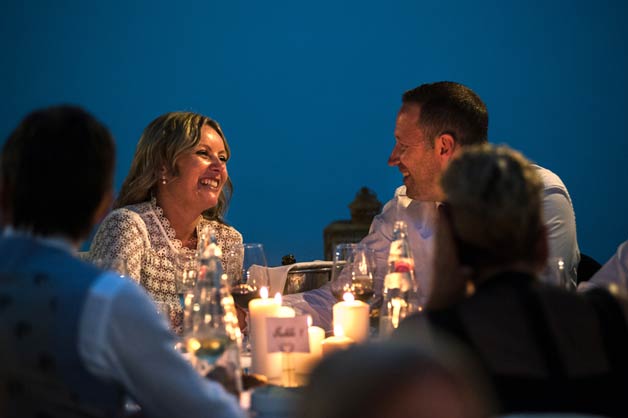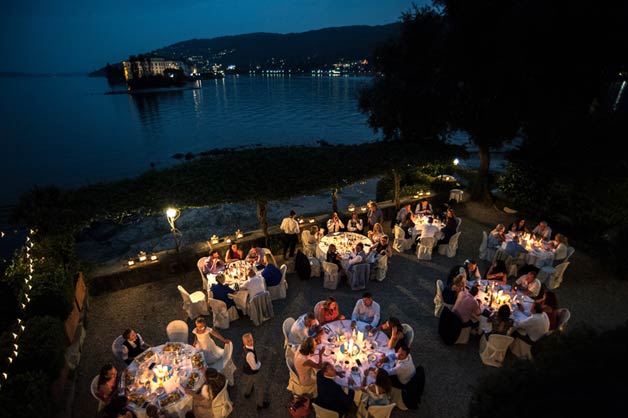 A big thank you to Independent Pictures for these amazing photos of Clare and Michael destination wedding on Lake Maggiore!