hen you are about to choose your wedding bouquet, ceremony arrangements and centerpieces for your reception the most important thing is knowing a little more about what is seasonal and what is not.
So we thought to give you some suggestions on the best seasonal flowers for your
destination wedding in Italy
.
Nowadays you could have the possibility to find non-seasonal flowers every time of the year but they could be much more expensive and quality not always perfect as you want.
An important detail is that not all flowers that could be seasonal in UK, Ireland, Northern Countries etc can be seasonal in Italy.
Temperature is different and blooming period is also very different!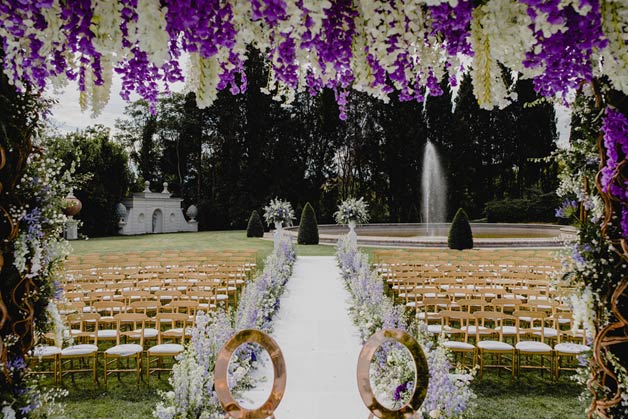 Photo: David Bastianoni – Margaux and Benjamin's wedding in Rome
Example #1: Lily of the Valley
A non-seasonal flower won't be fresh and lasting as a seasonal one!
As example we can take
Lily of the Valley
. It is a wonderful little and delicate flower.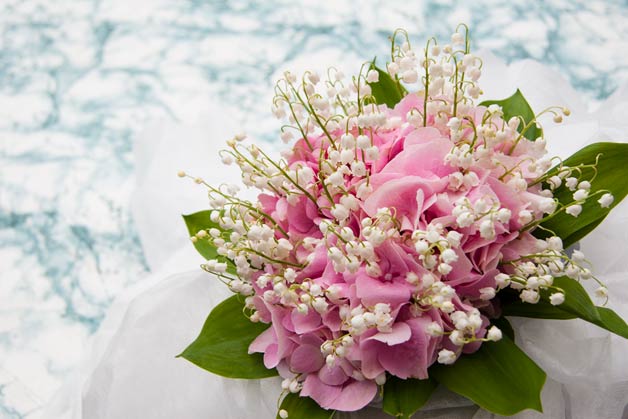 Photo: La Piccola Selva floral designer
Here in Italy Lily of the Valley blooms in April and May. It loves fresh air. It cannot stay under the heat of summer season.
If you are keen for a summer wedding you could even get them but they will come from a green house and you should considers some risks:
Cost will be very high being totally out of season.
It will be a forced blooming so the flower can be not perfect.
It will stay under the heat so flowers can fade in a very short time.
These are the main reasons to choose the right flower at the right time of the year.

Example #2: Peony
Another example is the peony. In these last years peonies is very trendy for weddings in Italy. As the matter of fact the peony is very seasonal. Normally it blooms in mid spring with temperatures around 20 Celsius. If you use it on higher temperature like in summer it won't resist so much (2 hours) and it will wither soon. We need also to consider the higher cost of having a peony out of season.
Example #3: Hydrangea
On the contrary Hydrangea is a summer flower. It is available from June to September. Hydragea is a flower that loves water and fresh air., Firstly, try to be sure that you are having the best hydrangea quality on the market. Then try to avoid to keep it under the sun for too much. And last but not least use them only if you can keep the stems in water (try to avoid bouquets or floral arches). Hydrangeas are perfect for centerpieces at the wedding ceremony or wedding reception. As all the other flowers we can find them in other season too but not as beautiful as they are in summer.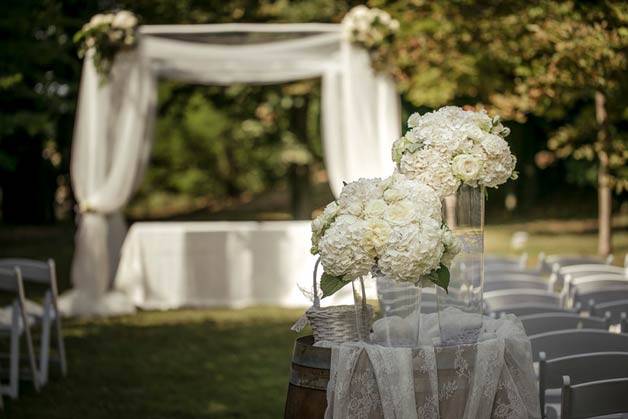 Photo: David Bastianoni – Anna and Larry's wedding in Piemonte countryside

all year long with the same price and quality
, such as some kind of orchids, tropical flowers, roses, lilies, anthurium, ornithogalum, alstroemeria and gerberas.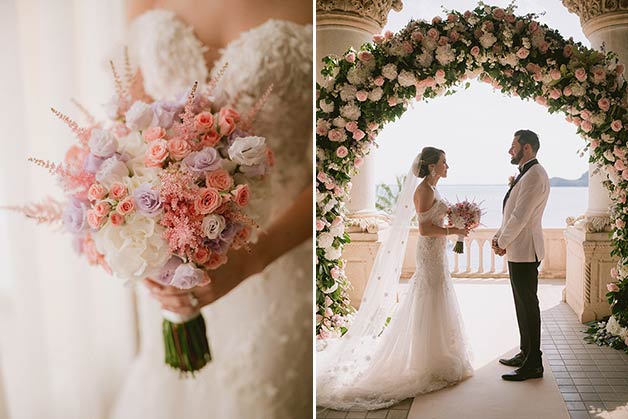 Photo: Facibeni fotografia – Hadeel and Khalil's wedding on Lake Garda
Seasonal wedding flowers in Italy
Anyway all seasons has different flowers to offer for a wonderful wedding. You have a lot of choices.
To be a little helpful we thought about a scheme that you can find here below seasonal wedding flower you like.
And… what season do you prefer?
Flowers
Spring
Summer
Autumn
Winter
Seasonal Flowers for your Italian Wedding
Alstroemeria
Amaranthus
–
–
–
Amaryllis
–
Anemone
–
–
Anthurium
Aster
–
–
–
Bouvardia
–
–
Calla Lily (white)
–
–
–
Calla Lily (yellow, purple, pink, red)
–
–
–
Carnation
Daisy (Chrysanthemum)
Delphinium
–
–
Lavender
–
–
–
Lysianthus
–
Forsythia
–
–
–
Freesia
Gardenia
–
–
–
Gerbera
Hyacinth
–
–
–
Helleborus (Christmas Rose)
–
–
–
Hydrangea
–
–
–
Iris
–
–
Liatris
–
–
–
Lilac
–
–
Lily
Lily of the Valley
–
–
–
Orchid Cymbidium
–
Orchid Dendrobium
Phalaenopsis Orchid
Ornamental Pepper
Ornithogalum
Narcissus
–
–
–
Peony
–
–
–
Ranunculus
–
–
–
Rose
Snapdragon
–
–
–
Sunflower
–
–
–
Tulip
–
–
–
Viburnum
–
–
–
Waxflower
–
–
–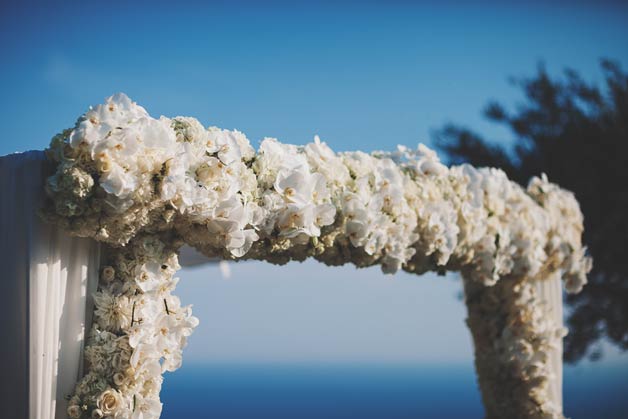 Photo: The League of Extraordinary Artists – Ava and Paul's wedding on Amalfi Coast