f you love Italian Lakes District but you are looking for a wedding destination that is charming, intimate and very romantic a wedding on Lake Orta could be the right place for you.


Lake Orta embodies the real charm of a traditional Italian village still preserved as it used to be.

Orta village is a medieval village that lies on the shores of pretty Lake Orta facing its precious St. Julius Island. It is an idyllic backdrop for fun yet very lovely Italian Wedding.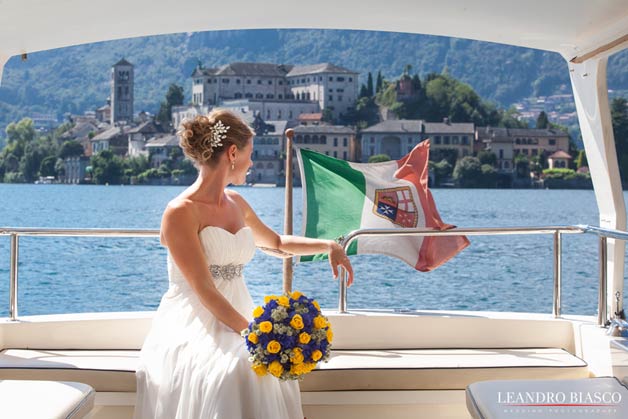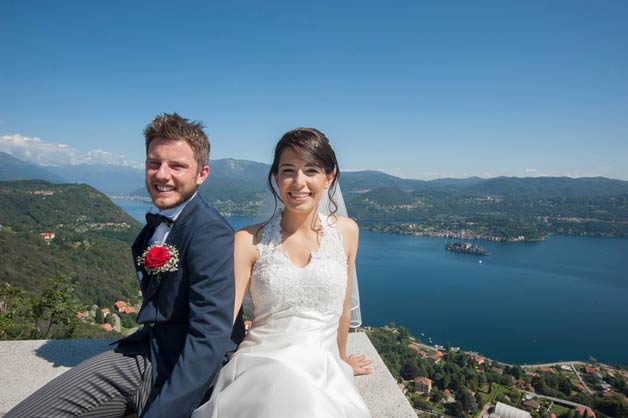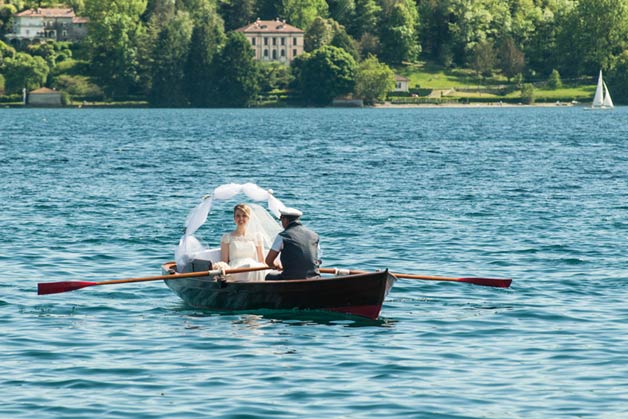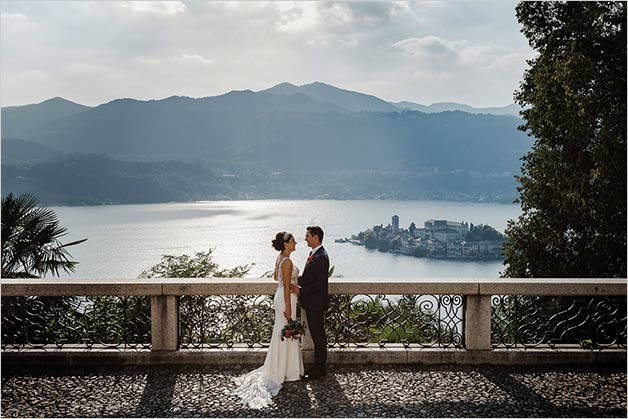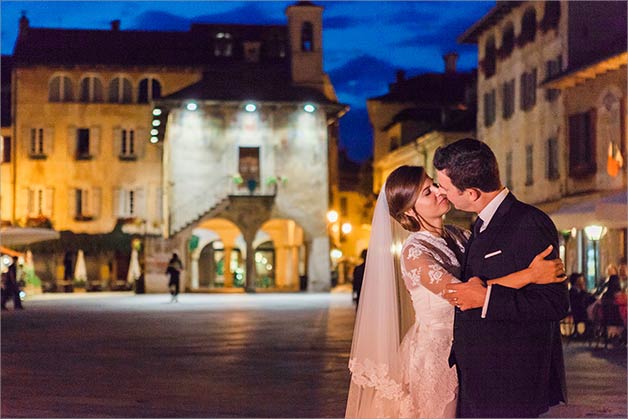 The 3 "must-sees" of Lake Orta
In this brief video in English you'll enjoy the stunning views and images of the 3 "must-sees" of Lake Orta. The Sacro Monte of Saint Francis (UNESCO 2003), the picturesque, pedestrianized village of Orta, and the Island of Saint Giulio, considered the real gem of the lake! Cosetta Dal Cin, art historian and Licensed Local Tour Guide, presents a short description of what travelers should definitely see here, even within a couple of hours or so.
For more information, this is Cosetta's website address: www.ortaeoltre.it (English version). We hope you'll enjoy the video!
Why getting married on Lake Orta?
In order to understand the magic of Lake Orta we need to discover its highlights:

Lake Orta is simply romanticism and intimacy

.
You cannot miss St. Julius Island just in the middle of the lake facing Orta village. The Island is silent and immersed in meditation. There are just some nuns living there. There is an ancient abbey and a single road that goes around the island among ancient villas on the shores, owned by former prelates.
St. Julius Island is a wonderful dream!

Medieval village of Orta

with its narrow pedestrian roads and main square facing the lake and St. Julius Island, ancient villas and wonderful churches overlooking the village from the above.
You cannot miss a ferry boat or a

motorboat tour on the lake

. You could see hidden corner of the lake, wilder nature on west coast, St. Julius Island, Acqualba falls, ancient 1700 villas and quaint villages of Ronco, Pella and Oira on the lake just by this water perspective!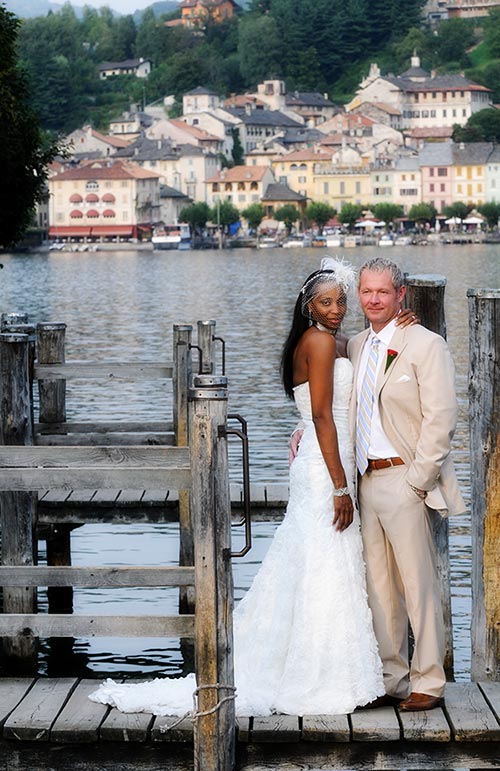 Orta village and the Island of Saint Giulio
Orta village is just unique. It is a full pedestrian small village that can host easily all your guests with hotels and facilities for every pockets. 

Once you reach the village cobbled roads are welcome you leading to the beating heart of Orta: Piazza Motta. Piazza Motta is the main square where a lot of local restaurants and bars are located.

You can find here also some hotels, little harbor where the motorboats leave and arrive. But most of all you will be enchanted by a superb view. Just in front of the main square St. Julius Island rises from waters.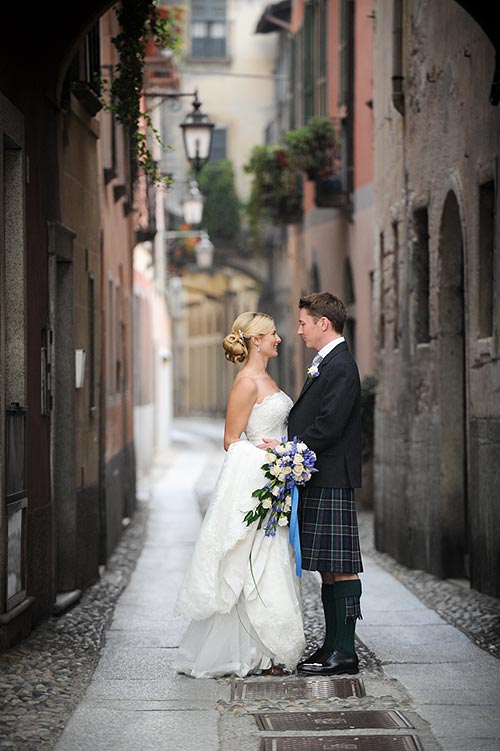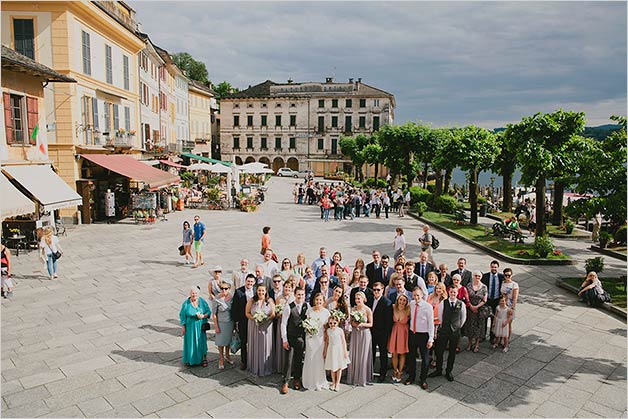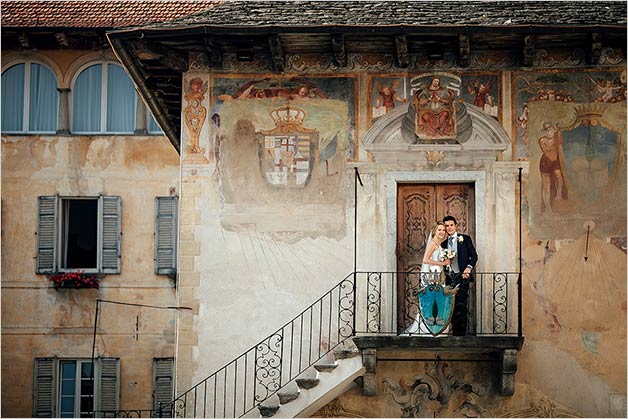 ST. JULIUS ISLAND
St. Julius Island is located in the middle of the Lake. It is a full pedestrian very small Island with only private homes, a single restaurant and a convent of nuns. 

The cobble road that loops around the island has incredibly special corners where we usually suggest a wonderful backdrop for your wedding photos.

As the matter of fact after the ceremony we usually suggest to reach the main square for a toast with family and friends and after that, while guests are reaching reception venue, bride and groom can get on a boat to reach the island. They can spend there about 20 minutes to take romantic photos and spend some time alone, just the two of them.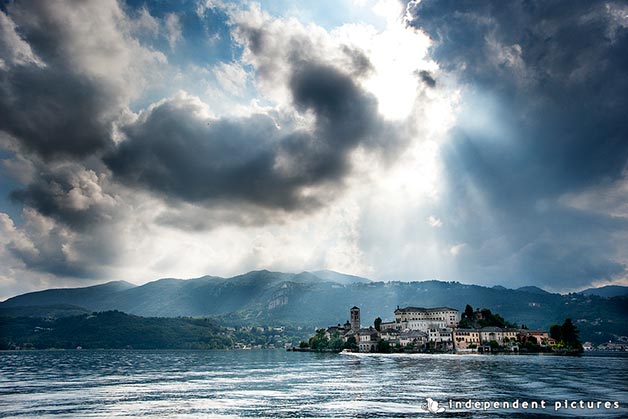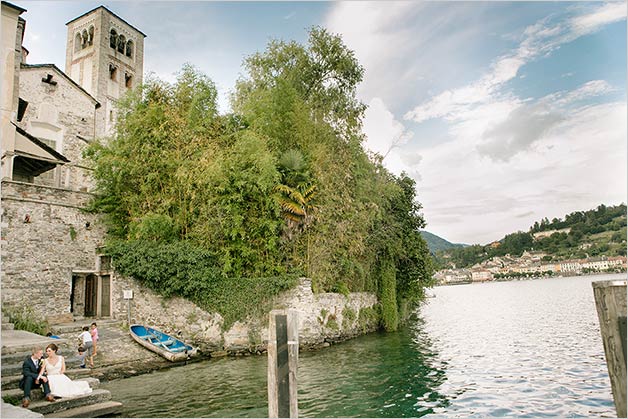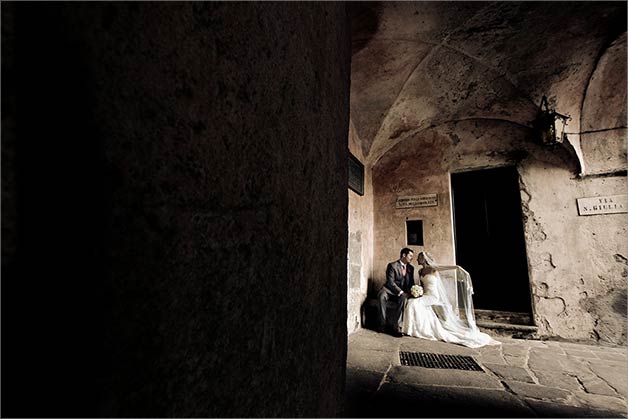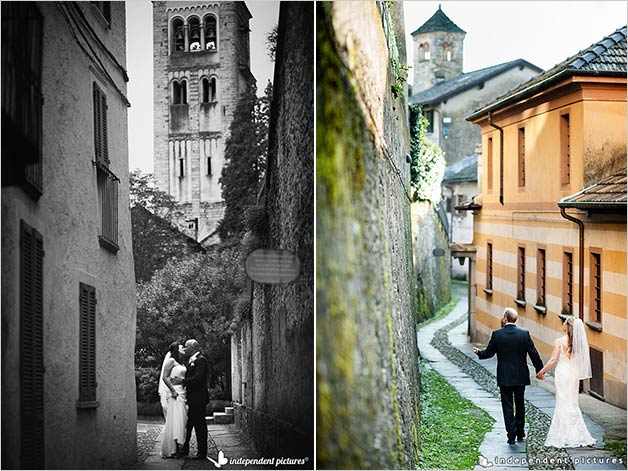 Main square in Orta village could be a meeting point for your guests, a lovely location for a pizza party the day before or day after the wedding or the after party spot. There is a bar that stays open up to late at night to have some more drinks when the party is over.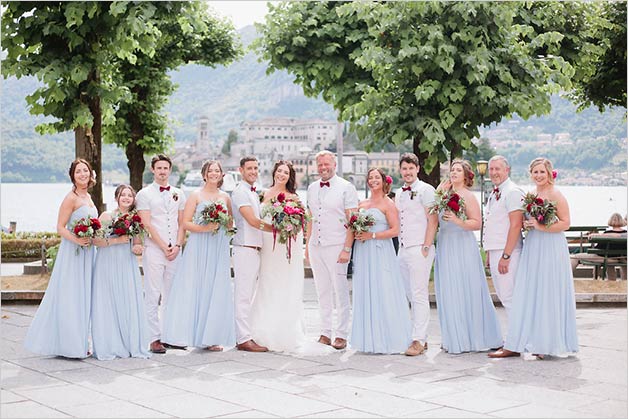 But let's have a look to all the features of this wonderful destination for your wedding in Italy on Italian Lakes District.
Civil ceremony on Lake Orta
VILLA BOSSI
We are sure you read a lot about Villa Bossi on our blog.
The ideal venue for a wonderful outdoor civil ceremony is Orta village town hall which is Villa Bossi itself.

Orta village gives brides and grooms to tie the knot outdoor on a wonderful Italian flagged garden just by the shores. St. Julius Island is the perfect backdrop of course!Can you imagine a better frame?
As tradition wants bride arrives from the waters by boat and she walks down the natural aisle of the garden to reach the building of the villa. Groom and her guests are waiting for her just by two columns that frame the ceremony in such a perfect way.

No need of extraordinaries decor here as the beauty of the nature speaks from itself but if you want to embellish the garden we can suggest many possibilities.

Villa Bossi is located in the village itself walking distance from hotels and reception venues so guests won't need any transfer to reach it. So very handy for all!

Of course bride can arrive can arrive by boat with her dad, brother or bridesmaids as she prefers. or she can also arrive by foot arriving from the village.


This is surely the our top venue for a wonderful civil ceremony on the lake but there are also a couple of other options.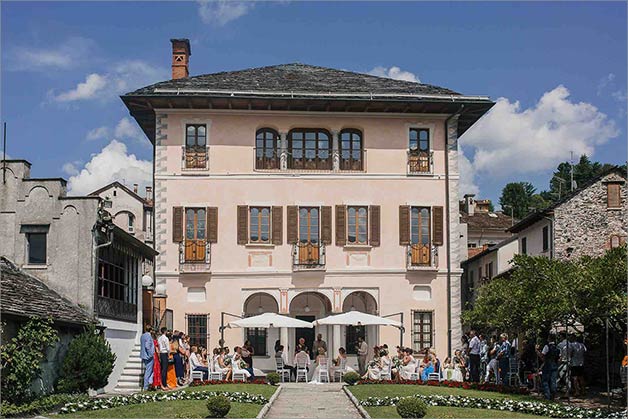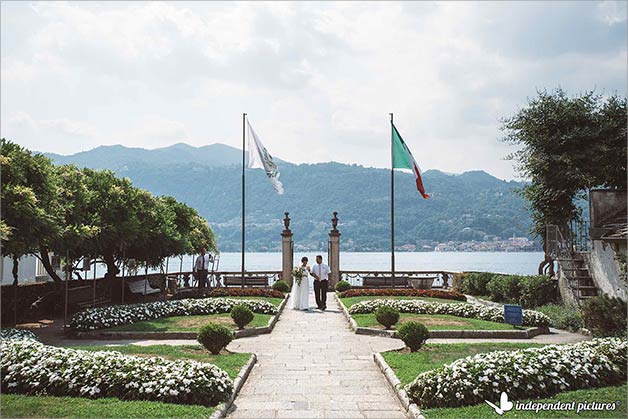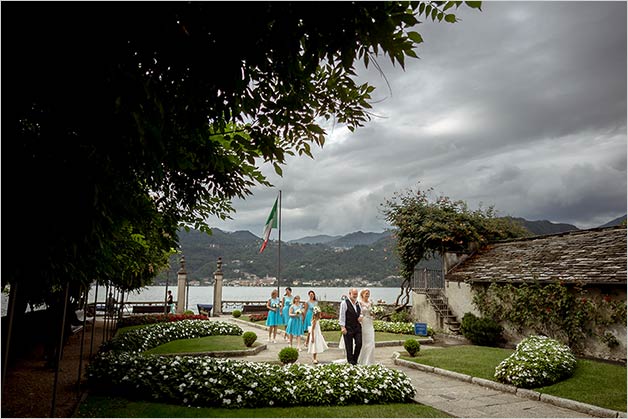 Medieval House of Pettenasco
For the ones who are looking an even more private ceremony you can opt for Medieval House of Pettenasco. It is located just 5 km from Orta village.
Ceremony can be held in the garden of the ancient palace. It is a very evocative and private venue – the access to the courtyard is allowed only for bride and groom and their guests. You won't have the lake view here but the beauty of the building will enchant you.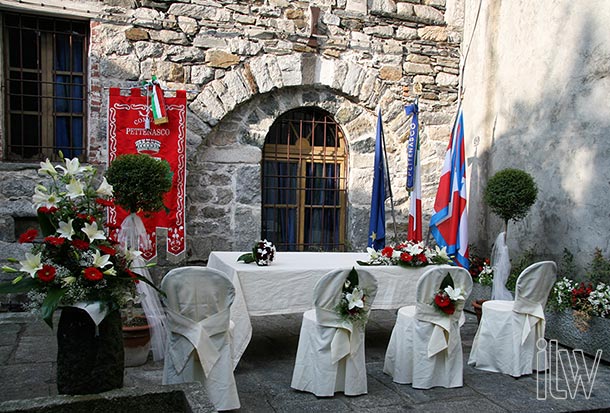 Palazzo Sperati
Another good alternative could be Palazzo Sperati. It is a 1700 palace in the heart of Miasino village. Miasino is located on the hills above Orta in a wonderful natural context. A transfer here is needed for all guests. We can arrange it easily.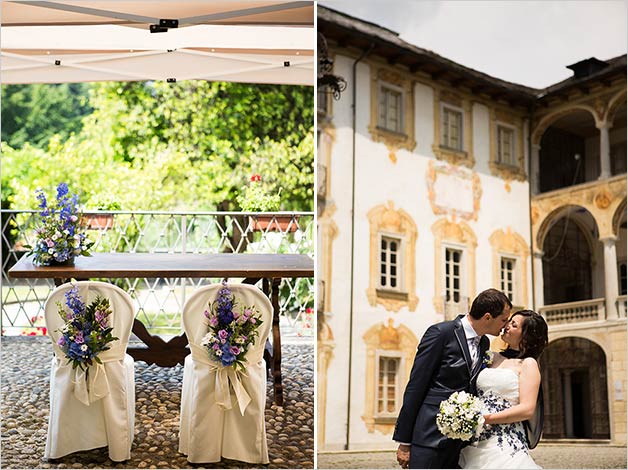 Catholic ceremony on Lake Orta
Lake Orta allows non resident Roman Catholic ceremonies. There are three wonderful churches that can be ideal for your Catholic ceremony.


They are simply amazing and there are not equals in Italy: Church of Santa Maria Assunta Church of Sacro Monte Church and church Madonna del Sasso.
They are all so beautiful that we cannot choose our preferred one!
You can choose the right church according your tastes and ideas.
ASSUNTA CHURCH
Once in the main square if you turn you back to the lake you will see a lovely cobbled slope road called Salita Motta. This is the road that leads you to Maria Assunta Church.

It is located right in the heart of the ancient village and walking distance from hotels and reception venues too.
Church is bigger than you may think from the outside. Frescoes on the ceiling are amazing and the altar placed in the middle of two balusters that you can richly decorate with greenery or flowers.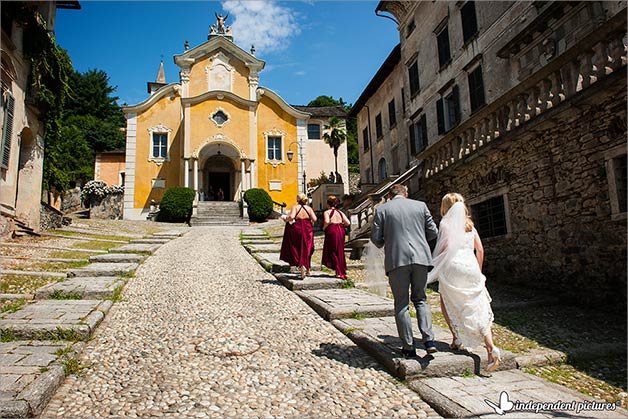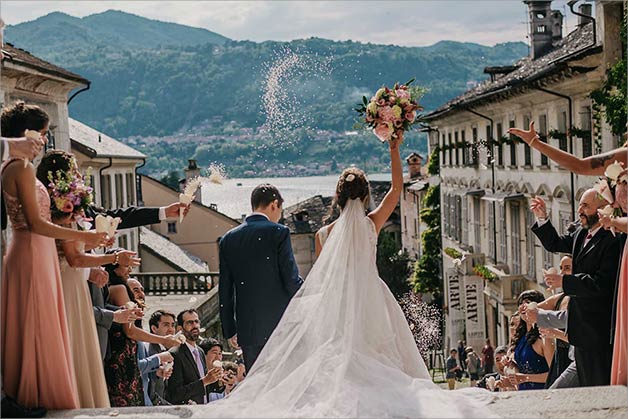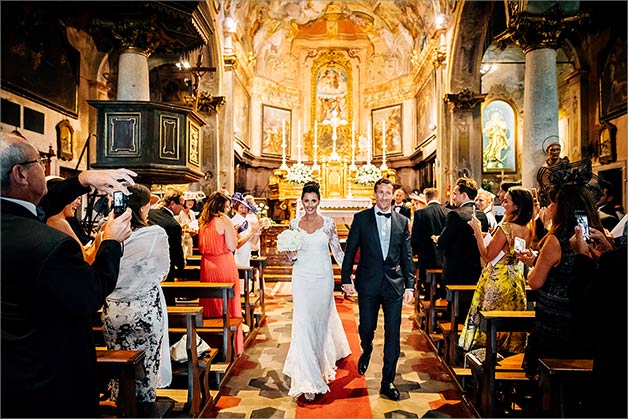 SACRO MONTE CHURCH
Sacro Monte Church is located on top of a wonderful hill overlooking Orta and St. Julius Island.
 It is very close to the village but you cannot walk there, road that leads you there is very steep.
Sacro Monte main church faces on a terrace overlooking the Lake and St. Julius Island. This is the perfect view that you could see when you will walk out of the church as husband and wife.

Main church is part of a complex of churches dedicated to St. Francis. Each little chapel represents a station of the cross.

Park and natural view is also wonderful and this location can be also a perfect spot for romantic photos of your wedding on Lake Orta.
Reaching the top of Sacro Monte hill can be easy with a lovely touristy train on wheels that can take you and your guests from Orta village to the hill itself.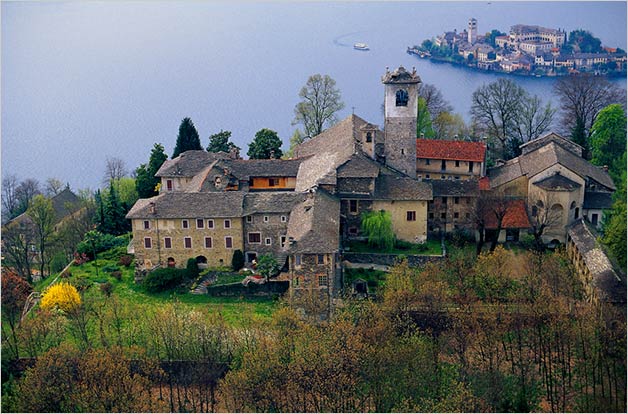 Sacro Monte church: on top of a wonderful hill overlooking Orta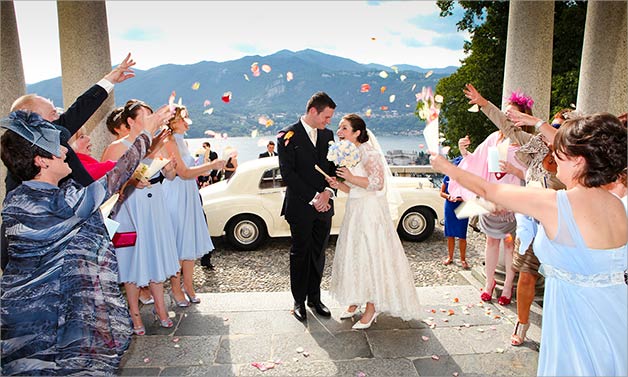 Eve-Marie and Roland's wedding at Sacro Monte church of Orta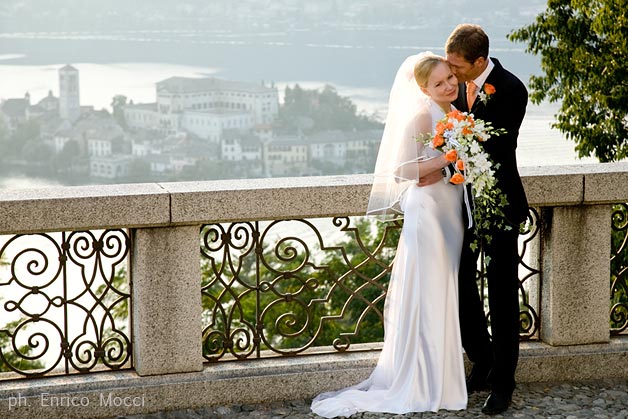 TOURISTY TRAIN OF ORTA
A very cute idea that many of my couple do like is taking the fun little touristy train of Orta. In few minutes it will take you all to Sacro Monte church and back.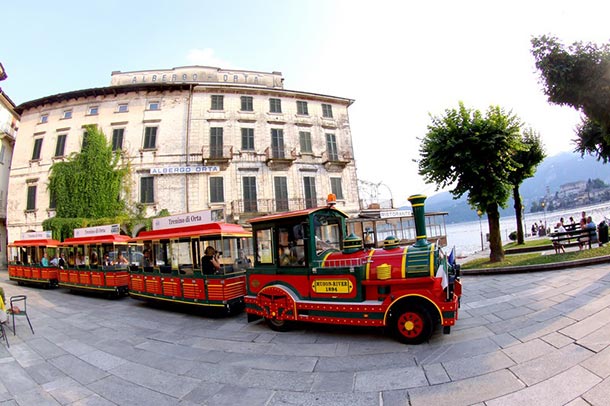 MADONNA DEL SASSO CHURCH
Madonna del Sasso church is one of the most panoramic church of Italy. It is located on a big white rock above Lake Orta. Reaching it from Orta village necessarily needs a transfer via vans or cars.

Madonna del Sasso church has a unique natural show that few other churches can offer. The trip worths the view… it is a unique beauty that you cannot miss. You can see from here the whole lake villages and St. Julius Island. And what about the frescoes inside the church? Amazing and grand as only an Italian church can have.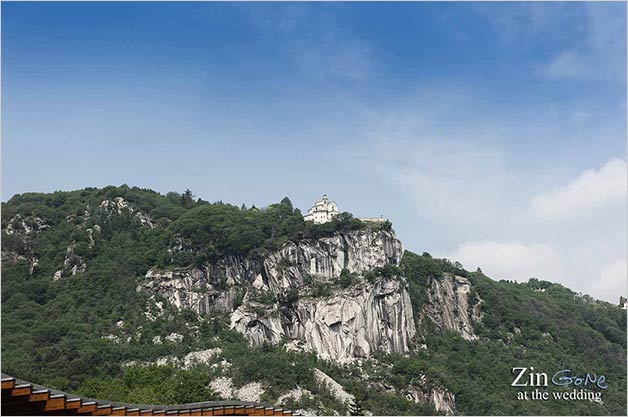 Madonna del Sasso church, lake Orta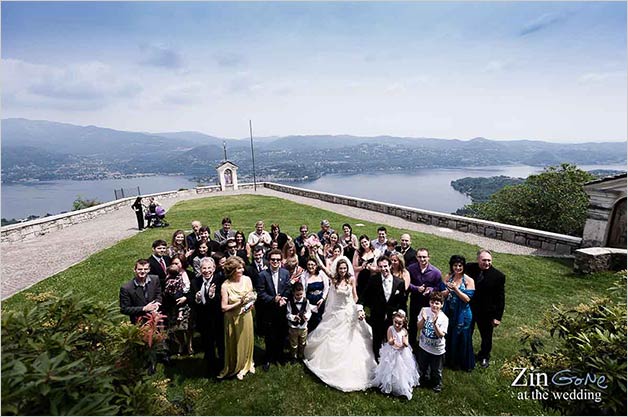 Franciele and Vicenzo's wedding at Madonna del Sasso church, lake Orta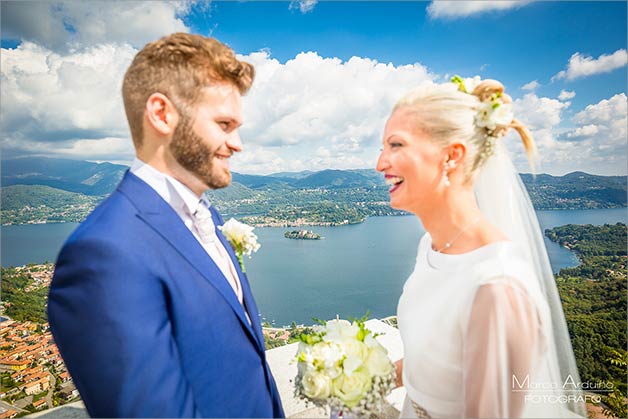 Simona and Bruno's wedding at Madonna del Sasso church, lake Orta
A symbolic blessing by the shores
We can surely help you to produce all the paperwork to get married with a civil and/or a religious ceremony in Italy but in case you do not want to worry about it there are lovely solutions for a symbolic ceremony by the shores.

As the matter of fact Villa Bossi does not host only legal civil ceremonies but it welcomes symbolic ones too.
Other option could be the wonderful and peaceful garden of Villa Gippini one of the two buildings that makes Hotel San Rocco complex.
In all cases we can help you finding a wonderful celebrant that can tailor and perform the ceremony on your tastes and needs.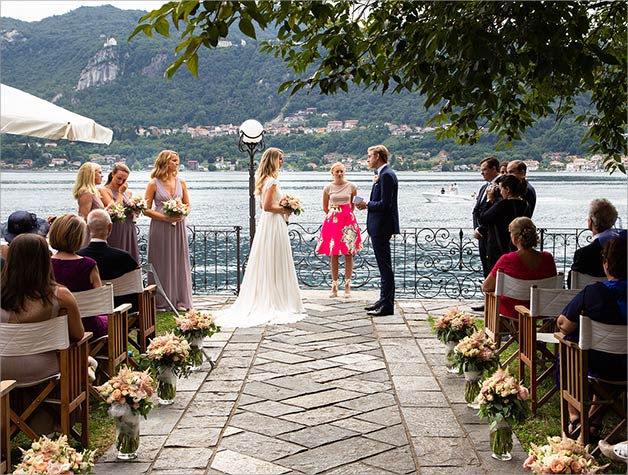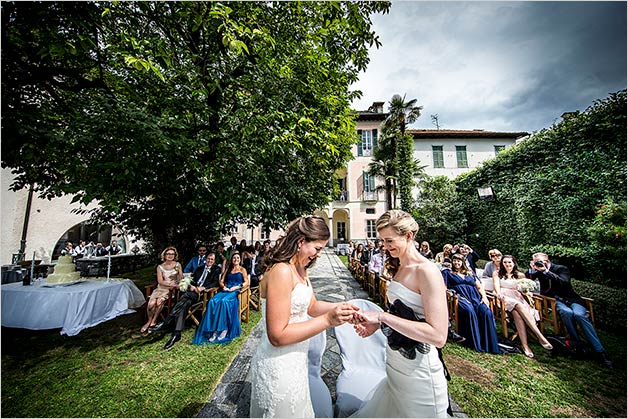 Wedding Reception on Lake Orta
Lake Orta offers a good variety of reception venues that could match every taste and budget.

From the budget point of view we can surely say that Lake Orta is less expensive than bigger sisters Lake Maggiore, Lake Como or Lake Garda. It is also less known for sure and a little bit more off beaten track destination.

It could be a wonderful gem to show to your family and friends. Its cosiness will make it the perfect destination for a romantic wedding but also for a little bit more laid down event where the key factors are fun, family, friends, good food and wines and a good party.
Here on Lake Orta you can surely experience what real Italy is, far from the stereotypes and touristy destinations.
HOTEL SAN ROCCO
For your wedding reception on Lake Orta we surely suggest a venue on the shore to appreciate the beauty of this wonderful Italian destination. If you want to stay directly in the village you can choose Hotel San Rocco, where you can eat outdoor overlooking St. Julius Island. We suggest it for bigger groups over 80 guests as the terrace is wide.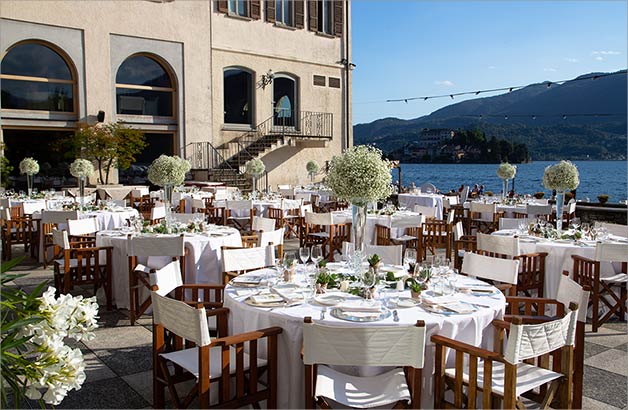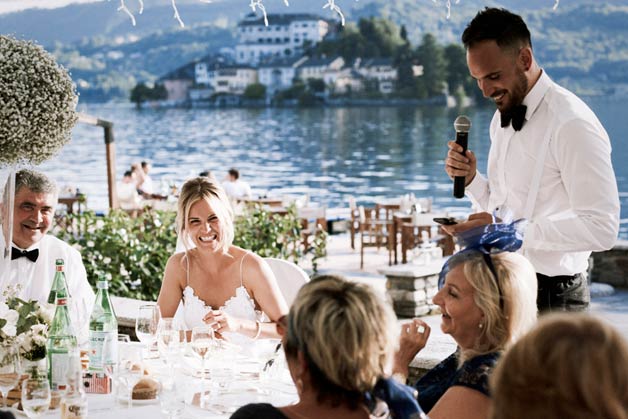 USTARIA CA' DAL RAT
If you are planning something more intimate with about 60 guests or less we can suggest to look at Ustaria Ca dal Rat which is located a little outside the village and easily reachable by boat after the ceremony, or a lovely restaurant on the Island or even a fun beach club to reach with a boat tour on the lake too.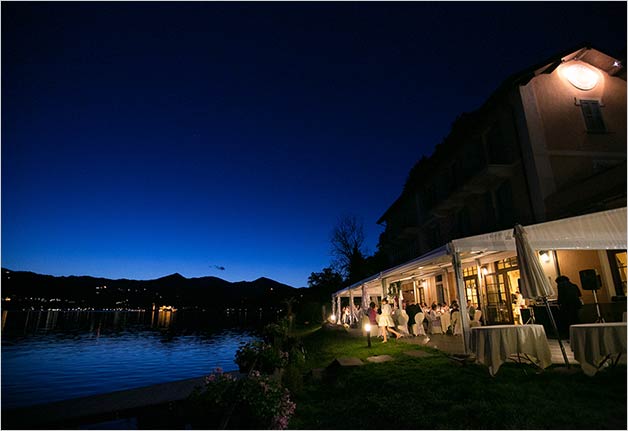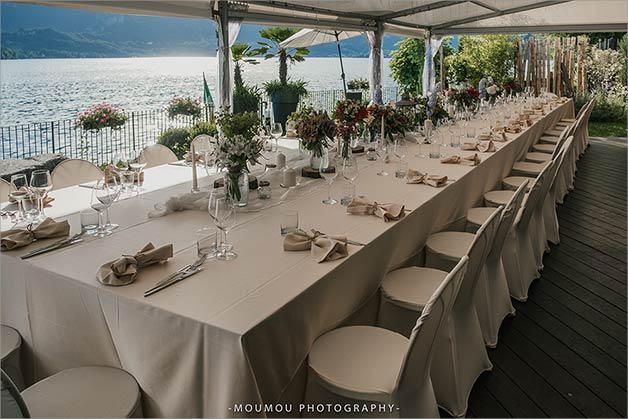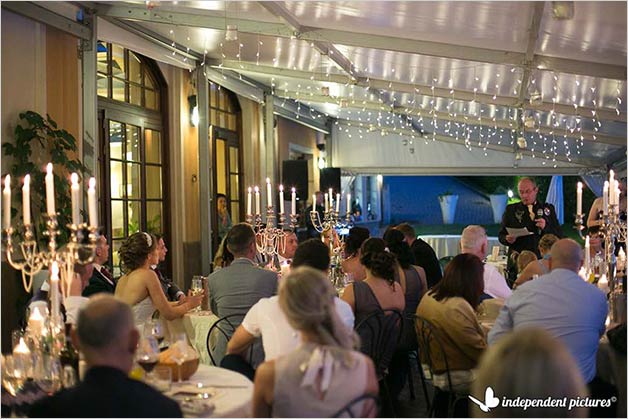 VILLA CRESPI
There are also some other hotels outside the village with a more modern key that can be considered or we can even suggest a luxury wedding at Villa Crespi where famous and Michelin starred Chef Antonino Cannavacciuolo is based. Villa Crespi is a Moorish style villa with Michelin starred restaurant and luxury rooms. It is part of Relais & Chateaux Association. It can be rented in exclusive use only – all rooms, common spaces and restaurant, for wedding parties.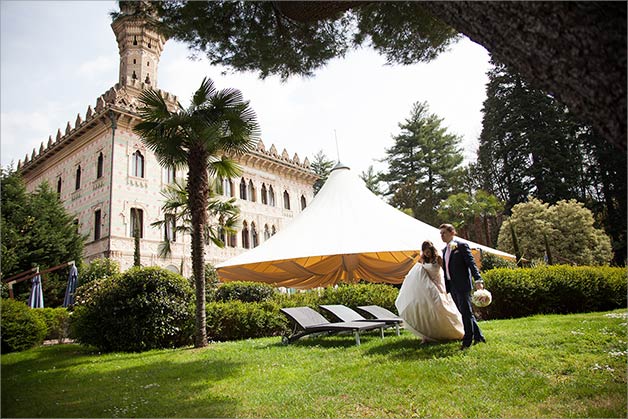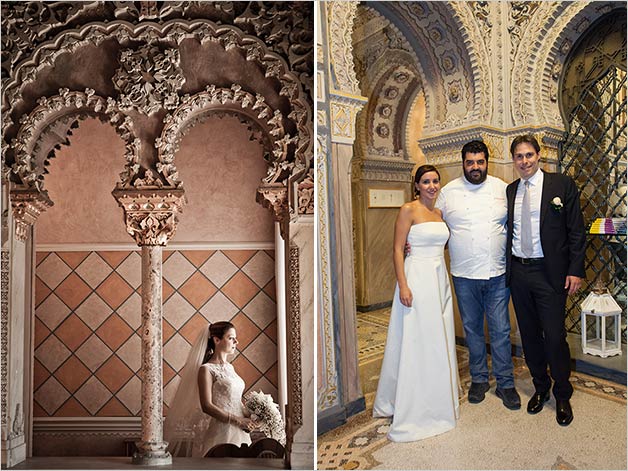 PALAZZO PENOTTI UBERTINI
If you are keen for a villa we can suggest Palazzo Penotti Ubertini right in the village side of the Church of Maria Assunta. It has not a lake view but the atmosphere of ancient walls, rooms and frescoes makes it very special.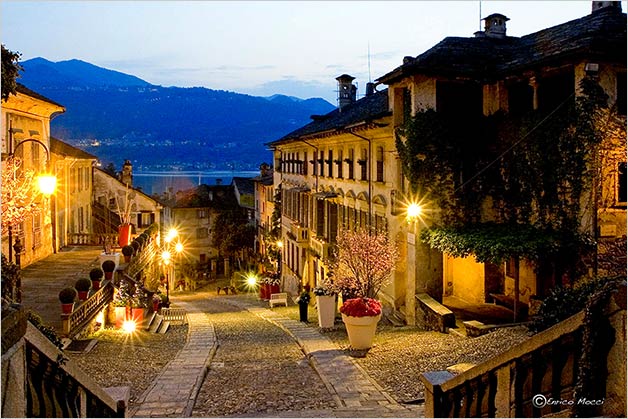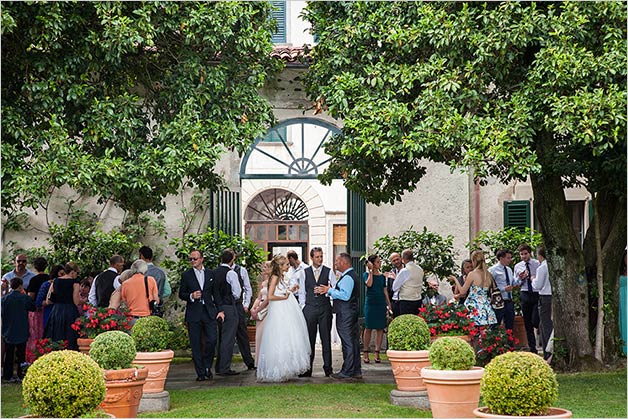 FIREWORKS ON THE LAKE
If you are thinking about
getting married at the end of August
on Lake Orta you cannot miss
San Vito Festival
. This takes place every year in Omegna one of the bigger villages on Lake Orta. The festival is planned each year for the las Sunday of August.
It is a stunning
fireworks show
…a spectacular fire fall that goes from a shore to another of the Lake.
Omegna is located North of the Lake and if you rent a motorboat you could have the possibility to enjoy a unique show.
It could be the perfect closing event for your wedding in Lake Orta!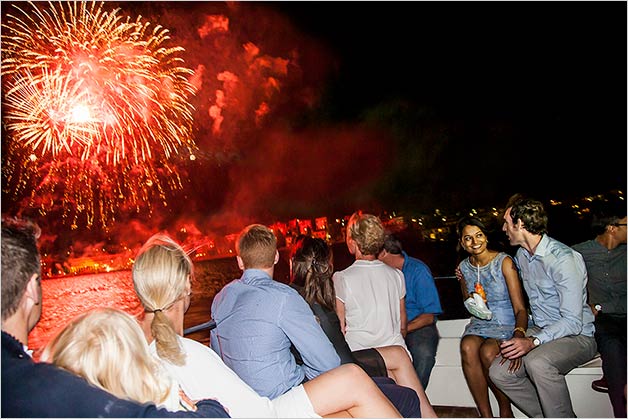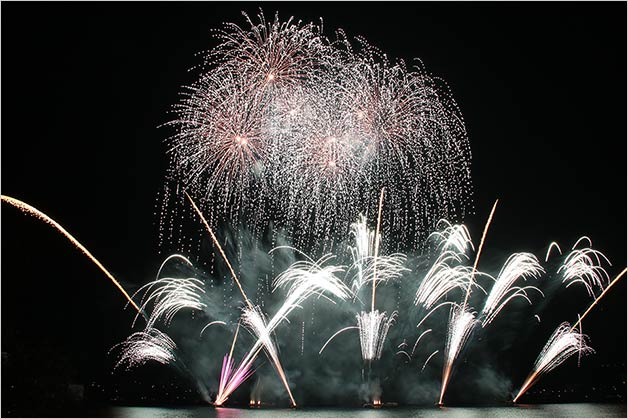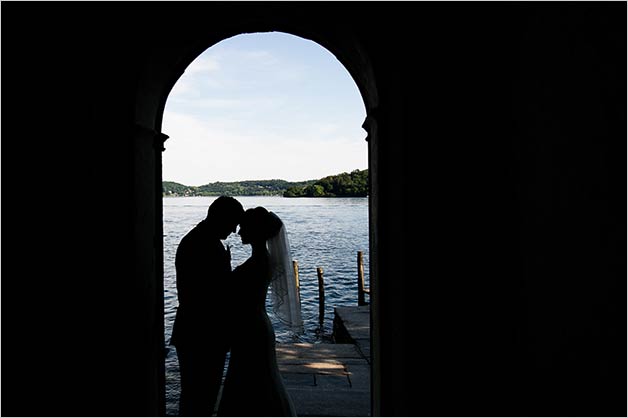 Your wedding on Lake Orta
If you like the idea of getting married on Lake Orta and you still have some doubts have a look to our blog pages. You can read many stories of our couples stories who came from all over the world choosing Lake Orta for their romantic and intimate wedding in Italy.

For any further information or question we are at your complete disposal. We would love to share our experience of destination weddings we planned on Lake Orta.