If someone asks me to find a couple of adjectives to describe a wedding on Lake Orta, I would certainly say: intimate and romantic!
Where you can find another lake with such an intimate and romantic atmosphere like the one you find on Lake Orta?
As wedding planner on Lake Orta I've been planning wedding for many years.
I would love to suggest and share some information that could be useful if you would like to wedding on "my" beloved lake.
Romantic Atmosphere on Lake Orta… only 45 minutes from Milan Malpensa airport
ake Orta can be reached very easily from Milan Malpensa airport thanks to motor-way (Autostrada dei Trafori).
It is the same that leads to Lake Maggiore. Lake Orta and Lake Maggiore are very close to each other. They are separated only by a mountain called Mt Mottarone.
A little drive that in few minutes will take you to one of the most intimate and romantic lake of the world!
Why choosing Lake Orta for your wedding?
In order to understand the magic of Lake Orta we need to discover its highlights:

Lake Orta is simply romanticism and intimacy

.
You cannot miss St. Julius Island just in the middle of the lake facing Orta village. The Island is silent and immersed in meditation. There are just some nuns living there. There is an ancient abbey and a single road that goes around the island among ancient villas on the shores, owned by former prelates.
St. Julius Island is a wonderful dream!

Medieval village of Orta

with its narrow pedestrian roads and main square facing the lake and St. Julius Island, ancient villas and wonderful churches overlooking the village from the above.
You cannot miss a ferry boat or a

motorboat tour on the lake

. You could see hidden corner of the lake, wilder nature on west coast, St. Julius Island, Acqualba falls, ancient 1700 villas and quaint villages of Ronco, Pella and Oira on the lake just by this water perspective!
Catholic ceremony on Lake Orta
ake Orta has three close by churches that could be ideal for your
catholic ceremony
. They are simply amazing and there are not equals in Italy:
Assunta Church, Sacro Monte Church and Madonna del Sasso church.
They are all so beautiful that I cannot choose my preferred one!
You can choose the right church according your needs and number of guests.
Assunta church
If you would like to avoid too many transfers for guests, Assunta church could be idea. It is located just in the heart of the ancient village. After the ceremony bride and groom with their guests could walk some of the most beautiful reception venues such as Palazzo Penotti Ubertini, Palazzo Gemelli and Hotel San Rocco.
Sacro Monte church
Sacro Monte Church is located on top of a wonderful hill overlooking Orta.
It is very close to the village but you cannot walk there, the road is very steep. Read more about Sacro Monte church of Orta: Have your wedding with a wonderful view.

TOURISTY TRAIN OF ORTA
A very cute idea that many of my couple do like is taking the fun little touristy train of Orta. In few minutes it will take you all to Sacro Monte church and back.
Madonna del Sasso church
Madonna del Sasso church is one of the most panoramic church of Italy. It is located on a big white rock above Lake Orta.
It is a unique natural show that few other churches can offer. In order to reach it, in this case, you should plan fir a transfer. The church is located about 30 minutes drive from Orta village. Anyway the trip worths the view… it is a unique beauty that you cannot miss.
Civil Ceremony on Lake Orta
ur Italian Lakes Wedding blog readers surely know which is the preferred venue for
civil ceremonies on Lake Orta
. No doubt: it is
VILLA BOSSI
!
What is more romantic than the bride arriving by the lake on a rowing boat on calm waters of the lake with St. Julius Island as background?
And what about the bride walking down the aisle in romantic garden of Villa Bossi to reach groom waiting for her side of the ancient columns of the villa?
Isn't it a dream?
Medieval House of Pettenasco
For the ones who are looking an even more private ceremony you can opt for Medieval House of Pettenasco. It is located just 5 km from Orta village.
Ceremony can be held in the garden of the ancient palace. It is a very evocative and private venue – the access to the courtyard is allowed only for bride and groom and their guests.
Palazzo Tornielli
Another good alternative could be Palazzo Tornielli. It is a 1700 palace in the heart of Miasino village. Miasino is located on the hills above Orta in a wonderful natural context. Palazzo Tornielli is very close, walking distance from Villa Pestalozza, one of the most elegant reception venue with a stunning view on Lake Orta.

Suggestions for a romantic symbolic blessing on Lake Orta
On Lake Orta there are many intimate and romantic location that are perfect for an outdoor symbolic blessing.

I would like to suggest some here.

On the top of the white rock of Madonna del Sasso church

, in its lawn overlooking one of the most beautiful Italian view. Just like Donna and Mar did! Do you remember it?

On St. Julius Island shores

, in the evening when most of the tourists are gone and when silence envelops the island. As Mark and Rachel did. Do you remember the post Intimate ceremony on St. Julius Island Lake Shores

In the gardens of Villa Gippini

, a private villa owned by San Rocco Hotel located just in front of St Julius Island. As Bevin and Steven did, few years ago. Our celebrant Diane told you about this in the post The Lucky of the Irish.
GREAT NEWS FROM VILLA BOSSI
From this year also Villa Bossi gardens can host symbolic blessings. It is a wonderful news and we are proud to give is a preview!
You need to book it as you may do for a civil ceremony but you can opt for a symbolic blessing here if you want.
Isn't it a great news?

Wedding Reception on Lake Orta: Ancient Villas, Palaces, Hotels, Restaurants on the lake and much more!
ake Orta offers a great variety of
reception venues
that could match every taste, budget and need.
You can choose a venue directly on the shores like Orta Beach Club, St. Julius Restaurant directly on the Island, Hotel Approdo, Hotel Ristorante Il Giardinetto, Ristorante l'Ustaria Ca dal Rat and Hotel San Rocco.
Then we have some wonderful ancient villas with great view on the lake as Villa Pestalozza, Palazzo Gemelli, Palazzo Penotti Ubertini, Villa Decio and Villa Ortea (this last one can be warmly suggested in case you have a wide big number of guests!)
If you are getting married in winter Hotel Cortese could be the perfect warm and cosy venue just 5 minutes drive from Mt. Mottarone ski slopes and magic St. Julius Island.
FIREWORKS ON THE LAKE
If you are thinking about
getting married at the end of August
on Lake Orta you cannot miss
San Vito Festival
. This takes place every year in Omegna one of the bigger villages on Lake Orta. The festival is planned each year for the las Sunday of August.
It is a stunning
fireworks show
…a spectacular fire fall that goes from a shore to another of the Lake.
Omegna is located North of the Lake and if you rent a motorboat you could have the possibility to enjoy a unique show.
It could be the perfect closing event for your wedding!
Getting married on Lake Orta is not only intimacy and romanticism but also… a lot of fun!
o you like the idea of a romantic wedding on Lake Orta but you are keen for a touch of fun for you and your guests?
A nice idea could be planning a
tour on a ferry boat on the lake
.
All together to party on the water with dances, music, fresh prosecco and canapes.
Just like
Charlotte and Steven did
. Then you could reach one of the quaint restaurants on the lake as Ustaria Ca dal Rat or St. Julius Restautant.
But it is not over yet!
After the dinner you could go on up to late at night in a local brewery with some more dances and fun.
Do you remember Lisa and Emmett in our post Would you like to party until late at night on Lake Orta?
So what about Lake Orta? We are sure you are falling in love with it!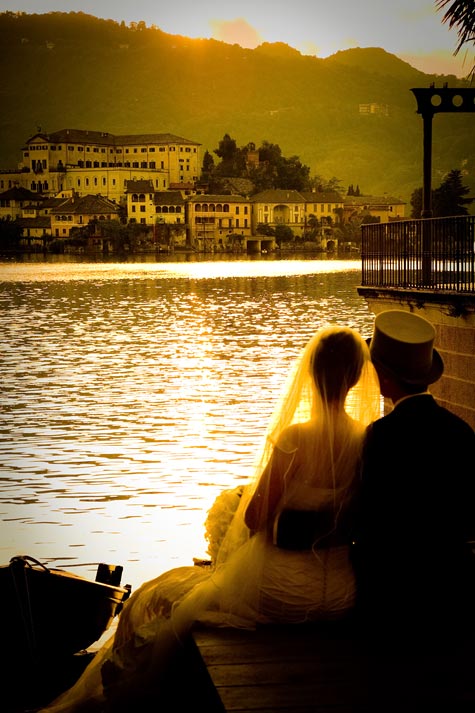 If you like the idea of getting married on Lake Orta and you still have some doubts have a look to our blog pages. Just read our couples stories who came from all over the world who chose Lake Orta for their
romantic and intimate wedding in Italy
.
For any further information or question I'm at your complete disposal. I would love to share my experience and knowledge on Lake Orta.
Just ask… I love this place and I wish you could love it too as I do.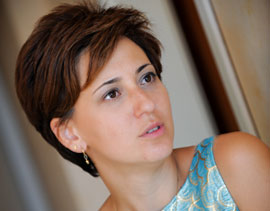 My name is
Valentina
and I work as wedding coordinator on
Lake Orta
and
Lake Maggiore
.
Before being a wedding planner and coordinator I worked for an American company planning events. I turned into wedding planning for SposiamoVi group, more than 5 years ago. Since Italian Lakes Wedding was founded I work with them to make bride and groom's dreams come true on this wonderful Lakes of North West Italy and Piemonte region.
l love creating with my couples the perfect event for them following their wishes and needs, helping to find the best solution for their ideas and budget.
I like meeting people talking with them and know more about their cultures and traditions. I do like sharing Italian customs with them and working in team with couples to let them experience a real and dreamy Italian wedding!
I will be pleased to guide couples along lovely traditional and pedestrian roads of Orta village discovering the beauty of this romantic Lake between villas, traditional restaurants wonderful churches and enchanting St. Julius Island.
I will be happy to let couples discover bigger and charming Lake Maggiore with its Borromeo Islands, wonderful hotels and villas overlooking the waters.
I'm sure you would be amazed by the beauty of these special corners of Italy so I'm simply wait for you for a lovely experience to create and live together.
For any information about wedding on Lake Orta CONTACT ME