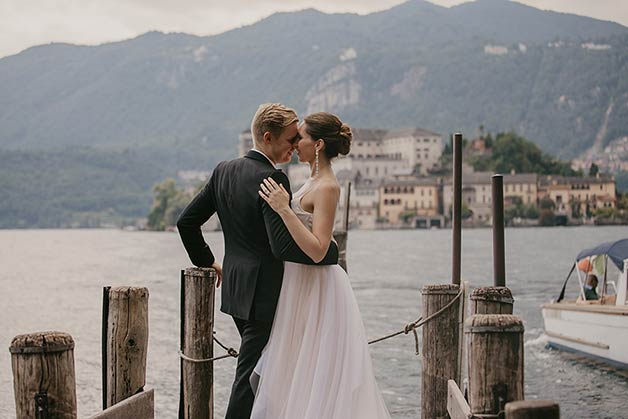 Valentina and James July 6, 2019
ames and I met at a friend's dinner in
Hong Kong
. He is Australian and totally in love with Italy. I'm Italian, totally in love with the world.
Our friends secretly planned for us to know each other, but we could never think that that joyous evening could lead us to the altar.
I was living in China for 3 years, and he was living in Hong Kong. We lived 2 flight hours far from each other, and we were scared that distance could separate us. It wasn't the case.

A week after we met James, I flew to Tokyo, where I was with some friends to invite me out for dinner. That was the beginning of a romantic love story.
On December night, while walking in the Australian desert, James got on his knees, and he proposed.

I could remember the stress on his face.
 We never had a doubt about the destination for our wedding: beautiful Italy.
 The location choice was not a case.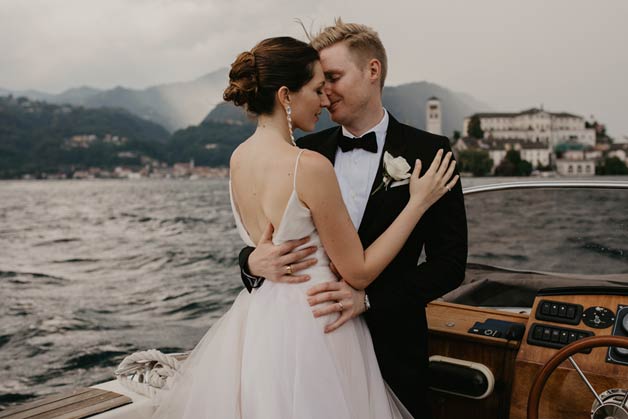 Romantic Lake Orta
Lake Orta is romantic, and my family and I simply love it. It could have been the perfect location to show a little bit of Italy to our guests coming from all over the world to be part of our special day.
One year and a half, we were there in front of the lake with all our guests.
Lake Orta town hall, Villa Bossi, has an exceptional appeal. It has a beautiful garden on the lake with much natural beauty. The facade is the typical one you can find in little Italian villages.
I reached the ceremony by boat with my dad, my bridesmaids, and my little niece. Although the weather was not perfect, the atmosphere was magical.
Orta is a perfect frame. Each corner is a photo set where history and traditions blend in a new context that everybody loved. Our guests arrived from 13 different countries.
We had a wonderful day.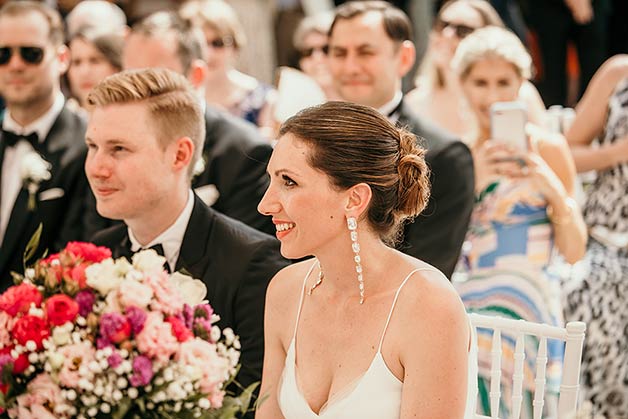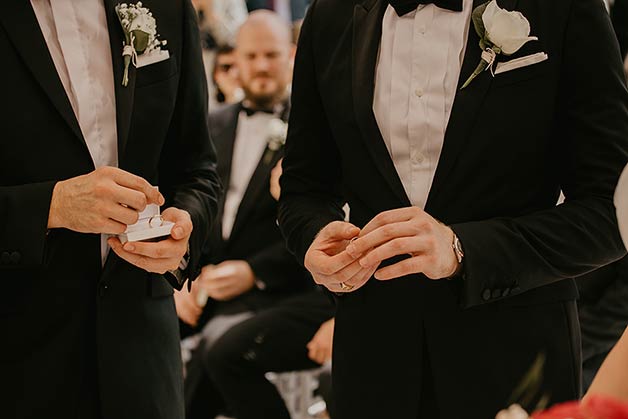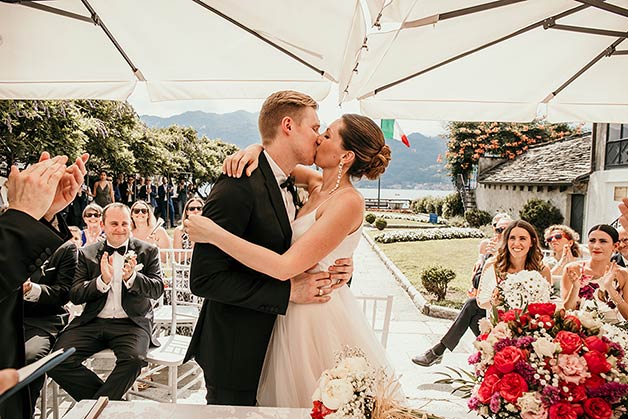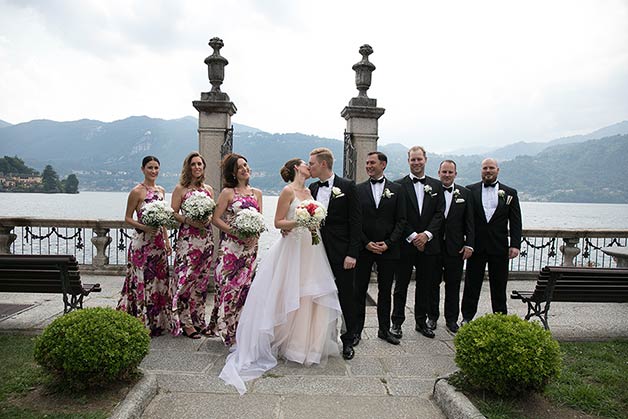 For my wedding dress, I chose Elena Pignata as my designer.
She created a fabulous gown, starting with my ideas and some pictures. It was a beautiful dress with a sweeping tulle and organza skirt in the dusty pink shade with a little and light train.

The top was simply decorated with a draped tulle.
The dress's peculiarity was that the skirt could be taken off, revealing a linear outfit with a front slid. The train could be transformed into wings that beautifully framed the dress. This version was perfect for the after-dinner party.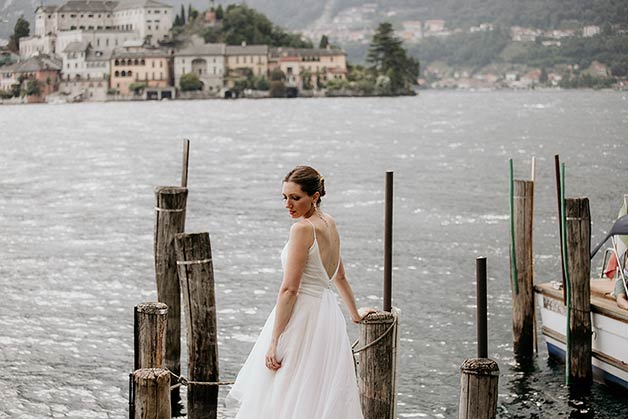 An unforgettable day in a fairy tale location
After the ceremony, we reached Piazza Motta, and all the locals and tourists were cheering us. We went to St. Julius island with Ellade Photo by Eleonora Racca to take some fantastic shots. She stayed with us all day, taking amazing photos of the day in every single image.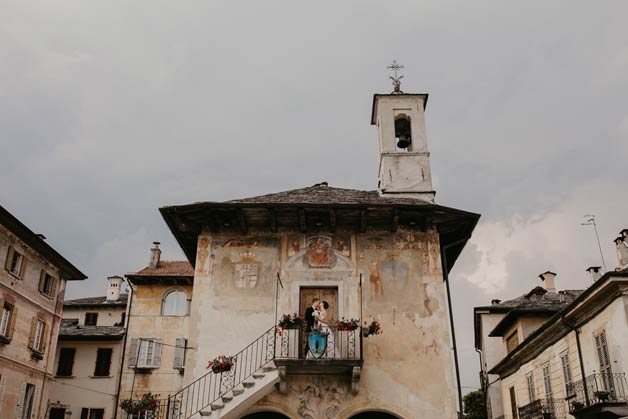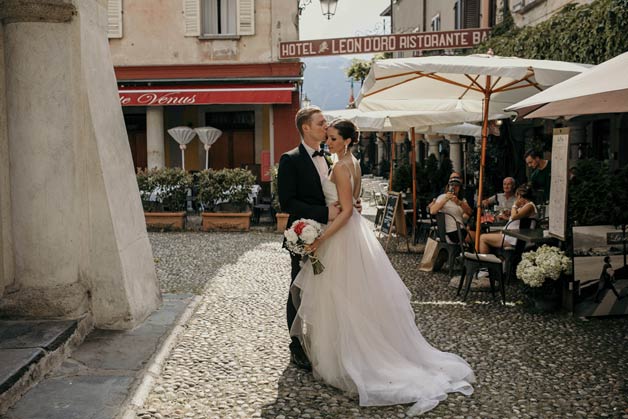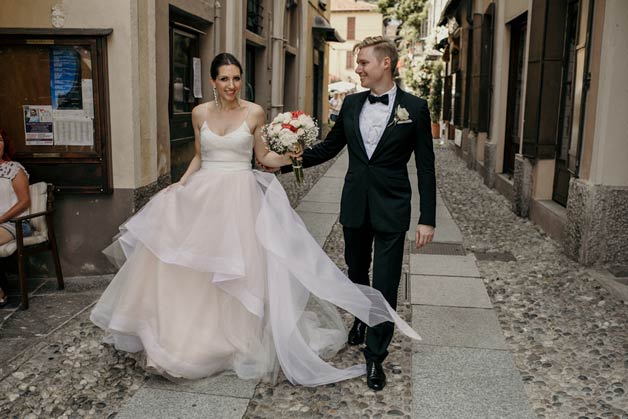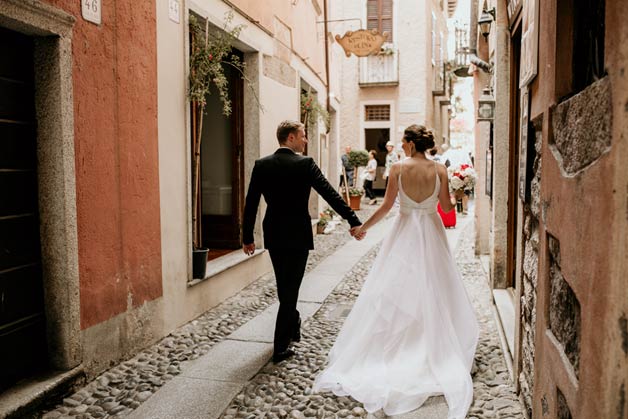 It was a windy day, but despite all, we made it on time for our dinner reception at Hotel San Rocco, located just by the shores.
La Piccola Selva floral designers decored the ceremony table and created the centerpieces at the reception. An incredible explosion of colors that perfectly matched bridesmaids' dresses. They made the compositions with lisianthus and little roses. They were perfect for the unique atmosphere we chose for our wedding.
La Piccola Selva Floral designers created bridesmaids'bouquets too. They were made with daisies and gypsophila.
They also designed a gypsophila little crown for my flower girl.
Paola, the senior La Piccola Selva's floral designer, added the cake flowers and the buttonholes for the groom, father of the bride, and the groomsmen.
The flowers were simply beautiful.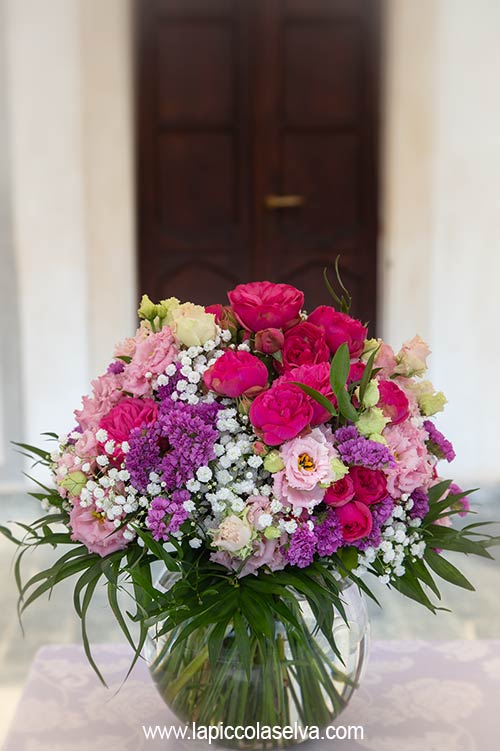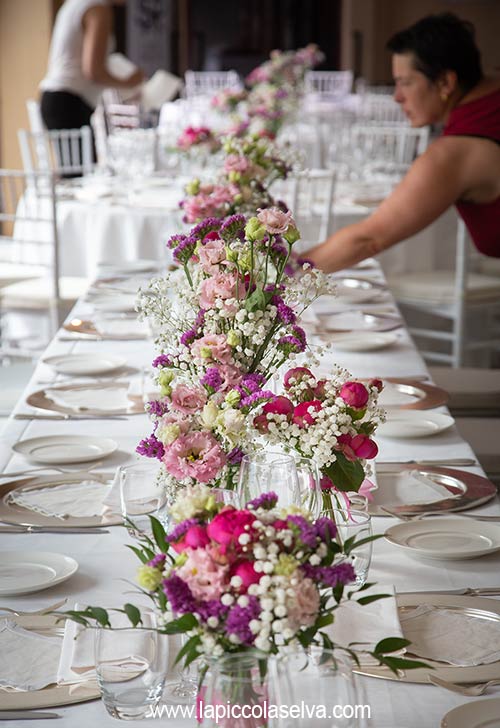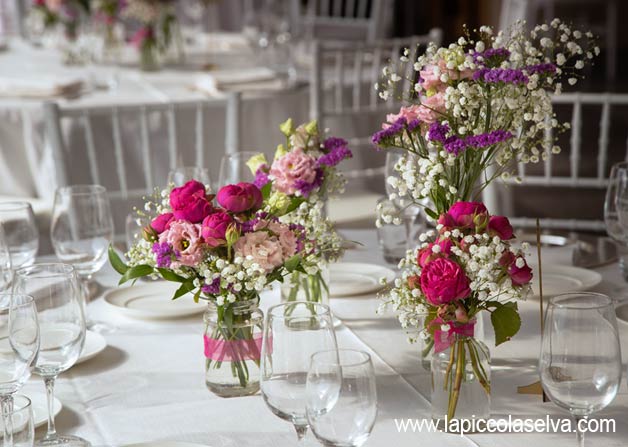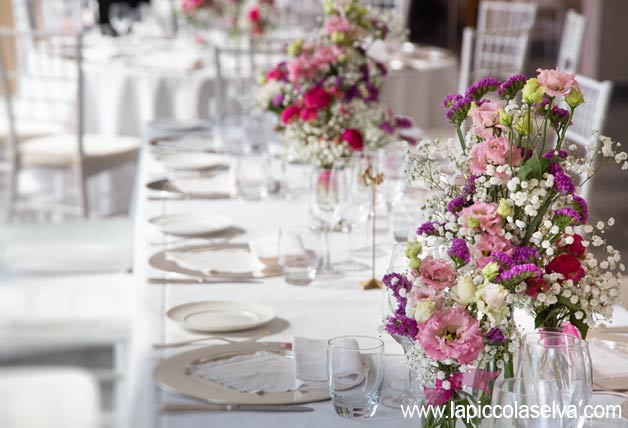 My wedding bouquet was made with peonies, and the one for the throwing were both made by La Montà by Susanna Tavallini. She is my aunt. She also followed the outdoor decor at Hotel San Rocco.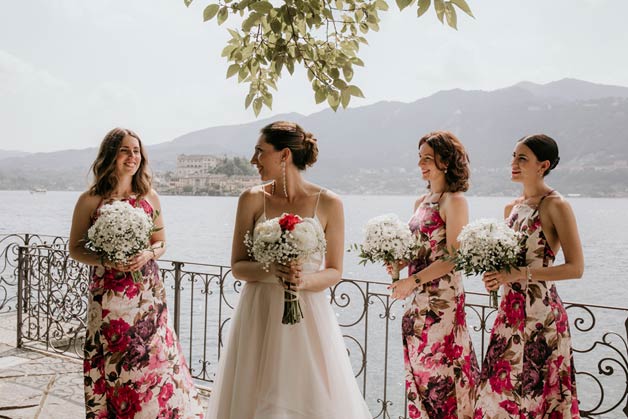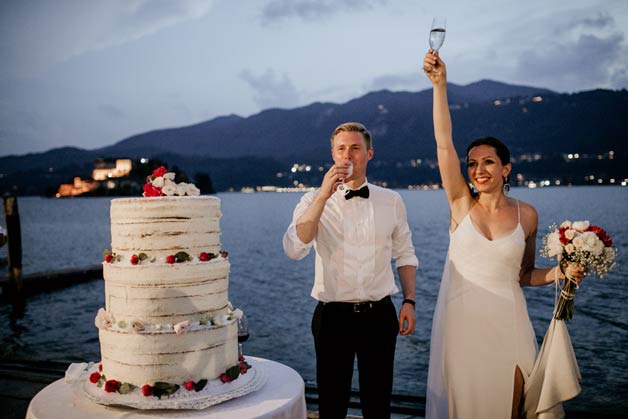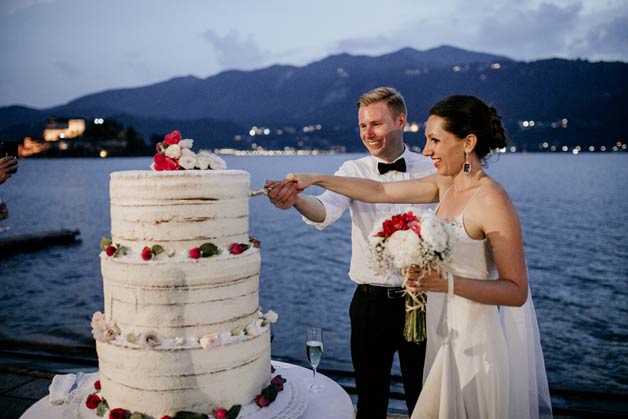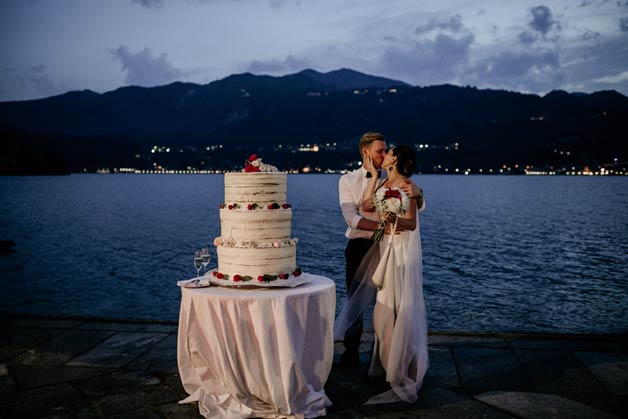 It was an unforgettable day in a fairy tale location: romantic Lake Orta. It could tell a lot about us and about our Italy.
I still live in China, and James still lives in Hong Kong… but who knows how many surprises the future has for us. This was just the beginning, and it was fantastic!
CREDITS
Ceremony venue: Villa Bossi
Reception venue: Hotel San Rocco
Wedding dress: Elena Pignata
Florist: La Piccola Selva
Bridal bouquet: La Montà by Susanna Tavallini
All photos published in this post are by Ellade Photo, except those with the logo "www.lapiccolaselva.com".