I wrote many posts on our blog but I recently realised that we never wrote a full post telling you about all weddings we planned there and all the secrets VILLA BOSSI hide!
Do not worry some will be well kept for the couples who are coming over to tie the knot in this special corner of our Italian Lakes.
As many of you know Villa Bossi is Orta town hall.
It is a wonderful 1700 villa overlooking the lake and St. Julius Island.
The villa has a stunning garden with private jetty.
This is the corner of heaven where you can celebrate your legal civil ceremony in Orta.
An outdoor civil ceremony by the shores… a dream!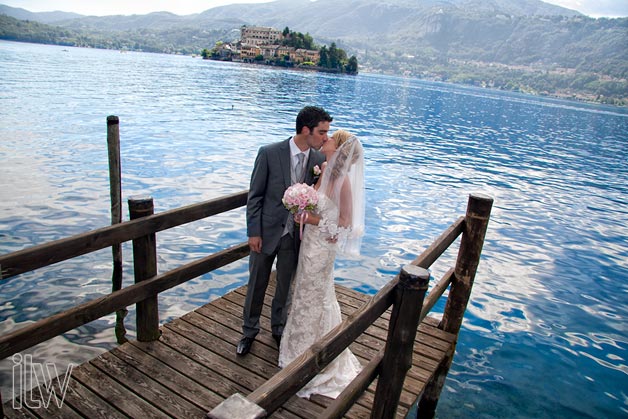 The garden is simple yet very elegant and charming. It is always embellished with local flowers and a scented wisteria gallery on its left.
The bride is coming from the waters… by rowing boat
A
s you saw in many posts bride can reach the town hall
by rowing boat
.
She can be accompanied by her father, bothers or even bridesmaids!
This makes bridal arrival even more romantic. She walks down the natural aisle of the garden to reach groom and guests waiting for her!
…Or bride can decide to arrive by motorboat
S
ome brides decide to arrive by motorboat. Some couples even decide to leave the town hall by boat to reach St. Julius Island for their wedding photos…. but this is another story!
A lovely walk to reach Villa Bossi
Bride can also reach the town hall walking arriving by the lovely roads of Orta village.

Large groups or even very intimate weddings
It could be the perfect setting for large groups or even very intimate weddings just little elopes!
Readings, poems and live music
Civil ceremony can be enriched with readings, poems, live music and even blessings!
We could suggest many options for all kind of ceremonies.
Flowers and decorations
Villa Bossi can be decorated with flowers and all decorations you may prefer. We will be pleased to help you creating the best atmosphere for your wedding ceremony according your colour preferences and theme.
Indoor ceremonies at Villa Bossi
If you are planning an off season wedding or in case of bad weather Villa Bossi gives you the opportunity to use their indoor room which is not a B plan but a wonderful other solution!

Symbolic blessings
We can help you in the whole paperwork process but in case you want to avoid it, you can simply rent the area and plan your blessing or symbolic ceremony here.
We will be happy to suggest best celebrants that can tailor your blessing ceremony according your tastes.

Just few words for Orta mayor's delegate
Ms. Roberta
.
She is the lady who usually perform all civil ceremonies at Villa Bossi. She is simply great! Kind, helpful and very friendly!
A big thank to Roberta for her big help!
Your special civil ceremony on Lake Orta
We collect here some of the weddings we planned here in these last few years…
We are sure you will remember many of them. They could be an inspiration for your civil ceremony on Lake Orta!
I'm waiting for you for your special civil ceremony on Lake Orta!
You may also be interested in: