Today I would love to tell you about a very sweet and your couple coming from UK.
Hannah and James got married on late September 2010 on wonderful Lake Orta.
The day was blessed by a warm sun that brought a lot of joy to the event.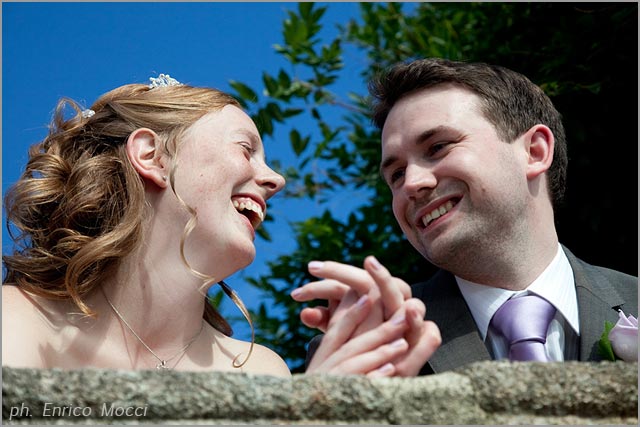 We can say that Hannah and James were surely the youngest couple we planned the wedding for in 2010 and we really want to wish them all the best for their life together!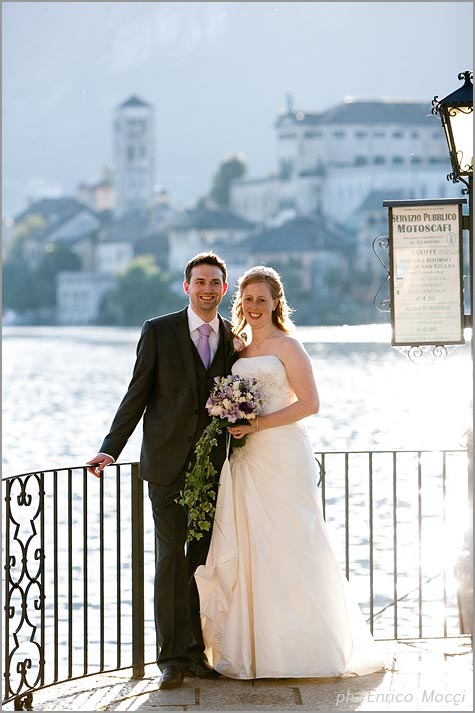 Hannah and James decided for Orta without seeing it before. They thought once arrived here the lovely medieval village could be a sweet surprise for their guests and for them too.
And it was! The warm temperature of September welcomed the small group. Bride and groom decided for an intimate wedding on the shores of the lake.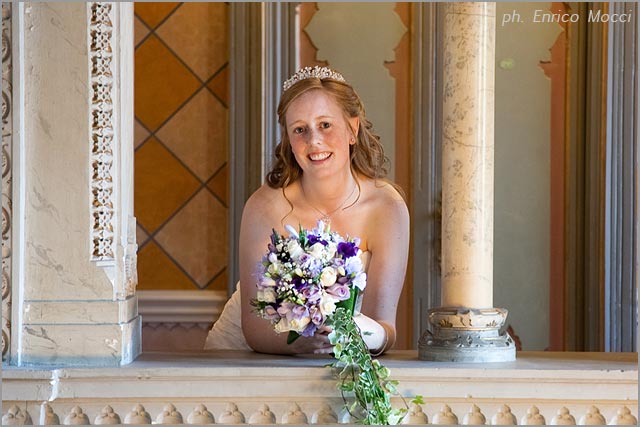 Hannah's tastes were on purple, lilac and white and she opted for a very elegant bouquet matching bridesmaid dress.
She decided to get ready in the amazing rooms of the Moorish Villa, one of the most luxurious venues in Orta San Giulio.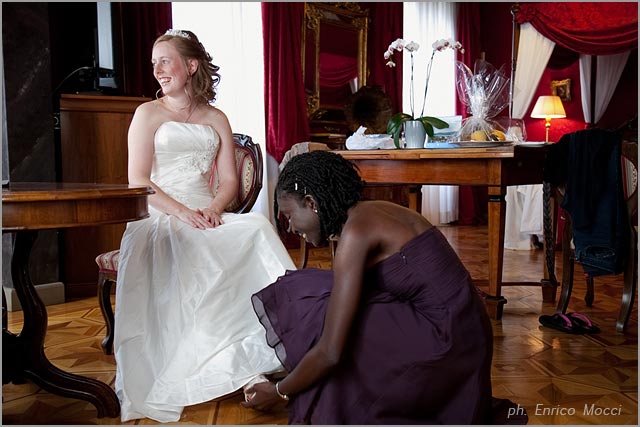 Hairdresser reached her here and she had all the time to get ready before reaching Orta main square to get on a rowing boat to reach James waiting for her to the town hall.
This time it was the bridesmaid to walk on the aisle with the bride. Have a look to the colors on the warm sun of September aren't the two girls just stunning?
After a very intimate and emotional ceremony in the town hall of Orta – Villa Bossi – bride and groom hosted a lovely boat tour on the lake to finally reach their reception venue: pretty restaurant on St. Julius Island.
Hannah really wanted a royal table for all the guests along the terrace so everybody could enjoy the magic view on the lake.
Decorations for the tables were all in purple, lilac and white matching also nice names cards and stationary.
After the delicious dinner Hannah and James cut their wedding cake… white and lilac.
The night was cheered up by Ezio Lucchini guitarist who played Hannah and James' first dance and all the following.
On the background the little lights of floating lanterns on the lake.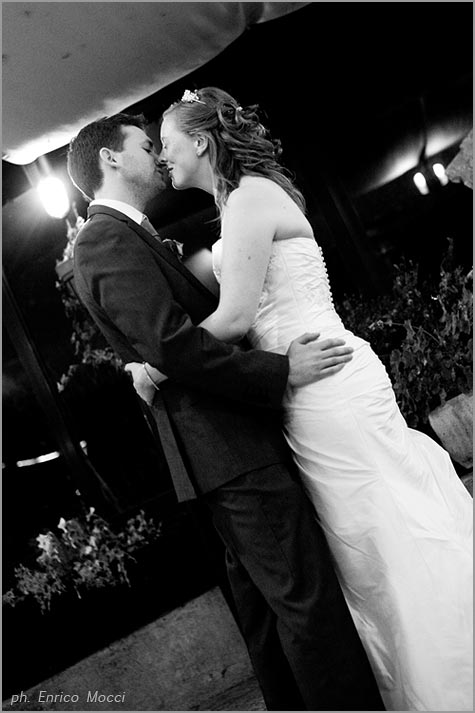 The youngest couple of 2010 and for sure one of the sweetest and the most romantic event on Lake Orta.
In this post you can see only few of the wonderful shots that Enrico Mocci took.
Don't miss Hannah and James' WEDDING PHOTO GALLERY, with over seventy gorgeous pictures taken on Lake Orta.

Thanks also to skilled florist La Piccola Selva for the flower arrangements and for the bride's and bridesmaid's bouquets.
We take the occasion to thank all our brides and grooms and photographers that allow us to post on our pages their stories and their works.
All of the stories we post are fully planned or partly followed by members of by our Team (planners, photographers, video makers, floral designer, musicians…) but without couples and photographers permissions, work and material, they will be just wonderful events kept in a drawer.

Thank you all!
My name is Valentina and I work as wedding coordinator on Lake Orta and Lake Maggiore.
Before being a wedding planner and coordinator I worked for an American company planning events. I turned into wedding planning for SposiamoVi group, more than 5 years ago. Since Italian Lakes Wedding was founded I work with them to make bride and groom's dreams come true on this wonderful Lakes of North West Italy and Piemonte region.

l love creating with my couples the perfect event for them following their wishes and needs, helping to find the best solution for their ideas and budget.
I like meeting people talking with them and know more about their cultures and traditions. I do like sharing Italian customs with them and working in team with couples to let them experience a real and dreamy Italian wedding!

I will be pleased to guide couples along lovely traditional and pedestrian roads of Orta village discovering the beauty of this romantic Lake between villas, traditional restaurants wonderful churches and enchanting St. Julius Island.
I will be happy to let couples discover bigger and charming Lake Maggiore with its Borromeo Islands, wonderful hotels and villas overlooking the waters.

I'm sure you would be amazed by the beauty of these special corners of Italy so I'm simply wait for you for a lovely experience to create and live together.

For any information about wedding on Lake Orta please CONTACT ME.