I'm Stefania and I'm the wedding planner on lake Bracciano.
I plan weddings here and maybe I may be a bit biased but It's impossible not to choose this wonderful place as an ideal location for crowning achievement of your love dream. The Mediterranean climate, the warm water, the smell of nature and the hawks hovering over. It is simply superb.

LAKE BRACCIANOA STUNNING PLACE FOR YOUR DESTINATION WEDDING
More and more the soon-to-wed couples are choosing its woods, its beaches, its lush wildlife, that adds a naturalistic touch to the nicety of the venues.
This is the ultimate volcano lake of all, a stunning place for your destination wedding!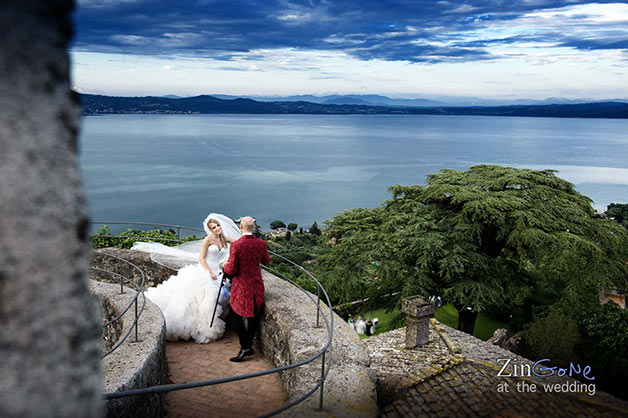 Why getting married on Lake Bracciano
Mediterranean Climate


Lake Bracciano enjoys a wonderful Mediterranean climate typical of the Roman countryside. Most of the year the water is warm or not-so-cold, the sunny days are particularly hot but the proximity of the lake refreshes the hot breeze giving a sensation of intense pleasure. What you have to do is just close your eyes and let the warmness embrace you.

Central Position


The lake's central position makes it an ideal naturalistic HQ for a those days you and your guests will stay around here. Why? What about a short holiday plunged into the wildlife and the minute after set to going to visit Rome, just 20 minutes away? What about visiting the astonishing Etruscan cities of the dead? They're just a stone throw from there. Bored of the lake? Fancy some sea? That's still 15 minutes away. There's everything you need.

Stunning Lakescape


The reeds, the swans, the wild ducks, the hawks, the eels and the pikes… that's a terrific place to spent even a honeymoon. Did I repeat myself? Did I already told you that this place rocks, didn't I? The dark green Mediterranean forest and the fields of water reeds frames the cute towns of Anguillara and Trevignano, while Bracciano is towering from the hill. You really want to miss this stunning view? Not only I advise you don't, but I advise you to bring frames, paints and easel along, because all of this will make an impressionist out of you.

Relax and Natural Setting


I think I've already said too much about it. But maybe speaking of Lake Bracciano is never too much. The lava sands beaches calls you, they want you to take a bath and sunbathe lying over them. Not so far there are golf pitches, thermal stations, riding stables and everything you need to relax, switch off the over-stimulated brain and regenerate.
Catholic Wedding on lake Bracciano
here are three beautiful churches that you can find around here:
The
Cathedral of Santo Stefano in Bracciano town
, founded in 15th century, underwent many restoration in the past, it's full of frescoes from the 18th century, with pictures 4 centuries old.
The other church is Chiesa dell'Assunta, in cute town of Anguillara, built on 1794 over more ancient religious foundations, it contains a Girolamo Muziano picture and 15th century angels.

Always from the 14th century, the Chiesetta del Riposo, is maybe the most stunning, breathtaking and unique of all, its view of the lake is totally mesmerising, the interior are full of ancient frescoes representing religious themes, but the news is spreading fast so remember to book it in advance.

Civil Ceremony in Bracciano and Trevignano Town Hall
If you prefer a civil ceremony know that you can chose between the Bracciano Town Hall Community and the Trevignano Town Hall, both are old buildings, the personnel is kind and willing to help. After that you can decide to have a more pompous symbolic ceremony on one of the nice venues around.
Wedding venues on Lake Bracciano
he Lake Bracciano area offers some of the nicest wedding venues you can find around here: a
bucolic villa on lake shores
is an actual dream garden, is the Eden of the wedding venues: a wide garden area, with willows, logs, hauled boats, a nice patio area and a meadow that ends where the lake starts.
Scuderie Odescalchi
(Odescalchi Stables), was an ancient stable converted to a gorgeous villa with a huge garden, it can host summer wedding where you can exploit the breathtaking scenery but amazingly it can be the theatre of posh winter weddings in the luxury interiors that can host up to 500 guests.
The Bracciano Castle, or Castello Odescalchi, is the top choice of every international posh and vip wedding, to name few, Tom Cruise and Katie Holmes, Isabella Rossellini and Martin Scorsese and last but not least Tyrone Power and Linda Christian. Built in the 13th century, it hosts a museum, a secret garden, and amongst the other thing it can offers old coaches, jugglers and acrobats services.

A wonderful place to have a party and reception in country setting is a
romantic villa
located in a natural setting, it's posh, luxurious, dazzling, the garden is huge and full of precious and centennial trees, in the same area there's also the
church of Madonna delle Grazie
, where you can celebrate
a wedding on the premises
. Otherwise
an ancient tenuta
which is again another terrific story, also built in a
Roman area
, you can still find ruins that pop up here and there in the huge garden, the building itself dates back to 17th century, it was built as a game lodge by the omnipresent
Odescalchi family
. It can host up to 700 guest outside and around 300 inside, the multi terraced structure adds a fairy charm and the swimming pool it's a blessing in the summer days.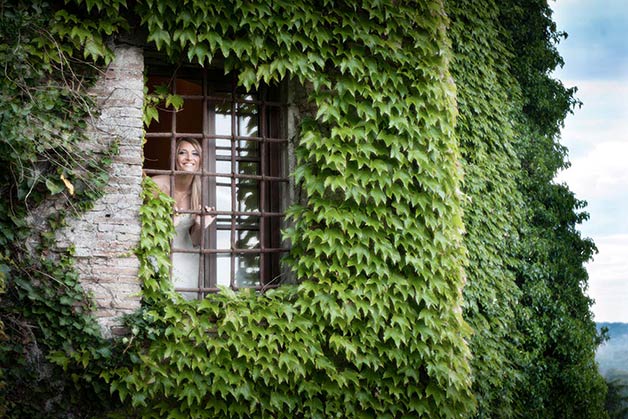 Another terrific dreamy place to celebrate is Castel Giuliano, that is indeed very old because it was built on an Etruscan town, in the centuries it underwent many restorations until in the 16th century it became an aristocratic abode, its garden large and amongst the roses and the myrtles you can spot a ruin of an Etruscan burial site, that tells you a lot about the origins of the place.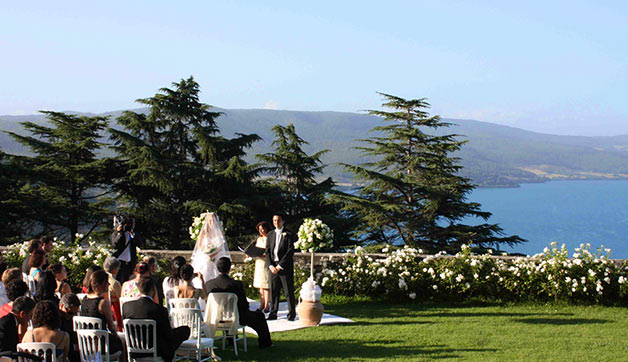 Your wedding planner on Lake Bracciano
I'm based in Rome but lake Bracciano is the place where I've worked the most during the last years. I have collected a wide experience about the territory and the many wedding venues available for your special day.
I have also realised I really love this lake as every time I get there I feel like I'm on vacation even if I'm working and you can be sure that I will be more than happy to plan your wedding here as it is always an occasion to work in a relaxing atmosphere and to help discovering all the beauties of lake Bracciano.
For any information about wedding on Lake Bracciano CONTACT ME.