When Mariana and Paulo contacted me they wanted to plan a romantic elope overlooking a Lake close by the eternal city of Rome.
The wanted a unique venue in a unique setting with a unique atmosphere.
The place that came immediately in my mind was a castle. So we planned a romantic elope at Odescalchi Castle on lake Bracciano as there is no better venue in the area for such a very romantic event.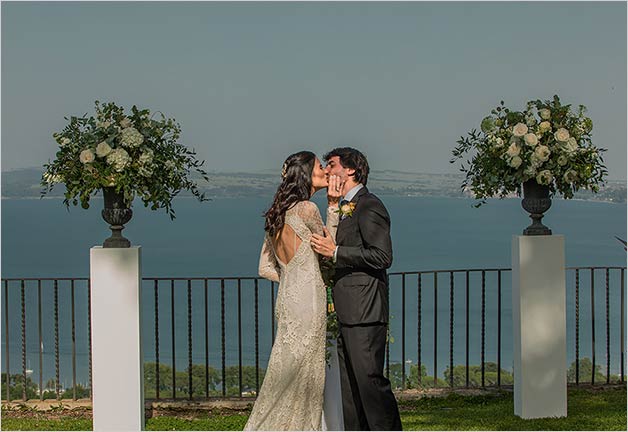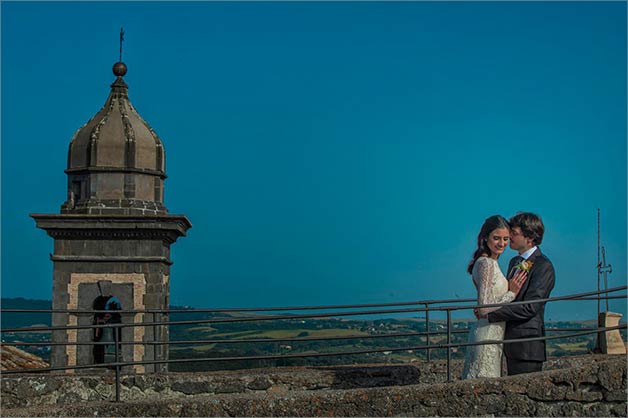 Odescalchi Castle on Lake Bracciano a stunning venue for your Italian Wedding
Castello Orsini-Odescalchi is a castle in Bracciano village. It is located not far from Rome. Castle leans on Southern shore of Lake Bracciano. It was built bank in 15th century and it combines the functions of military defence and the use of civilian residence of the feudal lords of that age: Orsini and famous Borgia, families, both papal heirs.
As one of the largest and best-maintained castles in Italy, it also houses a museum.
Being the a centre of many cultural events, Castello Odescalchi hosted several high-profile weddings like Tom Cruise and Katie Holmes's destination wedding, Italian singer Eros Ramazzotti and Michelle Hunziker's, and Petra Ecclestone and James Stunt's special day.
But above all we need to remember one of the very first destination wedding of the history: Tyron Power and Linda Christian tied the knot just here back in 1949. Can you imagine? This is "story of destination weddings"!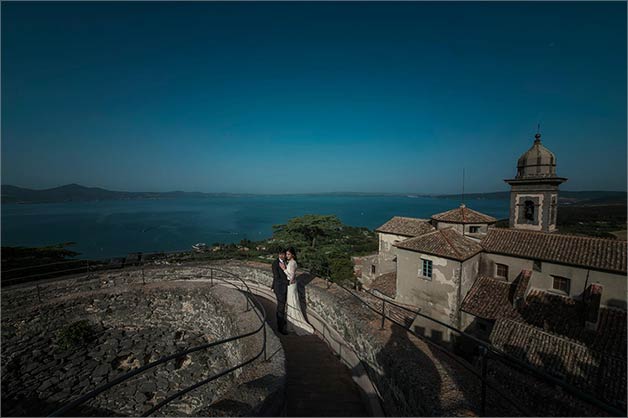 Getting ready for a romantic Elope at Odescalchi Castle on Lake Bracciano
But let's go back to Paulo and Mariana's romantic elope at Odescalchi Castle on Lake Bracciano.
Bride and groom hired a private car to their hotel on Lake Bracciano in the early afternoon. They reached Odescalchi Castle coasting wonderful Lake Bracciano.
Once at they arrived they started their getting ready in the private rooms of Odescalchi Castle, where Odescalchi family used to live. Magic! All rooms are richly decorated featuring beautiful frescoes and ancient furnitures dated date back to Middle Age. It was an emotional experience for them. Imagine to get ready for your wedding surrounded by history and good taste.
Mariana chose a stunning lace dress. It was very simple but absolutely elegant. It underlined her beauty. She chose a colourful bridal bouquet in pink and orange shades that perfectly matched wedding dress style.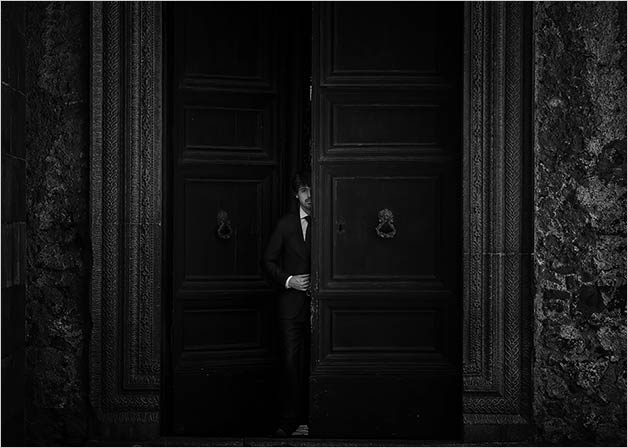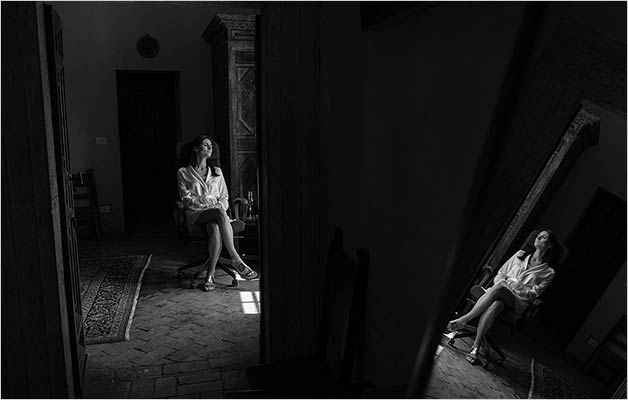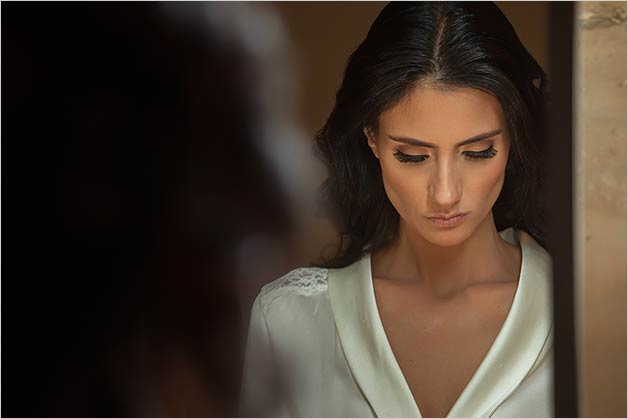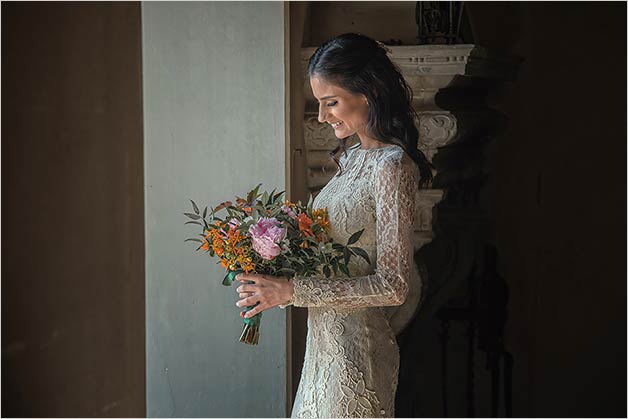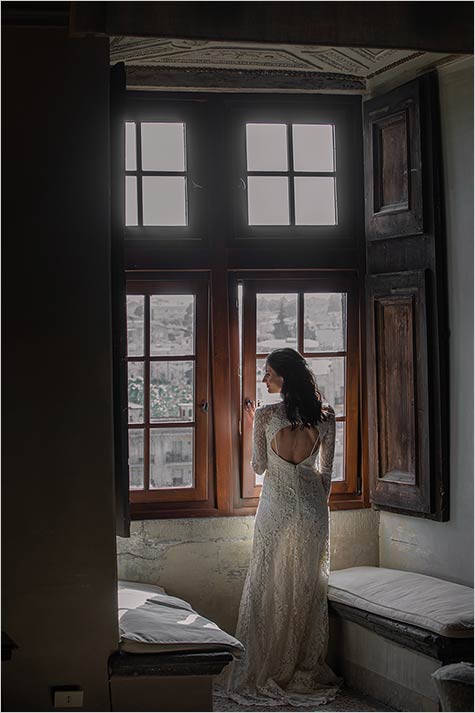 A romantic wedding ceremony at Odescalchi Castle on Lake Bracciano
We planned the wedding ceremony on the secret garden of the castle. The perfect setting for a romantic elope at Odescalchi Castle on Lake Bracciano. The garden has a stunning view over Lake Bracciano and its lush vegetations. Flower plants and two imposing ancient cedars of Lebanon complete the stunning frame.
As soon as Mariana started to walk down the aisle, the music of a romantic violin started to play and their wedding celebrant Clive Rich welcomed the couple. Ceremony could really start. The real begin of a Romantic Elope at Odescalchi Castle on Lake Bracciao.
It is always very emotional for me planning a romantic elope. On the day I really can see passion and love in the eyes of the couple who is fully concentrated on their union and their own relationship. Wedding ceremony in an elope becomes really meaningful and touchy. But when we are in a stunning venue like Odescalchi Castle everything is emphasised by the the beauty of the place.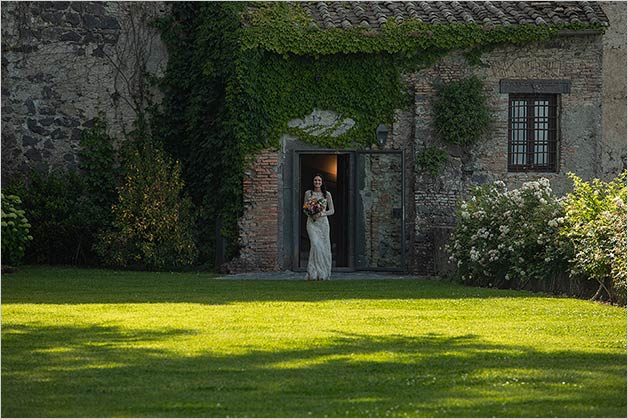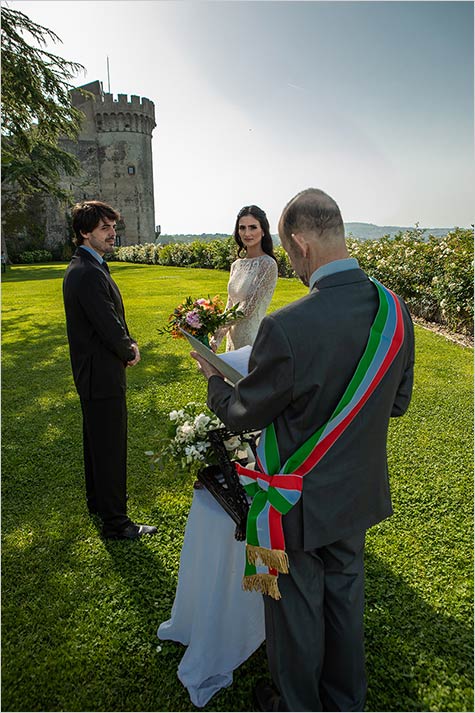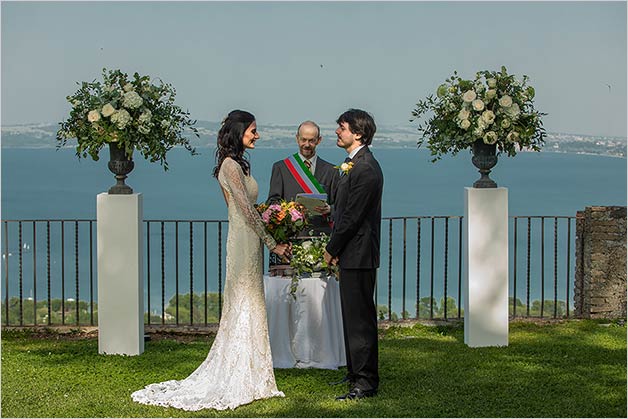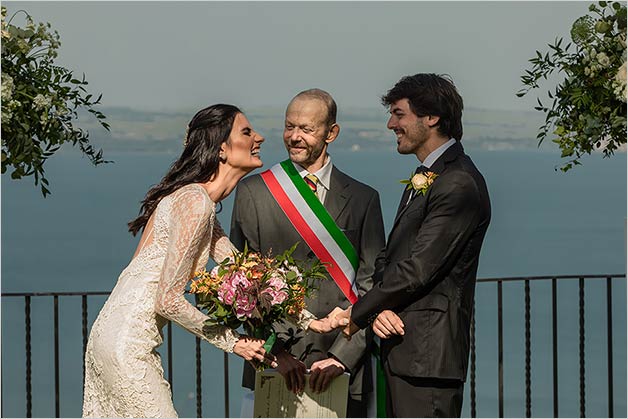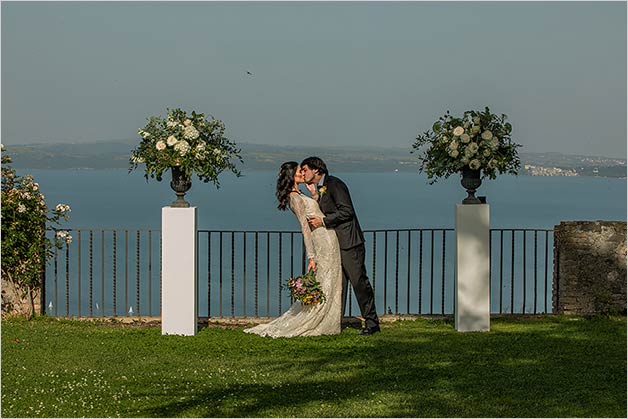 Amazing wedding photos on Lake Bracciano
Once the ceremony was over, bride and groom took some wedding pictures all around the castle.
They also reached the top towers of Odescalchi Castle. The view dominates whole Lake Bracciano and surroundings, such a great moment.
After some wedding pictures in the ancient roads of Bracciano village, bride and groom took a private car and they reached Rome for a romantic dinner in an elegant restaurant of the eternal city!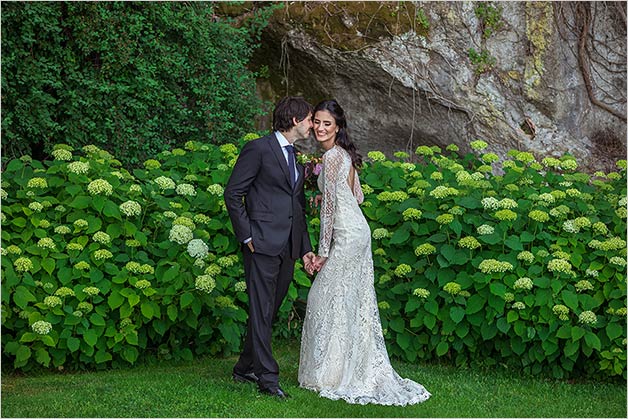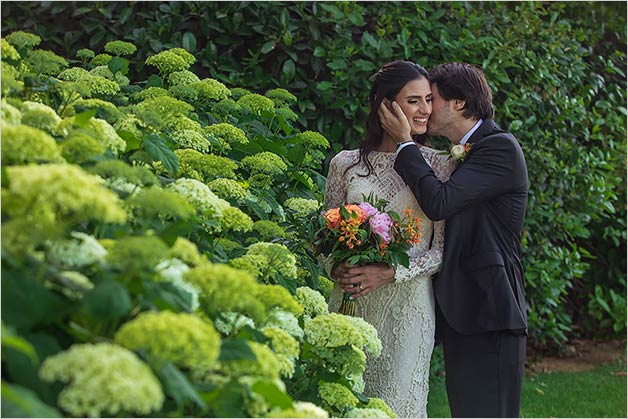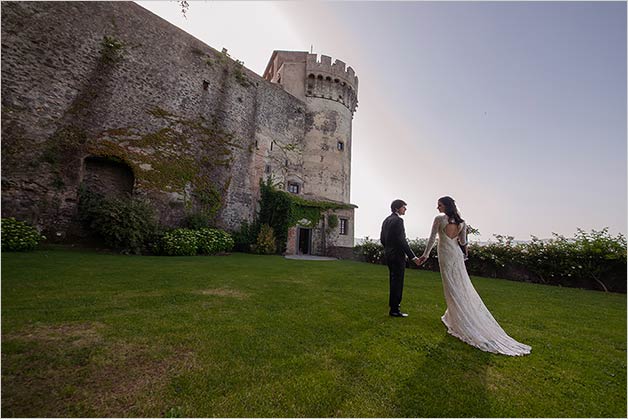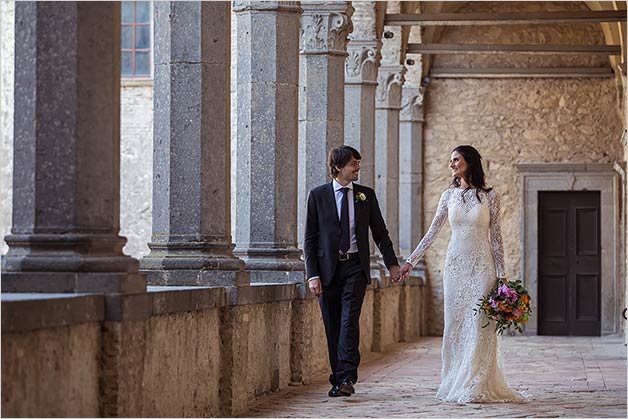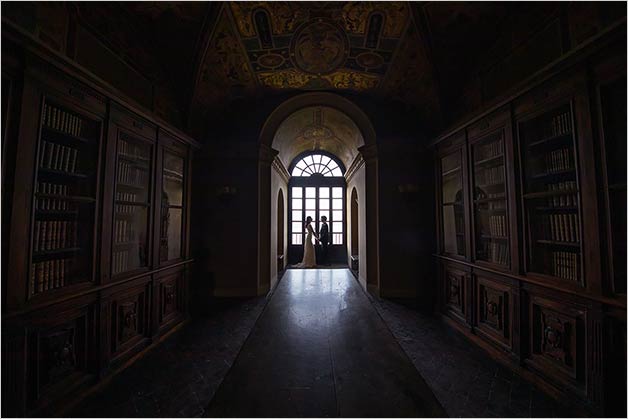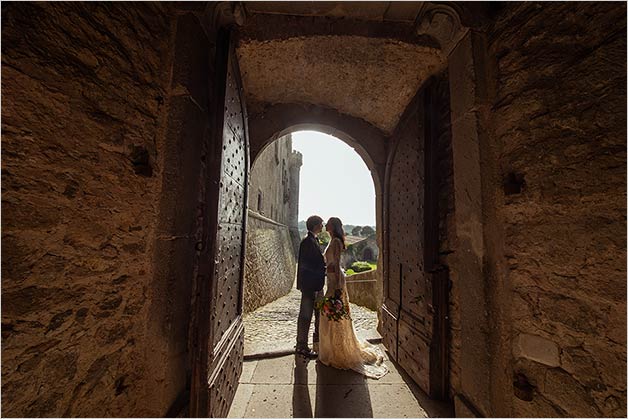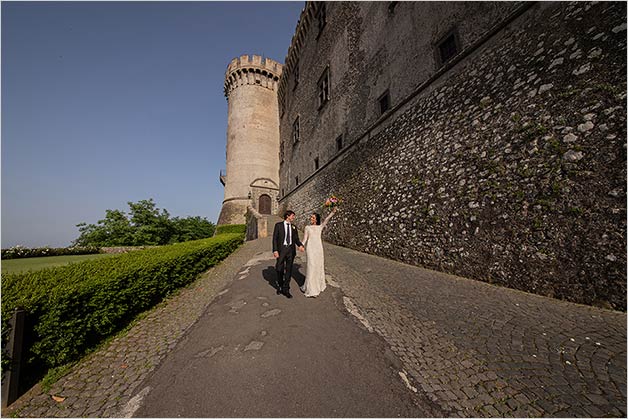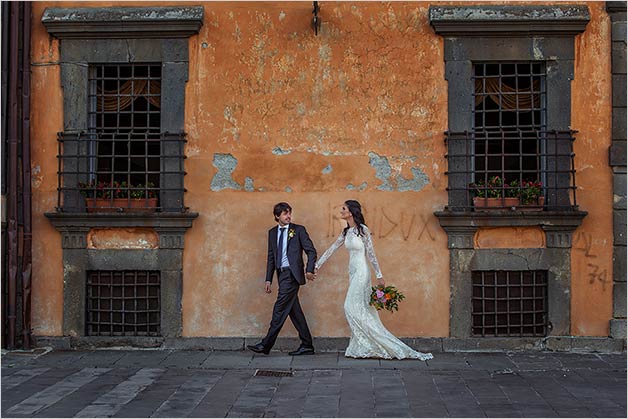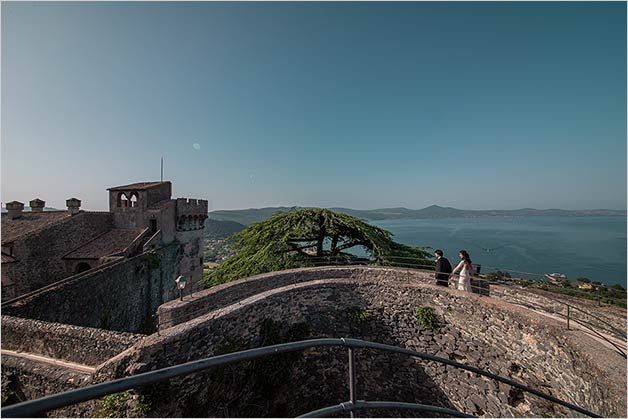 I cannot imagine a best day for Mariana and Paulo and I thank them to let me share this personal moment with them.

We wish to thank Sam Sacramento for the beautiful pictures of this romantic elope at Odescalchi Castle on Lake Bracciano.