he story of Morine and Bastien's destination wedding in Italy is very exciting. They chose a Roman Catholic ceremony in a wonderful
church in Lesa
and a reception to follow in one of the best wedding venue of Lake Maggiore:
Villa Rusconi Clerici
.
But the exciting parts of this wonderful and romantic wedding were all the Ethnic elements the couple decided to add to an Italian wedding. As the matter of fact Morine has Assyrian Iraqi origins and she really wanted to incorporate some of her culture to this amazing wedding on the shores. But let's start from the beginning of this wonderful Ethnic wedding on Lake Maggiore.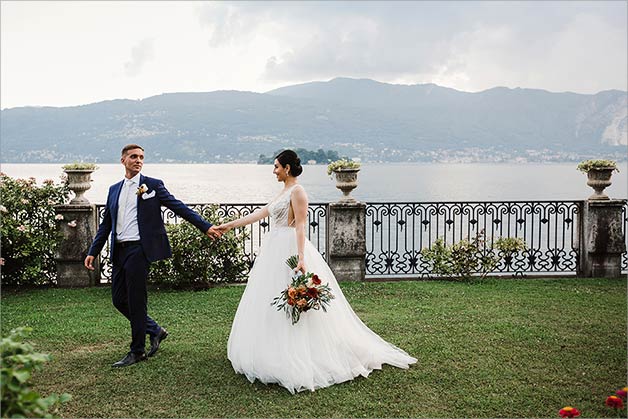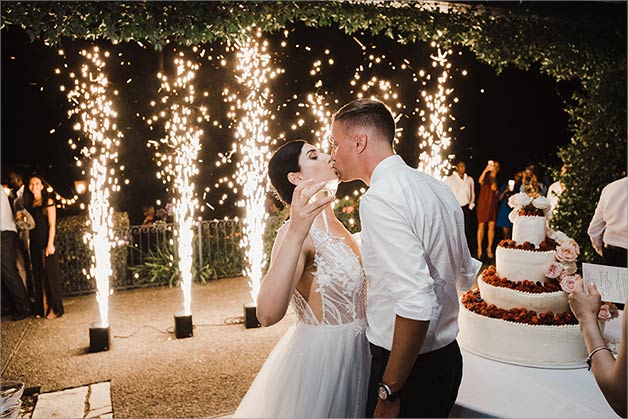 Getting ready in wonderful Stresa
Bastien and Morine decided to set their base in Stresa with their family and friends coming from all over the world. Morine and Bastien live in Switzerland so for many guests the trip to Stresa was short but others came from further away.

Morine got ready in a wonderful and luxury hotel in Stresa. Bridal getting ready takes more time for sure so while guests and Bastien waited the time to reach the church for the ceremony we planned for them a fun aperitif and some welcome drinks to an berathtaking viewed sky bar in Stresa. On the other hand bridal party and Morine's family celebrated the pre wedding moments at the hotel where Morine got ready and they started already some Assyrian Iraqi traditional dances and celebrations. The view here was just stunning and the summer day gave to the whole group a great and warm sun for this romantic Ethnic wedding on Lake Maggiore.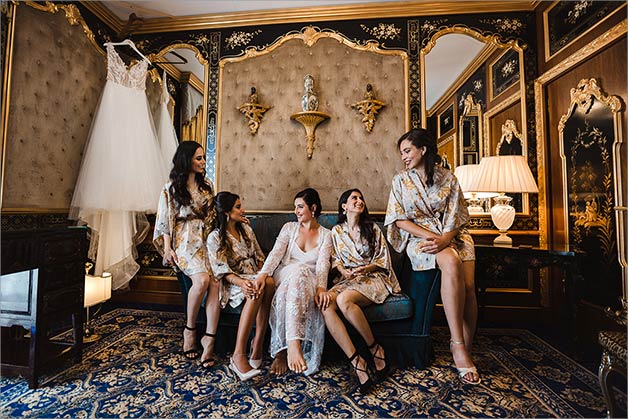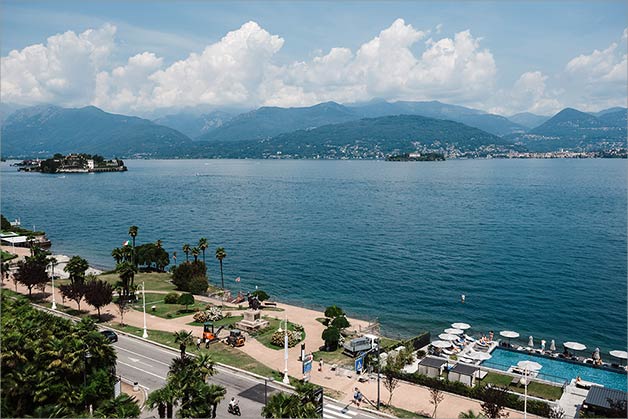 A Boat trip and a Romantic Catholic Ceremony in Lesa
Once ready the group reached the church of San Martino in Lesa. The church is located not far from Stresa and faces the Lake. You can easily reach it by boat or by land transfer. The church is wide and bright and it was the ideal venue for Morine and Bastien's big group.
Morine arrived a little after all the guests and while Bastien and their guests were waiting inside she walked down the aisle with her dad. She was stunning in a wonderful wedding dress with laces pearls and sparkling details.
 The church was full of candles long garlands on the balusters and olive branches matching Morine's bouquet. Her bouquet was big and colorful made of burgundy and dusty pink flowers.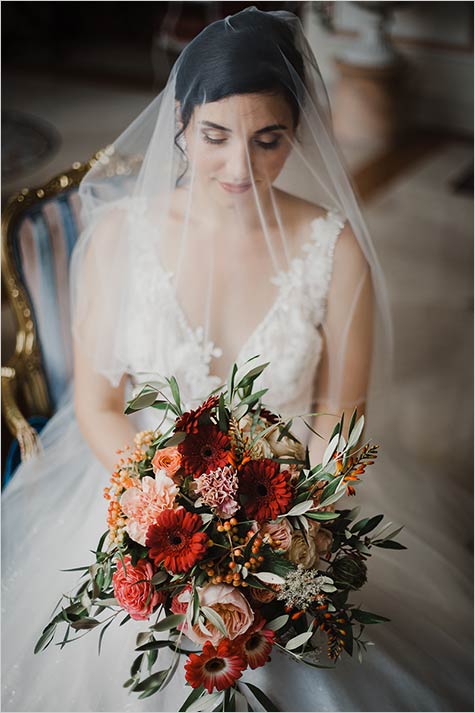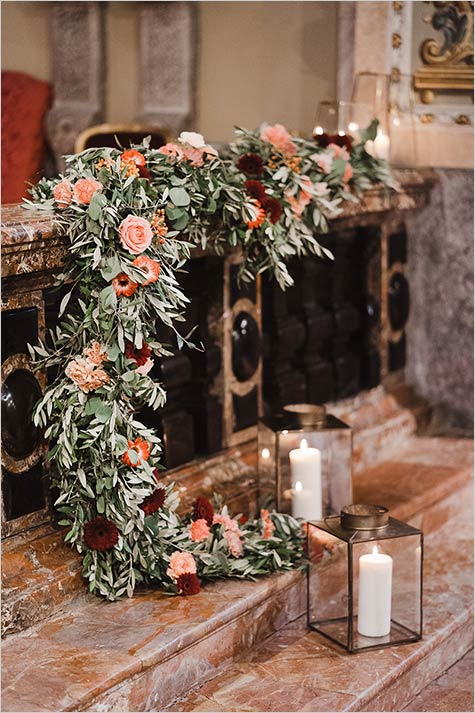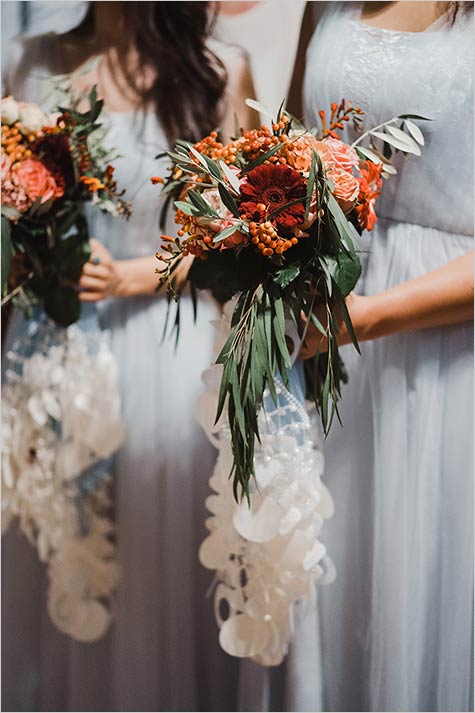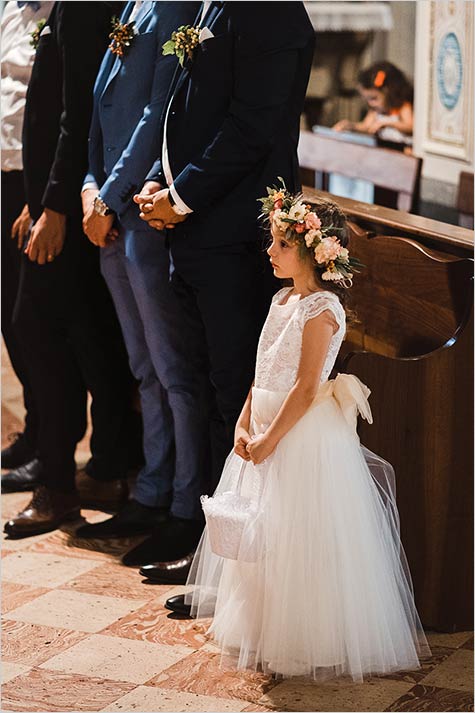 Ceremony followed the Roman Catholic tradition but when bride and groom exchanged their vows they also included the exchange of arm bows that are part of Assyrian Iraqi tradition at weddings ceremony. They have the similar meaning of wedding rings and they represent eternity.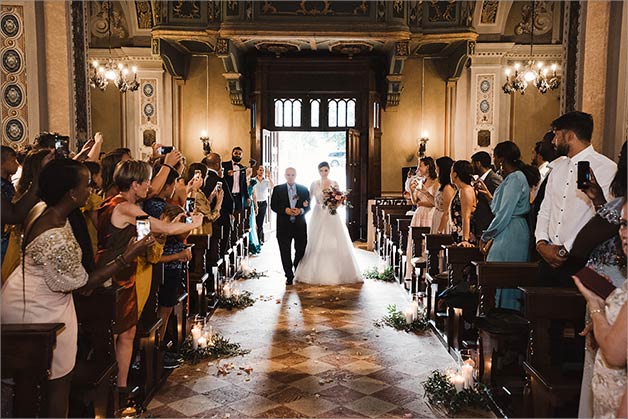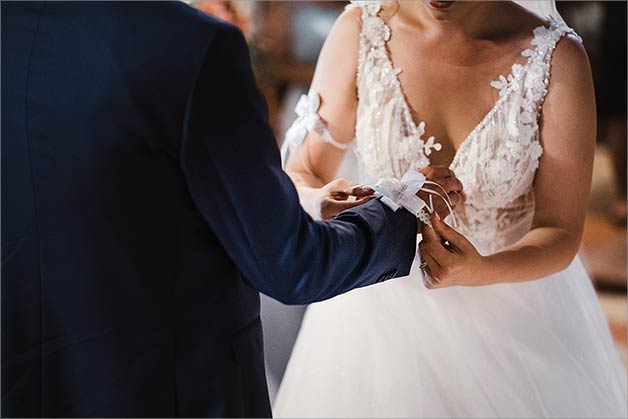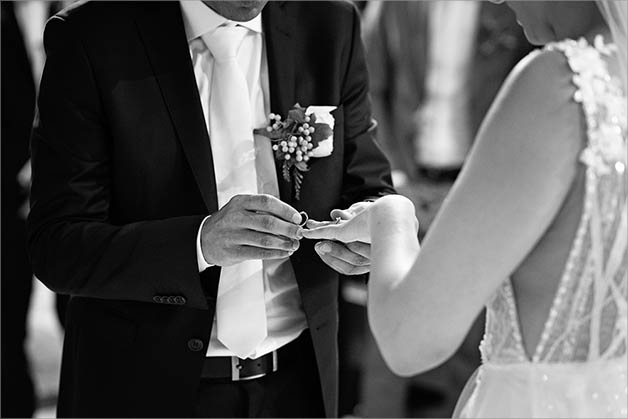 At the exit of the ceremony all the group tossed the newly weds with petals and traditional Arabic singing. Morine and Bastien released two big white (and biodegradable!) balloons as special wish for their marriage.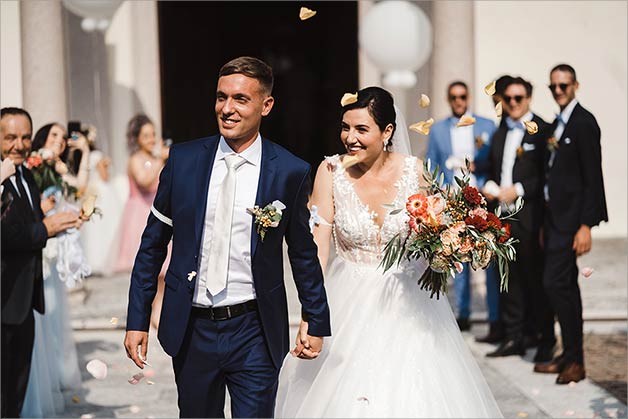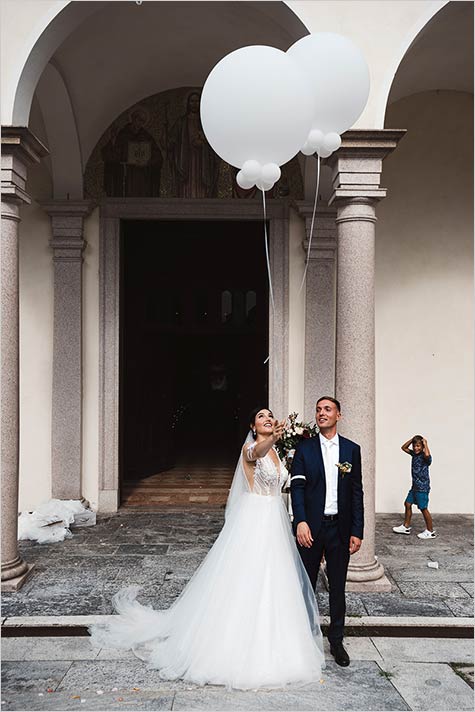 It was time to celebrate so they all got on a boat to reach Villa Rusconi Clerici for the reception. Morine and Bastien took the chance to have an intimate boat trip to reach the villa and have some great photos. Once they reached the villa their Ethnic wedding on Lake Maggiore could really begin!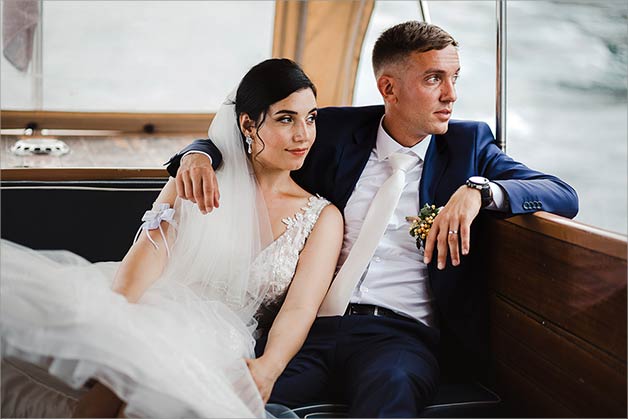 A grand wedding reception at Villa Rusconi Clerici
Side of great photos of Independent Pictures you can see here we suggest to watch wonderful video by Lavezzo Studios we added here. A wonderful footage of the day with also some amazing drone shooting that can give you the real idea of how beautiful a wedding on Lake Maggiore can be.

As soon as the bride and groom arrived at
Villa Rusconi Clerici
the party could really begin. Welcome aperitif was served in the big lawn just by the shores. This was the right time to taste gourmand finger food, prosecco, some aperol Spritz and also have time to enjoy a fun photo booth for very funny photos.

What a great day for an Ethnic wedding on Lake Maggiore!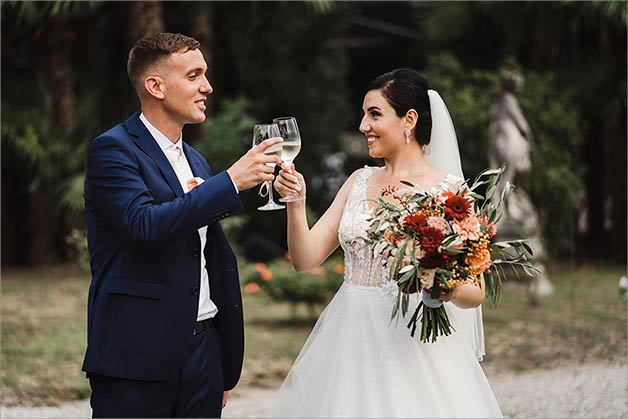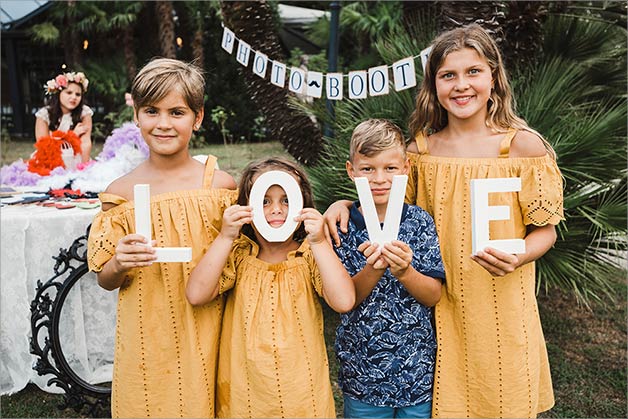 Wedding Reception and Assyrian Iraqi traditions
Villa Rusconi Pavilion was wonderful. A long top table for bridal party and round tables for the other guests. They were all embellished with the flowers Morine chose for the church: burgundy, peach and dusty pink colors, lots of olive branches and candles.

A traditional band set up their set in the pavilion too and they played throughout the reception giving the time to the whole group to eat the gourmand Italian meal but also dance on Iraqi traditional music between courses serving as Iraqi tradition wants.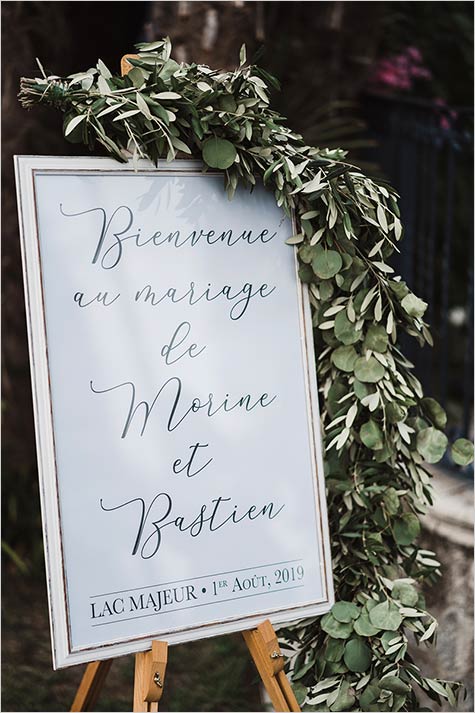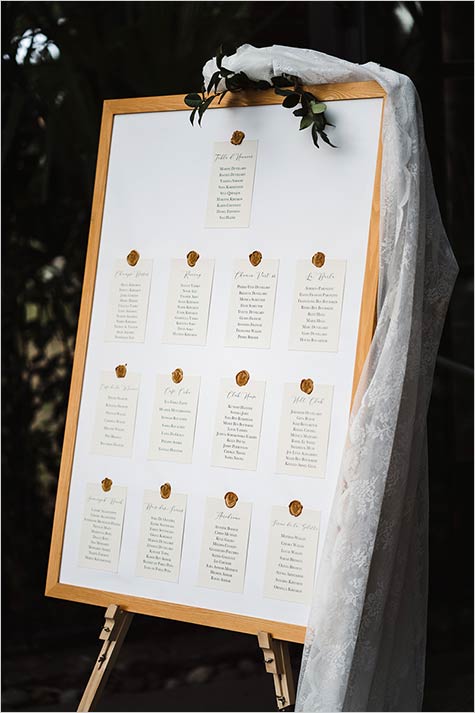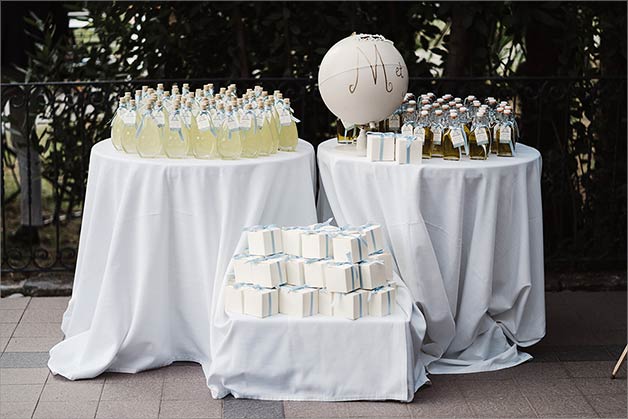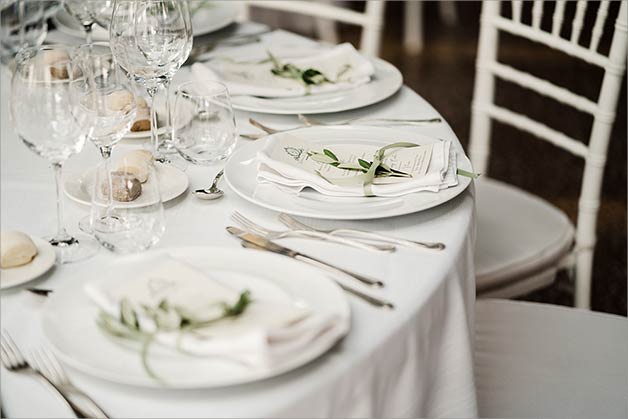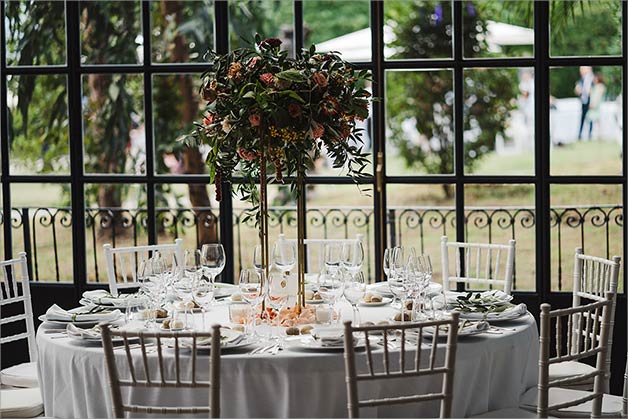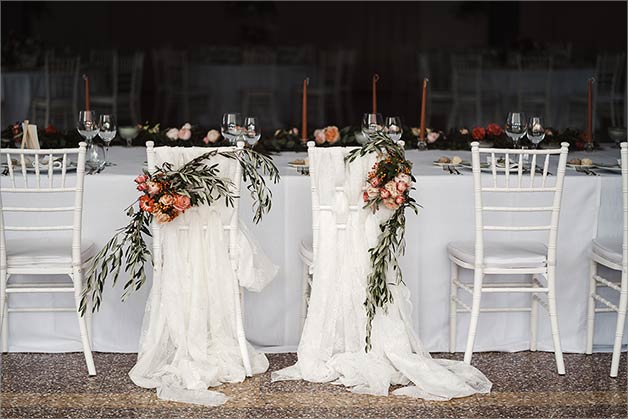 But bride and groom's entrance was the best a very good one for an Ethnic wedding on Lake Maggiore
. While the ladies are waving the couple with a traditional handkerchief made of big sequins and little bells following the rhythm of the traditional music. The name of this little shawl is yalekhta and bride holds also a white one while dancing.
 At the same time grooms holds a cane covered with fabric and peals called kopala.

Bells and sequins make noise when shaken and this is celebrate and send away bad energy on the day. This dance is called Khigga and it is incredibly joyful and wonderful to see. I really have to say that they know how to set the mood for a great party!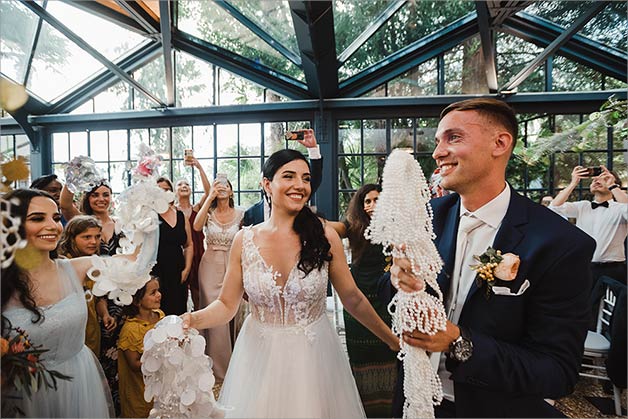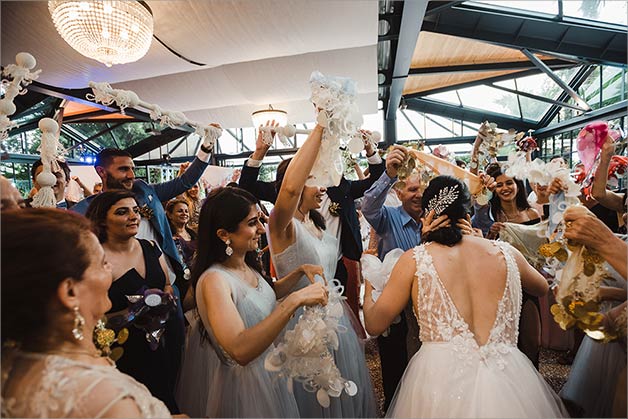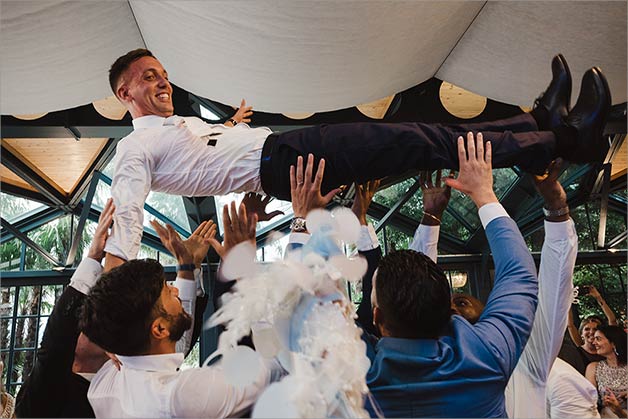 A fun and romantic Ethnic wedding on Lake Maggiore
The meal was enriched with lovely moments, speeches, toasts and more traditional khigga dances. The band played great music for the group and everyone really enjoyed it.
The cutting of the cake moment was wonderful too.
Traditional music kept on playing while Morine and Bastien cut their tired white wedding cake enriched with berries. In that precise moment pyro fountains created a wonderful sparkling background for them! Not to mention the scenic champagne glass smokey tower! We all love it.
The party kept on going up to late at night in the tavern of the villa with a great dj set, drinks ad fun pizza party!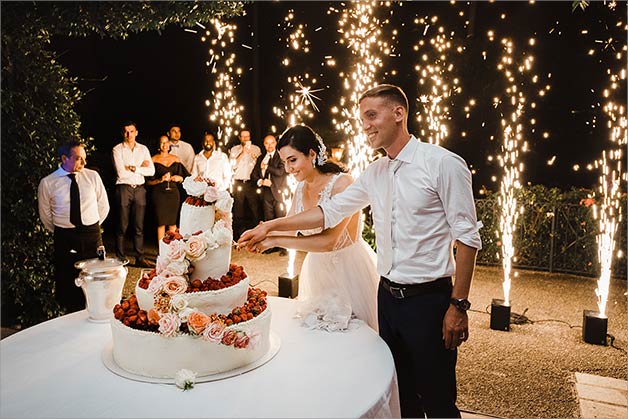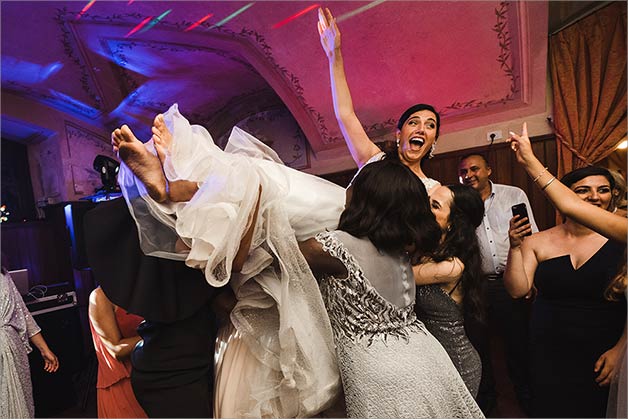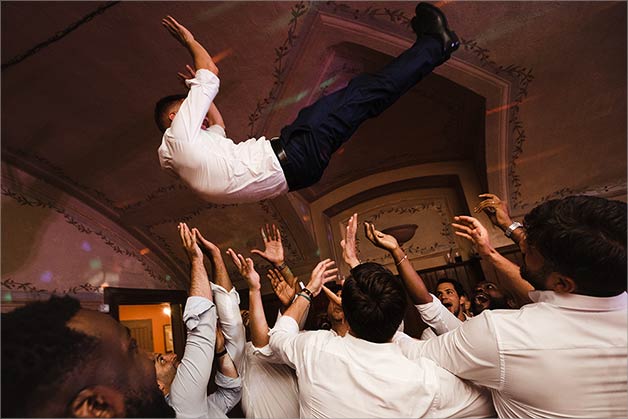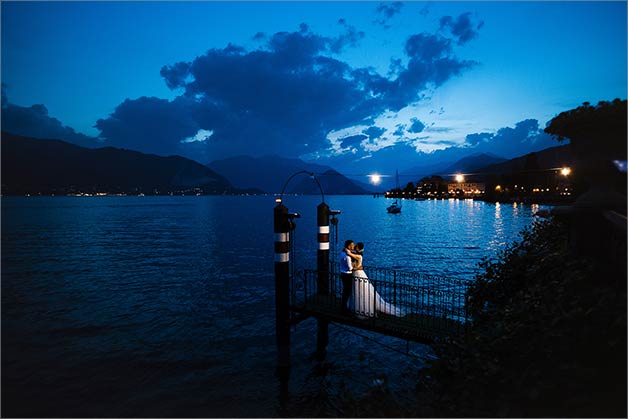 Everyone had a great fun. Morine and Bastien's wedding was surely one of the most joyful and unconventional wedding we planned at Villa Rusconi Clerici.

A fun and romantic Ethnic wedding on Lake Maggiore we will never forget!