As Wedding Planners on Lake Garda, we always try to suggest our couples the best solution for a dreamy wedding!
Every couple has their own tastes and expectations but we think that Lake Garda could really meet different needs.
On Lake Garda you can find a lot to experience!
Renaissance villas, Medieval castles, quaint villages with their lovely narrow roads and little shops, nice restaurants and wine cellars.
Moreover there are many sports centres, famous thermal baths and big golf courses.
We cannot forget the romantic lake promenades. You can walk along the beaches close to Punta San Vigilio or around Sirmione peninsula and sip great local wines in a cafe on Salò gulf enjoying perfect sunsets.
Reading below you can easily find out how Lake Garda is a dreamy destination that could be the right frame for your Special Day.
Why getting married on Lake Garda?
We think it's easy to point out the main highlights for a wedding on Lake Garda:

Impressive nature and mild climate


As Wedding Planners on Lake Garda we cannot forget to mention lake's enchanting nature: cypresses, lemon and olive trees, bougainvillaeas. They are all evidence of a mild weather all year round. Mediterranean climate surprisingly meets Alpine atmospheres, too. Mountains suddenly mirror in the blue water of the lake and breathtaking views are the ideal frame for your wedding.

Unique Light


Many great photographers love Lake Garda for its magic colours and the dramatic effect of light. Sky and water create together a magnificent scenario. What could be better than this for your wedding photos?

Ancient history


Castles dominate East side of the lake. They are a rich heritage of an ancient history. We can mention Castles of Malcesine, Torri del Benaco and Castle of Lonato. They can all host your outdoor Civil Ceremony. Read more about castles on Lake Garda following our link: I'm getting married in a castle!
On the west side, Elegant 1800 villas and palaces in Salò and Gardone Riviera are now refined reception venues that you will surely love!

Many reception venues and a lot of entertainment activities


Lake Garda offers more than what you could expect for your Big Day! We are sure you and your guests will enjoy your Italian days. We can plan for you boat trips, water sports, wine tastings in ancient cellars of Valpolicella countryside, sightseeing in beautiful Verona and magical Venice and much more. This is all few minutes from Lake Garda. Isn't it amazing?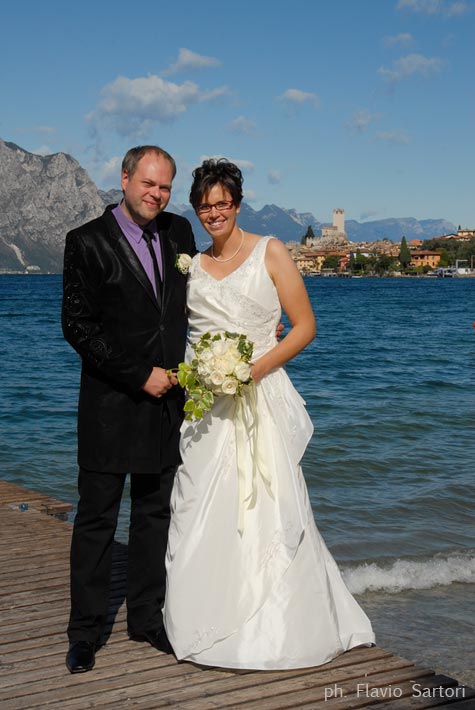 Catholic Wedding on Lake Garda
As Wedding Planners on Lake Garda we will be happy to suggest the best churches for your catholic ceremony. Here are some of the churches we love.
Santa Maria della Neve Church (St. Mary of Snow)
This wonderful church is surely one of the most romantic, you can even tell it by its name!
You can reach it waling along a narrow secluded road in the heart of Sirmione village. If you would like to avoid too many transfers for guests, we think this could be your perfect ceremony venue!. It is located close to the castle of Sirmione and it is embraced by its ancient walls. Its lovely porch and courtyard overlooking the lake will enchant you! After the ceremony bride and groom and their guests could reach some of the best reception venues in the village simply walking along the roads of the village. Very quaint!
San Marco and San Martino churches
These two churches are both ideal for an intimate and evocative ceremony. They are located on top of a hill overlooking the lake. A perfect view for your wedding!
Church of San Marco is the most beautiful. It is located in the little village of Pai. It could be the perfect scenario for a moving ceremony, you will love its ancient origins and its frescoes on the walls and ceiling.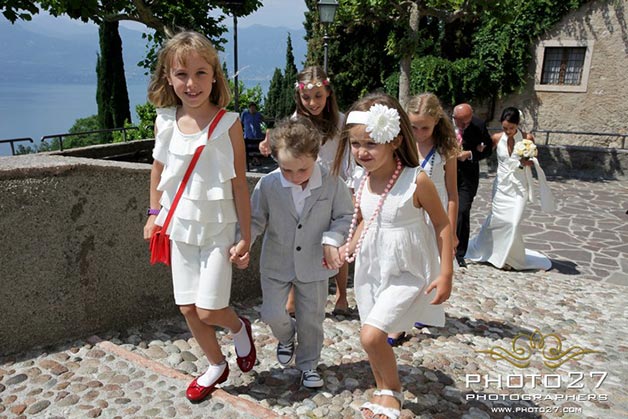 San Biagio church
San Biagio church it is a lovely white church located on a small harbour on the lake. After the ceremony, you can walk on cobbled street that leads to the lake and take your private boat to reach your preferred reception venue on the lake: a unique experience!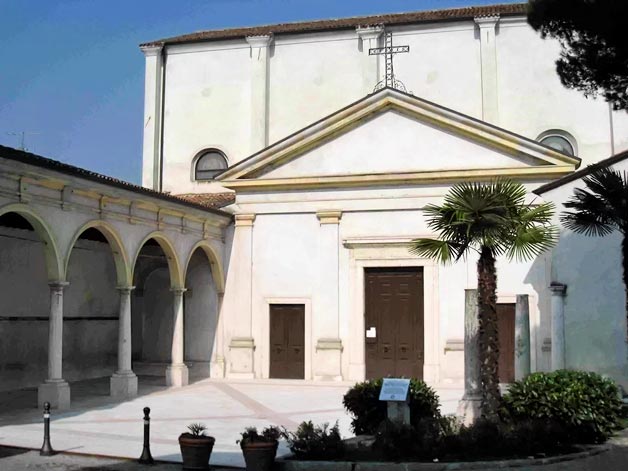 Civil Ceremonies on Lake Garda
Lake Garda offers many solutions, whether you want an outdoor ceremony, or a stylish frame in a historical villa or an elegant palace.
Civil weddings in Malcesine
In the Town of Malcesine you have the possibility to celebrate your civil ceremony in the stunning Scaliger Castle. You can hold the ceremony within its halls or outdoors on a terrace. The view you have here cover over the entire lake and surrounding mountains. Do you remember Georgie and Manny's wedding?
You can also plan your civil ceremony in ancient Palazzo dei Capitani. It was built by Scala Family between the 1200 and 1300 just on Roman ruins. It overlook Lake Garda, and it has a magnificent Venetian style facade. Rooms are finely frescoed and they can accommodate up to 100 people. We think it is a really stylish venue for a ceremony!
Civil weddings in Torri del Benaco
In Torri del Benaco you can find another enchanting castle on the lake that can host civil weddings. You can celebrate your civil ceremony in its ancient lemon grove, the scented frame of lemon and tangerine trees with blue sky on top is simply unique. You cannot find another place like this in Italy and you can really get the feeling looking at the unique atmosphere of Judith and Stephen's wedding.
In these last few years you can also choose evocative Auditorium of San Giovanni. It is a very special venue full of art and history. It is a spectacular area that is magic in its simplicity. It is an old deconsecrated church with wonderful frescoes and a small pretty garden.
Civil weddings in Sirmione
Sirmione is one of the most popular destination on Lake Garda. Poet Catullo loved it and celebrated it in his works. It is located at the end of a long and narrow peninsula on the lake. At the entrance to the town you will see impressive and elegant Fortress, simply beautiful. Sirmione is also internationally famous for its thermal baths and wellness centres and SPA.
Civil weddings ceremonies can be performed in Sirmione town hall. it is called Palazzo Maria Callas. It is a tribute to famous opera singer who loved this little town on Lake Garda. The Palace is located in the very heart of Sirmione, in its lovely main square. The room for to the ceremonies is located at the top floor and it can accommodate more than 100 people.
Civil weddings in Salò and Gardone Riviera
Elegant towns of Salò and Gardone Riviera on the west side of the lake both have charming villas for Civil Ceremony. Impressive marble staircases, frescoed walls and wooden ceilings will be the frame of your civil ceremony, just close lake promenades of these famous villages.
Civil weddings in Lonato fortress
Last but lot least Lonato fortress, overlooking the lake from the top of a hill, can accommodate in the same place your civil ceremony and a magical reception under the stars. This could be surely more than you could expected on Lake Garda!

Symbolic blessing on Lake Garda
If you want a poetic blessing or vows renewal by the shore you can consider that almost all venues can host your symbolic ceremony.
Flavia and Ben's wedding in Gardone
. Ceremony, aperitif and reception all in the same place just facing the wonderful view over Salò Gulf and Island of Garda.
Wedding Reception on Lake Garda: more than you expect!
You will find on one of the most beautiful lake in Italy many wonderful options. It will be hard to choose! Tiny villages, castles, romantic venues, modern lounges on the lake, lush gardens, boats for your reception on the water and an ancient sailing ship to enjoy the lake from a unique and unforgettable perspective…
The ideal venue must let the bride and groom dream and give emotions to guests in a special garden setting frescoed halls. As alternative you could choose, cottages and relais. If you are looking for a memorable wedding in the peaceful countryside or hill they could be the right choice.
You can also opt for an original wedding in an unusual venue as a park, a monastery, a terrace overlooking a beautiful landscape.
A nice idea could be planning a tour on a ferry or a private boat to enjoy the lake with music, fresh prosecco and canapés.
After such a wonderful experience, you could reach one of the typical restaurants facing the lake, just like Barbara and Rocco did.
After dinner you could enlarge the party up to late at night in a club on the shore. You will
dance on the sand or in a lush garden
under the stars. Just a dream!
If you want a pure Italian style night on Lake Garda you can find the perfect venues to make your dream come true!
Your Wedding Planner on Lake Garda
We will be happy to be by your side during the full process of the planning and we will be pleased to share with you our love we have for these places.
We will give you a continuous support and creative exchange between expectations, proposals and the realisation of the Event. We offer charming and exclusive solutions, taking advantage of a rich architectural, cultural, historical and artistic heritage, from the lovely historic churches to the magnificent villas and gardens.
With experience, passion and precision we will be pleased and happy to share with you our knowledge, helping you planning your dream wedding on Lake Garda!
For any information about wedding on Lake Garda CONTACT US