Lake Garda is the biggest one of Italian lakes, traveling South to North you can enjoy different scenarios, panoramas, vegetation and architecture.
If you really love mountains, we warmly recommend Northern side of the lake where hills with its vegetation create a charming and intimate scenario. In this area of Lake Garda you can find small villages made of ancient stone walls and several lemon grooves.
If you are looking for something livelier by the shores, Southern Lake Garda is your destination! Traditional Villages will enrich your Italian experience of a special Italian flair.
Eastern and Western shores are very different! Eastern shore is more rustic with its medieval castles, while Western shores is more refined and chic with its liberty style villas.
As you can see, a destination wedding on Lake Garda can be different according to the area and venue you choose! We are ready to guide you through this lovely Italian experience and create the wedding of your dreams.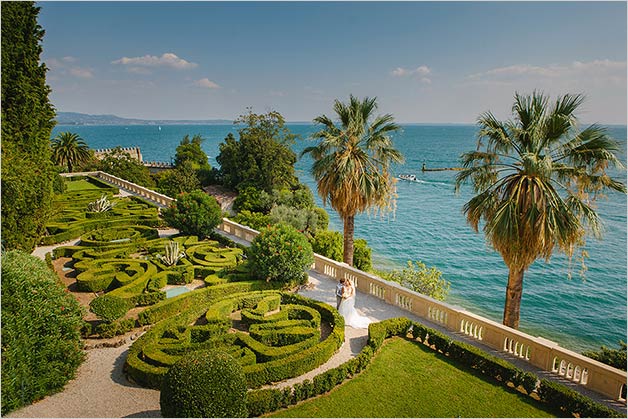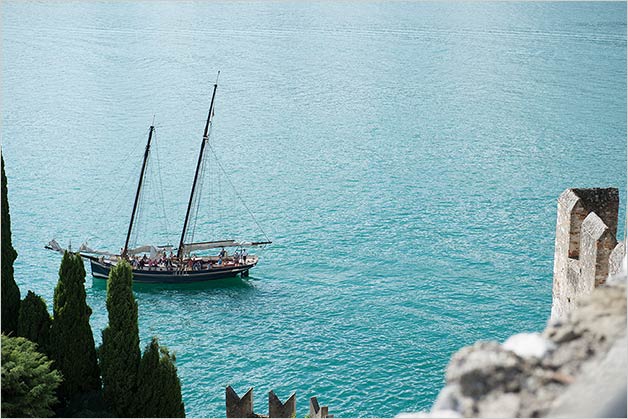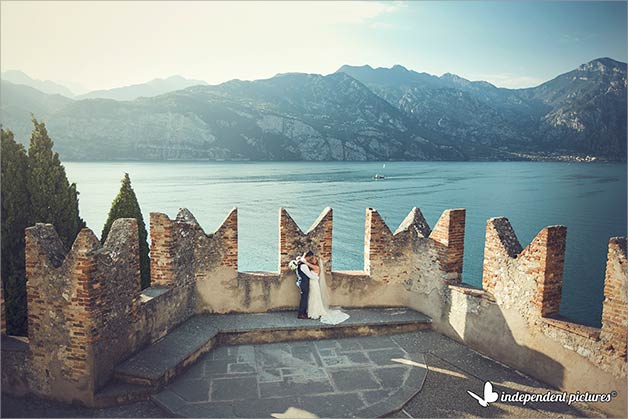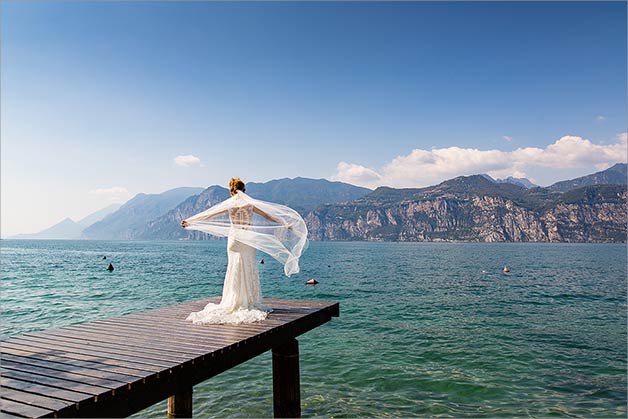 ONLY 20 MINUTES DRIVE FROM VERONA AIRPORT
Everything is just there! Lake Garda is only 30 minutes drive from Verona airport where major airlines fly to. It is also only 1.30 hours drive from Milan and 2 hours from Venice airports.
Reading below you can easily find out how a wedding on Lake Garda can be a dreamy destination and how it could be the right frame for your Special Day in Italy.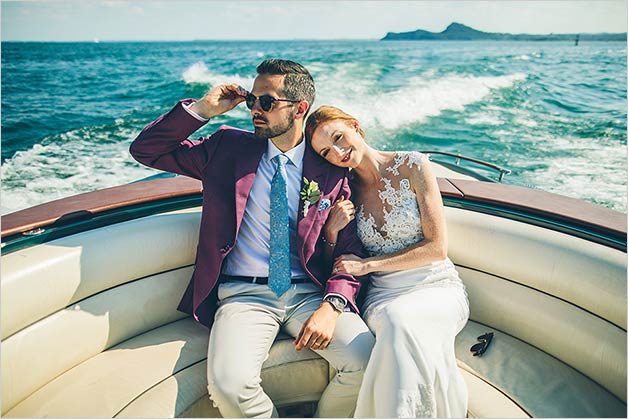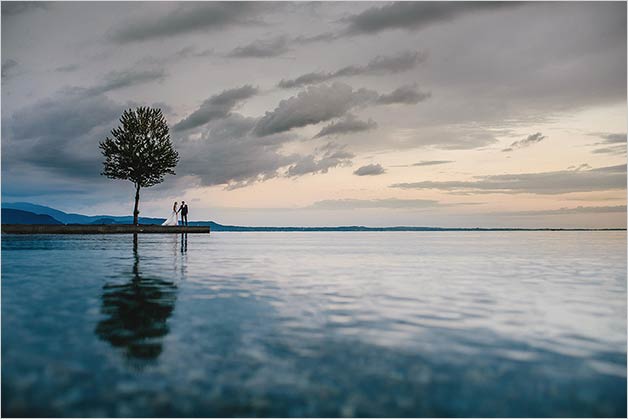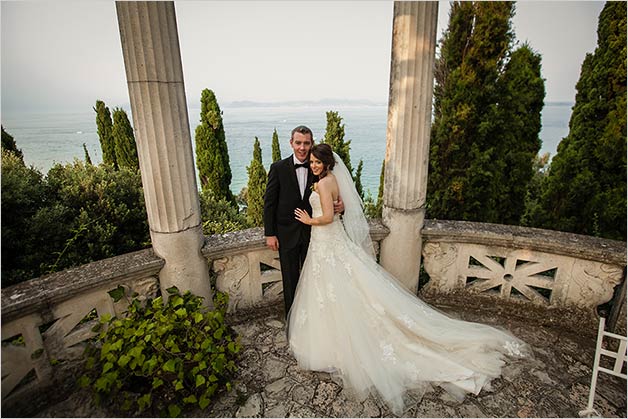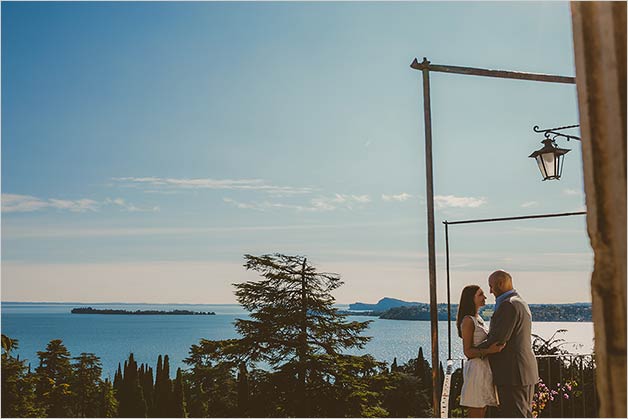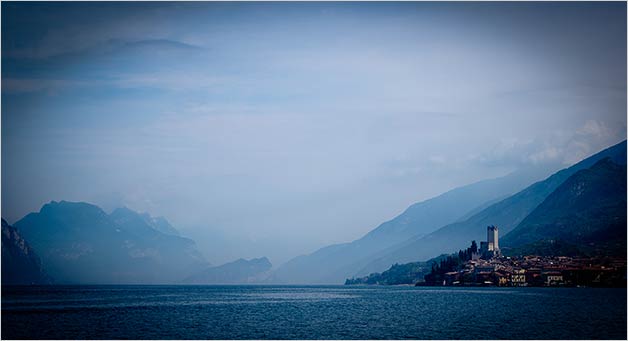 Why getting married on Lake Garda?
We wish to share with you all features of lake Garda for an unforgettable destination wedding in Italy:

Impressive nature and mild climate


As Wedding Planners on Lake Garda we cannot forget to mention lake Garda enchanting nature: cypresses, lemon and olive trees. They are all evidence of a mild weather all year around. Mediterranean climate surprisingly meets Alpine atmospheres, too. Mountains suddenly mirror in the blue water of the lake and breathtaking views are the ideal frame for your wedding in Italy.

Unique Light


Many wedding photographers love Lake Garda for its magic colours and the dramatic effect of light. Sky and water create together a magnificent scenario. What could be better than this for your wedding photos?

Ancient history


Castles dominate East side of Lake Garda. They are a rich heritage of a ancient history. We can mention Castles of Malcesine, Torri del Benaco and Castle of Lonato. They can all host your outdoor Civil Ceremony. Read more about castles on Lake Garda following our link: I'm getting married in a castle!
On West side, Elegant 1800 villas and palaces in Salò and Gardone Riviera are now refined reception venues that you will surely love!

Above all Isola del Garda is absolutely one of the most exclusive wedding venue on Lake Garda. It is neo-gothic villa, the Italian garden and the blooming vegetation make it perfect for wonderful destination wedding.

Many reception venues and entertainment activities


Lake Garda offers more than what you could expect for your destination wedding on Lake! We are sure that you and your guests will enjoy your Italian days. We can plan for you boat trips, water sports, wine tastings in ancient cellars of Valpolicella countryside, sightseeing in beautiful Verona and magical Venice and much more. This is all few minutes drive from Lake Garda. Isn't it amazing?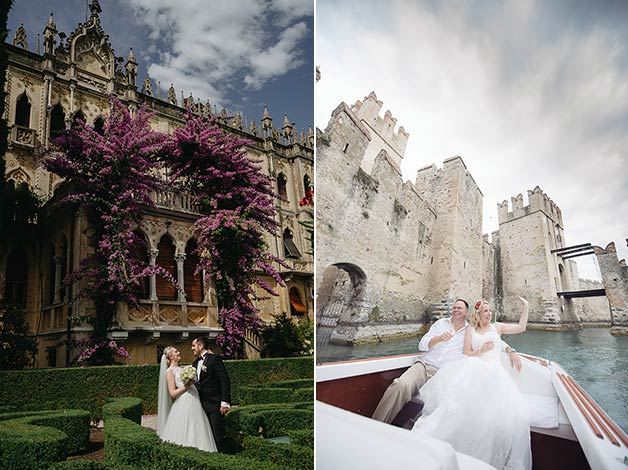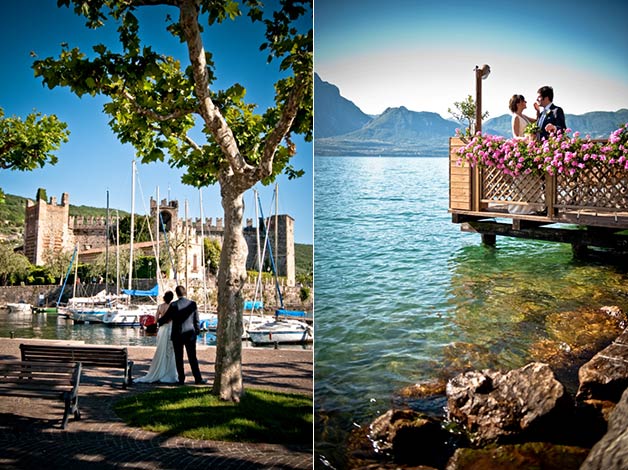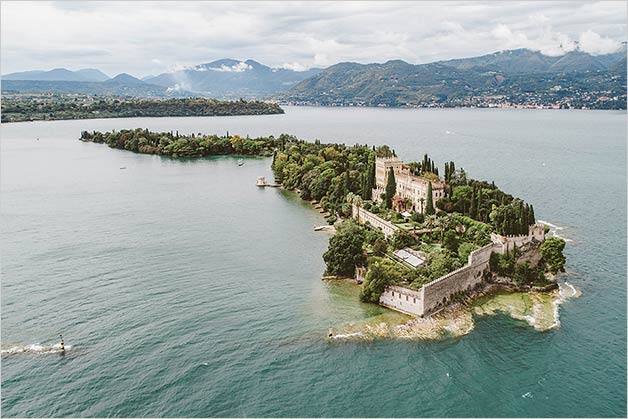 Isola del Garda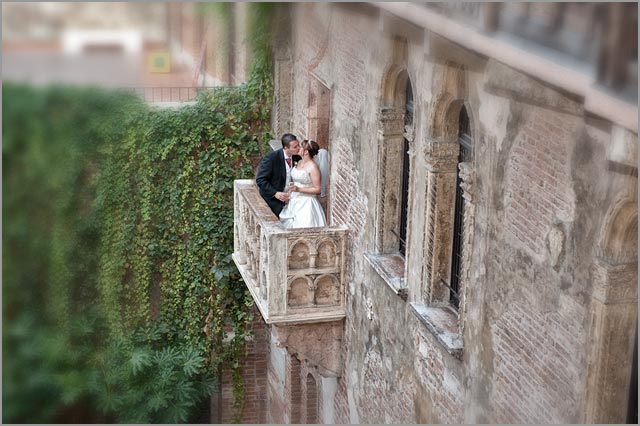 Verona, the balcony of Romeo and Juliet.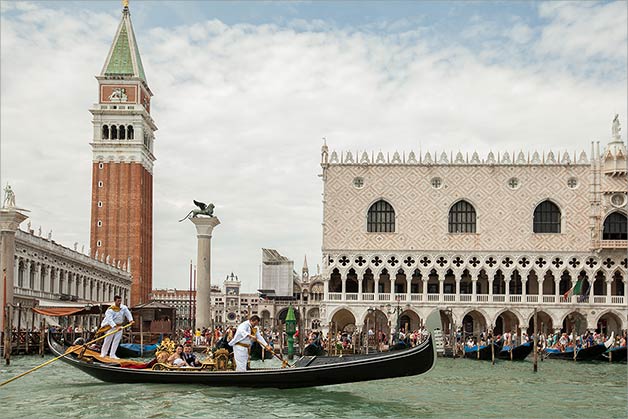 Venice, 2 hours drive from Lake Garda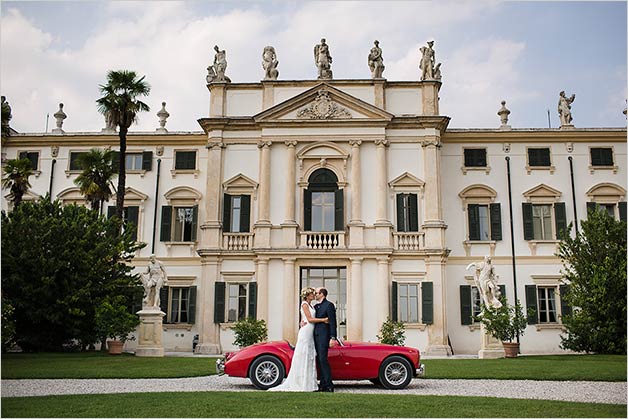 Valpolicella countryside
A Catholic Wedding on Lake Garda
As wedding planners on Lake Garda we will be happy to suggest the best churches for your catholic ceremony. Here are some of the churches we love.
Santa Maria della Neve Church (St. Mary of Snow)
Santa Maria della Neve is located in the heart of Sirmione, the biggest and livelier village on Lake Garda.
As Sirmione is a village rich of services and activities, we can plan ceremony, reception dinner and accommodation in the beating heart of the village so you can easily move by foot. It is a great opportunity to enjoy the local Italian life style.
The church was built in XV century. It has a beautiful portico with five arches on its facade. Inside, the wooden roof combined by stones arches, makes the the aisle so charming.
The church is also located close Castle in Sirmione, so after the ceremony you can easily have some wedding photos in the village and its beautiful corners.
Several restaurants in the centre of the village can host your lovely wedding reception.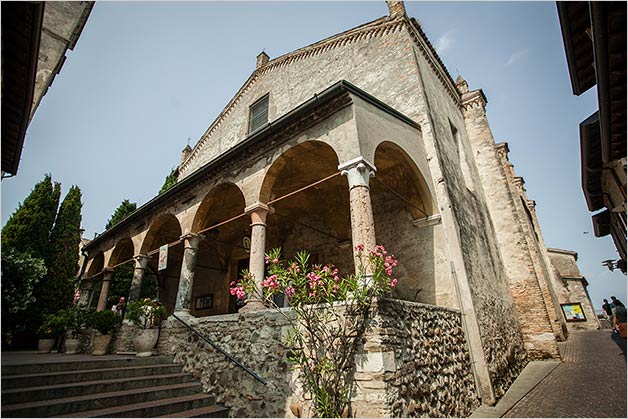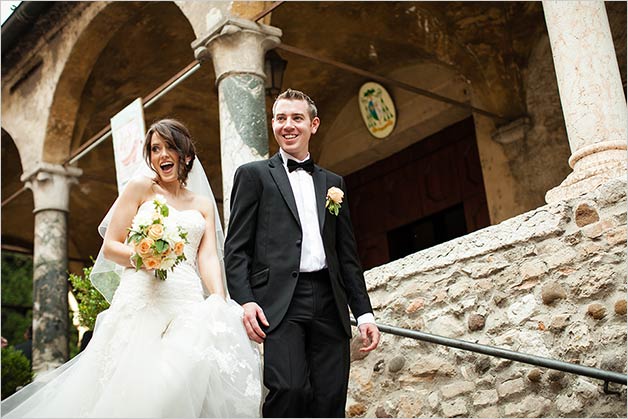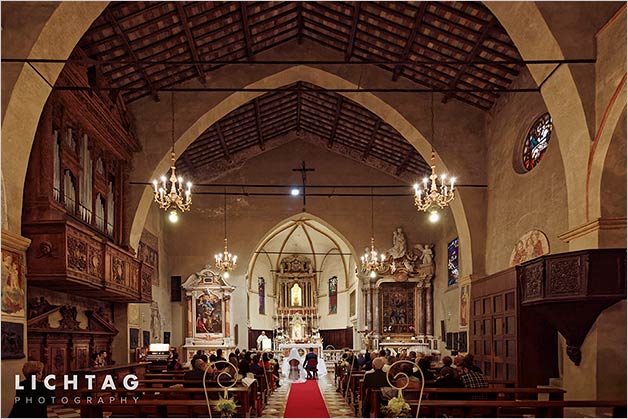 San Martino church
San Martino church is located in Albisano village up the hill peak. The view over the lake is absolutely stunning from here! From this position you can easily enjoy the greatness of Lake Garda and breath the typical mountain breeze.
The village is quiet and intimate. The church has a Neoclassic facade as it was restored in the 1700 while the inside area has just one central nave.
After the ceremony we can plan for you a toast in front of the church while you can take some lovely wedding photos with family and friends with the lake in background.
We warmly recommend this amazing church in case you really love an intimate and discreet atmosphere.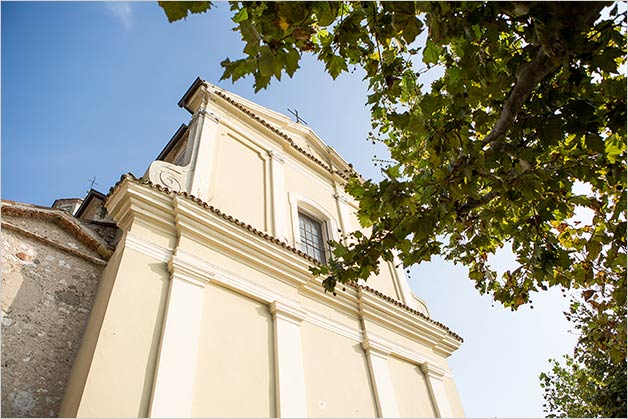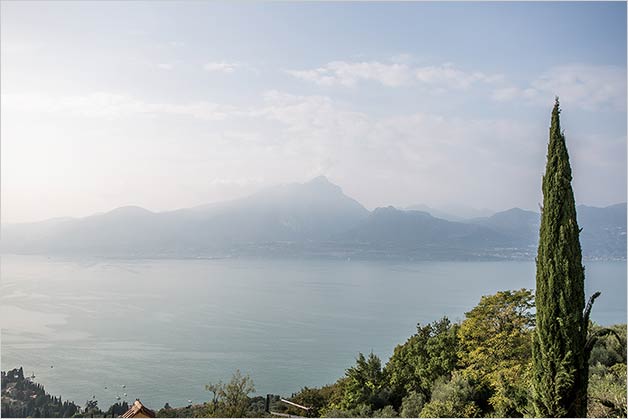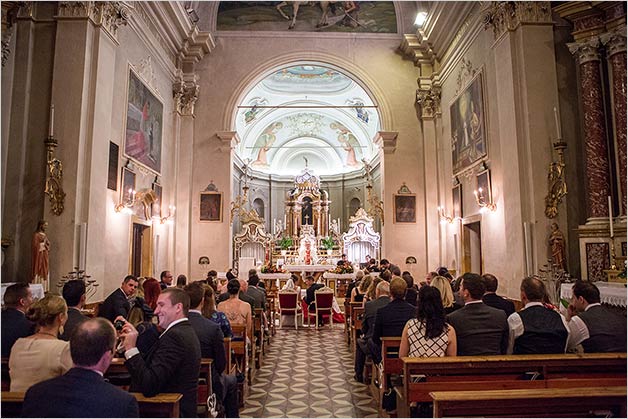 Pieve di San Giorgio in Valpolicella
If you are looking for a real traditional and historical scenario, far from contemporary life style, you really need to consider Pieve di San Giorgio Church.
It is located up the hill among the vineyards in a quiet and intimate stone houses village. It's one of the most beautiful churches of the surroundings.
It is was built in VII-VIII century and it was restored in XII century. It is a Romanic church with three naves separated by stones arches.
The cloister and the archeological site in the garden behind the church makes this venue very special.
From the yard in front of the church you can glimpse Lake Garda in the distance framed by the beauty of the local vineyards.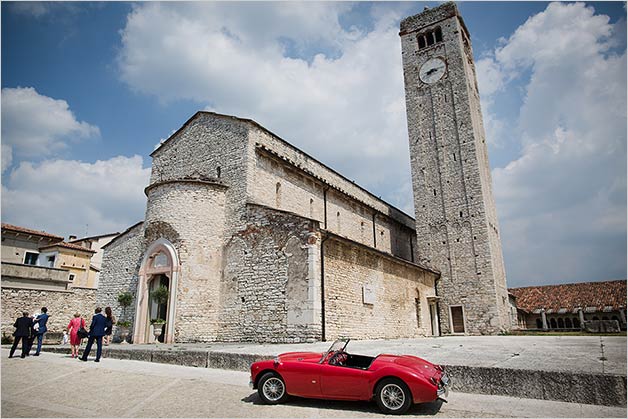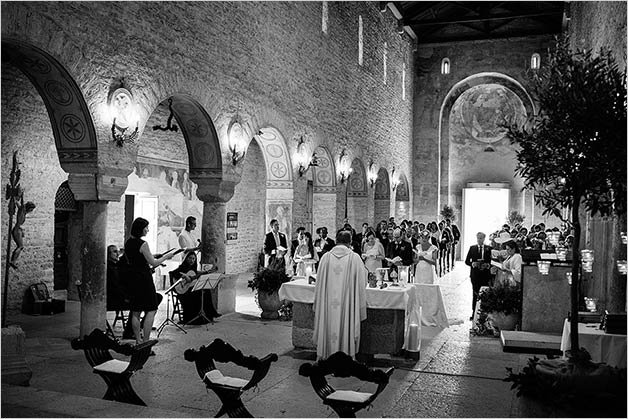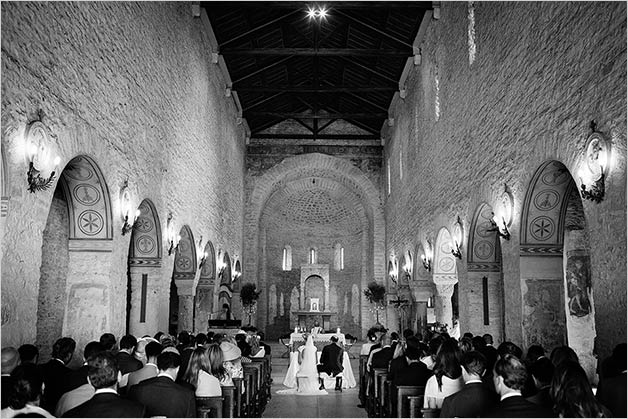 Civil Ceremonies
There are many options for an outdoor civil ceremony overlooking Lake Garda. All of them are really beautiful for different reasons and, as Wedding Planners on Lake Garda, we would love to share with you all our ideas we are sure you will loved them as we do.
Civil weddings in Malcesine
Malcesine village is located on Northern shore of Lake Garda. Is is framed by the mountains and it is incredibly charming. You can walk across the narrow cobbled streets next to the stone houses and enjoy traditional Italian life style. Suddenly you will arrive in the highest part of the village in front of Scaliger Castle!
You will discover the scenario little by little walking up the village.
Malcesine Castle is a medieval building with amazing stone walls and merlons all around.
If you walk inside the castle up the stone steps you can reach the terrace where civil ceremonies can be planned. Here your eyes will filled by a beautiful view over waters and mountains!
After the civil ceremony you can take a boat and discover the beauty of Northern Lake Garda. We warmly recommend a cruise sipping a glass of local prosecco to celebrate!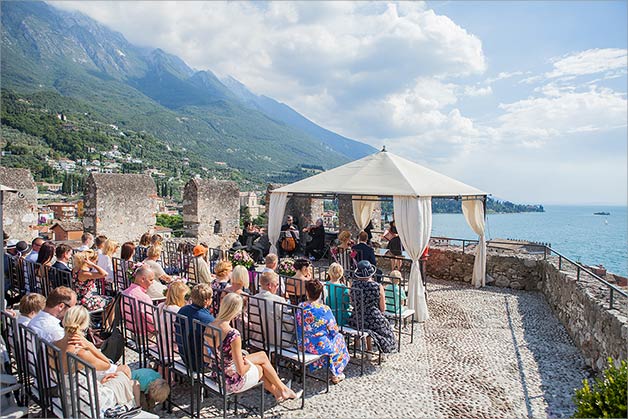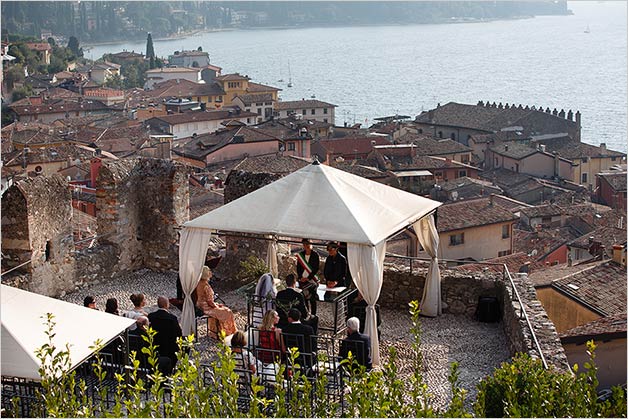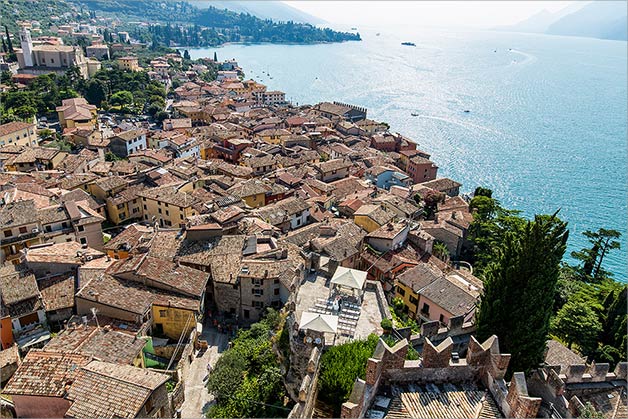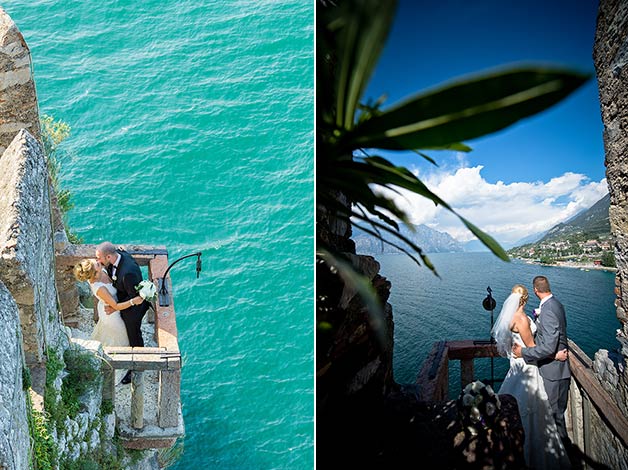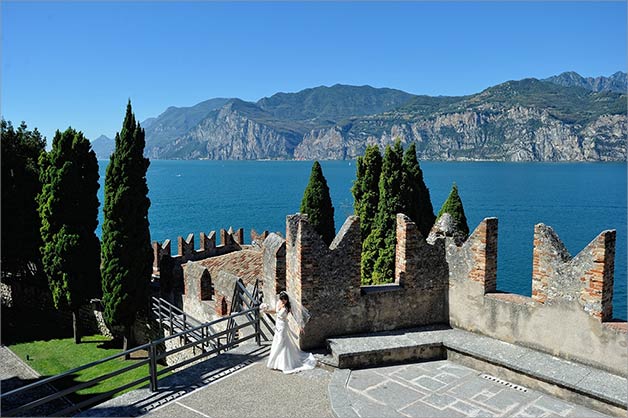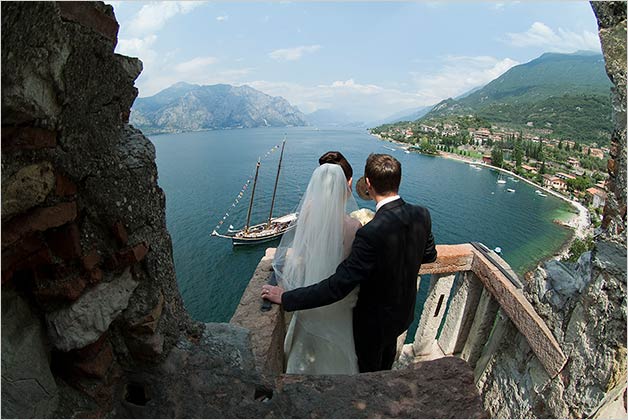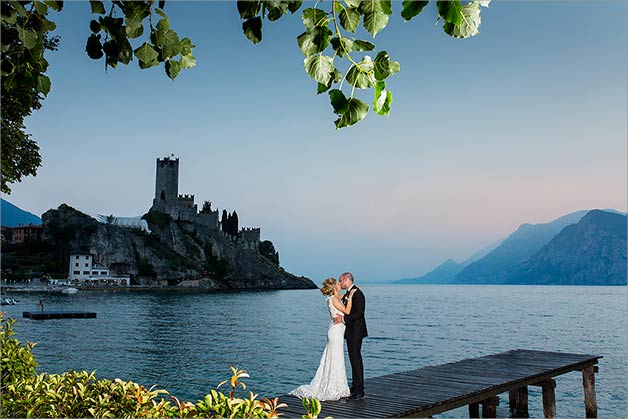 Civil weddings in Torri del Benaco
Torri del Benaco Castle rises by Lake Garda shore in Torri del Benaco village. It is walking distance from the beating heart of the village. Your legal civil ceremony can be performed by a pretty and ancient lemon grove.
Scented frame of lemon and tangerine trees with blue sky on top is unique and it is a great scenario for your wedding photos.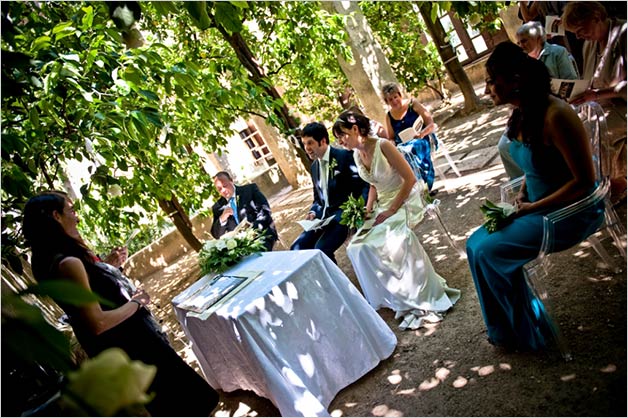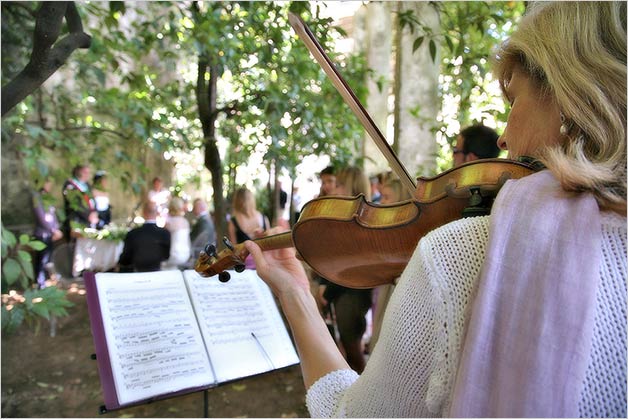 But it's not all! In case of a small and intimate wedding with a limited number of guests, you can reach the top tower and have your civil ceremony enjoying an amazing view over Lake Garda.
In front of the castle there is the little pier with several local bar and restaurants, a toast in front of the castle is the must!
Before leaving the village we recommend a pretty walk along the promenade by the water. Lake in the background could be the best frame for your wedding photos.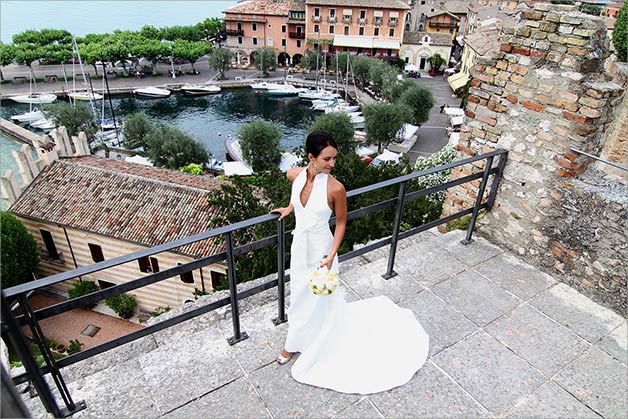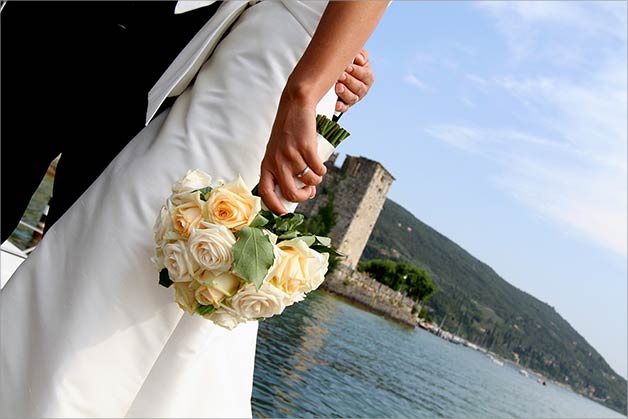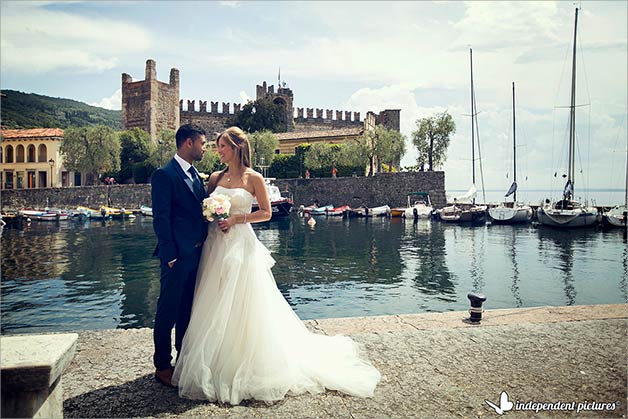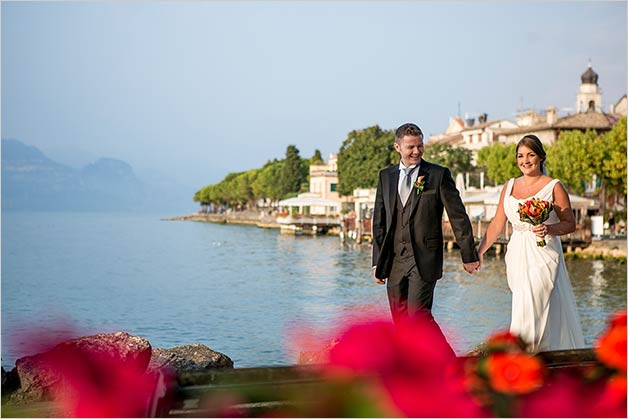 Civil weddings at Isola del Garda
Isola del Garda is surely one of the most beautiful venues on Lake Garda and all over Italy. It's a private island not far from Salò and Gardone villages. It lays Western shore of Lake Garda.
The island has in three levels. On the top level there is famous Neo-Ghotic style villa with an amazing loggia. This is the spot where your civil ceremony can be performed.
The villa overlooks to majestic Italian garden where elaborated designs of hedges make it very special
Walking down the steps you can reach an English garden and its ancient greenhouse housing rare plants and officinal herbs.
Can you imagine something more enchanting than this for your wedding on Lake Garda?
Civil ceremony can be performed under the loggia overlooking gardens and the lake. This is just pure perfection!
How the logistic work for a ceremony in a private island?
In general groom and guests take a private boat from the nearest pier and they reach the island. Once there, they can walk across the gardens to reach the loggia. A drink can be served there to welcome all of them. The bride in turn, arrives on a small wooden boat and she easily reach the ceremony venue on golf car.
After the ceremony we can plan for the guests a welcome aperitif and some finger food. They will be served in the garden while bride and groom can enjoy some wonderful wedding photos around the garden overlooking a fantastic view.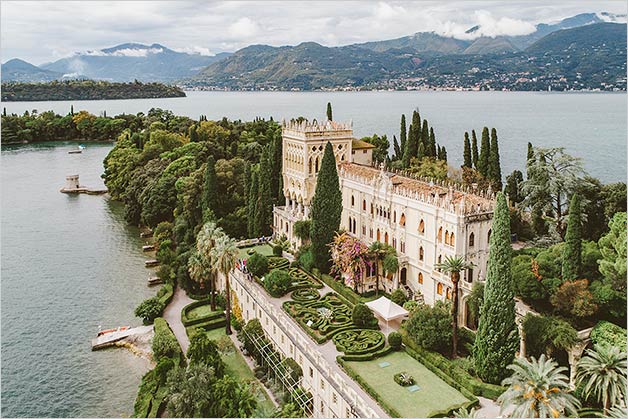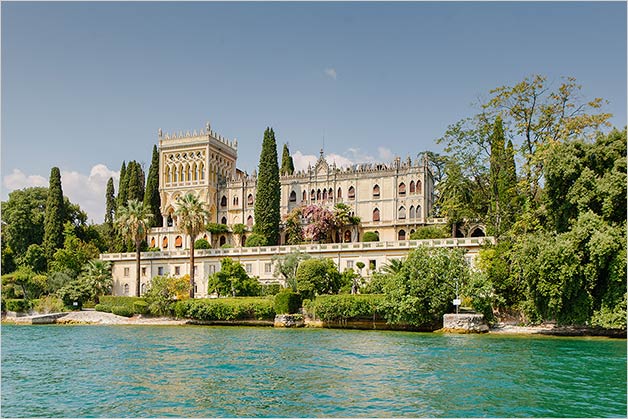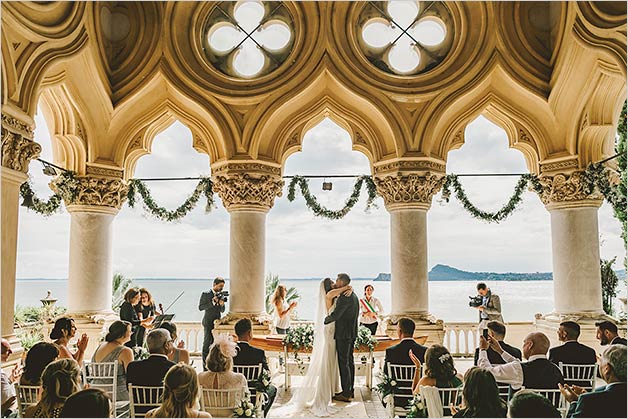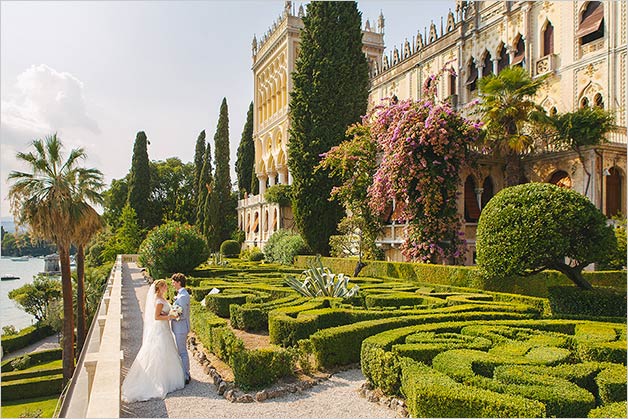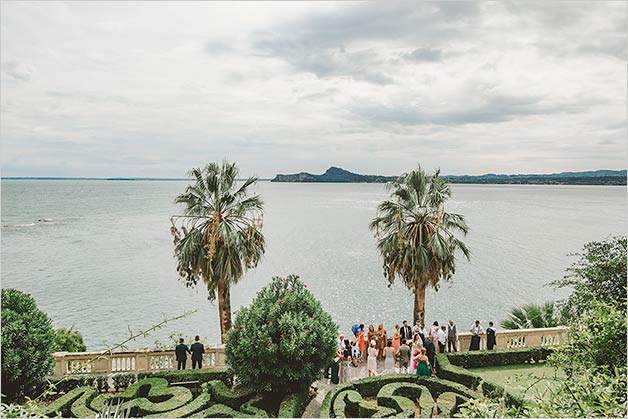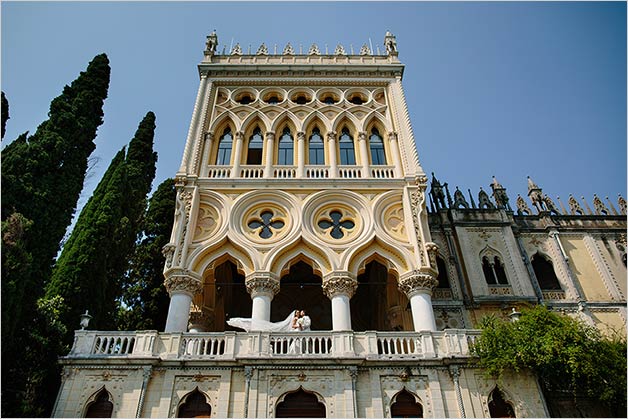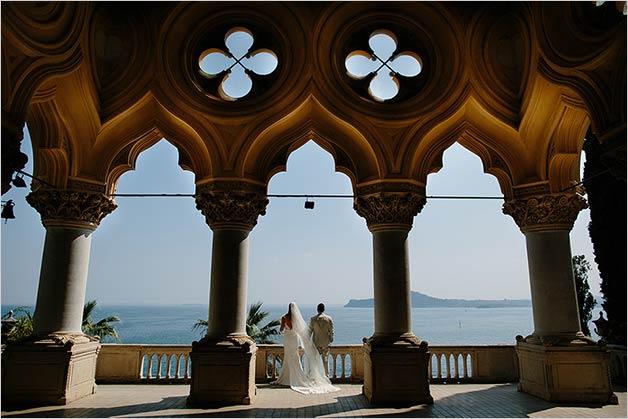 Civil weddings in Salò and Gardone Riviera
Elegant towns of Salò and Gardone Riviera on Western shore of Lake Garda, both have charming villas for to host legal Civil Ceremonies. Impressive marble staircases, frescoed walls and wooden ceilings will be the frame of your wedding ceremony, just few steps from the lake shore and its promenade.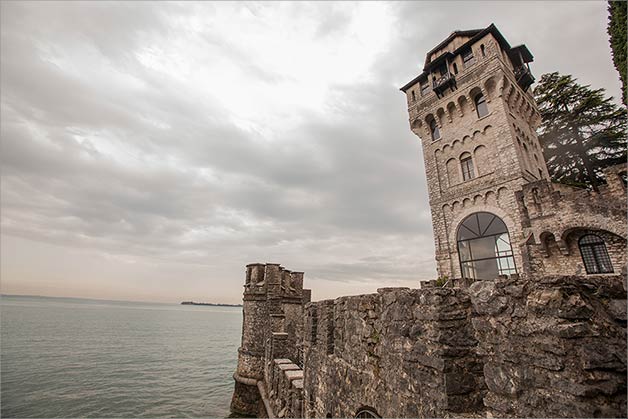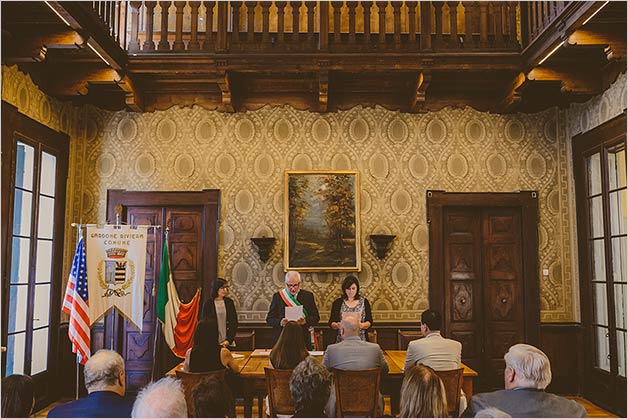 Civil weddings in Lonato fortress
Last but not least Lonato fortress could be another great solution for your civil wedding ceremony. Fortress overlooks the lake from the top of a hill. It can host both your civil ceremony and a magical reception dinner under the stars.
The venue is located in on flat area on Southern Lake Garda. It walking distance from nearest village: logistic is absolutely comfortable and easy.
Lonato Fortress is not far from the lake, just 10 minutes drive!
Accommodation can be planned in a hotel on the lake shore, so you can enjoy the local activities. We can guide you to choose the most comfortable options for your wedding in the area.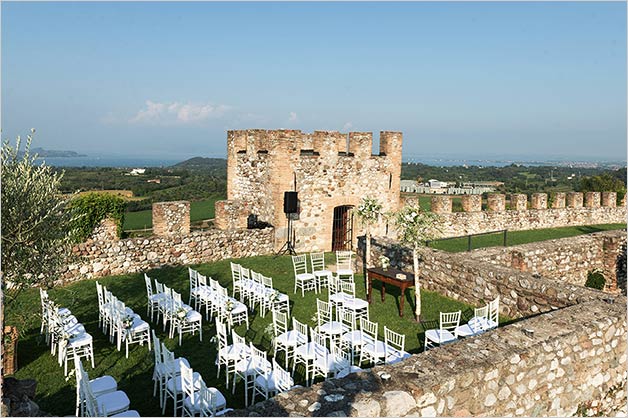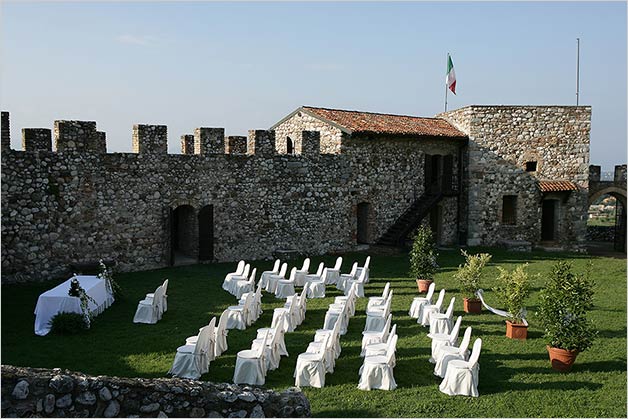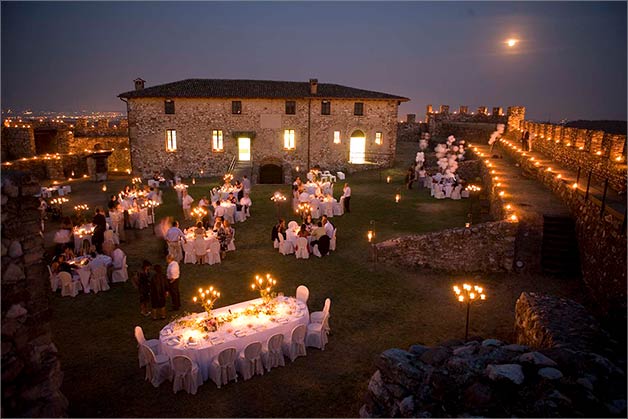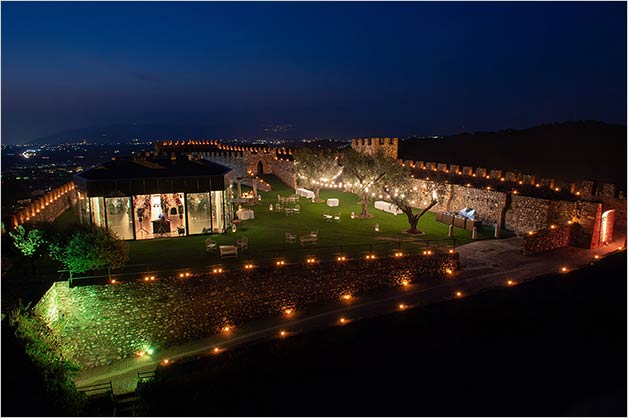 Wedding Reception on Lake Garda: more than you expect!
Lake Garda has a lot to offer! We can suggest amazing restaurants and villas, it depends on where you want to plan your wedding ceremony. Our best suggestion is having your reception dinner not far form the ceremony area. Lake Garda is very big! It takes 4 hours to travel by boat from South to North. So we really suggest to plan an easy logistic to allow guests enjoying their Italian days and feel comfortable. As Lake Garda wedding planners we can help you and support to find the most suitable restaurant or villa near your ceremony venue.
There are also some wedding venues on Lake Garda where you can plan both ceremony and reception in the same place. It makes the logistic much easier!
Some of these wedding venues are located along the lake shore, some others are located up the hills, two different scenarios in terms of atmosphere but great views in both cases.
Whatever will be your choice, we are sure you will have an unforgettable wedding on Lake Garda!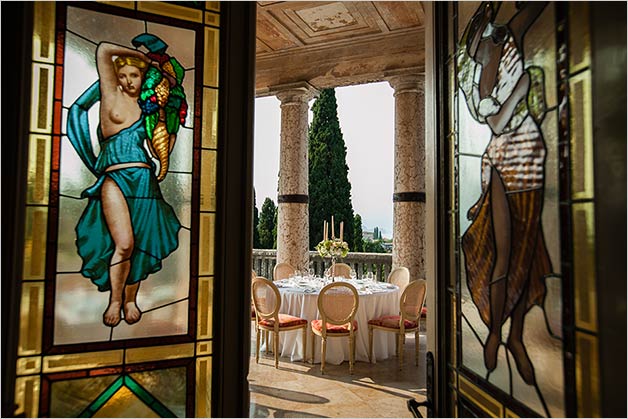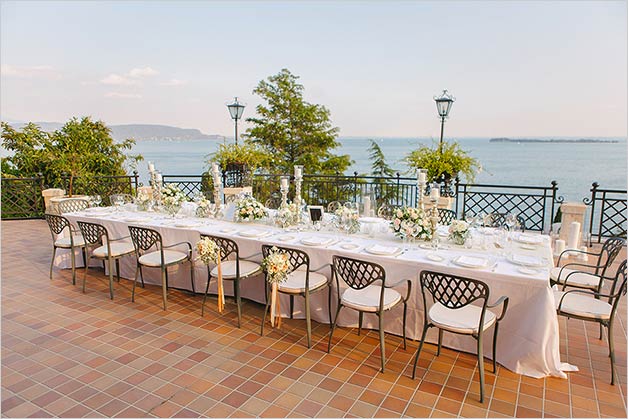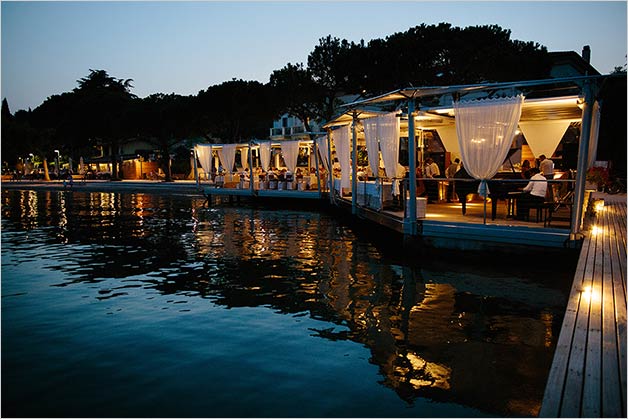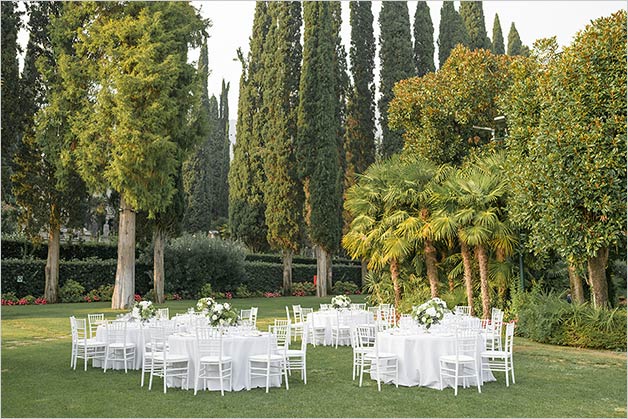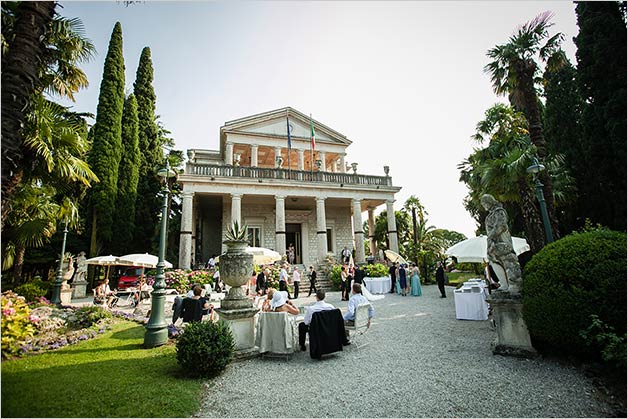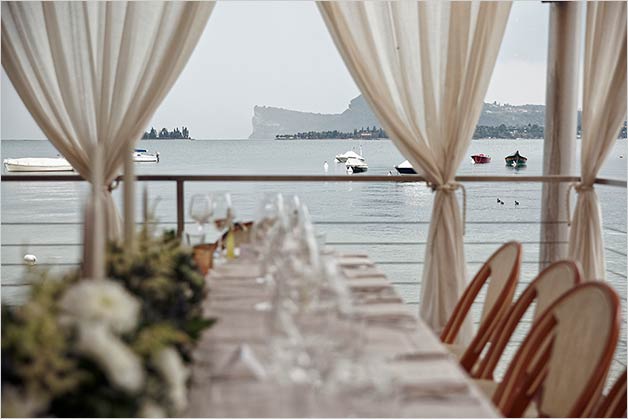 Your Wedding Planners on Lake Garda
We will be happy to be by your side during the full process of the planning; We will be please to share with you local custom and traditions and let you fall in love with Lake Garda as we do.
We will give you continuous support, creative ideas and proposals for the realisation of your Italian wedding. We can provide exclusive solutions! And let's not forget about rich architectural, cultural, historical and artistic heritage that you can find on Lake Garda! Just amazing!
Our experience, passion and care will guide you to your destination wedding planning. We will be pleased and happy to share with you our knowledge, helping you to make your dream wedding on Lake Garda come true!