wedding day is always a special day. Everyone wish to make it unique and unforgettable.
Lake Garda
enchanted poets and painters for centuries with its beautiful and different landscapes. It offers fascinating solutions for the ceremony of your dreams.
East coast of Lake Garda is embellished by many castles and crenellated cities.
This obviously is explained by the ancient history of this side of the lake and has its origins in the proximity to the elegant Verona. Scala dynasty ruled the city for 125 years and extended its dominions to Lake Garda, leaving many historical testimonies.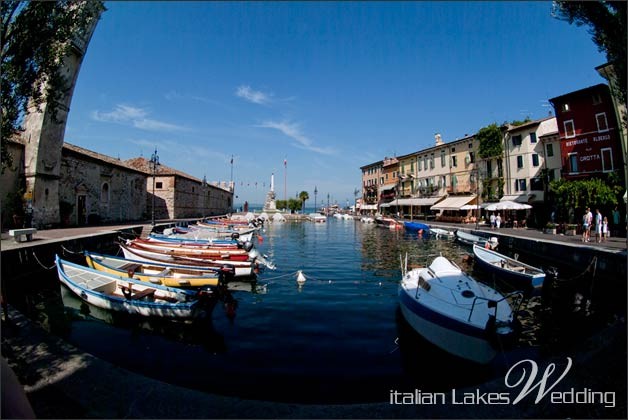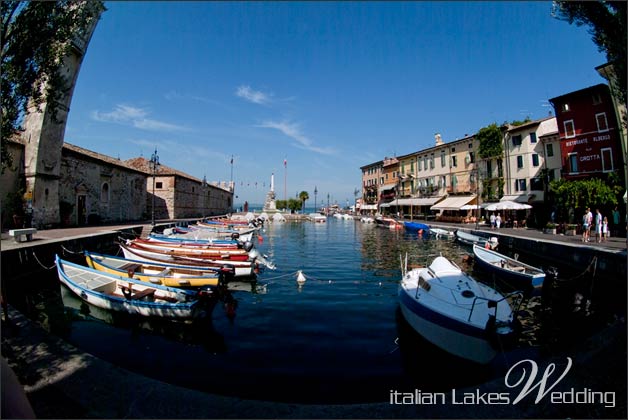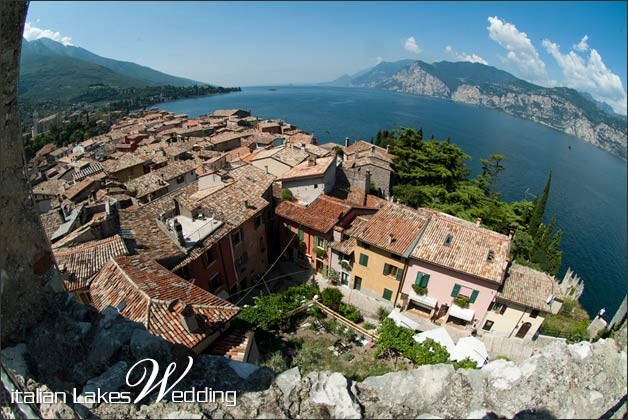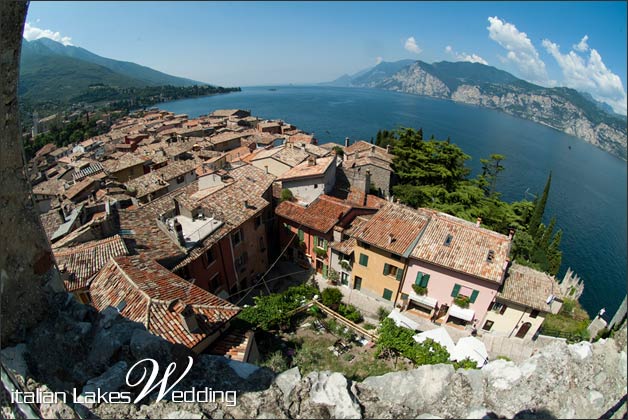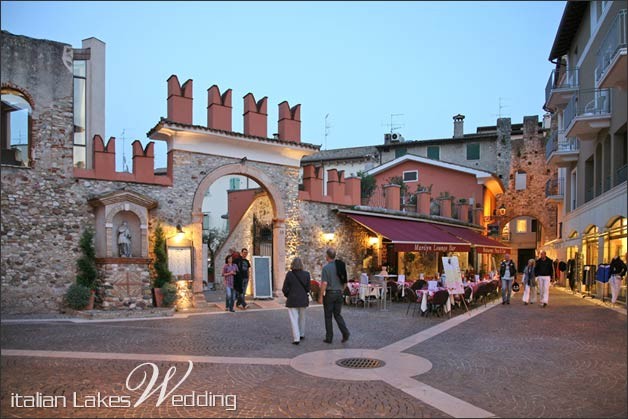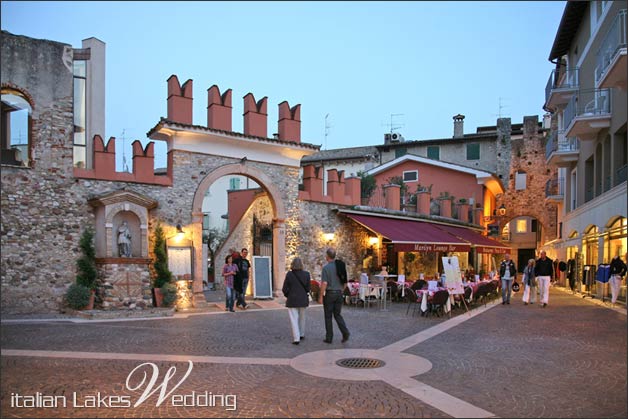 Wedding at Malcesine Castle
One of the most famous is the Malcesine Castle.
Malcesine is a small village on the Northern shore of Lake Garda with traditional and small shops where you can find wonderful local products. You can easily explore the village by foot, everything is at walking distance!
Walking through the cobbled roads that climb up a gentle slope, you can easily reach the castle overlooking the lake.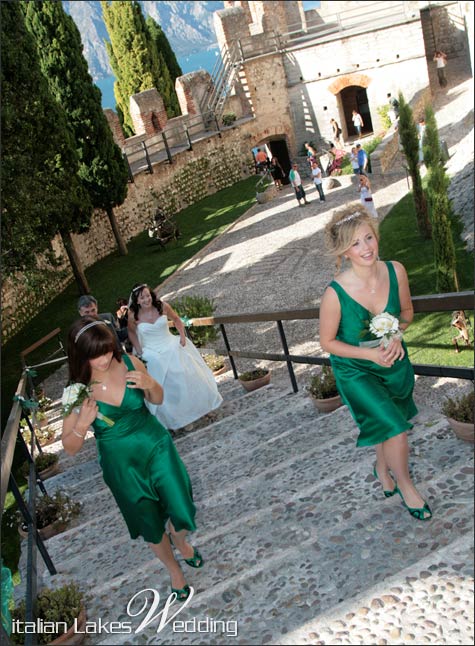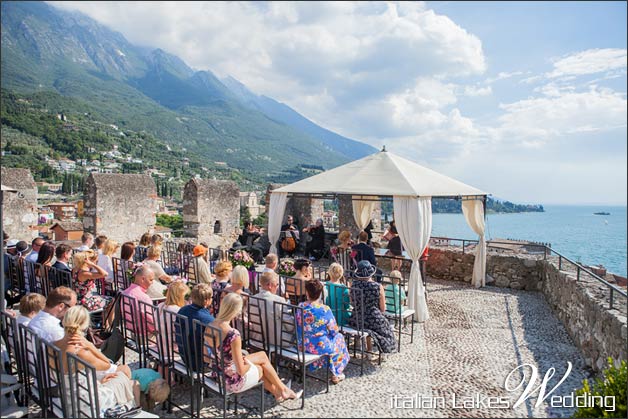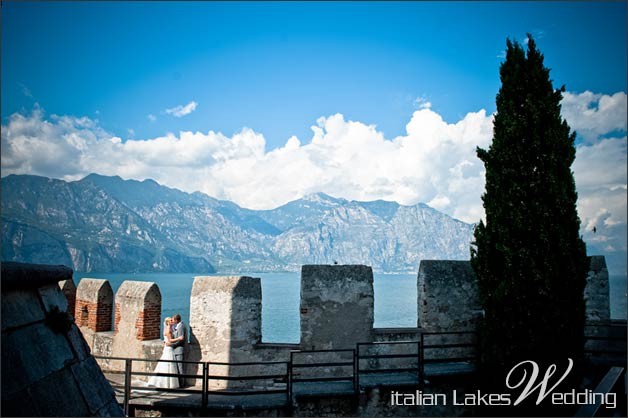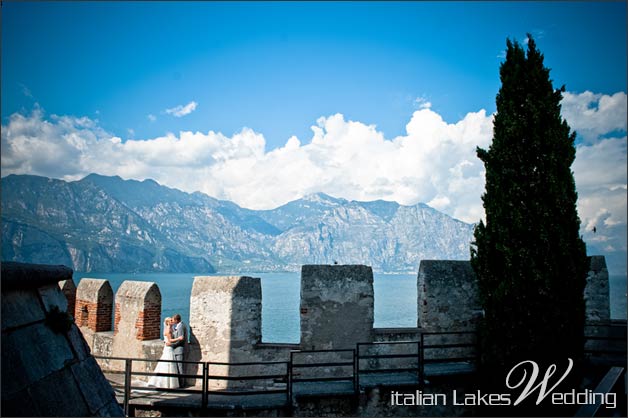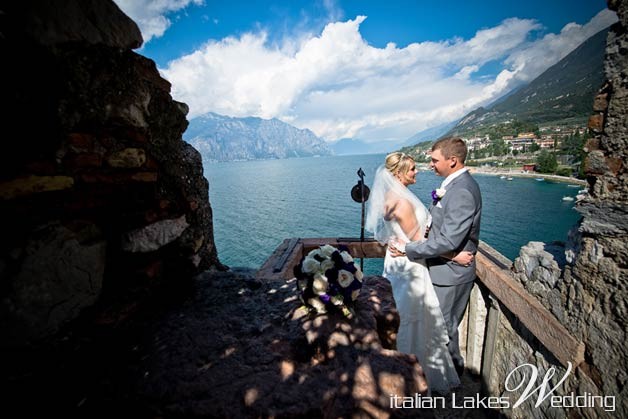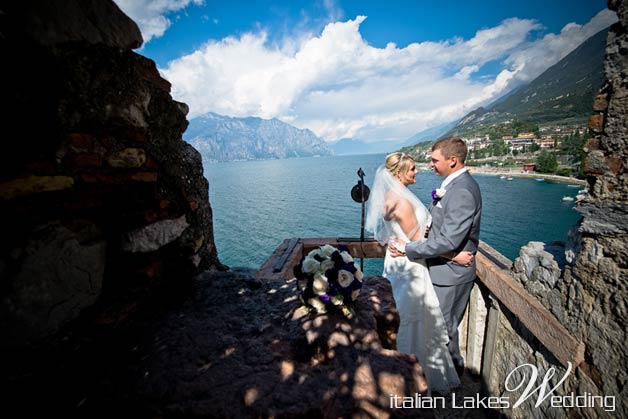 As nice and fun alternative you can reach the castle on board of an original tuk-tuk in Italian Ape Calessino. You can definitely arrive in Italian style.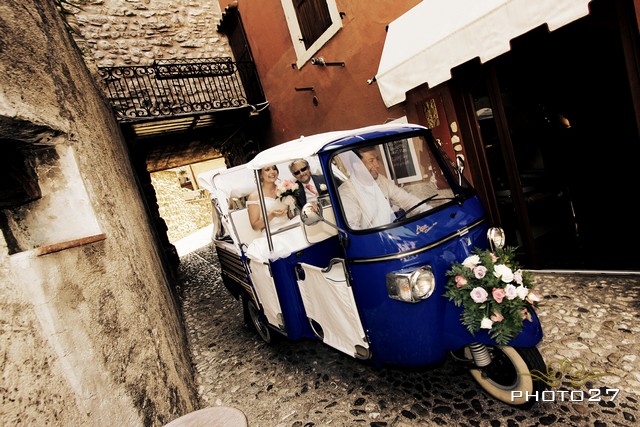 Malcesine Castle can host legal civil ceremonies in the incomparable setting of its terrace: deep hues of the sky merging with blue of the lake will be the perfect background to your exchange of promises.
Terrace will be at exclusive use of your legal civil ceremony just for your family and friends. After the ceremony you can have amazing wedding photos overlooking Lake Garda. A unique scenery everyone will always remember.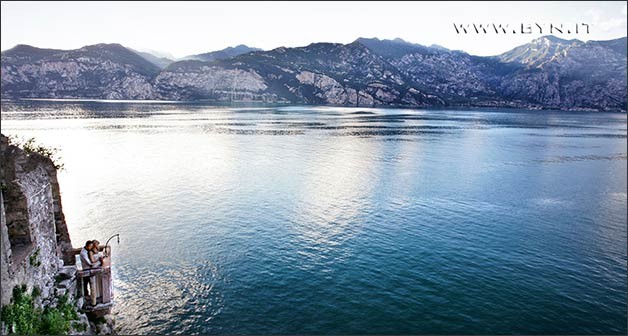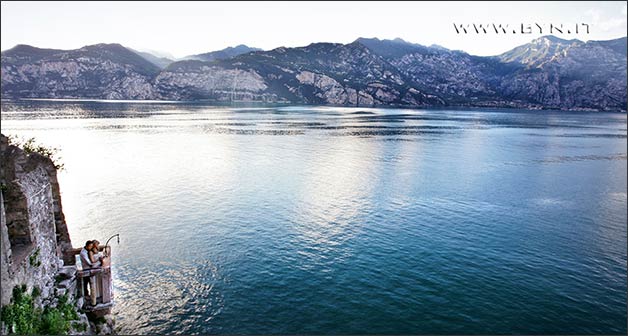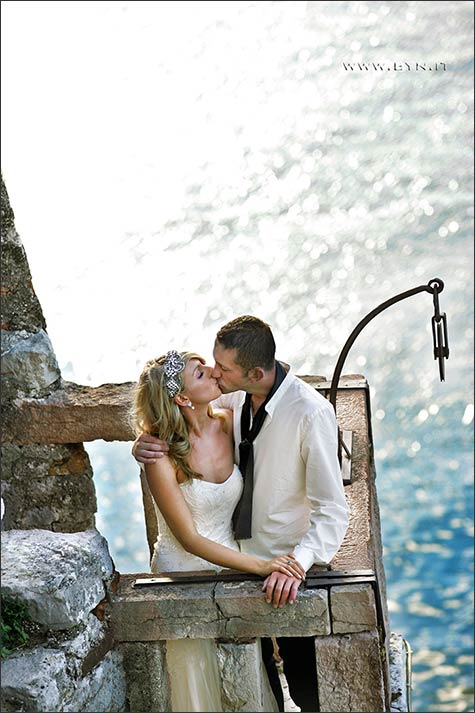 Malcesine small port is definitely one of the most lovely glimpses with its colourful boats waiting to take off the placid waters of the lake. From here you can embark on an ancient and elegant sailing ship called The lady of the Lake, for an exciting tour of the lake sipping good Italian wines.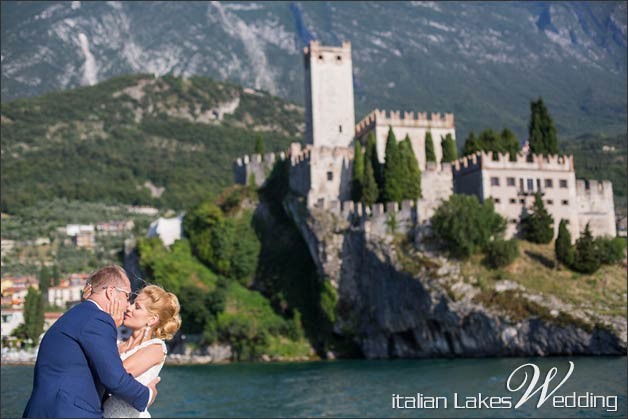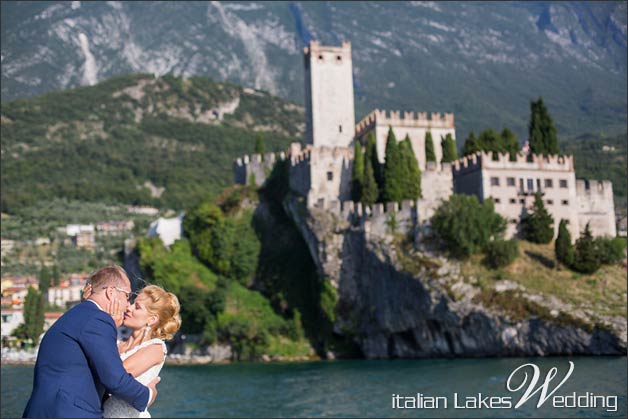 After the ceremony you can easily reach a local cafe for a small aperitif admimiring Lake Garda.
Malcesine offers a big range of restaurants where you can taste local food and wines and appreciate an unforgettable atmosphere.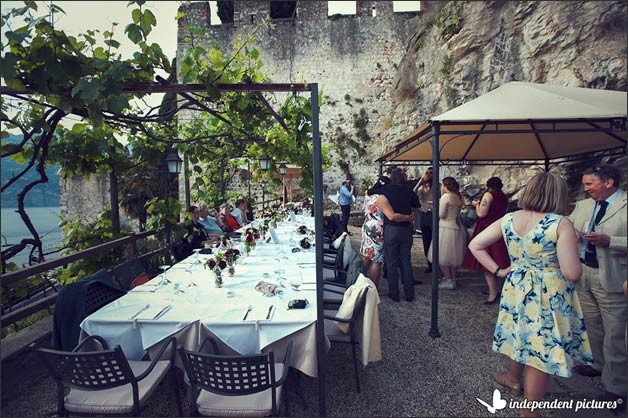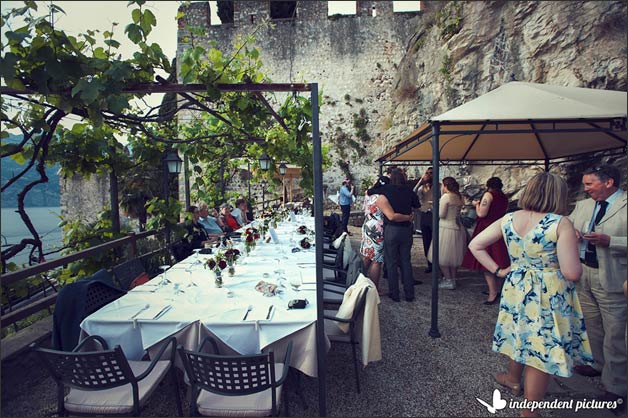 Wedding at Torri del Benaco Castle
Just South of Malcesine village you can find another small village set on the shore of the lake: Torri del Benaco.
Torri del Benaco unfolds around a small port overlooked by a wonderful castle .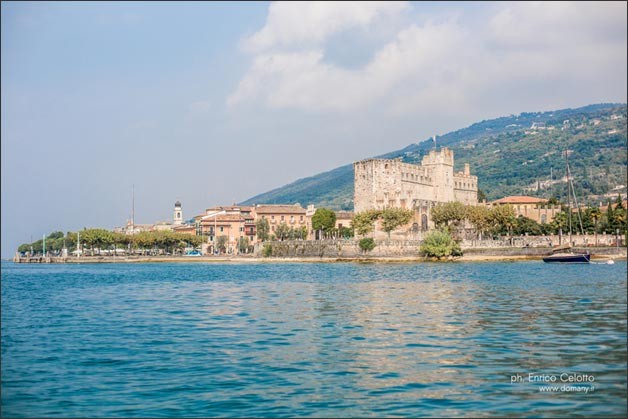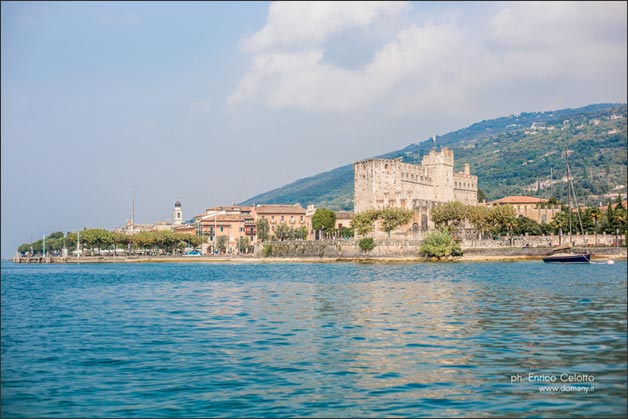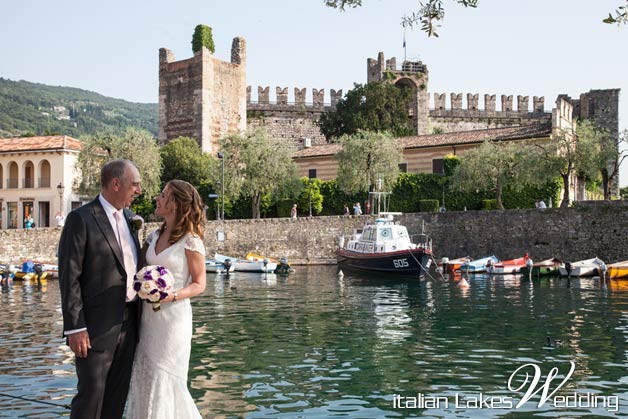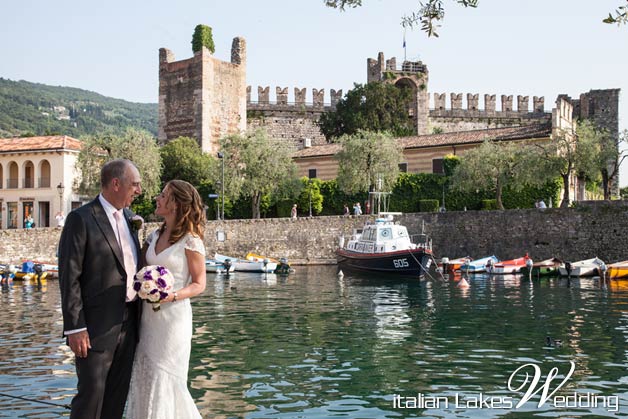 Lake Garda has an ancient tradition of lemon trees growing. Its mild climate all year  allowed the spread of this fragrant and delicate plants. You can see by the lake many lemon green houses. They are built with large pillars and wooden frames between high stone walls which served to protect plants in winter.
Torri del Benaco Castle is one of the oldest and largest lemon houses of the lake. Inside the building, between fragrant cedar, lemon and tangerine trees, you will find one of the most beautiful frames that may exist for your civil wedding, with the sky as roof.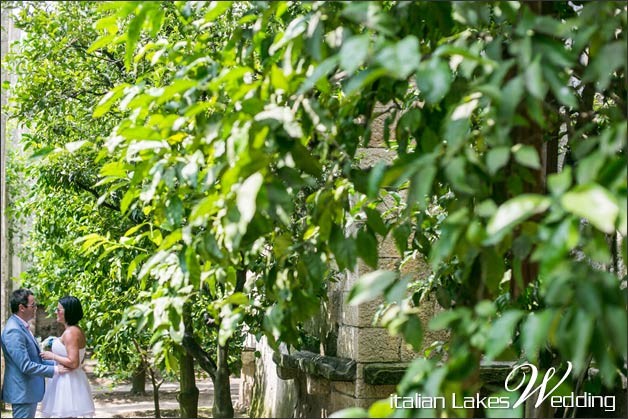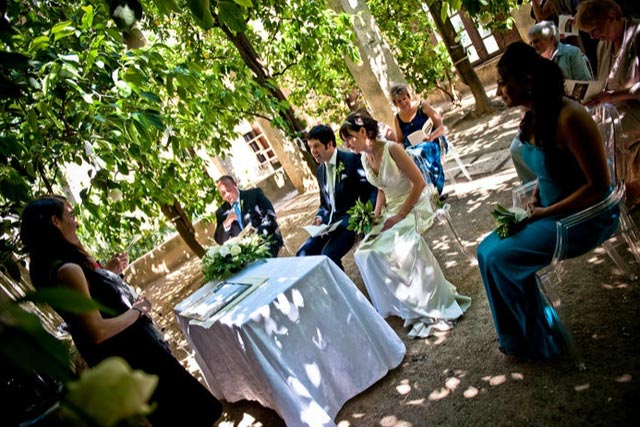 After the ceremony guess can enjoy a lovely aperitif in the little port of Torri del Benaco just in front of the castle, while bride and groom will have romantic wedding photos in the best quaint spots of the village.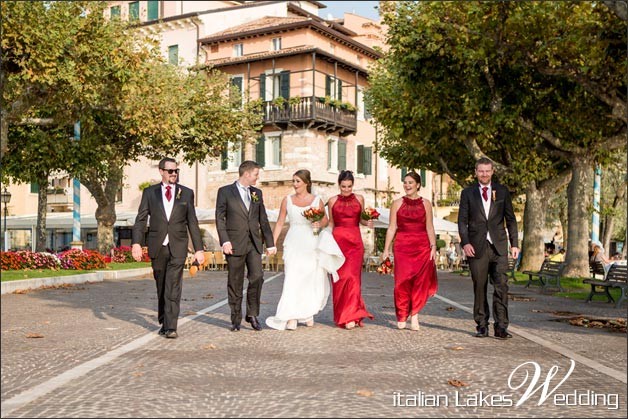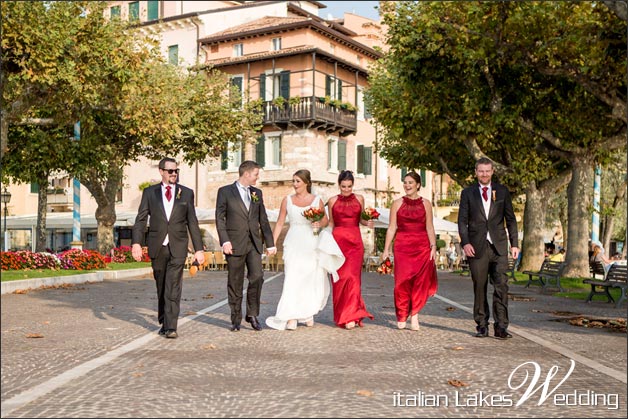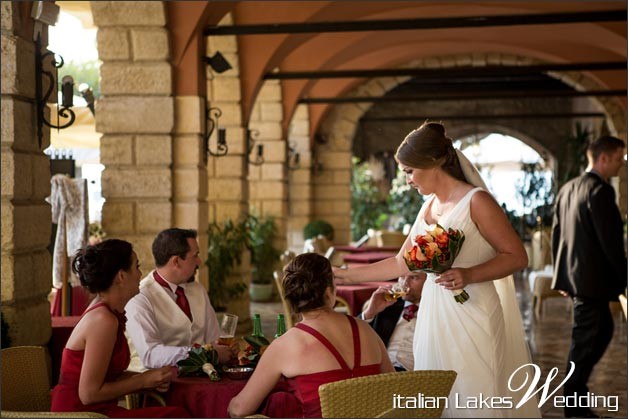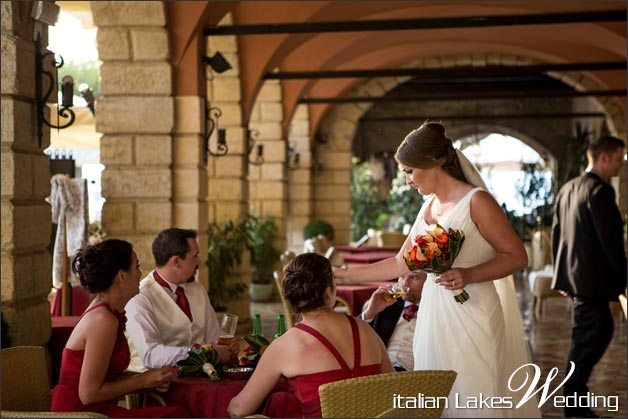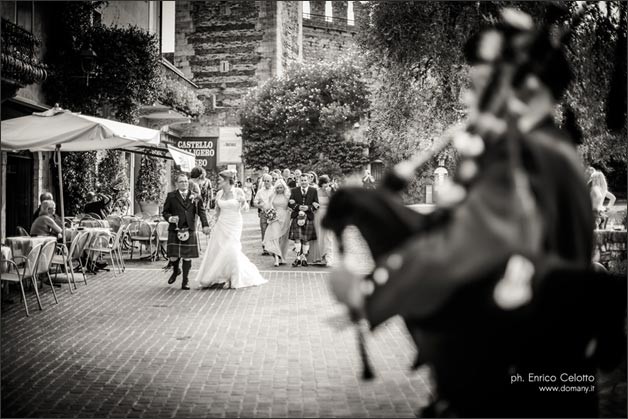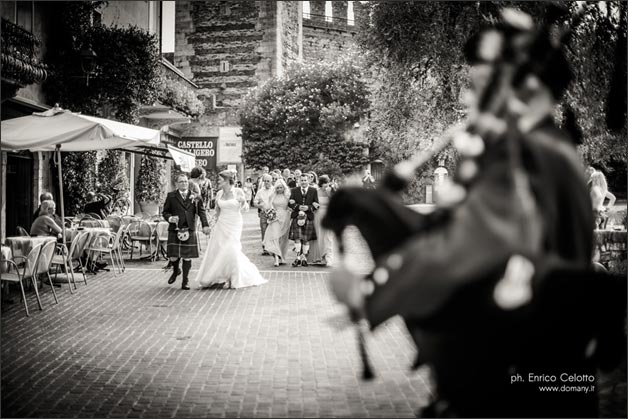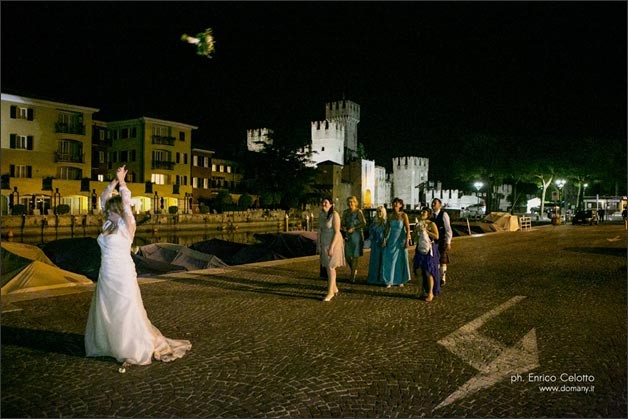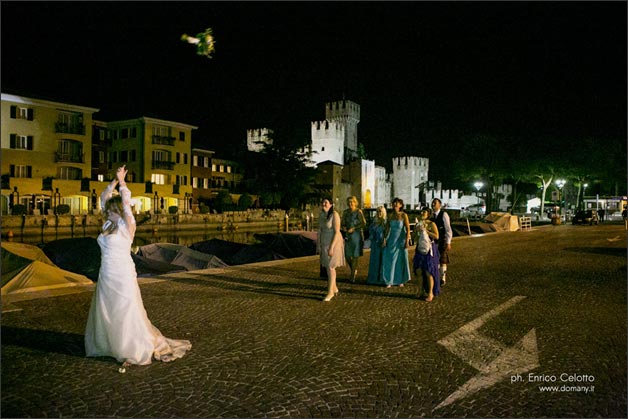 Wedding in Sirmione
In the Southern area of Lake Garda, on a small peninsula that stretches towards the vastness of the lake there is maybe the most beautiful pearl: Sirmione.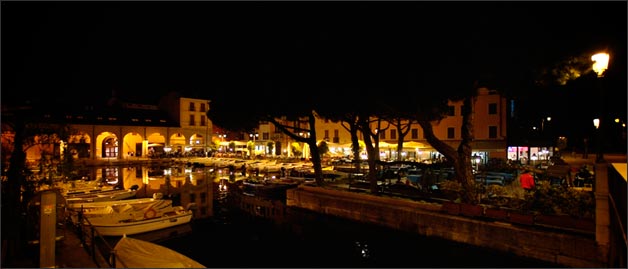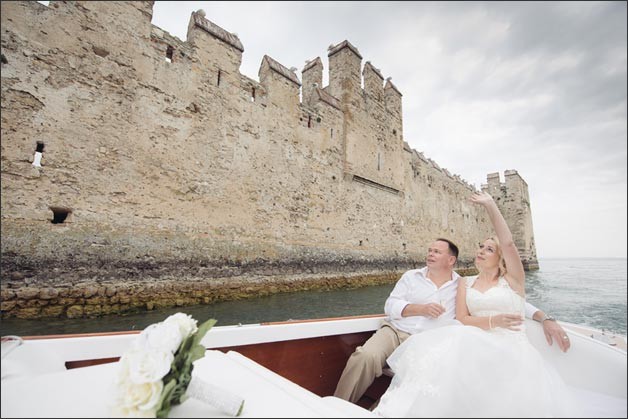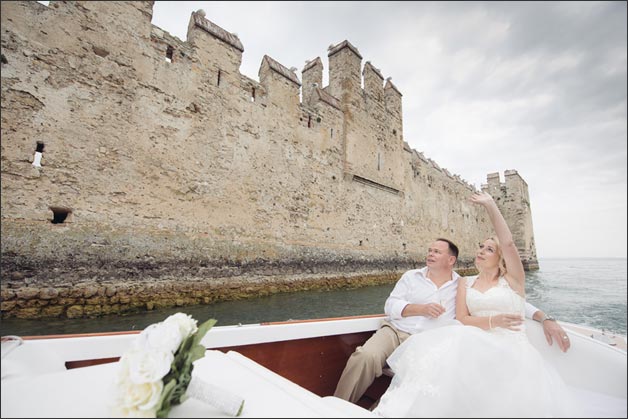 It is known since the days of Catullo for its precious thermal waters. It is enclosed within the ancient walls of the Scaliger fortress. As in ancient times, you still reach it across the drawbridge, walking along the narrow streets, going from the castle to the beautiful Romanesque church. 
Church of Sirmione is certainly the most beautiful church on the lake, with its colonnade and courtyard overlooking the lake.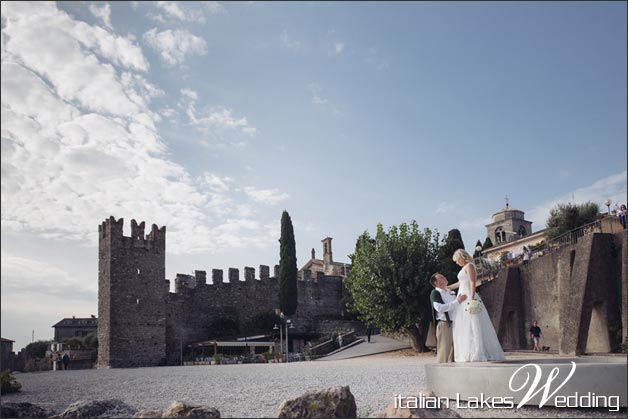 For your civil ceremony you have at your disposal the colourful Palazzo Callas in the small main square. For symbolic blessing you can choose the charming garden of an elegant neoclassical villa, with ancient statues and century-old trees.
What makes Sirmione unique is that here in anyway you will choose to celebrate your special day, day before and day after, it will be always a special event thanks to the many activities and possibilities that this location offers to enjoy your Italian days.
You can find excellent restaurants where you will taste real Italian cuisine and great wines, fun boat trips to discover the most beautiful places, relaxing hours to spend to the spa to pamper yourself gazing at the lake.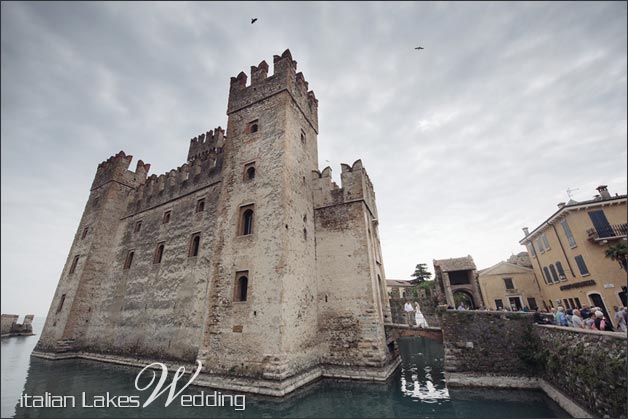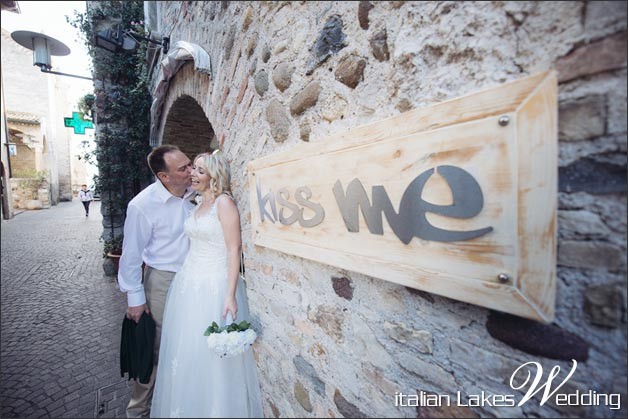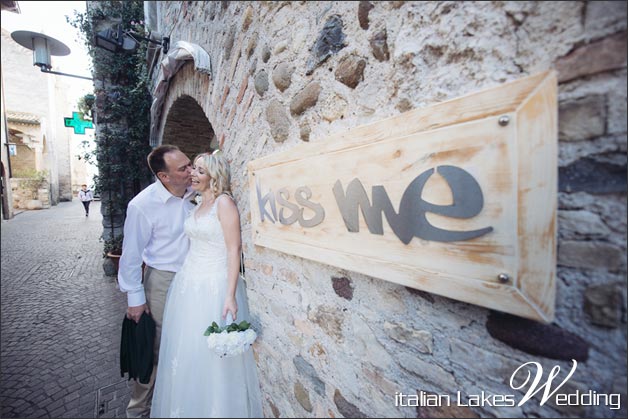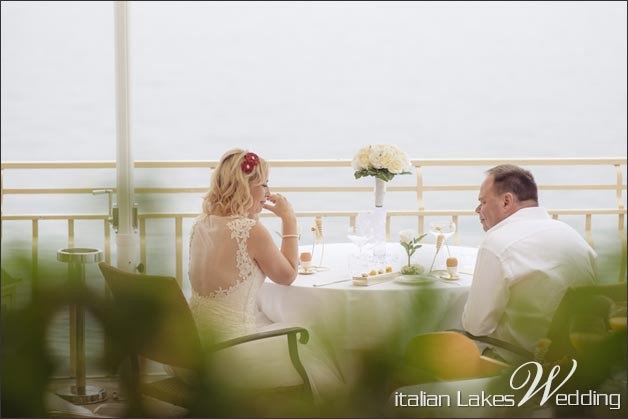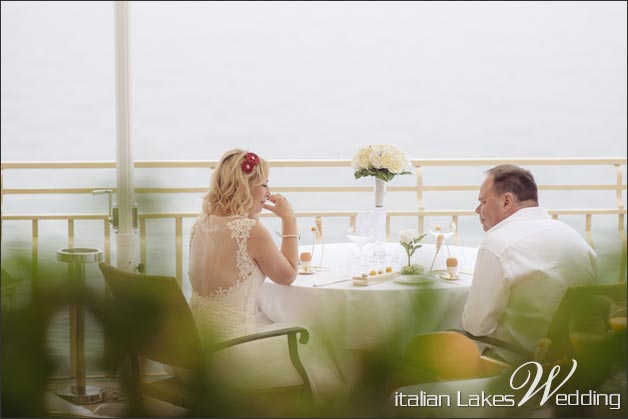 Wedding at Lonato Castle
Last but not least among the castles of Lake Garda, impressive fortress in Lonato village offers a truly unique setting to celebrate your wedding. This evocative venue offers a unique setting for your wedding within its ancient walls.
You can celebrate your legal civil ceremony in it and then entertain your guests with an elegant wedding reception, all in one place.
Lake Garda is very close and it can be seen between crenellations on a clear day. The most beautiful moment to admire this venue is right after sunset when a thousand candles light up.
After the civil ceremony you can walk among olive trees for an Italian aperitif and just after your party can follow to the upper quarter of the castle to dine in a spacious lawn under the stars.
The atmosphere created by these ancient walls lit by torches can not be described, it should be lived!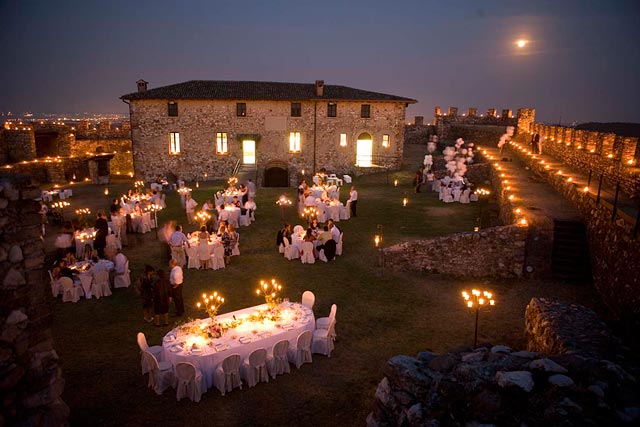 And to end the evening, music and dancing will delight you and your guests under an elegant tent.
A full day within the ancient walls for a wedding to remember.
So, which is your castle?
Contact us to find out with us!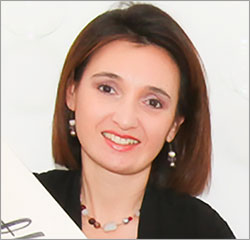 Katiuscia
is our chief planner for Veneto region, Lake Garda, Verona, Venice, Valpolicella Veneto Countryside and Dolomites. She has a degree in Architecture and Interior Design and she comes from this world.
Her background and natural creativity will be at your disposal to create a wonderful scenography, some amazing arrangements and choose little pretty details that will make your wedding just unique!
Moreover her problem solving qualities will be helpful to arrange to a wonderful day on Lake Garda.

For any information about a
wedding on Lake Garda
please
contact Katiuscia