n these difficult two years, organizing weddings has been complex. Restrictions due to COVID have limited travel and celebrations of any kind. For this reason, many couples have simply decided to organize a romantic getaway, without guests, just the two of them and their great desire to get married and have a beautiful memory of that day.
Just like our spouses, Clémence and Bruno did, a sweet Dutch couple who decided to plan a secret destination elope wedding in Sirmione, Lake Garda. They kept the elopement secret until the last, to send photos of their marriage to friends and relatives as a surprise and confirmation of their celebration.
It was a very romantic idea that allowed them to realize the dream of a wedding in Italy without worrying about restrictions and problems related to international travel.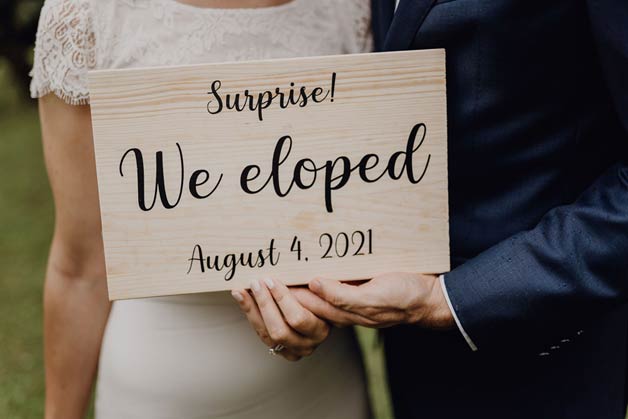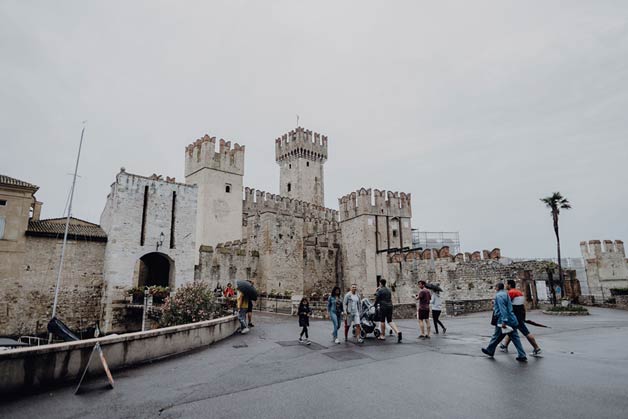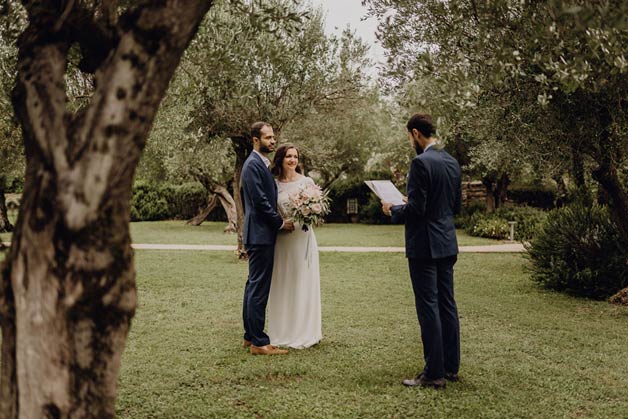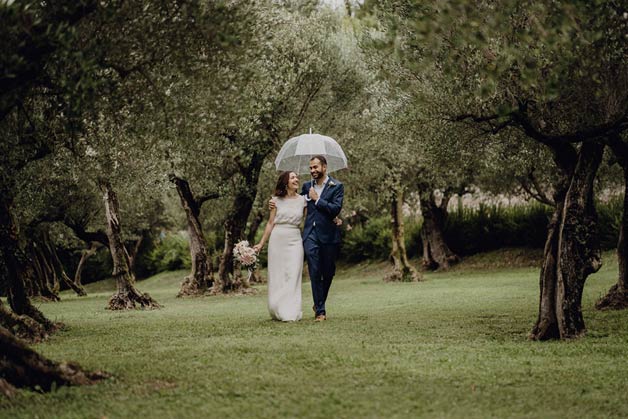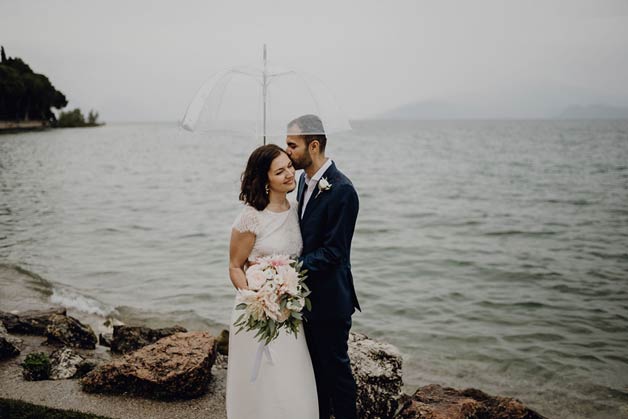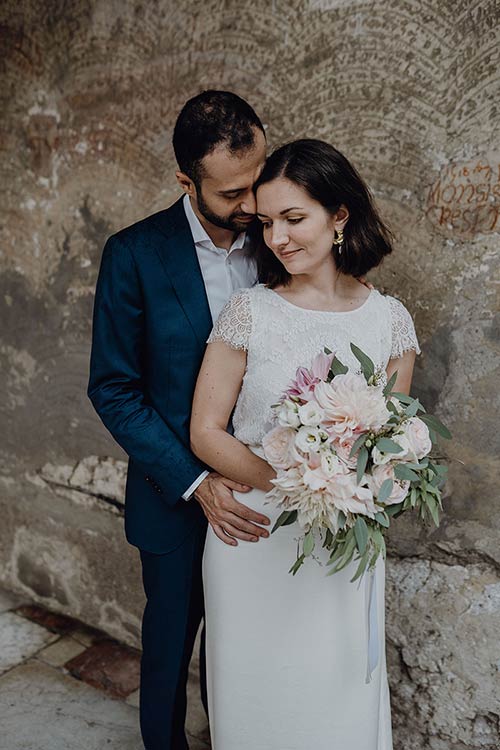 A romantic elopement wedding in Sirmione
Here in Italy, we say Wet bride, a lucky bride.
It is not what a bride hopes for her wedding, but it can happen. And it is not as awful as it seems. It made a secret destination elope wedding in Sirmione, Lake Garda, even more romantic!
Indeed, our lovely couple enjoyed their elopement even if it was raining.
They had a pleasant walk along the center of Sirmione on Lake Garda shores. It is an enchanting village! You can walk along the ancient walls surrounding it, passing through the fascinating narrow streets full of small shops and little restaurants, arriving at the thermal baths that characterize this place and the Roman ruins dating back to poet Catullo times.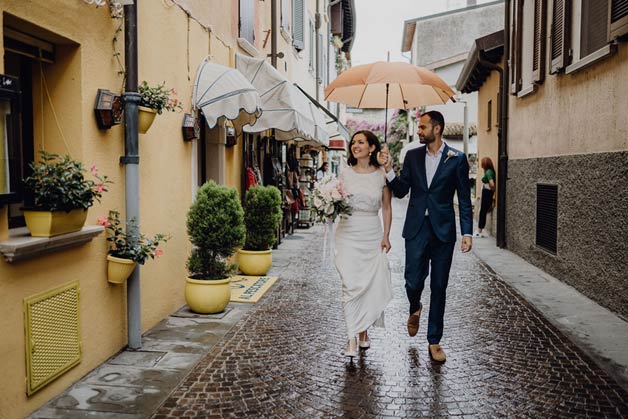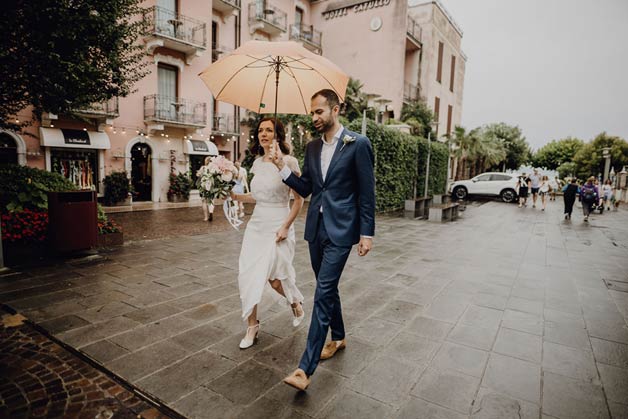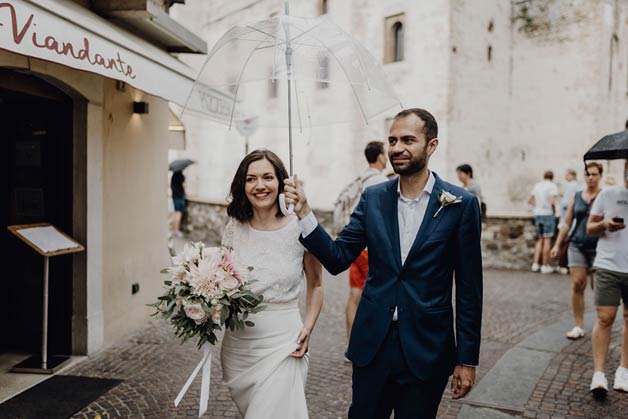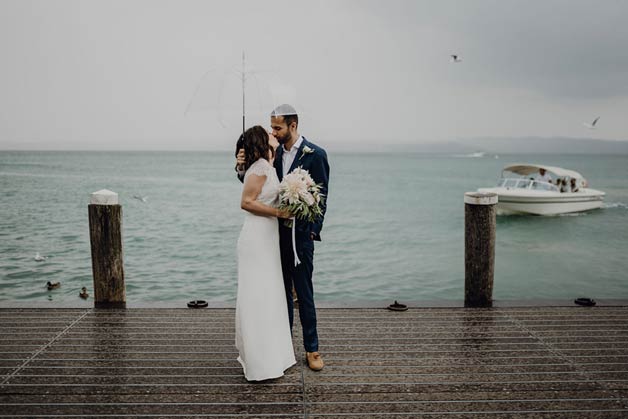 After enjoying the marvelous center of Sirmione, the bride and groom took a boat for a romantic trip on Lake Garda. It was a unique experience and, even if they had to stay indoors, the photos that talented photographer Federico Valenzano took were stunning. He did a great job! They are lovely memories for Clémence and Bruno, and their secret destination elope wedding in Sirmione, Lake Garda.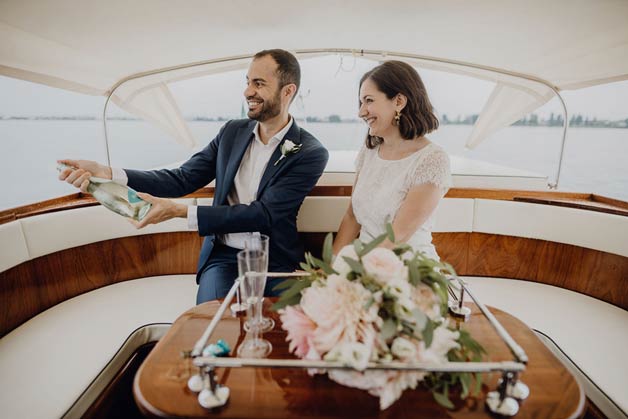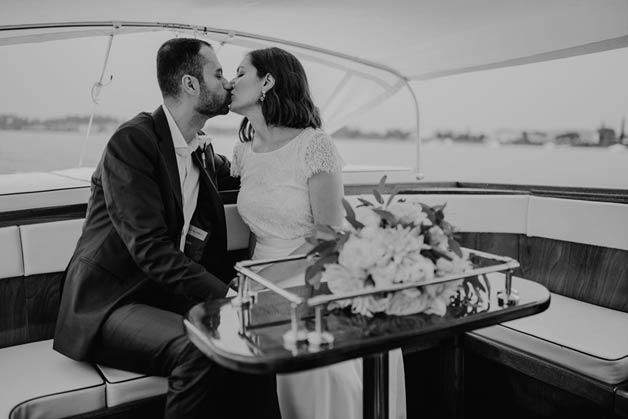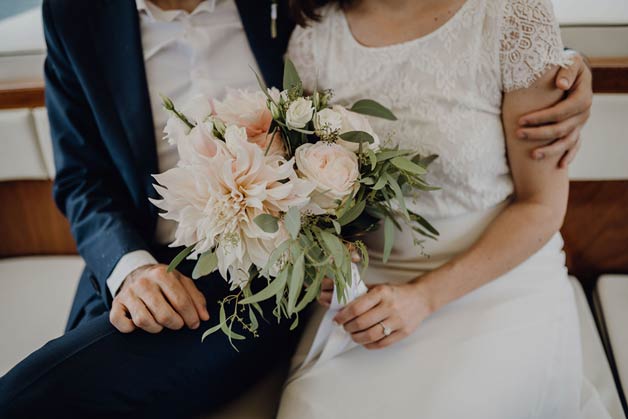 A wedding ceremony at one of the magnificent parks of Sirmione
At the end of the boat trip, the bride and groom reached one of the two beautiful parks of Sirmione. We planned a very romantic wedding ceremony under olive trees, with a panoramic view of Lake Garda.
It was just the two of them, the celebrant and the photographer. It was indeed a quiet and relaxing atmosphere. It was perfect for a secret destination elope wedding in Sirmione, Lake Garda.
After this unique and very intimate moment, the bride and groom exchanged their personal vows. They had a walk along the park, and the celebrant threw some olive leaves as a wish of good luck! It was so romantic!
The bride had a clear idea of the photos she wanted to take. Therefore, the bride and groom then moved by Lake Garda shores. They will never forget such an emotional day as a precious memory to get some fantastic shots along a pier and a beach with the lake as a beautiful background.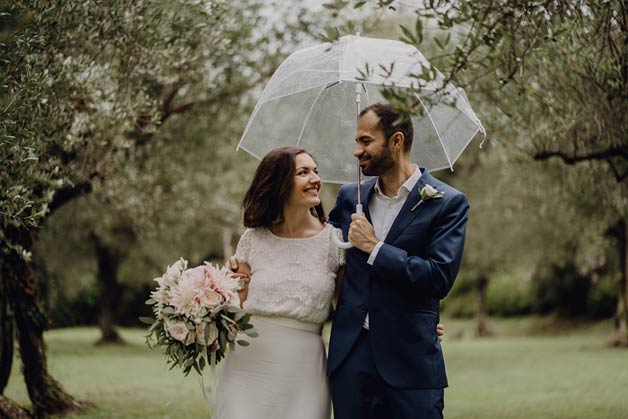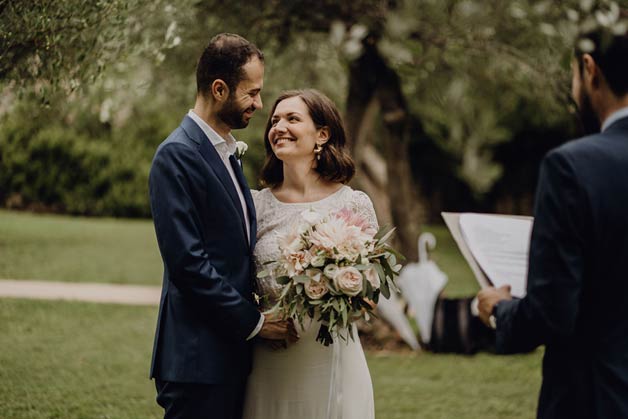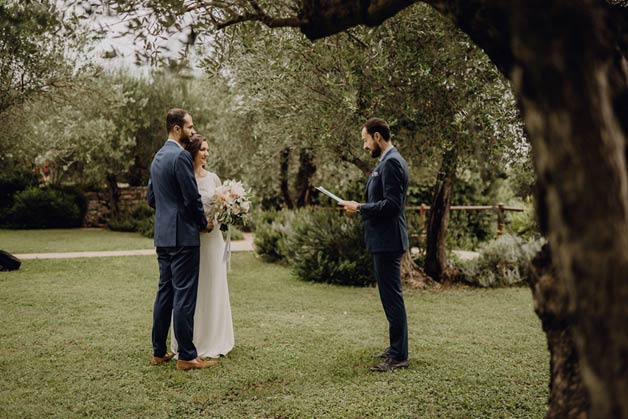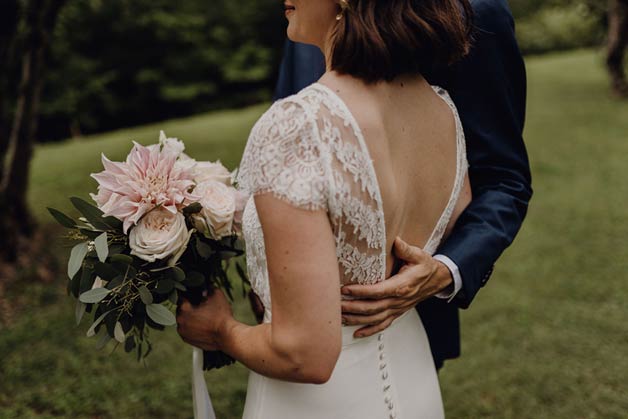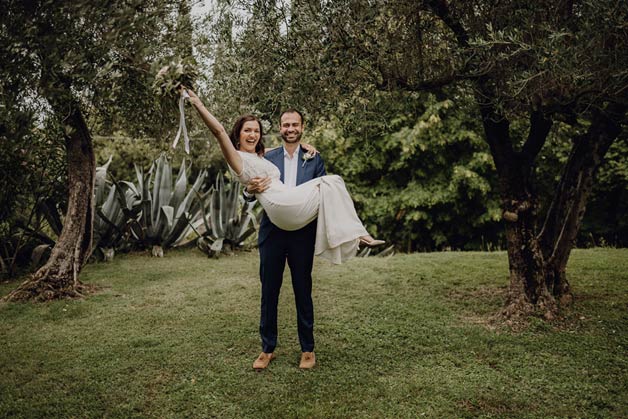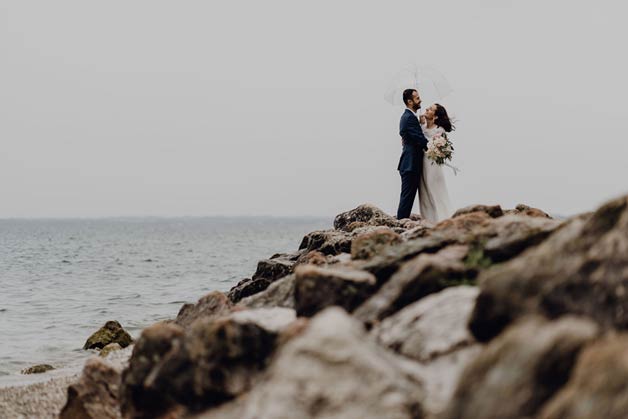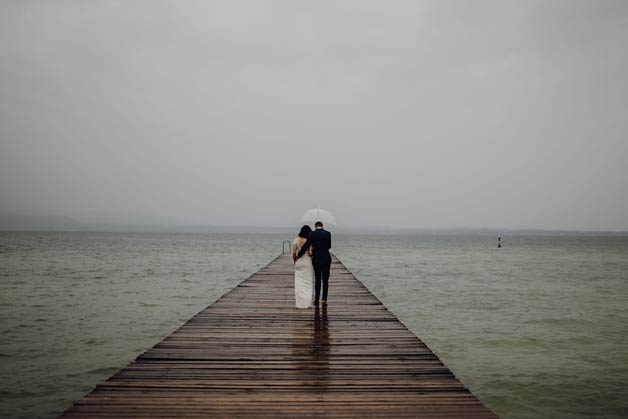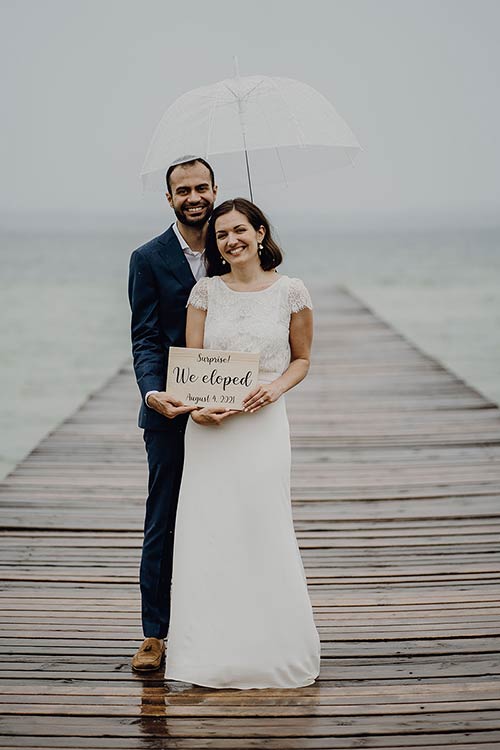 We are always happy to be a part of such special moments, and we will be at your disposal to suggest to you the best places for a secret destination elope wedding in Sirmione and anywhere on Lake Garda!