As you may know, Irish couples are known to be very friendly and loving. Looking at Paul's and Annette's wedding, we can only agree with it.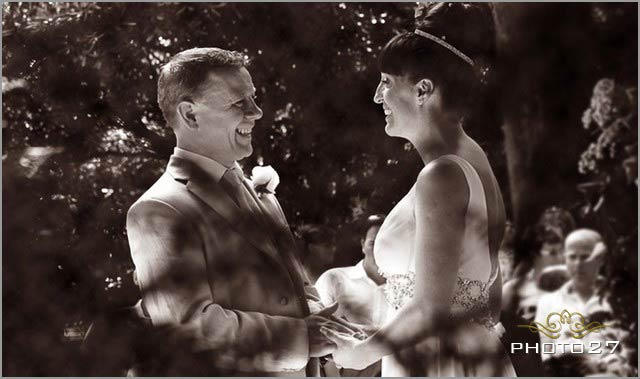 They decided to hold their ceremony in a warm Mediterranean summer in a very special location of Villa Cortine. This is an ancient villa located near the center of little town of Sirmione, a delightful Italian spot, famous for its peculiarity. It is situated in the middle of Lake Garda!
Sirmione and its surroundings is just the perfect scenario to enjoy medieval Italian culture, craftsmanship and fashion habits while filling eyes of nature's beauty and without having to worry about noise and cars.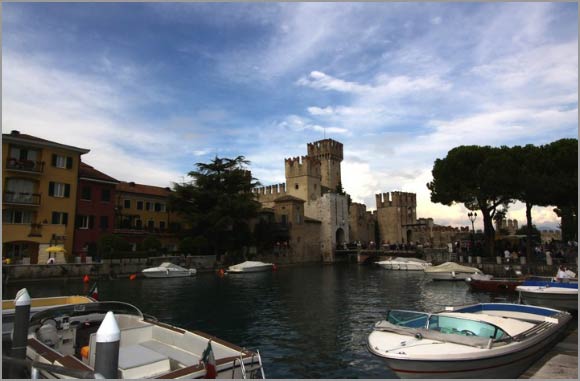 Villa Cortine sits upon the hill in the heart of such stunning peninsula, which was rendered immortal by the lyrics of Roman poet Catullo, and dominates the entire basin of Lake Garda.
A centennial park of rare essences and fragrant bushes surround the neo classic style villa built in 1870 by an Austrian nobleman Kurt von Koseritz, officer of art and Italian culture.
The wide park is embellished with nine different fountains and a main one, called Neptune. It greets guests at their entrance just wonderful! At the far end guests can either enjoy Lake Garda's clear waters or sun bath on the pier of the villa. But Paul and Annette chose this venue also for the superb frescoes and interiors of the palace were precious marbles, byzantine stuccoes and polychromatic decor executed by Brera Academy revive the splendour of the past and delights adults and child.
This beautiful setting is the backdrop to the emotion of the preparations enhanced by a love message from the groom to the bride.
Very lucky indeed was their little daughter that could fill her young eyes with the finest Italian art. She was a very pretty little valet of the wedding, much in tone with the elegant sobriety of the location, her silky dress matching the interiors of the villa.
For Irish family this is still a very important institution and in Paul and Annette photos we can see a tender love emanating between the couple and their daughter, who was actively involved in the preparation of her parents' wedding.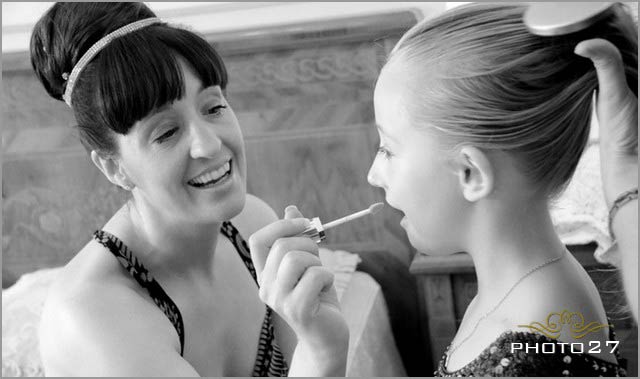 Ceremony started: a symbolic gathering was prepared in the huge park of the villa. The blooming garden, the typical bright blue sky of Italian summers and the light dresses made the participants of the event appear like light butterflies sharing a moment of grace. Paul's and Annette's vows were pronounced in a dream like setting, and this memory will be the most treasured of all.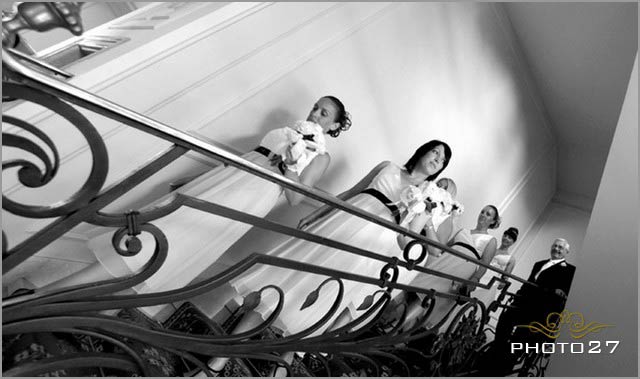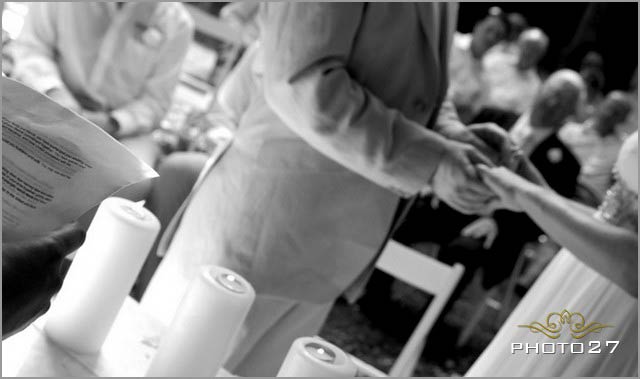 Quite a peculiarity was the high number of best men and maids of honor! Guys looked very formal in their white shirts and creamy trousers…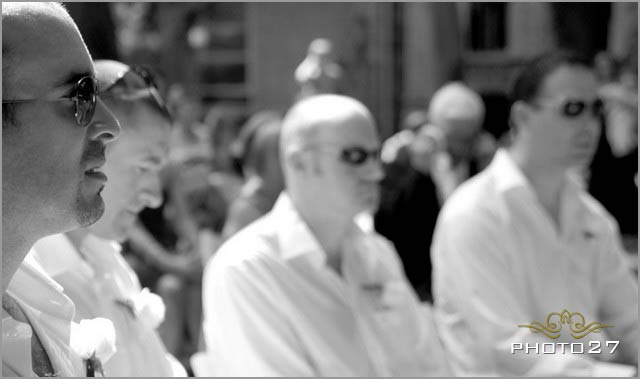 But… could not resist and show off a pair of crazy socks whit the word CRIMINAL knitted on them! Worn also by the groom himself!
The lovely girls instead could show off loose white dresses that let shoulders by kissed by the lovely Italian sun, with full attention, they watched the ceremony while fluttering their lacy fans in this warm Italian summer day.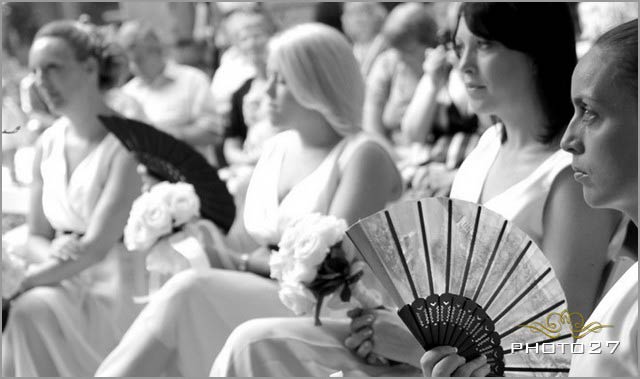 As a further statement of their love, they crossed their cricket bats to symbolize their union and took a picture of it. In fact both Paul and Annette are cricket players and estimators. May their love have sprung from cricket grounds?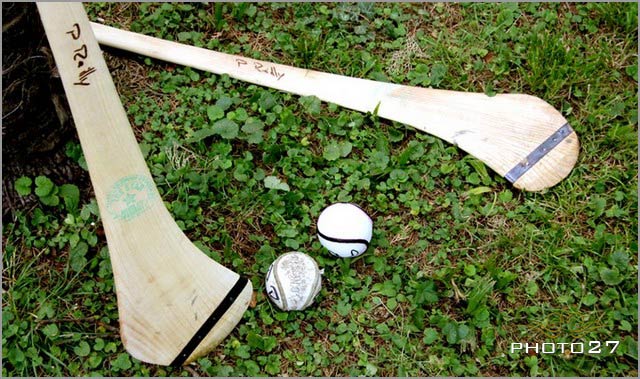 After the ultimate yes, the tension is loosened and gave way to joy and fun.
And then guests awaited in the hall of the villa the married couple to wish them good luck and start the celebration.
When the dancing started the most happy of all was Paul's and Annette's daughter that delightfully could start swirling at the centre of the hall together with her mum in the most perfect Irish dancing tradition! And with all that space available, we are sure they had all the fun that a day like this deserves.
We agree with the young lady in the last photo that Paul's and Annette's wedding was really a fine one, the kind that every couple deserves in their most important day!
A very special thank goes to Photo27, official photographers of the event how did a great job! All details and special moments of the day will remain forever in their special pictures. We are sure Annette and Paul loved their service as we also did!
And finally… Our best wishes to this wonderful couple!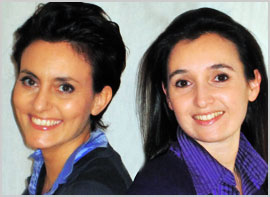 Angela and Katiuscia both work on Veneto region and Lake Garda. They will take you to discover traditions, savors and colors of Veneto region, not only on Lake Garda!
They can help and support you for a dream wedding on other wonderful locations such as Venice, Verona and Veneto gorgeous countryside where you could taste some of best wines of Italy.

For any information about wedding in Sirmione please
contact Angela and Katiuscia