Your special wedding on Lake Garda
Lake Garda is waiting for you with is beauty and its charm!
Lake Garda is for sure one of the most known lakes of Italian Lakes District. It is located between Veneto and Lombardy regions and it is the biggest Italian Lake. It has a great wonderful appeal and it could be surely a wonderful wedding destination.
Our chief wedding planner for Lake Garda is Katiuscia Minozzi. She has an architecture background and she will be pleased to show you the beauties for the area she work on, creating with you the perfect set for a wedding on Lake Garda.
Renaissance villas, Medieval castles, quaint villages with their lovely narrow roads and little shops, nice restaurants and wine cellars could be the perfect reception venues for an unforgettable wedding. Lake Garda is easy to reach! It is located only 20 minutes drive from Verona airport and a little more from Milan or Venice airports.
Lake Garda could be a perfect destination for many reasons!
Here you could enjoy wonderful nature: cypresses, lemon trees and olive grooves, bouganvilles, gardens, parks, impressive view over the sky and the waters. And what about its mild climate and enchanting colours?
Lake Garda has also a great history, its castles dominate the East side of the Lake such as Castello di Malcesine, Torri del Benaco and Castello di Lonato. They can all host outdoor legal ceremonies overlooking great panoramas.
On West side villas and ancient mansions in Salò or Gardone Riviera could be perfect wedding reception venues on Lake Garda.
Catholic and civil ceremonies on Lake Garda
If you are keen for a Catholic ceremony on Lake Garda we are happy to suggest many romantic churches to tie the knot
If you are rather considering a legal civil ceremony on Lake Garda we have many opportunities for you.
Among all we should remember Malcesine Castle where you can have your legal civil ceremony on its top terrace overlooking the lake. As mentioned above we also have the possibility to celebrate legal civil ceremony at Torri del Benaco Castle in the scented frame of lemon and tangerine trees or in Castello di Lonato.
But there could be many other opportunities such as magnificent Venetian style Palazzo dei Capitani in Malcesine or Sirmione town hall called also Palazzo Maria Callas as tribute to famous opera Singer Maria Callas who loved Sirmione. You can also opt for villages of Salò or Gardone Riviera town halls, wonderful palaces with marble staircases, frescoed walls and wooden ceilings.
Garda Island: a fabulous setting for a dream wedding!
Wedding reception venues on Lake Garda will make you dream! And it can be also very hard to chose.
You can opt for lovely restaurant in tiny villages for romantic and intimate reception tasting wonderful local food and wines, or you can chose castle or villas or mansions for elegant and classic receptions with fine food and precious wines.
You can also chose original wedding reception in modern Michelin starred restaurants, or in parks or ancient monastery or a terrace overlooking the Lake.
Among all these venues we cannot forget Isola del Garda (Garda Island). It is the largest island on Lake Garda and it is located on Lake Garda West side.
On Garda Island you will find amazing a Venetian neo-Gothic style villa. It was built in the same style of Venetian Palazzo Ducale in Venice.
The villa has enchanting terraced Italian gardens with decors a wonderful park with rare plants and flowers.
LAKE GARDA highlights
the most famous Lake Garda wedding destinations
LAKE GARDA weddings
are our specialty. Find out why!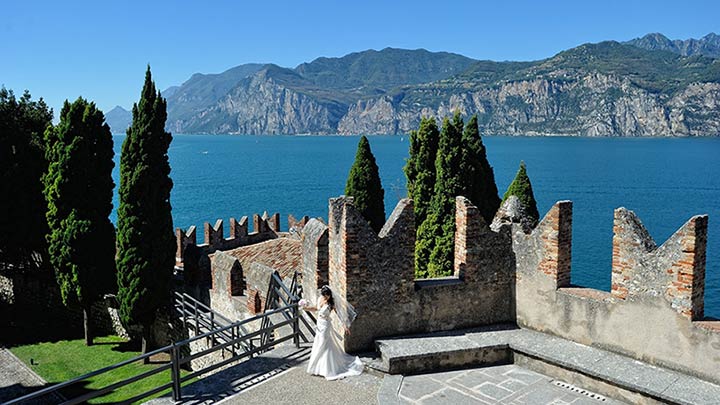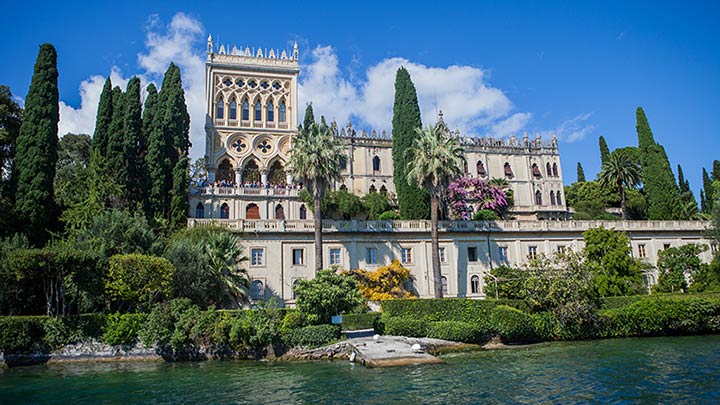 LAKE GARDA latest posts
to see what we do best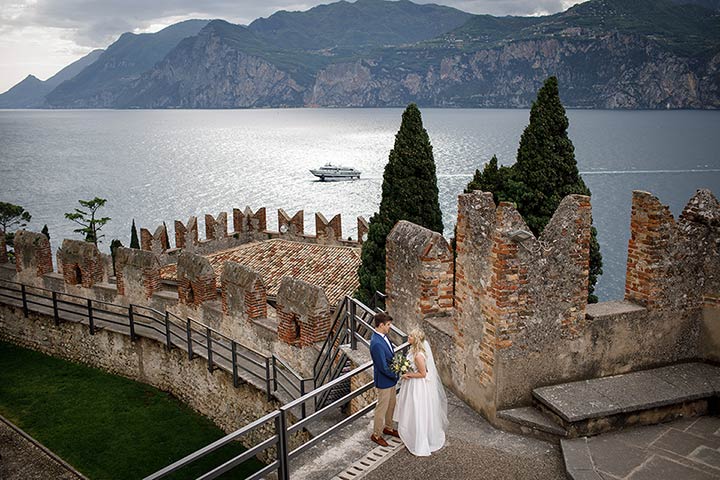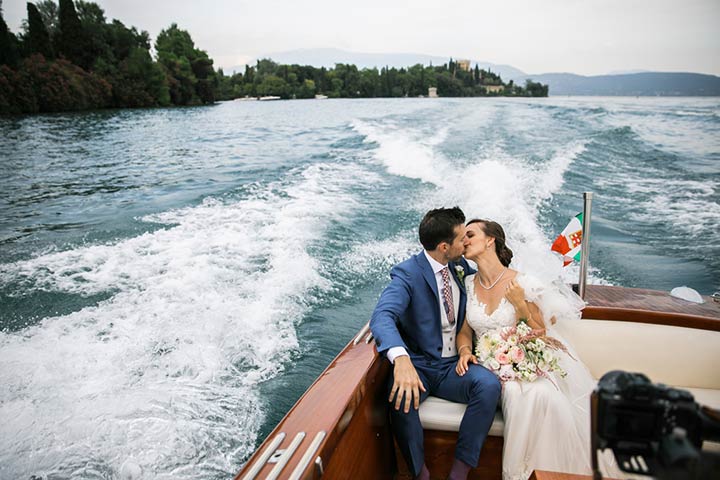 A BRILLIANT WEDDING AT ISOLA DEL GARDA
July 1, 2018
---
What a wonderful wedding on Lake Garda! Stephanie and Lee tied the knot just here on this amazing Italian Lake. Stephanie is American and Lee comes from England. They chose Isola del Garda for their special day. Isola del Garda is so stunning! It was a great occasion for guests to discover the beauty and the intimate atmosphere of the western shore of lake Garda.
Continue reading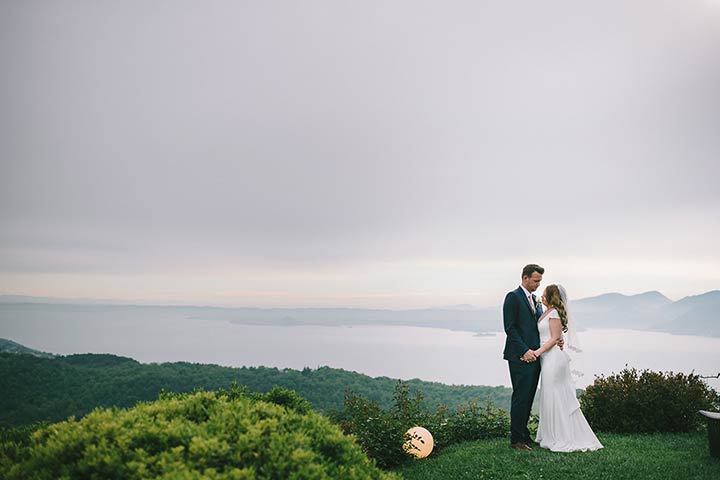 A romantic wedding on Lake Garda
April 7, 2018
---
A romantic wedding on Lake Garda for Ellie and Martin. They choose medieval castle of Malcesine for their ceremony overlooking a stunning view of Lake Garda. A fun aperitif to follow in the narrow roads of Malcesine village and a fun reception with party to follow overlooking Lake Garda landscape. An unforgettable party!
Continue reading