f on Lake Como we have stunning
Villa del Balbiabello
… on
Lake Bracciano
we have
Odescalchi Castle
.
Castello di Bracciano
, known also as
Odeschalchi Castle in Bracciano
is one of the best and most wanted wedding venue all over Lakes Southern region. It is surely exclusive, enchanting and full of history!
Castello di Bracciano is located few kilometres from Rome
and it has been built back in 1470 around an ancient medieval rock of 1200.
Orsini family
wanted the majestic castle for their residence.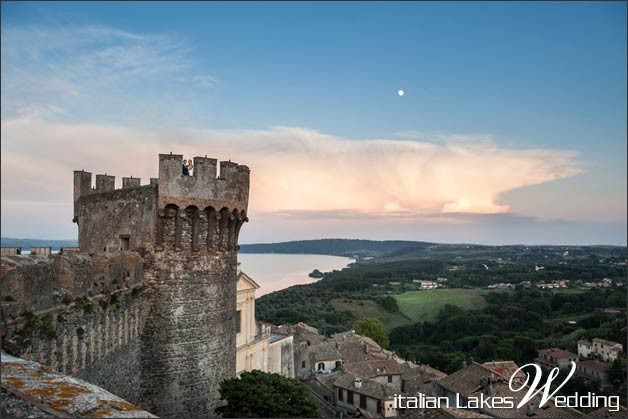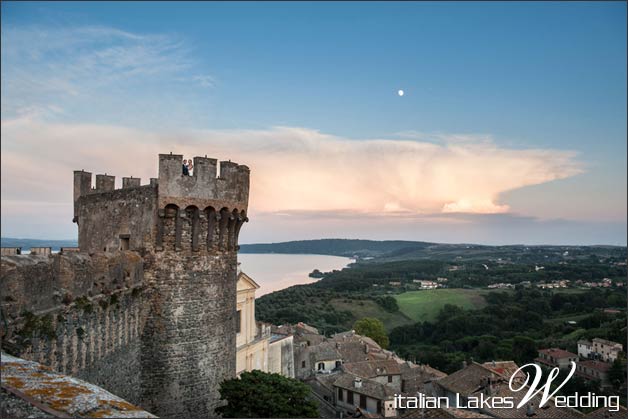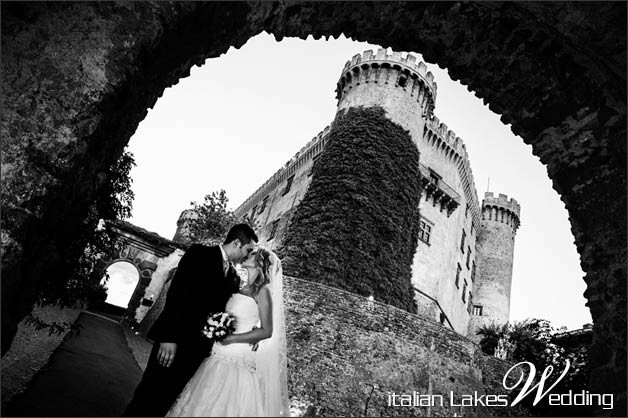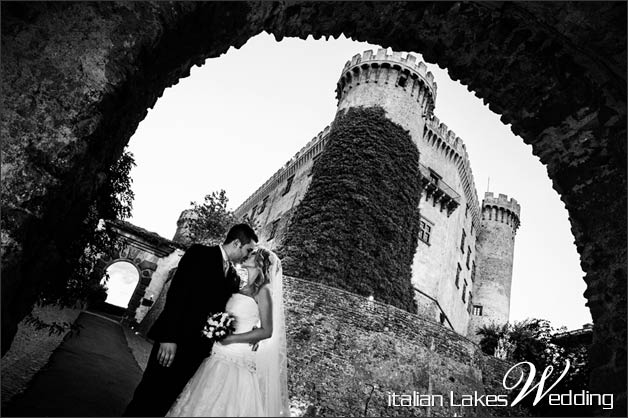 Nowadays many famous people choose it for their special Italian wedding such as Tom Cruise and Katie Holmes, Tyron Power and Linda Christian, Martin Scorzese and Isabella Rossellini and last but not least Ecclestone's daughter.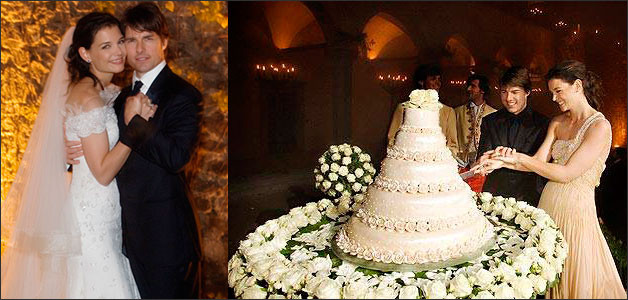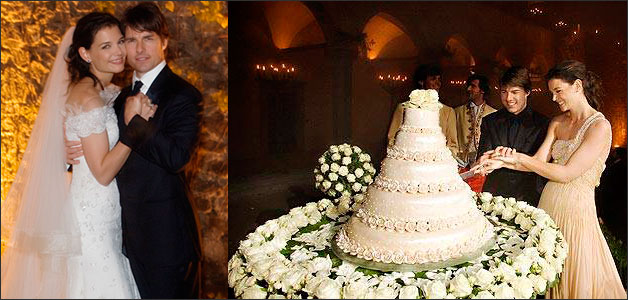 And we cannot forget that the Castle has been the set for many famous movies and documentaries. Names like Charlton Heston e Rex Harrison, Tony Curtis e Monica Vitti, Gina Lollobrigida e Sophia Loren acted here.
Castello di Bracciano is also part of FAI – Fondo Ambiente Italiano – to know more about Fai follow this link.
Villa del Balbianello on Lake Como is part of FAI too.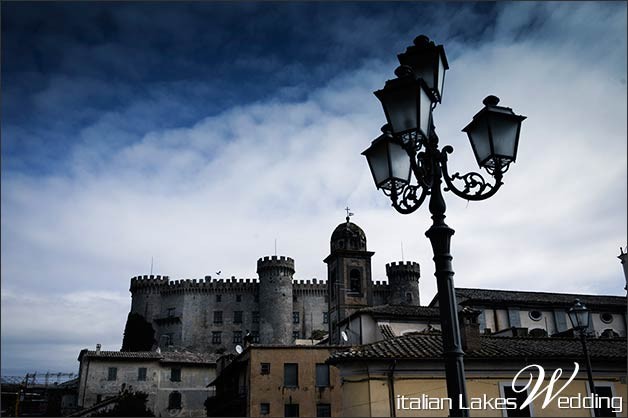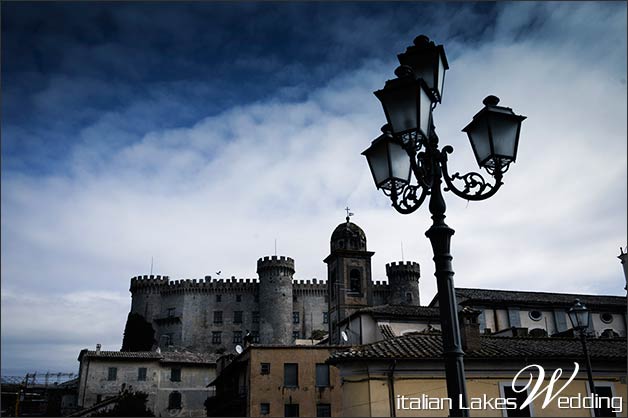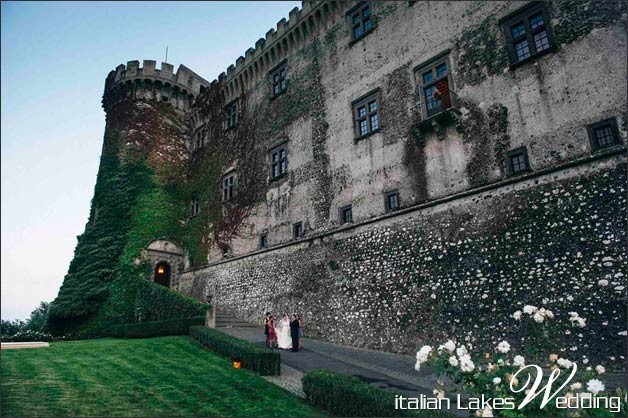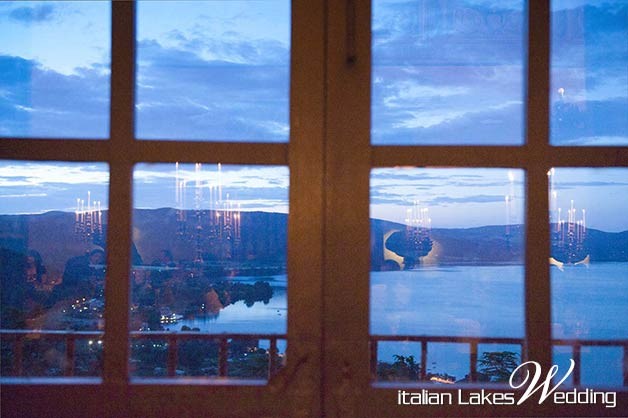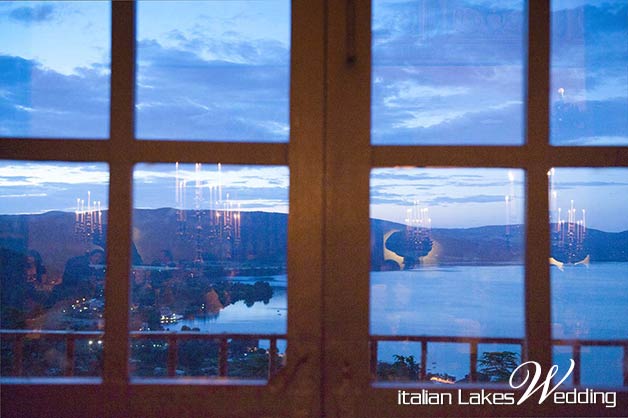 Reaching Castello di Bracciano is not difficult at all.
Lake Bracciano where it lays it is located not far from International airport of Roma Fiumicino. It is well connected by train, public transfers and we can also arrange private transfers and shuttles for you and your guests.
Accommodation in the area are many for all budgets but you can also decide to spend your Italian days in Rome and reach the castle only for your special day.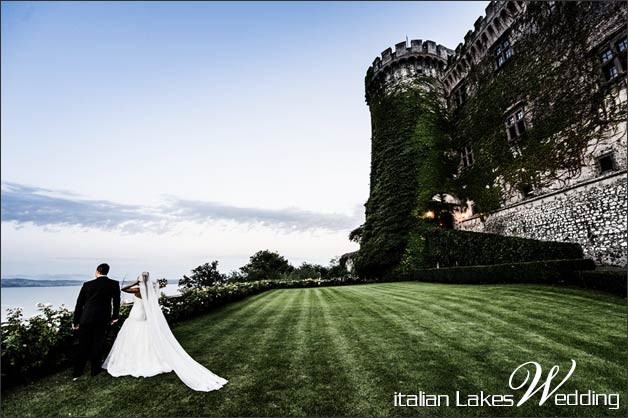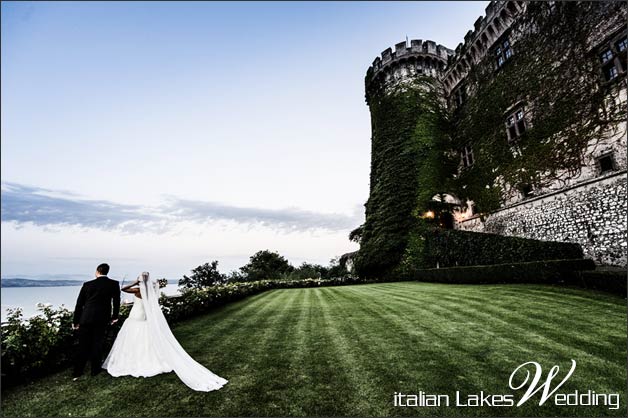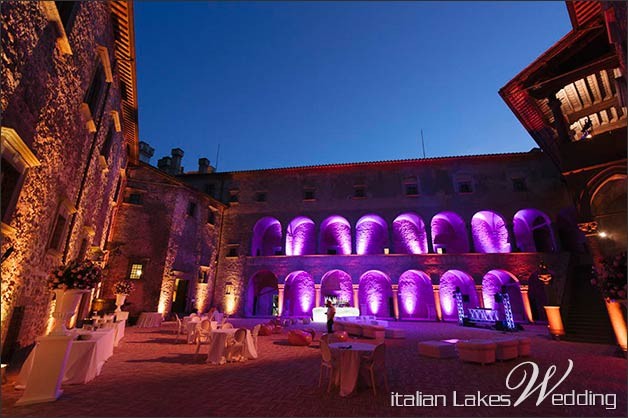 If you are keen for a legal civil ceremony Castello di Bracciano is located literally next door Bracciano town hall very easy. Same for a Catholic ceremony. Church of St. Stefano is located just by the castle and you can access to it thanks to a preferred path inside the castle.
outdoor ceremony overlooking Lake Bracciano
terraced garden of the castle is the site for you!
A
symbolic blessing
can be arranged in the grounds of the castle overlooking a stunning view and if you want to make it legal afterwards, remember that town hall is just next door. While your guests are having their aperitif you can put your legal singnature with just your bridal party and get back in no time to the party.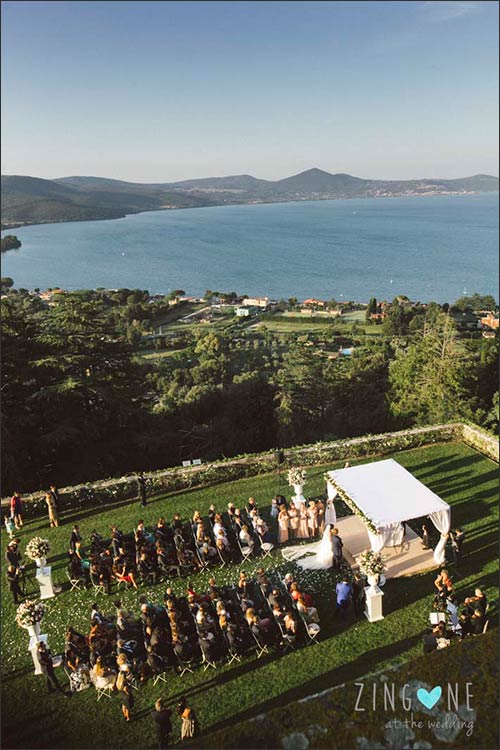 Aperitif is usually set in the so called Secret Garden a real enchanting, stunning garden inside the castle walls. Atmosphere her is simply amazing, so historical, Italian and incredibly elegant.
if you plan your ceremony at the town hall or the church close by, you can decide to set your aperitif on the terraced garden overlooking the lake and keep the secret garden as amazing setting for your al fresco dinner.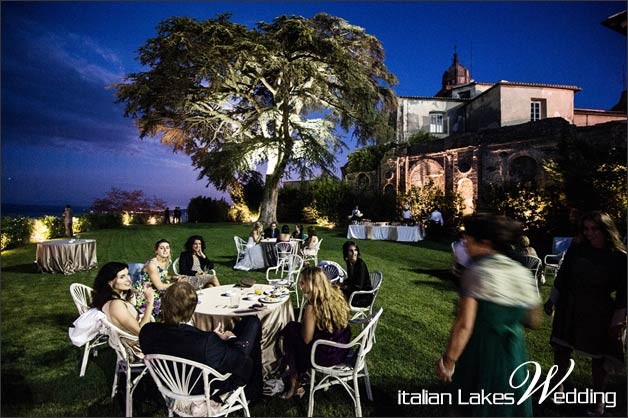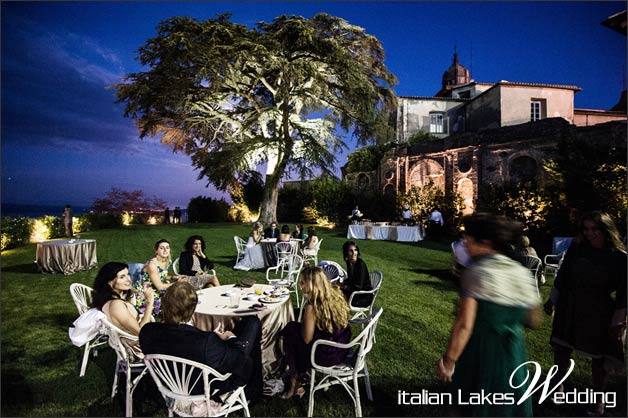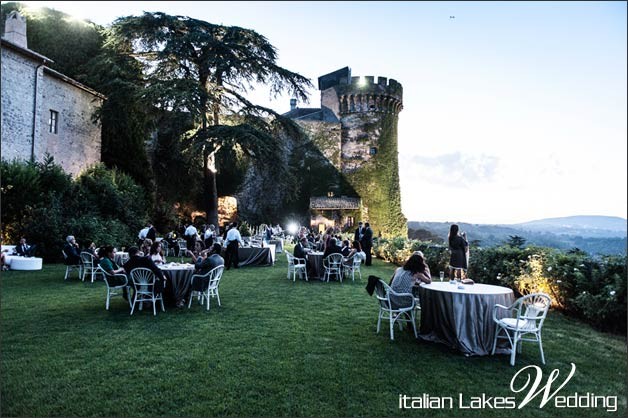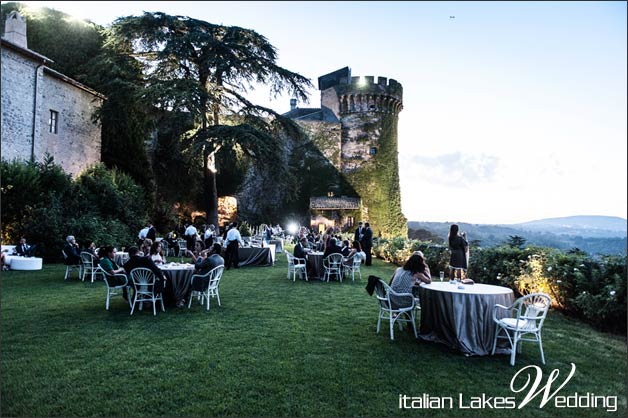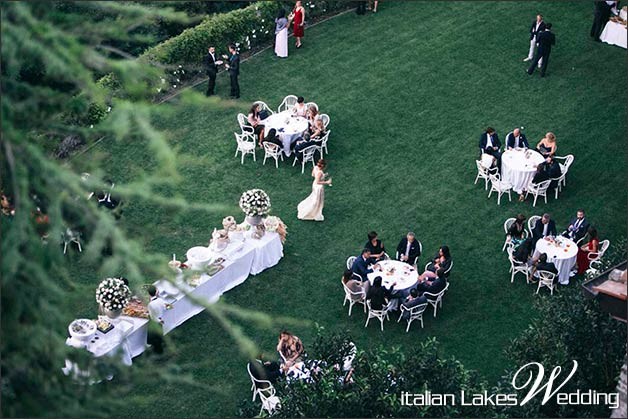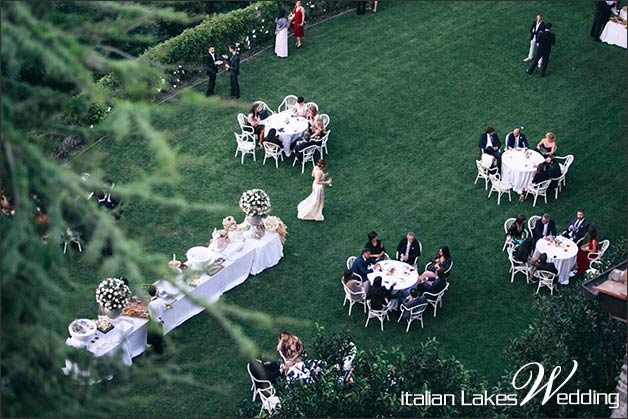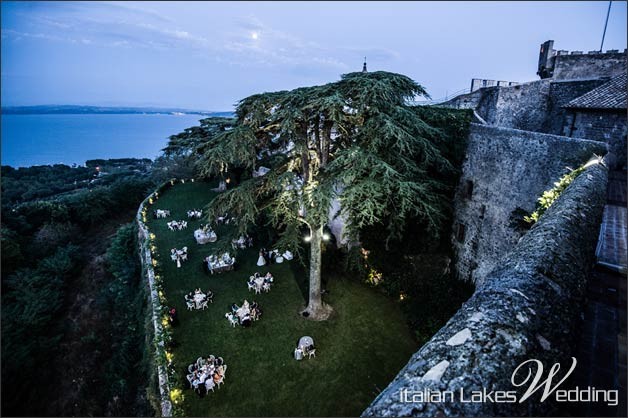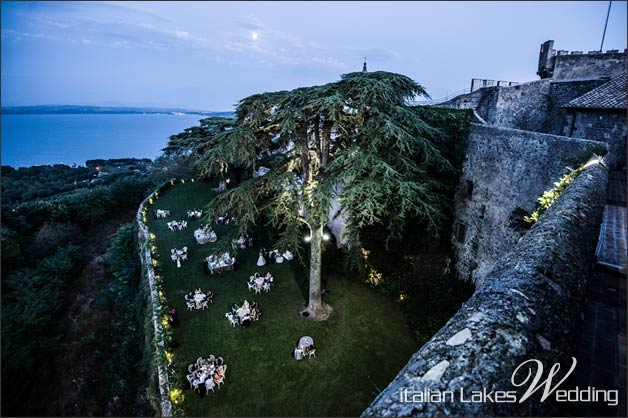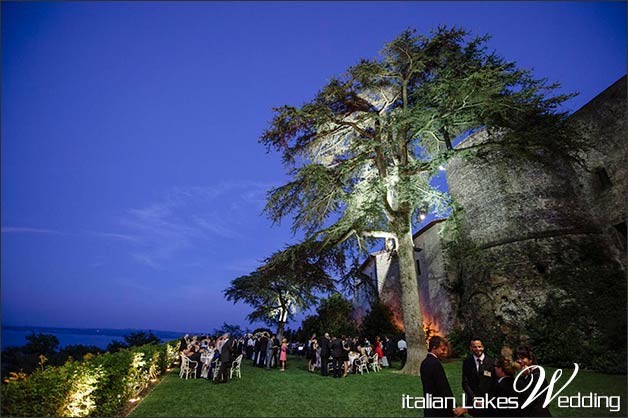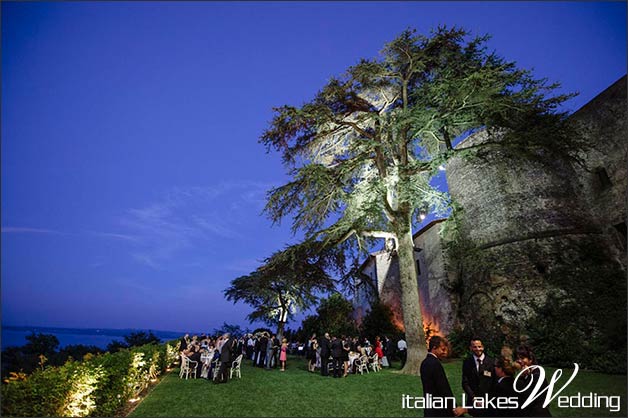 If you rather prefer an elegant Italian style room for your elegant reception we have Sala dei Cesari available for you. Have a look to these amazing rooms, aren't they a dream?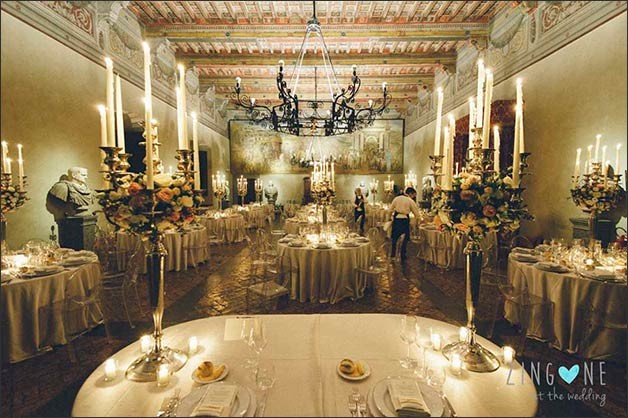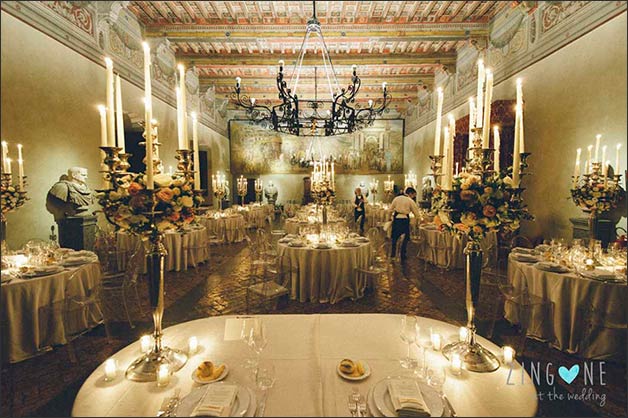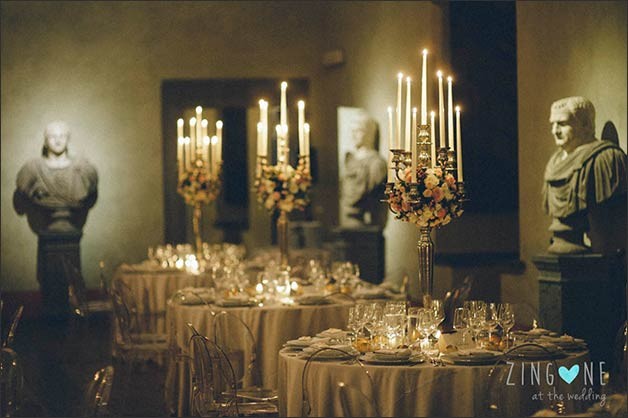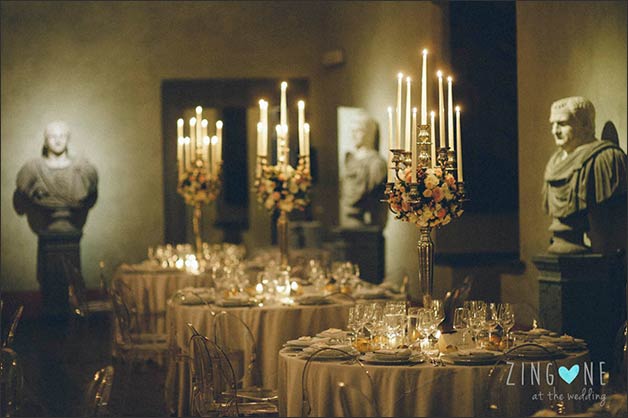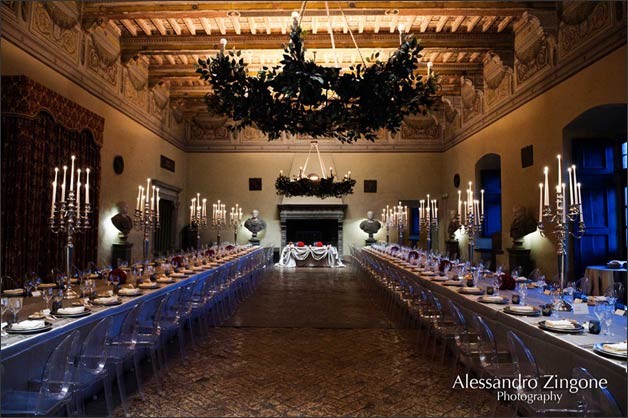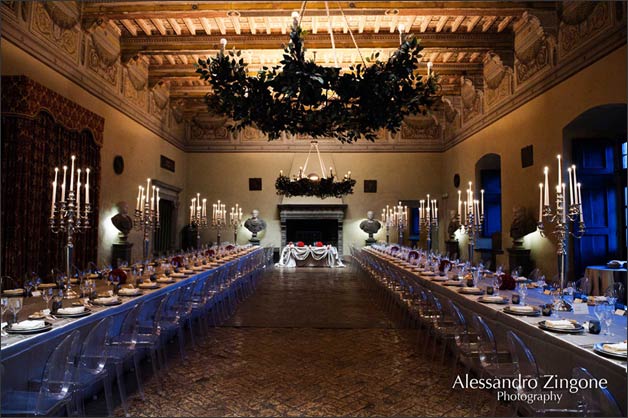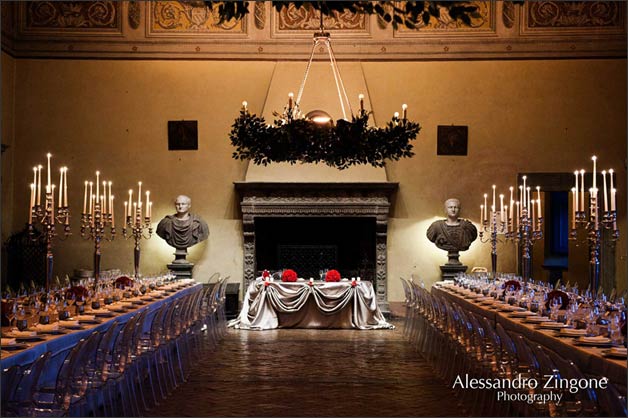 Wedding cake cut will be held in internal court of the castle which is also the ideal place for your dances, bar and party!
There are not music limitations to the castle… you can go on partying up to 6am!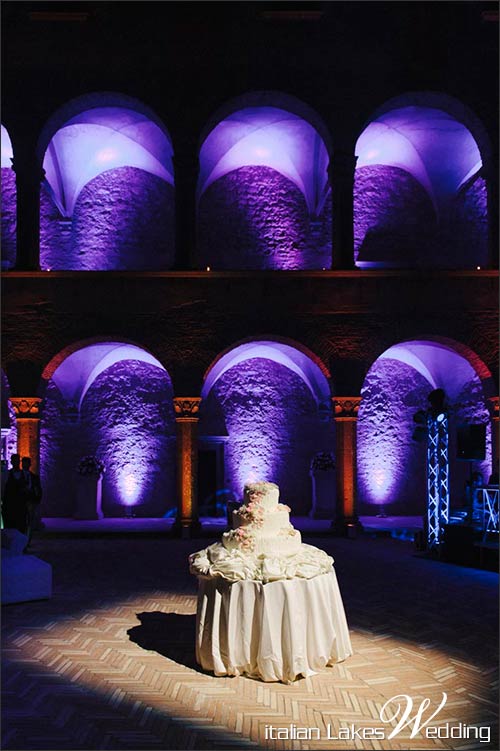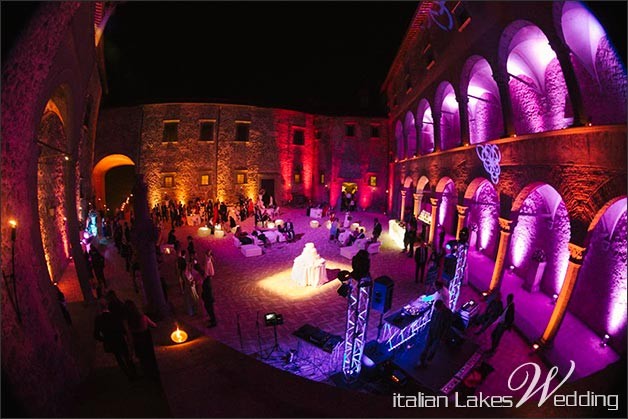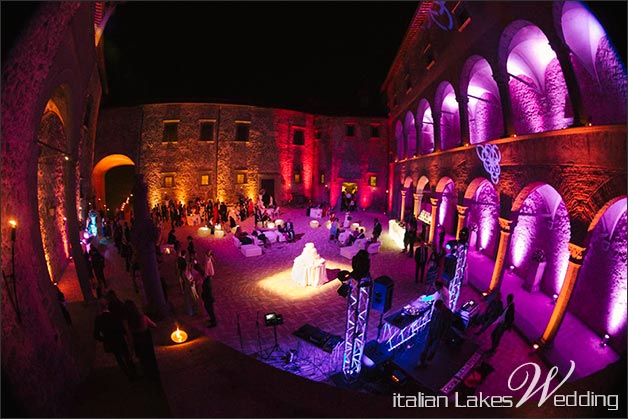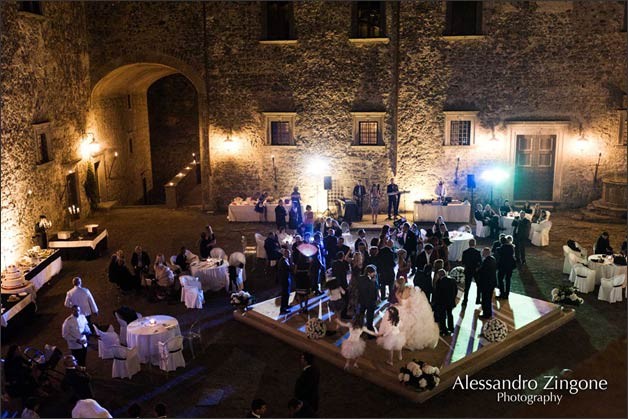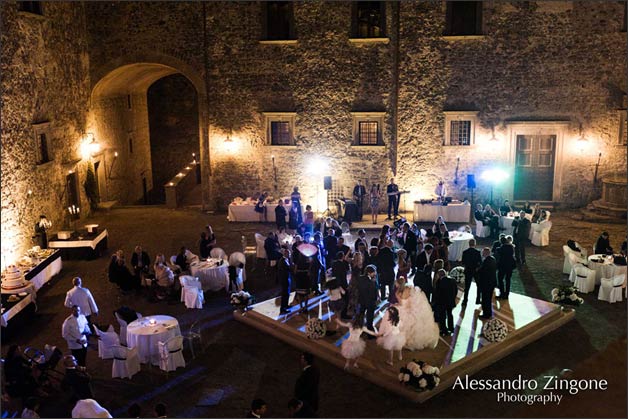 If you are planing a winter wedding at Odescalchi Castle in Bracciano we have many solutions for your ceremony, aperitif and dinner to follow in all rooms available such as Sala delle Armi or Antica Torre.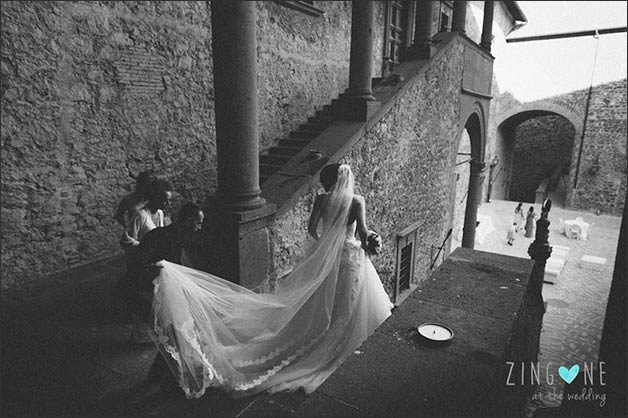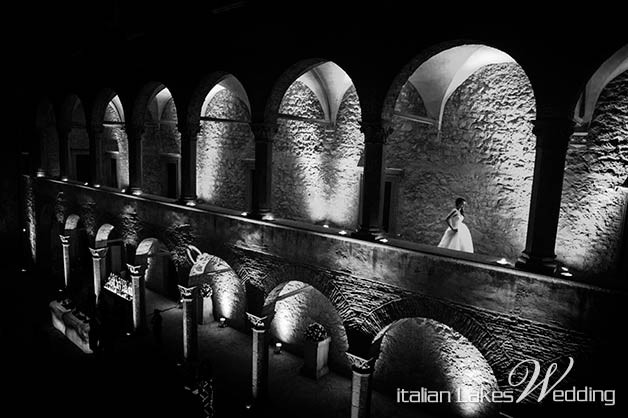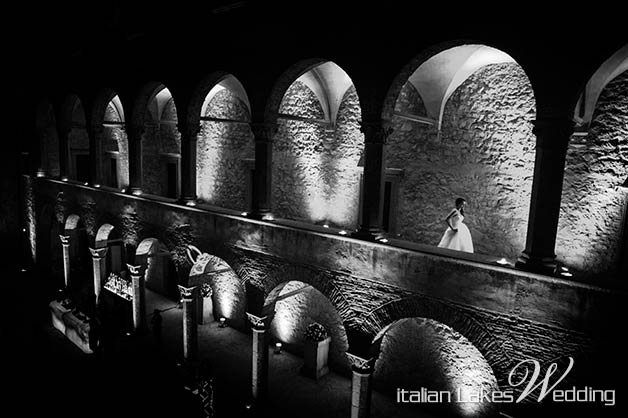 Castello di Bracciano can fit smaller groups or even bigger ones up to 300 guests.
There is not a banqueting company working at exclusive use at the castle.
Rental of the castle starts from 8000 euro.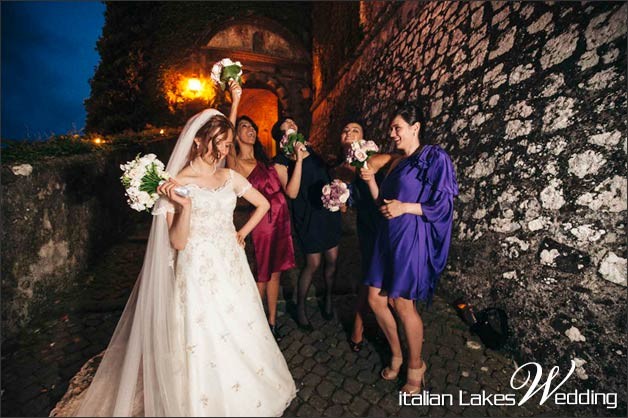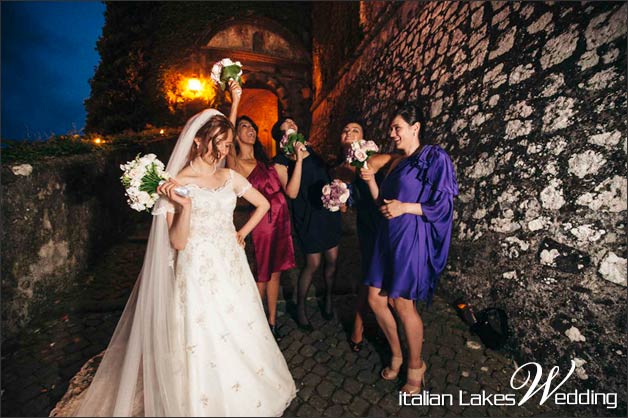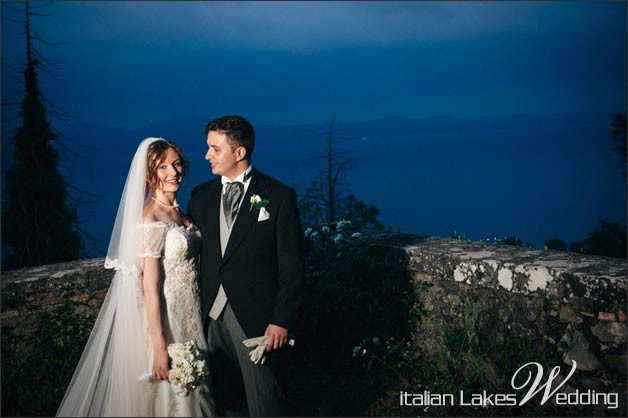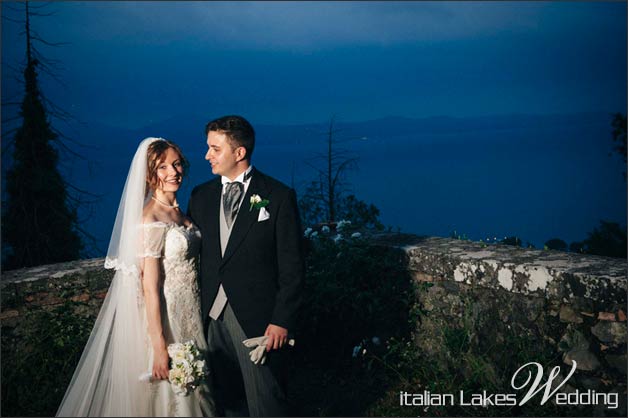 So are you looking for a real Italian experience in a wonderful 1400 castle close to the eternal city or Rome? And what about the stunning view over wonderful natural reserve on Lake Bracciano?
Castle Odescalchi on Lake Bracciano is the perfect amazing wedding venue for you!

Do not hesitate to ask for further information we will be pleased to make your dream wedding in a Castle close to Rome come true!