ake Bracciano could be a wonderful destination for your
Lake wedding close to Rome
.
It is located just few kilometers from the eternal city and it can offer a lot of different solutions for your wedding. You can choose an elegant wedding in a Castle, a refined reception in a villa or even a country style reception in a local agriturismo.
You can host big groups up to 250 guests or small and intimate events or romantic elopes.
You can opt for a
civil ceremony
or a
romantic Catholic ceremony
in a wonderful church.
Lake Bracciano is all this and I'm pleased to tell you about it on our blog.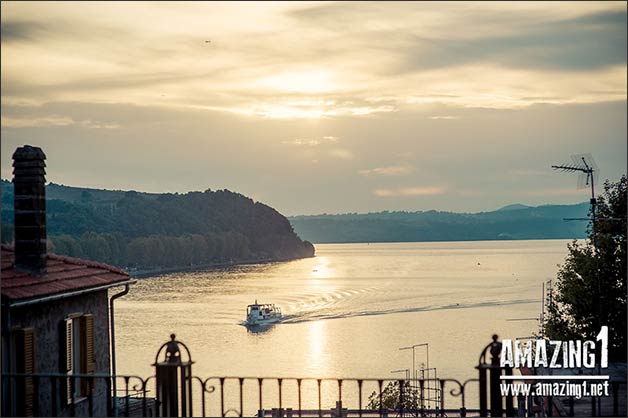 Dee and Derek
are both
Irish
. They chose Lake Bracciano for its versatility and they had one of the loveliest wedding I ever planned here.
They opted for an intimate wedding with few guests.
They wanted to stay all together for their lovely vacation on Lake Bracciano and for this reason they choose
a very pretty Agriturismo in Trevignano village
.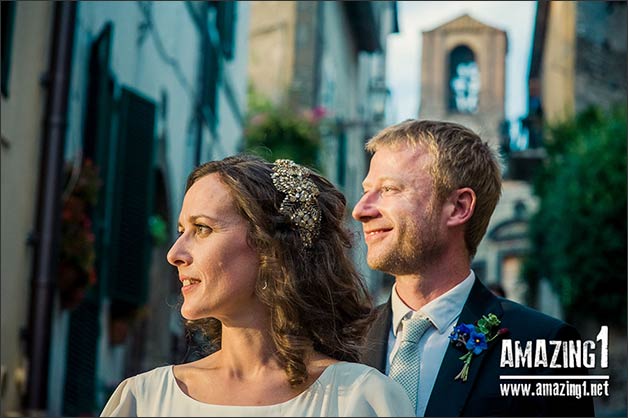 The Agriturismo is completely immersed into Lake Bracciano Countryside. it also has a wonderful swimming pool and wonderful rooms that are simply perfect for a wedding reception!
A romantic and bucolic choice that all guests loved.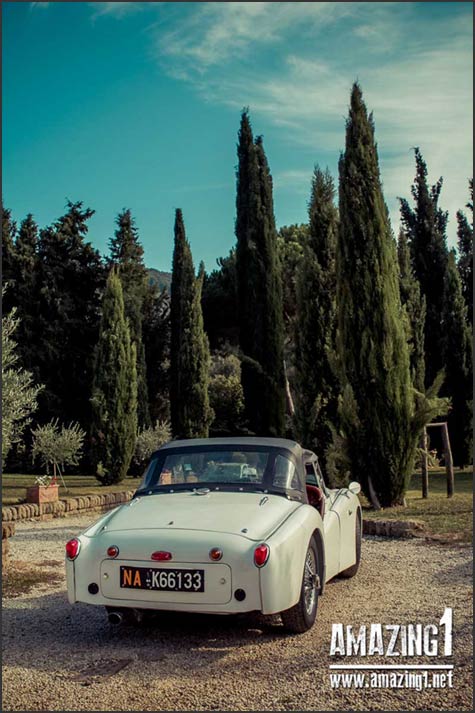 As per Irish tradition Dee and Derek wanted a Catholic ceremony and after visiting some churches located on the Lake they chose Assunta Church of Anguillara.
Do you remember about Linda and Ciaran's wedding?
As Linda and Ciaran did, Dee and Derek choose Assunta Church for its beautiful setting. It is located on top of the village hill overlooking the lake and you can reach it by the lovely little traditional roads of the village. Pure Italy!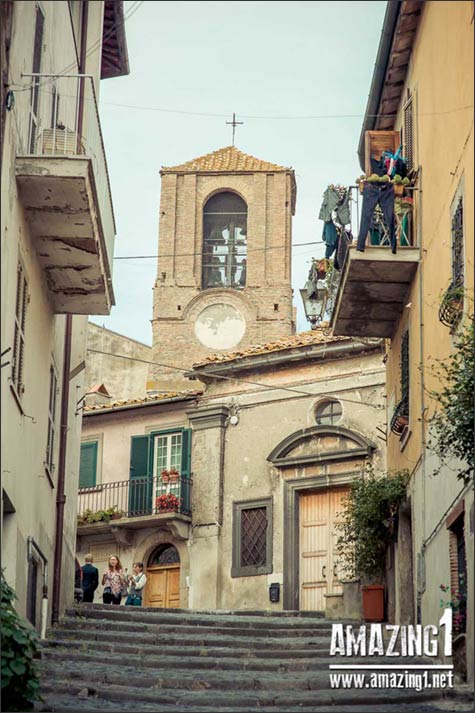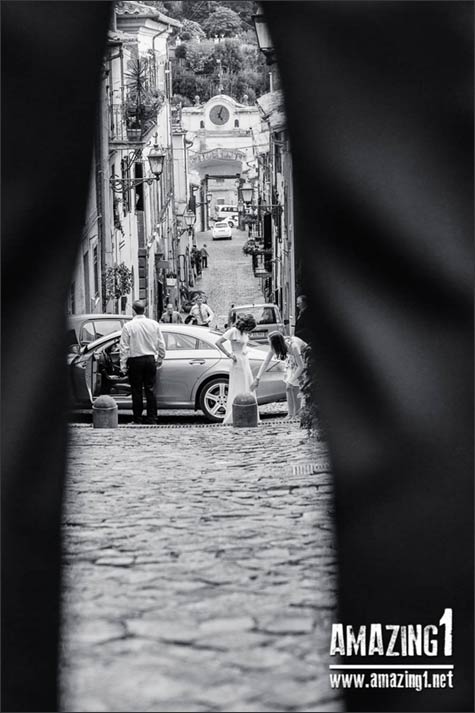 Dee made her entrance on a wonderful Triumph and once arrived at the entrance of the church a soprano started to sing accompanied by the sound of a string trio!
A great entrance for sure.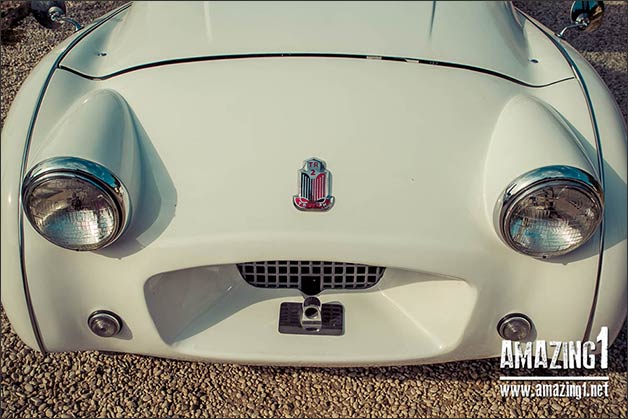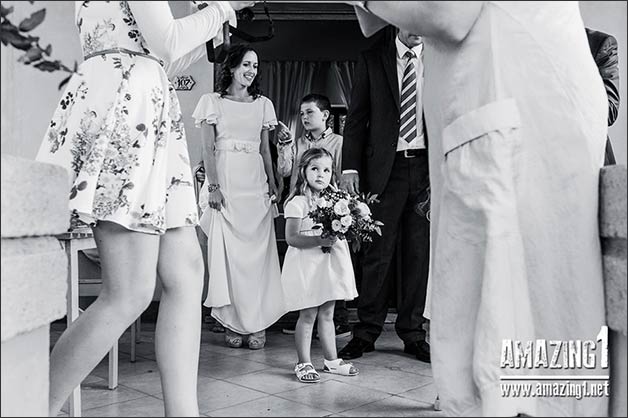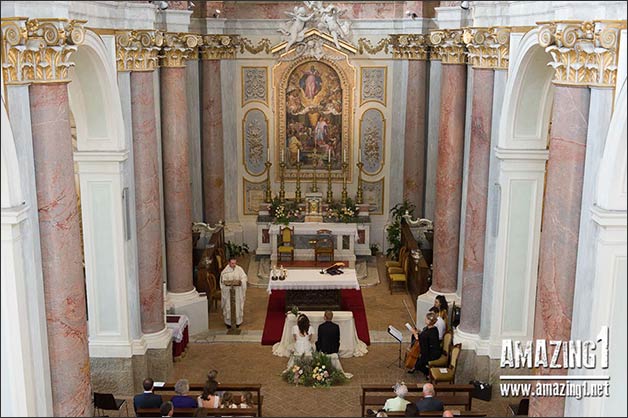 The church is wonderful by itself but on Dee and Derek's day was even prettier!
Dee wanted natural and loose floral compositions following country style idea she had.
Dee's bouquet was really loose too made by Orange David Austin roses.
Flowers perfectly matched Dee's wedding dress: simple but very elegant and chic.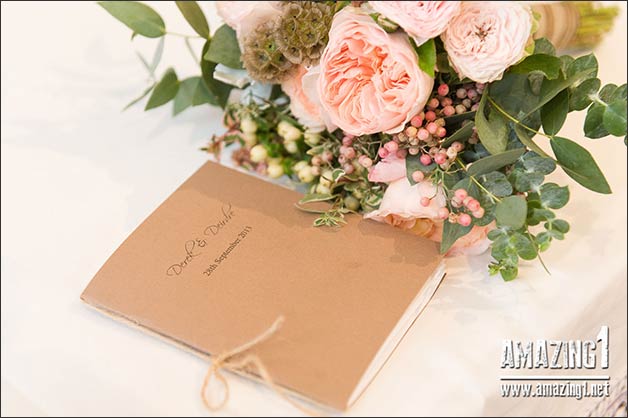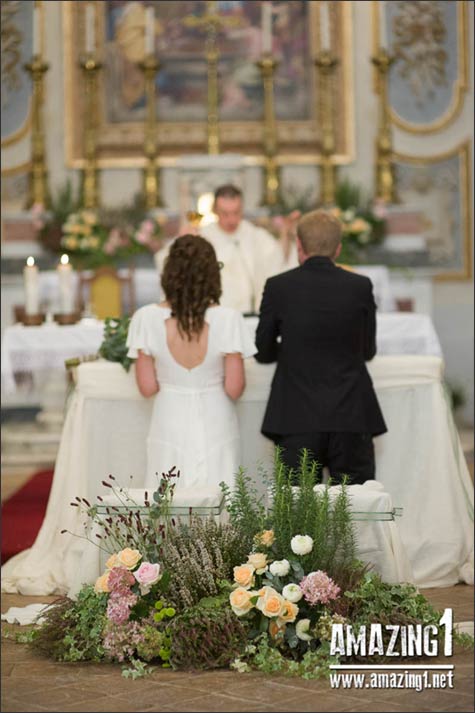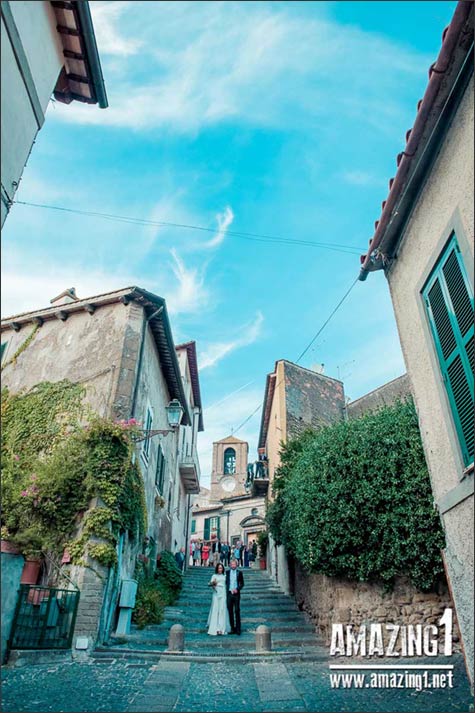 After a touching ceremony the group reached the shores of Lake Bracciano to take some group pictures and some other for only bride and groom.
A very special thanks to Alessandro Zingone photographer for these great shots!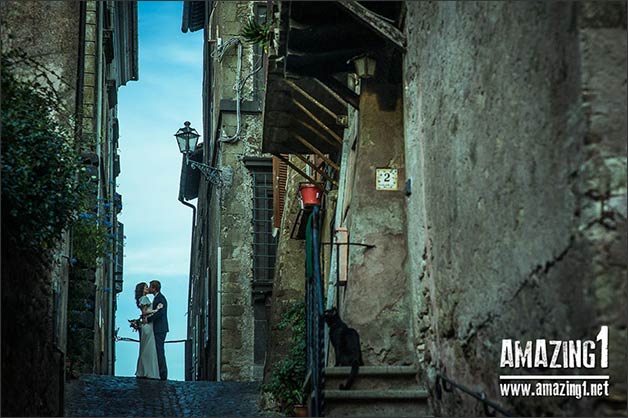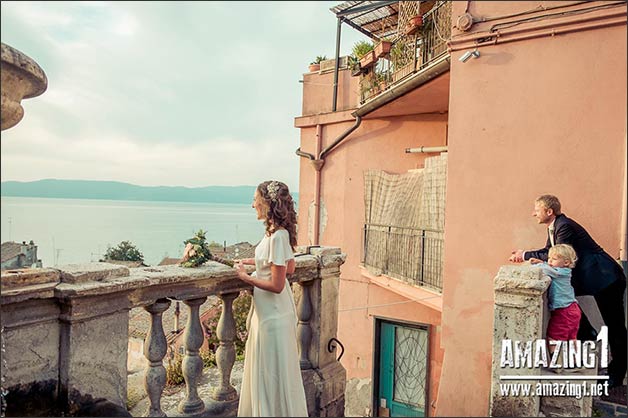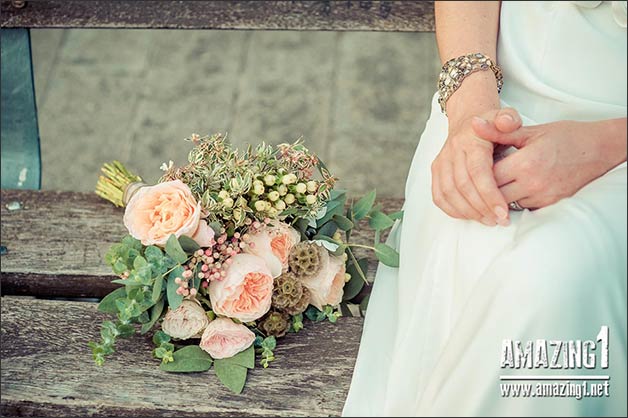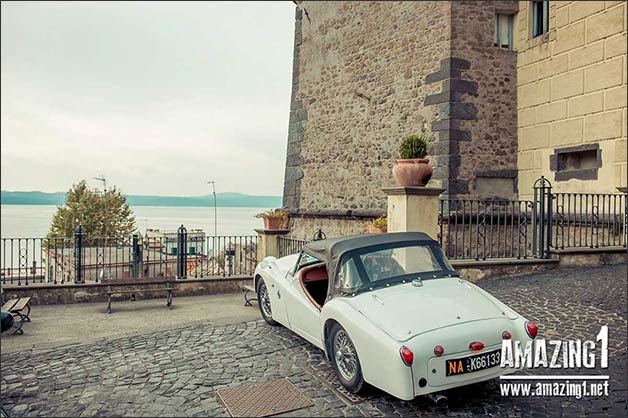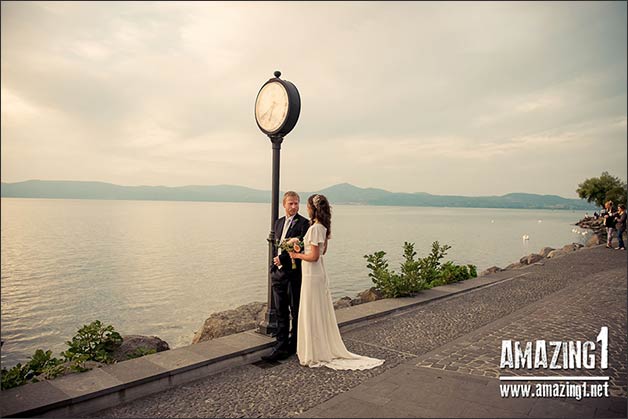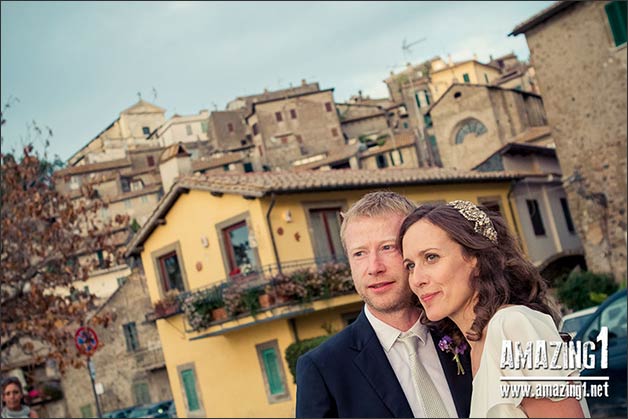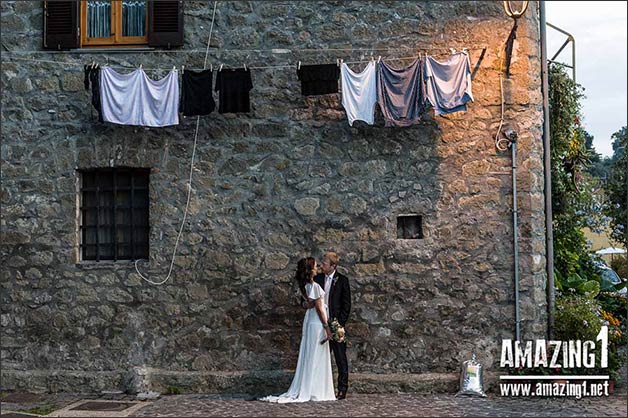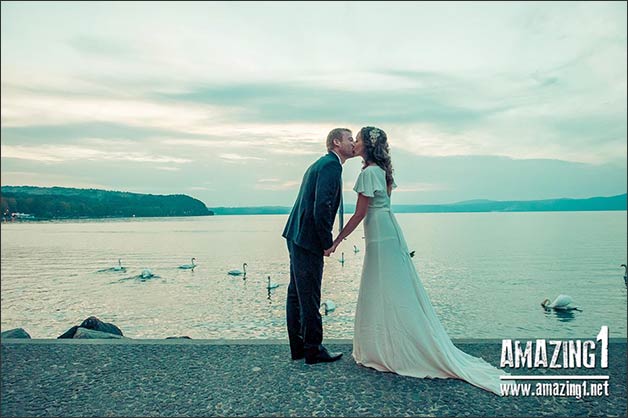 And then back to the Agriturismo…the reception and party can begin!
Rooms of the Agriturismo were all prepared to welcome the intimate group.
For the centrepieces Dee wanted shabby chic decorations: silver tuscan vases with loose and country flowers in them. A prefect choice to match the atmosphere of the venue.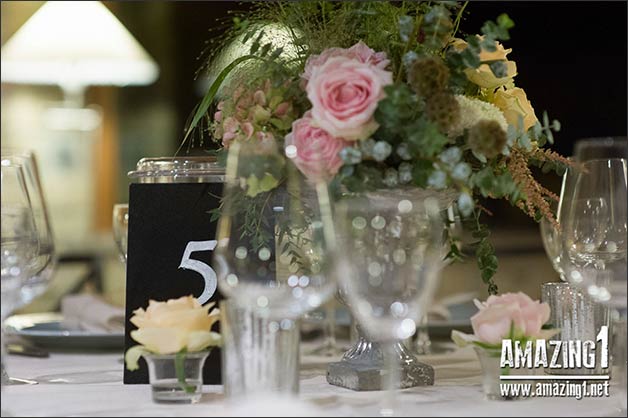 The dinner followed Roman traditions and cuisine. All courses were prepared with local ingredients accompanied by local wines too.
A Roman dinner requires a traditional Italian wedding cake and Dee and Derek could not miss the occasion to taste a delicious millefeuille with chantilly cream.
Theme flowers perfectly enriched it!
Agriturismo allows music and party up to very late night
and this is surely a big plus of this lovely reception venue! Dee and Derek party went on with drinks and dances up to early in the morning.
All guests were accommodated at the venue and this made the party a great success too.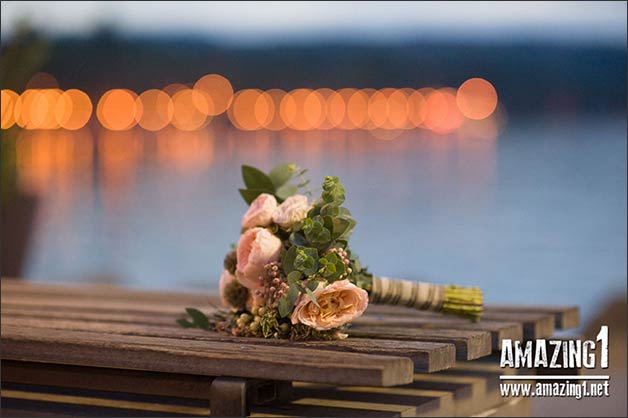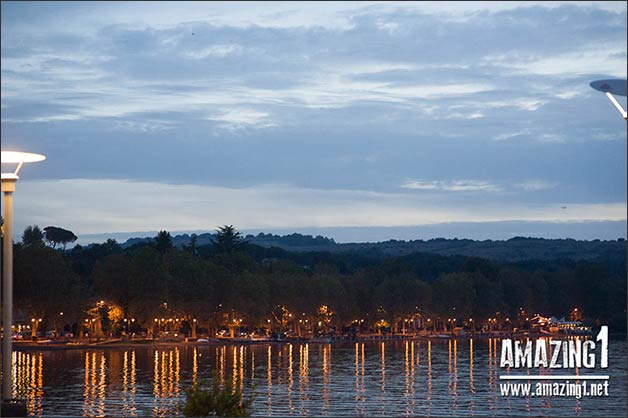 Congratulations Dee and Derek! I loved your style and your country wedding as much you loved beautiful Lake Bracciano!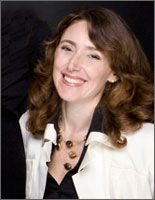 My name is
Stefania
and I work as wedding coordinator on
Lake Bracciano and Rome area
. I was born close to Northern Italian Lakes District in Piemonte region so I've always been enchanted by lakes atmosphere and I know the real appeal of it. I've been traveling a lot before becoming a wedding planner, all over the world I was a flight attendant. I developed a deep interest in people, customs and different country habits. This knowledge is helping me a lot in my actual job. When I moved to Rome years ago I decided to become a Wedding Planner and now I'm happy to be part of this wonderful Team.
I will be happy to guide you across Southern Lakes such as romantic Bracciano and rustic Bolsena which are both very close to eternal city of Rome. I will be pleased to help you find the best venues, charming solutions, lovely decorations, for your unique wedding on Lake Bracciano.
I will let you know the charm of this great spot of Italy being your guide and help throughout all your wedding planning.
For any information about weddings in Rome and Lake Bracciano please CONTACT ME