Slainte!! Craic is the word that come into my mind, anytime I see a bunch of happy irish partying on a wedding of a handsome lad and a fair colleen! If ye dunnot agree you'll see me wedding planning shillelagh loomin' toward ye! Well let's cut the aul blarney!
Lynda and Ciaran are so lovely, so funny, so nice and especially so Irish, that's why they chose to celebrate their wedding here, because Rome is the place where any Irish should be at least once a year. Isn't Rome the place where there's the Irish Club? Or the largest number of Irish traditional music sessions and musicians in Italy?
Even the former president, Mary McAleese, recently chose Rome to delve into her studies and to help multicultural students to integrate each other.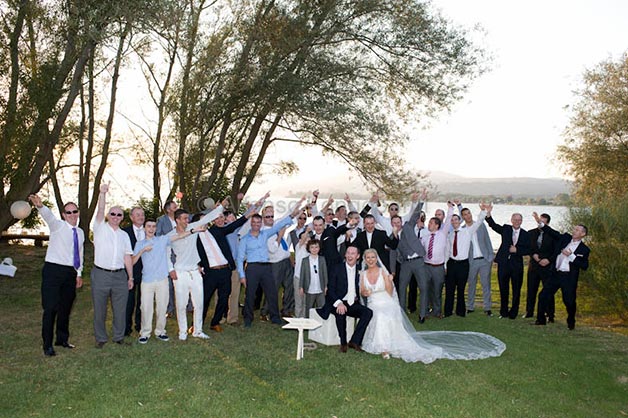 ere in
Rome
and in its surroundings you'll find the best place to marry and celebrate, posh venues but especially, being the eternal seat of the Holy See, most of all some wonderful ancient churches that, with their frescoes and sculptures, will crown your love in the most significant way.
Lynda and Ciaran decided for the cute little town on the lake side Anguillara and the
church of Collegiata
(aka Santa Maria Assunta). The town is so characteristic with narrow alleys, trattorias, a harbour and the stunning lakeside promenade that can be admired from the church as well.
About the church, is one of those ancient ones built over another church that was built over another religious structure, and you can be sure that all the ancient sacred place in Rome or around were sacred even 2000 yd ago, and this is the leitmotiv of all the churches, I find this Italian characteristic to be extremely fascinating so, as a Wedding Planner, in every piece I write I like to stress this point.
Lynda came to the church stairway aboard a gorgeous and all-Italian Fiat 500, the ceremony itself was held by the priest brother of Ciaran, that serves at Vatican City.
At the end of the ceremony everybody had a sparkling wine based toast down the square.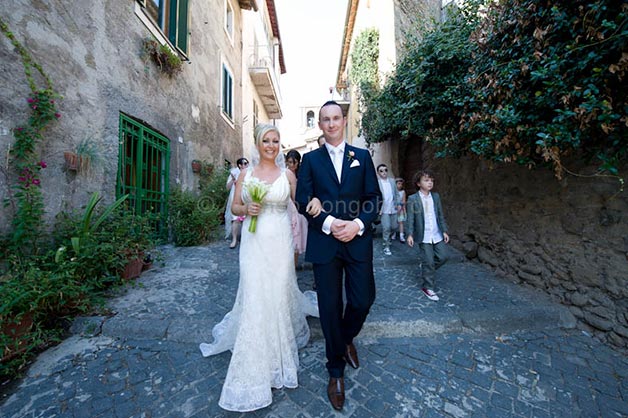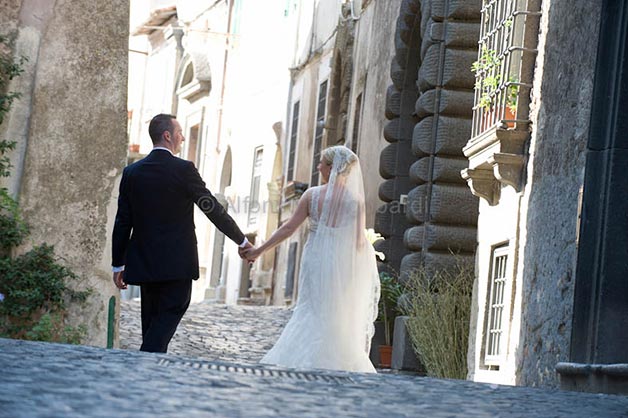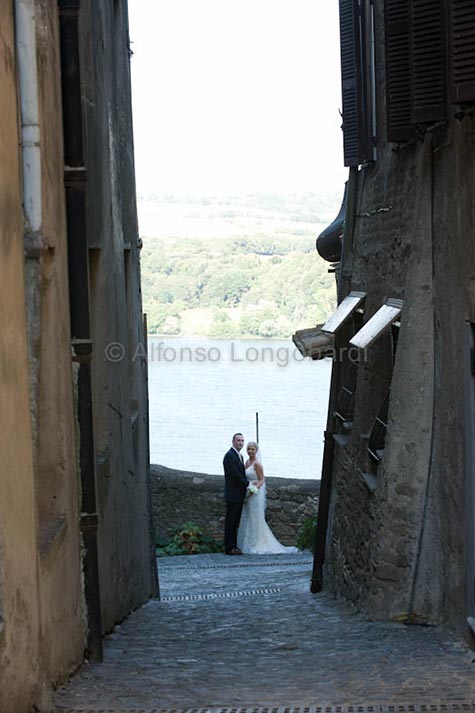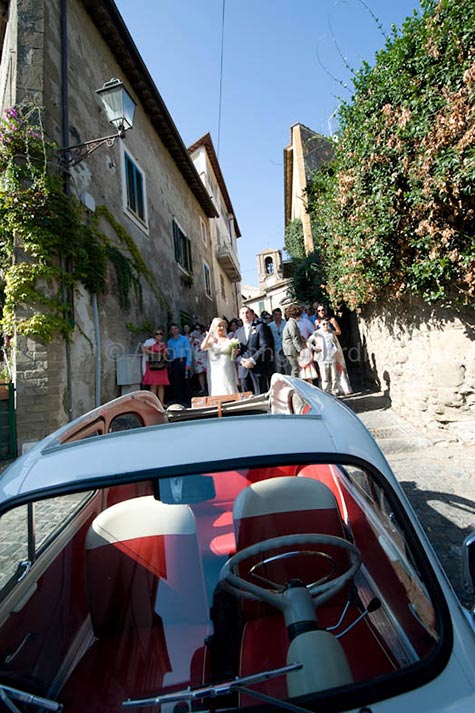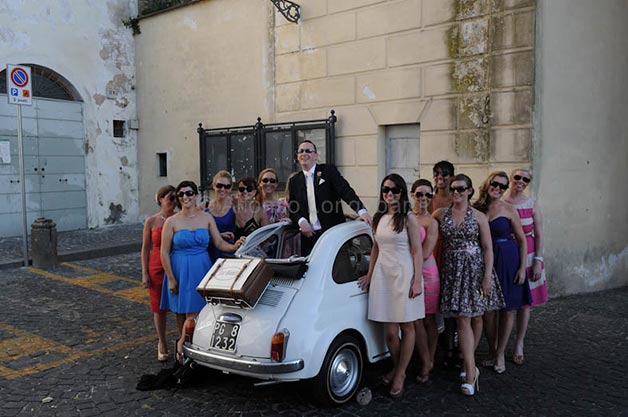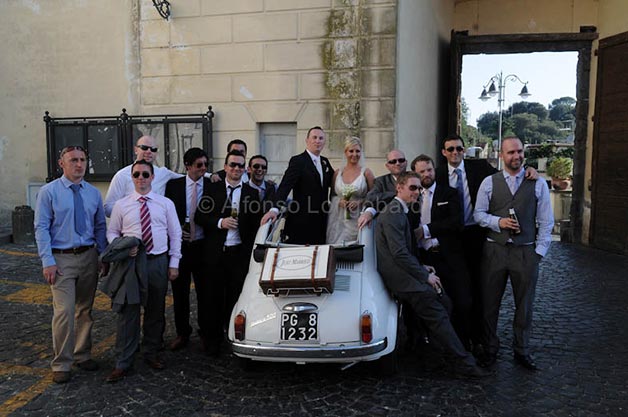 …and then comes the craic!!
After the drink everybody rushed to the splendid Tenuta di Polline, an actual dream garden, almost an Eden amongst all wedding venues: a wide garden area, with willows, logs, hauled boats, a nice patio area and a meadow that ends where the lake starts. The swans gently glide over the surface and for the bird-watching enthusiasts you could spot coots, wild goose, hawks and the cute preserved storks.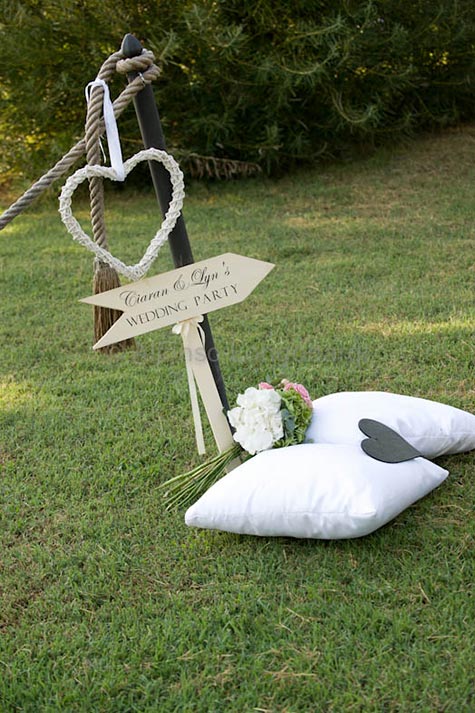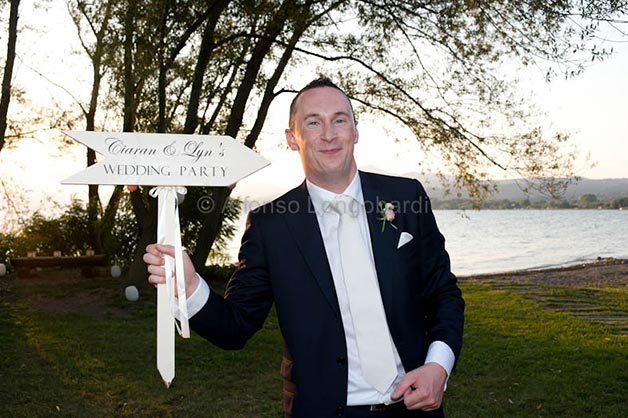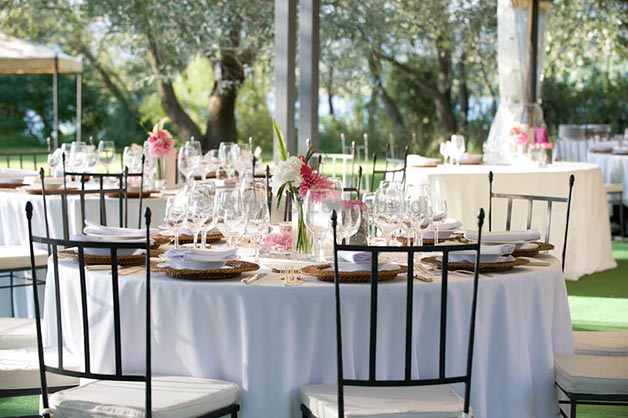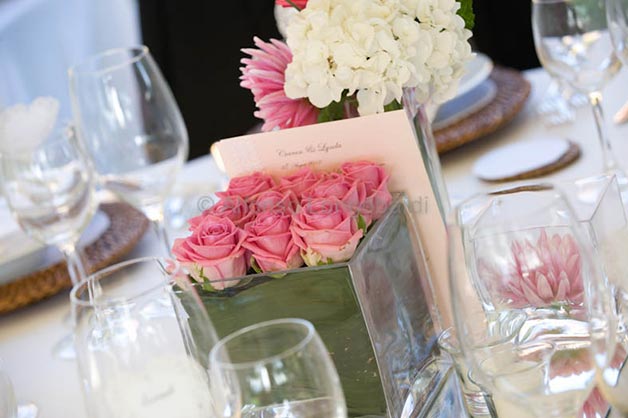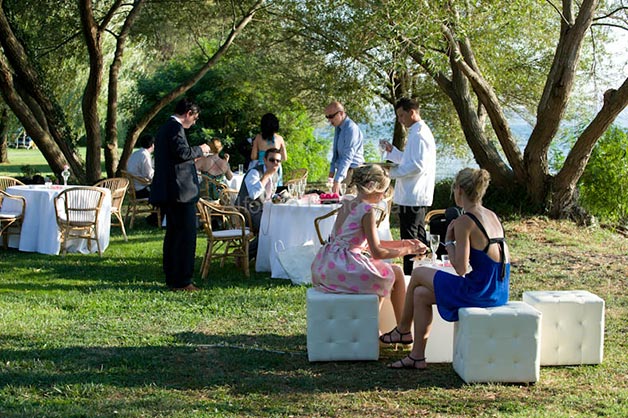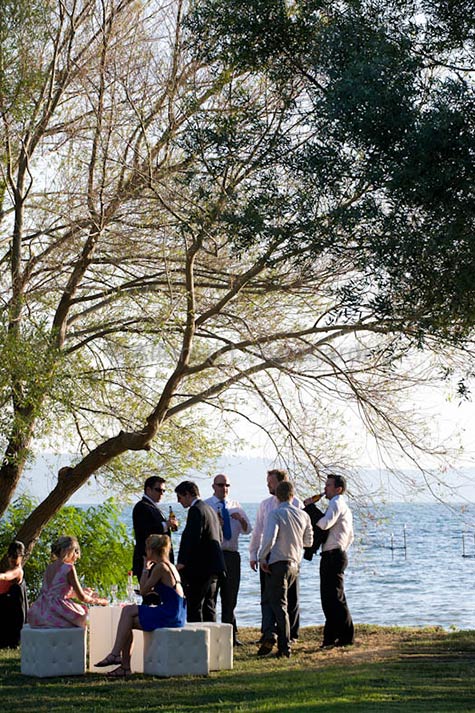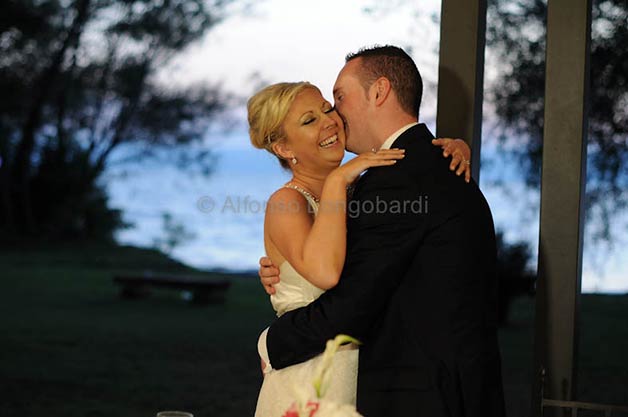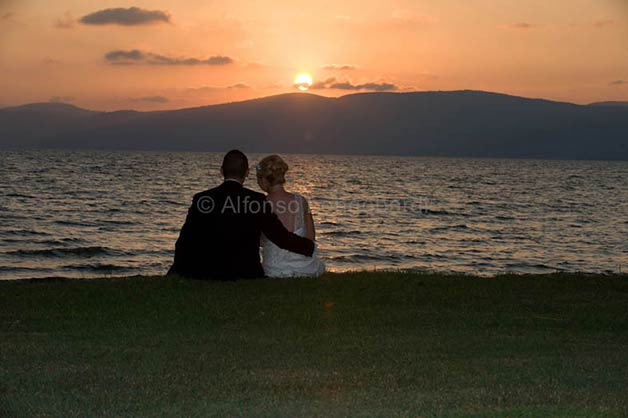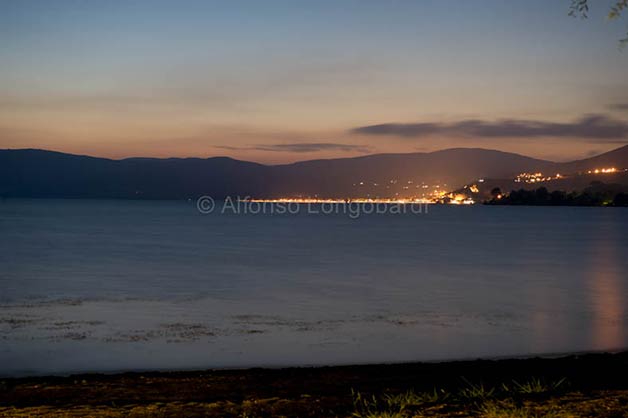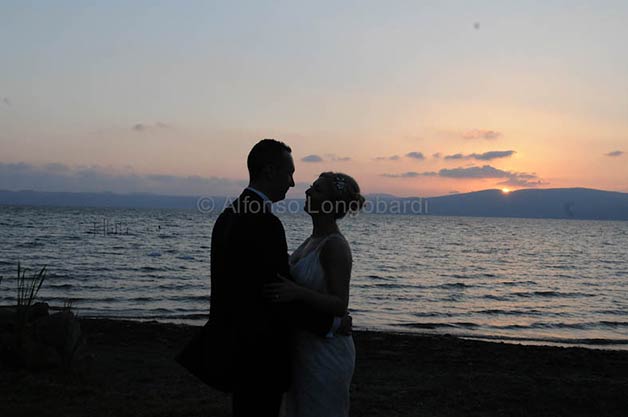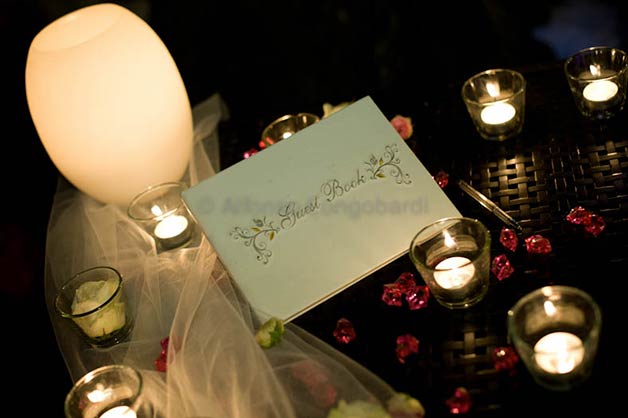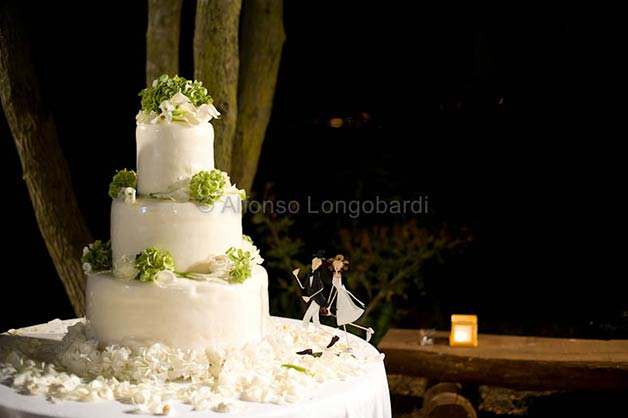 During the aperitif the atmosphere was bucolic, easy and relaxed. The dinner was served at dusk with the colours of the setting sun offering a lovely natural scenery and casting its sunset red and pinks over the lake. Live music jazzed up and eco-sustainable lanterns were left float on the lake as a sign of good omen.
As a Wedding Planner the only thing that come to my mind is "nil aon leigheas ar an ngra ach posadh"… the only cure for love is marriage…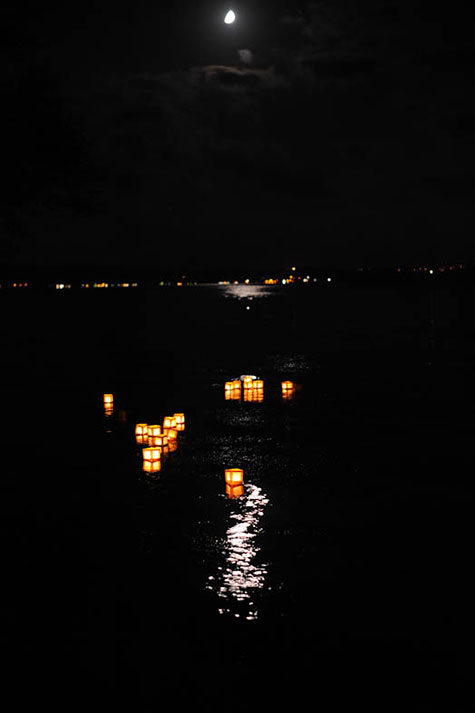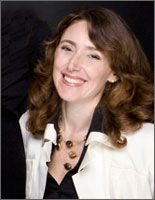 My name is
Stefania
and I work as wedding coordinator on
Lake Bracciano and Rome area
. I was born close to Northern Italian Lakes District in Piemonte region so I've always been enchanted by lakes atmosphere and I know the real appeal of it. I've been traveling a lot before becoming a wedding planner, all over the world I was a flight attendant. I developed a deep interest in people, customs and different country habits. This knowledge is helping me a lot in my actual job. When I moved to Rome years ago I decided to become a Wedding Planner and now I'm happy to be part of this wonderful Team.
I will be happy to guide you across Southern Lakes such as romantic Bracciano and rustic Bolsena which are both very close to eternal city of Rome. I will be pleased to help you find the best venues, charming solutions, lovely decorations, for your unique wedding on Lake Bracciano.
I will let you know the charm of this great spot of Italy being your guide and help throughout all your wedding planning.
For any information about weddings in Rome and Lake Bracciano please CONTACT ME