St. Julius Island, in Italian Isola di San Giulio, is a little but precious gem of Lake Orta. It add a touch of mysticism and romanticism to Lake Orta for a wonderful Italian wedding.
You surely noticed that. St. Julius Island is a traditional background for weddings we plan on Lake Orta. If you are planning to get married here you can not miss it, you have to get a little memory of that!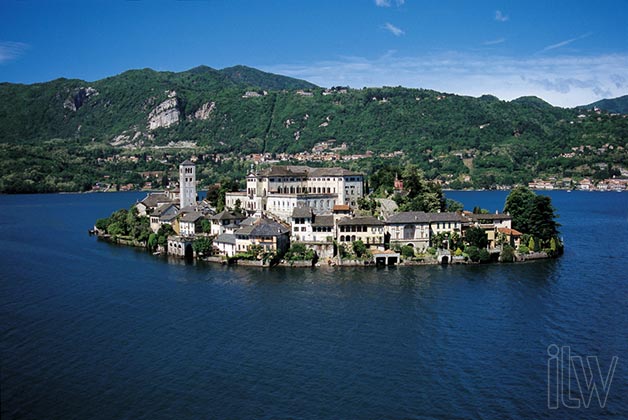 St. Julius Island is tiny and it is located just in front of Medieval village of Orta. Even if the island is very very small it can offer a lot!
It could be a wonderful setting for unforgettable wedding photos. The island is very quiet. There are only few nuns living here and it could be the perfect background for an intimate symbolic blessing by the lake shores, just like Rachel and Mark did.
On the Island there is a small and romantic restaurant. It is located inside Villa Tallone an ancient villa owned by a local noble family.
Here you can taste local cuisine on a wonderful terrace on the lake. It could be a perfect venue for your wedding reception on Lake Orta, just unique!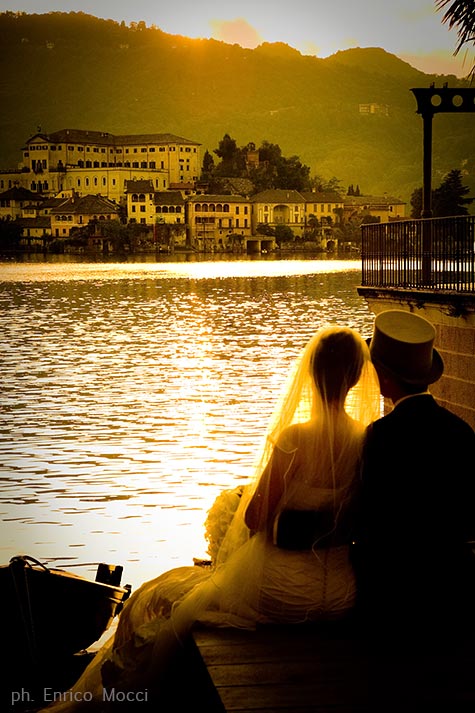 If you liked the idea of getting married on this tiny and romantic island, you can find here a selection of the weddings we planned on St. Julius Island.
Here you will find all post we wrote in these last few years on Italian Lakes Wedding blog pages.
ENJOY THEM!
St. Julius Island is the gem of Lake Orta. It is small, romantic, mystic and it is just there in front of Orta village… you can see it in the wedding shots of all our weddings! During middle age on the Island there was Queen Willa III of Arles's queen. She was Italian King Berengario's …
Today I would love to tell you about one of the most original couples I had last wedding season. Niamh and Stephen are a wonderful couple living in Kuwait. Niamh as you can tell from her name comes from Ireland and Stephen is French. They fell in love with Lake Orta having a look to …
Today I would love to tell you about a very sweet and your couple coming from UK. Hannah and James got married on late September 2010 on wonderful Lake Orta. The day was blessed by a warm sun that brought a lot of joy to the event. We can say that Hannah and James were …
I would like to tell you about Leigh and Alex wedding today! It took place last June on Lake Orta on a wonderful day. Leigh was surely one of the most precise bride I had this year as far as decoration and flowers are concerned. She wanted to add a touch of charm to a …
Cinzia and Giovanni always dreamt about getting married in a little church, in a tiny village with few relatives and friends. A simple but elegant wedding, cosy and magic. They did not want just a wedding but two days break with the people they love. BEFORE… Thinking about the location, finding it, the church, the …
We've told you many times about wonderful medieval Orta village and how cosy and intimate it is. Now let's imagine a more intimate, cozier and more romantic place just mystic and legendary: here you are San Giulio Island. St. Julius reached this land for first around 1600 sailing on his mantel. He arrived here and …
Little details can often make a wedding really unforgettable. Some original and pretty details can give a special touch to the event to make it really unique. This what happened for Kerry, the pretty girl in Yellow I would like to tell you about. First of all pretty Kerry opted for a trendy wedding dress …
If you are dreaming of a special place for a symbolic ceremony on the lakeshore, St. Julius Island on Lake Orta could be the right place you are looking for. St. Julius Island is a tiny place right in the center of the intimate lake. Some nuns live here, right in the pretty convent close …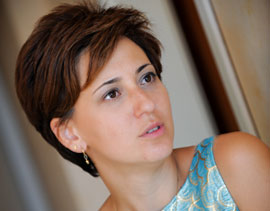 My name is
Valentina
and I work as wedding coordinator on
Lake Orta
and
Lake Maggiore
.
Before being a wedding planner and coordinator I worked for an American company planning events. I turned into wedding planning for SposiamoVi group, more than 5 years ago. Since Italian Lakes Wedding was founded I work with them to make bride and groom's dreams come true on this wonderful Lakes of North West Italy and Piemonte region.
l love creating with my couples the perfect event for them following their wishes and needs, helping to find the best solution for their ideas and budget.
I like meeting people talking with them and know more about their cultures and traditions. I do like sharing Italian customs with them and working in team with couples to let them experience a real and dreamy Italian wedding!
I will be pleased to guide couples along lovely traditional and pedestrian roads of Orta village discovering the beauty of this romantic Lake between villas, traditional restaurants wonderful churches and enchanting St. Julius Island.
I will be happy to let couples discover bigger and charming Lake Maggiore with its Borromeo Islands, wonderful hotels and villas overlooking the waters.
I'm sure you would be amazed by the beauty of these special corners of Italy so I'm simply wait for you for a lovely experience to create and live together.
For any information about wedding on St. Julius Island – Lake Orta CONTACT ME