Little details can often make a wedding really unforgettable. Some original and pretty details can give a special touch to the event to make it really unique. This what happened for Kerry, the pretty girl in Yellow I would like to tell you about.
First of all pretty Kerry opted for a trendy wedding dress for sure.
Her designer made it for her and she did such a wonderful job.
It was an ivory prom dress with little details in yellow, just like the sun: a little embroidery on the bustier, a big ribbon at the back and lovely details for the under-skirt.
Kerry also wore a tiara with veil and pretty rounded pointed shoes.
For her bouquet Kerry decided for a round classic shape which has always appeal. Monika Andenmatten floral designer created for her a perfect match between white and yellow roses to go with the same colors of the dress.
The groom too, Alistair, was really handsome in his light grey kilt as Scottish tradition wants.
For their religious ceremony Kerry and Alistair chose Sacro Monte church on the top of the hill just up Orta village.
Group was very intimate. In order to reach the church bridegroom and their guests decided to use traditional Orta touristy train.
First to take it were the guys and then the girls with the bride.
Scenery you can see from Sacro Monte is so evocative. Panorama is just breathtaking, St. Julius Island seems like drawn on lake's waters.
Sacro Monte church was built during 1500 and it is dedicated to St. Francis, who is also the Saint who protects Italy.
It is located at the top on a Natural Reserve park where you could find secular trees and wonderful paths to walk in.
Religious ceremony has been really intimate with just the sound of a celtic harp in the background.
After some wedding pictures around the chapels of Sacro Monte, group take again little train to get back to famous piazzetta of Orta village (main square) where boats pier is.
Some other pictures across traditional roads of Orta villa…
…and then a wondeful boat trip with aperitif served on board.
Staring Orta from the waters could be even more lovely. A new fairy tale perspective even more colorful, pretty.
Romantic wedding dinner was held to the little restaurant on St. Julius Island the only venue there. View is simply amazing and receptions can be held on the terrace directly on the shores.
Terrace was decorated with colors Kerry loved and chose. There was a wonderful royal table with yellow organza table cloth, romantic fairy lights and celtic harp sound in the backgrounds.
A real Italian atmosphere, rustic but elegant at the same time. Just like the couple was.
Wedding party had the occasion to look at an unforgettable sunset on the lake and taste a gourmand dinner with traditional Piemonte courses and wines.
Just a new and undiscovered corner of Italy!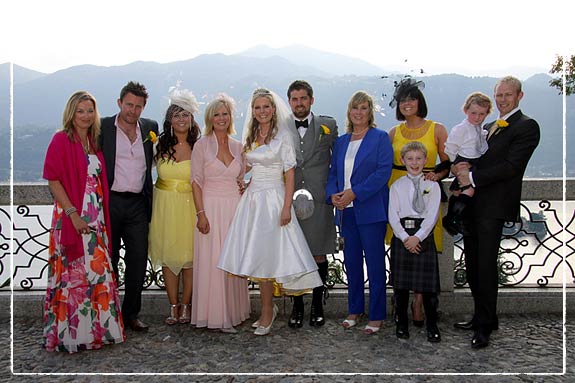 All images: Estella & Diego photographers – Photo27.com © All rights reserved.
Valentina Lombardi is the Italian Lakes Wedding coordinator for Lake Orta and Lake Maggiore area. She follows Italian and foreign bridegrooms who wish to celebrate their wedding in Piemonte and Italian Lakes area.
Valentina is Italian; she has worked in event organization business for years before becoming a wedding planner.

For more information about symbolic weddings on Lake Orta – please contact us.