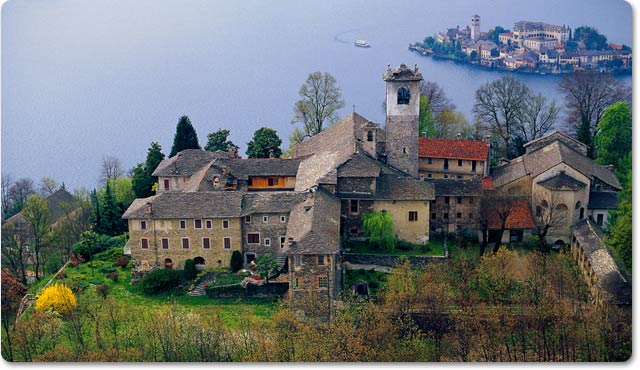 The Sacro Monte Church, Orta San Giulio – Photo by Giorgio Gnemmi
In my function as soprano singer I happened to sing at numerous wedding ceremonies in England, Germany, Portugal, Hungary and naturally in Italy.
For me it is difficult to say which place I liked the most. Every church and each ceremony has its own fascination and is unique. But amongst all, the one that has impressed me most has been the Sacro Monte Church in Orta. View more images here.
Certainly not for its rich and sophisticated decorations but quite the contrary: built in the 15th century in honor of San Francesco d'Assisi this church is held deliberately poor, constructed with "poor" materials following the Saint's indications to accentuate the virtues of poverty and humility. Within the following centuries the church has been enriched with valuable frescos and other art pieces which make it so suggestive today.
But, what always has fascinated me most at that church is the fantastic landscape it is embedded in: the "sagrato" is a remarkable balcony that faces the lake showing a panorama without comparison. The view extended above the old terracotta roofs of the old village Orta San Giulio and the blue of the lake in which the picturesque San Giulio Island is rising in the distance with its famous Basilica.
At the opposite shore, on the top of an immense white granite rock sticks out the Sanctuary Madonna del Sasso. In the distance on the horizon you can see the crest of the Monte Rosa always covered with show, even in summer.
Furthermore, the church is located amid the nature reserve of Sacro Monte di Orta, a majestic forest full of centenarian trees. Between the 15th and 16th century 21 chapels have been built here, all of them dedicated to San Franceso's life and work. Inside these chapels 376 statuettes and about ten frescos can be found ,all well conserved.
If you are searching a beautiful church for your wedding in Italy you should take into serious consideration the church of Sacro Monte in Orta. This place will certainly take by surprise you and all your wedding guests.
But bear in mind that the church of Sacro Monte is a very requested venue, especially by Italian couples.
For that reason an early reservation of some months is advised.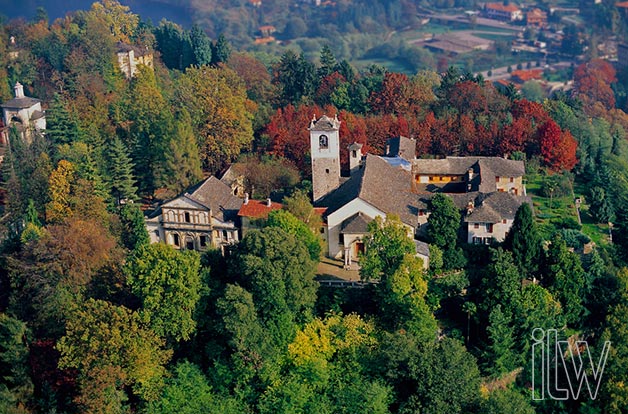 In case you might have chosen the church of Sacro Monte as your wedding location the team of Italian Lakes Wedding will be there for you to assist you in planning and designing every aspect of your wedding.
And, remember, a touching soprano voice like mine can contribute to transform your wedding ceremony into an unforgettable magic event.