Today I have the great pleasure to introduce you Alessandra Fabi, who will be our wedding planner for Lake Como: she has always dreamed of planning weddings for profession…and finally she did it!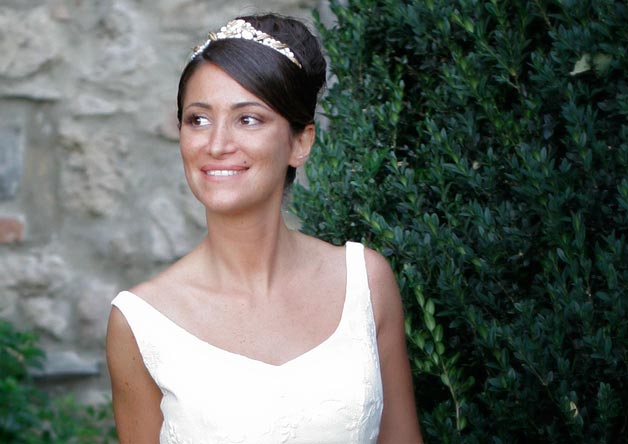 Lake Como, which is certainly one of the most exclusive destinations for a wedding in Italy, offers to the bride and groom a stunning scenery: all along its coasts, surrounded by a luxuriant nature, you can find pictoresque villages facing the water and beatiful villas with parks and gardens. Here you will find enchanting town halls' "Palazzi" and cozy churches hanging on the lake in the enchanting towns of Como, Bellagio, Cernobbio and Varenna.
It will be a great pleasure for Alessandra to help you plan your wonderful wedding on Lake Como: If your idea of wedding is refined, sophisticated and with a special attention to details, she's your perfect wedding planner! She makes each client feel unique and she treats each wedding as if it were her own.
With her help, glamour and bon ton will be the main features of your special day while Lake Como will be the enchanting setting.
And if you need help in choosing your bridal gown, your honeymoon destination or the most chic wedding favours, just ask her and you'll be surprised by her fervid imagination!
Today we are happy and thrilled to tell you about a very touching wedding on Lake Como. We recently planned Belinda and Simi's same sex wedding. It was celebrated on Lake Como last September.
It was a pure joy helping them to make their dream come true with their wedding in Italy. As you know we are happy and proud to serve all couples. Love is Love!
Lake Como is one of the most famous wedding destinations in Italy. With this post we would love to share with our readers a wonderful romantic wedding reception venue located on Lake Como.
Are you looking for an exclusive venue to celebrate a refined wedding reception? Discover VILLA GRUMELLO! We are sure it will enchant you!
What a wonderful happy day for our young English couple! Bethan and Mark decided to get married on Lake Como! We had the pleasure to create a timeless, tasteful and glamorous ambiance for them in the amazing frame of Villa Balbianello, where all the details were carefully chosen to make their wedding unforgettable. Discover more on our today post!
What a magical day for our wonderful couple Sian and Ben! A wedding full of love and joy, where luxury perfectly mixed up with the charm of the two wonderful ancient locations they selected on Lake Como. A romantic civil ceremony in the breath-taking frame of famous Villa Balbianello and a luxurious wedding reception in a refined private Villa made their special day really fabulous!
Is your deepest wish to enjoy your wedding day with your family in a refined location? Do you want to create an intimate and relaxing atmosphere? You could find some inspiration in our today article for Deborah and Philip's wedding on Lake Como. A perfect blend of Scottish and Italian traditions!
A beautiful story told by one of our lovely couples about how to get married in Italy and share a unique experience… you can read more in our today post!
Lake Como shores always offer wonderful villas that are the perfect frame for luxury weddings. The one we are presenting today is probably one of the most beautiful available in the area. A place that your guests will remember for a long time!
Are you dreaming about celebrating your wedding in a fabulous venue on Lake Pusiano shores? Lake Pusiano is a small romantic Lake located close to bigger and most famous Lake Como. It is not far from Milan, Como and Lecco and it is a very romantic destination for your wedding on the lakes.