Today I have the great pleasure to introduce you Alessandra Fabi, who will be our wedding planner for Lake Como: she has always dreamed of planning weddings for profession…and finally she did it!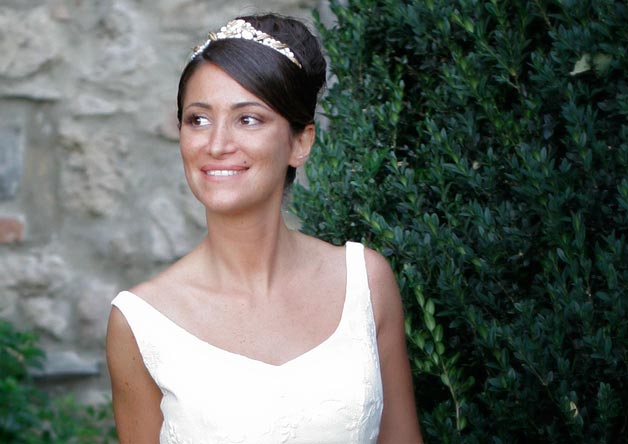 Lake Como, which is certainly one of the most exclusive destinations for a wedding in Italy, offers to the bride and groom a stunning scenery: all along its coasts, surrounded by a luxuriant nature, you can find pictoresque villages facing the water and beatiful villas with parks and gardens. Here you will find enchanting town halls' "Palazzi" and cozy churches hanging on the lake in the enchanting towns of Como, Bellagio, Cernobbio and Varenna.
It will be a great pleasure for Alessandra to help you plan your wonderful wedding on Lake Como: If your idea of wedding is refined, sophisticated and with a special attention to details, she's your perfect wedding planner! She makes each client feel unique and she treats each wedding as if it were her own.
With her help, glamour and bon ton will be the main features of your special day while Lake Como will be the enchanting setting.
And if you need help in choosing your bridal gown, your honeymoon destination or the most chic wedding favours, just ask her and you'll be surprised by her fervid imagination!
Elopements are a new trend on Italian Lakes, and Aaron and Heather's wedding was the perfect example! After a year without events and two full lockdowns, at the beginning of 2021, new requests started coming in for a new elope on Lake Como.
Lake Como is one of the most unique locations in Italy, where you can find beautiful villas with the original Italian style. If you are looking for luxury, relaxation, beautiful settings, pools, spa, and nature, celebrating your wedding at Mandarin Oriental Lake Como would be your best choice! Here you can find an all-in-one location. You have the spoiled for choice: five different spots for your wedding ceremony and your wedding reception and more than six types of rooms.
Have a look to this fantastic wedding venue on Lake Como: Villa Passalacqua! Claudio and Shona got married just here and their wedding is simply dreamy. A Roman Catholic ceremony by Lake Como and reception to follow under the stars. This is the essence of a destination wedding on Italian Lakes.
For years now, Lake Como has served as an excellent wedding destination for famous couples!
So if you really want to feel like a queen and a king for a day, Lake Como is the perfect destination for you. You can get inspired by a VIP Wedding on Lake Como and create your own fantastic destination wedding in Italy.
I planned several weddings at Villa del Balbianello but for sure this one was the most unique: a Star Wars themed wedding on Lake Como! I planned it for a fantastic couple from Norway: Hilde and Jean Erik. I'm going to tell you all! details!
Villa del Balbianello is one of the most famous wedding venues on Lake Como. It is also one of the most wanted Italian destination wedding location. As wedding planners on Lake Como we planned many weddings at Villa del Balbianello. We planned civil ceremonies, symbolic weddings and wedding receptions. In this post you can find all detailed and updated information on official rental fees for Villa del Balbianello.
Lake Como is one of the most extraordinary places for a destination wedding in Italy. So if you are looking for a romantic wedding on Lake Como, read more below, we are sure you will get inspired! I'm going to tell you story of Amanda and Samson's romantic wedding on Lake Como.
Read more about Vladimir and Tatiana's wedding at Villa del Balbianello on Lake Como to get the right inspiration for your destination wedding in Italy. Villa del Balbianello is located on Lake Como. It is one of the most famous wedding venues in the world!