Today I have the great pleasure to introduce you Alessandra Fabi, who will be our wedding planner for Lake Como: she has always dreamed of planning weddings for profession…and finally she did it!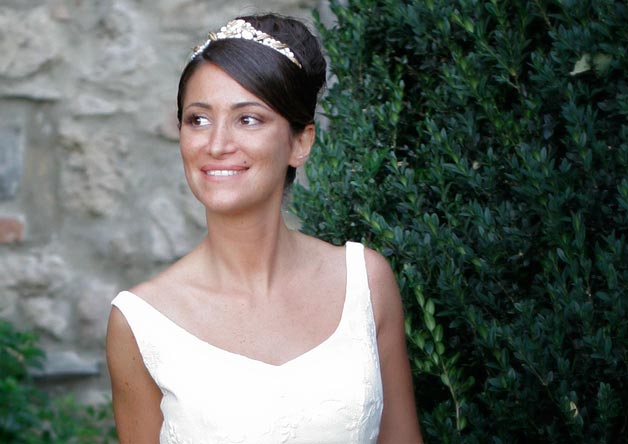 Lake Como, which is certainly one of the most exclusive destinations for a wedding in Italy, offers to the bride and groom a stunning scenery: all along its coasts, surrounded by a luxuriant nature, you can find pictoresque villages facing the water and beatiful villas with parks and gardens. Here you will find enchanting town halls' "Palazzi" and cozy churches hanging on the lake in the enchanting towns of Como, Bellagio, Cernobbio and Varenna.
It will be a great pleasure for Alessandra to help you plan your wonderful wedding on Lake Como: If your idea of wedding is refined, sophisticated and with a special attention to details, she's your perfect wedding planner! She makes each client feel unique and she treats each wedding as if it were her own.
With her help, glamour and bon ton will be the main features of your special day while Lake Como will be the enchanting setting.
And if you need help in choosing your bridal gown, your honeymoon destination or the most chic wedding favours, just ask her and you'll be surprised by her fervid imagination!
A vow renewal is a wonderful way to confirm your commitment and love for your spouse with family and friends. And what about Lake Como as special frame for this magical moment? Daniel and Maureen decided to celebrate confirmation of their love at amazing Villa del Balbianello on Lake Como. They came from Australia with their daughter and son to enjoy this special moment.
Our Lake Como wedding planners are please to tell you more about a wonderful destination for a very intimate and romantic wedding on Lake Como: Varenna. Scenic lake shores walk, streets dotted with charming cafes and restaurants, facades of old houses embellished by flower-filled balconies, make Varenna a unique destination for an unforgettable wedding.
Crystal and John are a young and lovely couple who decided to tie the knot on Lake Como. They chose unique frame of Villa del Balbianello for their wedding ceremony and one of the most refined restaurants of the area for their wedding reception. The leitmotif of their special day was joy and romanticism.
Lake Como is the perfect location for a romantic Elope in Italy. If you are tempted by the idea of exchanging your vows in an intimate and romantic Italian destination Lake Como is the perfect spot. If you are not sure whether elope or not, the following post should help you.
Villa del Balbianello is one of the most famous wedding venues on Lake Como. It is also one of the most wanted Italian destination wedding location. As wedding planners on Lake Como we planned many weddings at Villa del Balbianello. We planned civil ceremonies, symbolic weddings and wedding receptions. In this post you can find all detailed and updated information on official rental fees for Villa del Balbianello.
Today we are happy and thrilled to tell you about a very touching wedding on Lake Como. We recently planned Belinda and Simi's same sex wedding. It was celebrated on Lake Como last September.
It was a pure joy helping them to make their dream come true with their wedding in Italy. As you know we are happy and proud to serve all couples. Love is Love!
Lake Como is one of the most famous wedding destinations in Italy. With this post we would love to share with our readers a wonderful romantic wedding reception venue located on Lake Como.
Are you looking for an exclusive venue to celebrate a refined wedding reception? Discover VILLA GRUMELLO! We are sure it will enchant you!
What a wonderful happy day for our young English couple! Bethan and Mark decided to get married on Lake Como! We had the pleasure to create a timeless, tasteful and glamorous ambiance for them in the amazing frame of Villa Balbianello, where all the details were carefully chosen to make their wedding unforgettable. Discover more on our today post!