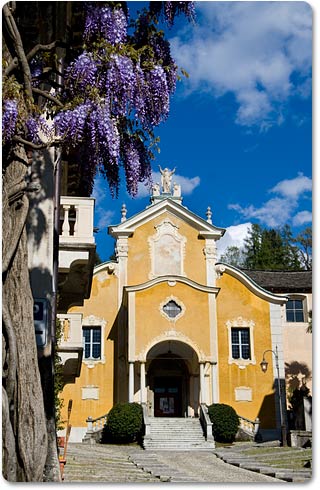 It is a medieval charming jewel.
Santa Maria Assunta Church is surely one of the most beautiful churches in the Italian Lakes District. It was photographed by Vogue and even from some important bridal magazines, too.
From its main entrance the view is stunning, it embraces old Orta San Giulio village, precious San Giulio Island and Alps crown. If you will decide to get married here, all your guests will be just delighted.
Orta little village is the pearl of the lake. Its narrow car traffic free roads lead to main square to admire Orta in all its charm.
From main square start a little climbing road that lead to Santa Maria Assunta Church.
Coasting this ancient road there are wonderful medieval and 1700 buildings with frescoes and stuccoes. It seems a fairy tale that could be the perfect and unforgettable frame for you and your guests.
Church's facade is colorful and its interior precious and rich with wide 1700 frescoes and golden details.
Architect Nicolao Monti designed the church for the Community of Orta in occasion of liberation from 1485 plague. It wasnt' elected parish church until 1560. Prior to this date parish churches were cemetery church of St. Quirico and church of San Nicolao in Natural Park of Sacro Monte di Orta.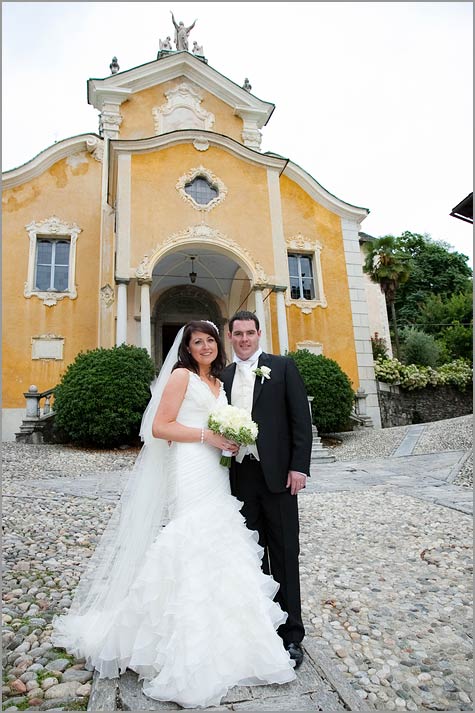 Nowadays you can appreciate details built in 1700. Original main entrance is made of Oira serpentine and carved with floral and animal details. The church is Latin cross planned and its nave is divided in two aisles and five chapels. On the dome you can see coronation of the Blessed Virgin painted by Luca Rossetti in mid 1700. Under the altar chapel lies the body of the virgin and martyr St. Concordia, brought here from the Catacomb of Callistus in 1686. The main altar is in carved wood.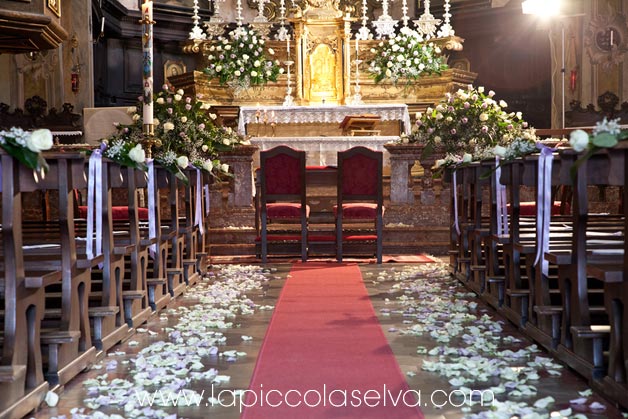 For more information about wedding at the church of Santa Maria Assunta in Orta San Giulio please contact the Italian Lakes Wedding Staff.
My name is Valentina and I work as wedding coordinator on Lake Orta and Lake Maggiore.
Before being a wedding planner and coordinator I worked for an American company planning events. I turned into wedding planning for SposiamoVi group, more than 5 years ago. Since Italian Lakes Wedding was founded I work with them to make bride and groom's dreams come true on this wonderful Lakes of North West Italy and Piemonte region.

l love creating with my couples the perfect event for them following their wishes and needs, helping to find the best solution for their ideas and budget.
I like meeting people talking with them and know more about their cultures and traditions. I do like sharing Italian customs with them and working in team with couples to let them experience a real and dreamy Italian wedding!

I will be pleased to guide couples along lovely traditional and pedestrian roads of Orta village discovering the beauty of this romantic Lake between villas, traditional restaurants wonderful churches and enchanting St. Julius Island.
I will be happy to let couples discover bigger and charming Lake Maggiore with its Borromeo Islands, wonderful hotels and villas overlooking the waters.

I'm sure you would be amazed by the beauty of these special corners of Italy so I'm simply wait for you for a lovely experience to create and live together.

For any information about wedding on Lake Orta or Lake Maggiore please CONTACT ME.