ophia and Steven were looking for a perfect destination to plan a fun, romantic, and joyful
wedding in Italy
. They found us and they fell in love with
the most intimate wedding of all Italian Lakes
. They wanted to have an intimate celebration with close friends and families. The decision was easy: a
boho style microwedding on Lake Orta
and we were more than happy to make their dreams come true.
When it comes to people like Sophia and Steven everything is so smooth and set the mood for a happy day is very easy!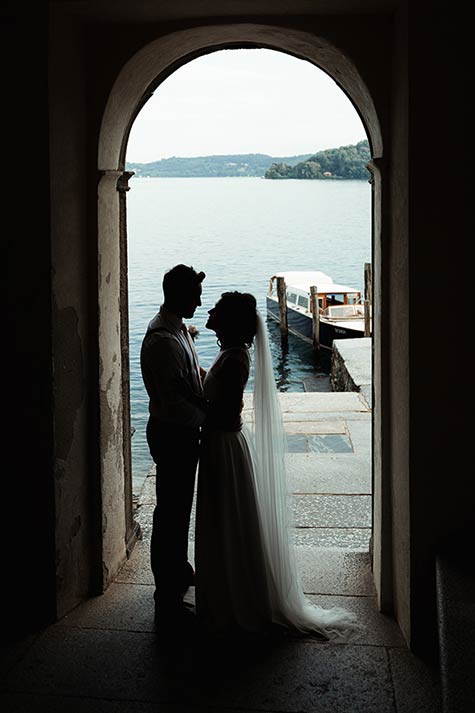 Microwedding on Lake Orta – Getting reading at Hotel San Rocco
Even if they initially decided to plan the whole event on Hotel San Rocco from getting ready to the party, they changed their mind after visiting Lake Orta in person with us. We saw together all village beautiful features and they decided on different settings for different events to let the intimate group of guests soak up all the beauty of this enchanting destination.
Sophia decided to get ready for her boho style microwedding on Lake Orta at Hotel San Rocco. She opted for a lovely room with an amazing view of St. Julius Island. Of course, her bridesmaids shared these exciting moments with her.

Once ready they all reached the hotel pier to get on the boat and reach Villa Bossi for the outdoor legal civil ceremony.
Sophia has a great style! She did not choose only boho wedding decors but she matched them with a wonderful and unique wedding dress that everybody loved, including me! It suited perfectly her figure and her bohemian style.
The bridal bouquet was made of a lot of greenery and pastel color flowers including romantic English roses.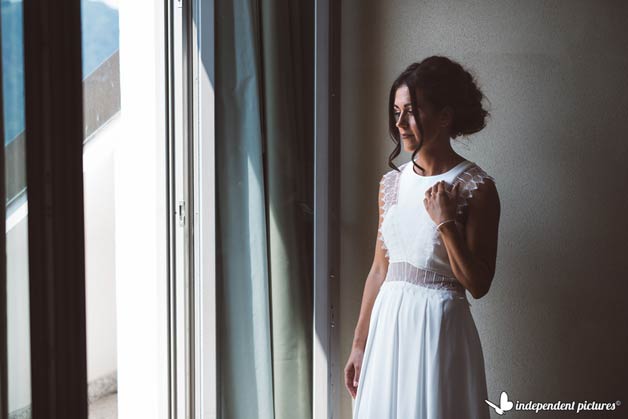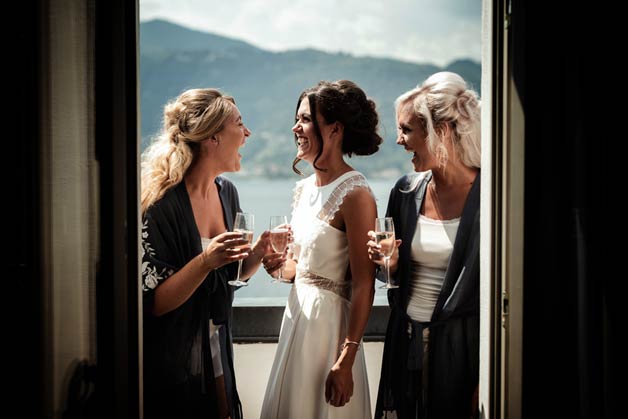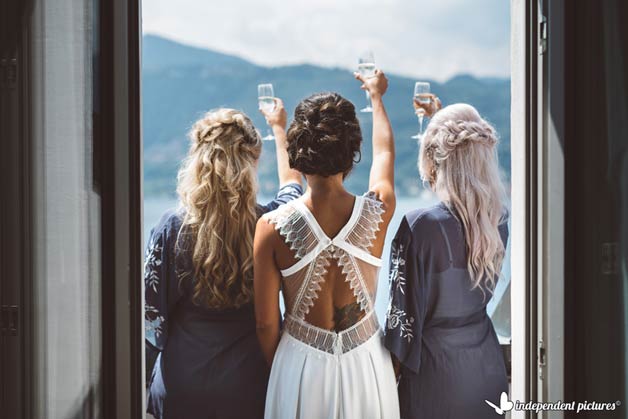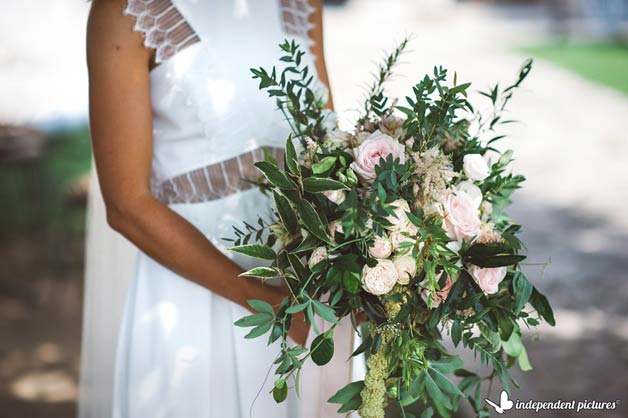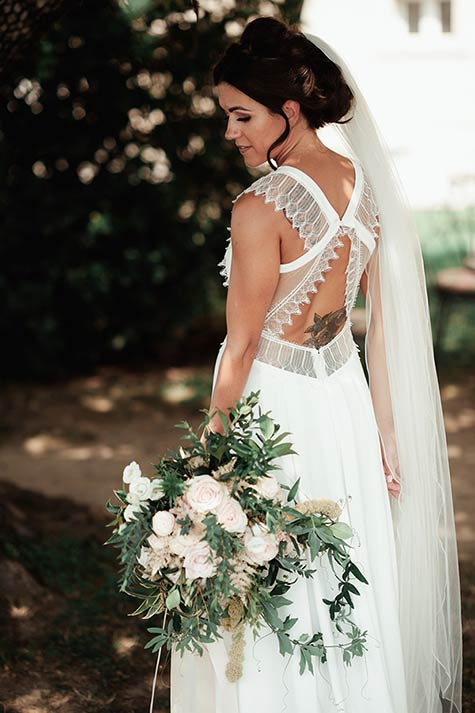 Outdoor Wedding Ceremony by the Shores
As tradition wants on Lake Orta the brides must arrive by boat! This is exactly with Sophia did.
 She walked down the natural aisle of Villa Bossi courtyard among greenery and flowers and she reached Steven who was waiting for her with all their guests around them.

Villa Bossi garden is a perfect setting for a legal civil ceremony and a boho style microwedding on Lake Orta because the setting is incredibly natural yet very chic.
Sophia and Steven's ceremony was full of joy, laugh, and love! Nobody will forget it.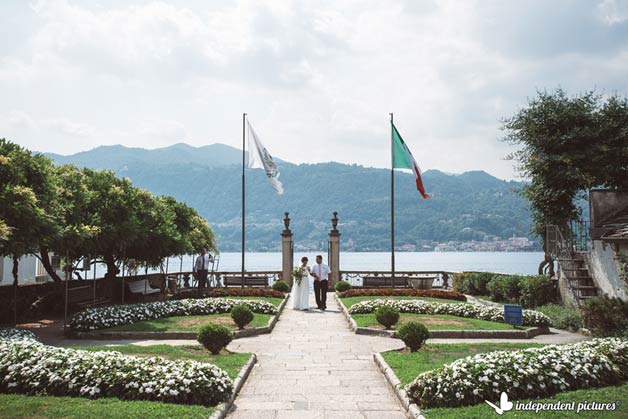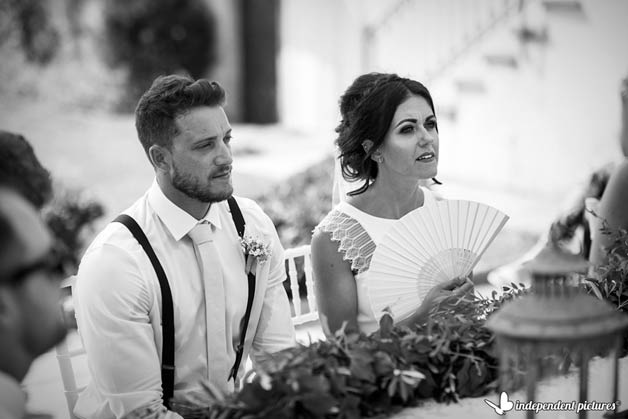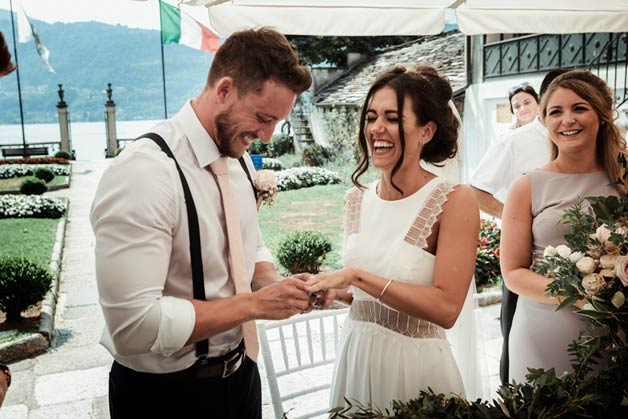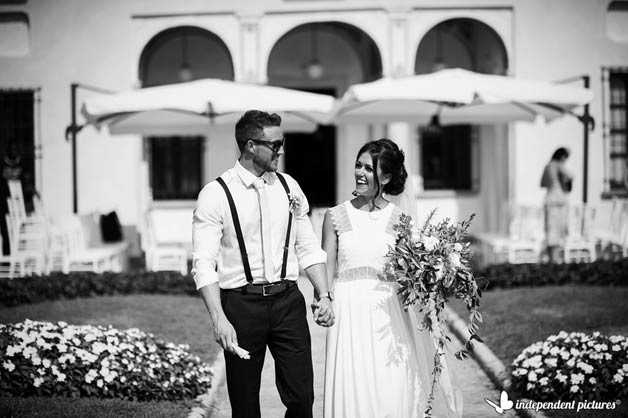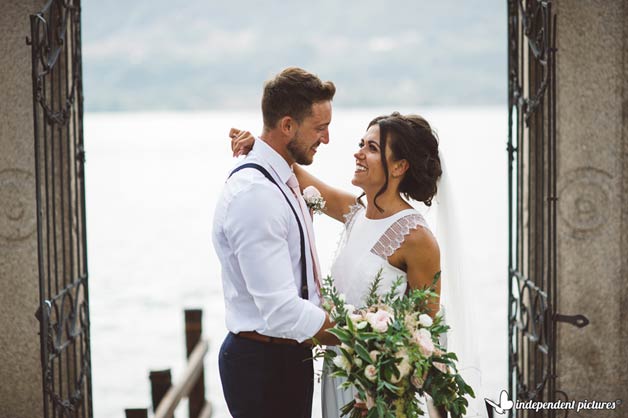 At the end of the wedding ceremony, Sophia and Steven took their way to Orta village main square with their guests. They stopped to a local bar by the shores for Prosecco toasts, petal and rice throwing photos – a real must in Italy – many other pictures and some quality time to spend with their guests before reaching the reception venue.
Wedding photos on the Island and Reception by the Shores
Sophia and Steven got on a private boat to reach St. Julius Island to spend some intimate time together and take amazing wedding photos. Independent Pictures was with them to catch the best moments. In the meanwhile we planned a fun boat trip for their guests to reach Ustaria Ca dal Rat, the selected reception venue.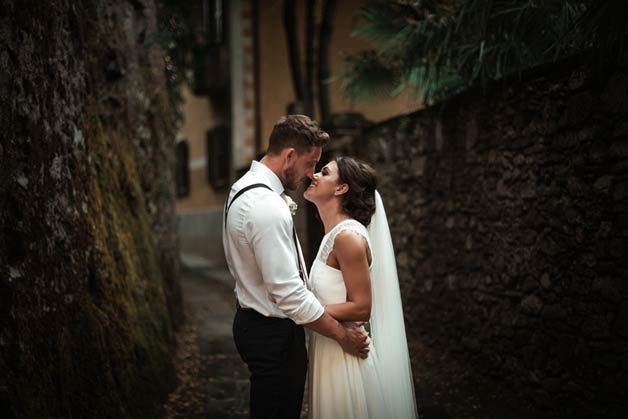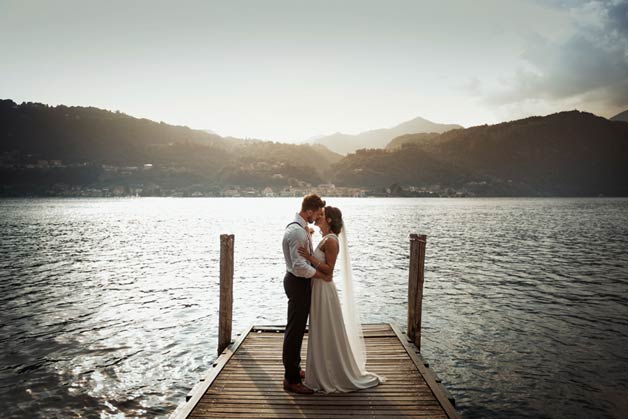 Sophia and Steven reached them just right after.
The sunset with the backdrop of St. Julius Island and the Alps they all enjoyed from Ustaria Ca dal Rat terrace was amazing. We cannot forget about the romantic set up we planned for Sophia and Steven boho style microwedding on Lake Orta. It perfectly matched the bride's tastes.
After a fun aperitif and great wedding speeches, the reception could begin.
 Sophia and Steven's wedding reception dinner was served outdoor by the shores. The bride and groom and their guests enjoyed great Italian dishes accompanied by delicious Italian wines.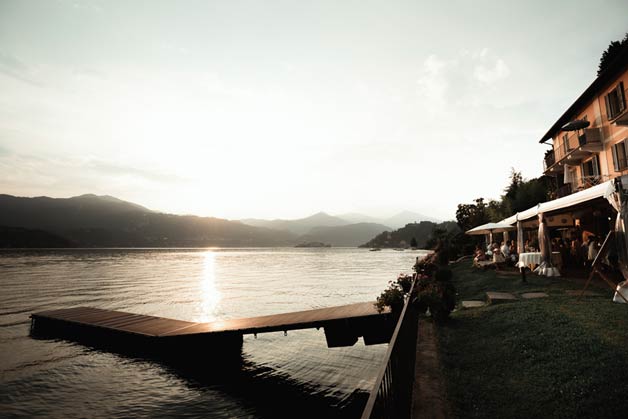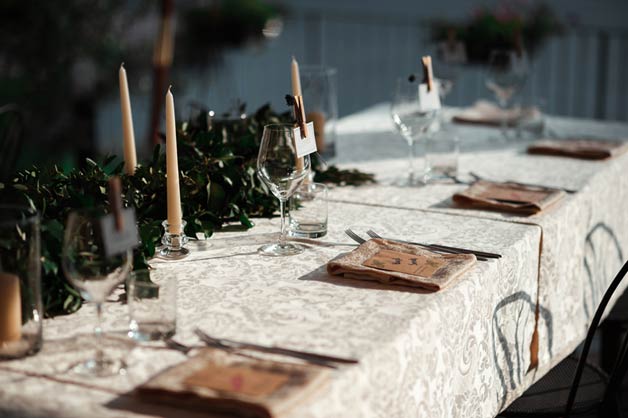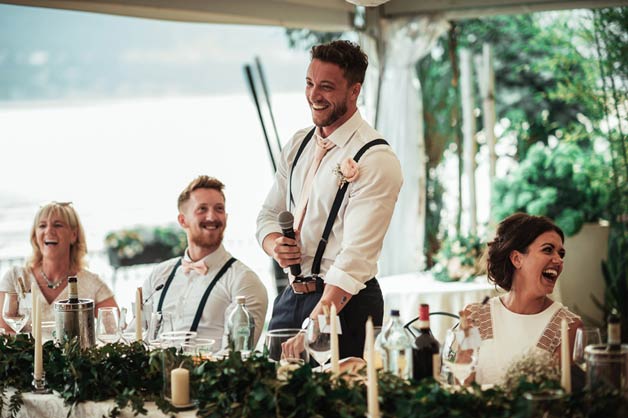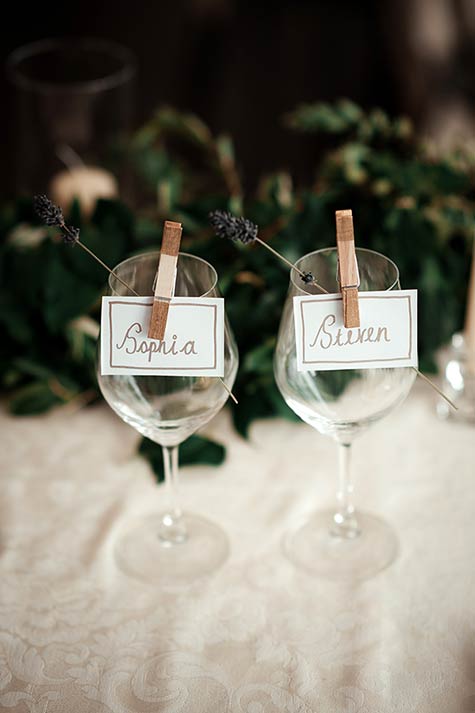 A boho style wedding cake and lots of dances


In a boho style microwedding on Lake Orta we cannot miss a bohemian cake! Sophia opted for a naked cake made with sponge cake, Chantilly cream, and lots of fresh fruits. It was a perfect choice for a summer wedding season. As we always suggest it was served as a buffet by restaurant staff while the bride and groom opened their wedding party with their first dance.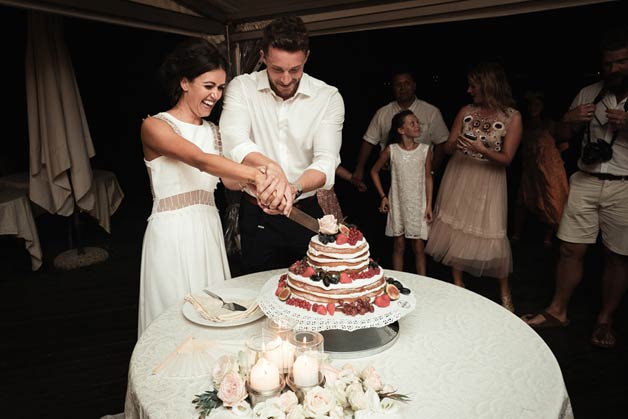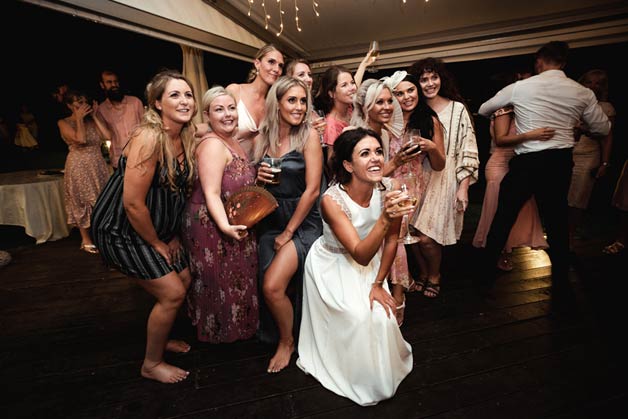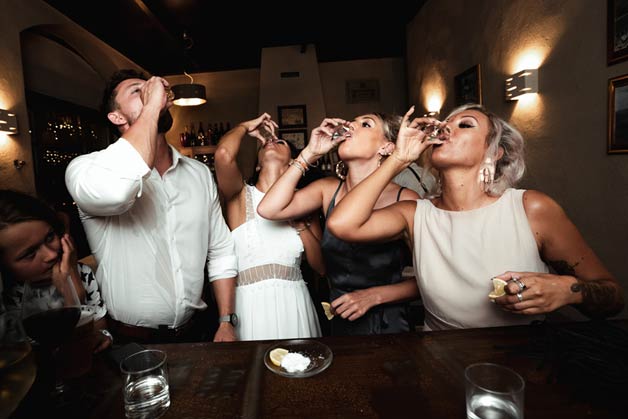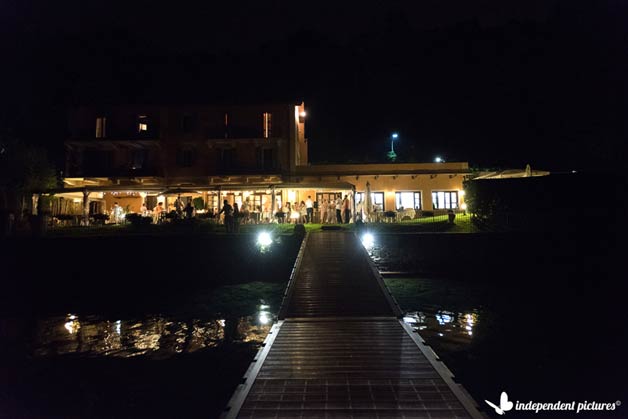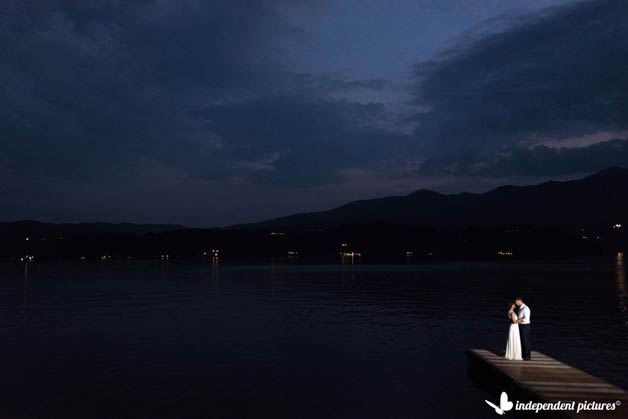 What's happened next? A fantastic party with laughs, drinks, dances, lots of music, and memories to keep forever!

Sophia and Steven's boho style microwedding on Lake Orta will always stay in our hearts!