ake Orta is one of the Northern lakes district's more
off-beaten track destinations
.
It is still smaller and quaint than other more significant Lakes and still preserves that peculiar Italian charm that makes every couple dream about an Italian wedding.
Being so small and intimate, there are fewer wedding venues to consider when choosing your special place for your wedding reception. However, they can be well combined as they are close.
 You can think about different ceremony spots, aperitifs, receptions, and even late parties.
 Or you can choose one venue to plan your whole day, which Amber and Owen chose for their wonderful hotel wedding on Lake Orta.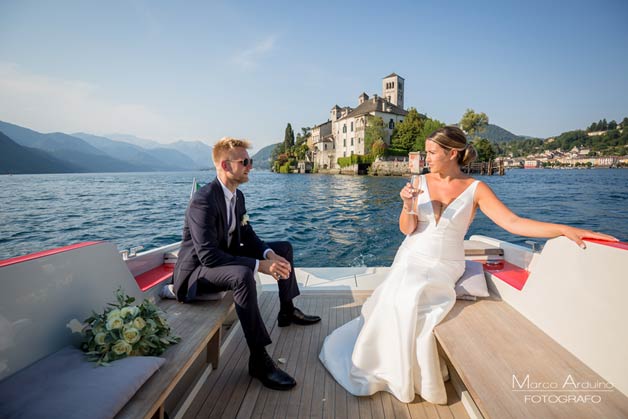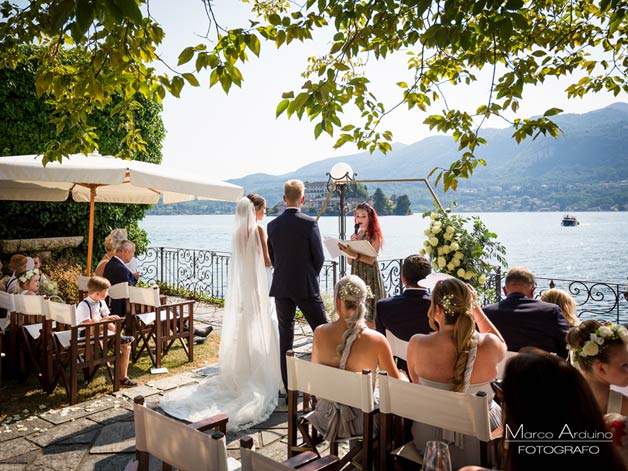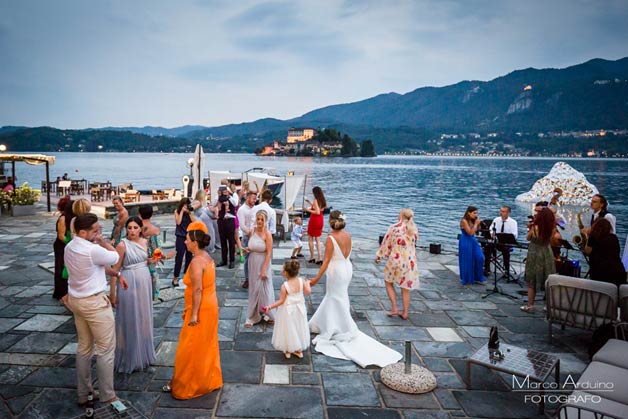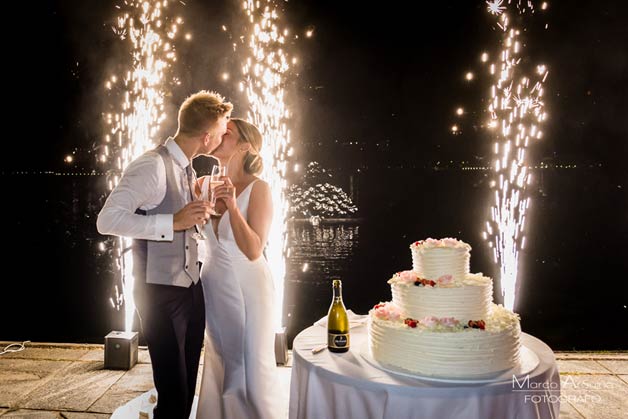 Getting ready for your hotel wedding on Lake Orta overlooking St. Julius Island
Amber and Owen started their wedding plans before the pandemic, so they needed to postpone their wedding several times. This wedding was many wishes and well deserved for them, and they were blessed with a fantastic sunny day!

Aside from their ceremony and reception, they also planned their staying at Hotel San Rocco. The unique suite inside Villa Gippini was where Amber got ready with her family and bridesmaids. 
The photographer Marco Arduino was there to take lovely shots of these moments and the ones that followed.
Owen and his groomsmen got ready there too.
Hotel San Rocco on Lake Orta is made of two sections:
The more significant is the main building area where most of their rooms are, the restaurants and the main terrace where wedding aperitif and reception can be set. The smaller section is Villa Gippini and its garden, where the hotel can host symbolic wedding ceremonies or lovely aperitifs overlooking the lake. This way, you can easily plan your whole and wonderful hotel wedding on Lake Orta.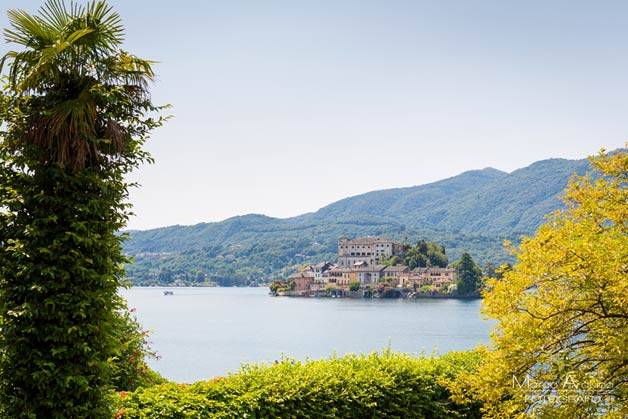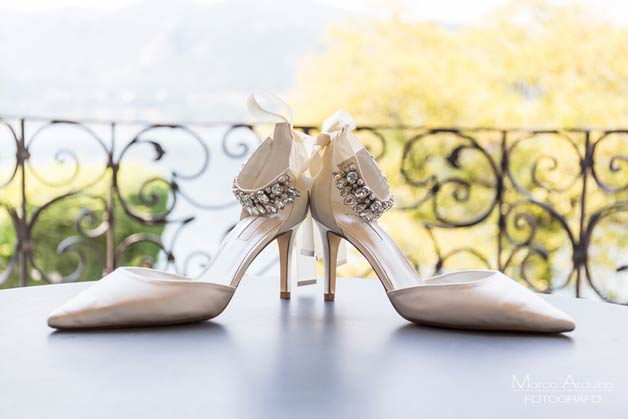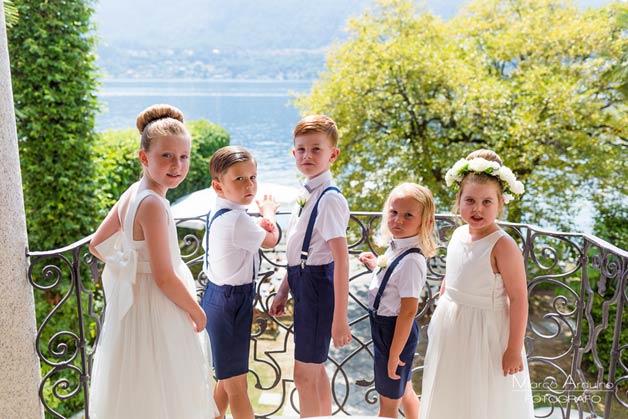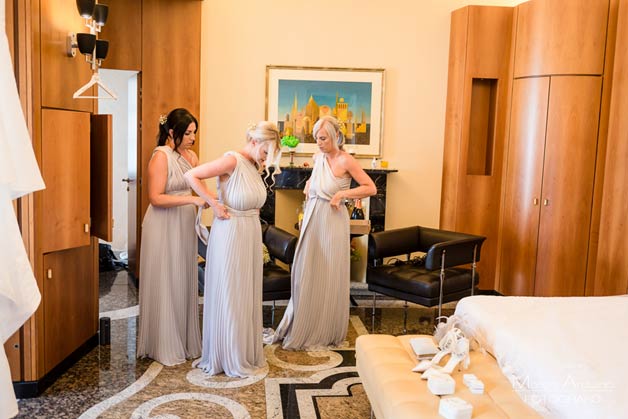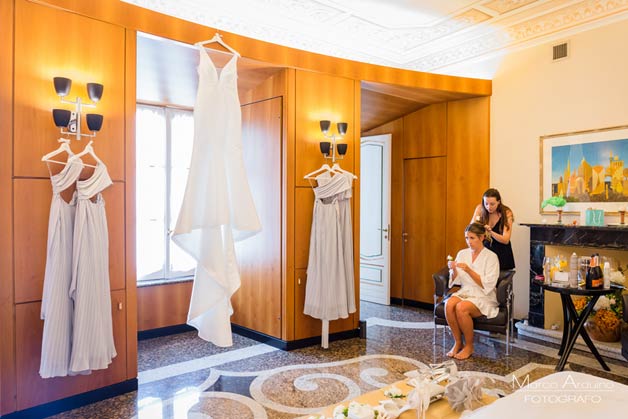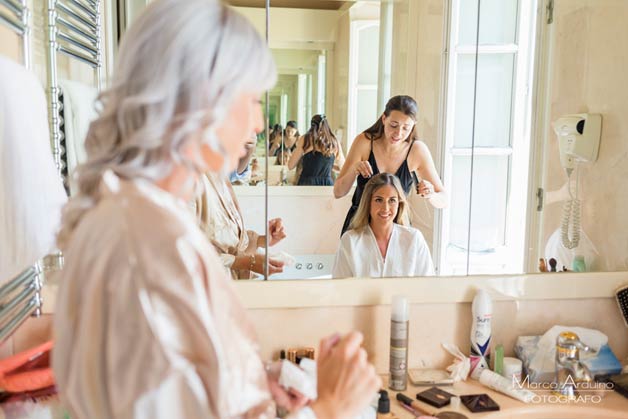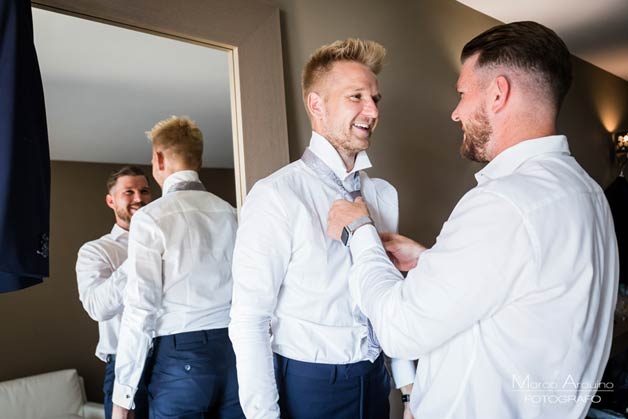 A romantic ceremony by the shores of Lake Orta
Once the bride was ready, she stepped down the pretty staircase of Villa Gippini with her bridesmaids, and she reached the garden where the groom and all the guests were waiting for her.

Two little rings barer, and the cutest flower girls walked before her.
 Amber wore a simple but exquisite white wedding dress, and she held a romantic bridal bouquet made with white flowers and lots of greenery.

The bridal bouquet perfectly matched the wedding arch where Amber and Owen exchanged vows. Floral decor was totally studied with La Piccola Selva Floral Designer.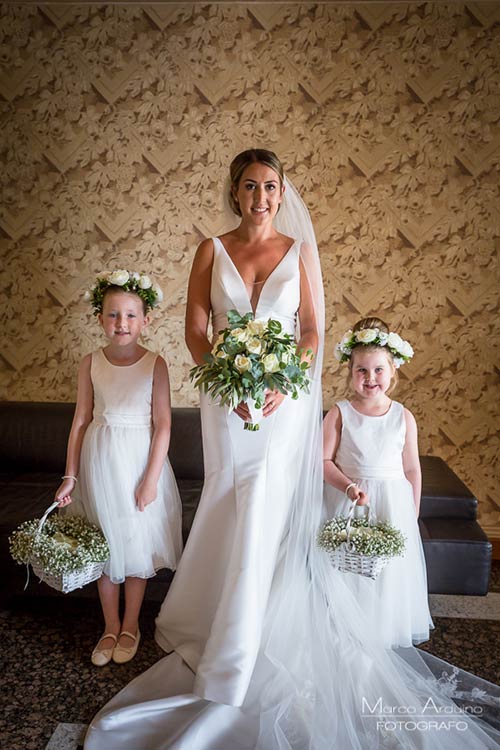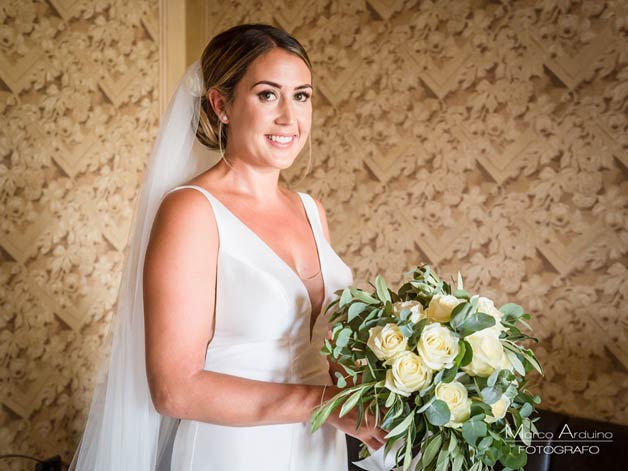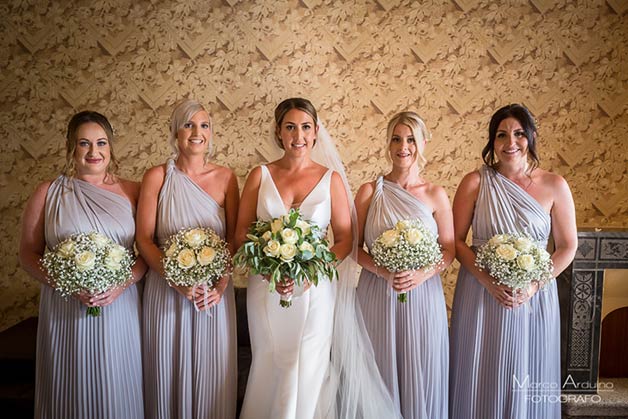 They created a golden hexagonal wedding arch embellished with unique white flowers.
 Very chic with a touch of boho style.

The wedding ceremony was framed by the original wedding arch, the view over Lake Orta, and it was accompanied by the sound of a string quartet. Everybody was incredibly moved, and all guests loved the mood of a beautiful hotel wedding on Lake Orta.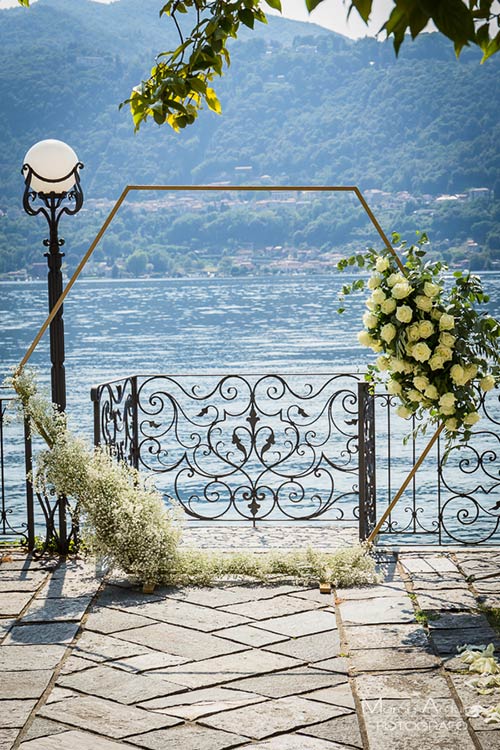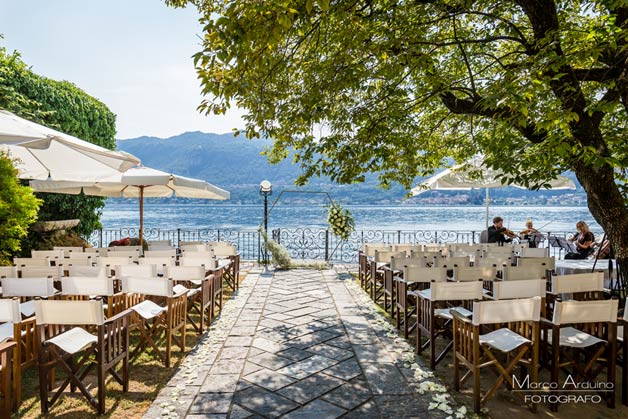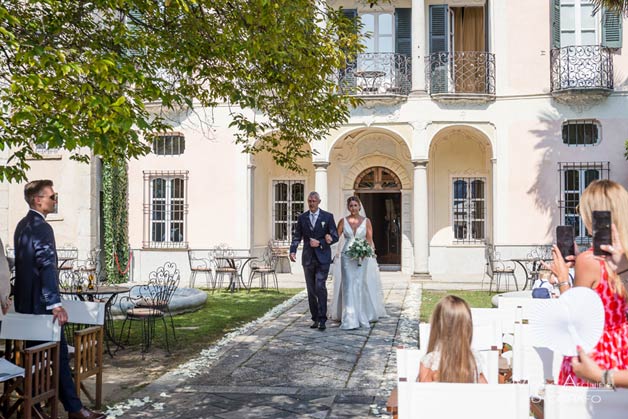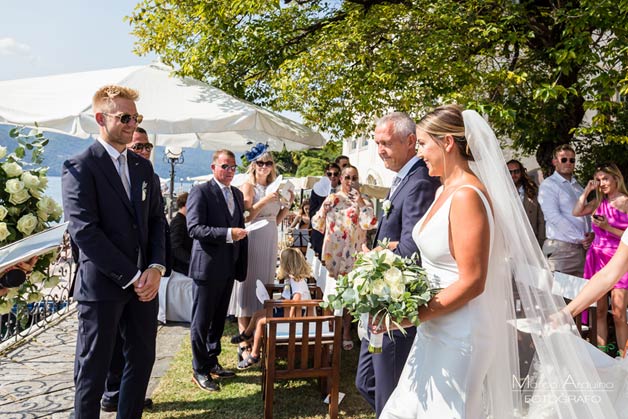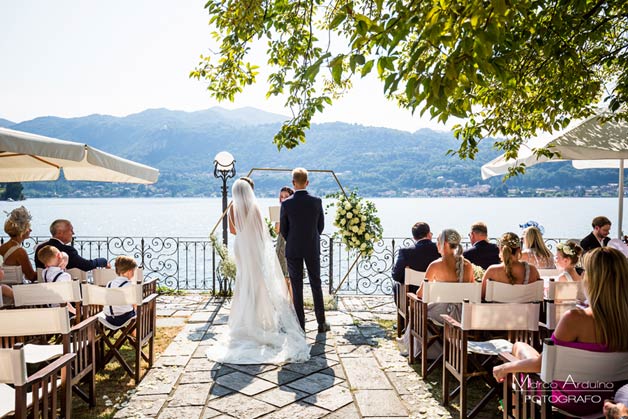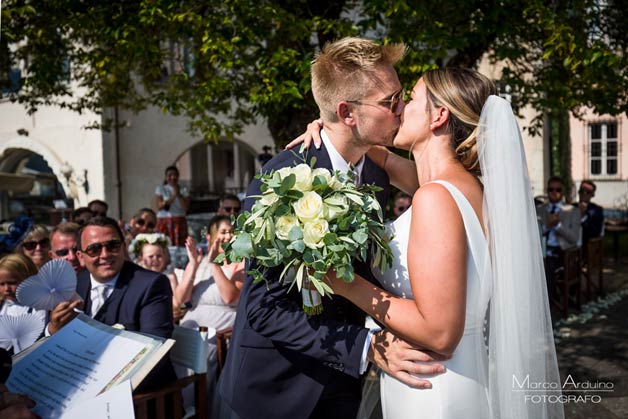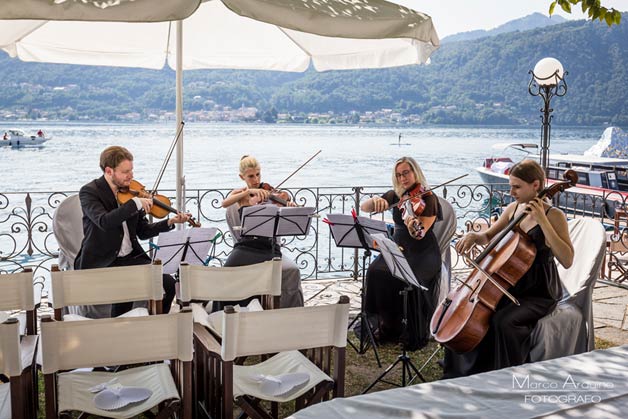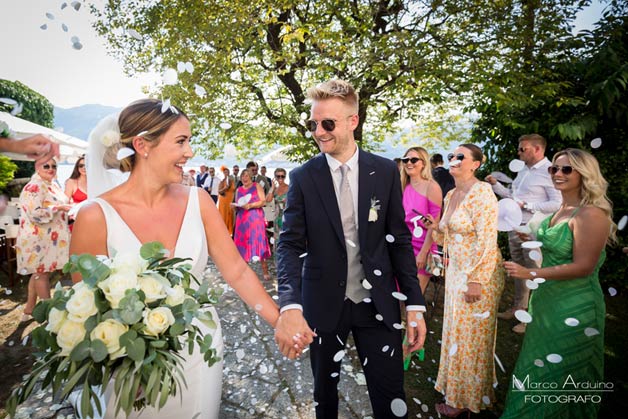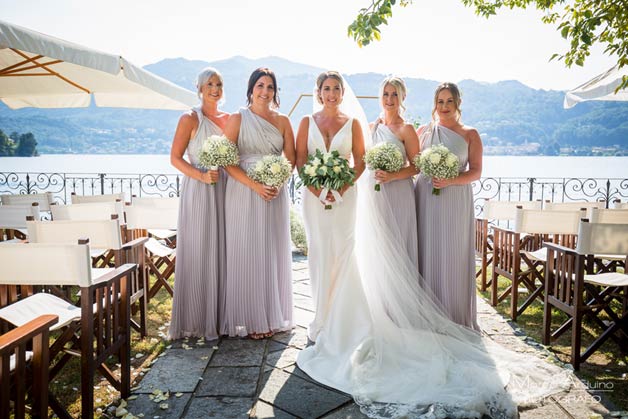 Outdoor reception overlooking St. Julius Island
Right after the ceremony, the bride and groom took the chance to enjoy a short boat trip with a prosecco toast for some lovely wedding photos.

The Italian-style aperitif started on the hotel's main terrace, and all guests enjoyed delicious finger food and refreshing prosecco.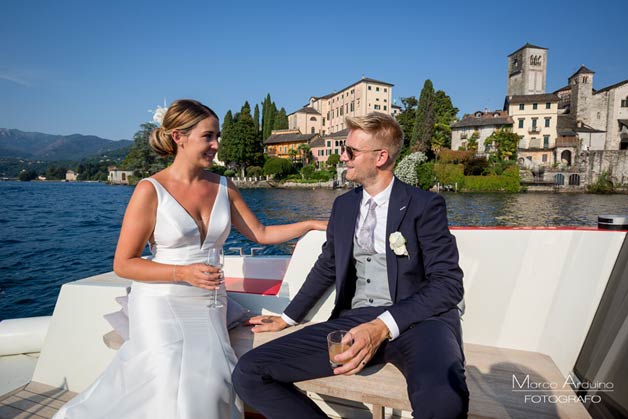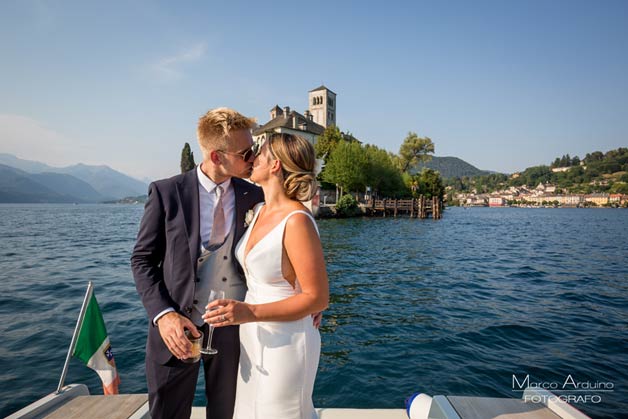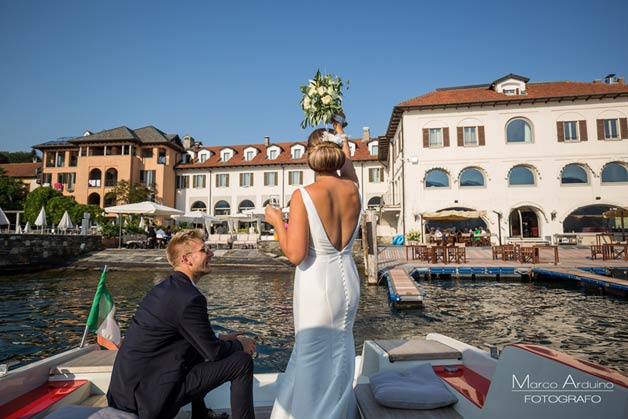 The wedding dinner setting on the upper terrace of the hotel was enchanting. Tall vases of white gypsophila enriched the round tables shaded by giant white umbrellas.

The reception could start right after the wedding speeches, and all enjoyed the excellent Italian cuisine provided by Hotel San Rocco.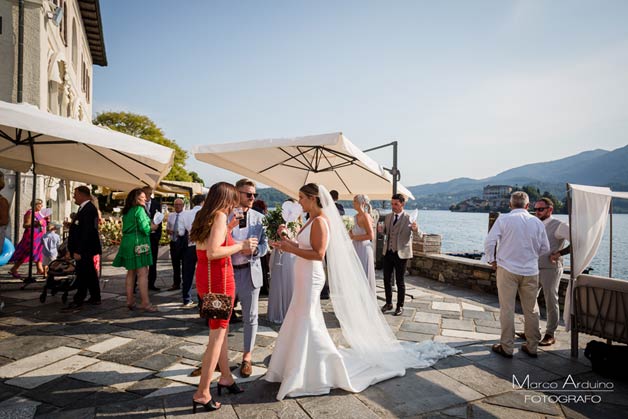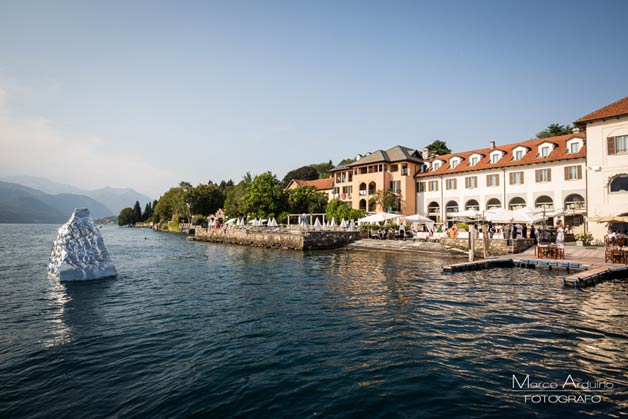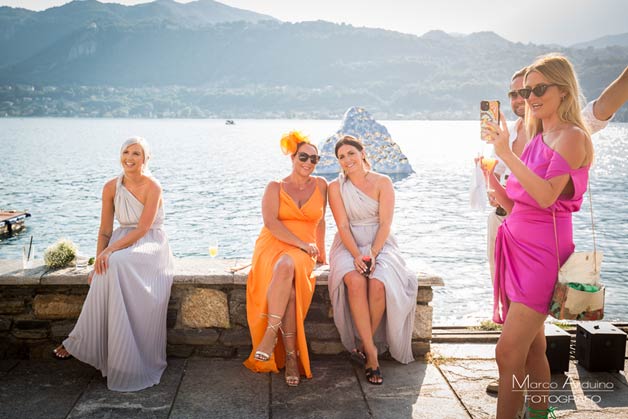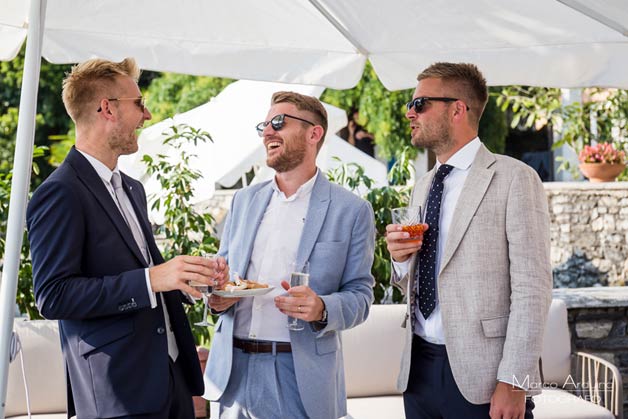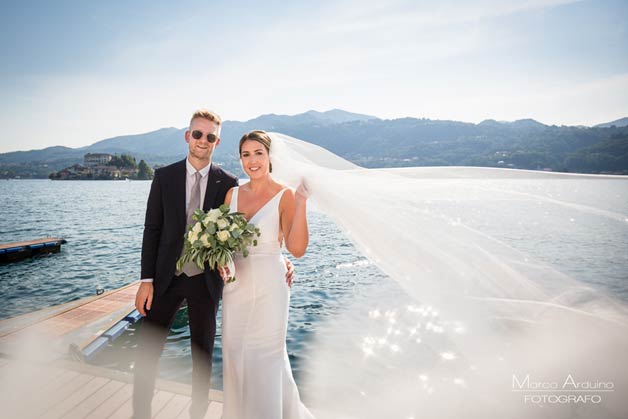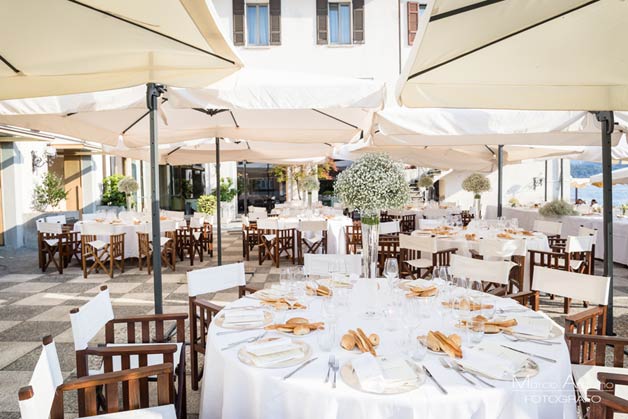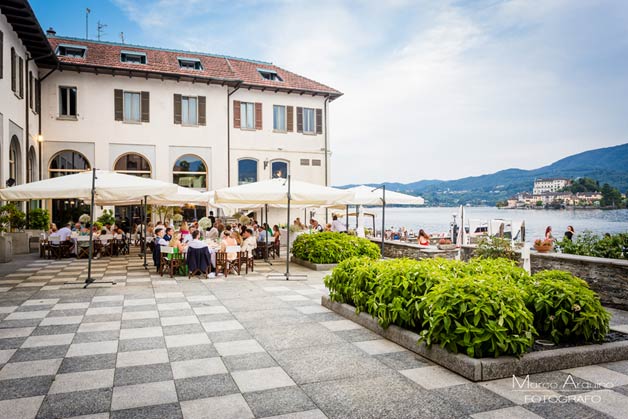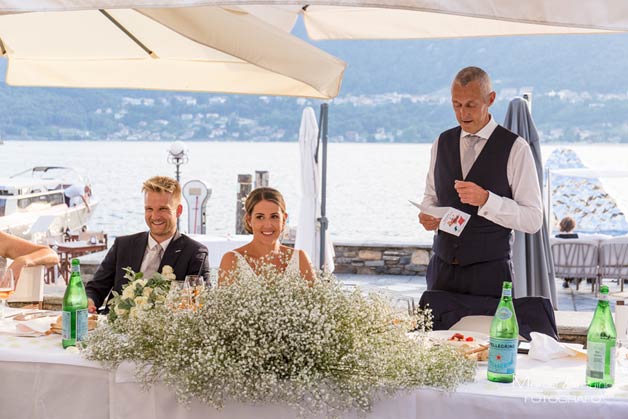 Wedding cake and dances by the lake
Once the reception was over, the big white wedding cake came out, and Amber and Owen cut them, helped by their two kids! We loved the family portrait Marco Arduino photographer took of the four of them! It was so sweet.

Cold Fireworks fountains framed the moment; after that, the bride and groom could open the dances with their first dance. 
Dj set danced the night away for the group.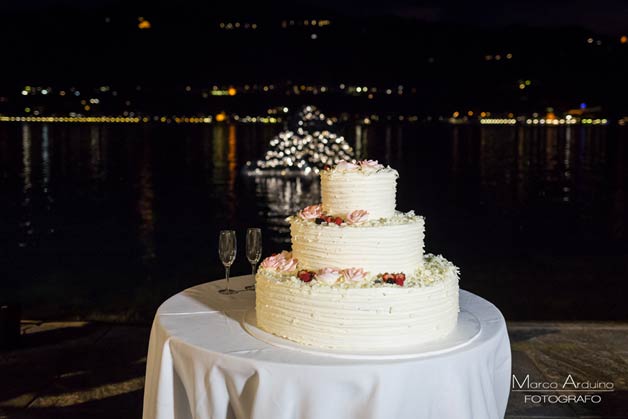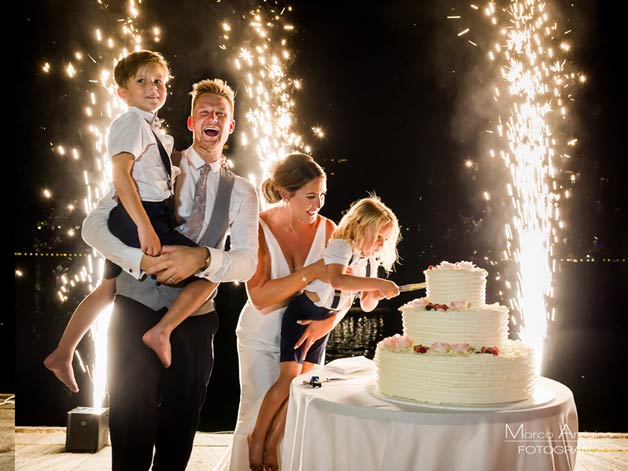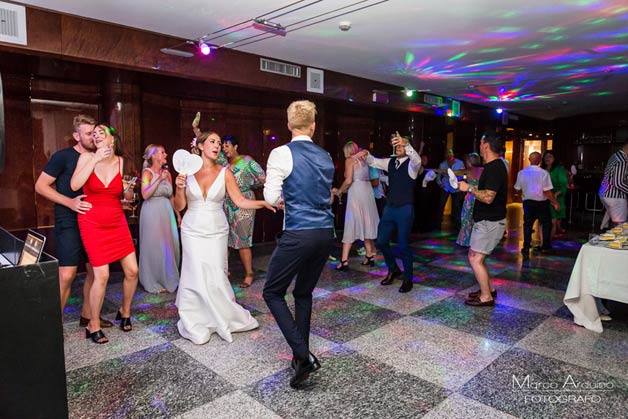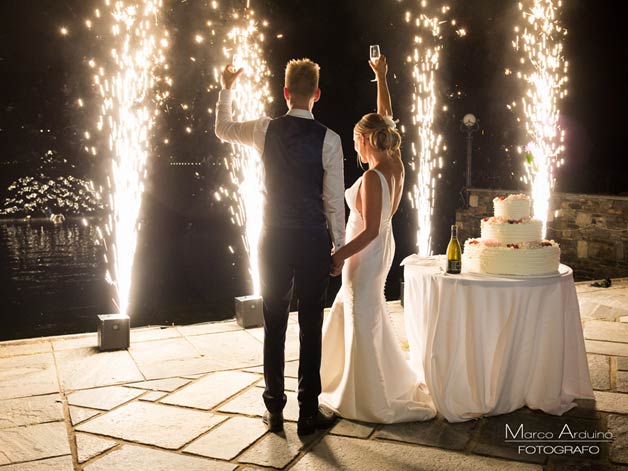 Long waiting for Amber and Owen, but the day was a blast! An extraordinary hotel wedding on Lake Orta that they will never forget!