Your special wedding on Lake Orta
One of the prettiest lakes in northern Italy, intimate and romantic
Lake Orta is certalny the most romantic location in the Lake District.
Hills and mountains are very close to the Lake thus lending a fairy-tale atmosphere to the villages surrounding the water. Orta San Giulio is at the end of a small peninsula that juts out into Lake Orta.
Intricate wrought-iron balustrades and balconies adorn the 18th century buildings of this small, intimate and relaxing town. The main square of the town looks across the lake to the lovely island of San Giulio, which you can reach by boat.
This charming lake, surrounded by gentle hills, is the most enchanting and romantic of the Italian Lakes. Its romance has inspired artists, poets and writers from all over the world for century and for lovers it is hopelessly romantic.
Your Lake Orta Wedding will have the same atmosphere as in the ancient times and you will live and relive it as in a fairytale.
At only 45 minutes drive from Malpensa Airport, Lake Orta is the perfect choice for your fairy-tale wedding in Italy.
The area around Lake Orta has long been a favorite tourists, thanks to the quiet beauty of the landscape, its fascinating history and its wealth of artistic treasures, principally Romanesque and Baroque architecture.
Little but charming, Lake Orta lies to the west of Lake Maggiore, in Piedmont - Northen Italy. It is a minor star in the costellation of the subalpine lakes, but all the fascination and the history of the larger lakes seem to be concentrated in this short space.
The town of Orta San Giulio is also the only Italian lakes' car-free town.
Orta holds the visitors attention, with its houses roofed with thick slate tiles, it's lakeside Motta Square, called Il Palazzotto, with its garden cafés, ovelooked by the Palazzo della Comunità or Palazotto - a frescoed 16th century town hall. You can get married at the wedding hall in the town square, a 16th-century building with frescoed walls, an outside stairway and a tiny campanile breaking through the grey roof like a chimney.
Civil ceremonies at Villa Bossi
Or at the elegant Villa Bossi, a beautiful 17th century villa facing the Lake of Orta. Here brides have a unique occasion fo Italy to celebrate a Villa Bossi, a beautiful 17th century villa facing the Lake of Orta.
Here brides have a unique occasion fo Italy to celebrate a civil ceremony in a beautiful terraced garden on the lake shore arriving with a romantic little rowing boat.
Catholic ceremonies on Lake Orta
If you prefer a religious wedding there is a little charming church on the top of the a hill in Orta just few steps from the main square from where you will appreciate a precius panorama.
Perched on a rocky ledge high above the western shore, a few kilometres from Orta, the Sanctuary of the Madonna del Sasso is also worth a visit. The Sanctuary, a beautiful example of baroque style, is an extraordinary panoramic point, a perfect place for a Wedding Reception at Lake Orta.
LAKE ORTA highlights
the most famous Lake Orta wedding destinations
LAKE ORTA weddings
are our specialty. Find out why!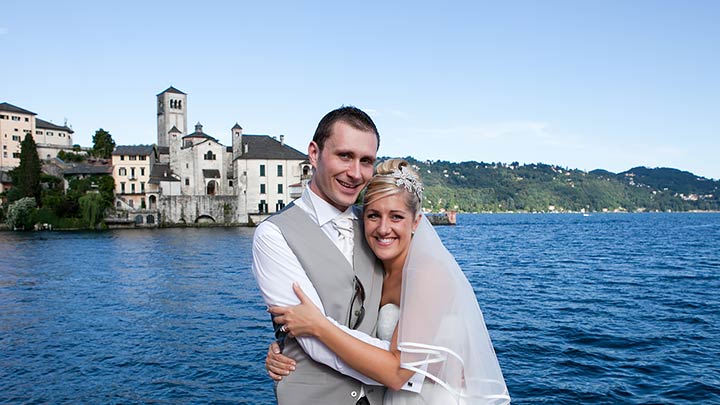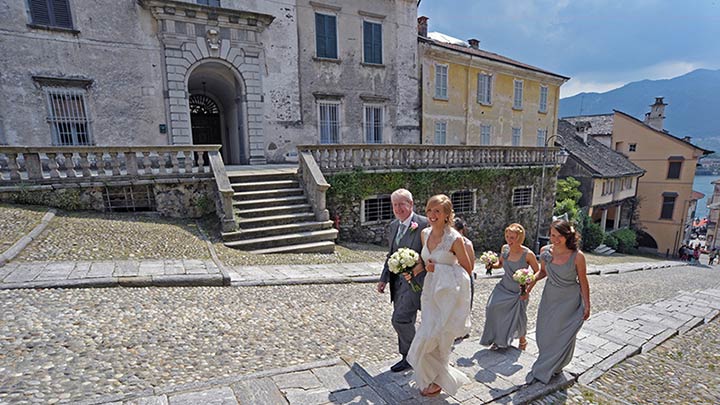 LAKE ORTA latest posts
to see what we do best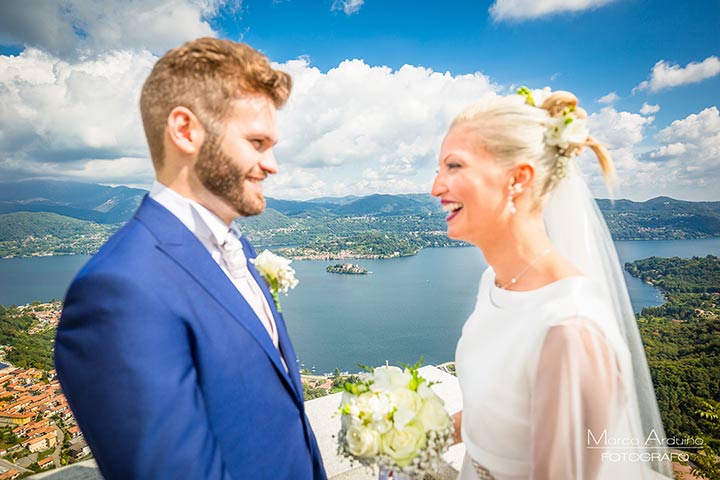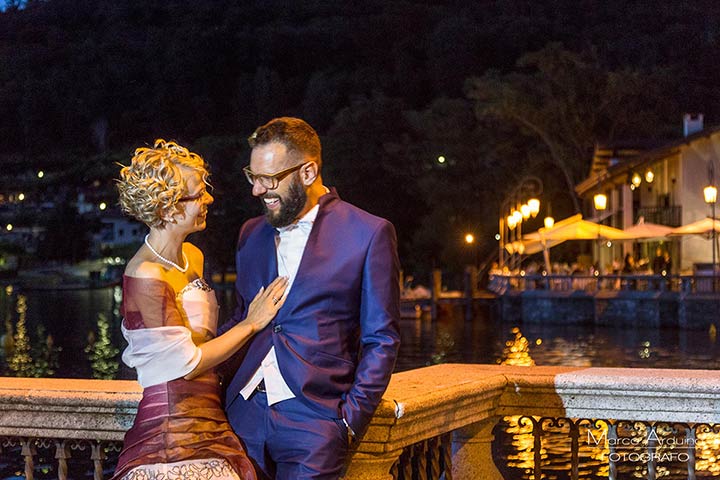 Lights on Lake Orta
May 27, 2018
---
Why many couples chose Lake Orta for their destination wedding in Italy? Because they surely wish an intimate and romantic wedding in a location full of charm. Most of all they love magic lights on Lake Orta. Luci sul Lago is also the name of a lovely and romantic restaurant on a beach on Lake Orta. It is ideal for a young and informal wedding reception. Read more and discover Luci sul Lago!
Continue reading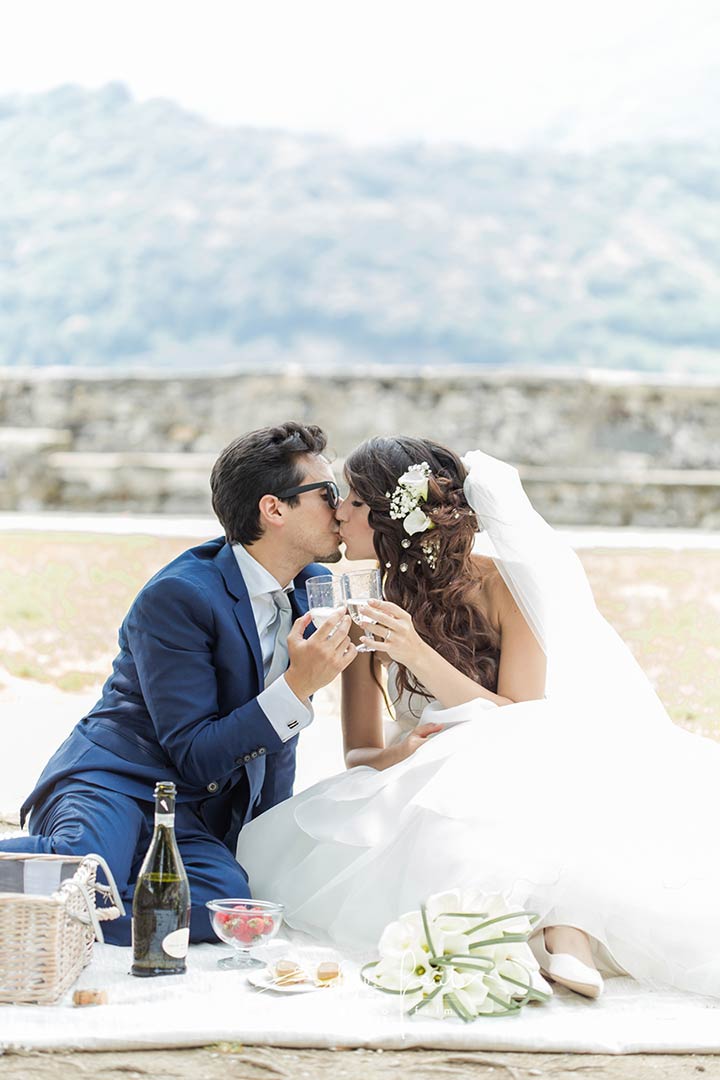 Feeling incredibly romantic with a wedding on Lake Orta
March 9, 2018
---
A lovely letter delivered to the bride just before the ceremony, a romantic picnic in the lawn of St Julius Island for the bride and groom only while guests are enjoying their aperitif at the wedding reception venue. A love song sang by the groom dedicated to his wifey. Valentina and Emanuele's wedding was really romantic. What a romantic wedding on Lake Orta!
Continue reading