atherine wanted a delicate and intimate atmosphere for her wedding day and, we had the perfect wedding venue for her:
an ancient villa hotel in Varenna
!
Varenna town centre is the ideal wedding destination for a couple who wish for a simple and homely style venue.
Varenna
is located on Eastern side of
Lake Como
. It offers many belvedere points. Many romantic corners are located just few minutes walking distance from one another. You will see here wonderful villas and amazing gardens, perfect venues for your wedding.
On a sunny day of September, Catherine and Timothy enjoyed lake entertainments: a romantic ceremony on the shores, a wedding photo session by ancient villas, a fantastic tour on a boat on Lake Como and last but not least, a delicious wedding reception dinner under an old arbour lighted by lanterns overlooking the lake.
Bride and groom were so deeply moved that our photographer Davide Zanoni often felt almost embarrassed to take pictures of them, as they were so shy and private!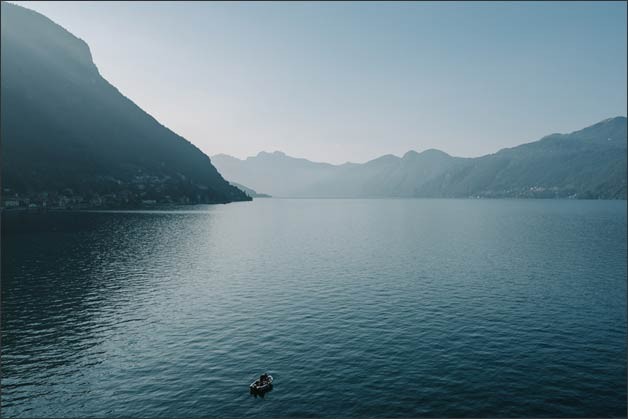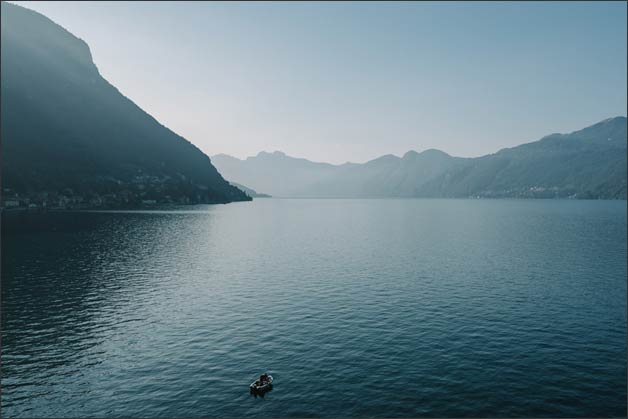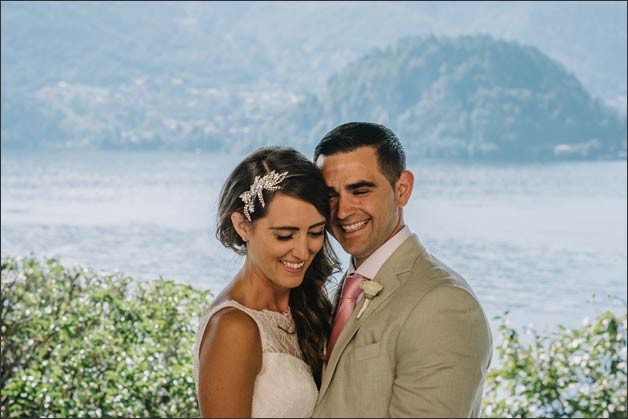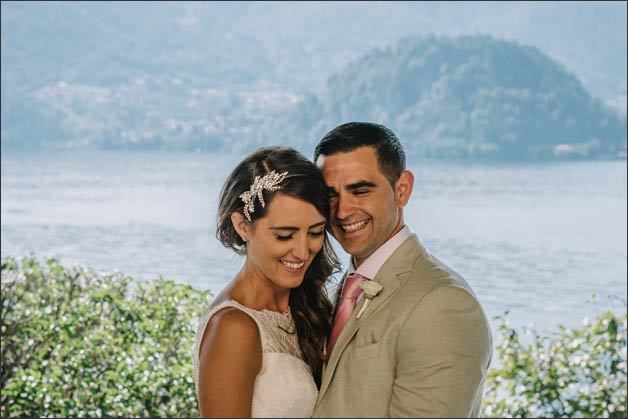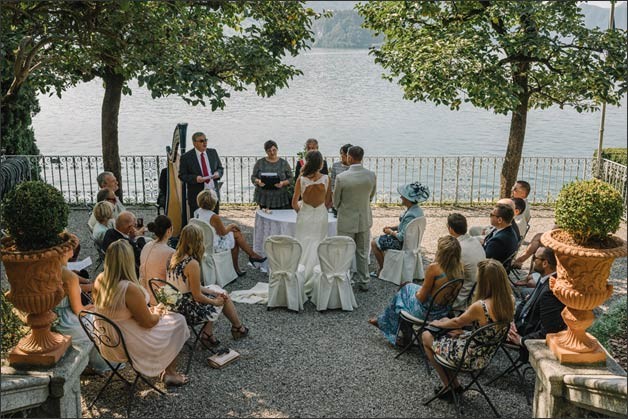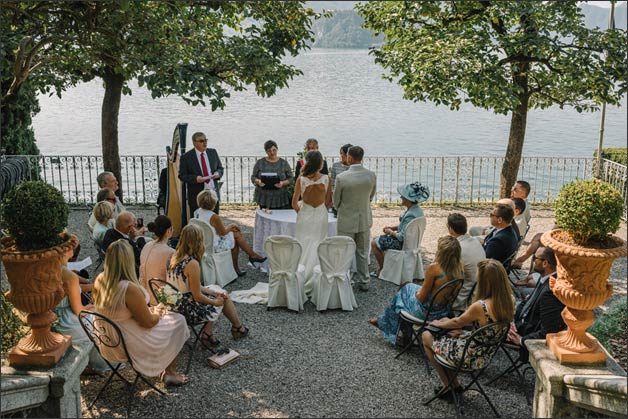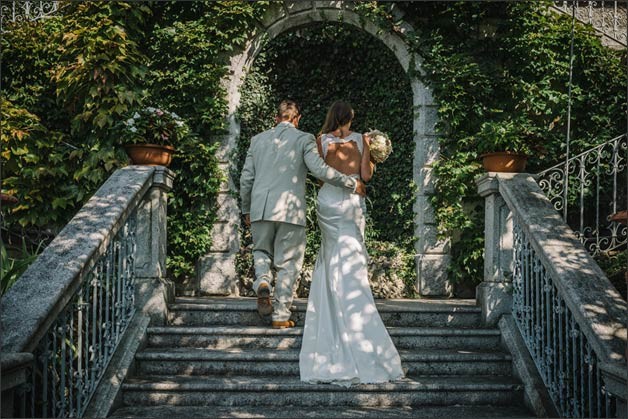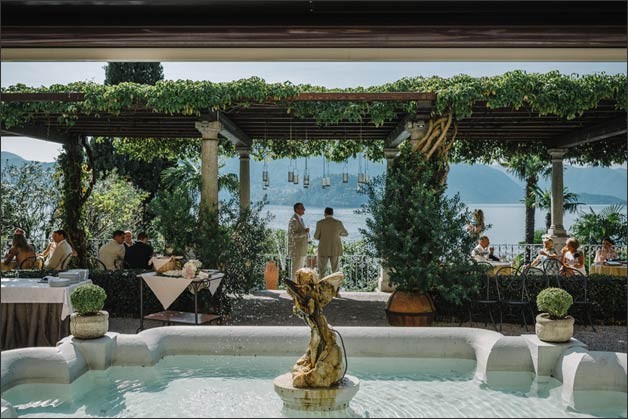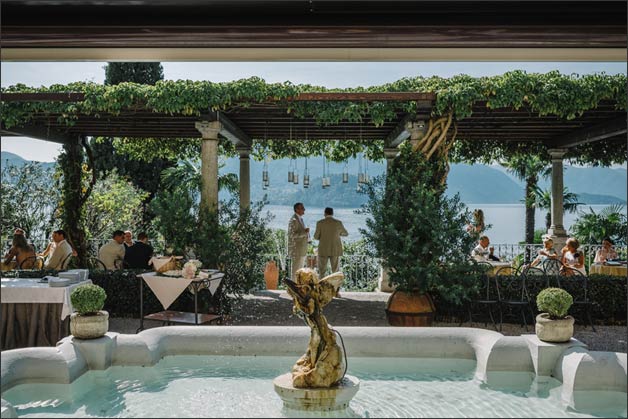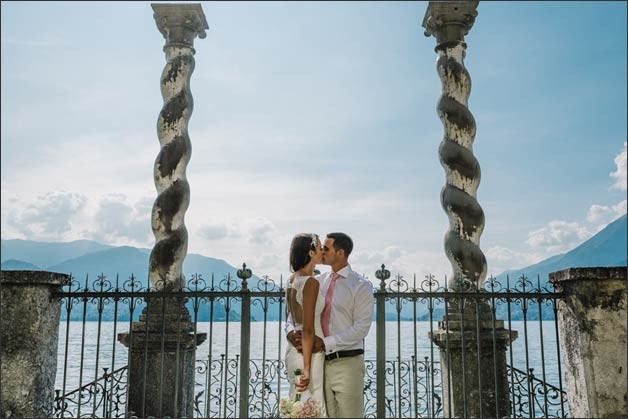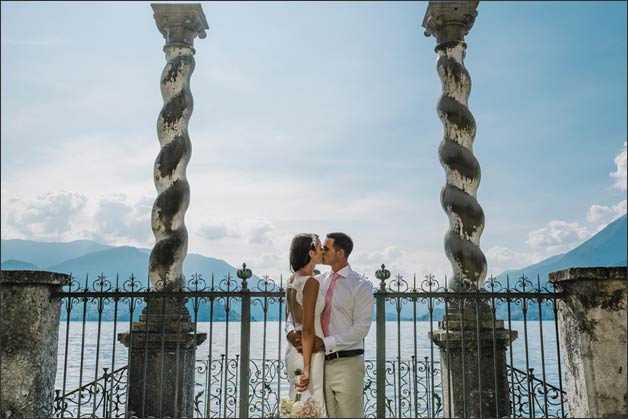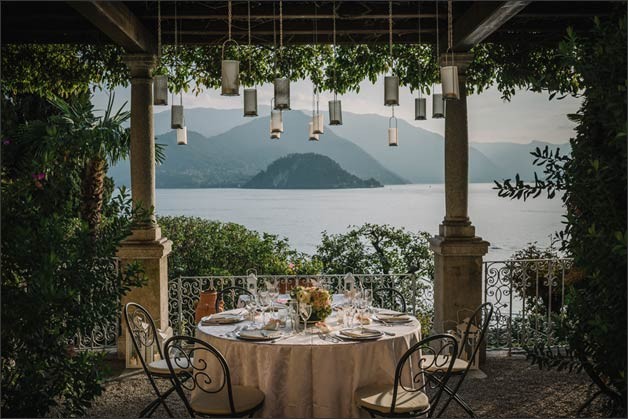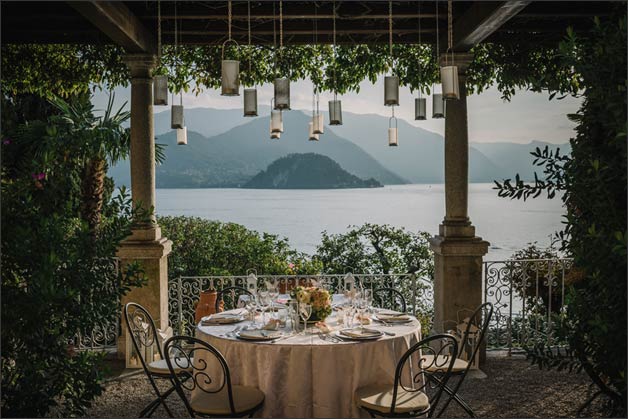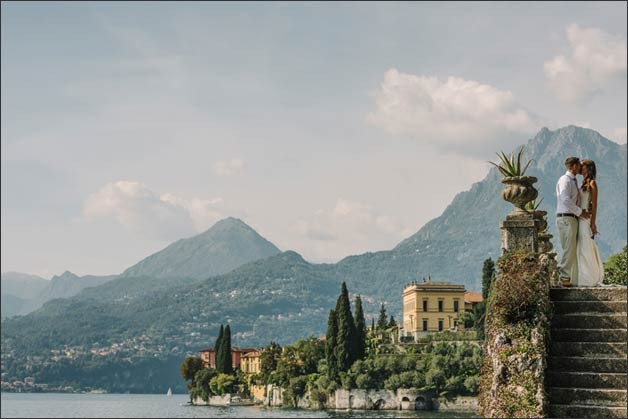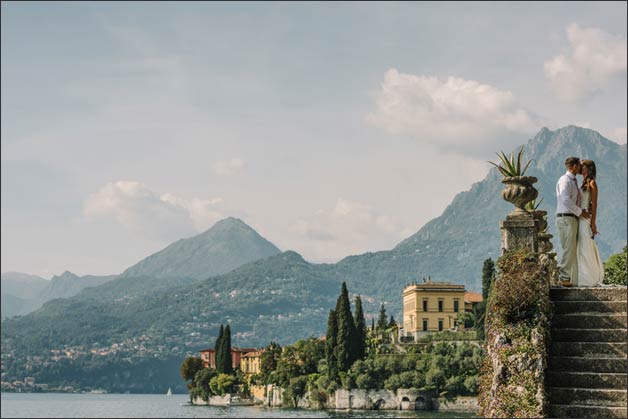 The joy of having friend and family together on Lake Como
Catherine was ready very early on her wedding day. She got ready with her best friends sipping some Italian Prosecco a fun and relaxed atmosphere was all around!
Her room overlooking Lake Como had a magnificent view. It was a great background for her wedding day!
She wore a stunning white wedding dress with naked back. Timothy wore an elegant beige suit, with little pink details as a gentle reference bridesmaids' dresses.
They both wanted their best friends to be dressed in a special way. Bridesmaids wore light and soft pink dresses, with a small bouquet similar to Catherine's one, and best men wore same suit Timothy wore too.
When we moved from the hotel to the ancient villa for the photo session, people around were looking at us as if we were the crew of a movie. Catherine and Timothy were such a beautiful couple that they seemed actors!
The entire group really enjoyed the wedding venues, discovering gardens, terraces and Lake Como vegetation all over, relaxing in a genuine natural atmosphere.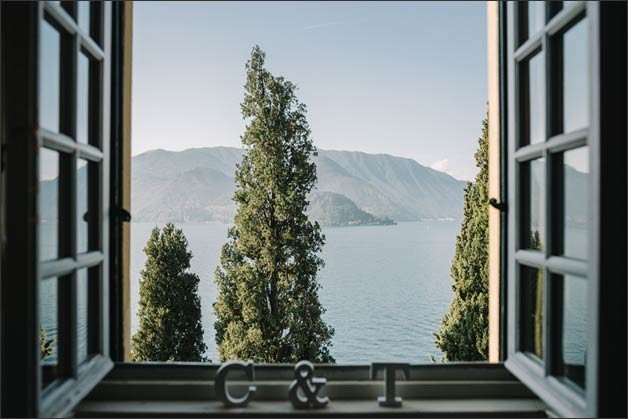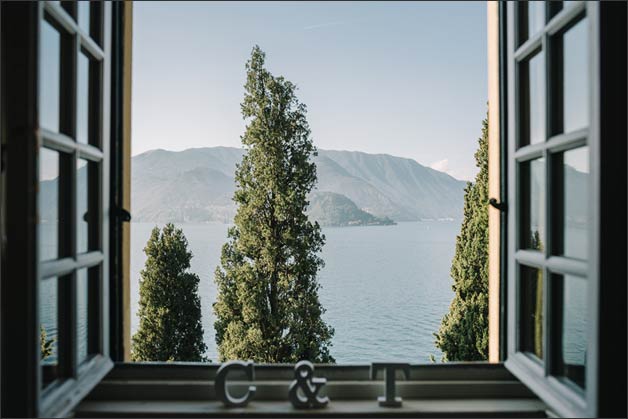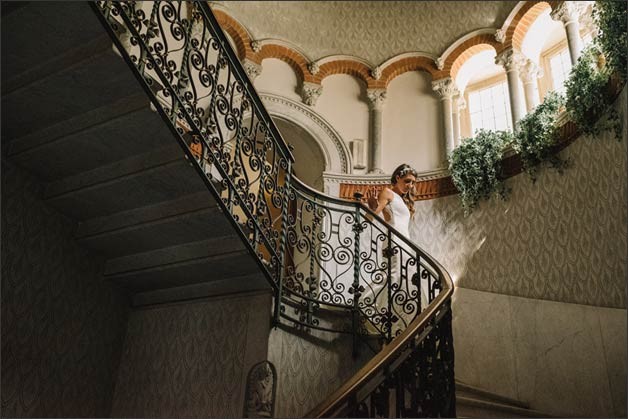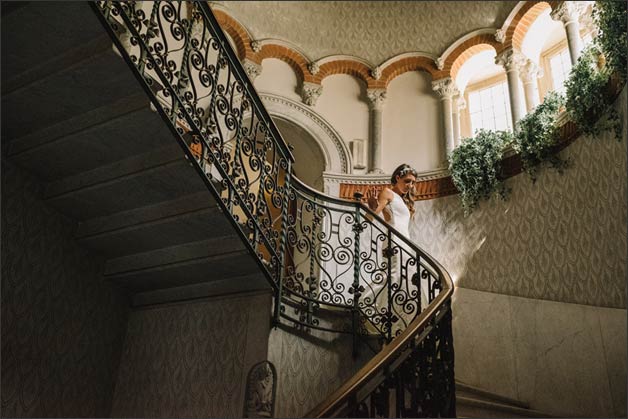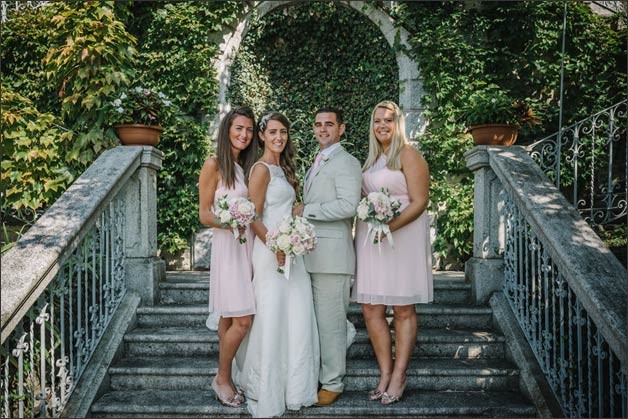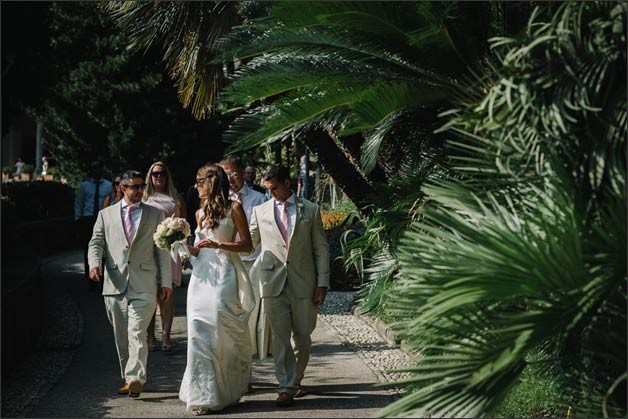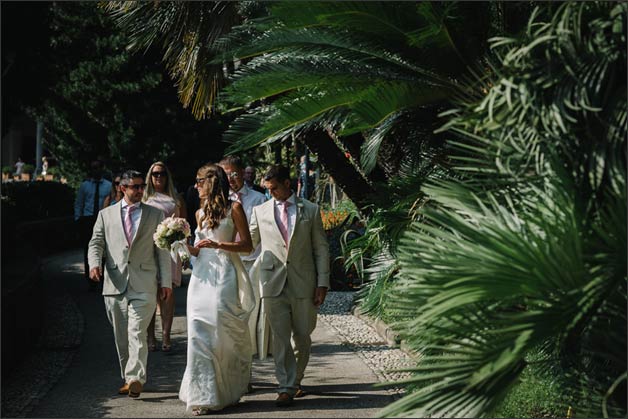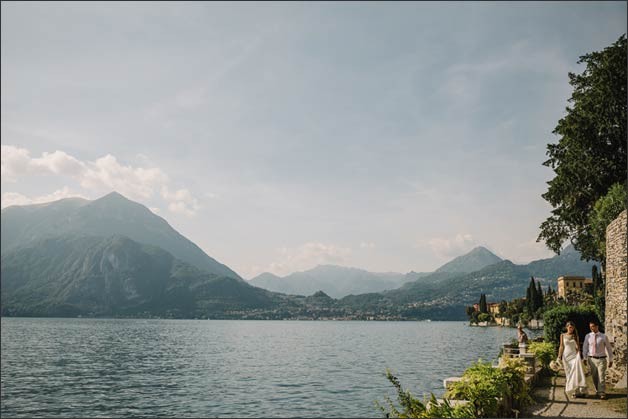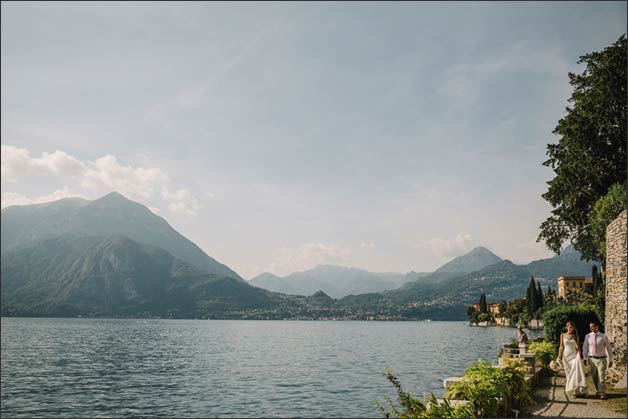 An intimate and simple wedding ceremony on Lake Como
Our lovely British couple appreciated simplicity of Varenna, enjoying the beauties of Lake Como with no stress.
Indeed, here bride and groom have the opportunity to celebrate their wedding ceremony on a superb terrace overlooking the lake. Then they can enjoy fantastic wedding photos in the gardens of the old villas, with their hidden corners. Afterwards they can enjoy Lake Como from its very heart: the waters! A fun boat trip!
Catherine and Timothy crowned their love with a legal civil ceremony, with their families and friends, with a marvellous harp as background music and a divine view.
Nature and silence made up a romantic frame for such delicate wedding ceremony.
After ceremony newlyweds toasted with their guests on a upper big terrace, with a light buffet made of Italian traditional finger food and canapés.
But there was more to come! A breath-taking boat ride with a little stop in Bellagio – one of the pearl of Lake Como – added something more to this amazing day!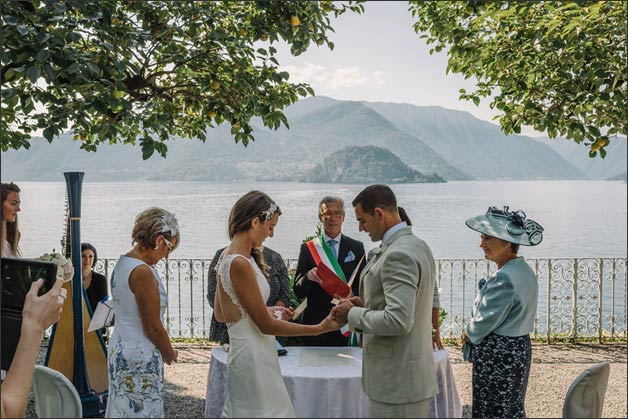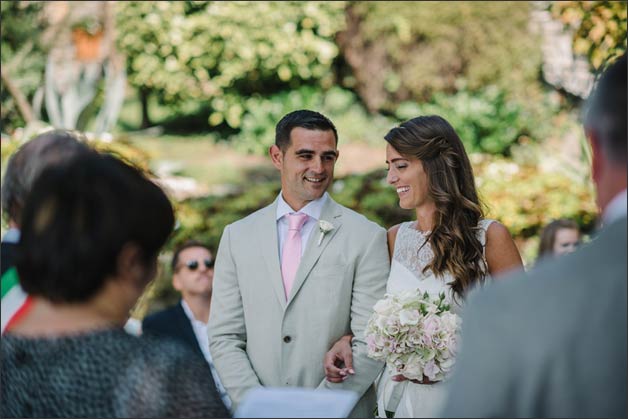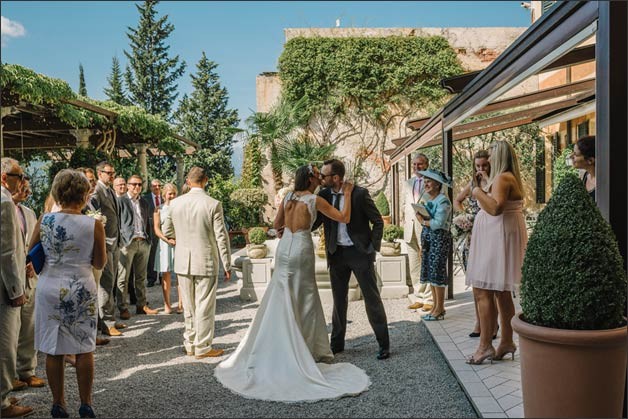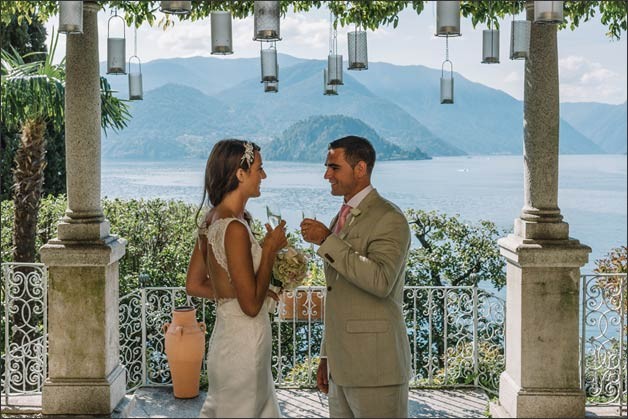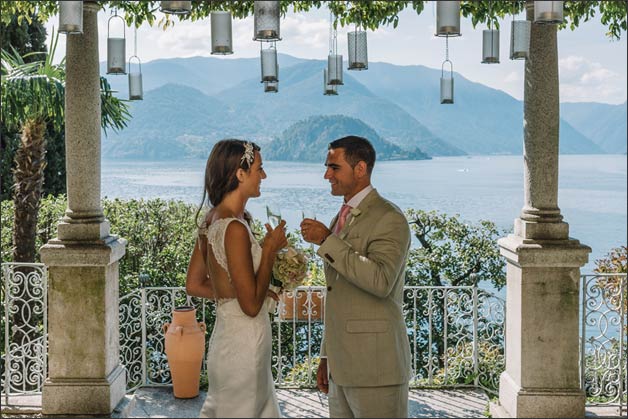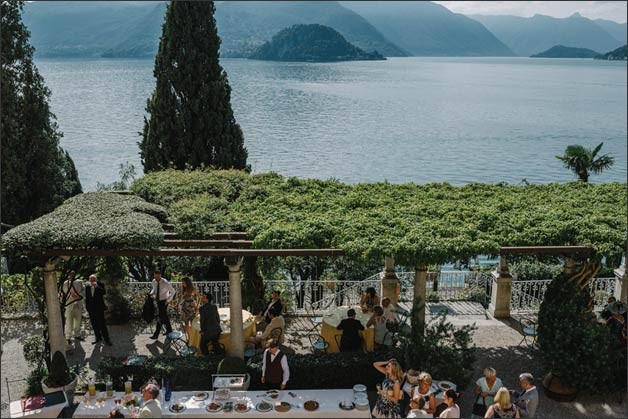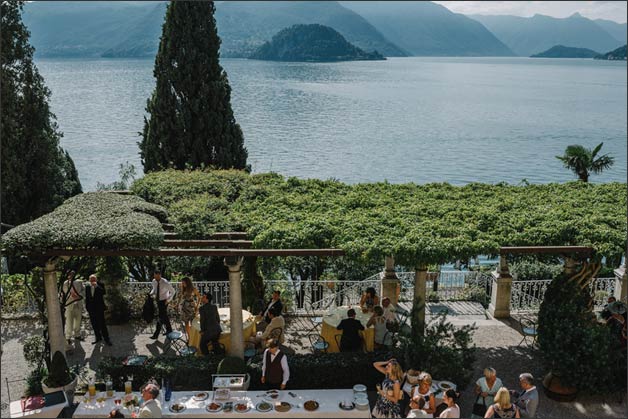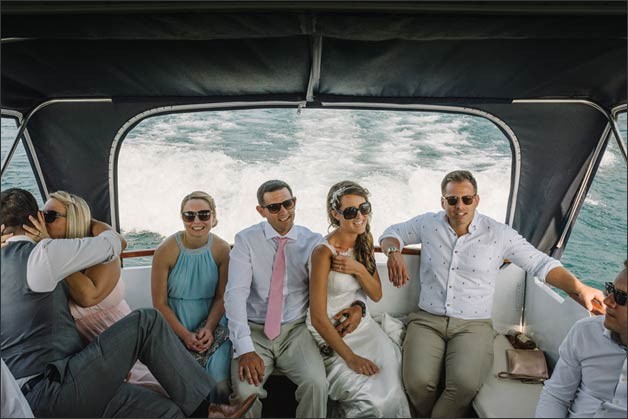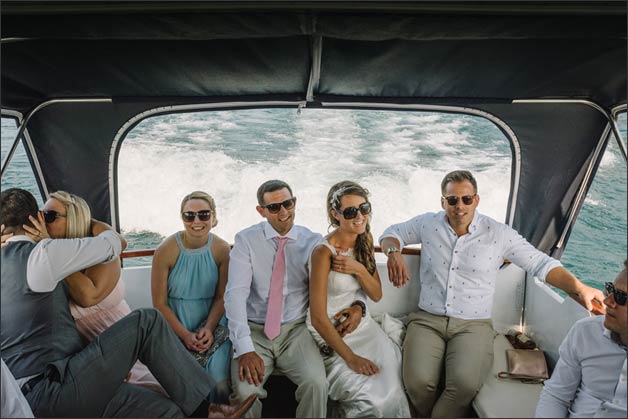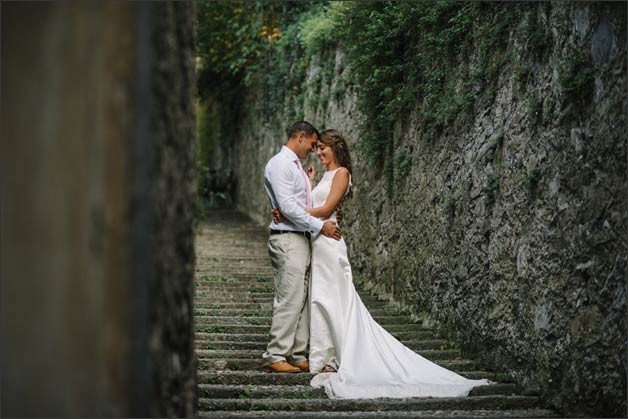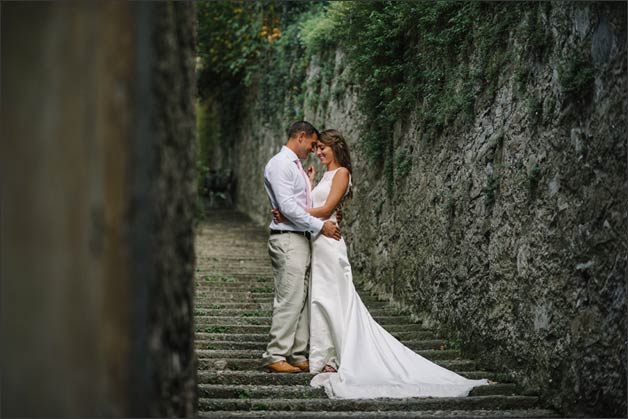 Lanterns and candles, warm and familiar atmosphere on Lake Como
Our couple planned their wedding reception in the same villa hotel they got married, under a romantic arbour and aside an ancient fountain.
Tables were set up for the big occasion with butterfly themed place cards and delicate centrepieces with the same selection of flowers bride chose for her bouquet. Every decoration was made with hydrangeas, different kind of roses and greenery.
Small candles on the tables and white lanterns in different dimensions illuminated the atmosphere.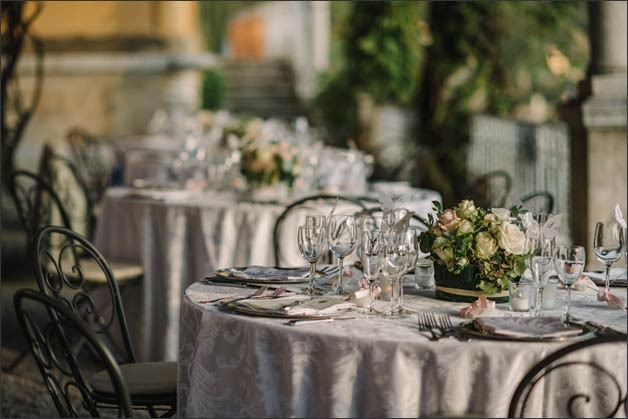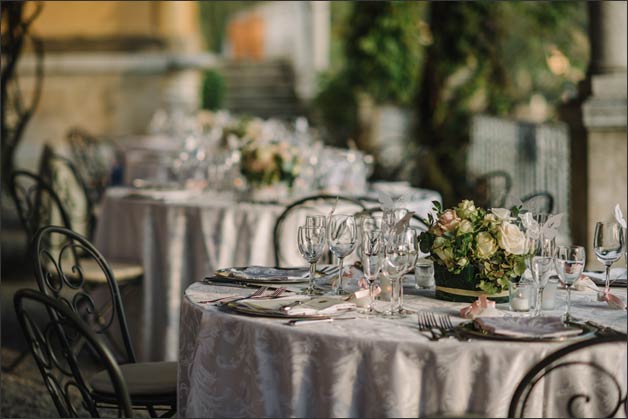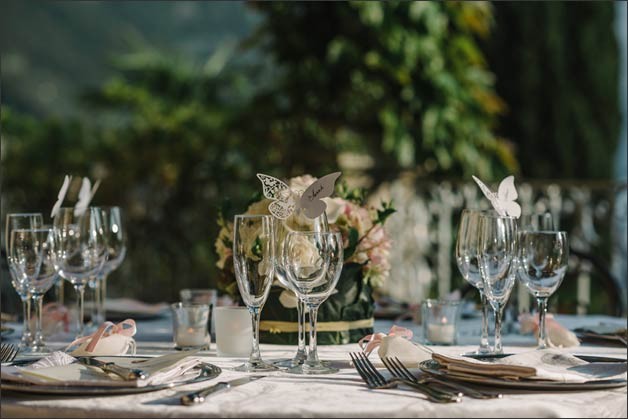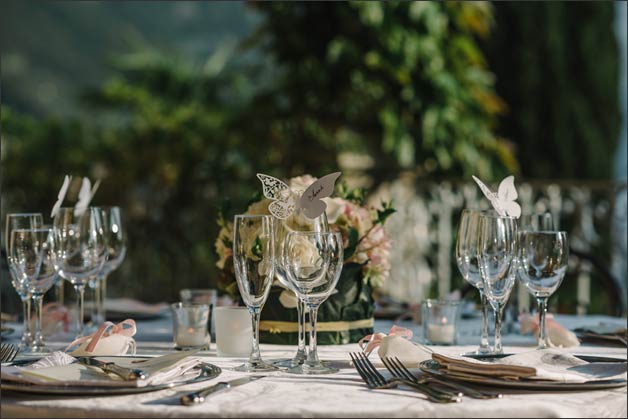 Wedding decoration and flowers allowed the whole party to feel surrounded by little elements reflecting bride and groom's personalities, tastes and wishes.
Bride and groom's friend prepared a music playlist so Catherine and Timothy could enjoy their preferred music as background during the evening.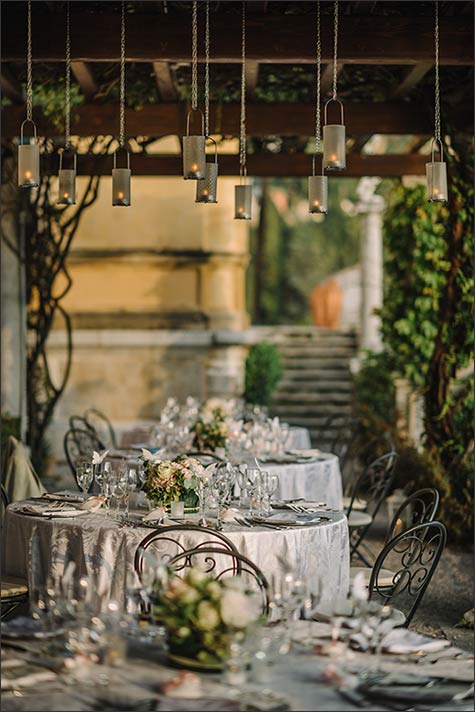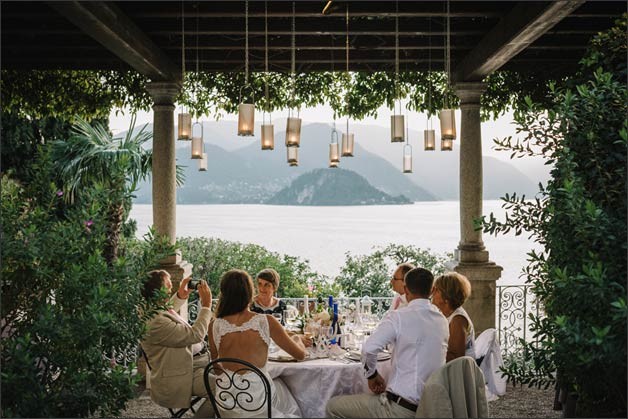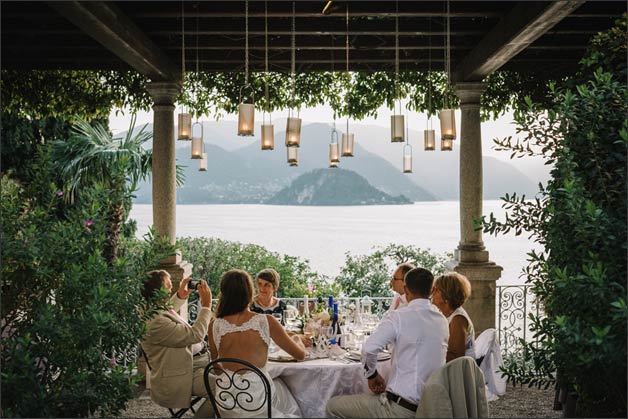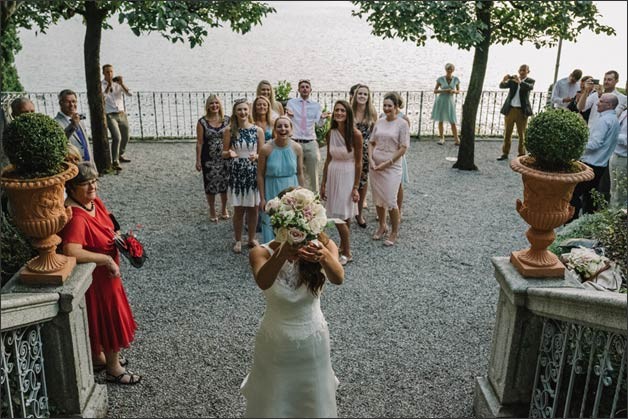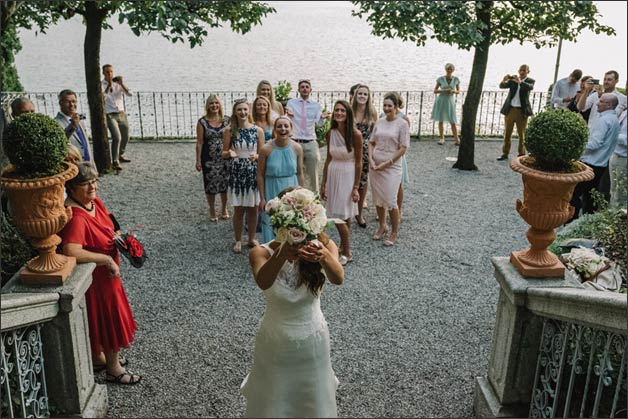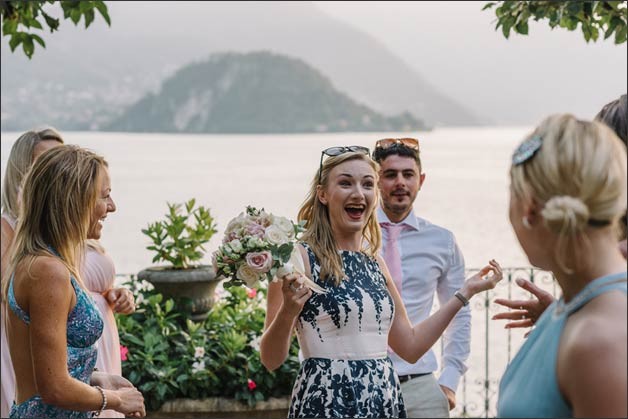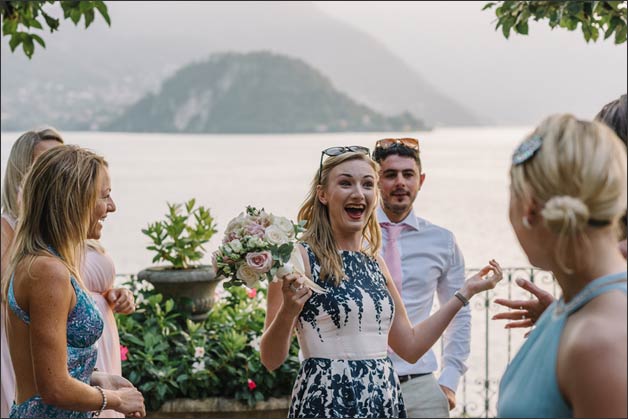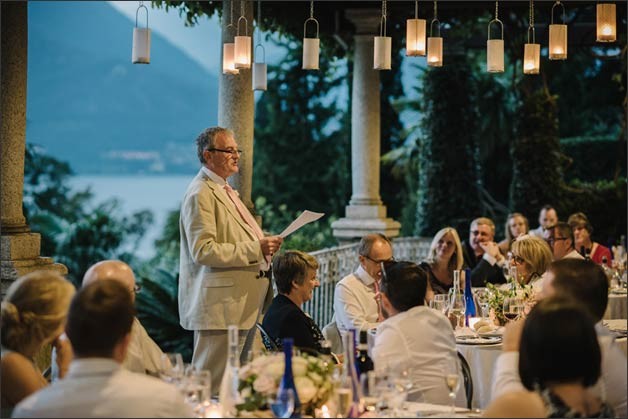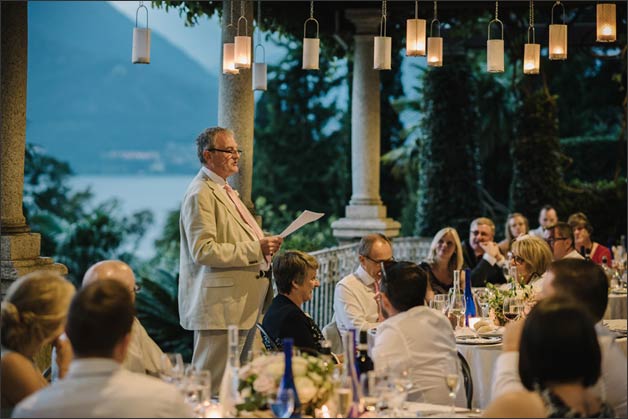 Time passed by happily with excellent Italian food, funny speeches and… surprises! One of the bride's best friends, gave Catherine a hardcover in real dimension of her beloved dog!!! She was so fond of her furry friend! Unfortunately it was that not possible to bring it to Italy so that, her friends decided to let the couple enjoy his company with a nice picture that was added to the newlyweds' table!
A wonderful way to emphasise importance of family!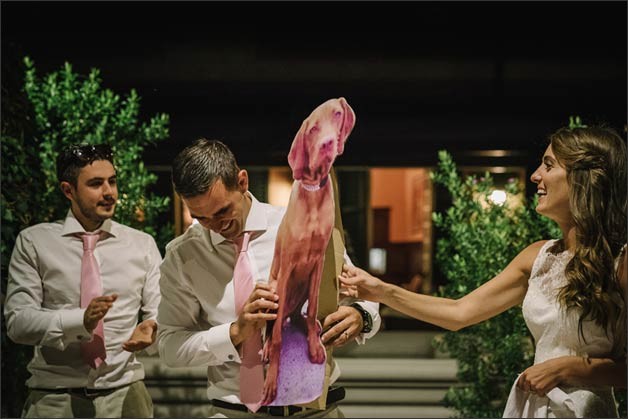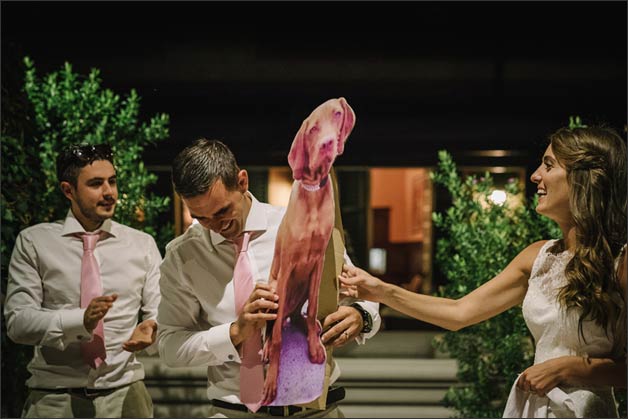 ALESSANDRA AND VERONICA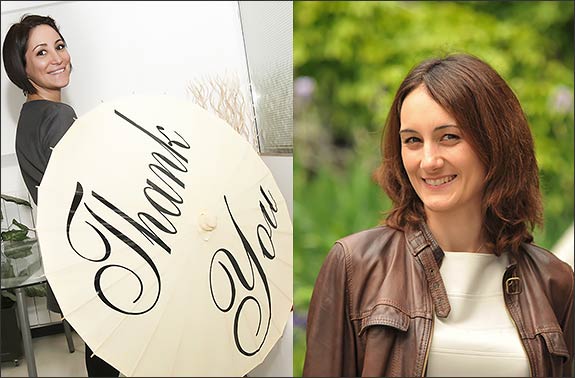 Alessandra and Veronica are the Italian Lakes Wedding's coordinators for lake Como area.
It will be a great pleasure for Alessandra and Veronica to help you plan your wonderful wedding on Lake Como: If your idea of wedding is refined, sophisticated and with a special attention to details, they are your perfect wedding planners! They make each client feel unique and treat each wedding as if it were their own.
With their help, glamour and bon ton will be the main features of your special day while Lake Como will be the enchanting setting. And if you need help in choosing your bridal gown, your honeymoon destination or the most chic wedding favors, just ask them and you'll be surprised by their fervid imagination!
For any information about wedding in Varenna, Lake Como:
CONTACT ALESSANDRA AND VERONICA