n a shiny spring day, in the evocative
medieval village of Malcesine
, located on the shores of the
Garda Lake
,
two English guys
are getting ready to say "I do" and finally become husband and wife.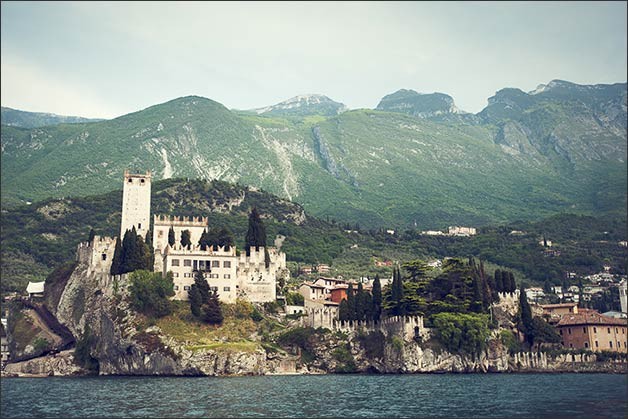 Julia
is very excited. Her mother and friends are constantly by her side, helping her in dressing up for the big day. On such an important occasion, Julia has chosen a
very original dress
, inspired by the
medieval princesses
she resembles so much. A sultry corset, a long tulle skirt. Main color is
ancient white
, which matches the beautiful shoes, a tailor-made pair of vintage stilettos.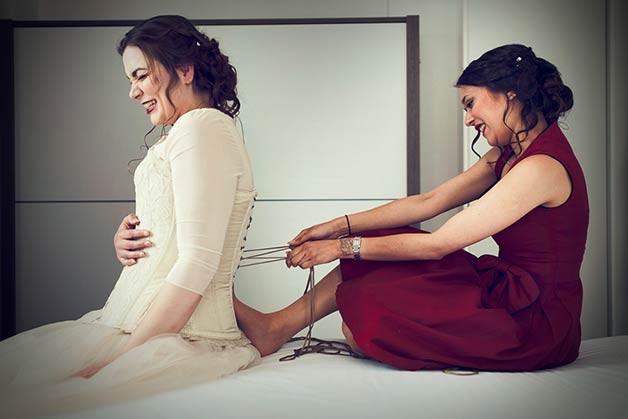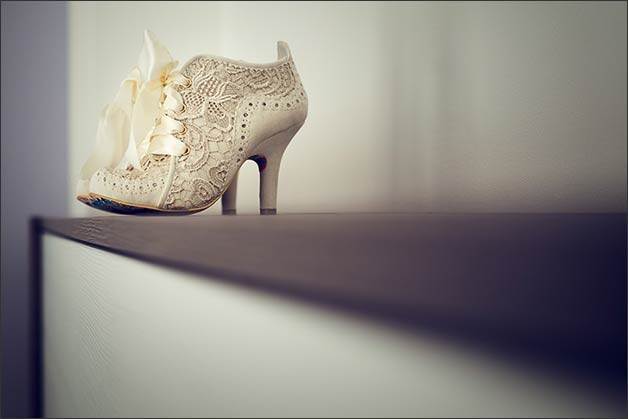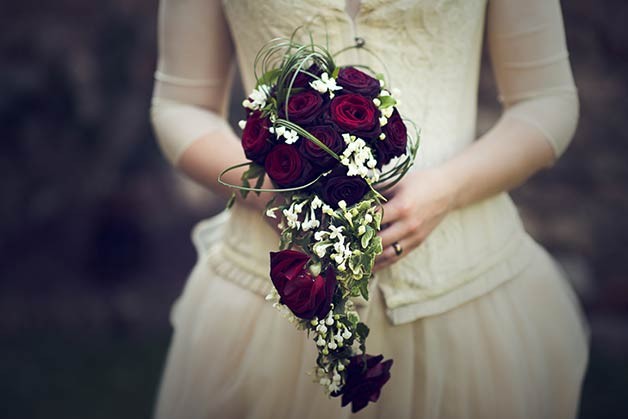 Michael
is also in a very good company, laughing and making jokes with the friends of a lifetime.
He's
nervous
, but he doesn't want to show it.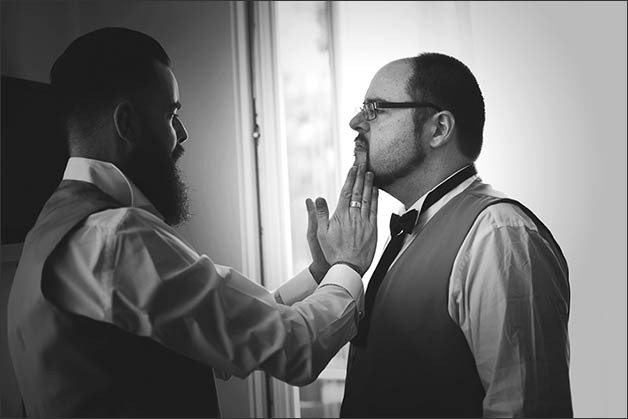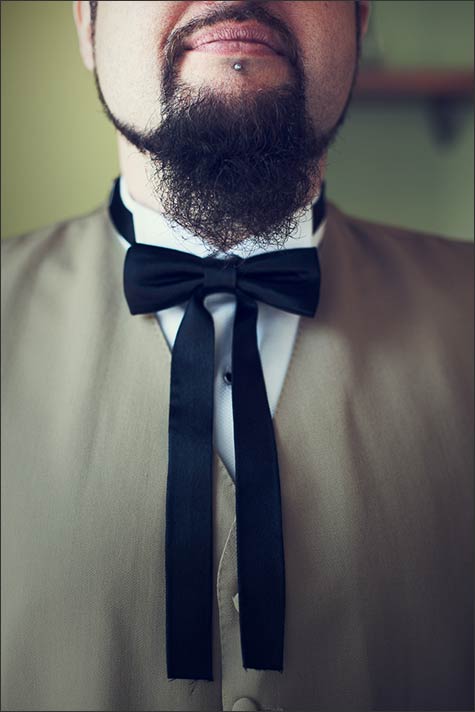 When they arrive to the wonderful Castle of Malcesine all the emotions kept in the inside for so long start to glimpse from the surface.
The beauty of this venue is breathtaking: ancient stone walls, imposing tower, heavenly lake Garda view. Everything is perfect. Even the sky, with its light blue colour and the soft clouds, seems a Monet' painting.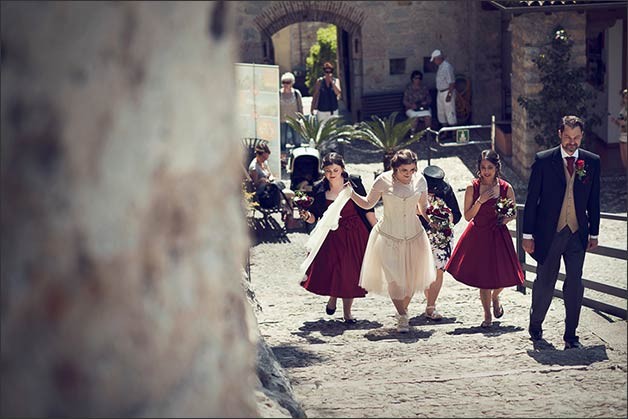 Ceremony was just beautiful, music was epic and happy. The bride walked the aisle accompanied by the music of Star Wars movie played by a talented violinist. Everybody loved it!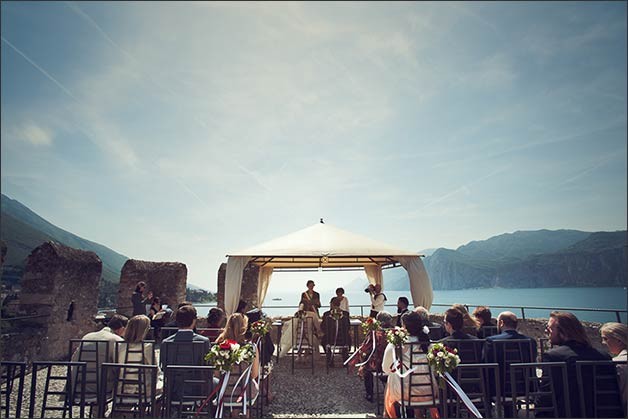 Michael and Julia are surely deeply in love, you can tell by the way they hold their hands, or how they constantly search for each other eyes.
After reading their wedding vows, Michael and Julia are now a husband and wife. Their lovely wedding ceremony ended with Indiana Jones movie theme, the perfect music to get the real party started.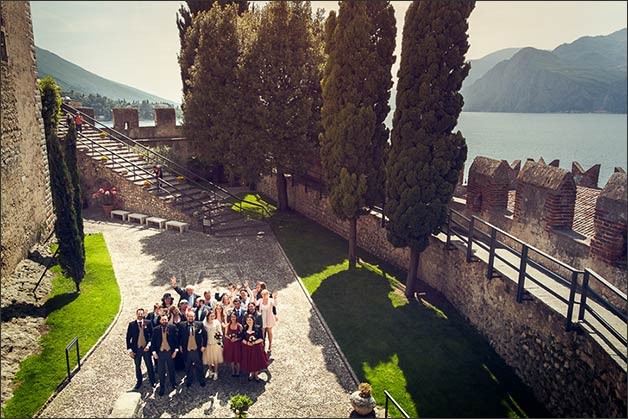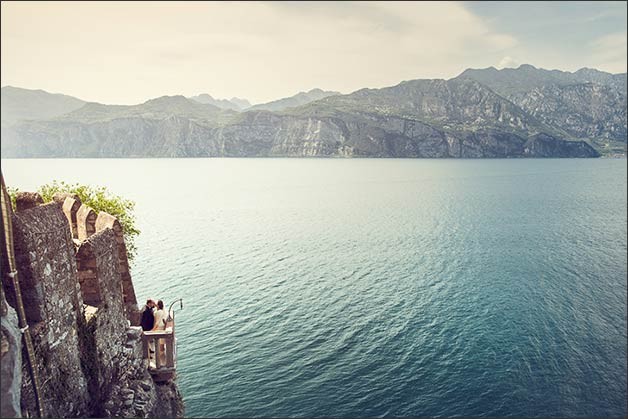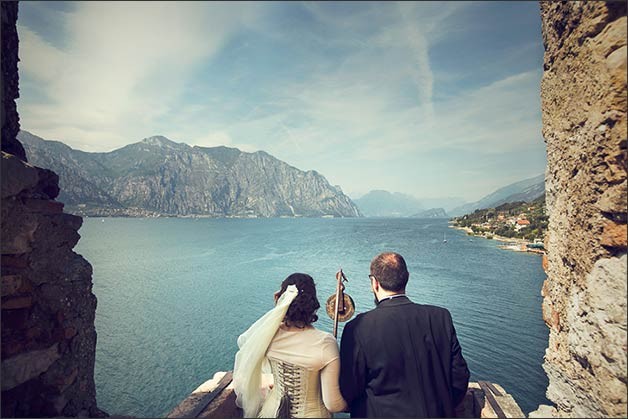 Bride and groom's first stop was the restaurant by Malcesine Castle. There's a medieval vibe in this wedding venue, with its walls made of bricks and wood, pergola on the terrace, wrought-iron tables and chairs. The small group wanted to celebrate right away the brand new couple so they raise a toast in honour of Michael and Julie.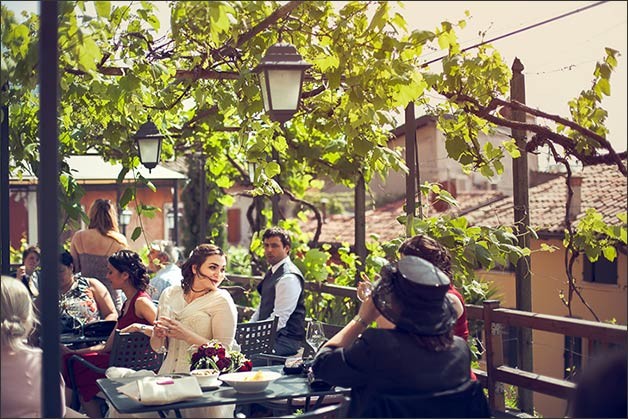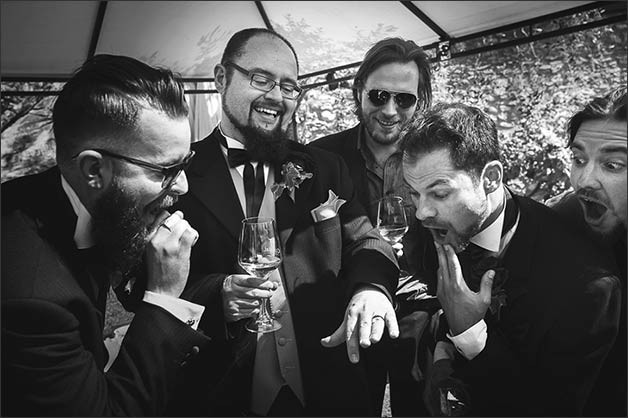 Couple's second stop was stunning ancient port of Malcesine. From here, newlyweds boarded on a private ship together with their friends and family. Atmosphere was very relaxed. Guests and guests were sipping flutes of Bellini drinks, dancing to the music and taking fun selfies photos.
Ride took longer than what forecasted, but as they say, time flies when you have fun.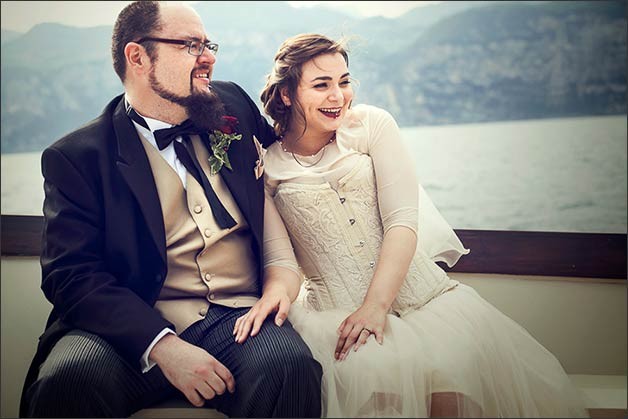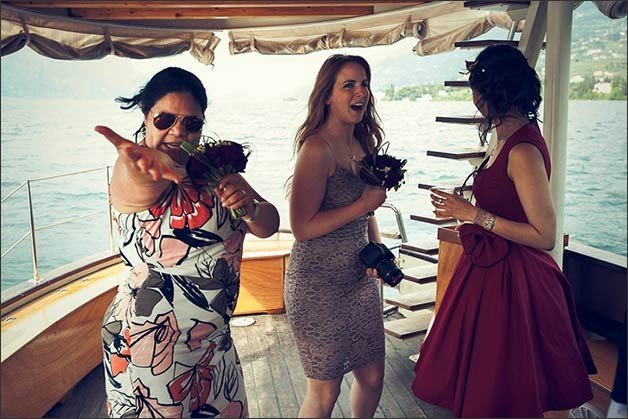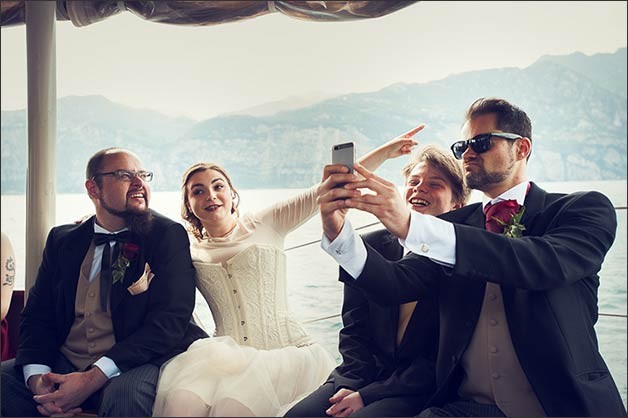 A luscious banquet in Malcesine
It's time to go back on main land.
A luscious banquet was awaiting under Restaurant pergola.
Decorations are on point. The main colours were deep red and white, a combination which made the whole setting even more magic and evocative.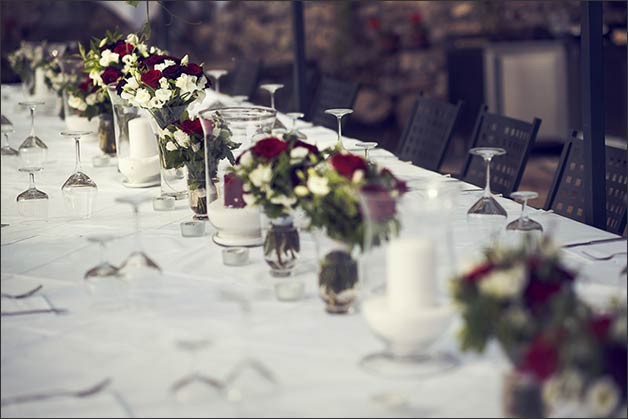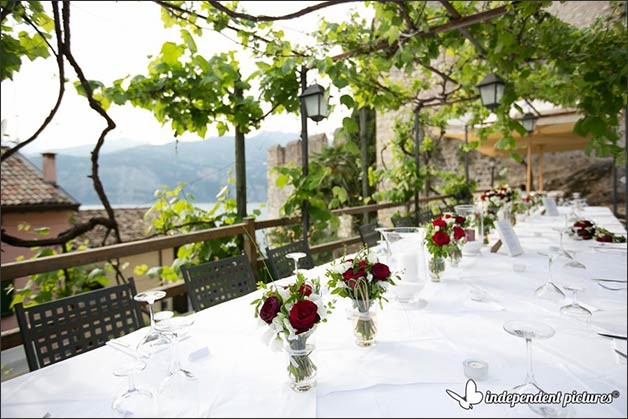 Before starting to eat delicious local Italian food and celebrate with glasses of Italian prosecco. It's time to listen to guests' speeches. It's a very touching moment, tears of joy flow on Michael and Julie cheeks. Everyone at the table was moved by the words of love and affection dedicated to this special and unique couple.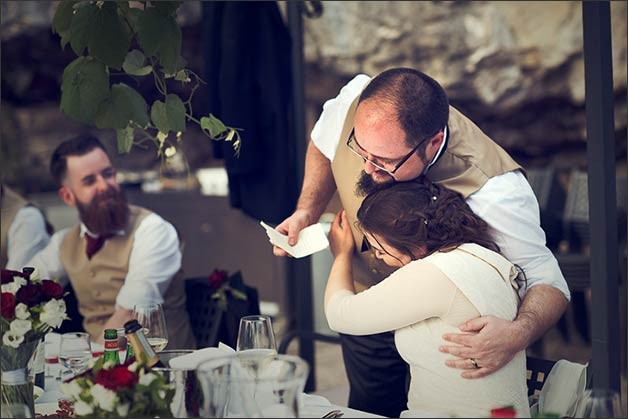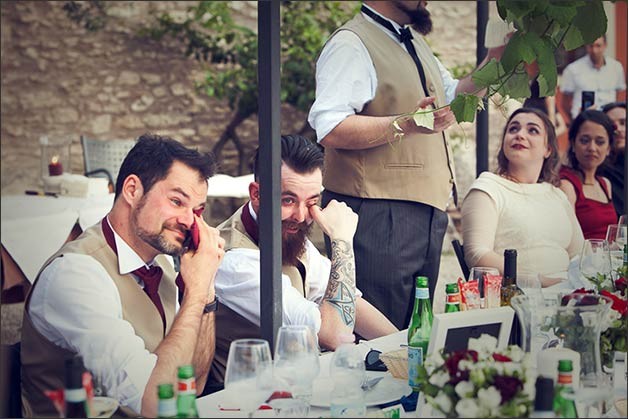 The celebrations continued in a cosy and familiar atmosphere.
There's no music in the background, because Michael and Julie did not need it. The conversation among the table mates sounds much better than any rock 'n' roll records!!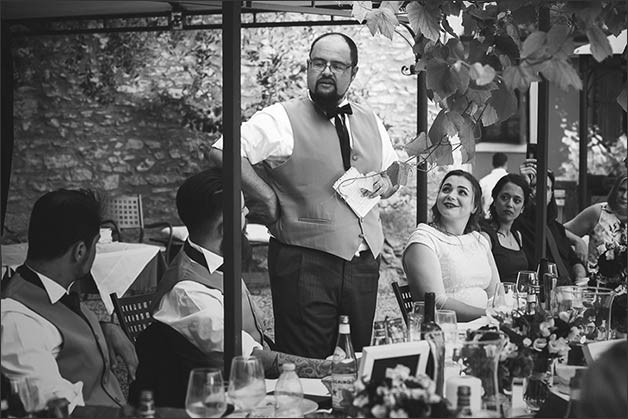 The final moment of this unforgettable wedding day was the classic cut of the wedding cake. Michael and Julie chose a coconut sponge cake, which was accompanied by a last toast.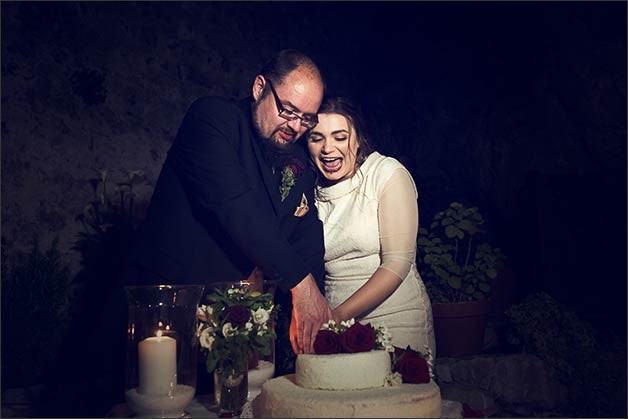 A toast to celebrate once again a beautiful couple, who has been lucky enough to be surrounded by people they love the most, in the stunning scenery of Malcesine on Lake Garda, on the most important day of their life.
A very special thanks to Independent Pictures for these great shots.