Elope in Italy
If you re thinking about a small, intimate and cost effective solution for your destination wedding eloping in Italy could be the right choice!
Elope is s simple! Just the two of you in a wonderful Italian destination to make your dream come true. Elope in Italy is sharing with your spouse magic and unique emotions that will be a special memory for lifetime.
You can choose Italian Lakes: elopes on Lake Como could be luxury, dreamy to feel like a queen and king for a day.
You can elope on Lake Garda for a romantic getaway on the biggest Italian Lake.
An elope on Lake Maggiore could let you dive into real appeal of Belle Epoque with its villas and 1800 art deco hotels.
Your elope on Lake Orta could be a fairy tale romantic escape. Lake Orta is an ideal destination with is small pedestrian medieval village.
You can also elope on Lake Bracciano or Lake Trasimeno in Umbria to be close to the nature and country atmospheres.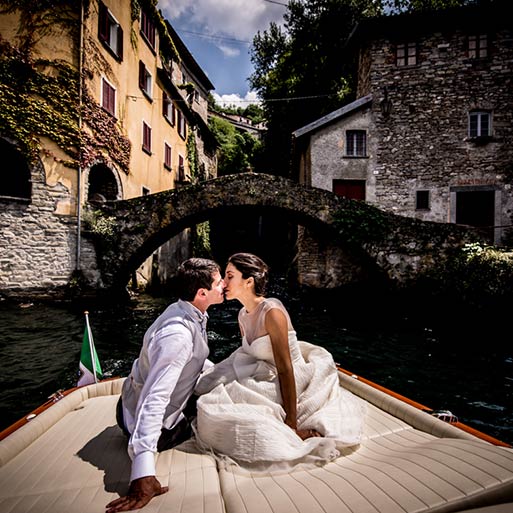 If you like countryside we can plan wonderful elope in Piemonte, Tuscany, Umbria and other country destination in Italy to make your dream come true overlooking vineyards ills and olive groves.
You can chose to elope in Apulia on a sandy beach overlooking Mediterranean sea or on Amalfi Coast or Italian Riviera or a frosting silvery winter elope on Italian Alps.
And what about romantic destination par excellence? Rome, Venice or other cities of art such as Milano, Torino, Bari, Verona, Firenze, Pisa, Lucca and many others.
Eloping is the celebration of pure love!
Our planners will be happy to support and happy to help you plan this special intimate event for you.
They can provide packages for your elope in Italy or tailor a customised special wedding for two.
They can also provide full assistance for paperwork to produce to have your legal religious or civil marriage in Italy.
We are also happy and proud partners of Simply Elope US thematic blog a unique and amazing source for all eloping couples all over the world.
So if you are thinking about an elope on Italian Lakes or Italy do not hesitate to contact us we will make your romantic intimate dream come true!