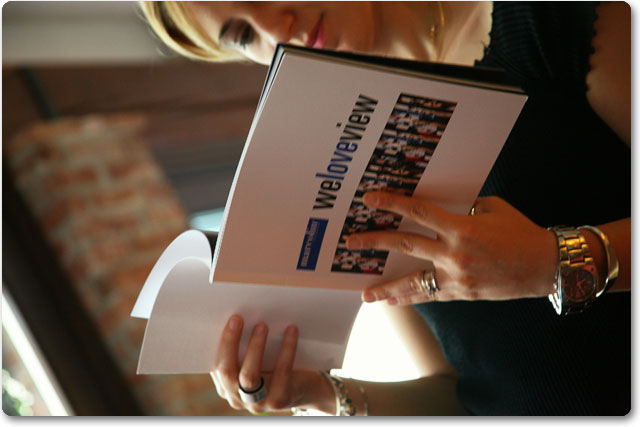 Valentina Lombardi is one of the wedding coordinators that work with Italian Lakes Wedding Team, one of the most active. One year after the interview you read last year on these pages I had the pleasure to meet her again and ask for an update balance of her activity.
Hi Valentina it is a pleasure to meet you again. How could you judge this 2008? Do you think it was a good tear professionally speaking?
Hi! Yes I can say I'm satisfied. To tell the truth helping couples to make their dreams come true makes me feel always happy. Couples I followed during 2008 were extremely nice and interesting.
Among all the wedding you planned during 2008 there is one that is particularly special for you?
Oh no! 🙂 I would surely do a mistake missing someone! Every wedding was special and unforgettable. Maybe details will stay in my heart proudly from each of them: Scottish groom's kilt, music of Cavalleria Rusticana for a ceremony to Villa d'Este on Lake Como, fireworks in Varenna for an American couple friendship of another American couple, the smile of an Irish bride for a surprising day of sunshine. How could I forget all this?
And the one that made you worry?
There was a wedding for which I was very worried for sure for a detail that nobody could control: weather! Couple came here from Ireland and they choose Orta for its sun, panorama and atmosphere. Unfortunately pouring rain seemed it could ruin the whole event. Bride was very worried and sad. But it wasn't so! In spite of bad weather forecasts bridegroom enjoyed a nice sunny day that let the even go as they planned. Just a little miracle for their own!
Your agency doesn't manage only weddings on Lake Orta and Lake Maggiore but even other areas for destionation Wedding in Piemonte such as Langhe Monferrato and Olympic Mountains…
Among all those destinations what was the 2008 most wanted?
Lake Orta for sure!!! Lake Orta has a poetic atmosphere. Almost nobody can resist….me neither!
Anyway there are also good opportunities in Langhe areas. It is an almost unknown area but it is keeping on getting famous thanks to its wonderful views on vineyards and for its delicious food and wine of Piemonte tradition!
From what part of the world came couples you planned the wedding for in 2008?
They were Anglo-Saxons mainly, Irish and British mostly. For this year we are receiving requests also from United States and Australia but even some couples coming from Germany, Switzerland or Austria.
Let's go to present. It is quite early to say…how could you judge 2009 trend?
It is quite good so far. There are some wedding we are working on that will be just wonderful!
Are you afraid of world recession? Do you think this could lead to negative effects in wedding planning? Do you feel there is something changing?
It is only a matter of budget so far…..but let me say that is quite difficult stop a dream! Don't you think so? Maybe you plan to have a big wedding and you turn with a small one but if you love those places….I think….you cannot avoid to come!
I bet you are already working on some events for 2010. Isn't it?
Thats' true! Do you know what? Here are some requests for 2011!!
That's fine…if you start planning early you have more time to decide every single details and make your dreams come true.
Valentina, thanks and good luck!
Thanks you!! Congratulations to all new-engaged, lots of happiness to newly-weds and thanks from the bottom of my heart to the rest of the team that it is growing now and to all our collaborators….and most of all our wonderful webmaster!!!