Today I would love to tell you about one of the most original couples I had last wedding season.
Niamh and Stephen are a wonderful couple living in Kuwait. Niamh as you can tell from her name comes from Ireland and Stephen is French.
They fell in love with Lake Orta having a look to our web site and seeing all the weddings we planned over here so they decided to get married here without coming here before for a visit.
For this reason they decided to have a little pre wedding photography service, just the two of them to live and explore the little romantic and charming corners of Orta village!
They simply took a walk with their friend Fwad Afzal Photographer in Orta village and got magic pictures that they will never forget!
Have a look at them isn't it a great idea?
Niamh and Stephen got married the day after, our last wedding of 2011 summer season.
Niamh was simply beautiful in her romantic dress and have a look to the four bridesmaids too in ivory beige long dresses!
The dresses matched perfectly the color of the flowers Niamh chose for them, ivory cream roses and gerberas created by La Piccola Selva with the other floral arrangements of the day.
Civil Ceremony was held in Villa Bossi, Orta town hall and Niamh and Stepehen were so lucky to have a wonderful weather and many guests present to this special day, about 100 guests!
After a little walk in the little roads of Orta with some drinks for guests and some more fun pictures in the village the whole group took the boats to take a lovely trip on the Lake and then reached the restaurant on St. Julius Island.
In our older posts we showed smaller parties to this rustic restaurant by the shores but the wide terrace can fit up to 100-120 guests and this is what happened for Niamh and Stepen's wedding!
A great dinner and party to follow with a huge chocolate cake too!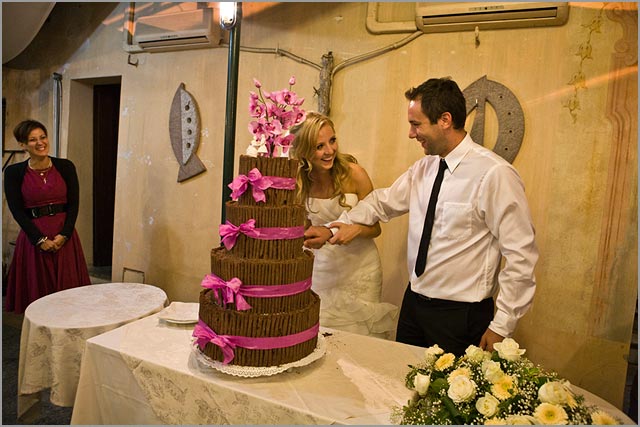 Our couple took also the chance to have a lovely walk on the Island to have some other great shots in this quiet and special place: St. Julius Island.
If you really like wedding pictures Niamh and Stephen idea could be surely great to keep a special memory of your day.
A intimate shooting on the day before, casual relaxed and romantic and some great shots on your wedding day with your friends and family a memory that will last a lifetime!
A special thanks to Fwad Afzal photographer – Niamh and Stephen's good friend and photographer who kindly provided these lovely shots for our post!
My name is Valentina and I work as wedding coordinator on Lake Orta and Lake Maggiore.
Before being a wedding planner and coordinator I worked for an American company planning events. I turned into wedding planning for SposiamoVi group, more than 5 years ago. Since Italian Lakes Wedding was founded I work with them to make bride and groom's dreams come true on this wonderful Lakes of North West Italy and Piemonte region.

l love creating with my couples the perfect event for them following their wishes and needs, helping to find the best solution for their ideas and budget.
I like meeting people talking with them and know more about their cultures and traditions. I do like sharing Italian customs with them and working in team with couples to let them experience a real and dreamy Italian wedding!

I will be pleased to guide couples along lovely traditional and pedestrian roads of Orta village discovering the beauty of this romantic Lake between villas, traditional restaurants wonderful churches and enchanting St. Julius Island.
I will be happy to let couples discover bigger and charming Lake Maggiore with its Borromeo Islands, wonderful hotels and villas overlooking the waters.

I'm sure you would be amazed by the beauty of these special corners of Italy so I'm simply wait for you for a lovely experience to create and live together.

For any information about wedding on Lake Orta or Lake Maggiore please CONTACT ME.