Italian Lakes Wedding blog ended 2010 with a great post about Lina and Borja's wedding Lake Maggiore's Wedding of the Year.
We really wanted to begin this fabulous 2011 with another wonderful wedding that we all keep in our hearts. We are talking about Eve-Marie and Roland's wedding on Lake Orta.
This time we want to tell you about that in a unique way: Eve-Marie and Roland's wedding will be described directly by bride and groom!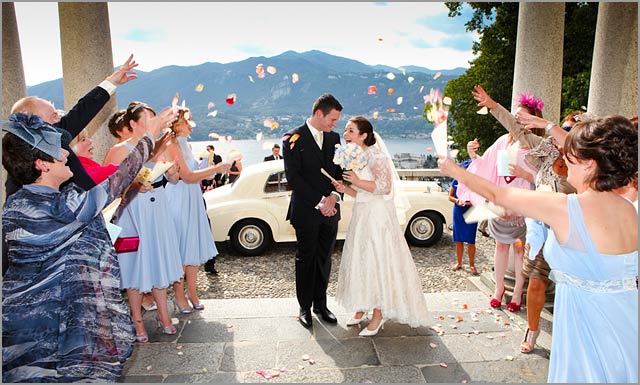 Roland and I are both from Dublin. We met in college and had been great friends for almost a year before we starting going out and that was seven years ago now.
We had planned a big wedding in Ireland and were ready to start paying deposits when we realised that we didn't want a big wedding with lots of people who we hadn't met or who didn't know us. We sat back and really thought about what we wanted and decided we'd love to have a relaxed wedding in Italy with those that matter most to us both. We focused on the northern lake region of Italy because it would have lovely weather in September when we wanted to get married and it was close to airports.
We started searching for planners online and Valentina kept coming up.
The Italian Lake Weddings site instilled us with confidence that these planners were the real deal, so we started emailing Valentina and arranged to come over and view some possible venues on the Italian Lakes.
Roland and I arrived in Orta the night before we were due to meet Valentina (and her colleague and husband Ernesto) and decided to go for a walk down the town. Within 5 minutes of walking through the cobbled village with the beautiful coloured buildings on either side and entering into the stunning piazza with it's view of the lake and San Julius island, we had decided that Orta was the prettiest place we'd ever seen, that we wanted to share it with all our friends and family. We just had to get married there.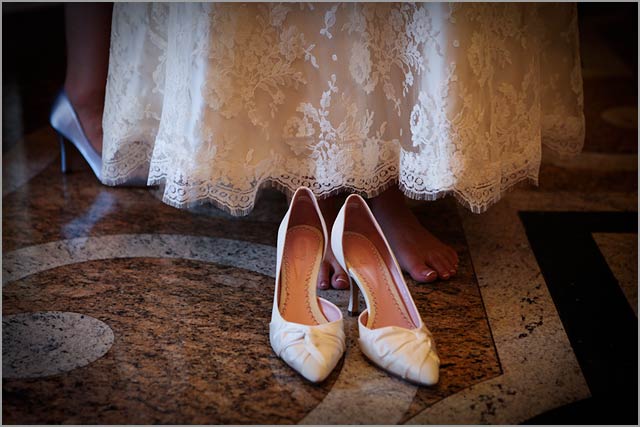 We decided to stay in the hotel San Rocco with our 45 guests. The hotel staff were so accommodating. As a special treat they gave Roland and I the suite in the Villa Gippini which really made the start of our wedding visit magical.

Our wedding was a 3 day affair and the Italian Lakes Wedding Planners helped us to organise all.
We had a Welcome Lunch for our 45 guests in Due Santi Restaurant in the centre of the piazza looking out over the lake. Later that day we took 2 boats across to the island for an amazing rehearsal dinner on the terrace at the Restaurant on St. Julius island, in the middle of the lake. The day after the wedding, we went for a leisurely pizza in La Campana Pizzeria, before we headed home.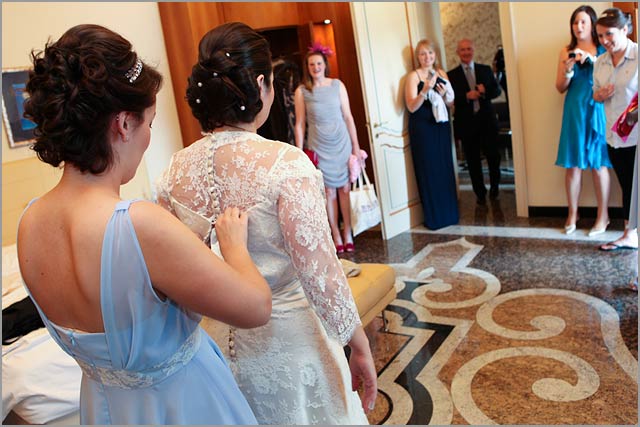 We had quite a large bridal party, with four bridesmaids and both of our mothers. Our dresses were all made by a truly gifted woman name Gay DePaor in Ireland who worked so hard on the seven dresses and gave us exactly what we asked for.
My duchess Satin and Chantilly lace dress was perfect to match the 1950s Hollywood style I wanted and she was able to make each of the bridesmaids a different designed dress which allowed the four of them match, but also to show their own personal style.
On the wedding day the make-up artists at the San Rocco wellness center took exceptional care of the seven of us and our local Italian hairdresser Cristina worked wonders with her assistant so that we were all ready to go by 2pm.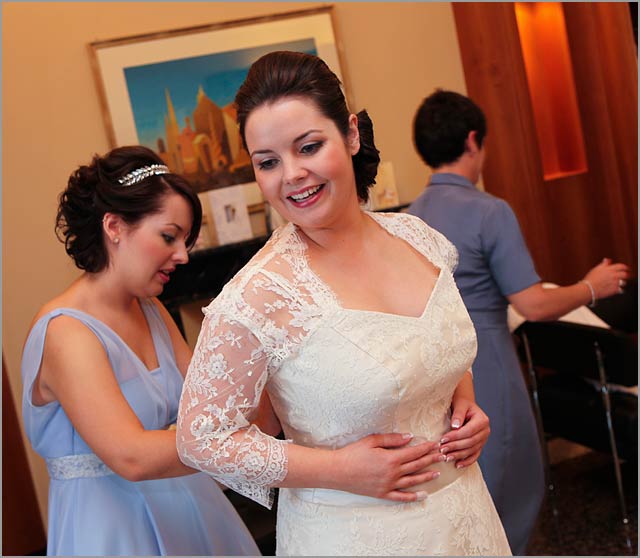 There are so many beautiful churches in Orta and Valentina brought us to visit them all, but when we saw the breathtaking view from the Sacro Monte church we were totally smitten. Our guests are still raving about it and it was a lovely way to take out first steps of married life out into that wonderful vista.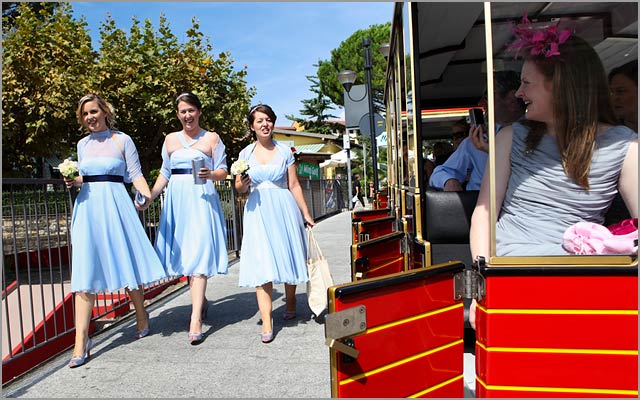 The guests and most of the bridal party made their way up to the stunning Sacro Monte church on the fun tourist train that drives around Orta. This was a great treat for our guests.
My father and I followed in a beautiful vintage Bentley car that really felt in-keeping with our 1950's Hollywood glamour style.
The very talented floral designer Paola from La Piccola Selva arranged our flowers and decorations and all our guest commented on what a superb job she did. I hadn't been sure what flowers I wanted and she helped me to decide by showing me many of the wonderful weddings she had done previously.
I loved my bouquet which was made of blue hydrangeas and cream roses and the table settings later at the reception were superb. I must admit my favorite part were the heart shaped bushes outside of the church, I just adored these.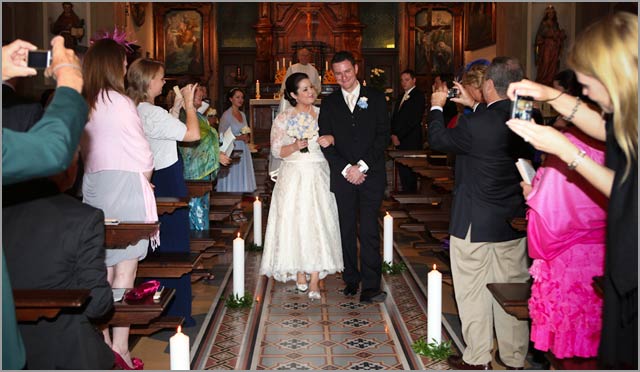 The wedding ceremony itself was magical. We had brought our own priest from Ireland who was a close family friend and the string trio we had really added to the atmosphere with their beautiful music. I had been quite concerned about the music in the church because all I had heard was a few songs they had preformed, but they truly were exceptional, providing not only the few songs I had asked for, but also filling in with music wherever it suited the ceremony. They then followed us outside and played to our guests as we congregated around the church and took some photographs.
The photographers from Silver Stars Photo were exceptional. Roberto and assistant Alice were so patient and took so many photos but at no point were they in any way intrusive. They worked wonderfully with the videographer Vera. We haven't seen photos yet, but I'm sure they'll be wonderful.
Click here to EVE-MARIE & ROLAND'S PHOTO-GALLERY by Silver Stars Photo
We went through a number of venue choices and Valentina (and her husband Ernesto who takes care about booking and logistics) was very supportive before we finally decided on having the ceremony in the Castello and we certainly made the right decision. The Castello is a beautiful venue with an old world charm. The stairs and stain-glassed window provide a lovely backdrop for photos, as do the pool and the amazing terrace. It was also lovely to feel that it was ours for the day.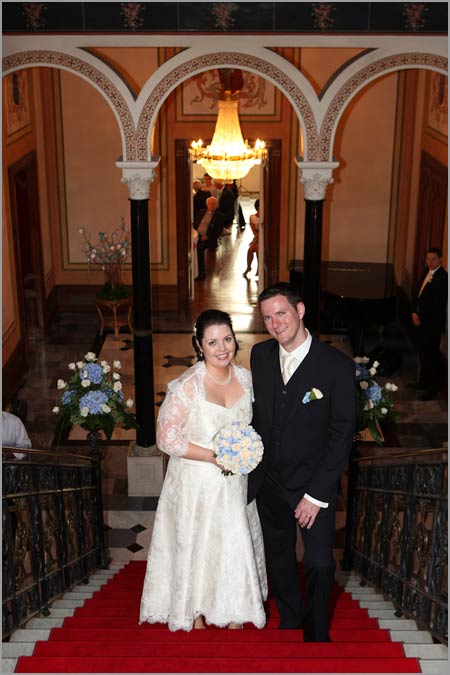 We had lovely aperitifs under the trees in the grounds, sitting and relaxing with our guests, while the Hot Club Trio serenaded us. It was so nice to be able to relax with our guests and leave all the organizing to the planners now that the excitement of the wedding ceremony was behind us.
The food throughout the wedding day was provided by Delicatezze a Casa Vostra Catering Service and was truly marvelous. We had an amazing variety of hor d'ourves when we arrived at the Castello, followed by a scrumptious Wedding dinner. Then there was a delectable dessert buffet, followed by cake and cheese. The food really was top class and our guests are still talking about it.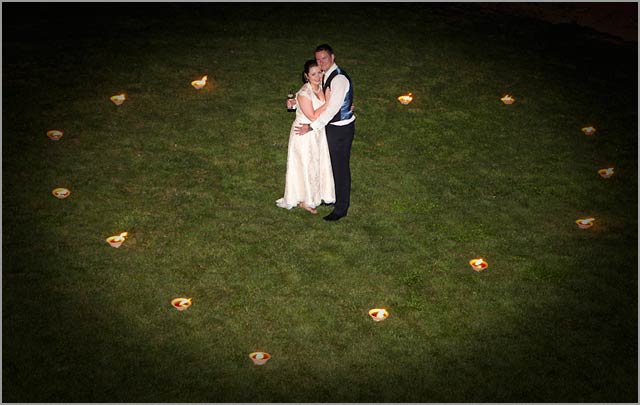 Valentina went to a lot of trouble to add some personal touches to our wedding day. They set up a beautiful heart made of candles on the lawn in front of the terrace and we had an amazing escort card tree with crystals and ribbons that I was really excited about. The biggest surprise of all was the incredible cake, which was a total surprise and tasted as great as it looked.
After we had danced and ate and drank our fill, we all went out to the terrace and set off 25 paper lanterns into the night sky with our guests.

This felt like the perfect end to a perfect day!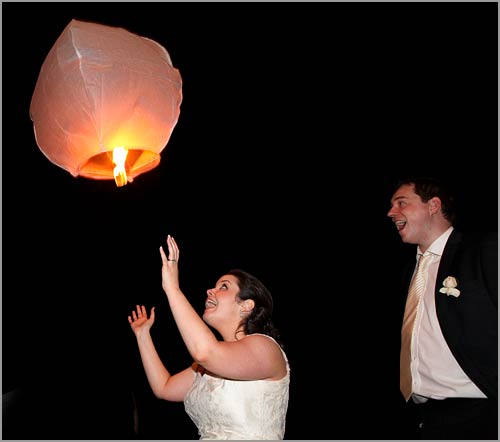 Italian Lakes Wedding Team really wants to thank Eve-Marie and Roland for their kindness and friendship.
Thank you Eve-Marie and Roland from all the team for your lovely and sweet words that we all appreciated!
And… Italian Lakes Wedding team really wants to wish a wonderful and sparkling 2011 to Eve-Marie and Roland, all our brides and grooms, all our readers, friends and collaborators!
Italian Lakes Wedding Team is made up of several professional wedding planners and floral designers with a long experience on Italian Lakes locations.
The Team knows the territory in every single detail and will be able to follow you on every important choice you will take.
Our coordinators are based locally in the areas we serve so whether you decide for a wedding in Rome or Bracciano, a wedding in Como or Stresa, or a Wedding on lake Garda or Lake Orta, we will grant the same level of service.
Our Team will be able to provide you every kind of supplier, florist, photographers, musicians, designers celebrants, witnesses and help as far as your documents are concerned, and anything you may think of.
Italian Lakes Wedding Team will literally pamper you!

For any information about wedding on Lake Orta – please CONTACT US.