Waiting for the beginning of a new season of beautiful weddings on Lake Orta I would like to tell you about some wedding that I followed last year that I did not mention before. This is not because they wasn't interesting, on the contrary they were absolutely great and unique!
Simply for some reasons I did not have the occasion but I will do it now!
2008 was a busy year for me rich in satisfactions starting from Janet and Ian's floral arrangements at Villa d'Este on Lake Como. I remember also the arrangements with beautiful peonies and lemons at Villa Muggia in Stresa for Victoria and Danny's wedding and more Autumn theme I create for Rossella and Giorgio's wedding: bridal bouquet and centrepieces at Palazzo Penotti Ubertini in Orta.
But let's go to "the ones I forgot" of 2008.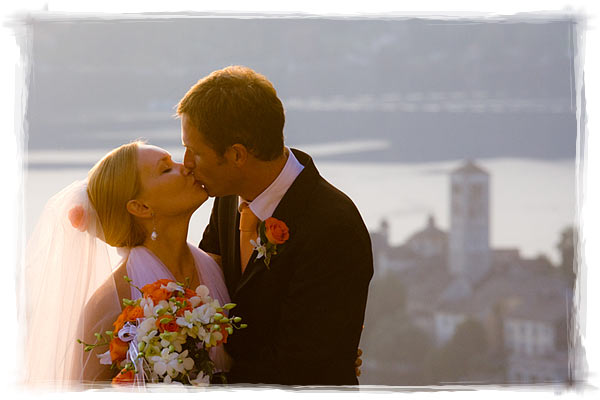 I'm pleased to tell you about Elena and Peter's wedding last September. Elena and Peter are an exceptional couple. She is Russian and he is American a wonderful and happy couple. I think that also photographer Enrico Mocci loved work with them since they were so nice, friendly and beautiful! You can see Elena and Peter's photogallery: you will see stunning pictures!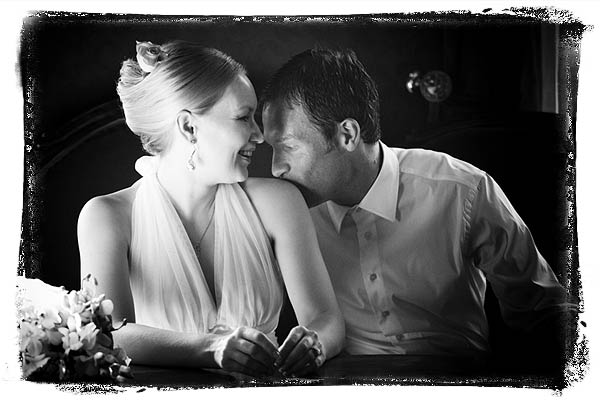 The entire wedding took place at one single venue: Hotel Villa Crespi in Orta San Giulio.
It was a typical Russian ceremony so the best place should be obviously Villa Crespi!
Valentina some time ago mentioned in one of her articles about the possibility for an ethnic wedding to Mooresque style Villa Crespi, this is the one!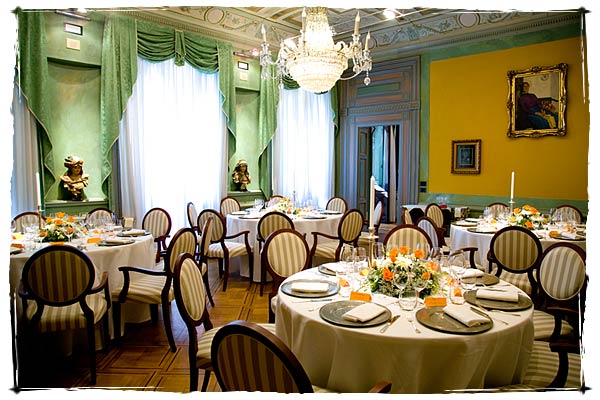 Ceremony was organized in the garden of the villa during a wonderful sunny day.
Traditionally Russian orthodox ceremony is long and rich of signs and details.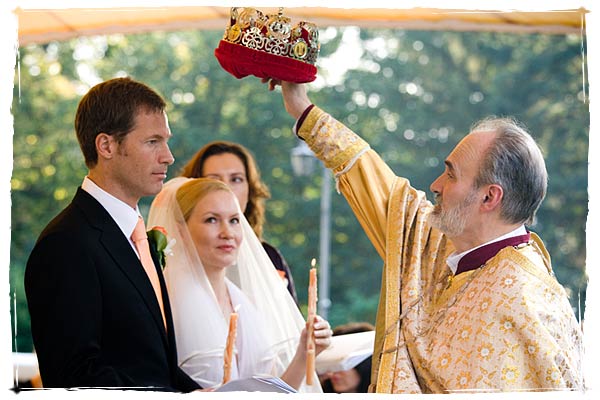 The exchange of the rings, that has to be done 3 times meaning the Saint Trinity and the Crown for bridegroom. Again bridegroom will drink three times from the same holy glass and they will go around the ceremony table, the celebrant will lead them for their path for 3 times just like they are having their first steps as bride and groom.
At the end of the ceremony, there celebrant will take off the crown and he will bless them and all guests good wishes.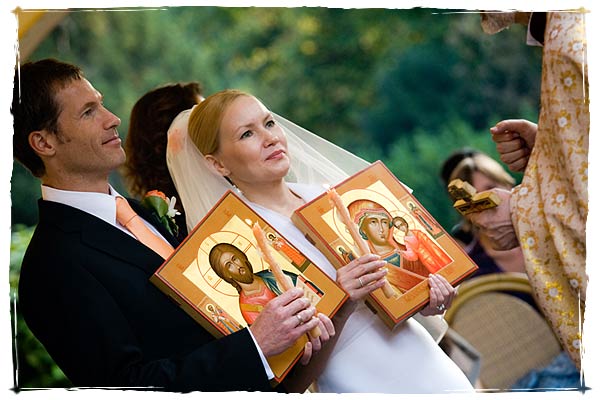 Elena and Peter's color scheme was white and orange. I used it for the bouquet, arrangements in the garden and centerpieces. Elena took orange for her hairdo with nice little orange roses. Peter used a little orange rose too but for his buttonhole and he wore a wonderful orange tie. They matched perfectly my arrangements.
Centerpieces were simple and essential because of the beauty of rooms of Villa Crespi, but Elena wanted from me a special attention for her bouquet. I created it with long ivy willows and Dendrobium orchids. A the top of them there were wonderful Orange Dream roses.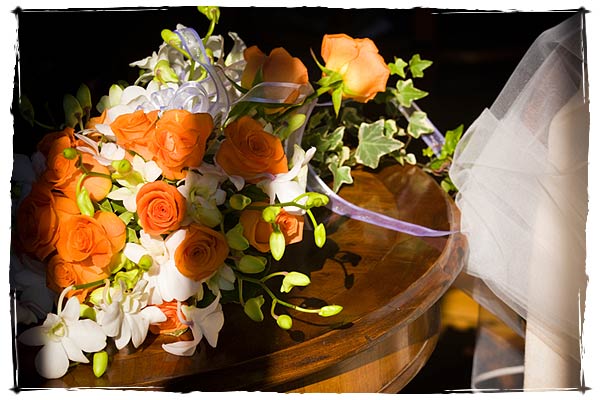 Once again to have a look at the bouquet and floral arrangements that I made for this unforgettable wedding just visit Elena and Peter's PHOTO GALLERY realized by Enrico Mocci from Arona.
Monika Andenmatten is La Piccola Selva's floral designer.
Based in lake Orta, has worked with brides for over 20 years to create floral arrangements for weddings in the Italian Lakes district.
His wedding arrangements are creative, elegant and sophisticated. Monika will be able to help you choose how best to incorporate floral design into your wedding celebrations. From the initial consultation to the wedding day, she will make your wedding flowers truly an expression of your dreams.
For any information about wedding on Lake Orta please contact us.