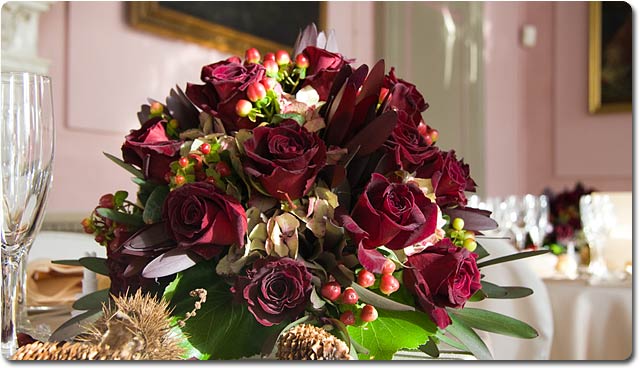 Flower Arrangements by Monika Andenmatten floral designer – La Piccola Selva, lake Orta
As floral designer I'm always looking for interesting and creative solutions but this always depends on bridegrooms choices!
To give you an example Rossella and Giorgio's wedding was a great occasion to work on a charming theme to me: autumn colors.
Rossella and Giorgio got married last Saturday in Orta San Giulio, lake Orta. A simple ceremony at Villa Bossi followed by a nice reception in wonderful atmosphere of Palazzo Penotti Ubertini.
Bridegroom's wishe was having a color scheme that could reflect intense Autumn colors with some elements recalling this romantic season that lots of poets love.
As far as the floral arrangements, bouquet and ceremony table arrangement were concerned I opted for a strong contrast between chocolate brown and purple smoothen by soft shades.
I used Black Baccara rose, Leucodendron with Hypericum berries, dry Hydrangea and Gypsum leaves.
On tables at Palazzo Penotti Ubertini I completed the arrangements with rose petals, pine cones and chestnuts.
You can see the final result above. I really hope you like it too!