Attention: UPDATE July 2011
Hotel Restaurant Villa Crespi IS NOT ASSOCIATED to Italian Lakes Wedding Team anymore because of their new policy on weddings.

As alternative to Hotel Restaurant Villa Crespi you can find on these pages the best venues, villas, restaurants and hotels recommended by Italian Lakes Wedding.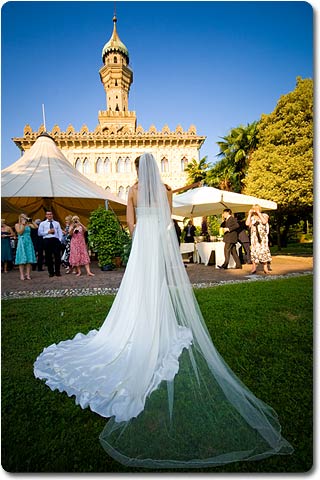 Villa Crespi,a former princes' residence of the 18s century, built in moresque style and facing the Orta lake has no equivalent in Europe: only few other wedding venues can compete with it's fascination and charme of ancient oriental fairy tales.
To give you an idea of this marvellous place I would like to invite you to take a glance at the PHOTO GALLERY, created by Enrico Mocci from Studio ArteFotoArona at Orta San Giulio. Enrico Mocci is a photographer specalised in weddings. His style is warm, intriguing, rich in facettes of light and shadow; and he is experienced in weddings at Villa Crespi.
The photo gallery I show you today has been taken from Eibhlin and Paul's wedding and Sandra and Jeremy's. These 2 examples illustrate in a perfect way Enrico Mocci's qualities as photographer in synergy with the oriental beauty of the enchanting Hotel Villa Crespi at Orta San Giulio.
Please notice how briliantly accompanied both photographic albums are by singer Karin Brides. Thanks to her vast repertiore, ranging from Opera to Cabaret/Chanson and Jazz/Blues, soprano Karin Brides is the perfect choice for an elegant and sophisticated accompaniment during your wedding day at Villa Crespi.