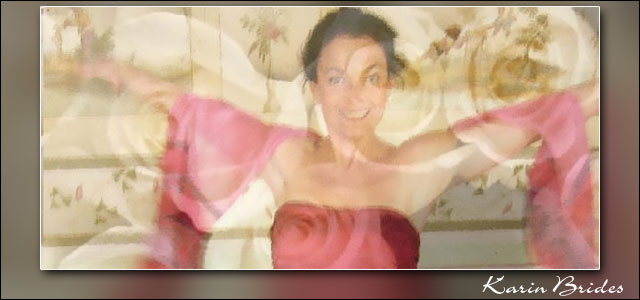 My name is Karin Brides.
I am classical trained singer, a soprano with a wide vocal range and versatile repertoire. I live on the shores of lake Como and I dearly love it.
Born and raised in Germany I simultaneously studied Lyric Soprano voice and painting/visual arts. I worked and studied in NYC at Off Broadway productions at the Sage Theatre. One of the teachers I owe most to is Andrea Mellis from the Vienna Conservatory, head of the Musical section.
As a co-producer , director and performer I created a Music Comedy Theatre piece based on Opera, Musical and Cabaret. Besides this I worked as a Jazz/Blues vocalist in various groups, starting to enlarge my repertoire into the Pop range while working at corporate events. I also started to sing on Weddings at that time and realised how much I loved that.
During my London time, together with an English colleague, I created an Anglo-German Cabaret Show programme. We toured in Europe but where also called several times by the Royal National Theatre, Southbank in London. I also performed my solo opera show program, tailored for private and corporate events intertwining it with my work as a wedding singer.
I am very passionate about singing at wedding. This kind of work enables me and gives me the opportunity to contribute to this very special moment in people's lives. There is something magical and unique about weddings. Everybody is emotional and in a solemn mood, positive tension and expectation lies in the air. It is wonderful to be part of that atmosphere and enhance it with soul touching music.
For further enquiries, bookings or to check availability, please complete the enquiry form.