No doubt, VILLA BOSSI is one of the most romantic venue for an outdoor civil ceremony in Italy. Villa Bossi is very special. It is set in a romantic context. St. Julius Island is just there and bride can arrive to its private jetty by boat.
Villa Bossi itself is very pretty and the aisle of the garden is the perfect set for a bridal arrival with flowers nature and rose petals on the floor.
Isn't it just romantic and unique?
It all begun in 2006 with Kathrine and Andreas' wedding. Before that Villa Bossi was already a lovely venue for an outdoor civil ceremony but with Kathrine and Andreas' wedding inspired many couples around the world who chose it this special place for their Italian Wedding.
Orta San Giulio Mayor celebrates there many outdoor weddings every year. We could even suggest to book quite in advance if you want to be sure to find the date of your wedding. Our Wedding Planners Team will be pleased to help you coordinate every aspect for your wedding at Villa Bossi and on Lake Orta in general.
Villa Bossi recently decided to accept to rent the area for symbolic blessings so for the ones who are not keen for legal civil ceremonies this could be the perfect spot too!
If you are thinking about a very special venue for your civil or symbolic blessing Villa Bossi could be the right decision to make your dream come true.
You can find here some of the beautiful weddings we planned at Villa Bossi in these last few years.
Who knows? They could be a good inspiration for your own wedding on Lake Orta!

I wrote many posts on our blog but I recently realised that we never wrote a full post telling you about all weddings we planned there and all the secrets VILLA BOSSI hide! Do not worry some will be well kept for the couples who are coming over to tie the knot in this special …
Browsing pages of our blog you can see how many couples come from different countries to get married on our lakes. Lots of brides and grooms! Most of them are coming from Uk and Ireland. Some others come from USA, Australia and closer countries as Germany, Switzerland and France. Many couples coming from abroad decide …
Today is the third time we come back to talk about the marriage of Charlotte and Steven: several months have passed since that July 29th, 2011, but still all of us are keeping a feeling of that fascinating and unforgettable event, certainly one of the most impressive organized the last year on Lake Orta. To …
Louise and Robert knew exactly what they wanted: to get married at Orta, a small and very pittoresque village at Lake Orta. Fascinating because of its beauty, its small streets with cafes and little shops, the religious island San Giulio right in front of the main square. We arranged the civil wedding at the historique …
Today I would love to tell you about a very sweet and your couple coming from UK. Hannah and James got married on late September 2010 on wonderful Lake Orta. The day was blessed by a warm sun that brought a lot of joy to the event. We can say that Hannah and James were …
I would like to tell you about Leigh and Alex wedding today! It took place last June on Lake Orta on a wonderful day. Leigh was surely one of the most precise bride I had this year as far as decoration and flowers are concerned. She wanted to add a touch of charm to a …
Wedding color schemes are often based on trends or bride and groom's tastes and wishes. But not always! Sometimes brides and grooms decides about their theme basing on something they are very close to such as colors of their region or home country. Do you remember about Cristina and Derek and more recent wedding of …
The dare to be different! Today we would like to tell you about Sonja and Allard a lovely couple who chose a very different color scheme Orange and fuchsia. Even if fuchsia and orange are two very different colors if you match them in the right context they could made up an absolutely different and …
Some days ago Alessandra told you about Julia and Angus' wedding on Lake Como. For the ones who did not have a look to their lovely photogallery just give a glance of wonderful pictures taken by Mauro Pozzer. Julia and Angus opted for red and blue color scheme with a touch of cream. It is …
There are many couples who decide for a very intimate wedding. If you are looking for a romantic wedding for two you could consider many ideas such cities of art like Rome – as Stefania mentioned in her past post – some exotic beaches or isolated villages. However if you love lakes but want to …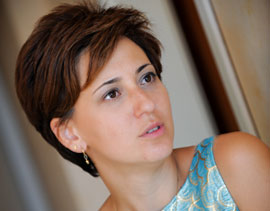 My name is
Valentina
and I work as wedding coordinator on
Lake Orta
and
Lake Maggiore
.
Before being a wedding planner and coordinator I worked for an American company planning events. I turned into wedding planning for SposiamoVi group, more than 5 years ago. Since Italian Lakes Wedding was founded I work with them to make bride and groom's dreams come true on this wonderful Lakes of North West Italy and Piemonte region.
l love creating with my couples the perfect event for them following their wishes and needs, helping to find the best solution for their ideas and budget.
I like meeting people talking with them and know more about their cultures and traditions. I do like sharing Italian customs with them and working in team with couples to let them experience a real and dreamy Italian wedding!
I will be pleased to guide couples along lovely traditional and pedestrian roads of Orta village discovering the beauty of this romantic Lake between villas, traditional restaurants wonderful churches and enchanting St. Julius Island.
I will be happy to let couples discover bigger and charming Lake Maggiore with its Borromeo Islands, wonderful hotels and villas overlooking the waters.
I'm sure you would be amazed by the beauty of these special corners of Italy so I'm simply wait for you for a lovely experience to create and live together.
For any information about ceremony at Villa Bossi, lake Orta CONTACT ME