Louise and Robert knew exactly what they wanted: to get married at Orta, a small and very pittoresque village at Lake Orta. Fascinating because of its beauty, its small streets with cafes and little shops, the religious island San Giulio right in front of the main square.
We arranged the civil wedding at the historique townhall called Villa Bossi. The civil wedding takes place outside in the beautiful garden. With the sun shining so nicely, a blue sky, we all waited for the arrival of the beautiful bride Louise. She came with her father in a rowing boat and was welcomed by her 2 bridesmaids before she walked down the natural path which suited as an aisle like in a church.
Happily both said yes in the right moment, our interpreter Irmi was much more in tears then bride and groom!
Look at her beautiful bouquet that was prepared by our preferred florist La Piccola Selva. Same colors and shape for the bridesmaids and lots of white and pink rose petals for the newly weds.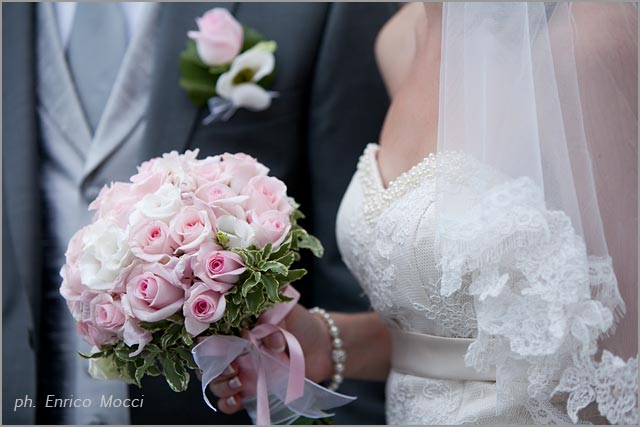 After the ceremony we had 2 boats fetching us and bring us over to the island San Giulio. On the terrace of the small restaurant San Giulio we had a toast with Prosecco and typical Italian fingerfood.
Only after a relaxing stay there we proceeded on with the boat along the coastline with wonderful views on lots of historique villas of noble people. Just to be in time for an welcome drink at the Ca dal Rat, a charming trattoria with good local food.
Here again we repeated the color code of white and pink for flowers and the table decoration. A cage pinned to a tree indicated the seating plan. Everybody enjoyed the good food and the attentive service. And our dj had the good music to create a very festive atmosphere.
How bad that at midnight we had to go back on the boats and return to Orta village. But there awaiting another highlight from our part, we let flew the skylanterns. These are coming from Japan and will transport all best wishes for Louise and Robert into the nightly sky – so they will come true.
Britta Hartmann-De Marchi is german and therefore the specialist for German, Austrian and Swiss couples coming to the lake Region for getting married.

She herself got married 10 years ago and choose an Italian husband. Enjoying to live here in Bella Italia and coming from 14-years-experience in international advertising and marketing, she liked to change her job into becoming organizer of weddings for german-(and english-) speaking people coming to Italy for their marriage.

Coming from Germany and knowing what to expect in Italy, she is the perfect organizer between bride and groom and the Italian service partners. Correctness, flexibility and a easy hand to plan all details around a wedding make her work very appreciated.

The most emotional part is, when I become almost the best friend of the bride during all the planning time you share with each other. So we both do enjoy the wedding day in its best form and this is important for my work.