Cindy und Christian haben mich um die Organisation Ihrer katholischen Trauung am Lago Maggiore gebeten. Verliebt hatten Sie sich schon in die Location Villa Margherita in Oggebbio. Mein Vorschlag war die romanische Kirche S. Agata in Novaglio, eine von der Gemeinde restaurierte romanische Kirche, an welcher der dortige Pfarrer sehr viel selbst mitgewirkt hatte und deshalb besonders stolz auf dieses kleine Juwel ist. Innen ist alles in hellem Granit-Stein erbaut.
Mit dem Pfarrer gemeinsam wurde eine wirklich rührselige Zeremonie ausgearbeitet. Aber besonders individuell war das Trompetenspiel von Cindys Vater und am Schluss trug dann ein guter Freund der Familie auch noch ein italienisches Lied in Opernmanier vor.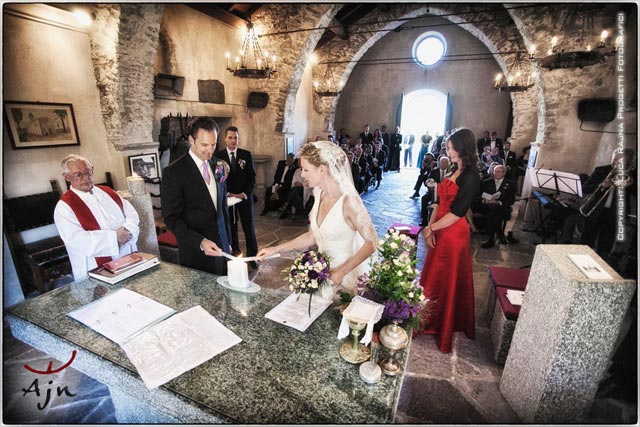 Vor der Kirche befindet sich ein geräumiger Terrassenplatz, sodass dies ein geeigneter Ort für einen Umtrunk ist. Cindys Eltern hatten einen speziellen Champagner aus ihrer Heimat Luxemburg mitgebracht.
Nach ausreichendem Genuss, vor allem aber auch der wunderschönen Blicke über den gesamten Lago Maggiore fuhren wir zurück zur Villa Margherita und wurden dort mit einem Welcome-Cocktail in deren Terrassengärten empfangen. Gefolgt von einem servierten Hochzeitsdinner im Garten.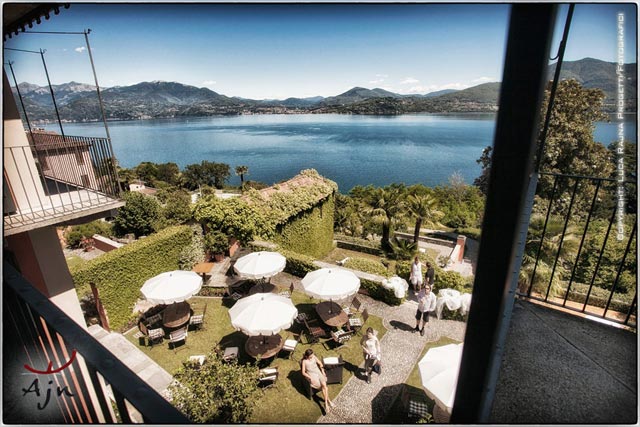 Lasst mich kurz über die Deko sprechen: alles war in diversen Tonalitäten von weiss bis mauve-lila ausgestattet. Mit farbigen Hortensien, gemixt mit romantischen weissen Rosen und weissen und lila Lisianthus. In der Kirche eher alles hell gehalten, stattdessen wurden bei der Tischdekoration gekonnt alle intensiven Töne eingesetzt. Mit den Kerzen gemeinsam ergab dies eine sehr kuschelige Atmosphäre. Danke an unsere lieben Floristen La Piccola Selva.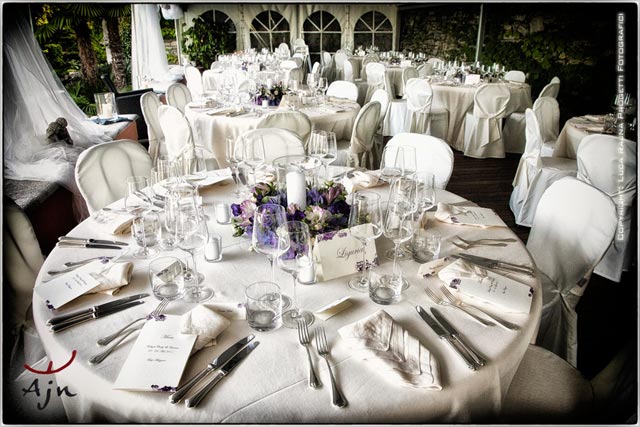 Neben dem Dinner ist nun eine fest installierte Tanzfläche von der Villa vorgesehen. Hier sorgte unser DJ Alex für perfekte Tanzstimmung bis in den Morgen hinein.
Eine sehr schöne Idee von uns war es, dass die Gäste vormittags einen Bootsausflug machten. So konnten sie den See geniessen und ausserdem einer geführten Tour in deutscher Sprache in dem berühmten Palazzo Borromeo auf der Isola Bella folgen. In der Zwischenzeit hatte die Braut Cindy alle Ruhe, um sich mit Friseuse und Kosmetikerin schön zu machen.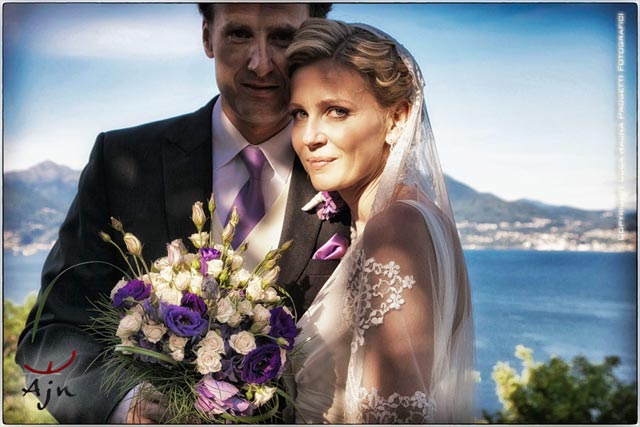 Letzlich war dies nicht nur die Konzentration auf die Trauung selbst, aber mit dem sehr rustikalen get together am Abend vorher und dem sonnenverwöhnten Brunch am nächsten Morgen ein gut organisierter 3-Tage-Event zum Wohle der Gäste.
All images © Luca Rajna di Ajn – Luca Rajna Progetti Fotografici © All rights reserved.
Britta Hartmann-De Marchi is german and therefore the specialist for German, Austrian and Swiss couples coming to the lake Region for getting married.

She herself got married 10 years ago and choose an Italian husband. Enjoying to live here in Bella Italia and coming from 14-years-experience in international advertising and marketing, she liked to change her job into becoming organizer of weddings for german-(and english-) speaking people coming to Italy for their marriage.

Coming from Germany and knowing what to expect in Italy, she is the perfect organizer between bride and groom and the Italian service partners. Correctness, flexibility and a easy hand to plan all details around a wedding make her work very appreciated.

The most emotional part is, when I become almost the best friend of the bride during all the planning time you share with each other. So we both do enjoy the wedding day in its best form and this is important for my work.