Today we would love to tell you about Lisa and Darren's wedding. It was surely one of the best event on Lake Maggiore this year. Lisa and Darren visited the Lake last year with our planner Valentina and they fell in love with Villa Rusconi at first sight!
They thought it could be the perfect place for their Italian wedding on the Lake and from the very first moment they had some great ideas to make it even more perfect.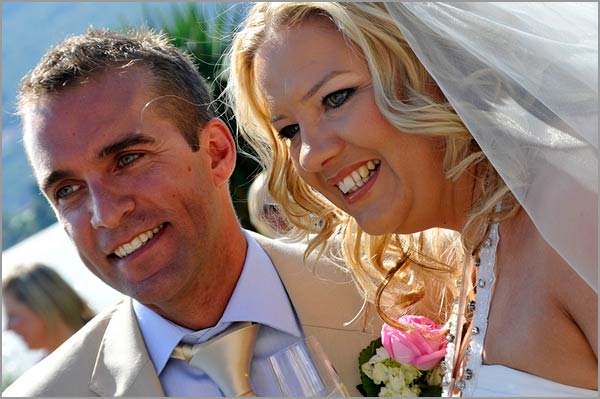 When I first met Lisa and Darren I was touched by their enthusiasm. They such a nice and solar couple. When I showed them Villa Rusconi Lisa's eyes sparkled and I knew that that was the right the right place for them!
Then almost a year wonderful year of planning followed. And I have to admit we developed a very special relationship that ended to consider each other like good and old friends!
Valentina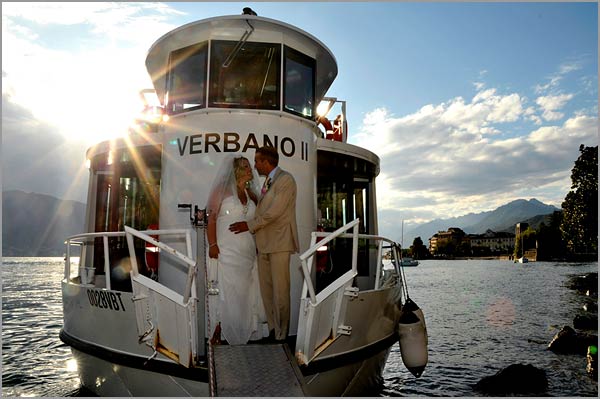 We wanted our wedding to be relaxed but an experience our guests would never forget and I think we achieved this 110 percent!  Our friends are still raving about it now!
The setting of course is stunning and couldn't fail to impress.
Lisa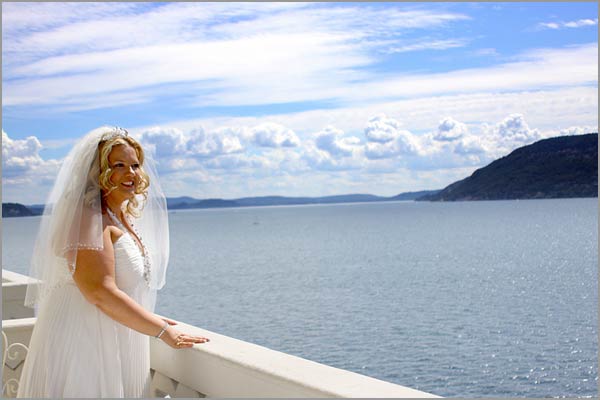 Lisa decided to getting ready with her friends to closer Grand Hotel Majestic.

The hotel is very close to the villa and she had the possibility to have some first pictures in the wonderful garden of the hotel itself and then taking a boat for its pier to reach the wedding venue by boat with her friends and her father.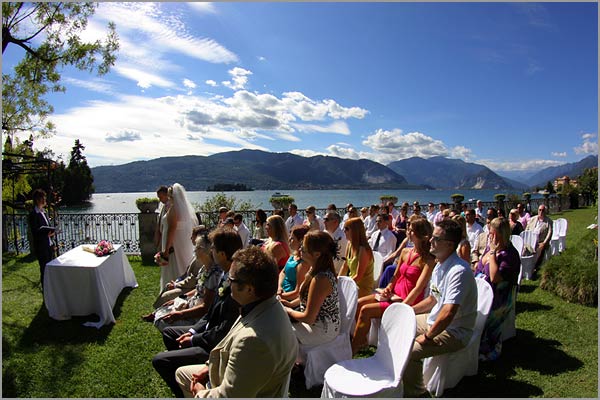 Wedding ceremony was arranged in the garden of the villa and blessed with a great sunny day.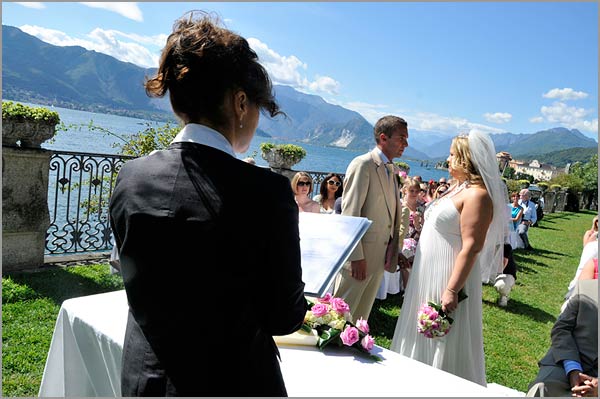 Diane Wheeler was conducting the ceremony for them. Diane says about the couple:

Lisa and Darren are wonderful people and Lisa wins my vote as the most relaxed bride of the year!
She was trusting and flexible in her approach towards the content of the ceremony and entirely open to suggestions.
The fact that both were willing to trust me as their Celebrant meant that they were free to simply enjoy the moment.
Diane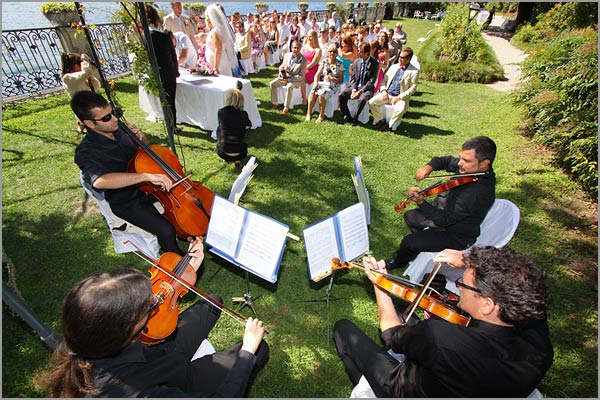 As as far as the ceremony she also adds:

During the ceremony they were clearly moved and appeared to be absorbing every single word… I made sure that Lisa's affection for 'Clair de Lune' was reflected in the ceremony and the quartet did an excellent job by intuitively playing this piece during key moments of emotional intensity. Their guests  were also a great asset because they were enthusiastic participants. The vibe was romantic and fun… it was definitely one of those ceremonies that will remain in my memory for being complete in every sense.
Diane
Diane was surely more than happy to perform a lovely and romantic ceremony for such a great couple.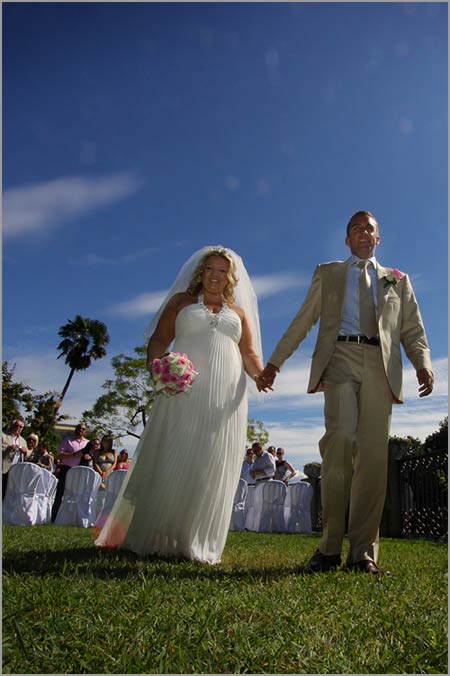 I adore performing ceremonies in this perfect spot by the lake and Lisa and Darren's ceremony was one of the highlights of this year for me personally. I am so happy to have had the opportunity to return yet again to be a part of another wonderful experience!
Diane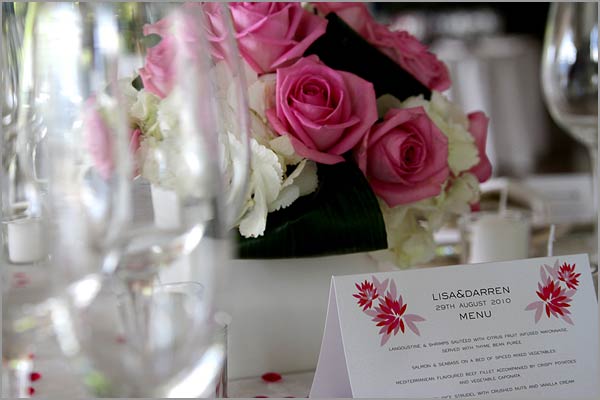 Theme color Lisa chose was white and pink and with a little touch of red on the wedding stationery.
Monika and Paola from La Piccola Selva created a lovely decoration made with perfect pink roses and white hydrangeas.
Valentina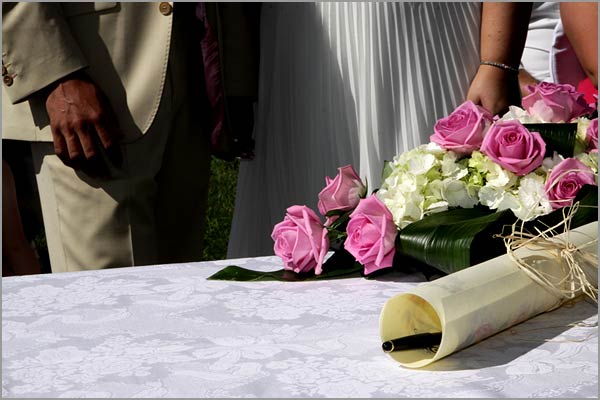 Here what Paola one of the florist designer of La Piccola Selva together with Monika says:

Fuchsia Aqua roses and white hydrangeas were the main character of Lisa and Darren's wedding. Monika and I created such a pretty and romantic decoration for them.
From the very first contact via email Lisa had very clear ideas, in a short time we defined all the decorations for the wedding including the bridal bouquet.
It was a wonderful compact and rounded shaped bouquet made with Aqua roses and white hydrangeas with a little touch of elegance: mini white callas.
Paola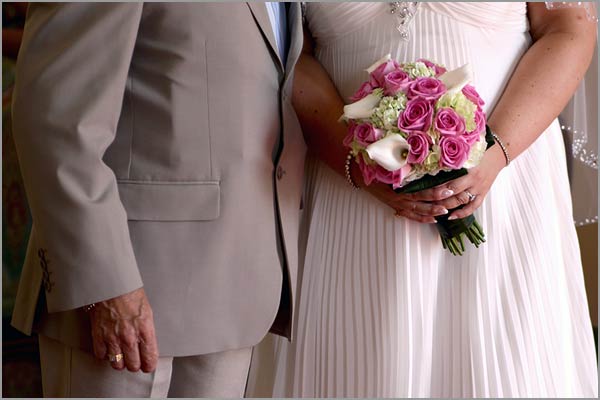 After the ceremony there was a rich aperitif to follow served in the garden of the villa but there was another surprise to come!

Lisa wanted from the very beginning a boat trip for all the group following the aperitif. So we rented a big boat to take them all for a wonderful trip across Borromeo Islands and Lake Maggiore coasts.
The boat is surely a perfect place to have a nice aperitif.
It has a lounge area inside and outside to make the trip a unique experience!
Some waiters served Prosecco and canapes and they also had some music on a great idea for sure!
Valentina

My favourite part was the boat trip on the lake, I think this was a real 'wow factor' and really showed off the islands and surroundings. We didn't want to just give a 'free bar' we wanted our guests to experience the beauty of the Italian Lakes.
Lisa
At the end of the tour and after few pictures beautifully taken by Photo27 the group had a great dinner in the pavillion of the villa.

The catering and service was outstanding, our speeches ran over a little, ok a lot(!), and I was concerned the next course might be ruined, but they managed to bring out hot and high quality food as soon as the speeches were finished.
Lisa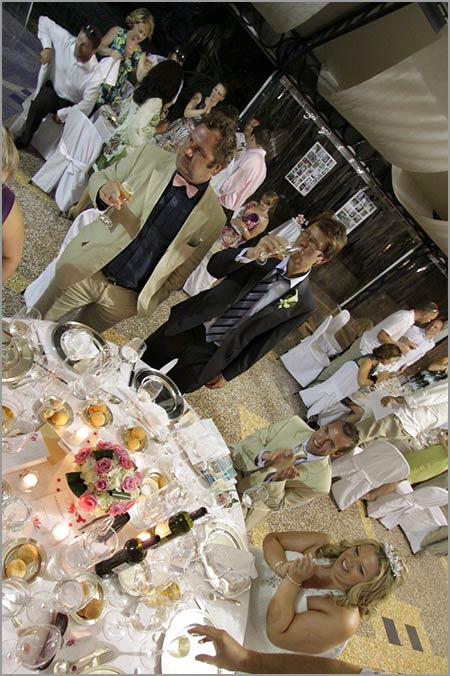 After that as we said in Italy "night is young"!
Lisa Darren and the all the group had a great fun in the cellar of the villa with open bar, a rich Italian friandies buffet and lot of dances!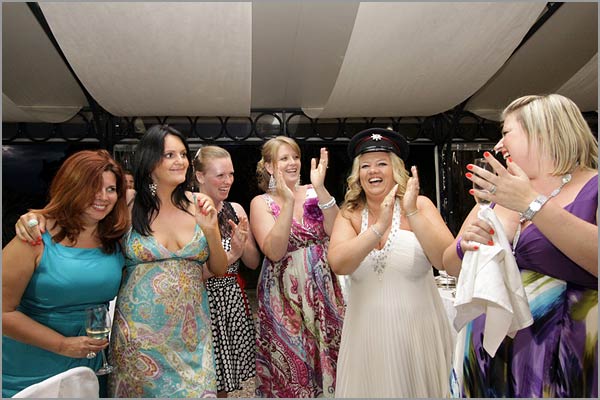 We want to thank the DJ, he did a top job in getting everyone dancing, the photos are hilarious!
Lisa
The party was a great fun for all even for the dj, photographers, catering company and planners!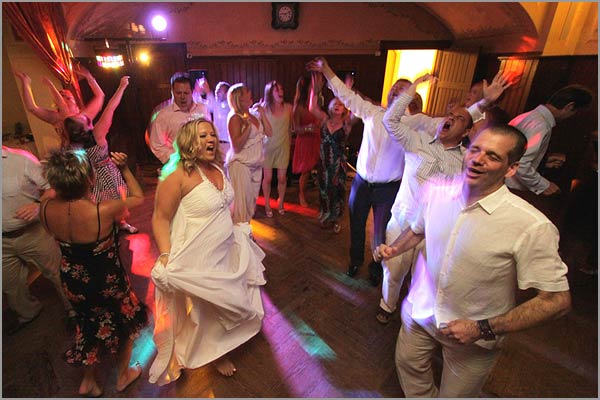 I usually leave the group having fun after the wedding cake cut and reception but they were such a great group that they completely involved the dj, Photo27 Team and ourselves in the party!
Valentina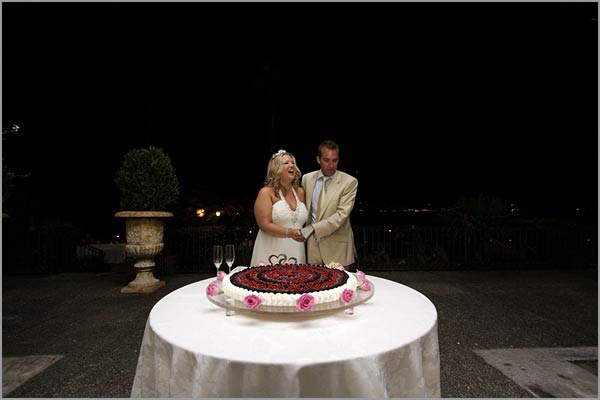 Well this was for sure one of the greates party we ever had to Villa Rusconi. We cannot add more than Lisa words and also Lisa and Darren's guests comments.
Lisa and Darren were so kind so share them all with us and allow us to post them here.
Such a great couple and such a great group! Our best wishes for a great and happy life together!
I just felt special, a celebrity for a day. 
A few of our guests said they felt they were at a 'Hello' magazine wedding, which was a huge compliment to everyone who contributed to the day.
 
However, none of this could have happened without you to guide us every step of the way and to be there every minute on the day to ensure everything ran smoothly.  We felt you were part of the day, I'm glad our friends made you so welcome. 
We both feel we've made lovely Italian friends!
Lisa
We are on our way to airport sadly but thank you for a wonderful weekend and introducing us to such a beautiful part of italy. Such a brilliant wedding.
Sarah

An unbelievable day we will never forget. Thanks for letting us share it with you.
Mike & Sian

WOW what a wedding . Thank you both so much for inviting us! We can't wait for you renew your vows so we can come back.
Anth & Craig

We had an amazing day, we loved every minute, like the song says….. Such a perfect day!
James & Kelly

Thanks for the most incredible day, what a memory that will last for ever.
Gem & Ian

What an amazing day, everyone will remember every single moment forever. The most beautiful for the loveliest people, hospitable and generous people I know.
Hannah

What a beautiful day, simply perfect!
Tom

What a day, not another like it.
Gwen & Peter

What can I say…. A truly amazing day, one of the best days if my life, I think I must have been dreaming. The Villa was so beautiful, I thought I was at a movie set. I couldn't get over how gorgeous it was, the most stunning view ever. The people were amazing, I didn't stop talking and laughing from start to finish. A day I will never forget.
Hannah

Well, the wedding of all weddings.
A wonderful, stylish and classy day on the lakes with such wonderful people.
Lora & Smudger

What a fabulous day, we have never been to a place with such a beautiful backdrop.
Nikki & Stuey

I cant believe what an amazing day we all had, it felt like a dream and still does really. As said on the day if Carlsberg did weddings it would be like this! We love u guys so much and u r the most loving and generous couple we know. Cant wait to c u when u get back. Thanks again for an unbelievable day, its one of the best days of my life so far.
Going to have to go now b4 i cry again!
Paula

Hello reads! On our way to airport sadly but thank you for a wonderful weekend and introducing us to such a beautiful part of italy. Such a brilliant wedding and so generous to your guests, thank you. Enjoy ome quiet time without us lot to worry about and we'll see you when you get back.
Sarah

One of my favourite comments, which isn't written below was from my friend's dad, Tot, who said if we'd had a million pounds to spend we couldn't have improved our wedding day!
Lisa
For any information about wedding on Lake Maggiore please CONTACT the Lake Maggiore Wedding planners team.

Lake Maggiore Wedding team is made up of several professional wedding planners and floral designers with a long experience on Lake Maggiore locations.
The Team knows the territory in every single detail and will be able to follow you on every important choice you will take.

LMW planners team is dedicated to providing the very best to our couples. Weddings are an emotional time. Let a wedding coordinator help relieve the stress of the planning and allow you to enjoy the day.

First comes love… then comes planning!