hat a joy is getting back to destination weddings! 2020 and 2021 were crazy for destination weddings, everything was on hold, and we postponed many events.

August and September were the beginning of a new era. Many couples got back to requests, booking dates, and actual in presence weddings.

So we are really getting back to what we love: make our brides and grooms with their families and friends happy!

This is the case of Vera and Jan, who came from Switzerland to have a wedding with a view over Lake Maggiore on September 18th, 2021. Yay!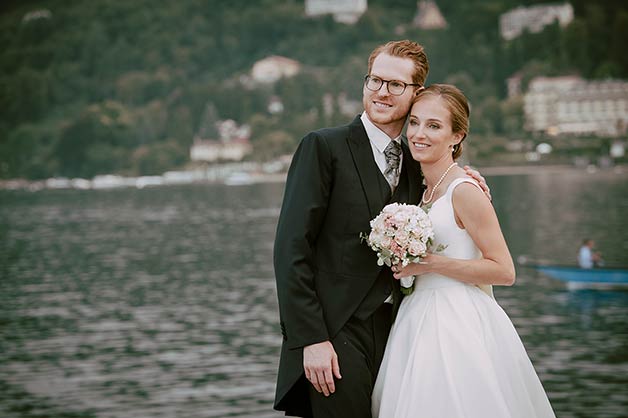 Getting reading with bridesmaids
The wedding day began early with Vera getting ready on Isola dei Pescatori with her light blue-dressed bridesmaids.

She chose a lovely elegant wedding dress with a pearls necklace and earrings. A very classical style for a wedding with a view over Lake Maggiore.

Bridesmaids wore a beautiful satin light blue and grey dress. They helped Vera to get ready for the religious wedding ceremony.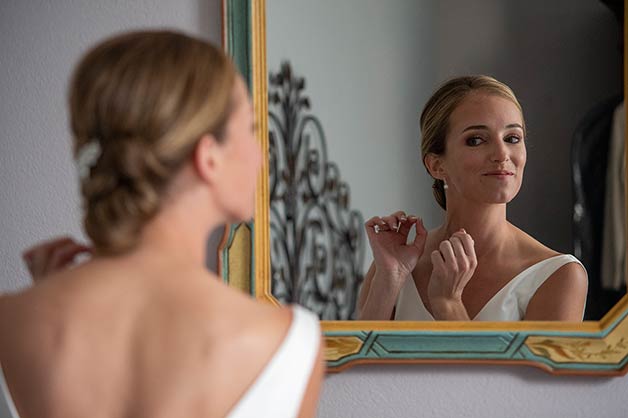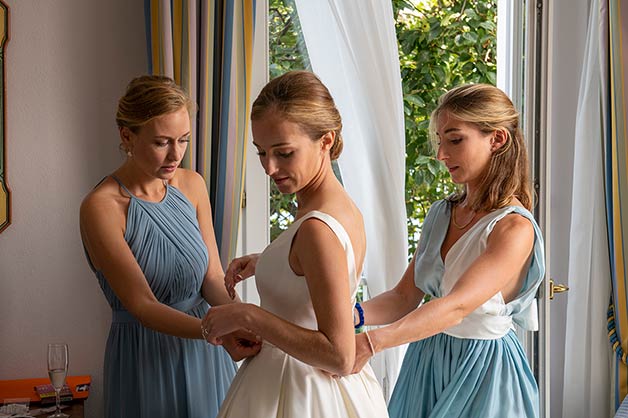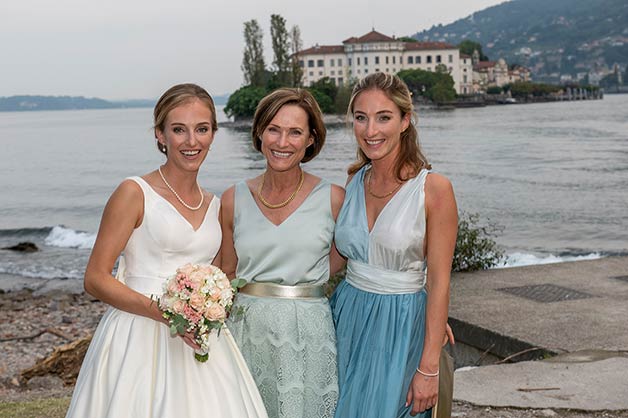 Wedding Ceremony in Feriolo on Lake Maggiore

Once ready, Vera reached the pretty church located in Feriolo close to Baveno by boat.

It is a perfect church for those looking for a wedding with a view over Lake Maggiore. As a matter of fact, the church is located on the shores and overlooks Borromeo Islands.

It is an extraordinary venue as Feriolo village is very authentic, quaint, and peaceful.

The ceremony was really moving. The bride and groom pronounced their vows before their wedding celebrant, lighting the traditional unity candle to symbolize their union.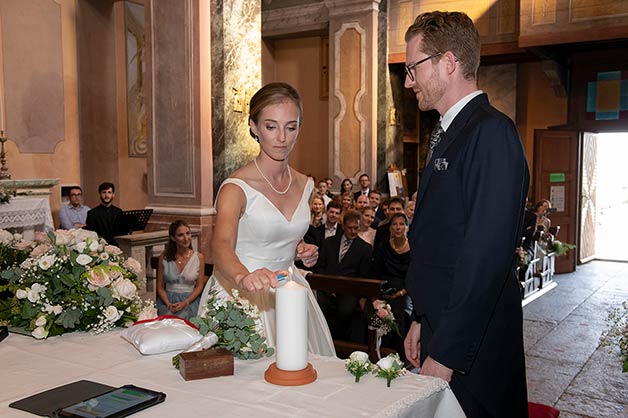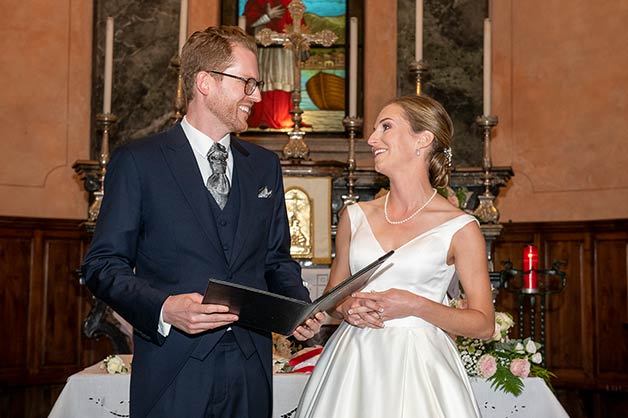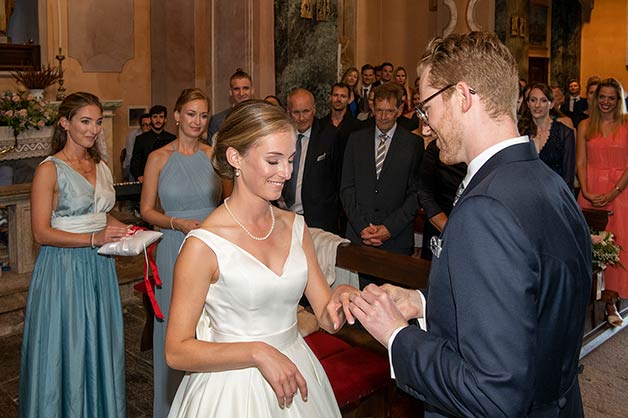 A Wedding with a view over Lake Maggiore – Photos on Isola Pescatori
After the ceremony, the guests took a boat to reach Isola Pescatori. The bride and groom took a separate one. They reached the quaintest and most traditional Island of Borromeo Islands to take some time for themselves.

Photographer Piero Gatti was with them, and he took the chance to give them a tour to the most beautiful spots of the Island with the prettiest light.

Piero Gatti is a local photographer, and he is very expert in taking the best of the land where he lives.

You can see some of the amazing shots he took of Vera and Jan overlooking Isola Bella and Borromeo Palace, Stresa, and Baveno coastlines.

We told you, Vera and Jan wanted a wedding with a view over Lake Maggiore.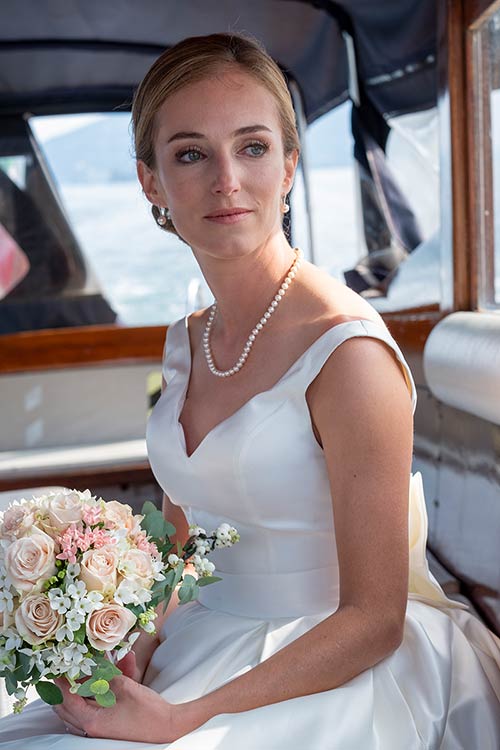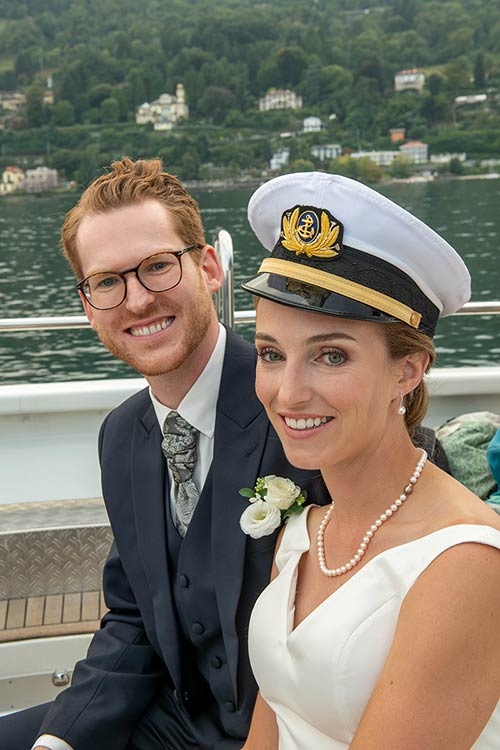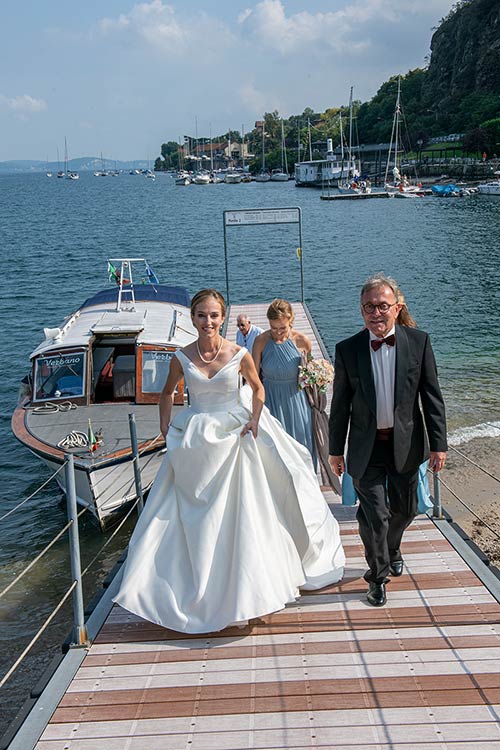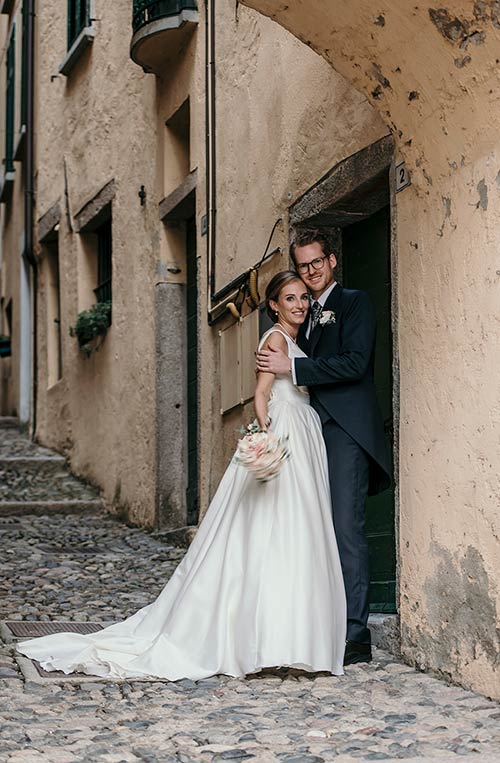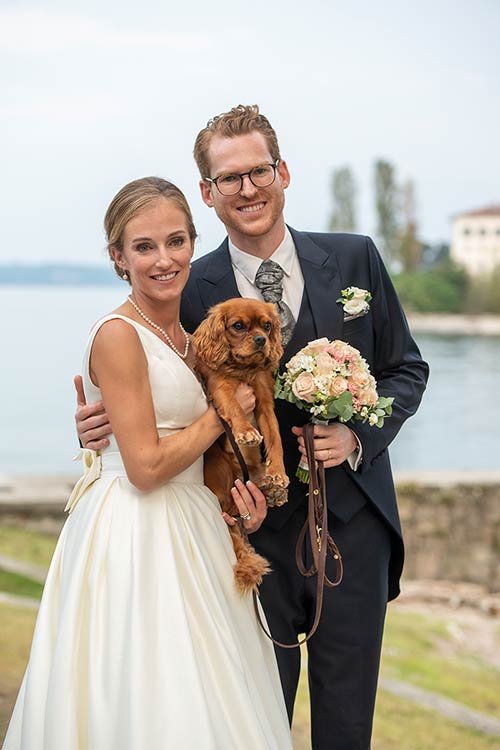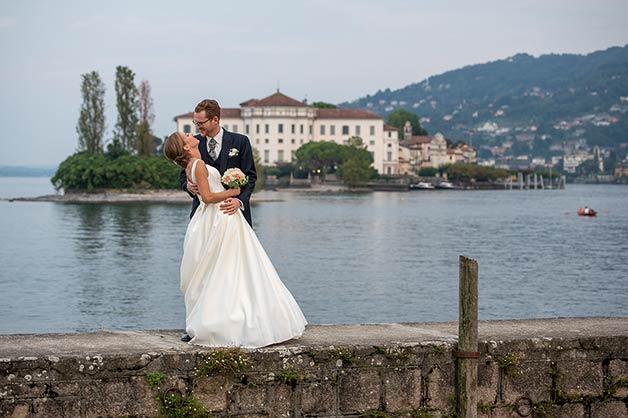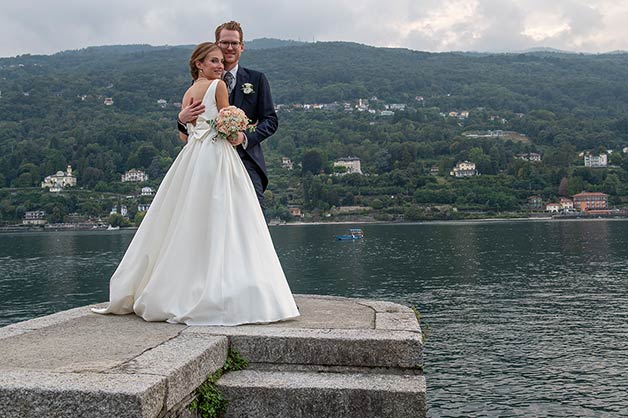 Wedding Reception on Pescatori Island

Vera and Jan chose one of the two restaurants on Isola Pescatori, Hotel Ristorante Verbano, for their wedding reception.

Hotel Ristorante Verbano is one of the best spots where we can plan a romantic and delicious wedding reception overlooking Lake Maggiore panoramas.

Their terrace faces Isola Bella and Borromeo Palace. It is just here where Vera and Jan took some fantastic photos under lovely fairy lights and cut their beautiful tiered wedding cake!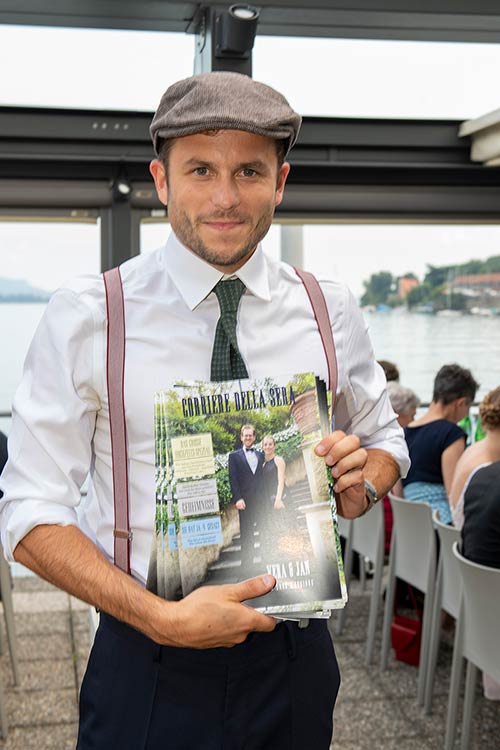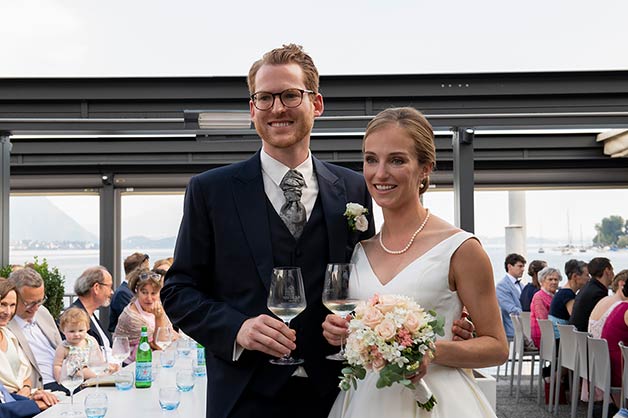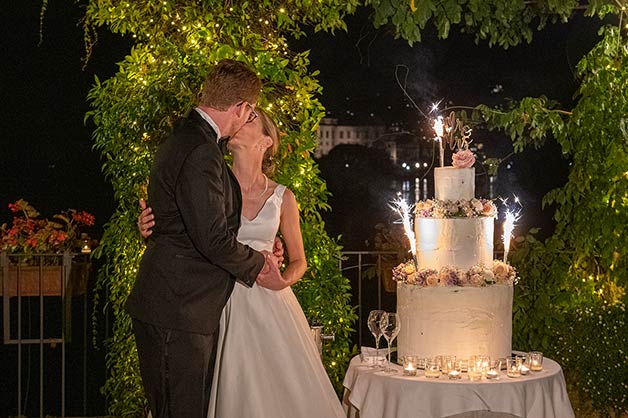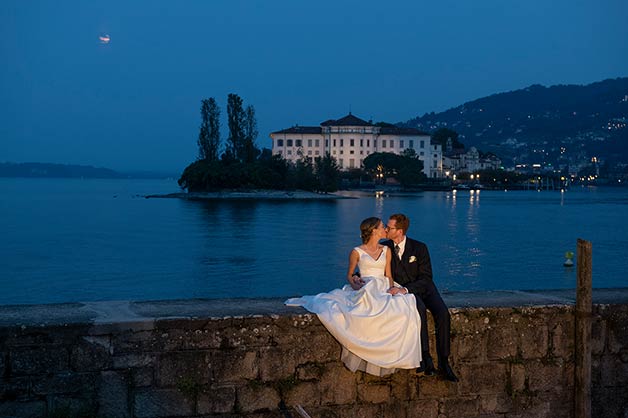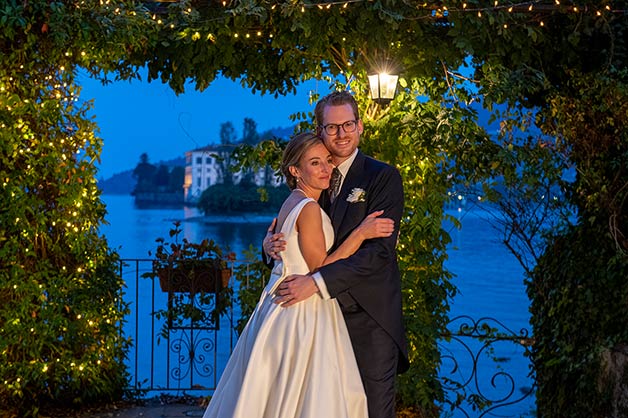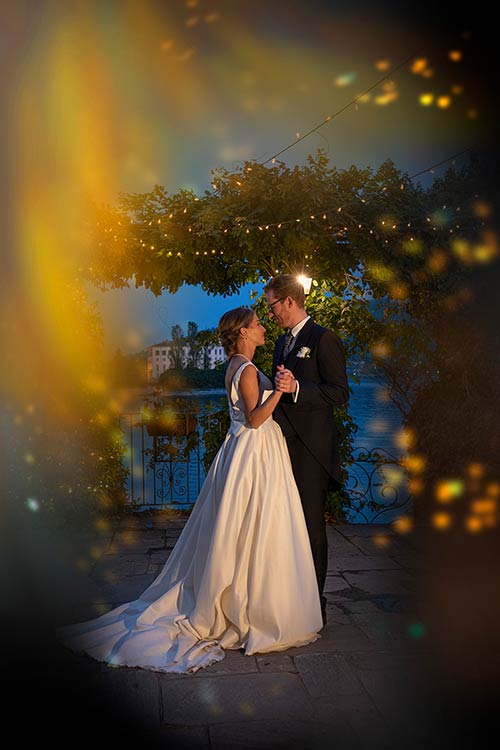 Isn't that a beautiful wedding with a view over Lake Maggiore?

We think so… and we are really so happy and proud to celebrate all this joy again over Italian Lakes.
Stay tuned for more weddings we planned recently… we are definitely back!!!