Lake Como is one of the most unique locations in Italy, where you can find beautiful villas with the original Italian style.
Mandarin Oriental Resort is located in the beautiful small village of Blevio. It is a five-stars Lake Como front hotel in which you will find every comfort you've been looking for and a view that will be over your expectations. Mandarin Oriental has a botanical garden, scenic hiking, and many fun activities for the most adventurous. It could be the perfect subject for your wedding cards and for the stationery.
A Wedding at Mandarin Oriental Lake Como is a dream! It has nine separate villas designed by one of the most acclaimed designers Eric Egan.
They create a gorgeous atmosphere blending 1800 neoclassical villas with modern décor and a bit of oriental style.
It offers 75 guest rooms, suites, and private Villas located in nine different buildings allowing more privacy.
Why choose Mandarin Oriental as your wedding venue?
If you are looking for luxury, relaxation, beautiful settings, pools, spa, and nature, celebrating your wedding at Mandarin Oriental Lake Como would be your best choice.
Here you can find an all-in-one location. You have the spoiled for choice: five different spots for your wedding ceremony and your wedding reception and more than six types of rooms.
Planning a wedding at Mandarin Oriental
We tell you what the main features of planning a wedding at Mandarin Oriental Lake Como are. This lakefront location is a perfect and unique venue for weddings. Here you can have privacy and a ceremony entirely made up to your requests. You can choose between a civil or a symbolic wedding held in one of the many sites offered by the Resort.

Your wedding or event can be hosted in different places like:
Function rooms
The Greenhouse
Amphitheatre
Villa Del Lago
Floating pool and dock
Function rooms
The function room is an indoor space made of four rooms which can be modified thanks to the retractable walls. A total of 270 guests can be hosted. These rooms are beautiful and filled with natural lights, perfect for an indoor wedding reception. This room could be the ideal place for the conclusion of your emotional day. Imagine the cut of your wedding cake surrounded by your loved ones.

The Greenhouse
This can be the perfect venue for your wedding reception if you love being surrounded by nature. It can host up to 50 people. It's very particular because it is made with an all-glass structure creating a unique atmosphere during the day. It has a direct view of Lake Como. Imagine how beautiful and intimate a ceremony would be.

Amphitheatre
It is located in the green of the botanical park. The amphitheater can host weddings up to 120 people. Its beautiful view on the Lake and all of the beautiful plants and flowers can be one of the most iconic settings for the wedding ceremony at Mandarin Oriental Lake Como. You shouldn't worry about summer heat because, thanks to the canopies of ancient cedar trees, the amphitheater benefits from the natural shade.

Villa del Lago
Villa del Lago is a four floors Villa. You can host your wedding, party, or event without having privacy problems. It can host up to 180 guests, and there is also the possibility to book the Villa for one or more nights to enjoy your stay even more. The ceremony can be celebrated inside the beautiful garden, which offers a breathtaking view of the Lake and surrounding mountains. If there is bad weather, don't panic! all the events can be moved inside the Villa.

Floating pool and dock
There is the chance to use the floating pool deck and the boat dock for a private ceremony. This unique ceremony would be forever remembered!
Every detail of the ceremony will be chosen following your personal taste, so you will have the perfect day as you always dreamt of! The mise en place, the music, flowers, and the menu will reflect your taste. Start thinking and dreaming about one of these locations with the flowers you always loved, the menu, and your favorite piped music!
Don't you think everything's perfect for a wedding at Mandarin Oriental Lake Como?
Getting ready in one of the many rooms of the resort
The beautiful rooms can be the perfect place where the bride and the groom can get ready with their loved ones. Can you imagine wearing your wedding dress or suit in a beautiful room with the most fantastic view of Lake Como?

La Residenza
Penthouse suite
Panoramic terrace suite
Panoramic Suite with private pool
Villa Della Rocca
Villa Del Lago
La Residenza
La Residenza is a private two-bedroom apartment. It has a beautiful view of the Lake, letting you enjoy your stay falling in love with the landscape.

Penthouse suite
Located in the historic Villa Roccabruna, the Penthouse can offer one of the most romantic views on the Lake. It would be perfect for the preparation before the wedding ceremony.
The terrace has a direct view showing a fantastic atmosphere. The large windows offer fabulous views from both the living and sleeping areas.

Panoramic Terrace Suite
Located in Villa Roccabruna, the luxurious Panoramic Terrace Suite features a spectacular private terrace that offers sweeping views of the Lake. The terrace could be the perfect intimate spot for the two of you to enjoy an Italian aperitif watching the sunset. How romantic is it?

Panoramic Suite with Private Pool
Panoramic Suite with Private Pool is an apartment with a beautiful large terrace with sundeck and private swimming pool offering an exceptional view over the Lake.
The room has natural lights coming in thanks to big french doors, making everything brighter and giving much more beauty to the room.

Villa Della Rocca
Villa Della Rocca is a romantic two floors Villa. It's lakefront, and it has a stylish contemporary design, featuring fine New Zealand oakwood boiserie. This Villa can be the perfect house for your guest. Nothing is better than having your family and friends close before and during your wedding day!

Villa del Lago
Villa del Lago is the most extensive Villa of Mandarin Oriental Lake Como. This Villa can also be your wedding venue if you want an intimate ceremony in the beautiful private garden facing the Lake directly.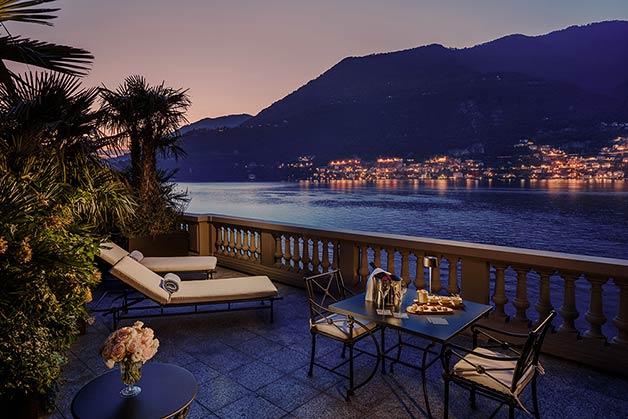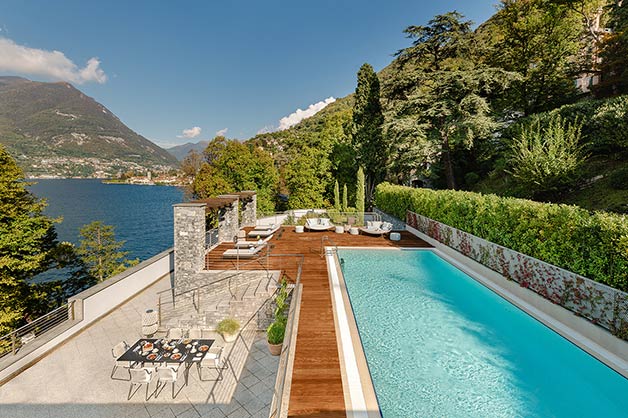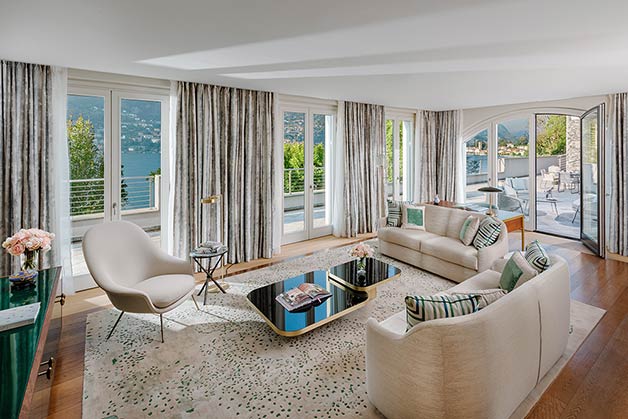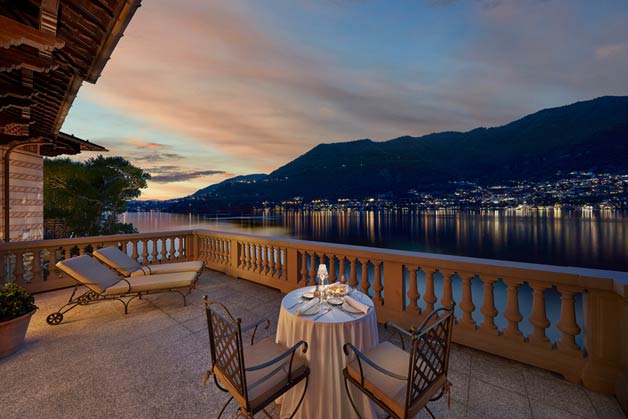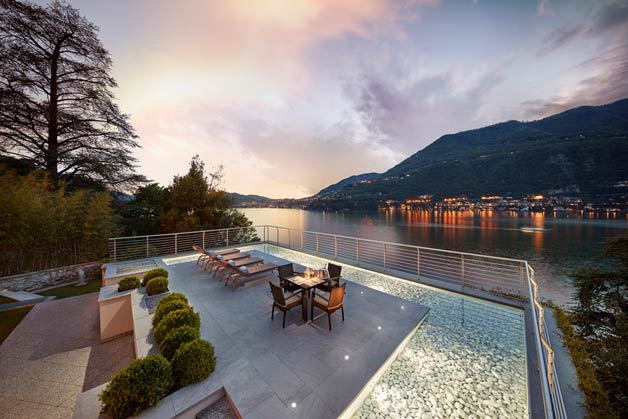 As you can see, a wedding at Mandarin Oriental Lake Como can offer a vast range of possibilities.
Relaxing and amaziong lake view spa
In addition to the beautiful suites, Mandarin Oriental is also a wellness destination inspired by Lake Como's water. It offers many unique services that will make you feel like you've never been. The spa has an indoor pool, fitness center, relaxation lounge, and treatment rooms.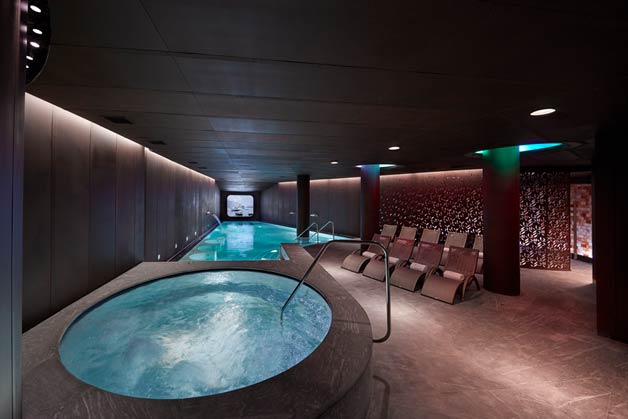 What's better than having a day off, relaxing in a beautiful spa before your wedding day?
LOCATION AND TRANSPORTATION
55 minute from Milano Malpensa International Airport
45 minute drive to Milan city center
5 minute drive to Como's town center
60 minute drive or boat ride to Bellagio, Menaggio, Tremezzo, Varenna
Boat service