wedding on Lake Maggiore Islands is the perfect match between beauty of art and natural views of Piemonte region.
A great mix that attack many couples. In these last few years Borromean Islands become one of the most wanted destination for couples who want to celebrate their wedding on wonderful italian Lakes.
Unique, magic, enchanting… some words to describe Borromean Islands. Archipelagos includes a group of Island in the middle of Lake Maggiore just in front of Baveno, Stresa and Verbania. The three major islands are Isola Bella, Isola Madre and Isola dei Pescatori (Fishermen Island).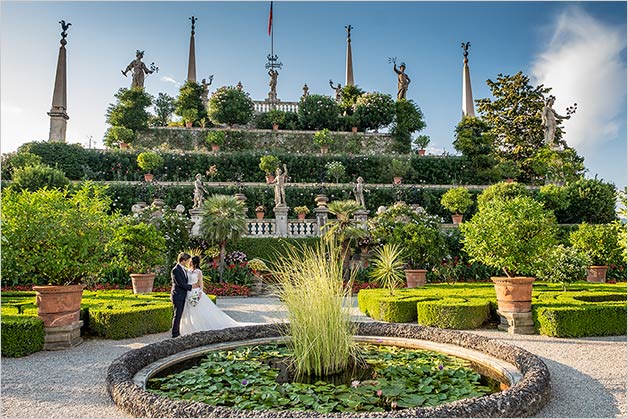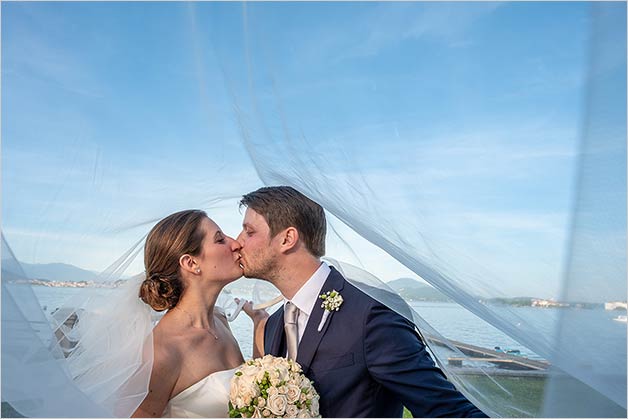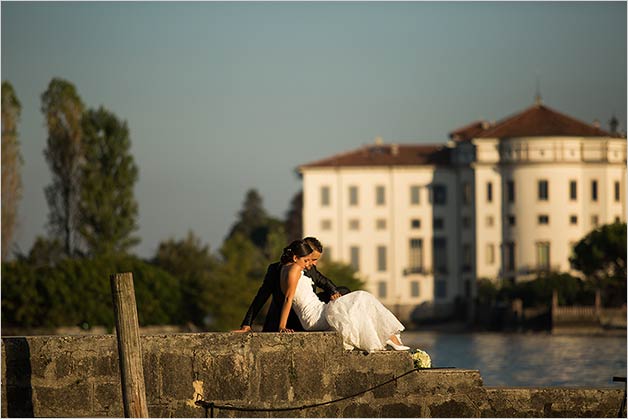 In this post we would love to share with you some useful information for the couples who are thinking about getting married on Lake Maggiore.
Before all we need to thank photographer Piero Gatti. He has a studio in Baveno and he works on Lake Maggiore. He knows every single spot of it.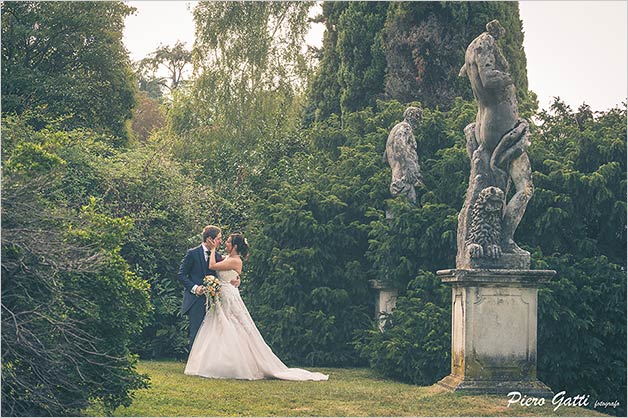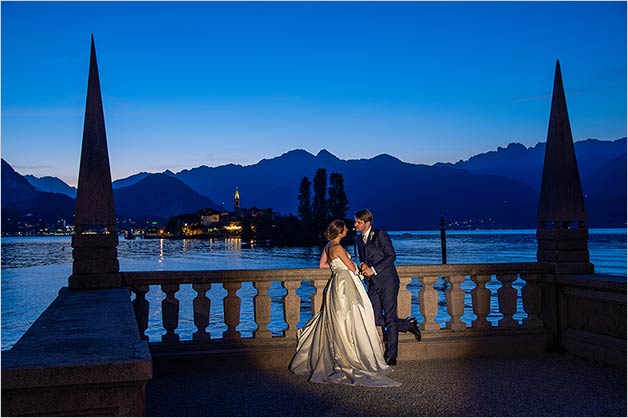 Art and Nature: a wonderful wedding on Lake Maggiore Islands
We already mentioned Borromean Islands on Lake Maggiore, their beautiful art and nature. This time would love to share with you some information for a wedding on the 3 main islands on Borromeo Gulf: Isola Bella, Isola Madre and Isola dei Pescatori.
Climate
The three main Islands of Borromean Gulf have a rich vegetation and a mild climate all year. A lovely winter thanks to lake warmth. They receive a lot of sun and not much wind so their have a pleasant Mediterranean micro climate that is also perfect for exotic plants.
If you are thinking about a wedding on Lake Maggiore Islands, please consider that April and May might be a little rainy but it could be a perfect time for blooming views. You can admire rhododendrons, azaleas, camellias that could be the perfect backdrop of your wedding photos. Fall between September and October could be perfect, it does not rain a lot and climate is mild. Foliage colors will be a amazing!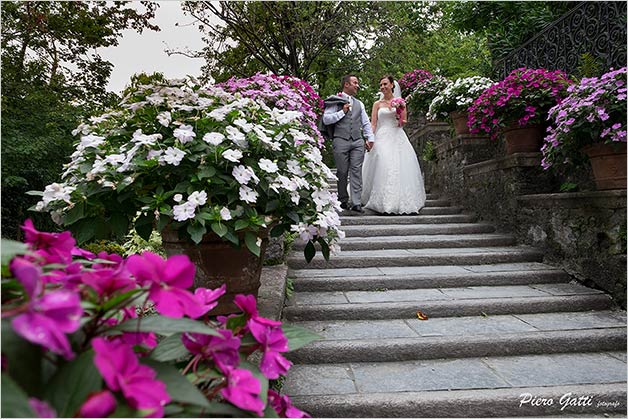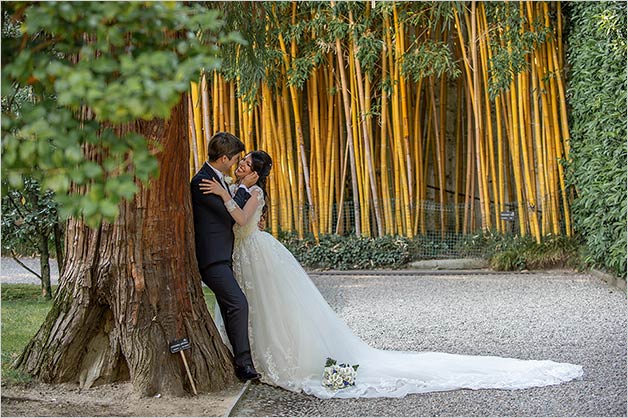 Transportation to the Islands
Lake Maggiore Island can be easily reachable by motorboat or ferry boat. All boats are comfortable and they can fit many guests. We can plan for your lovely cruises on Lake Maggiore to let your guests enjoy a different point of view of the lake. A night cruise could be something very special that can also give you the opportunity to dine on the Islands.
Lake waters are calm, there are not storms or twisters. The path is anyway not too long. Islands are located about 10 minutes from main land.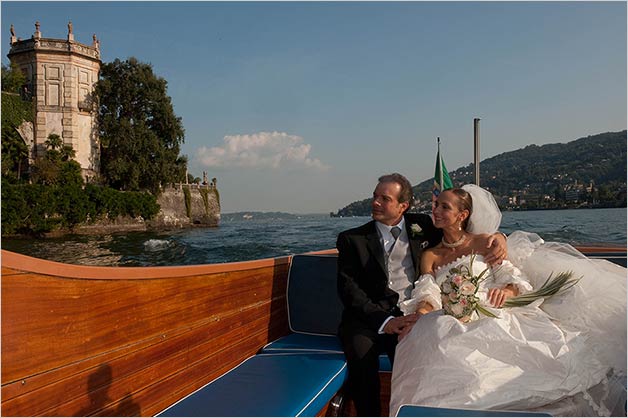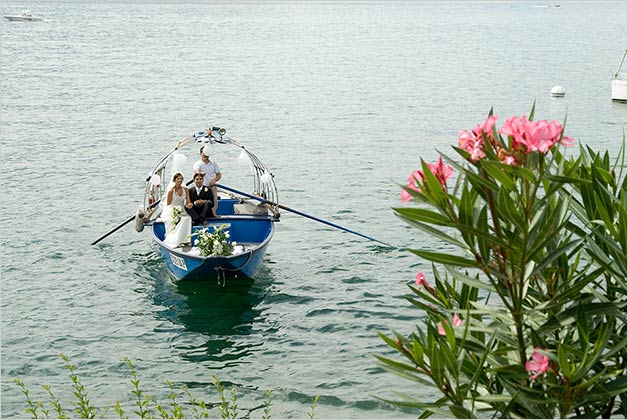 What island do you prefer?
What island could be the perfect one for your wedding on Lake Maggiore? Although Borromean Gulf Islands all have a wonderful Alpine backdrop, each of them offers different services and possibilities. Let's discover them all!
ISOLA BELLA
If you are keen for a Roman Catholic ceremony and you are looking for a wonderful church in a great location, the church on Isola Bella could be the perfect choice. The church is located in one of the most visible spot on the island just by the lake shores.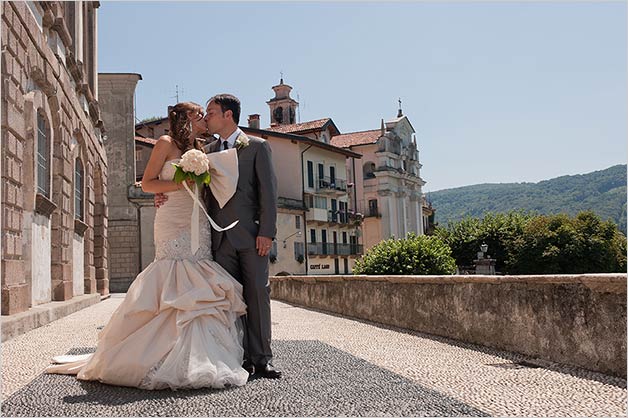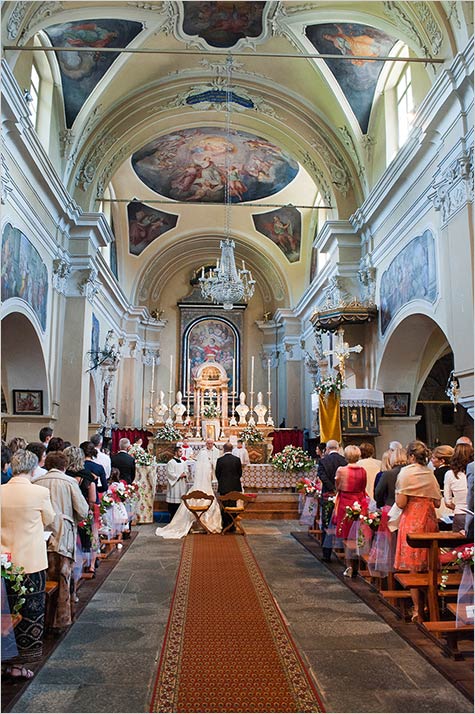 Isola Bella could be a perfect venue for your wedding photos. You can tour fantastic gardens of Borromeo Palace (requires a ticket to buy in advance) and get amazing shots. Fountains, statues, peacocks, terraces… Isola bella Garden is a paradise where you can find exotic plans and romantic flowers.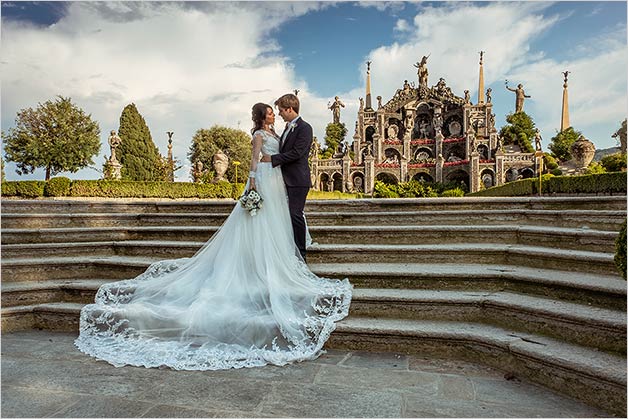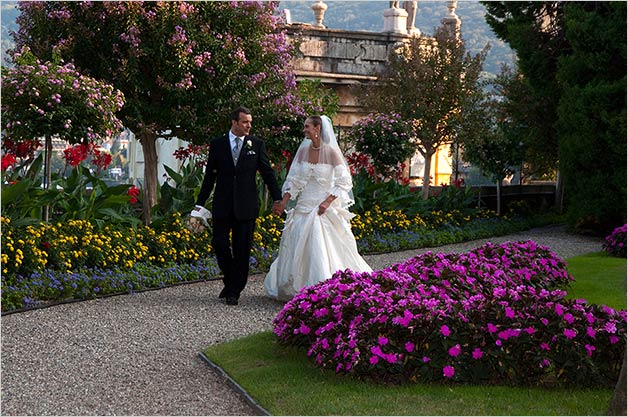 ISOLA DEI PESCATORI (Fisherman Island)
Restaurants on Isola Bella are not available for wedding receptions but Isola dei Pescatori has at least two good restaurants that are just perfect for your wedding reception.
They both have a terrace on the lake and a great lake cuisine. They can cater small or big groups.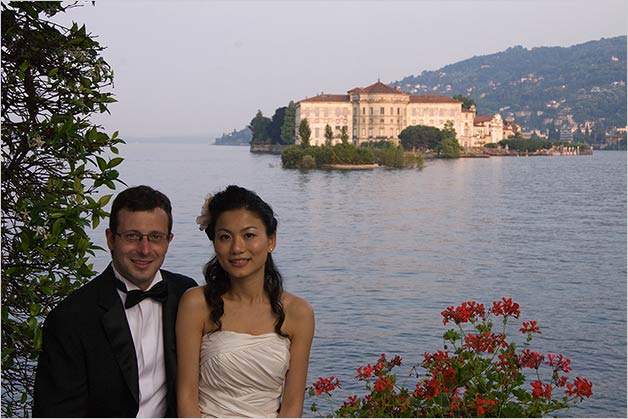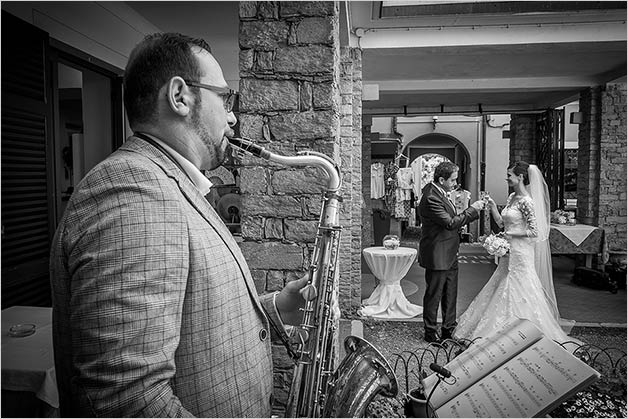 If you are thinking about a more intimate roman catholic ceremony, inside the village of Isola dei Pescatori among the narrow roads, there is pretty Church of San Vittore.
But you can also plan a romantic legal civil ceremony on the Island in a small fisherman house on the lake shore.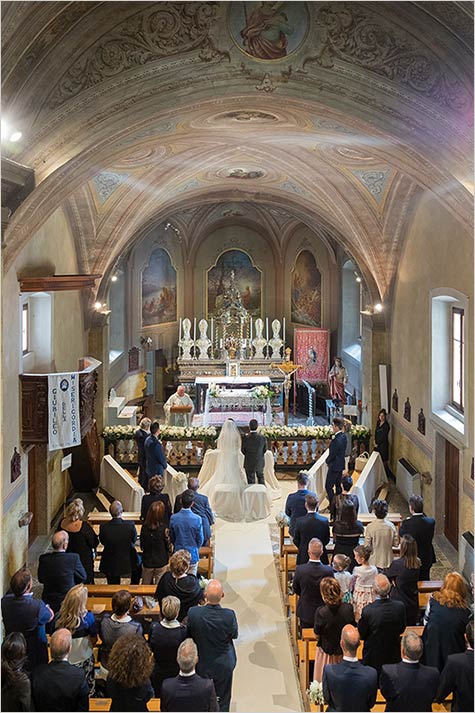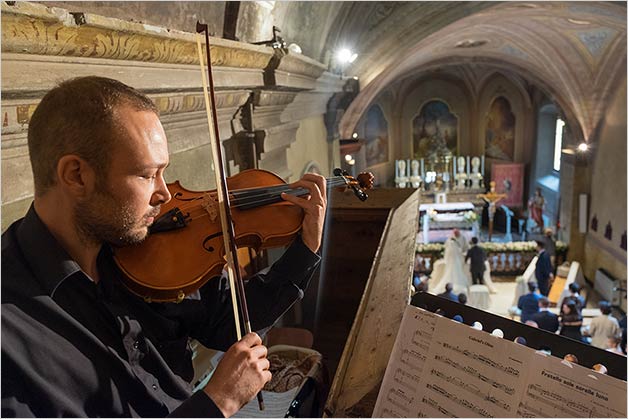 ISOLA MADRE
During your wedding photos tour you cannot miss a visit to Botanic Gardens of Isola Madre.
Tickets need to be bought in advance but it worths a visit. On the island there are no churches or restaurant but the gardens are just gorgeous. Isola Madre is the biggest of Borromeo Islands but it is cosy intimate and very romantic. It is very different from its smaller sisters. Your wedding photo backdrop will, be amazing gardens, unique plants, exotic flowers, peacocks and parrots. Looks like tropics here! Enchanting!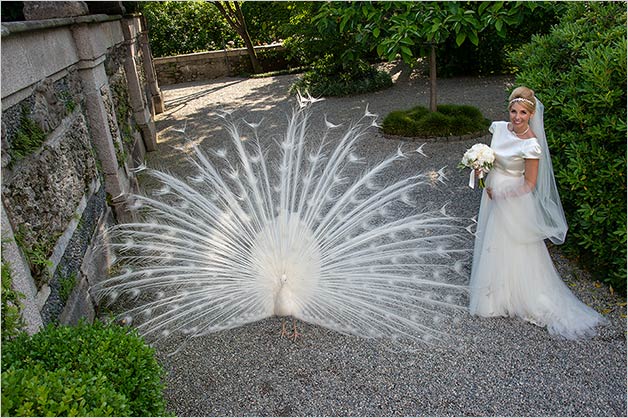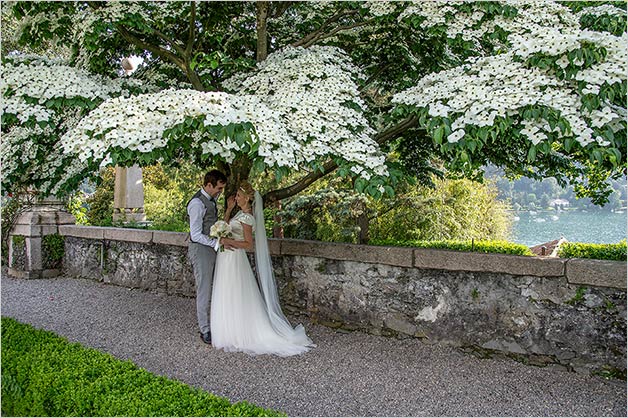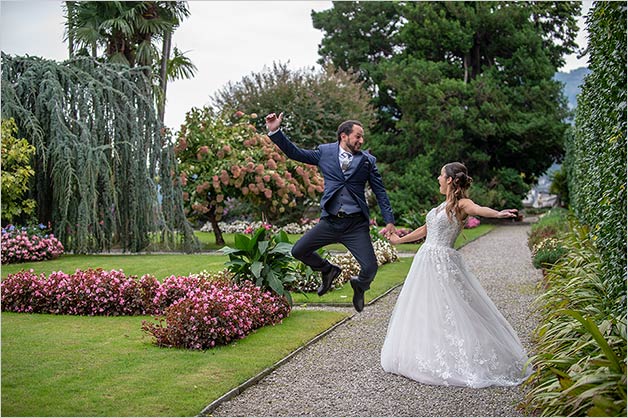 If you are thinking about a wedding on Lake Maggiore Islands we hope that our suggestions and information could be useful. For any further information please contact Valentina our planner for Lake Maggiore.