hat's better than Lake Maggiore in Summer? Ludmila and Cyprien came from
France
to celebrate their lovely destination wedding in one of the pretties villas of Lake Maggiore. We planned with and for them a lovely
Mediterranean themed wedding
with Italian touches everywhere that we are pleased and happy to share with you.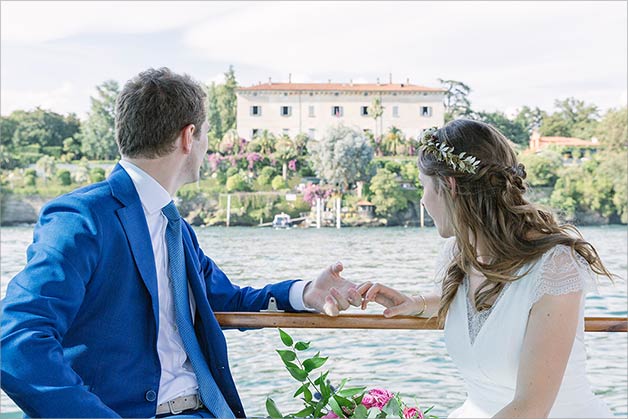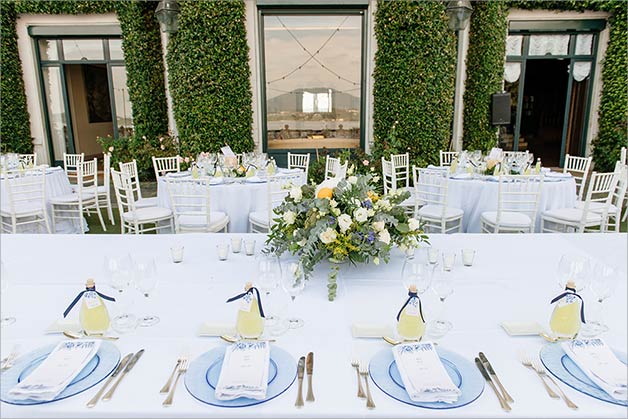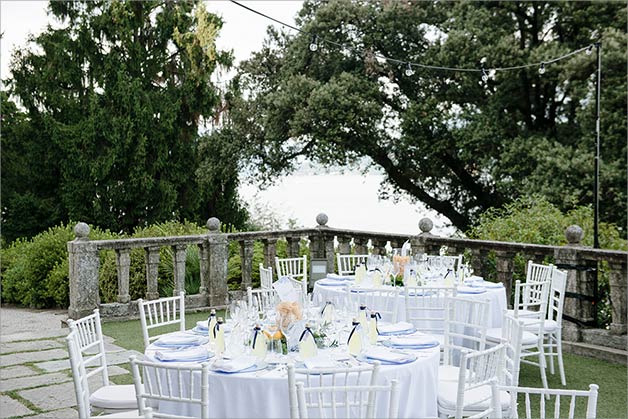 A Religious Mediterranean Themed Wedding Ceremony in Lesa – Lake Maggiore
Villa Claudia is one of the pretties villas on Lake Maggiore. It is located not far from Stresa. It is not on the shores but the view you can enjoy from the villa terrace and rooms is just spectacular! Ludmila and Cyprien chose this romantic venue for their Italian wedding on Lake Maggiore.

They got ready in the rooms of the villa that their rent for them and immediate family.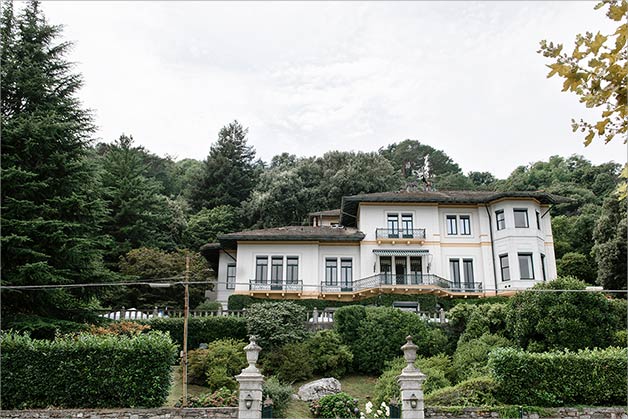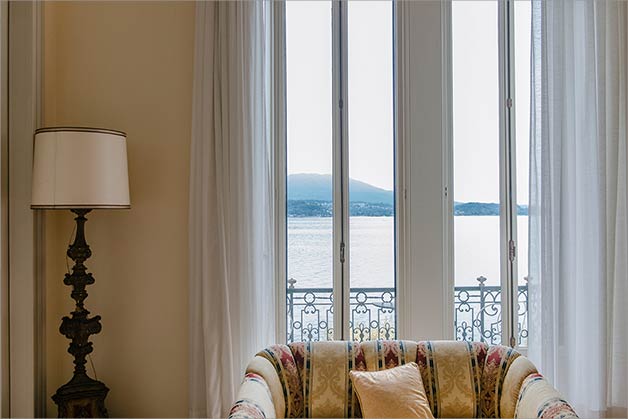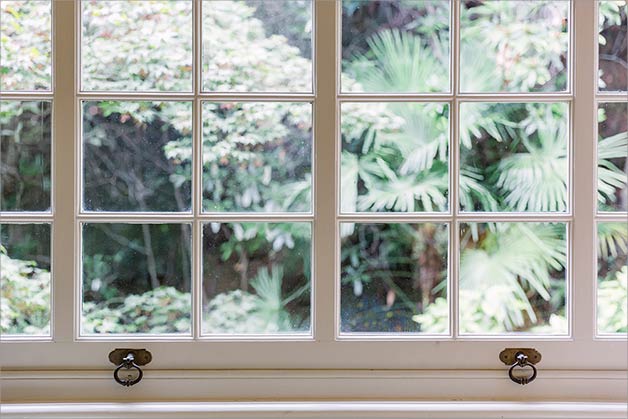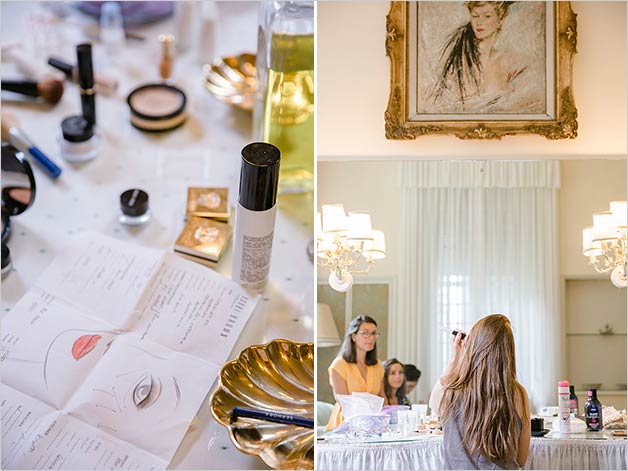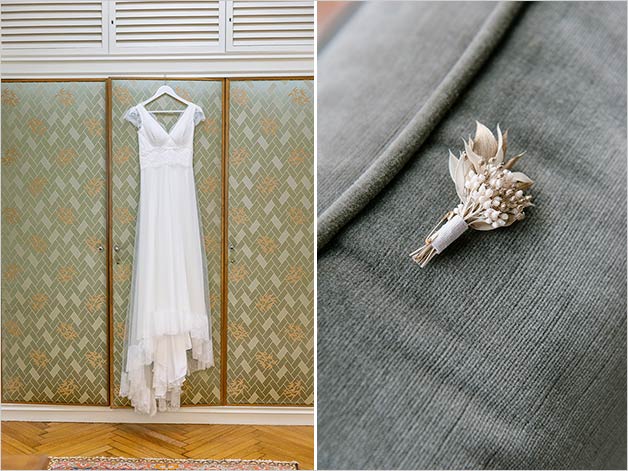 For her bridal bouquet she chose pink roses and peonies in a loose country style.
 That was the only touch of pink as all the other decor were very Mediterranean style.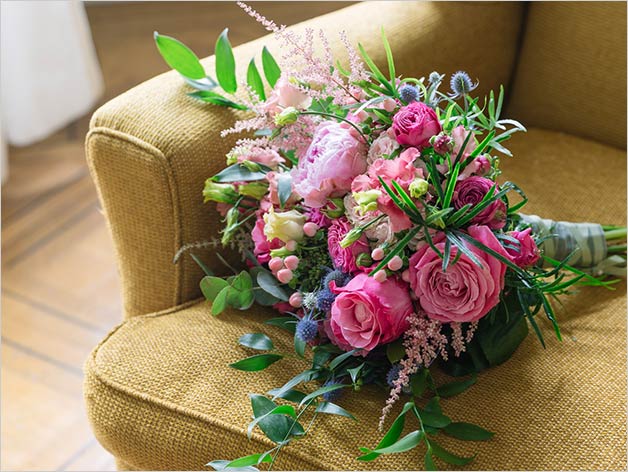 Once ready they reached their guests to Lesa Church not far from Villa Claudia.

The church is by the shores and it is bright and wide. It could host all Ludimila and Cyprien's guests coming from France.

Ceremony was lovely and touching and after it all guests tossed bride and groom with soap bubbles. So fresh! 
Ludmila wore a lovely dress, simple but very chic. Her hair do was chic too with a half updo and braid. Only a French girl can be so stylish!


Let's discover more!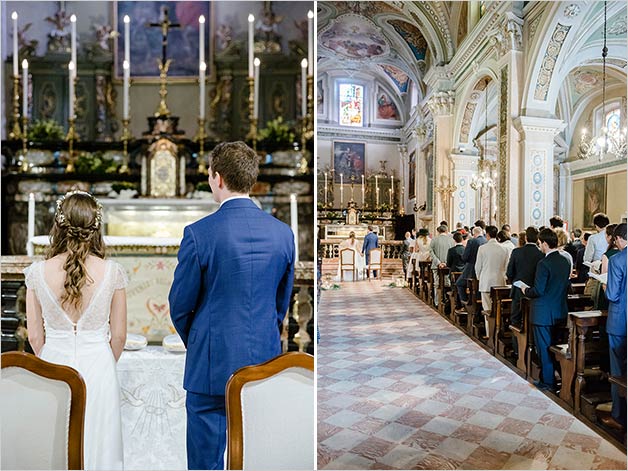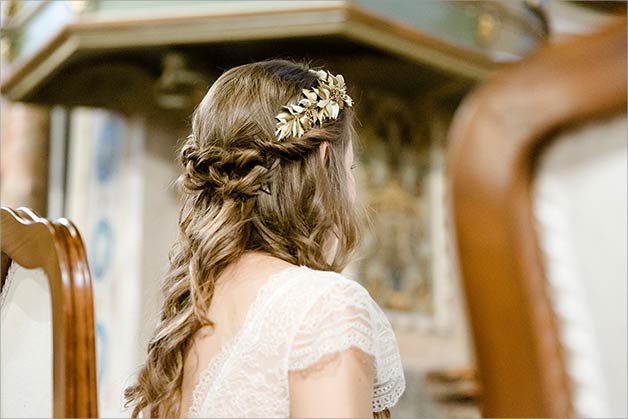 A Blue Mediterranean Themed reception at Villa Claudia
After the ceremony guests reached Villa Claudia to enjoy a lovely aperitif while bride and groom got on board of a boat for a little tour of the lake, some great wedding photos and a travel in style to reach the reception venue.
 Kaba Studio took amazing photos of the event and we thank them a lot for sending them. They are just great!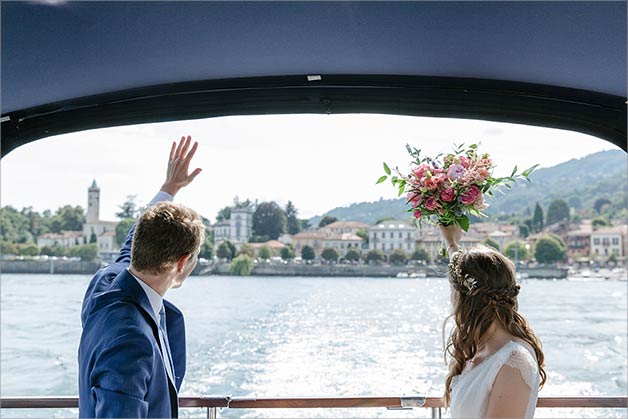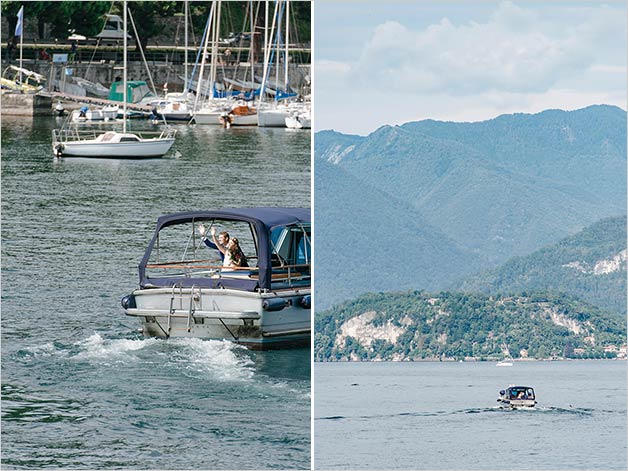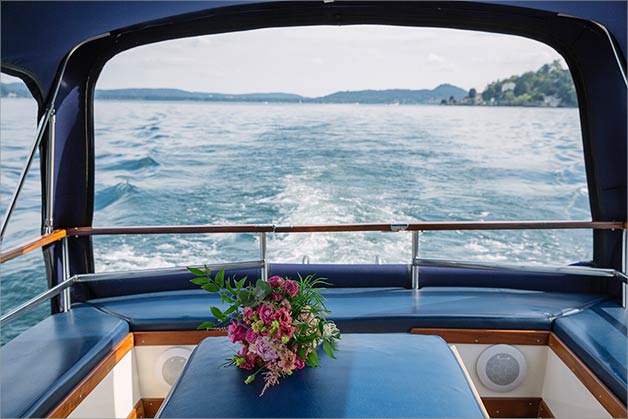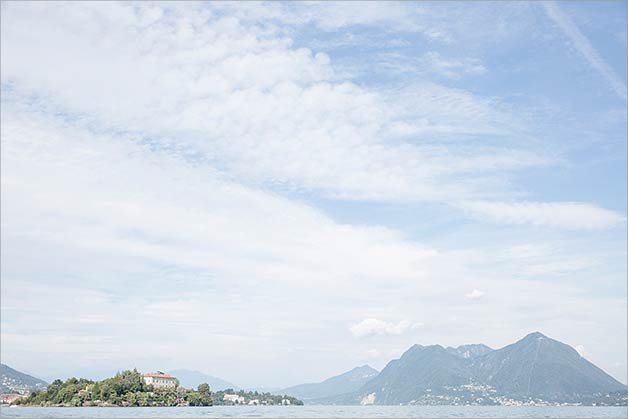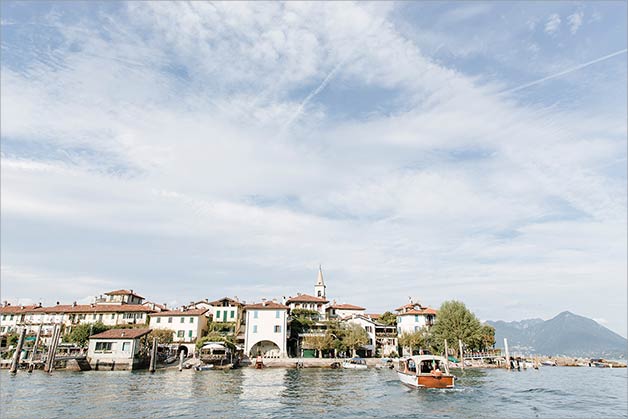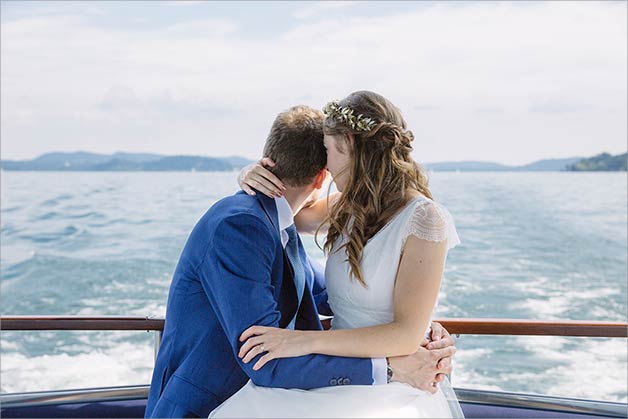 Ludmila and Cyprien arrived to Villa Claudia by boat and made their grand entrance from the main gate of the villa itself.
 The party could start!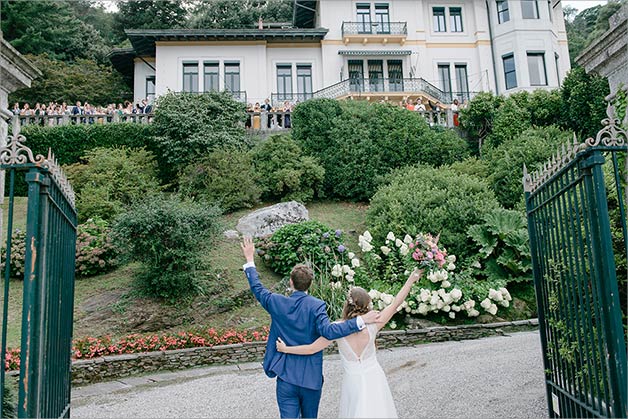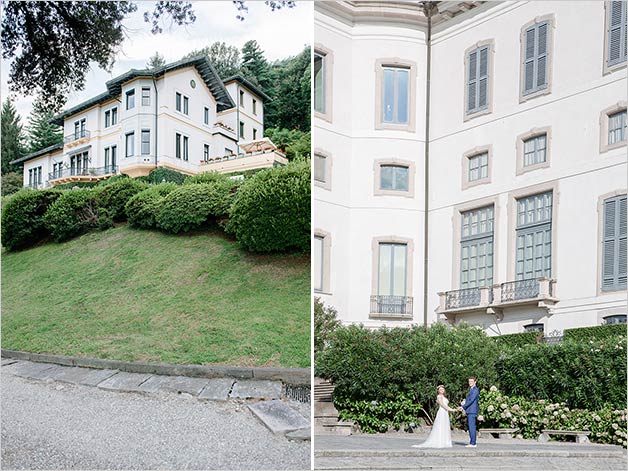 A lovely outdoor reception on the main terrace of the villa overlooking Lake Maggiore
Bride and groom chose an outdoor reception on the main terrace of the villa overlooking a stunning view over Lake Maggiore, Borromean Islands and Alps.
 White tables with romantic blue and white decor embellished with a touch of yellow of Italian lemons.
 Lemons again for the pretty wedding favors for guests: a bottle of delicious limoncello.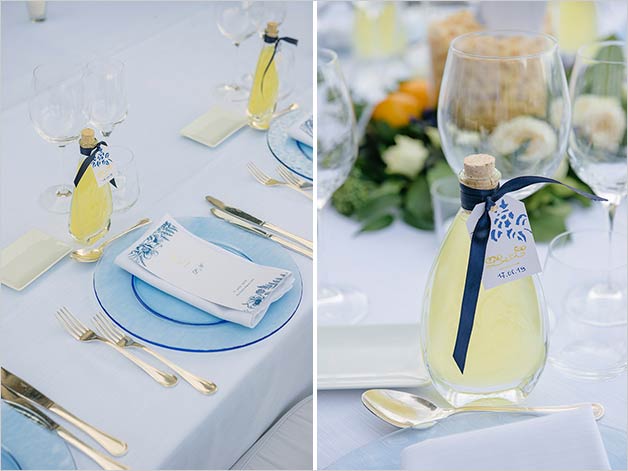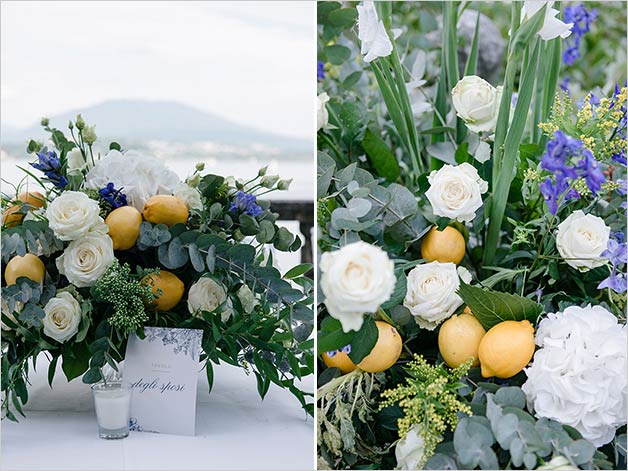 Centerpieces were surely original. Ludmila and Cyprien love Italian pasta so they opted for giving the name of their tables out of the names of Italian pasta shapes. So we have Rigatoni table, Orecchiette table, Penne table, Tagliatelle table and so on. 
But the best idea was decorating the centerpieces made with some greenery, white, blue flowers and lemons, with some pasta in a jar too. I simply loved the idea.
 Fairy lights, blue chargers on the tables made the rest to create a lovely Mediterranean style atmosphere.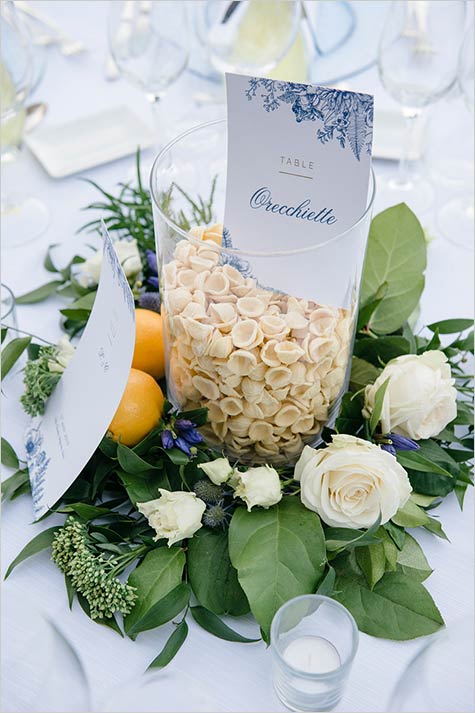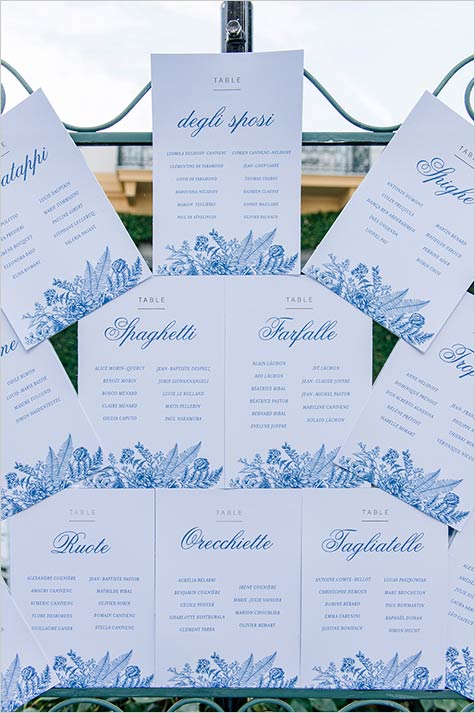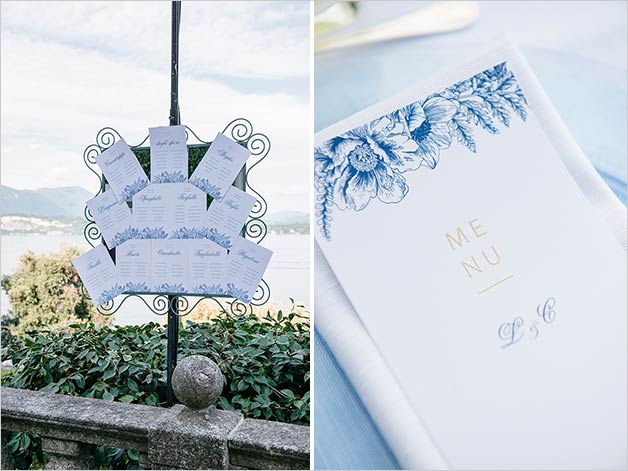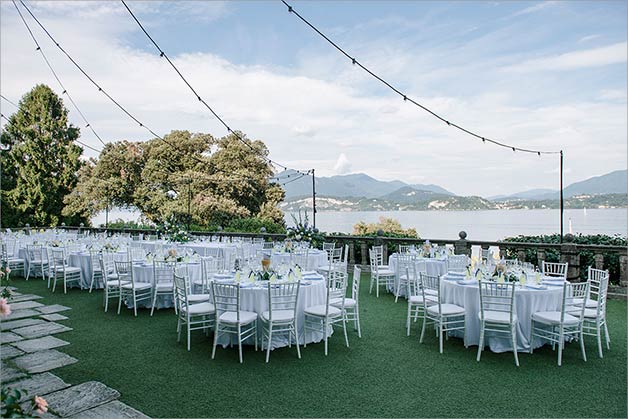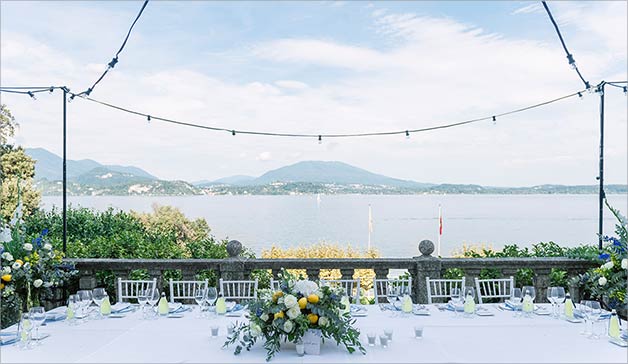 After the wonderful meal a great party could start with a fun dj set and lots of dances up to late at night.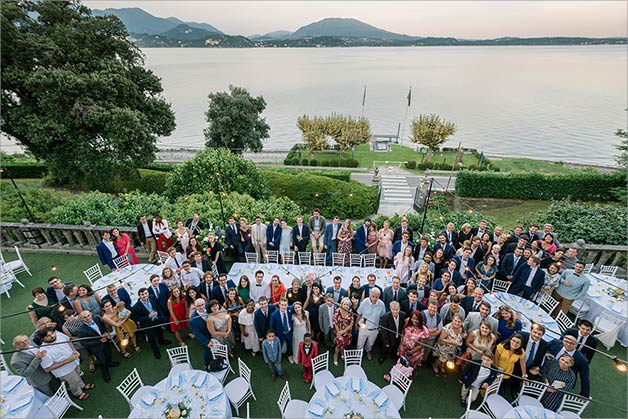 What a great summer party for Ludmila and Cyprien and their guests. Lake Maggiore and its villas by the shores or overlooking the stunning view o the waters, Borromean Islands and Alps are always a great choice!