Do you remember about Cassy and Gary's wedding a couple of years ago?
They fell in love both with Lake Orta and Lake Maggiore and could not decide what to choose for their wedding. They ended with choosing both of them!
This is what happened to Lucy and Mike!
When they came over for their visit to choose the right venue for their wedding Lucy fell in love with the wonderful spot of Villa Bossi in Orta, an ideal venue for an outdoor civil ceremony.
For their reception Lucy and Mike wanted something different and for this reason they opted for Lake Maggiore and its wonderful clear waters.
Let's start from the beginning!
Lucy and Mike's guests were not many they decided to stay in Stresa the gem of Lake Maggiore overlooking Borromeo Islands.
It is just there where Lucy got ready.
At the right time all were ready to reach Lake Orta for a wonderful ceremony at Villa Bossi.
Lucy arrived a little later to get on the boat and reach Mike and guests waiting for her.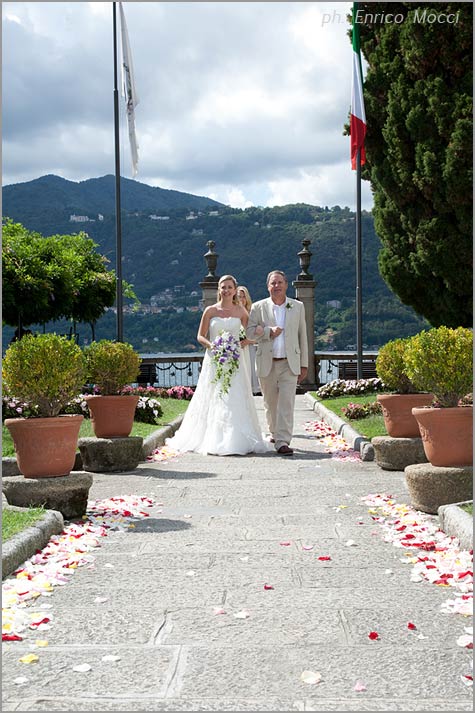 Flower decorations were studied by La Piccola Selva and as usual they were just perfect!
Lucy wanted a simple yet elegant scheme based mainly on white and green and
her favorite flowers: Lysianthis and Orchids.
The bouquet had a touch of purple that made the bride even more special.
After a moving ceremony and some pictures in the charming and very Italian setting of Lake Orta the whole group left Orta to reach Lake Maggiore.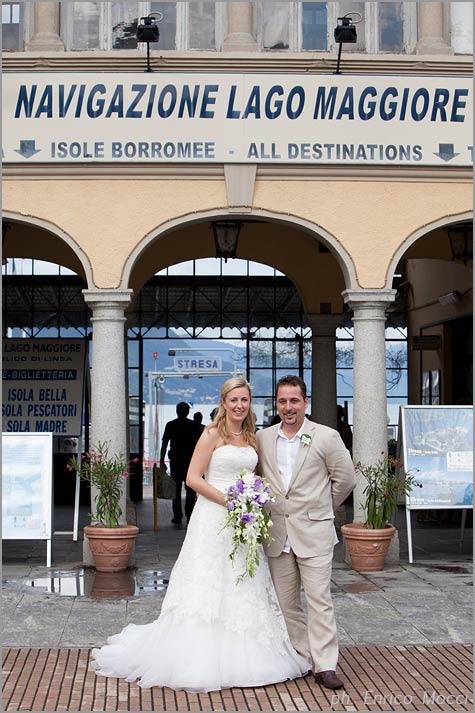 Here's the surprise!
A boat in Stresa was waiting for them to take the group to Isola Bella for stunning pictures in the park and by the palace!
A wonderful and unique setting for wedding pictures.
Photos were taken by Enrico Mocci by ArtefotoArona and his staff and they are all beautiful and romantic!
But the surprises are not finished.
After the tour on Isola Bella a bigger boat took the group for a wonderful tour on Lake Maggiore with a rich and delicious aperitif on board.
The tour ended to the lovely Restaurant Verbano on Pescatori Island where a private royal table was waiting for Lucy and Mike's reception.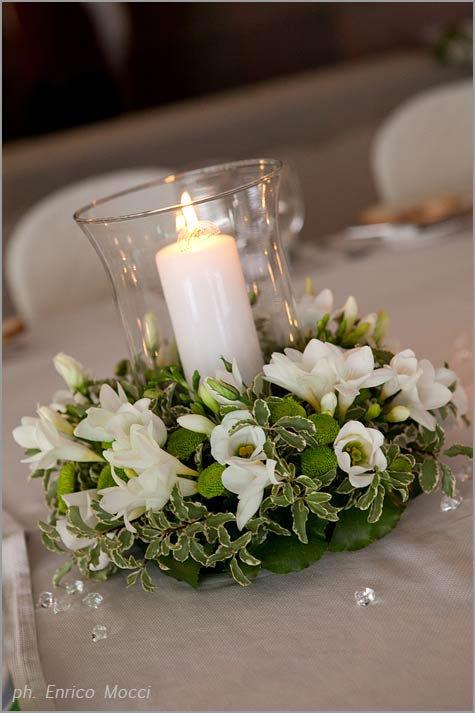 A small group, a sweet couple for a wedding on two lakes….we ensure that this dream can come true on our Lakes!
My name is Valentina and I work as wedding coordinator on Lake Orta and Lake Maggiore.
Before being a wedding planner and coordinator I worked for an American company planning events. I turned into wedding planning for SposiamoVi group, more than 5 years ago. Since Italian Lakes Wedding was founded I work with them to make bride and groom's dreams come true on this wonderful Lakes of North West Italy and Piemonte region.

l love creating with my couples the perfect event for them following their wishes and needs, helping to find the best solution for their ideas and budget.
I like meeting people talking with them and know more about their cultures and traditions. I do like sharing Italian customs with them and working in team with couples to let them experience a real and dreamy Italian wedding!

I will be pleased to guide couples along lovely traditional and pedestrian roads of Orta village discovering the beauty of this romantic Lake between villas, traditional restaurants wonderful churches and enchanting St. Julius Island.
I will be happy to let couples discover bigger and charming Lake Maggiore with its Borromeo Islands, wonderful hotels and villas overlooking the waters.

I'm sure you would be amazed by the beauty of these special corners of Italy so I'm simply wait for you for a lovely experience to create and live together.

For any information about wedding on Lake Orta or Lake Maggiore please CONTACT ME.