Louise und Robert wussten, was sie wollten: in Orta heiraten. Ein kleiner und wunderschòner Ort am Ortasee. Faszinierend fuer seine Schònheit, die kleinen Gassen, die vielen Shops und Cafes und die kleine Insel San Gulio direkt vor dem Hauptplatz.
Wir haben die standesamtliche Trauung im historischen Standesamt, auch Villa Bossi genannt, organisiert. Bei schònem Wetter wird die Trauung draussen im Garten zelebriert. Die Sonne schien herrlich bei einem fantastisch blauen Himmel und so warteten wir alle auf die Ankunft der wunderschònen Braut Louise. Sie kam mit ihrem Vater im Ruderboot und wurde direkt am Privatsteg der Villa Bossi abgesetzt und von ihren Brautjungfern in Empfang genommen. Dann schritt sie den mit Blumen umsàumten Weg bis zum Bràutigam nach vorne, quasi wie in der Kirche.
Ganz gluecklich sagten beide im richtigen Moment ja, fast war unsere Uebersetzerin Irmi mehr geruehrt als das Brautpaar selbst.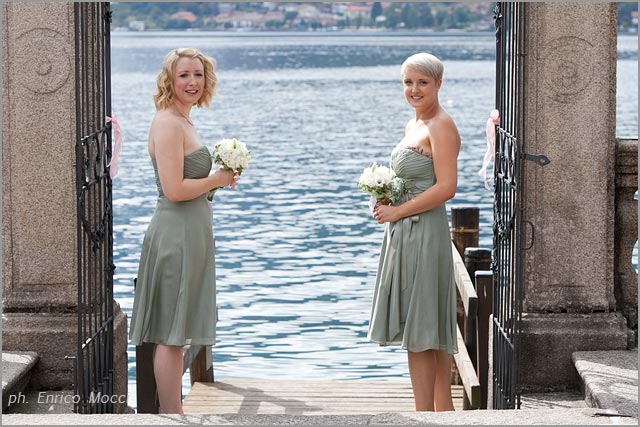 Schaut Euch das bildhuebsche Bouquet an, welches von unserem favorisierten Floristen La Piccola Selva erstellt wurde. Im gleichen Look auch die kleinen Stràusse der Brautjungfern. Ergànzt von weissen und pinkfarbenen Rosenblàttern, die ueberall verstreut wurden.
Nach der Zeremonie hatten wir 2 Boote bestellt, die uns hinueber zur Insel San Giulio brachten. Dort gab es im Garten des kleinen Restaurants San Giulio einen Umtrunk mit Prosecco und italienischem Fingerfood.
Nach einem erholsamen Aufenthalt auf der Insel ging es weiter mit den Booten, entlang der Kueste des Sees mit Blick auf alle historische Villen der noblen Familein bis zur charmanten Trattoria Ustaria Ca dal Rat, das uns mit einem Welcome-Drink begruesste.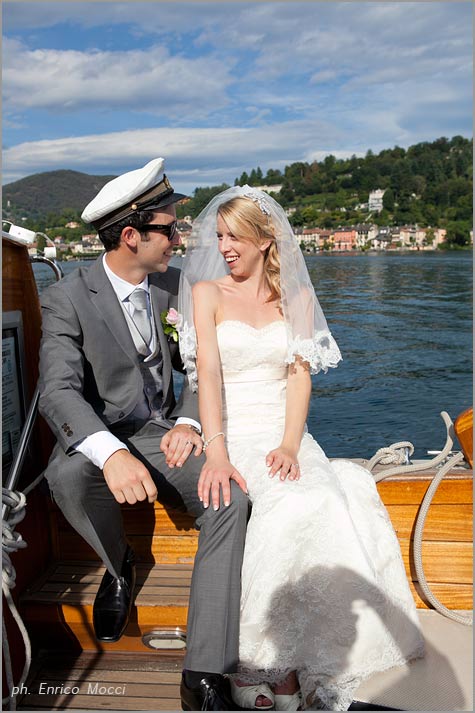 Hier beim Hochzeitsdinner wiederholte sich der Farbcode weiss-pink fuer alle Blumen und die Tischdekoration. Am Baum hing ein Vogelkàfig mit der Sitzordnung.
Jeder Gast genoss die regionale Kueche und den aufmerksamen Service. Und unser DJ sorgte fuer ein gutes Ambiente bis hin zum Tanzen der Jugend.
Schade dass wir um Mitternacht die Boote besteigen mussten und nach Orta zurueck gebracht wurden. Doch hier wartete ein weiteres Highlight auf das Brautpaar. Wir hatten Skylaternen organisiert, die mit Glueckwuenschen an das Brautpaar in den Nachthimmel abgeschickt wurden. Der Brauch kommt aus japan und man sagt, dass die Wuensche stumm bleiben muessen, um wahr werden zu koennen.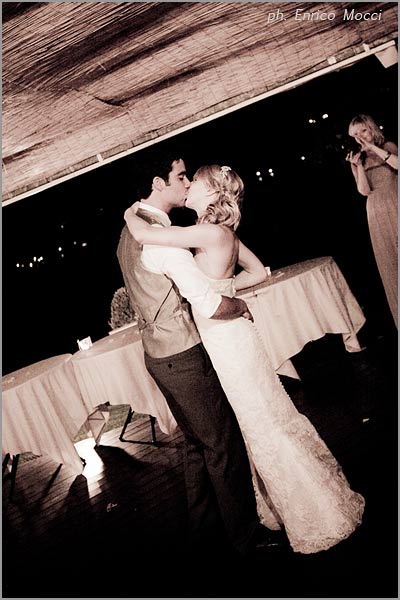 Britta Hartmann-De Marchi is german and therefore the specialist for German, Austrian and Swiss couples coming to the lake Region for getting married.

She herself got married 10 years ago and choose an Italian husband. Enjoying to live here in Bella Italia and coming from 14-years-experience in international advertising and marketing, she liked to change her job into becoming organizer of weddings for german-(and english-) speaking people coming to Italy for their marriage.

Coming from Germany and knowing what to expect in Italy, she is the perfect organizer between bride and groom and the Italian service partners. Correctness, flexibility and a easy hand to plan all details around a wedding make her work very appreciated.

The most emotional part is, when I become almost the best friend of the bride during all the planning time you share with each other. So we both do enjoy the wedding day in its best form and this is important for my work.